Discovering remains of ancient civilizations. Hiking through lush jungle. Swimming in cascading waterfalls.
If this sounds like the adventure you're after, then the Lost City trek in Colombia should be on your bucket list.
But it's certainly not a walk in the park!
The multi-day trek to the Lost City (or La Ciudad Perdida) is a tough hike that involves lots of walking in brutal heat.
Is it worth the expensive price tag? Is it too crowded? And is it as difficult as people say it is?
I answer all those questions (and more) in this guide to 27 things I wish I knew about the Lost City trek, Colombia.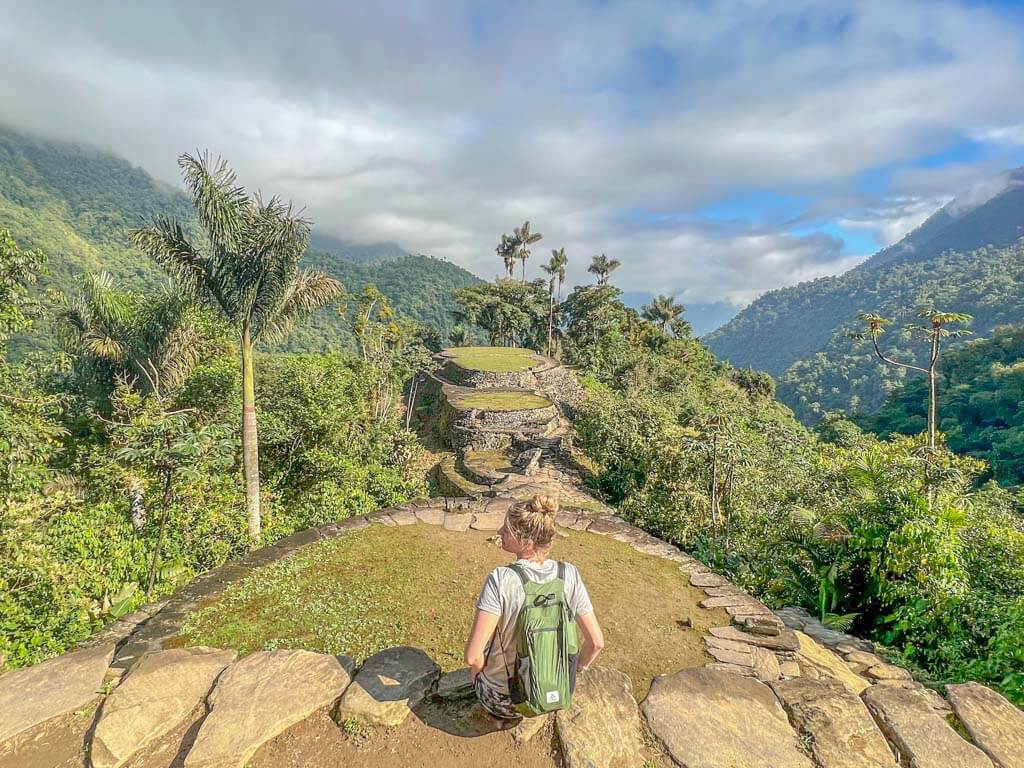 Lost City Trek Overview
Time needed: 4 or 5-day tour
Costs: 1 750 000 COP (Fixed price)
Distance: 46 – 60 km
Difficulty: Medium to difficult
Type: Out and back route meaning you'll follow the same route back (unless you're doing the 5-day tour)
Is the Lost City Trek Worth it?
Yes, the trek to the Lost City is 100% worth it. Not only is it an incredibly scenic hike but the site itself is filled with so much wonder and mystery.
It was built by the Teyuna People around 800 AD (that's 650 years before Machu Picchu was built), and was only recently discovered.
I had no intention of doing the Lost City trek in Colombia – but after it was recommended to me by numerous travelers, I decided to give it a go.
And I am so happy I did.
But it is expensive, and you need at least 4 days to complete the tour.
So, if time and budget aren't on your side, you might need to rethink whether you include Ciudad Perdida in your itinerary or not.
This post will hopefully make that decision easier for you.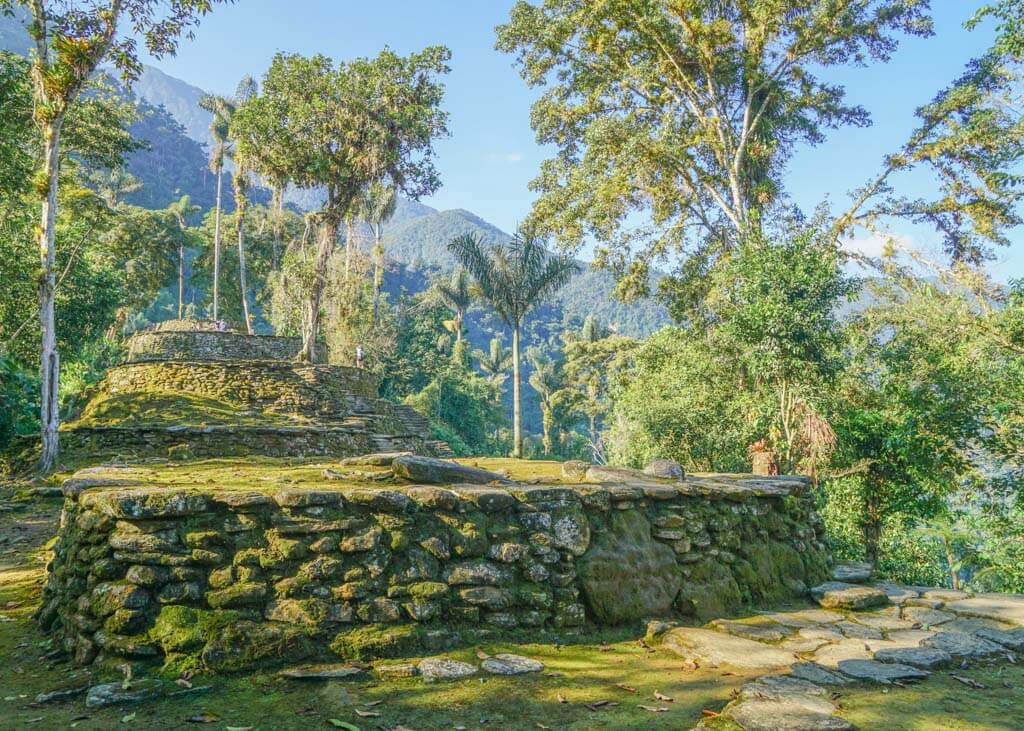 It's not a hidden gem like it used to be
A few years ago, the Lost City was regarded as an off-the-beaten-track destination in Colombia.
Nestled deep in the Sierra Nevada mountains, few people made the trek to Ciudad Perdida. And those who did were met with isolated communities, remote landscapes, and very few creature comforts.
That has since changed!
The Lost City trek is no longer a hidden gem and the trails are busy, especially during December and January. It's a backpacker haven where you're guaranteed to meet like-minded travelers.
The camps are crowded, and you may be stuck behind a large tour group during certain sections of the hike, especially on the last day.
But the crowds don't ruin the experience
Despite the crowds, hiking to Ciudad Perdida was one of my highlights of Colombia.
Nothing beats walking through the Lost City, which is a lot bigger than I had ever thought, and imagining what life was like for the people who once lived there.
But it's not only reaching Ciudad Perdida that makes it a worthwhile adventure.
The trail is surrounded by dense forests with swimming holes next to each camp.
Cooling off in the rivers, sipping on ice-cold beers after a grueling 6-hour hike, and meeting people from all over the world – it was the entire journey to and from the Lost City that made it special for me.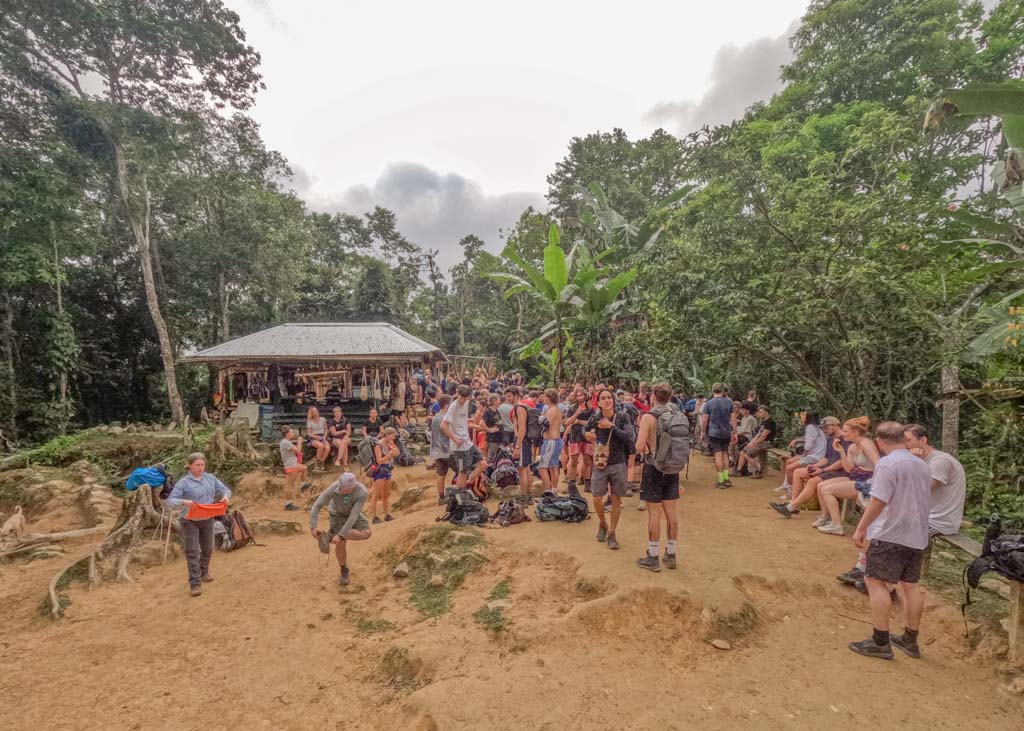 Lost City Trek Difficulty: It's not easy
The Lost City trek involves a lot of walking on uneven, muddy terrain, often uphill. And in high humidity.
But overall, it's not a technical hike nor overly challenging. It's the temperature and jungle setting that get to most people.
You'll walk at least 6 hours a day and there are a lot of steep sections. When you reach the top of a hill, you'll be huffing and puffing, and drenched in sweat.
The final stretch to the Lost City involves hiking up 1200 stairs. They are steep, slippery, and very narrow so you need to watch your footing.
I found this day (day 3) to be the most challenging.
Why?
Because it's a long day as you'll not only trek to the Lost City, but you'll re-trace your steps to the halfway point where you'll spend the night.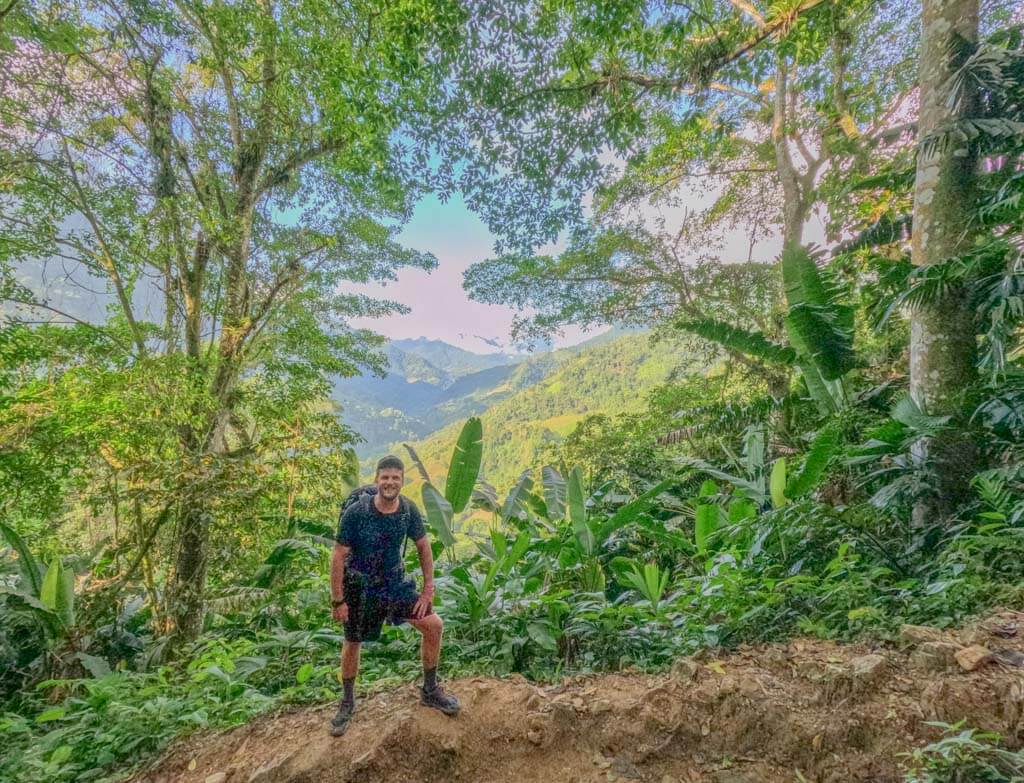 You need 4 or 5 days for the Ciudad Perdida trek
The most popular Lost City trek tour is 4 days. This is the perfect amount of time for most people.
And trust me, you don't want to do any shorter!
There is also the option to do a 5-day tour. For this, your first 3 days will follow the same route as the 4-day tour. And you will still reach the Lost City on day 3.
But it differs from the standard trek as you won't rush to get back to the trailhead on day 4.
Instead, you will take a detour along a quieter route and have an extra day to get back to the start.
Some people prefer this alternative exit route that's taken on days 4 and 5 because it's not very busy and you're likely to have a large part of the trail to yourself.
I did the 4-day tour and was very happy with my decision.
The Lost City Trek is expensive
The 4-day Lost City trek costs 1.750.000 COP per person.
Yes, you read that correctly! It's one of the most expensive activities to do in all of South America.
All tour costs are fixed no matter which operator you go with – so you won't be able to negotiate a better price.
And no, you're not getting anything luxurious in return.
The accommodation and food are very basic, and the hefty price tag is due to money that goes back to the communities that call the Sierra Nevada mountains home.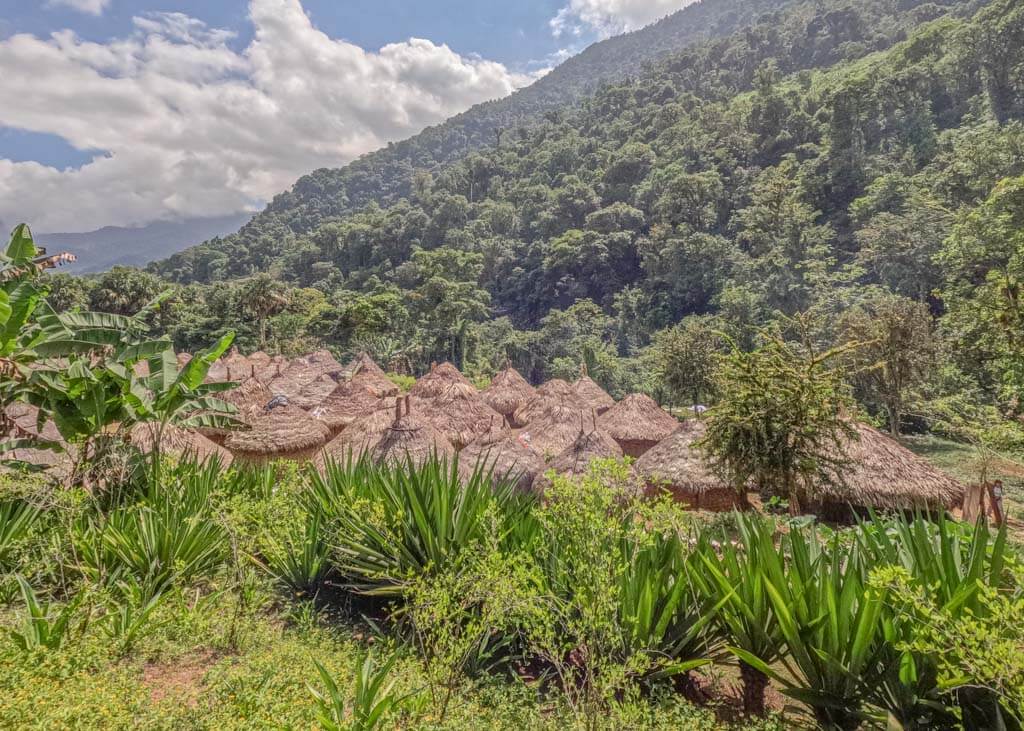 You can't do it independently
The only way to trek to the Lost City of Ciudad Perdida is by booking a tour. It's a requirement and you need to use a certified company that follows strict rules and regulations.
I booked my Lost City tour the day I arrived in Santa Marta and had no problems finding an operator with availability.
However, if you do not have flexibility in your schedule or if you have preference for a particular tour operator, I recommend contacting a few companies a week before your planned departure date.
November to April is the best time for the Ciudad Perdida hike
The dry season for the northern part of Colombia is from November to April. It's best to plan your trip during this time.
You'll have long days of clear skies and optimal hiking conditions.
But there's no escaping the heat and humidity, no matter what time of year you do the Lost City trek hike.
May to October is considered the wet season with daily rain showers. Despite this, many people choose to hike to the Lost City during this time and enjoy the quieter trails.
I have heard that the rain can be quite intense from August to October so you may want to reconsider your plans if this is the only time you can go.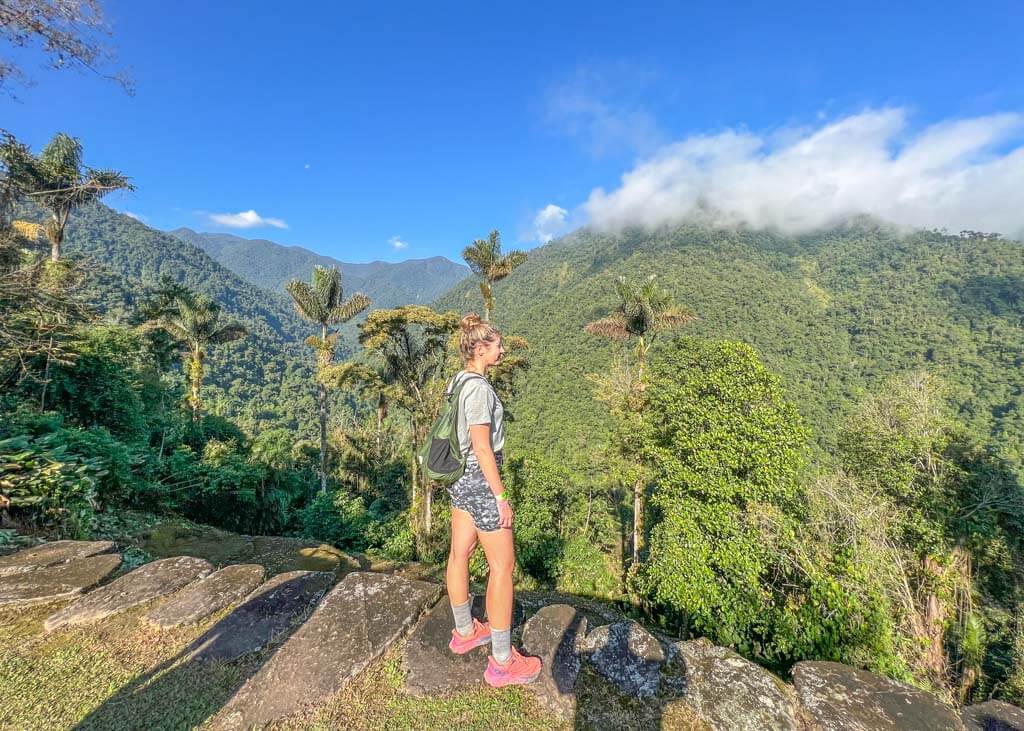 But December and January are extremely busy
I did the Lost City trek in February, and it was busy!
But after speaking to my tour guide, it seems that December and January are even busier.
70 people entered Ciudad Perdida the same day as we did, but apparently, during December, this number is double!
You'll start your tour in Santa Marta
The coastal city of Santa Marta is the gateway to the Lost City trek. This is the departure point for all tours and is a 90 minute drive to the trailhead.
All tours depart early in the morning, so you'll need to spend a night in Santa Marta before your start date.
Santa Marta wasn't my favorite place to visit so don't stay any longer than you have to!
Some operators will arrange transport to and from Minca and Palomino
I wish I had known this!
But yes, you can request a drop-off or pick-up in one of the nearby towns (which are more interesting than Santa Marta) such as Minca or Palomino.
But you need to check that the company offers this service at no extra cost. I didn't and so the option wasn't given to me.
However, a few people in my group had specifically requested to be dropped off in Minca after the tour. Arrangements were made for them, and their stored luggage was brought to the trailhead on the last day.
I believe the bigger tour companies offer this service at no extra cost so inquire about it if you have plans to visit Minca.
This brings me to my next point…
Visit Minca after your Lost City Trek Tour
Minca is a mountain town about an hour south of Santa Marta.
It's the perfect place to rest and relax after trekking to Ciudad Perdida.
You'll finish your hike at lunchtime and from there, you'll take an hour's drive back to Santa Marta. But don't spend the night here.
Head straight to Minca and treat yourself to a mountain hotel where you can chill for a day or two.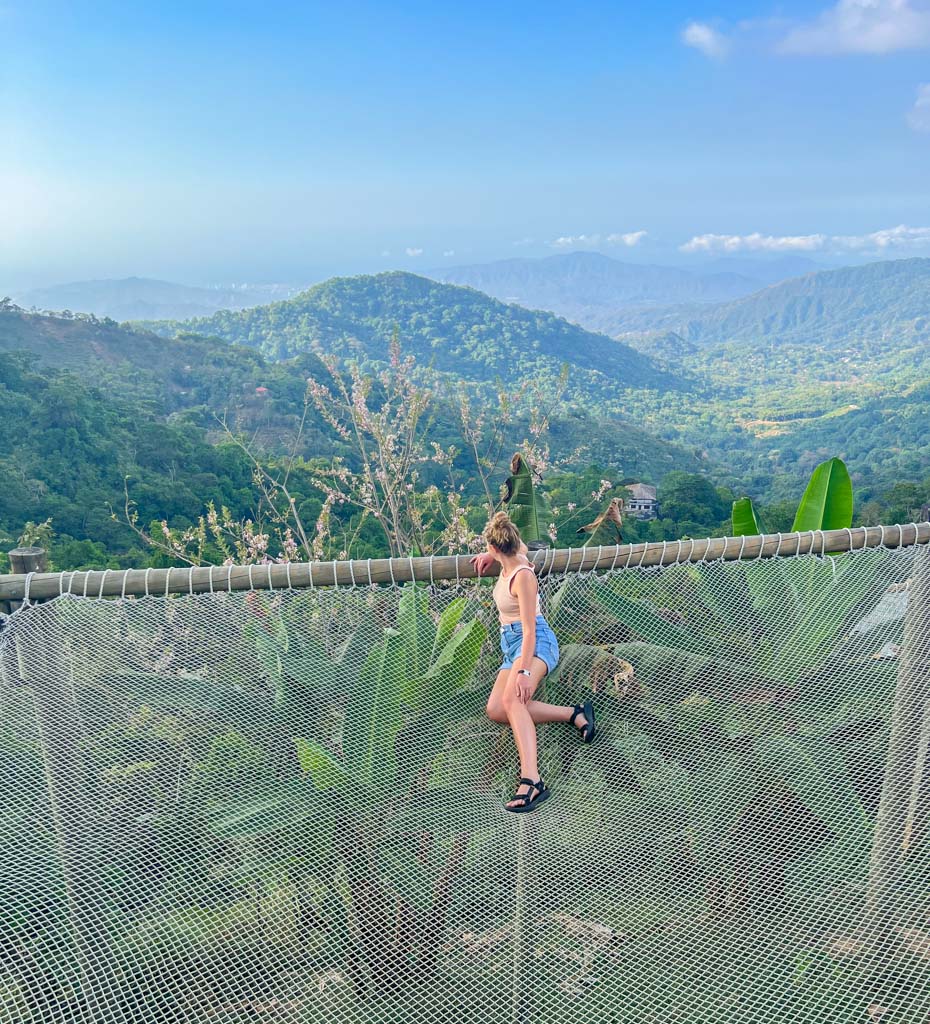 Tour group size: How many is too many
When doing my research, I made every attempt to find a Lost City tour operator that had good reviews and offered small group tours.
Despite my efforts, I somehow managed to book the most popular tour with the biggest group of travelers – there were over 20 of us in our group with 2 guides and a translator!
But this ended up being a blessing rather than a curse.
I met so many amazing people who made the difficult hike that much easier.
We sang, we drank, we sweated buckets – and I formed real connections with people from all over the world.
Lost City Tour recommendations
I booked my tour with Magic Tours, and I highly recommend them. I paid for the trip myself and they did not know that I was a travel blogger (so this is my totally unbiased opinion).
When I initially enquired about the tour, they said their group size was maximum of 12 per guide. What I didn't realize is that they were quite happy to pair their groups together with 2 guides.
As I mentioned above, I was actually happy with this because it gave me the chance to meet 24 of the most amazing, diverse, and interesting people.
Teyuna Tours and Expo Tours also seemed to have big groups – and they also came with positive reviews.
However, if you'd prefer a smaller group, then you may want to avoid these tour operators.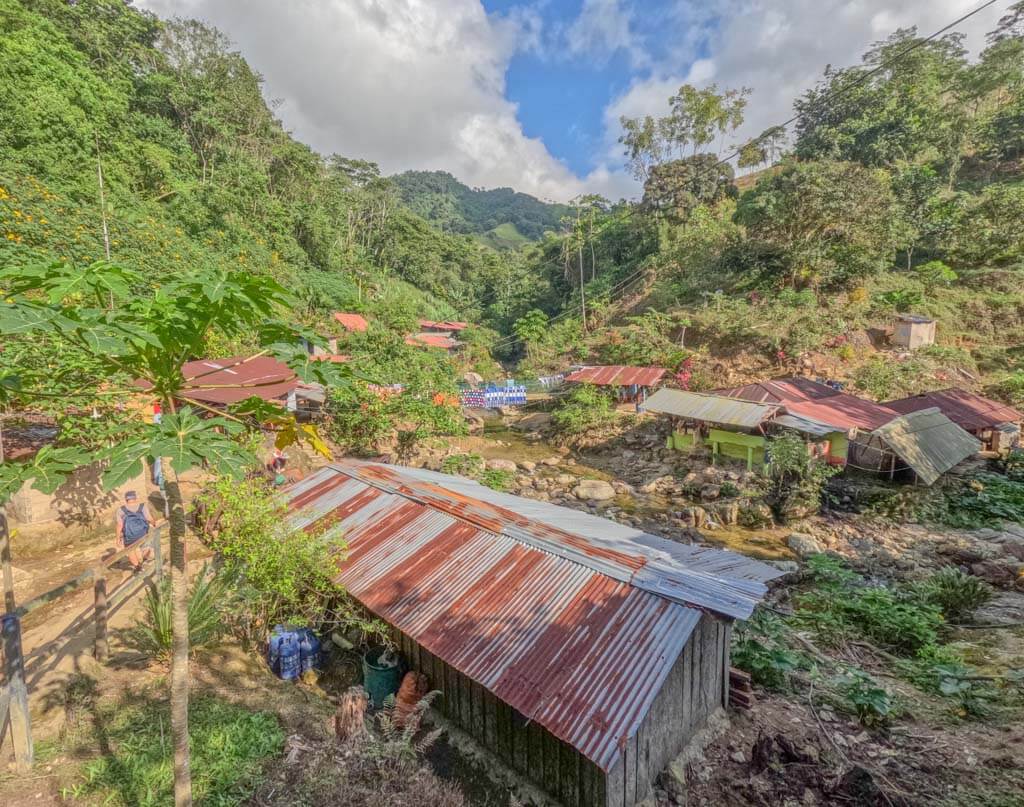 There are showers
This one really surprised me!
Yes, there are showers at each camp (and no, they are not bucket showers). The water is cold but at least you'll feel fresh at the end of the day!
There are also flushing toilets.
You have to carry everything
You must carry your own bags with all your clothes and toiletries.
Food and bedding is provided at the camp so you won't need to lug those around.
Because you'll be carrying everything yourself, it's important to keep your pack as light as possible. You don't need a new outfit for every day – you'll thank me later.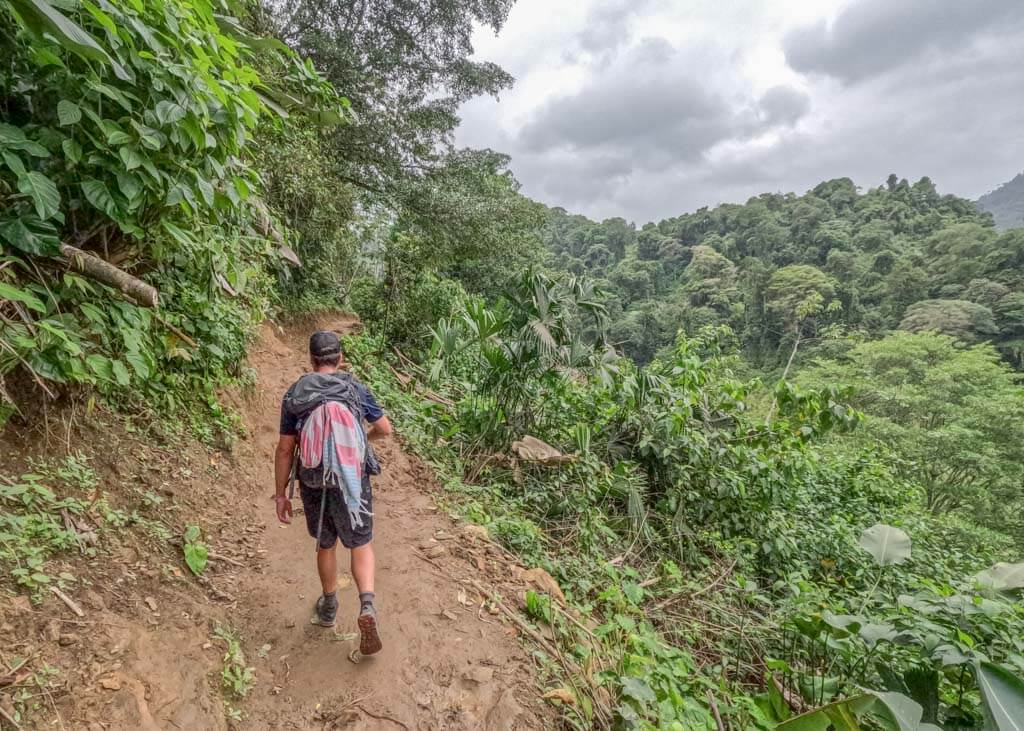 Know what to pack
When packing for the Lost City trek, it's important to bring light and breathable clothes to walk in.
There's no avoiding the humidity and sweat! I brought two sets of exercise clothes and switched them after two days.
I also recommend bringing a clean set of clothes that you can change into after showering.
Bring your own sheet (if you can)
Clean bedding (sheets and blankets) will be waiting for you at each camp on the Lost City trek.
I had read online that there are bed bugs, with a few people suggesting bringing your own sleeping bag. But I wasn't going to go out and buy one specifically for the trip.
So instead, I went to a fabric shop in Santa Marta and purchased 3 meters of fabric which I used as a fitted sheet. It was light, small, and cheap so I'm glad I took it along.
But no one else on my tour had taken their own sheet or sleeping bag. And no one got bed bug bites!
But if you'd prefer to err on the side of caution, you can find the sheet shop here.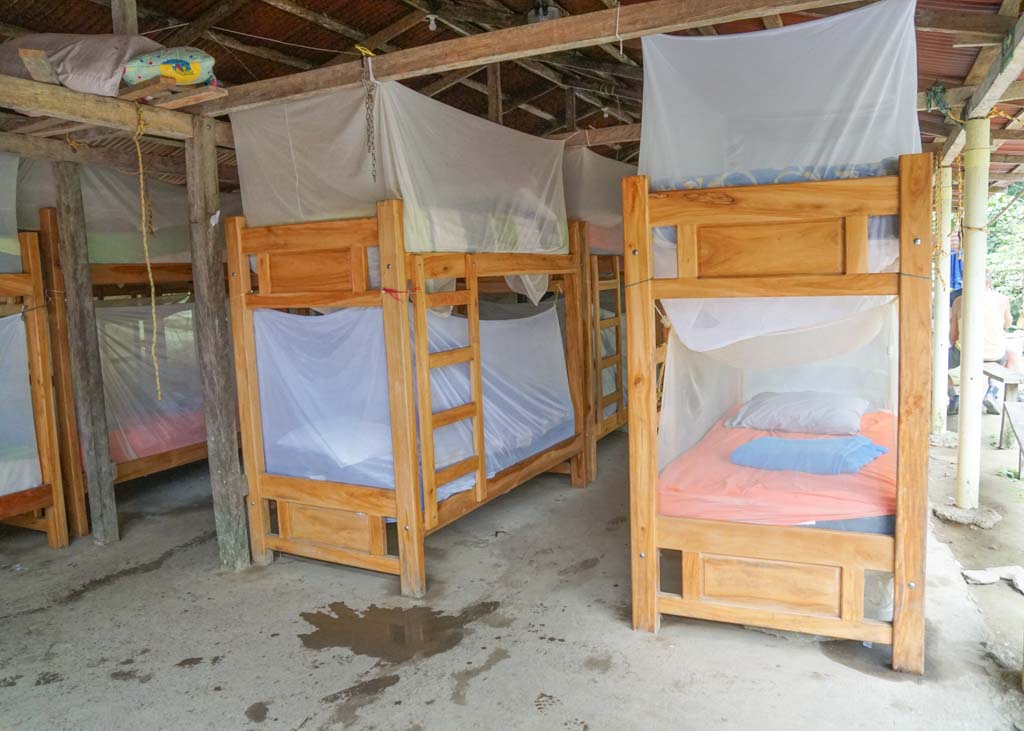 You'll need money for beer and snacks
You can buy cold beers and snacks at all camps along the Lost City trek.
But things get more expensive the further up you walk.
I paid 6000 COP for a beer at the first camp at 10 000 COP at the other two. But it was worth every penny.
I recommend taking 200.000 COP in cash with you.
Drinking water is provided
Filtered drinking water is available at all camps so be sure to bring a reusable bottle with you.
Many people question the quality of this water and if it's really safe to drink. I used my Grayl Ultrapress waterbottle to filter the drinking water that was provided and didn't have any issues.
But everyone else on my tour drank the water without filtering it, and they were all fine.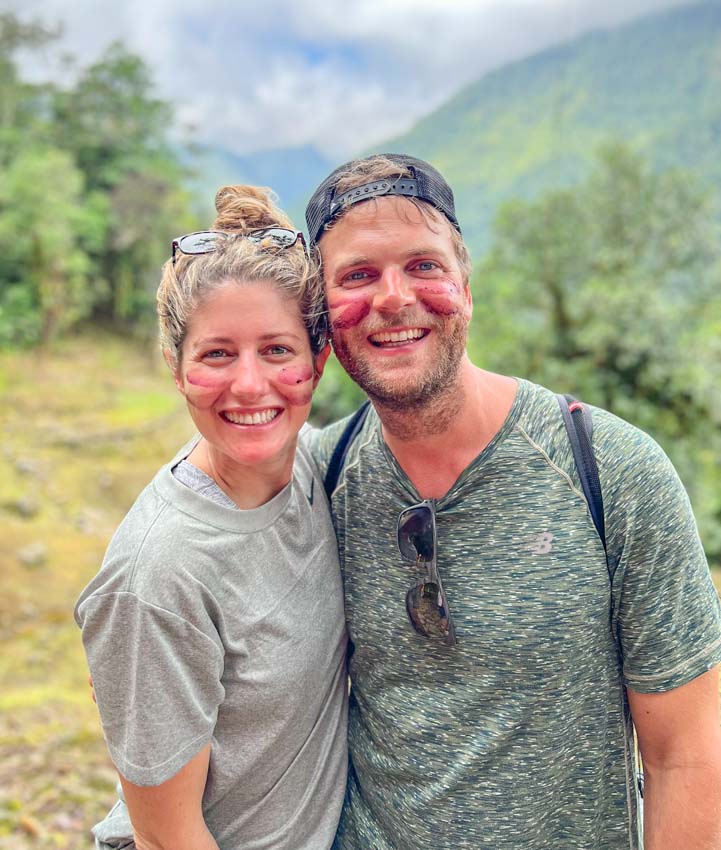 The stories of the Wiwa tribe are fascinating
Several indigenous tribes call the Sierra Nevada mountains home.
Most tours to the Lost City take you to one of these communities where you learn more about their customs, beliefs, and rituals.
We met the leader of the Wiwa tribe and it was a fascinating experience. I absorbed so much information in that short presentation and was blown away by their stories and lifestyle.
There's constant development
To cater to the growing number of tourists, there is constant development along the Lost City route.
This is particularly true for the trail on day 1. As you go deeper into the jungle, there's a lot less going on.
There are also new camps being built as tourists have previously had to sleep in hammocks (and even on tables).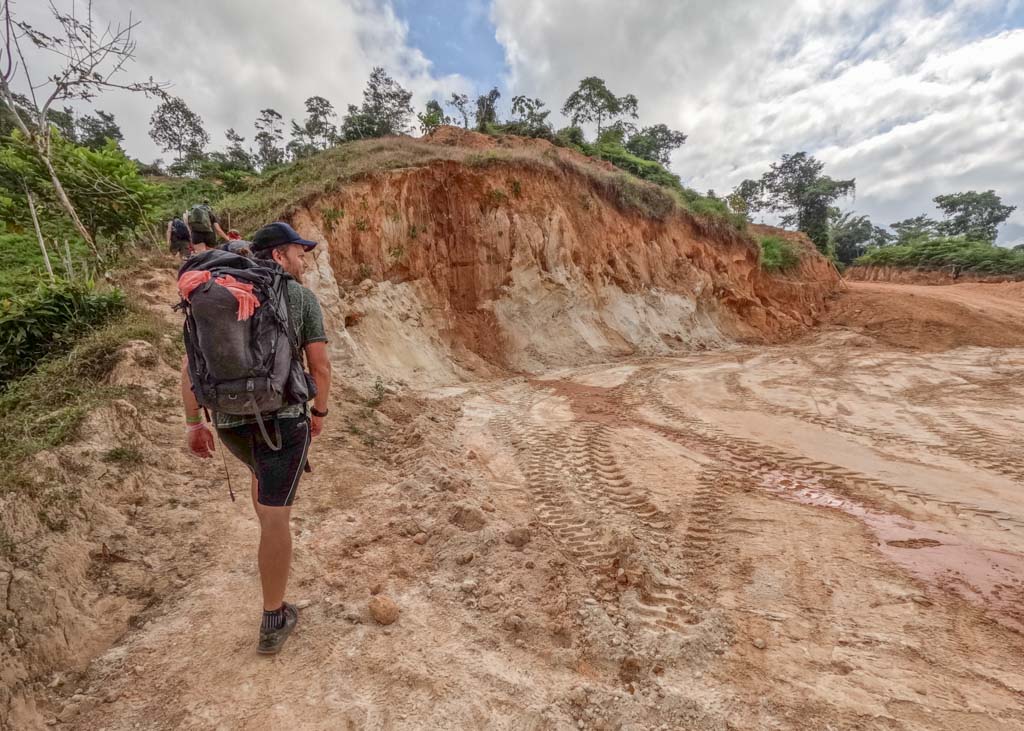 You can get a moto-taxi on day 1
The first day of the Lost City trek is mostly on a dirt road leading to the first camp.
I assume this was once a small path surrounded by jungle that has been cleared to make way for motorbikes and supply vehicles to get to camp 1.
Tourists now have the option to pay an extra fee for a moto-taxi to the first camp.
Taking a moto-taxi (instead of walking) is not common and you will need to request this – but it is an option if you choose.
But are you missing out by not walking on day 1?
Tough question.
If you're traveling in a group tour, then I definitely recommend walking to Camp 1 (instead of taking the moto-taxi option).
That first day is the perfect opportunity to get to know your team and form connections. You'll miss out on this if you take the easy way!
In terms of scenery, day 1 is still beautiful and offers plenty of spectacular views. But you're walking on a gravel road for most of the way, not a small trail covered by lush jungle.
The scenery on days 2 and 3 is better. But I still recommend walking on day 1.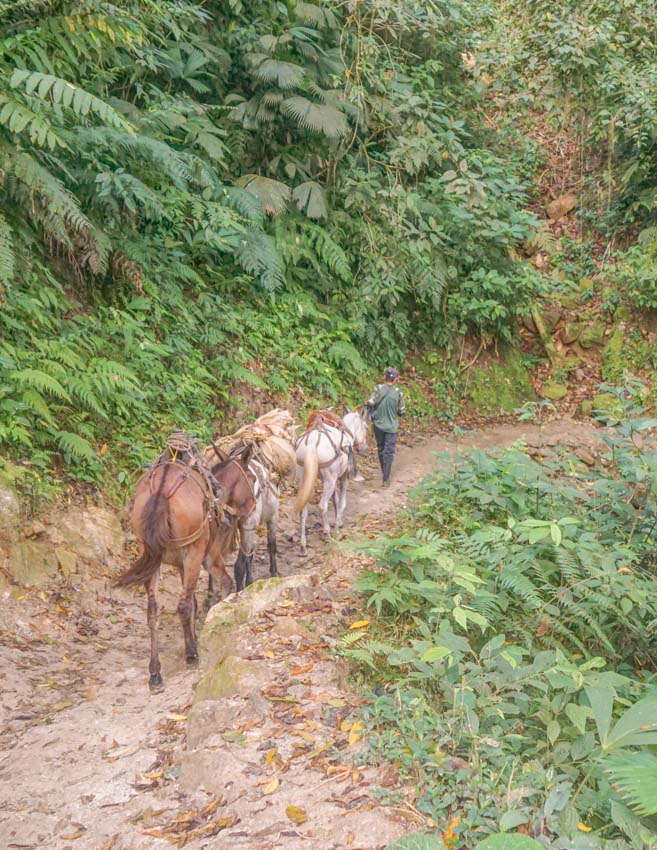 There are rivers and waterfalls along the route
I've never been so happy (and relieved) to see a river as I was on the Lost City trek.
There are streams and small waterfalls next to each camp where you can cool off and chill after the day's hike.
Don't forget to bring your bikini or bathing suit.
You can't hide from the Mosquitos
Bring Deet bug spray with you as there are lots of mosquitos.
Most of my group, including me, got bitten all over, but thankfully the bites weren't as itchy as those in the Bolivian Amazon.
All bunk beds have mosquito nets, and they were in good condition.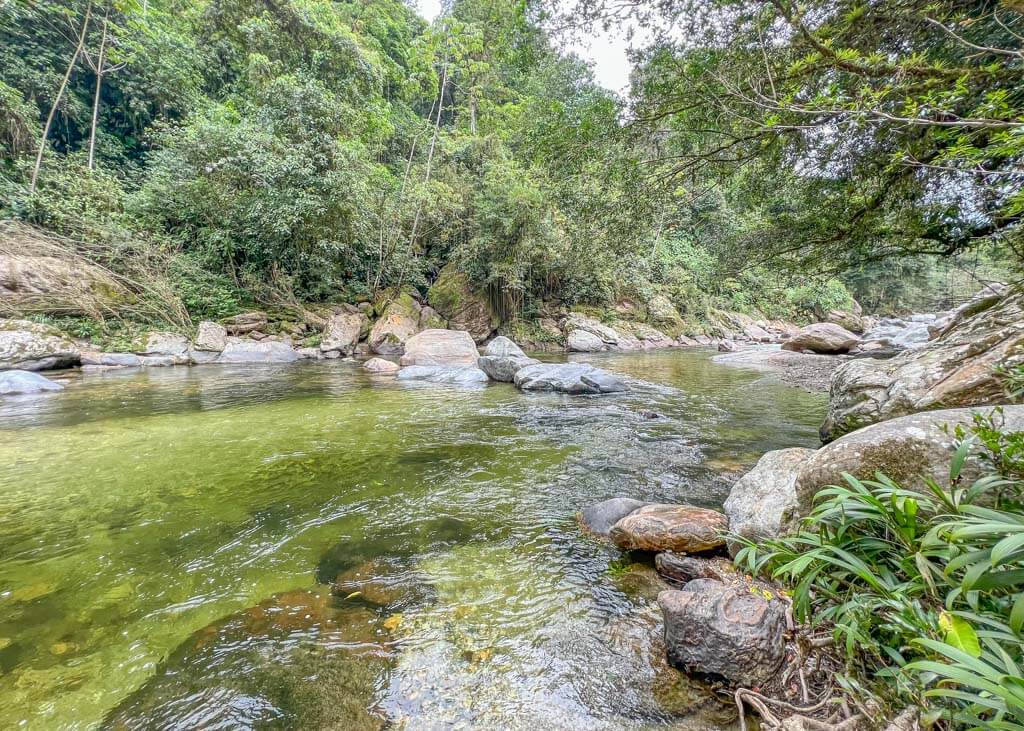 Some tour operators camp next to the Lost City
There is a small camp alongside the Lost City which is without a doubt the best place to stay!
I was surprised when I first heard this and was so bleak that we weren't camping next to the ruins.
But this particular camp is very small and can't accommodate many people.
I also heard of groups that were promised they'd stay at the Lost City camp, but when they arrived there was no space for them and so they had to go back down to another camp.
Some tours have translators
Most guides and people from the local communities do not speak English. Because of this, some tour operators (including Magic Tours) offer the service of a translator.
I am so happy we had a translator on our tour as we were able to really appreciate the stories from the Wiwa people and learn more about the history of the Lost City from our guides.
If you cannot speak Spanish, you may want to choose a Lost City tour company that includes a translator – this wasn't an additional expense.
Embrace the Lost City Trek experience
The site of Ciudad Perdida is truly a special place and is more impressive than I ever could have imagined.
While the Lost City trek is gaining popularity amongst all travelers, it still has an authentic charm and is one of the best things to do in Colombia.
---
Are you planning on doing the Lost City trek in Colombia? Let me know if you have any questions!