There are a few ways to get from Colombia to Panama (or vice versa).
Overland is not one of them!
So, you're left with these two options:
An international flights (cheap and fast, yet boring)
An ocean crossing by boat from Colombia to Panama (expensive and slower, yet adventurous)
I chose the latter!
Was it worth the money? And was the boat ride as rough as people say it is? I answer these questions and a whole lot more in this epic guide to 15 things I wish I knew about going from Colombia to Panama by boat.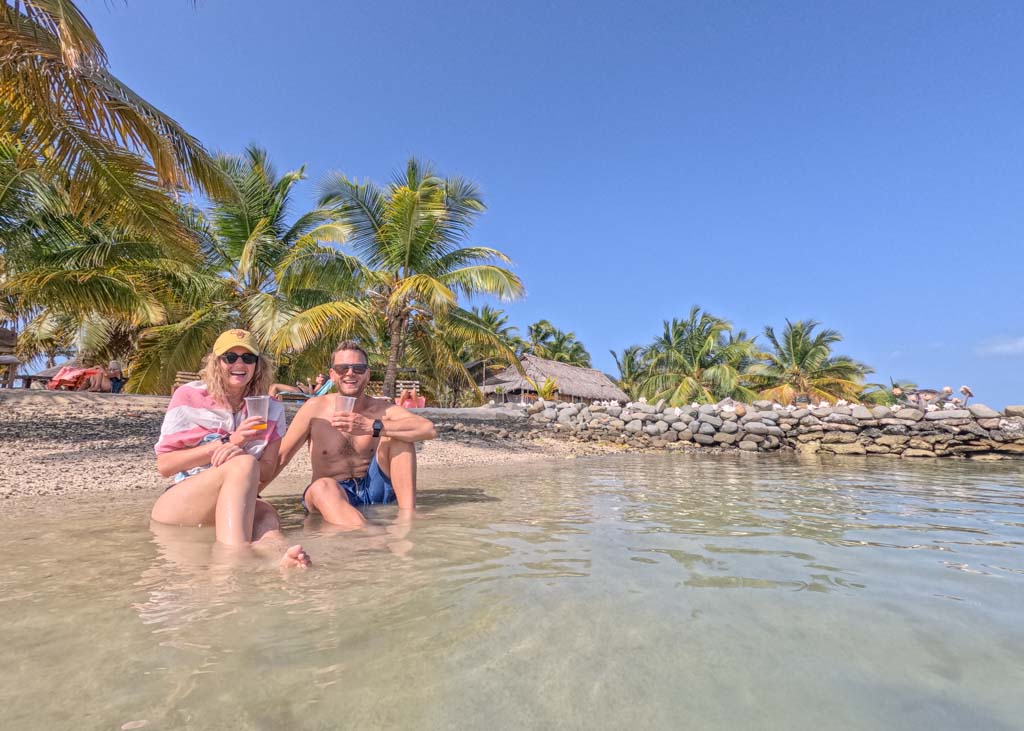 December to April is the windy season
The windy season starts in December and continues until April.
This is considered a good time to travel by boat from Panama to Colombia as there is no rain. But you'll have to make a compromise and deal with the wind instead.
Taking the sailboat vs speedboat from Panama to Colombia
There are two ways to make the crossing. The first is by speedboat, the other is by sailboat.
The sailboat takes a different route from the speedboat and is more exposed to the elements.
During the open ocean crossing, you won't leave the sailboat for 32 to 46 hours. The constant rocking due to rough sea conditions often leads to severe cases of seasickness.
Because of this, many people choose the speedboat instead.
With the speedboat, you spend less time on the water and more time on land. Your starting point is closer to the San Blas Islands, and you sleep on these islands (and not the boat).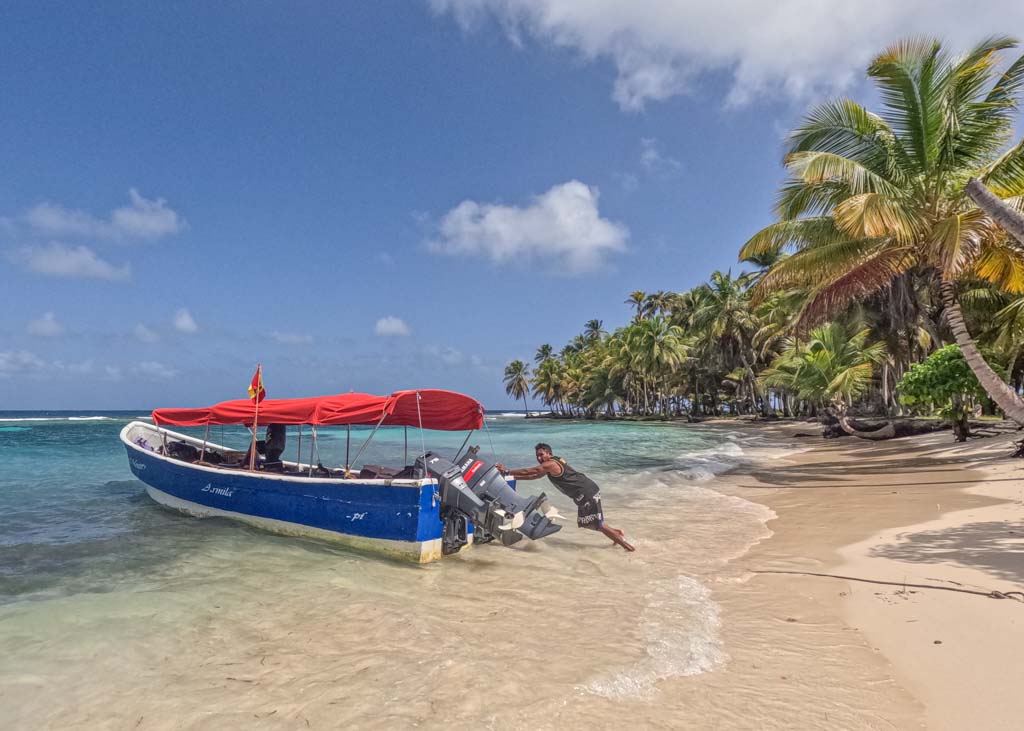 But it's still a hell of a bumpy ride
I hate to break it to you, if you're crossing from Panama to Colombia by boat, there's no escaping the rough oceans. This is only during the windy season, of course!
"But what about the speedboat option?" you might ask.
It's still bumpy AF!
I was not prepared for what was in store for me. Looking back, I can only laugh at how naive I was in thinking an ocean crossing would be a smooth ride.
When our guides gave us snorkeling masks, I thought they were joking. I can now confirm that they were not! These masks saved the day.
You will get soaking wet. Our speedboat was taking hard knocks and yes, some people still got seasick!
This was my experience in February so rather expect the worst but hope for the best.
You're only on the boat for 2 to 3 hours per day
The speedboat crossing starts (or ends, depending on your route) in Capurgana in Colombia (not Cartagena).
This means you're a lot closer to the San Blas Islands and have less distance to cover over the ocean.
You'll stay on the islands and won't be on the boat for more than 3 hours per day.
So yes, the conditions can be rough, but it won't be for more than a few hours.
Instagram vs reality: The truth about going from Colombia to Panama by boat
The San Blas Islands are incredible. But as with all things in travel, there are two sides… The one you see on Instagram and the reality!
We explored the most pristine and picturesque islands during our trip. Palm trees, sandy shores, turquoise waters.
But it won't be perfect all day, every day.
Here's my reality! On day two of our crossing, we stopped off at a small sandbank in the middle of the San Blas. On a bright sunny day, this would have been the most spectacular location.
But on a windy, overcast day, it was a different story.
With no shelter, there was no escaping the harsh conditions. The entire group lay hopelessly on the floor waiting for the go-ahead to leave the island. It wasn't exactly the island paradise I had expected.
It's travel in the best way
Taking the boat from Panama to Colombia is certainly not for everyone. It's not luxurious nor is it comfortable.
But it's the best way to travel if you're looking for adventure.
You've just got to be realistic and be open to all experiences you might have. Embrace it!
Which company to book with
If you take the sailboat option, you'll be spoiled with choices when it comes to boat operators. There are numerous vessels available that offer different levels of comfort.
However, when it comes to the speedboat, you're not left with many options.
San Blas Adventures is the most popular operator that manages speedboat trips from Panama to Colombia. They offer regular trips, are a safe and reputable company, and work with the local communities.
I booked my San Blas tour with them and have based this post on my experience. I personally paid for it myself and they didn't know that I was a travel blogger – so you're going to get the real and raw version!
Your San Blas Adventure officially starts in Sapzurro
When traveling from Colombia to Panama, the sailboats depart from Cartagena in Colombia.
The speedboats do not!
Instead, the speedboat tours depart from a small town called Sapzurro close to the Panama/Colombia border.
It's not really a 3 night / 4 day tour
San Blas Adventures advertise their crossing from Panama to Colombia as a 3 night / 4 day adventure.
And technically, it is. But if you book your trip with them, you'll need 5 nights / 6 days.
Why?
Because it takes two days to get from Cartagena to Sapzurro, the starting point of your speedboat crossing.
So, remember to keep 2 additional nights free in your itinerary. I didn't! This meant my time in Cartagena came to an end sooner than I had planned.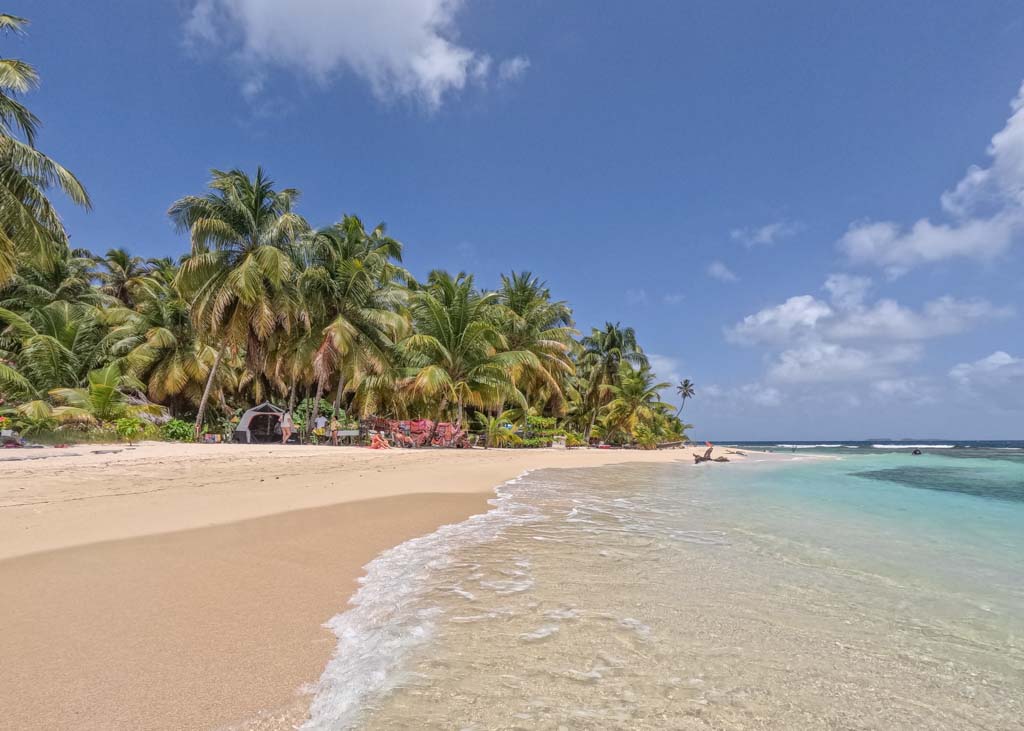 The speedboat is not the cheaper option
A reason why many people choose the San Blas Adventures boat from Panama to Colombia is that it's supposedly the cheaper option (compared to the sailboat).
Yes – the upfront costs that you pay directly to San Blas Adventures is cheaper than the sailboat.
But these costs only include your travel and food from Sapzurro, Colombia to Carti, Panama. Nothing else.
There are other mandatory costs, like the additional 2 days of travel expenses and local taxes. These all add up and eventually make the speedboat trip more or less the same price as the sailboat.
Actual costs for San Blas Adventures boat from Colombia to Panama
The San Blas Adventures boat from Panama to Colombia is advertised as $495 for the 3 day / 4 night tour.
You'll pay a small deposit, and the balance needs to be paid in cash (USD only) when you meet the team in Capurgana.
Here are the additional expenses that you will incur. There's no avoiding these costs!
Kuna Yala Entrance taxes: $20
4×4 Taxi from Carti to Panama City: $30
Bus from Cartagena to Necocli: 100 000 COP
Accommodation in Necocli: 50 000 COP
Boat from Necocli to Capurgana: 85 000 COP
Boat from Capurgana to Sapzurro: 20 000 COP
Accommodation in Sapzurro: 50 000 COP
Water, black bags to cover your items, snacks, beer: 120 000 COP
In total, you're looking at about $620 for the boat from Panama to Colombia with San Blas Adventures.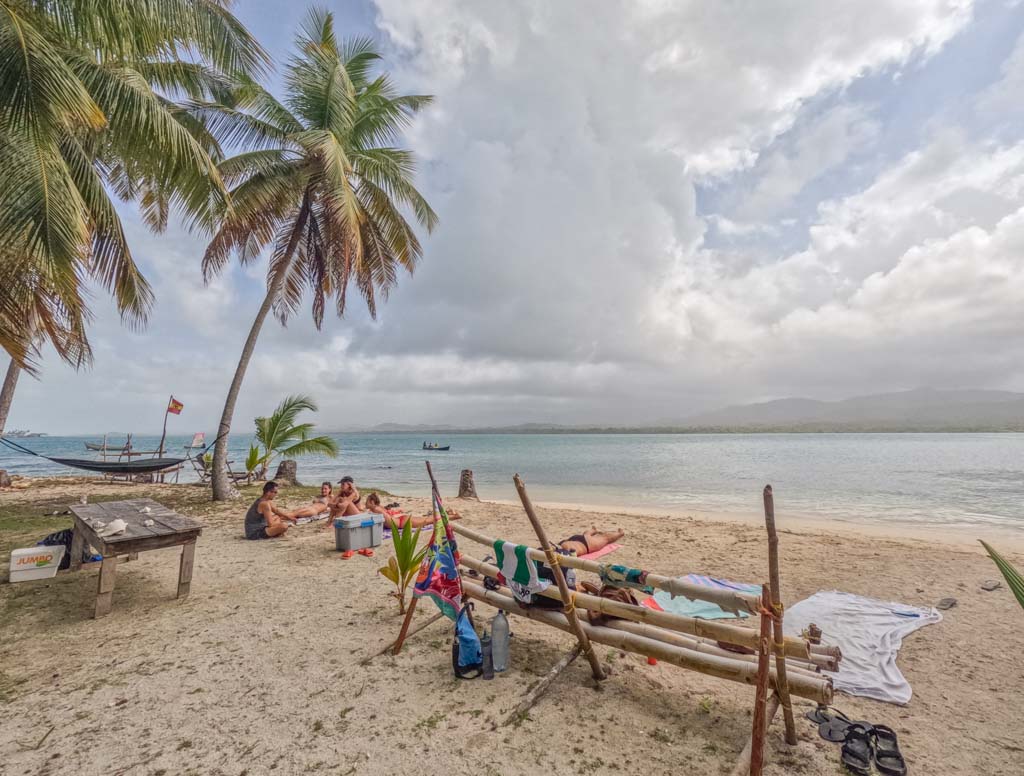 Necocli is the gateway to the Darien Gap
Wondering why tourists don't travel from Colombia to Panama by land? The Darien Gap is the reason!
It's one of the world's most dangerous migration routes.
Despite the presence of drug cartels, extortion by criminal groups, and risks of sexual assault, thousands of people, young and old, try crossing the Darien Gap to get further north into the USA.
You will witness the extent of this when you get on your boat from Necocli to Capurgana. Most migrants depart from this very same dock, carrying all their most valuable belongings in one small bag.
It broke my heart to see this firsthand and I've since become so much more aware of the struggle's migrants face.
So be kind to people you meet, always. You don't know what journey they've been on to get there and what hardships they may face in the coming days.
You'll get to interact with the local communities
By choosing the speedboat option, you'll spend each night on the San Blas Islands. You'll visit the local communities that call the islands home and learn more about their way of life.
This was an incredible experience. We danced with the kids and played games with them. We also got to learn more about how the Kuna Yala live, their struggles and triumphs as well as how they fit into Panamanian culture.
It was fascinating!
You'll need to wrap all your bags in plastic
If there is one thing I didn't like about crossing from Panama to Colombia by boat, it was that you have to wrap all your luggage in black plastic bags. And with numerous layers!
This is to prevent your things from getting wet.
You can buy these black bags and tape from the local vendors at the port in Necocli or Carti (depending on where you're starting from).
The accommodation on the San Blas Islands is basic
Some nights you'll sleep in hammocks, others you'll have dorm-style rooms available.
The facilities are rustic and basic, but that's what you're signing up for.
Thoughts on how to get from Colombia to Panama by boat
My boat trip from Colombia to Panama was one of the highlights of my 6-month backpacking trip.
Yes, it's expensive. Yes, it's rough. But the memories I have and the friendships I made will stay with me forever!
---
Are you planning of traveling from Colombia to Panama by boat? Drop me a message in the comments section below if you have any questions.