Thrilling drift diving. Mazes of swim-throughs. Vibrant marine life. Diving in Cozumel offers all of this, and so much more.
The island off the coast of the Yucatan Peninsula in Mexico has made a name for itself as an underwater mecca.
But with so many Cozumel dive sites to choose from, it's hard to decide which is best.
That's where I come in!
My visit to Cozumel in May 2023 was all about finding the best dive sites around the island. I've compiled this detailed guide with my favorite spots as well as others that were highly recommended by locals.
Diving in Cozumel
Cozumel is all about drift diving. For beginners, this can be challenging (and even overwhelming), but after your first drift dive, you'll be wanting more!
On the flip side, you may be coming here for the drift dives, but the reality could be different from what you expect.
This was my personal experience when diving in Cozumel and the currents weren't as strong as I had hoped. The diving conditions were near perfect during my visit and while many people may have preferred this, I was slightly disappointed that I didn't get that sudden rush as I would have expected from a fast-paced drive dive.
Despite this, the Cozumel dive sites did not disappoint!
Where to find the best dive sites in Cozumel
The Arrecifes de Cozumel National Park is the protected marine park that lies west of the island. It's part of the Mesoamerican Barrier Reef System, the second-largest coral reef system in the world.
This is where you'll find the best Cozumel dive sites – I have never dived in water with such incredible visibility.
Colombia Deep: My top Cozumel dive site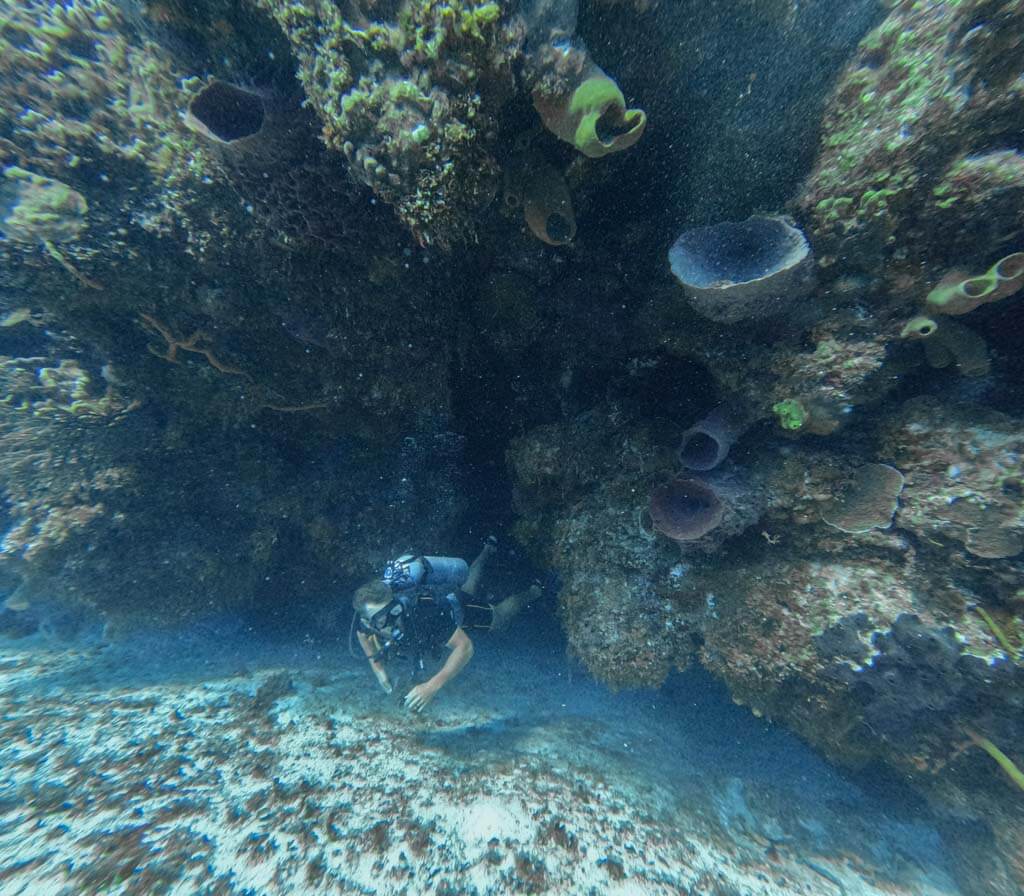 Experience: Advanced
Highlights: Swim throughs
Maximum depth: 40m
Colombia Deep is one of the best dive sites in Cozumel for experienced divers.
It's a fast-paced drift dive featuring epic swim-throughs and large coral pinnacles.
I didn't see many schools of fish or exciting sea life at Colombia Deep, but the dramatic drop-offs and enormous coral formations made up for it.
Situated near the southern tip of Cozumel, it's one of the furthest dive sites to get to. But those who venture here will be rewarded with an uncrowded dive, as not many dive shops make it this far.
Paseo De Cedral (Cedral Pass): Best for marine life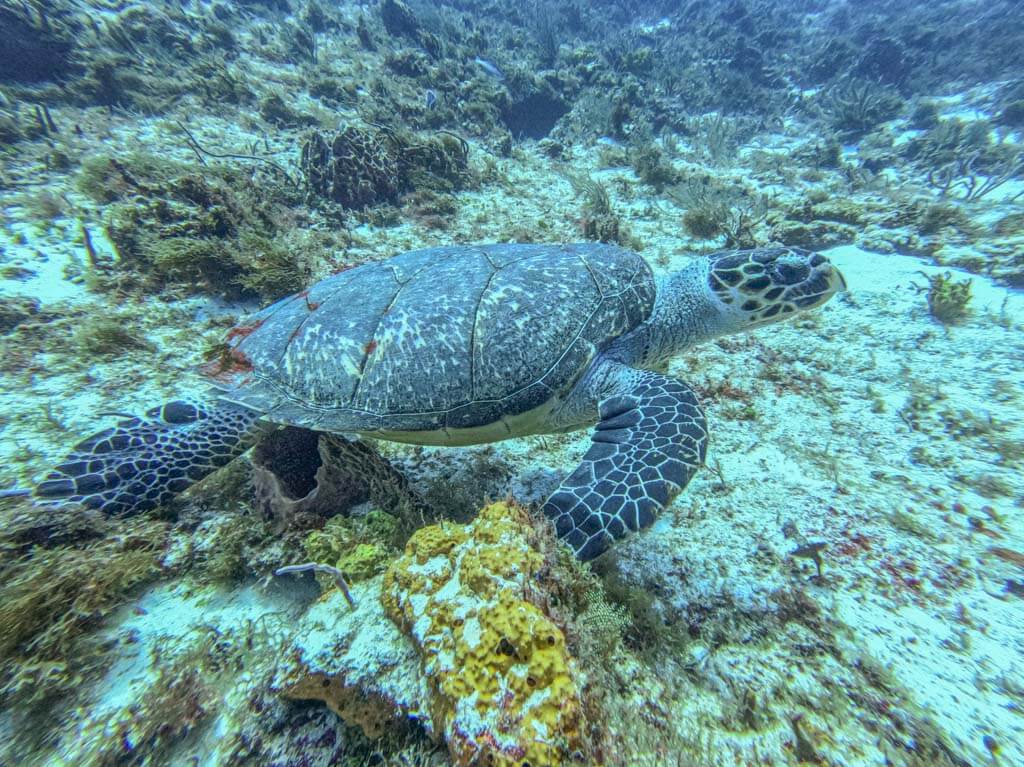 Experience: Beginner to advanced
Highlights: Schools of fish
Maximum depth: 18m
Paseo De Cedral was highly recommended by an instructor I'd met on my travels. It hadn't been on my radar, and I can confidently say that it's an absolute hidden gem!
Exploring Paseo De Cedral is like swimming in an aquarium.
This site is thriving with life, from bright-colored coral to massive schools of fish. I also saw a few turtles and nurse sharks.
Unfortunately, you're not going to find any swim-throughs here. Diving both Cedral Pass and Colombia Deep is a winning combination if you're looking for the best two dive sites in Cozumel.
Paradise Reef: Best night dive
Experience: Beginner to advanced
Highlights: Schools of fish
Maximum depth: 13m
Paradise Reef is a shallow dive close to the marina. It's a great option as a second or night dive.
Here you can see all species of marine life, including rays, turtles, and nurse sharks. Unfortunately, most people won't get so lucky!
However, I did see many lobsters, crabs, eels, and other fish species that I had never seen before.
Paradise Reef is an easy dive and perfect for beginners as the current is mild.
Palancar Caves
Experience: Advanced
Highlights: Swim throughs
Maximum depth: 35m
Located toward the south of Cozumel lies Palancar Caves, a favorite amongst experienced scuba divers.
This Cozumel dive site boasts breathtaking swim-throughs, exciting tunnels, and towering coral pillars.
Palancar Caves offers a similar dive experience to Colombia Deep which is close by.
Santa Rosa Wall: Most popular Cozumel dive site
Experience: Beginner to advanced
Highlights: Swim throughs, coral, marine life – everything!
Maximum depth: 40m
If you've done any research on the best Cozumel dive sites, you will know all about Santa Rosa Wall.
It's the most popular site thanks to its bright coral formations, lush walls, and vibrant marine life. Santa Rosa Wall also boasts thrilling swim-throughs.
It's a diverse place to explore and is loved by everyone who chooses to dive here.
But with this sort of popularity comes the crowds! You can spot Santa Rosa Wall from a mile away as there are constantly scores of diving boats above the water.
If you don't want to be navigating around big groups of divers, speak to your dive guide about your timing for this dive and maybe opt for a different site instead.
La Francesca
Experience: Beginner to advanced
Highlights: Variety of sea life
Maximum depth: 18m
La Francesca is a beautiful reef found mid-way through the marine park.
It's an underwater playground renowned for its active marine life and abundance of large fish.
La Francesca may not be the largest reef, nor the deepest, but it's teeming with life.
Turtles and black grouper are common sightings, and you'll find beautiful coral structures throughout the site.
READ MORE: CENOTE DIVING IN TULUM: EVERYTHING YOU NEED TO KNOW
C-53 Shipwreck
Experience: Advanced
Highlights: Wreck dive
Maximum depth: 25m
The C-53 wreck is an artificial reef that was intentionally sunk in 1999. It's now one of the top dive sites in Cozumel, thanks to the large groupers and resident moray eels that call it home.
It's the only wreck in the marine park and great for those who are looking for something a bit different. Divers can also access the hull of the C-53 and explore the inside of the wreck.
Punta Sur: The most advanced dive site in Cozumel
Experience: Advanced
Highlights: Devil's Throat
Maximum depth: 40m
Punta Sur is the furthest Cozumel dive site from the marina. Not many people choose to go this far, but the journey is well worth it for advanced divers.
The biggest attraction? Devil's Throat! It's an exhilarating narrow, vertical swim-through that starts at 28m and exits at 40m.
This site is only recommended for experienced divers who are confident with drift dives as well as diving at a depth of over 30m.
Costs for scuba diving in Cozumel
You're looking at $120 for a two-tank dive or $135 for a three-tank dive, all-inclusive.
When inquiring about costs for scuba diving in Cozumel, I was surprised that not all operators offer a single price.
Some prices include gear; some don't. Some include marine park fees, while others don't!
Cozumel tour operators
I booked my dives with Ray Diving and was very happy.
Ray came highly recommended by a friend and after doing a lot of research on the best dive operators in Cozumel, I knew I wouldn't find any better. Unlike the bigger dive shops, Ray offers small group dive trips with a more personal experience.
Gary and I were the only ones on the boat, and Ray customized our itinerary based on what we wanted to see.
This is an unbiased review, as Ray didn't know I was a travel blogger, and I paid for my dive trip myself.
Best time to visit the Cozumel dive sites
There's never a bad time to dive in Cozumel. But there are factors you need to take into consideration.
High season
The winter season, from November to March, is the peak tourist time for visiting Cozumel.
While it's a great time to dive with Eagle Rays, it's also the busiest.
Low season
The low season is from April to October. If you want to avoid the crowds, I recommend visiting during this time.
The rainy season starts in June, and there's a higher chance of hurricanes in September and October.
I went diving in Cozumel during May and had perfect conditions – no rain, no wind, and no crowds!
Thoughts on the best dive sites in Cozumel
Cozumel is a world-renowned diving destination famous for its exhilarating drift dives and stunning coral structures.
My favorite Cozumel dive sites include Colombia Deep and Paseo De Cedral which offer two unique diving experiences.
Like it? Pin it!
---
Have you visited any of these Cozumel dive sites? Which is your favorite. If you have any questions, drop me a message in the comments section below.
Are you looking for more Mexico travel inspiration? Check out my other posts!