El Nido, Palawan, is an island hopping mecca in the Philippines. The town itself is cluttered with numerous tour operators, hundreds of tricycles and even more tourists. The islands nearby, however, are a complete contrast to the busy town
They are incredible!
But what if you only have a few days to explore this beautiful part of Palawan? There are so many other things to do in El Nido and so prioritizing your activities is a must.
This guide will help you decide which El Nido Island hopping tour is best for your trip (and your budget).
Changes to El Nido Island Hopping Tours (2020)
As of 2018, the Department of Environment and Natural Resources has implemented new laws in order to protect the environment. This blog post has been updated to reflect the changes made if you want to go island hopping in El Nido.
The new laws include:
Both Big and Small Lagoon cannot be visited on the same tour
No combination tours allowed (ie: best of El Nido Tour A & C in one day)
No Party boats allowed
El Nido Island Hopping Map & Overview
El Nido's beauty lies in the exquisite limestone cliffs that are dotted all over the islands and peak out of the ocean. Each of these unique and natural geographical structures is covered in greenery and surrounded by crystal clear blue water.
You cannot appreciate El Nido for what it really is until you have visited a few of the 45 islands that make up the Bacuit Archipelago.
There are four El Nido island hopping tours to choose from: Tour A, Tour B, Tour C, and Tour D.
If you'd prefer to wing it, you can easily make your tour bookings after you've arrived in El Nido. There are vendors on every street corner and you're almost always guaranteed to find a spot on an El Nido tour.
But, it's important to note that the prices for these island hopping tours are not often negotiable as there are set rates agreed to by all operators in town. Therefore, if you're looking for a good deal, it makes little difference whether you book a tour online or directly through a re-seller at the port.
If your time is limited, save yourself the hassle and rather pre-book a tour online where all you need to do is rock up on the day.
You can check the availability of the El Nido tours here and I've covered them in detail below.
The Best El Nido Island Hopping Tour
Each tour follows the same itinerary which makes it a lot easier when deciding which El Nido island hopping tour to choose from.
The tours start at 09:00, but expect to wait a while before you eventually leave the harbor. Things work at a slower pace in El Nido – otherwise known as Philippines time!
The island hopping tours should be completed by 17:00, just in time for sunset at Las Cabanas Beach.
Previously, El Nido Tour A and C were the best tours, but this has all changed since the environmental protection laws were implemented. The tours are now vastly different, and I recommend you try at least 2 of them.
To go on an El Nido Island Hopping tour, you need to pay a compulsory 200 PHP ($4) environmental fee which is valid for 10 days. This is a once-off cost and can be used on all tours so keep this voucher handy.
El Nido Tour A
Tour A is known for its lagoons and beaches. It's one of the best island hopping tours in El Nido and definitely lives up to its high reputation.
The highlights for me were Shimizu Island and Big Lagoon. I would have been happy to skip the crowds at 7 Commando Beach.
El Nido Tour A Itinerary
Shimizu Island
Big Lagoon
Secret Lagoon
7 Commando Beach
Miniloc Island
Tour A Package
Expect to pay $18-$24 per person for Tour A. Find the best El Nido Tour A deals here.
1. Shimizu Island
Shimizu Island was my favorite destination for El Nido Tour A.
It's a popular lunch stop but to avoid the crowds, our boat anchored at a snorkeling site where we were able to swim around for 30 minutes before heading to the next island.
With its diverse marine life and bright color coral, it's a hard one to beat. An interesting fact about Shimizu Island – It's named after a Japanese diver who died whilst exploring the island's underwater cave.
2. Big Lagoon
Big Lagoon is, well, big!
You enter the lagoon through a wide, shallow canal. As you get closer to Big Lagoon, the water gradually fades darker as a result of the deeper water.
You can rent a canoe for 250 PHP ($5) and paddle through the canal to enter Big Lagoon. Once inside, you're surrounded by large vertical limestone cliffs where you can swim around for a while and explore the lagoon.
3. Secret Lagoon
Secret Lagoon is the smallest of the 2 lagoons on El Nido Tour A's itinerary.
To enter the lagoon, you need to climb through a small, narrow opening. Many people have complained about the queues at this entrance point, but it was relatively quiet when we were there.
What's waiting for you on the other side isn't the most extraordinary lagoon I've come across.
Whilst walking through the not-so-blue waters, take a look up and appreciate the limestone walls that enclose Secret Lagoon. This is where the true beauty lies.
4. 7 Commando Beach
7 Commando Beach is a large beach with sandy shores and turquoise, clear water. It's supposedly named after 7 Japanese commandos who were stranded on the island and made it their home after WWII.
It is by far the most popular stop for El Nido Tour A. This, thanks to the 2 beach bars and swings that welcome you as you arrive.
Luckily for me, 7 Commando Beach was my camping spot for the night so I had a chance to appreciate it without the crowds.
Whilst I did feel that this beach was too busy, the boats left before sunset, taking the scores of tourists with them.
If you have time, take a swim around the limestone rocks to the beach next door, Papaya Beach. It is smaller and less crowded than 7 Commandos Beach.
Read More: The Truth About Camping on 7 Commandos Beach in El Nido
El Nido Tour B
Tour B is about caves but includes a few beaches and snorkeling. However, I do think that El Nido Tour A and C are better overall.
Tour B Package
Tour B is slightly more expensive as it's further from El Nido and you'll pay $21-$26 per person for a shared tour. You can find the best El Nido Tour B deals here.
El Nido Tour B Itinerary
Snake Island
Entalula Island
Cudgnon Cave
Cathedral Cave
Pinagbuyutan Island
1. Snake Island
This was my favorite stop for EL Nido Tour B.
Snake Island gets its name from the narrow sandbar that resembles a snake and connects two islands together. No, there are no snakes on Snake Island! (This was the first question I asked!)
There is a viewpoint which is a short hike from the beach, offering gorgeous views of Snake Island.
Whilst Snake Island doesn't offer the same standard of beaches as Talisay Beach (Tour C), it is a fun stop to splash around in the water and do a bit of exploring.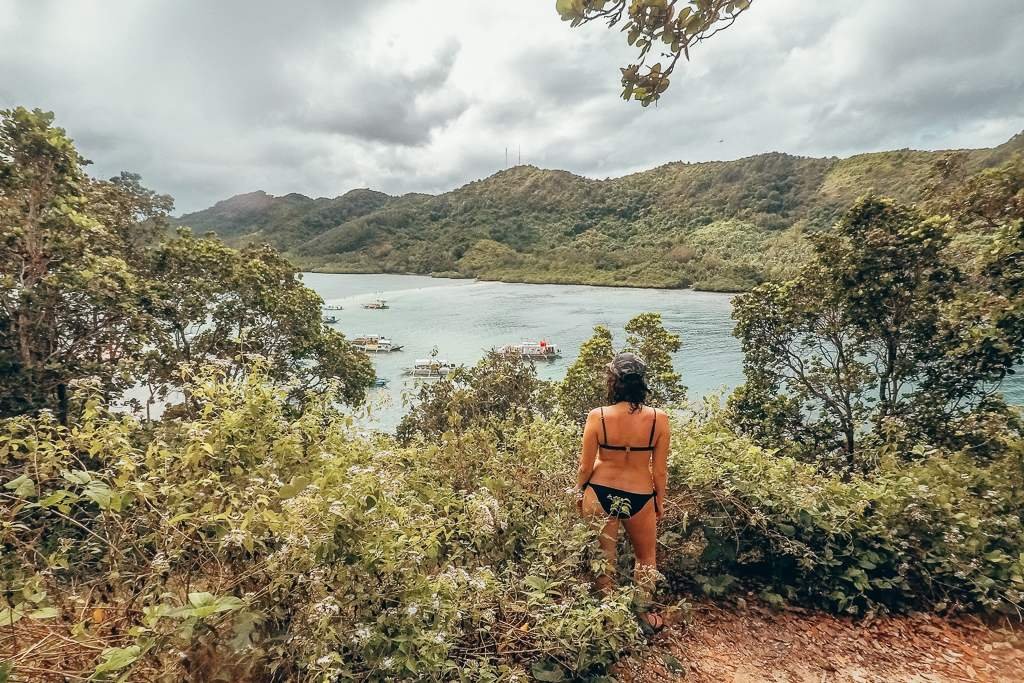 2. Entalula Island
This is one of the best beaches to visit on your El Nido Island Hopping tour! Entalula Beach is a long, white sandy beach with incredibly clear water.
3. Cudgnon Cave
After taking a quick swim from our boat to the island, we reached Cudgnon Cave. It is said that the cave was once a sacred burial site, but the fossils have since been removed.
To enter the cave you need to squeeze through a small hole. It's definitely not a graceful entrance, especially when you're in a bikini.
There is a small opening in the ceiling of the cave which lets light in and so you are not completely surrounded by darkness. There are three chambers within the cave, one of which is home to thousands of fruit bats.
4. Cathedral Cave
The boat anchors just outside of Cathedral Cave where you can take pictures of the entrance of the cave, however, you are not allowed to get off the boat.
This particular stop was not very exciting but it would have been if we were allowed to swim in the cave. Unfortunately, this is not allowed as the waters can get quite rough and with the sharp edges, it is dangerous. There are also many sea snakes in the water so it's best avoided.
5. Pinagbuyutan Island
The island is filled with coconut trees, long grass, and sandy shores.
Pinagbuyutan Island is different from any of the other beach stops which intrigued me. It was also very quiet when we arrived, with only one other tour group visiting the island.
Pinagbuyutan Island offers snorkeling on one end and a nice swimming beach on the other. However, the snorkeling here is nothing to write home about. After visiting some of the most incredible snorkeling sites in El Nido, our standards were set high!
El Nido Tour C
Tour C is all about beautiful beaches and snorkeling and is one of the best El Nido tours. It showcases the perfect paradise that the Philippines is, and it does this through the beaches on it's itinerary.
It is also the tour that's most affected by adverse weather conditions. As a result, some of the destinations on Tour C's itinerary may be inaccessible.
I thoroughly enjoyed Talisay Beach and Hidden Beach. Helicopter Island and Matinloc Island weren't all they're made out to be, but overall it was a great tour with incredible sights.
Tour C Packages
Tour C is also slightly further from El Nido but for only $25, its definitely worth it. You can find the best El Nido Tour C deals here.
El Nido Tour C Itinerary
Helicopter Island
Secret Beach
Talisay Beach
Matinloc Shrine
Hidden Beach
1. Helicopter Island
Helicopter Island is the first stop on the for El Nido Tour C itinerary. When looking at the island from a distance, you will notice it's odd shape, which of course looks like a helicopter.
To be honest, I wasn't exactly blown away by this beach. It didn't quite meet my "perfect paradise" standards, with its large crowds, mediocre snorkeling and not so white-sandy shores!
But, in the island's defense, it was rather windy when we arrived (and there had been a typhoon 2 days before), so perhaps I'm being too harsh.
We snorkeled for a while and took a walk along the long beach before heading to our next stop of Tour C.
2. Secret Beach
Secret beach can only be accessed through a tiny hole in the limestone walls that separates the sea from the beach.
Unfortunately, the seas were too rough when we arrived and so we couldn't enter. However, Secret Beach is one of the most popular El Nido Tour C island hopping stops and I wish we could've experienced it.
3. Talisay Beach
I loved this beach! Talisay Beach is a beautiful white sandy beach and was our lunch stop for the day.
Snorkeling off the shores of Talisay Beach was nothing short of spectacular. The waters here are calm and clear blue.
We were surrounded by all kinds of tropical fish as we tried our hand at free diving and exploring the underwater world of El Nido.
4. Matinloc Shrine
Matinloc Shrine is a shrine dedicated to the Virgin Mary situated alongside an abandoned mansion. The owner and his wife mysteriously left the island, and the shrine has since been neglected.
After paying an entrance fee of 100 PHP, we took a walk around the grounds.
It's an old shrine and the mansion has an eerie feel to it. I would love to know the history and the story of the people who lived there, and why they left so suddenly.
The main attraction for this stop is the lookout point. It is a short climb up the jagged limestone rocks and ends with a viewpoint that has panoramic views of the islands nearby.
Take a snap, then be on your way as there's not much else to see at this stop.
5. Hidden Beach
This was our last stop for EL Nido Tour C. As we approached Hidden Beach and came to a stop, I thought, "Mmm, well there's no beach here!!"
But hidden behind the beautiful limestone cliffs lies a small and isolated beach.
Getting to the beach was an adventure on its own. The sea was a bit rough but after seeing 4-year-olds dive into the water with not a worry in the world, I decided to go for it.
To enter the beach you swim through a small waterway towards a shallow bay.
Hidden Beach was relatively quiet when we arrived and I really enjoyed the swim to get there as it was a bit more exciting than being dropped off by the boats.
El Nido Tour D
Tour D has a bit of something for everyone. It focuses on Cadlao Island which is one of the closest islands to El Nido and so it's often overlooked by travelers.
Tour D Package
El Nido Tour D will cost you between $28-$32. You can find the best El Nido Tour D deals here.
Pro tip: The biggest drawcard of El Nido Tour D is Small Lagoon, but if you're willing to give it a miss, you can also rent a kayak in El Nido and explore Cadloa Island yourself. Just make sure the weather's good and try to go early in the day so that you're back before sunset.
El Nido Tour D Itinerary
Small lagoon
Cadlao lagoon
Pasandigan Cove
Paradise Beach
Bukal Beach
1. Pasandigan Cove, Paradise Beach, and Bukal Beach
El Nido Tour D offers stops at some of the best beaches in the Bacuit archipelago.
You'll enjoy some of the best snorkeling and time out on the most pristine beaches in the Philippines.
2. Cadlao Lagoon
This beautiful lagoon is surrounded by limestone rock formations and is close to Nat Nat Beach.
3. Small Lagoon
Incredible turquoise waters welcome you to Small Lagoon. Here, you are able to rent canoes and paddle between the limestone formations that make up the lagoon.
It's peaceful and surprisingly silent, despite the crowds that fill it. Small Lagoon was also our lunch stop for the day where we were served fresh mussels, chicken, salad, rice, and fruit.
Private vs Group Island Hopping Tours in El Nido
I did a mix of both private and group tours in El Nido. If you're backpacking and are watching your budget, then definitely opt for the group tours. They are the cheapest and you'll meet loads of cool people from all over the world.
But, if you do have a bit of cash to spare or if you're traveling in a big group or with your family, a private tour is best. Request an upgrade on epic tour like this and have the entire catamaran to yourself!
With a private tour, you won't have to squeeze onto a small boat, plus you'll have the freedom to decide how long you want to stay on each island. You can also do the island hopping itinerary in reverse which means you'll avoid the crowds that arrive on group tours.
But, they are more expensive so you'll need to weigh up the pros and cons of each and decide which is best for you.
What to Take Island Hopping in El Nido
Wet bag to keep your cash and personal belongings dry as the boat does get wet. These bags cost around 350 PHP for a 20L bag that you can buy in El Nido.
Sunscreen, sunglasses, and a hat.
Cash to buy Coconuts (50 PHP), ice-cold beers (70 PHP) and cold drinks (70 PHP) as well as to rent kayaks.
If you have reef shoes, wear them. However, they aren't necessary if you have substitute shoes. Our Havaiana flip-flops were a good second best, so take them along if you have.
Towell and a sarong.
Water and snacks.
Go Pro.
Tips for El Nido Island Hopping
If you don't book a tour through a reputable online company, be sure to confirm exactly what is included and the destinations on your tour.
Most El Nido island hopping tours include snorkeling gear, a life jacket, and a buffet lunch.
Canoes are available for rental for 250 PHP at Small and Big Lagoon.
All tours offer the same itinerary and unless you hire a private boat, you are unable to customize your tour.
Where To Stay in El Nido
Backpackers will love Outpost Beach Hostel. This spot definitely lives up to its name and is found right on Carong-Carong beach! It's a backpacker hotspot in El Nido so if you stay here, you're bound to meet other awesome travelers.
If you're traveling on a budget, Justine's place is perfect for you! Situated only 5 minutes' walk from El Nido town, the room has an AC and extremely fast Wi-Fi (which is not common in EL Nido!)
Looking for a mi-range place to stay? Angel Nido Resort is located on the quieter part of El Nido, right on the beach with awesome views. It's a great place for couples or travelers who want to escape the hustle and bustle of El Nido whilst enjoying their relaxing holiday.
Luxury travelers will love Cauayan Island Resort & Spa. This incredible resort is on a private island just off the coast of El Nido. Enjoy the infinity pool that overlooks the secluded beach or book a stay in one of the over-water bungalows. Either way, this place is paradise and a dream resort for any traveler!
---
Have you been island hopping in El Nido? Which tour is best? Let me know in the comments section below!
Looking for more Philippines travel information? Check out my other posts!
---
Pin this!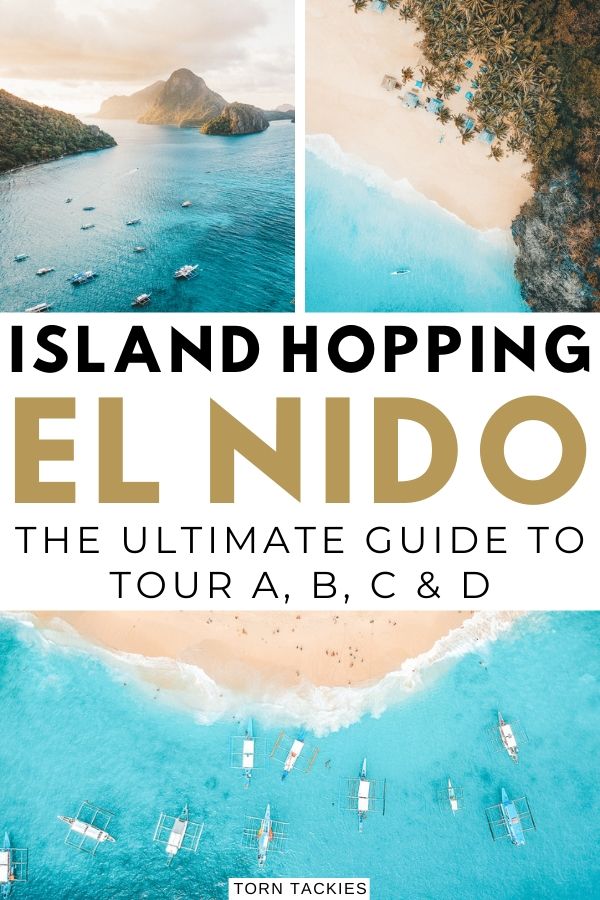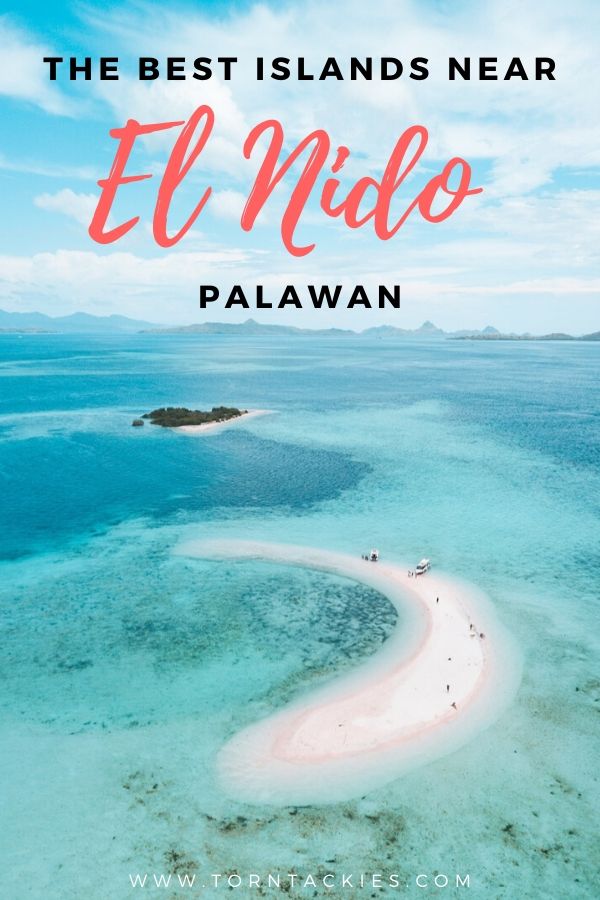 There is a really good chance that this post contains affiliate links. If you click one of them, I may receive a small commission at no extra cost to you. As always, views are my own!