High1 Ski Resort (하이원 리조트) is one of the largest ski parks in Korea. It may not be as close to Seoul as some of the others, but it's where you'll find the longest slopes and the best snow quality.
So, with the winter season approaching, I wanted to see what all the hype was about.
Is High1 Resort really all it's made out to be?
The verdict? High1 tops my list of best ski resorts in Korea. Here's why!
I've visited most ski destinations in the country, and I've discovered that the ski parks here are limited in size, and they are often very crowded.
But High1 Resort is different!
I've created this detailed guide with everything you need to know about visiting High1 Ski Resort. From how to get there, when to go, and what to pack, this post has got you covered.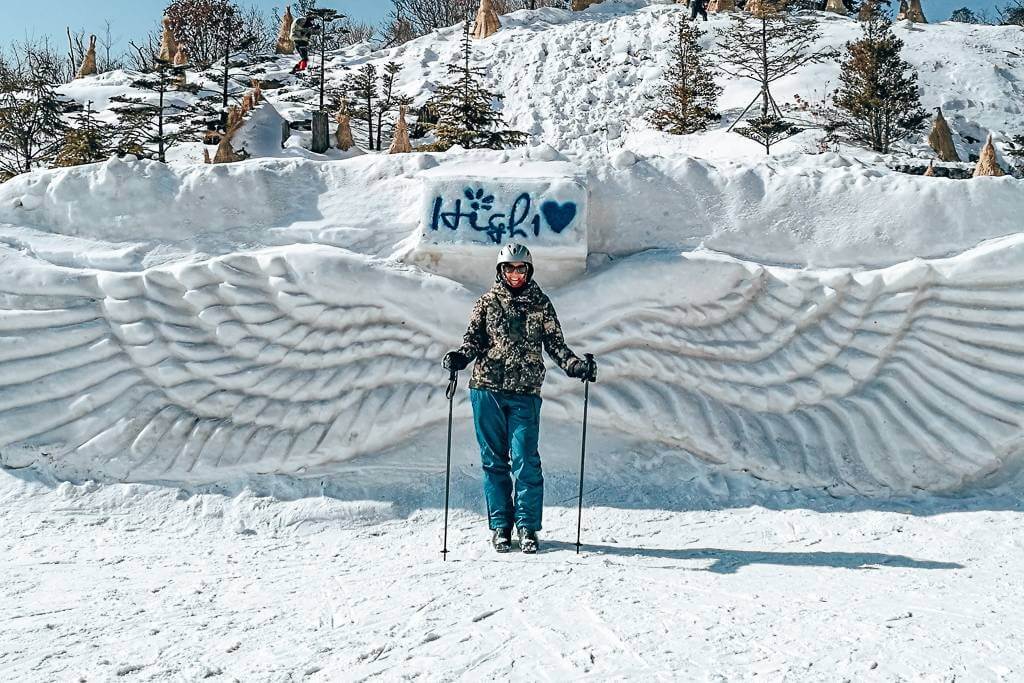 Torn Tackies contains affiliate links. If you make a purchase using one of these links, I may receive compensation at no extra cost to you. See my disclosure for more information.
High1 Ski Resort: Quick Overview
Distance from Seoul: 3 hours drive (170 km)
Number of slopes: 18
Pros: Great slope variety and better quality snow
Cons: Longer drive from Seoul compared to other ski parks
Best ski package: I recommend an overnight stay. Search for ski packages here.
About High1 Ski Resort, Korea
High1 Resort lies 3 hours east of Seoul in Gangwon Province.
Unlike the other ski resorts in Korea, it's a bit further from the capital city. However, what's waiting for you when you arrive is worth the time it takes to get there!
High1 has the highest elevation in the country and offers the best ski slopes I've come across in Korea.
It's a much larger resort compared to other ski parks, covering 3 mountain peaks. It offers something for the whole family, including many kids' slopes and snow sledding, saunas, a casino, and numerous hiking trails.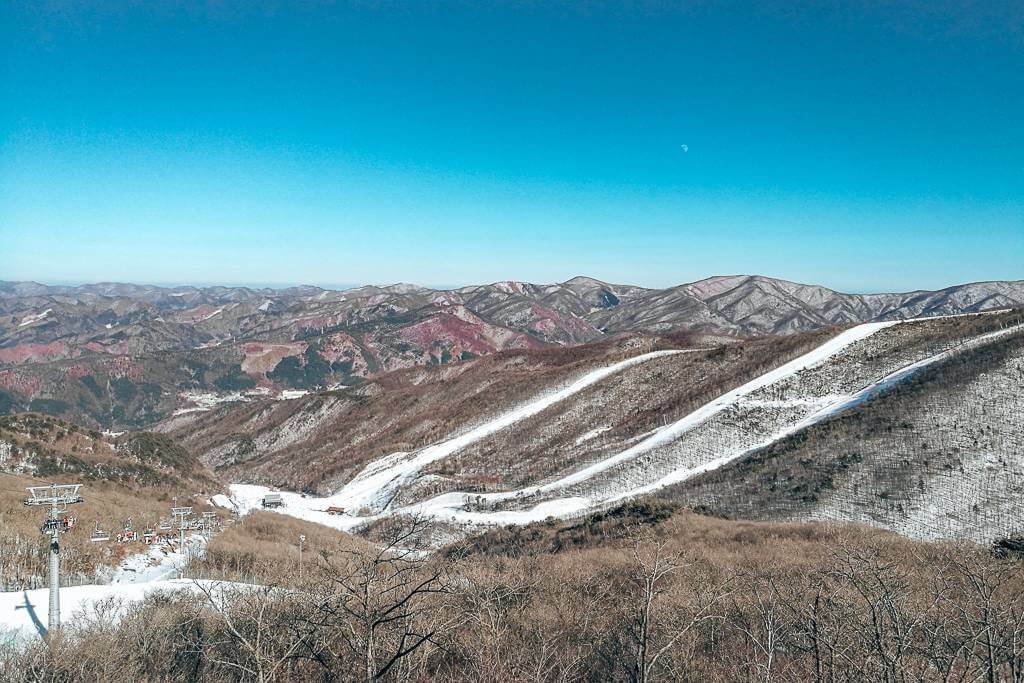 The Ski Park at High1 Resort, Korea
High1 Ski Resort is said to have more powdery snow than any other ski park in Korea.
But after spending 2 days on the slopes, I found that the quality of the snow was on par with other resorts I've visited.
Most of the ski slopes are made of artificial snow, and as a result, there are a few icy patches.
What sets High1 Resort apart from the others is the dynamic ski park, with many long runs and slope varieties.
But there is no escaping the crowds, so you will have to bite the bullet and do your best to avoid any collisions!
High1 Ski Map
The ski park itself is easy to navigate. I recommend taking a High1 ski map from the Mountain Ski House before you hit the slopes.
The Mountain Top offers exceptional views of the surrounding mountain ranges as well as many picturesque photo opportunity spots.
Halfway up the mountain is the Valley Hub, where you can grab some lunch and take a rest before heading back up to the peak or down the slopes again.
Book your High1 ski package here.
The Slopes At High1 Ski Resort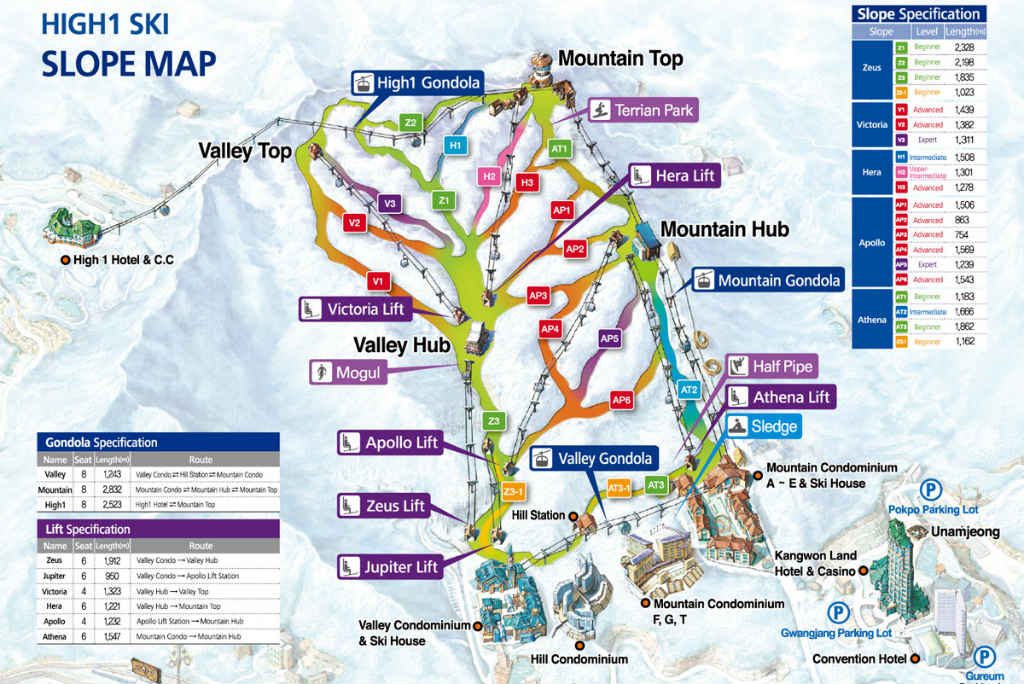 High1 is made up of 18 slopes covering a total area of 21 km.
The beginner slopes at High1 Ski Resort are long and wide, which is perfect for those just starting out. There's a variety of these slopes for newbies to choose from, each with their own ski lifts.
The intermediate slopes offer a long, fun ride. These tend to be a bit crowded in places and empty in others. These slopes will test your abilities and allow for a 3.8 km downhill ski.
High1 Resort has a number of advanced and expert slopes, but these aren't very popular as they are all very steep. Experienced skiers and snowboarders will enjoy the emptiness of these slopes!
Crowds
Moving between the slopes is easy with the 3 gondolas and 7 ski lifts.
Despite the crowds, there's often little to no waiting time to get on any of the ski lifts. But note that the gondola leading to the Mountain Top is the most popular.
READ MORE: THE ULTIMATE 2 WEEK KOREA ITINERARY
The Facilities at High1 Resort
High1 Resort is extremely foreigner-friendly. All facilities, from restaurants to rental shops, are clearly marked in English.
Yet again, I'm amazed by the efficiency of Korean systems in general – this is certainly one of the benefits of living in South Korea!
The High1 staff are able to assist in English, and there is a foreigner desk at the entrance. This was helpful to me as I was traveling alone and had no idea where anything was.
Lockers are also available for rent. Small lockers cost 1 000 won, but if you have large luggage, you can rent a bigger locker for 3 000 won.
Also, you can lock up your skis overnight for 1 000 won.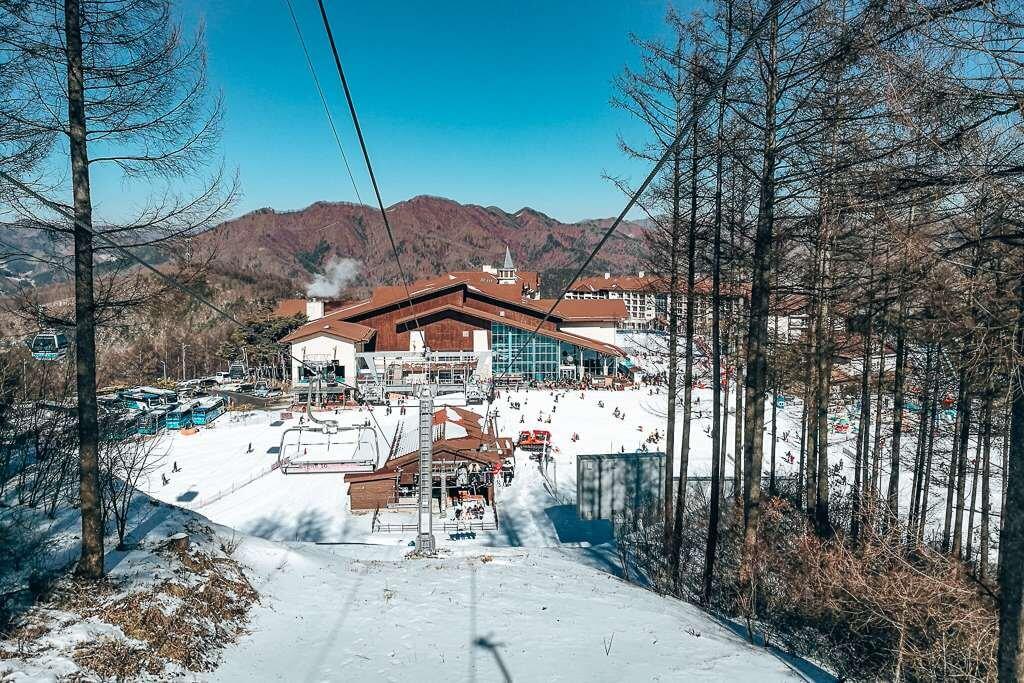 Planning your High1 Ski Trip
While most ski parks in Korea are easily accessible on a day trip from Seoul, High1 Ski Resort is a 3-hour drive away from the capital city.
You can visit the park on a day trip like this one. But this means you're driving for over 6 hours in one day.
I recommend spending the night at High1 instead and doing a 2-day trip, like this.
High1 Ski Prices
Booking a trip to High1 is so much easier if you can read Hangul (Korean alphabet).
But if you can't, I suggest you book a ski tour with a foreigner-friendly tour operator such as Klook or Trazy.
They offer huge discounts to tourists, and it's the easiest and most convenient way to plan your trip.
A 1 Day Ski Package from Seoul to High1 Resort will cost between $130 to $170 per person.
This will cover your transportation, full-day lift pass, ski clothing, and ski/snowboard rental.
Glasses, gloves, and helmets are an additional cost.
I chose to spend a night at High1 and purchased a 2day/1night ski package which included all of the above for 2 days, as well as 1-night accommodation at Kangwonland Hotel.
This was a bit of a splurge, but so worth it to have 2 days on the slopes!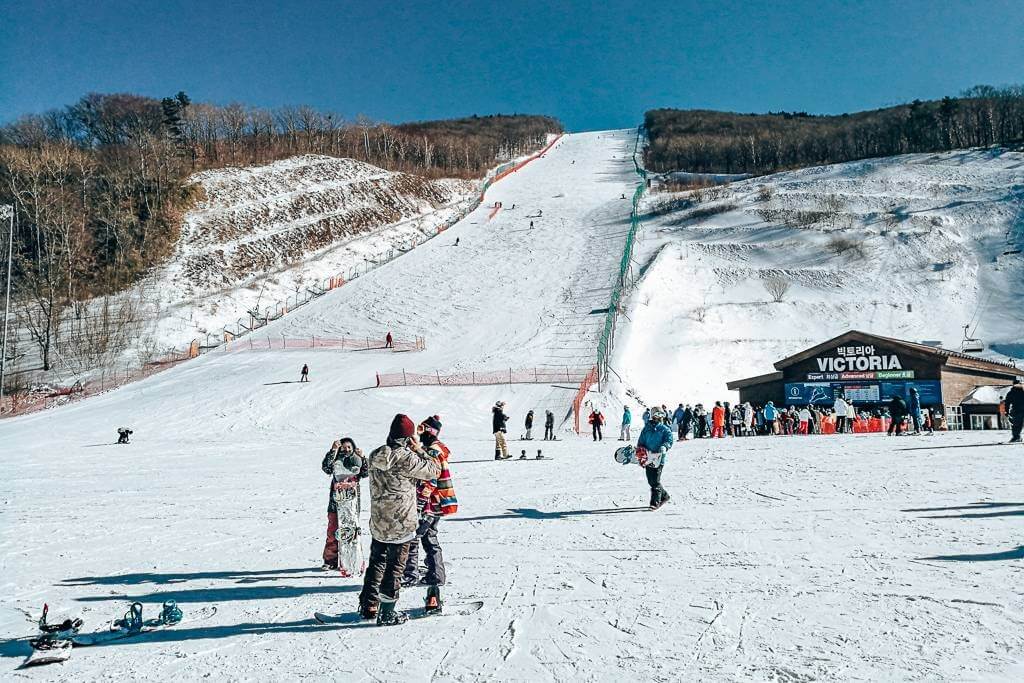 Travel independently
Alternatively, you can book a shuttle like this from Seoul to High1.
The trip will take you approximately 3 hours (if you leave from the Sports Complex pick-up).
You can then rent your gear and organize your lift pass directly through High1 Resort.
A full-day lift pass costs 79 000 won, and equipment rental is 36 000 won.
For more details on these prices, check out High1's website.
Ski jackets and pants are available for rent at the ski park for 20 000 won per day. Unfortunately, ski goggles cannot be rented from the resort, so you would need to purchase a pair from the ski shop on-site.
There is a 40% foreigner discount offered on High1 lift passes and equipment rental if you provide a passport.
This discount isn't advertised, but you can get your coupon from the foreigner's desk.
How To Get From Seoul To High1 Ski Resort in Korea
It's best to take a pre-booked shuttle from Seoul to High1. This will be included in your ski package.
Initially, I was told that it would be a 4-hour drive from Seoul, but in fact, it's only 3 hours. That's if you take the direct route from Sports Complex and don't stop off at numerous points.
High1 tour from Myeongdong
After the shuttle fetched me at 08:00 from Myeongdong, it made its way to the Sports Complex pick-up. Here we changed buses.
This bus left at 9:00 and arrived at High1 before 12.
If you choose to do a day trip from Seoul to High1 Ski Park, I'd advise you to book the earlier bus so that you're able to hit the slopes by 09:30.
If possible, meet the bus directly at the Sports Complex, and as a result, you'll enjoy a shorter trip.
Pro tip: High1 Ski Resort makes for an epic weekend trip from the capital city. Here are a few more day trips from Seoul to include in your Korea itinerary.
Shuttle Service Around The Resort
If you choose to visit High1 for the day, you won't need to leave the ski resort.
However, if you're spending the night at a hotel or need to get to town, there is a free shuttle that runs from the Mountain Ski House to various drop-off points in the area.
This includes Kangwonland Hotel and Casino as well as Gohan Station.
How many days to spend at High1 Resort
Unfortunately, there are no budget-friendly motels or hostels near High1 Resort in Korea.
Therefore, the only option is to book a condominium like this, which can be quite pricey.
I decided to spend the night at High1 Resort. But if you're looking for a budget option, I'd recommend that you opt for a day trip instead.
Yes, the drive is long, but you can sleep the entire way there and back, and you'll still have over 6 hours on the slopes.
But, if you're a ski fanatic, and are willing to pay a premium for accommodation, then an overnight stay is for you!
Pro tip: Looking for a ski park closer to Seoul? Bears Town Ski Resort is another one of my favorites!
Kangwonland Hotel At High1 Ski Resort
As I only arrived at High1 Ski Resort in the afternoon, I decided to spend the night so that I could maximize my time on the slopes.
I treated myself and stayed at the 5* Kangwonland Hotel. However, I wasn't spoilt for choice.
Kangwonland Hotel was my only option, as everything else I found in the area worked out to be similarly priced.
The hotel was luxurious indeed. After 8 months of living in Korea, and adapting to their small living areas, I had finally come across a "normal" room and bathroom. My normal!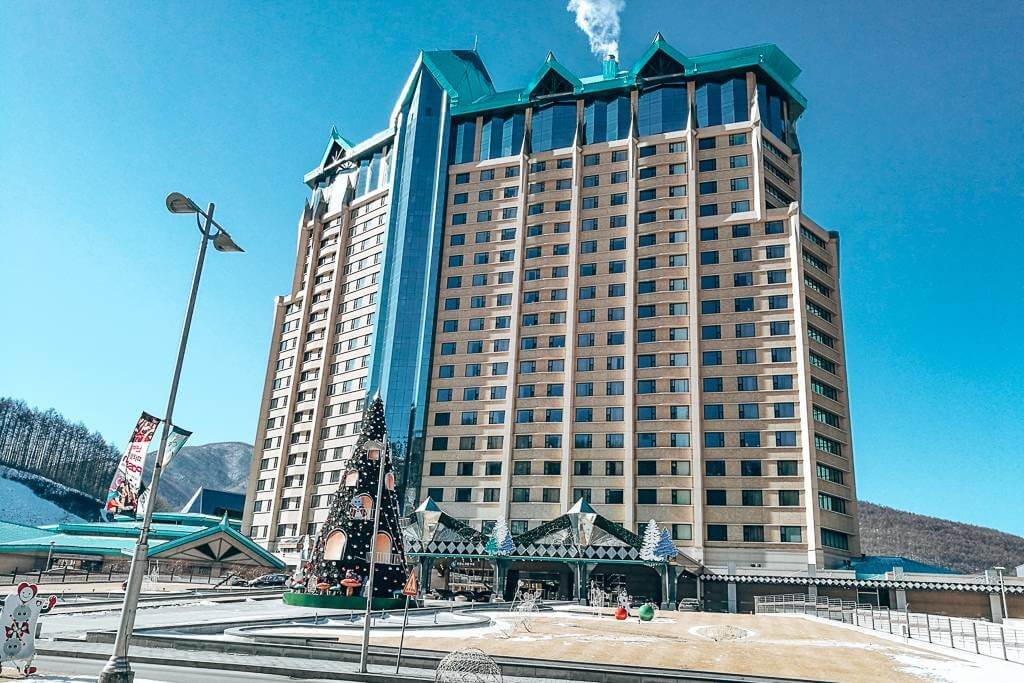 High1 Ski Resort Accommodation
Firstly, the bathroom wasn't a wet room. It had a bath and big white towels. If you've lived in Korea (check out my Korean apartment), you would understand my excitement.
The bed was amazing, and surprisingly it wasn't as hard as you would find at most motels.
At around 10 pm there was a fireworks display right outside my window.
Kangwonland Hotel is home to a casino that attracts many Koreans and foreigners alike.
There are a few restaurants, and room service is also available. I had just splurged on the room so I had to count my pennies and decided to have ramen for dinner instead.
Considering the average meal at the restaurant cost over 35 000 won ($30), I think my 2 000 won ramen was great value for money!
READ MORE: THE ULTIMATE NAMI ISLAND ITINERARY
My High1 Resort Review
If you're a regular skier or snowboarder, High1 Ski Resort, Korea, should definitely be on your list of resorts to visit.
It's a much bigger ski park compared to those closer to Seoul, offering fun runs for all levels. But there are a lot more ski parks that are closer to Seoul, so you might want to read my post on Vivaldi Ski Park.
---
Have you been skiing at High1 Ski Park? Or do you have any questions? Drop me a message in the comment section below!
Looking for more Korea travel information? Check out my other posts!
---
Pin this!