Teaching English in Korea has become increasingly popular over the years, and not only for fresh graduates looking to pay off student loans. It's an amazing way to experience a new country whilst still earning a great salary to support yourself.
A few years ago, I quit my corporate job in South Africa to become an English teacher in Korea. It was a decision I didn't take lightly. I was scared.
I'd heard so many horror stories but looking back, moving to Korea to teach English was the best decision I've ever made. I fell in love with the country and it paved the way for years of travel!
So, you want to teach English in Korea but you're not sure where to start? This guide details everything you need to know about getting a job at either a public or private school, teaching requirements, where you should teach, as well the expected salary for teaching English in Korea (and so much more!)
It's quite a long read but this is your go-to-guide for teaching in Korea, updated for 2021!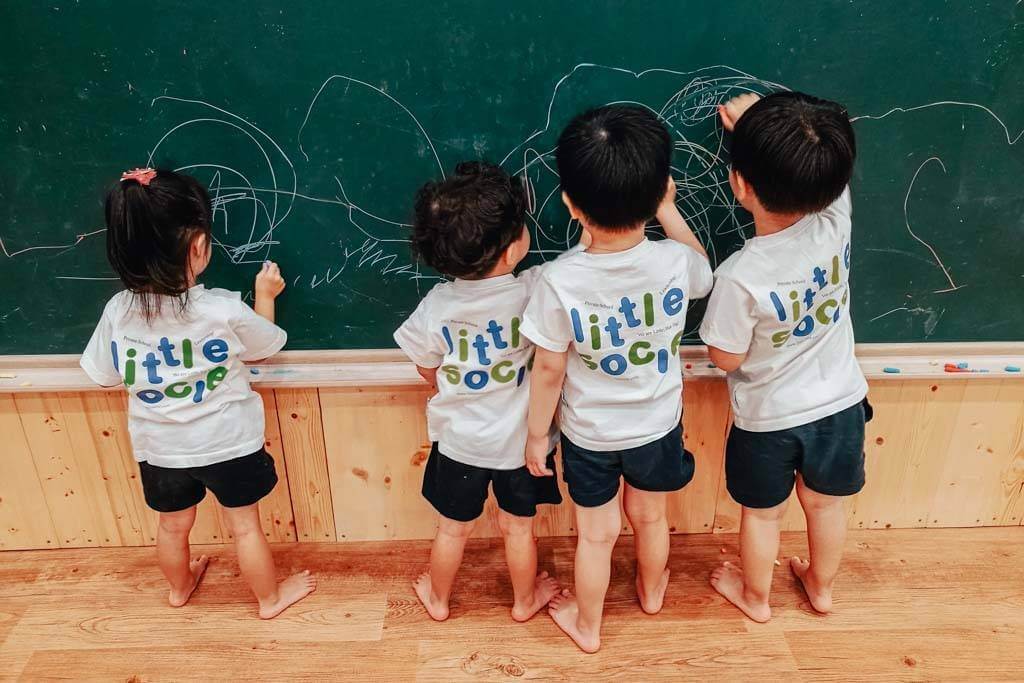 Teaching English in Korea Requirements
If you're planning on moving to Korea to be an English teacher, you will need to apply for an E2 visa.
To qualify for this visa, there are certain teaching English in Korea requirements that you need to meet.
Bachelor's degree from an English speaking University/College – You can't teach English in Korea without a degree
Clear criminal record
Citizenship from an English-speaking country. These countries include South Africa, Canada, USA, Ireland, UK, Australia and New Zealand.
Pass a health test which includes a drug and HIV test
English Teacher in Korea Salary
The most common question I get asked is how much do English teachers make in Korea. And while it's good to know the actual amount, also bear in mind that there are other perks that increase the value of being an English teacher.
The salary for English teachers in Korea starts at 2.1 million Korean Won ($1 800) per month and can go up to 2.8 million Korean Won ($2 400).
This salary will differ depending on whether you teach at a public or private school (more on that later).
This amount is highly dependent on your teaching experience but if luck is on your side, you may get a better offer without necessarily having any experience on your CV.
Unfortunately, work experience in other fields not related to teaching doesn't count and so you'll have to start at the bottom as I did.
Income tax in Korea ranges from 2.5% – 5% and this is deducted from your monthly salary.
Therefore, the minimum monthly salary after tax is 2 030 700 Korean Won ($1 700).
How much can you save on an English teacher salary in Korea
But wait, there's more and you'll most likely earn more than this.
Severance pay: Upon completion of a 12-month contract, you receive a bonus which is equivalent to 1 month's salary.
Overtime: Overtime is paid when you are asked to work more than 120 teaching hours a month. This is the industry norm, so if you do any additional work, you will be compensated for it.
Private tutoring: This can be risky as it's technically illegal for foreign teachers (on an E2 sponsored visa) to teach private classes outside of their normal classes. Yes, you can get deported! But many people do it and they earn great cash.
Benefits of Teaching in Korea
Being an English teacher in Korea has additional perks which increase the value of your teaching package.
Free airfare: Your school will cover the costs of your plane ticket to Korea. Sometimes they'll even offer to pay for your return flight back home upon completion of your contract.
Free housing: Teachers in Korea can expect to receive a semi-furnished apartment within walking distance from their school. I had to quickly adapt to my small apartment (especially the bathroom situation) but like everything in life, you need to embrace the cultural differences and be open to change. And, it's free of course, so who's complaining?
Some schools may even offer to increase your salary in lieu of an apartment, but this is not the norm.
Medical insurance: By law, all Korean schools have to cover 50% of foreign teachers' medical insurance. The balance is deducted from your salary. This amount is minimal and ranges from 1.5%-2.5% of your total income.
Luckily for me, my school covered my medical insurance in full and so I didn't have to contribute to this.
School lunches: Not all schools provide lunch for their staff, but ours did. It may not always taste as good as it looks, but it's free and if we can stomach it, we'll eat it!
Pension fund: A portion of your monthly salary will go towards your pension fund. Your school will match this amount and you will receive this lump sum upon completion of your contract.
However, South Africans teaching English in South Korea are exempt from making pension fund payments.
No need for a car: which means no monthly car payments, no car insurance, and no fuel costs. The public transportation system in Korea is incredible. It makes life so much easier, and cheaper.
Coming from South Africa where we don't have this luxury of fast and efficient public transport, I can appreciate this one benefit of living in a first-world country.
READ MORE: MOVING TO KOREA? HERE'S WHAT TO PACK!
Monthly Expenses as an English Teacher in Korea
So now that my rent, transportation, and health insurance are covered, what do I actually pay for?
I live in a 1 bedroom apartment with my boyfriend and so we split all costs. These expenses below don't include additional spending such as clothing, vacations, tours, and other luxuries.
My monthly expenses include:
Housing expenses/utilities: 53 000 KRW ($45)
The above cost for housing includes electricity (20 000 KRW), gas (10 000 KRW), internet (8 000 KRW) and maintenance (15 000 KRW).
Because I live with my boyfriend, my utility costs are slightly lower than they would be if I were living alone as we split costs.
Living expenses: 560 000 KRW ($480)
Gary and I each put 560 000 KRW ($480) into a shared account that we use to cover all household expenses, groceries, transport, eating out, and entertainment for the month.
In order to save money, we only eat out once or twice a week and stick to local food when we do.
We manage to get by with this amount, however, the last week is always touch and go and we may tuck into our personal accounts if we decided to visit Seoul for the night.
Your social habits can have a huge impact on how much money you spend. Alcohol is expensive in Korea and that coupled with western food after a big night, could have you spending a big chunk of your salary.
Cell phone: 15 000 KRW ($13)
Free wi-fi is available almost everywhere in Korea. I arrived in the country with a phone and purchased a sim card and package that allows limited phone calls and 5 gigs of data for 70 000 KRW ($14 per month).
You actually don't even need to purchase data, but it does come in handy when there is no wi-fi and you're stuck trying to find the route home.
How much money do I save teaching in Korea
Here are my actual figures of what I was able to save. Each person will differ.
Total savings per month
| | |
| --- | --- |
| Salary | 2 100 000 won ($1 936) |
| – Taxes (3%) | 69 300 won ($64) |
| – Monthly expenses | 628 000 won ($580) |
| Total savings per month | 1 402 700 won ($1 293) |
Total savings after completion of a 12 month contract
| | |
| --- | --- |
| Income after 12 months | 1 402 700 won x 12 = 16 832 400 won ($15 520) |
| + Severance pay (after tax) | 2 030 700 won ($1 870) |
| Total savings | 18 863 100 won ($17 000) |
Other expenses to consider when teaching English in South Korea
Yes, that's right – You can save over $17 000 on an English teacher salary in Korea in just 1 year!
But remember, this doesn't include luxuries or other expenses such as clothing, make-up, and travel.
Many people have responsibilities back home, or debt to pay off. These savings will go a long way in paying that off or helping family members who need it.
Korea has incredible beauty and fashion culture. If you love shopping, you need to account for those expenses as well.
I love to travel, and so I would dig into my savings, which I didn't feel guilty about. I splurged on many ski trips in Korea and even flew to the Philippines during my school vacation!
I also got to see most of the country as I traveled throughout Korea and took advantage of long weekend getaways.
With the money I saved teaching in South Korea, I was able to fly back home twice during the year due to family reasons. With the balance, I went backpacking through Asia for 4 months, hiked to Everest Base Camp and still had money to spare!
Oh, and did I mentioned that I had LASEK eye surgery in Korea? If you have bad eyes, Korea is the best place to have the operation! And, yep, you'll be able to afford it with your English teacher salary in Korea.
Now that I've convinced you why you should quit your job and teach English in South Korea, here are all the details to finding that perfect job!
Public Schools vs Private Academies (Hagwons) in Korea
Teaching English in Korea allows for a choice of 2 types of schooling environments which often leads to the debate: Private schools (Hagwons) and public schools.
Teaching at a Hagwon (Private Academy) in Korea
Hagwons are private language academies that students attend AFTER their regular classes at a public school.
These are extra classes that parents send their children to and as such, Hagwons operate as businesses more so than schools.
What's it like to teach in Korea at a Hagwon
Working at an afterschool academy (hagwon) means that your students would have already spent 6 hours at their public schools before attending your class.
On top of this, they may have math, science, art, or music academies that same day. They will be tired, stressed, and unmotivated.
As their English teacher, it's your task to encourage these students, because they need to get top grades.
And by top grades, I mean 90% and higher.
Students compete for first place and the pressure these children face is unreal. The parents expect a lot from Hagwons as well, so as the foreign teacher, you're under a lot of pressure to ensure their kids excel in English (or make it seem that way).
I taught at a private academy in Korea and yes, there Hagwon horror stories but each academy is different. I loved my school and whilst the director was extremely hard working, she was kind and caring, and looked out for us.
Public Schools in Korea
Teaching English in South Korea at a public school is often preferred over a private hagwon, but there are a few cons that you need to take into consideration.
As a result, I choose to teach at a Hagwon over a public school in Korea.
Public School vs Hagwons in Korea: The Pros & Cons
Below is an extensive list of considerations when deciding between teaching at a public school or hagwon Korea.
1. English teacher recruitment
There is a high demand for English teachers at hagwons (private schools) and as a result, hagwons hire all year round.
The job market is less competitive for these hagwons as there are just so many! It's easy to get a job as an English teacher starting at a date that suits you best.
Ideally, you should start speaking to recruiters 3 months before you intend on arriving in the country to ensure that you have sufficient time to arrange your visa.
In contrast, public schools have a teachers intake for the start of each semester which includes February and September.
The process for getting into public school is rigid and the competition is strong.
When applying to a public school program in Korea, it's best to start the application process up to 6-months before the start of the semester.
If you are looking at teaching English in Korea and are not available for the February or September intake at public schools, you would need to look at applying at a hagwon instead.
Read More: 9 Best Day Trips From Seoul
2. School operations and management
When it comes to working at a hagwon in Korea, each academy is different. Being a private business, they are not regulated and the director manages the school as he or she feels best.
As a result of this, you never really know what you're getting yourself into until you get there.
I've heard horror stories with many foreigners complaining about being overworked without compensation, issues with severance pay, being fired without notice, and problems with their apartment.
I've never faced any of these issues and you often hear more of the bad than the good.
In contrast, public schools have programs run by the government which allows for a more structured working environment.
There is more consistency with regards to working hours and pay.
Generally, public schools don't take the chances that hagwons do and so it is the safer option.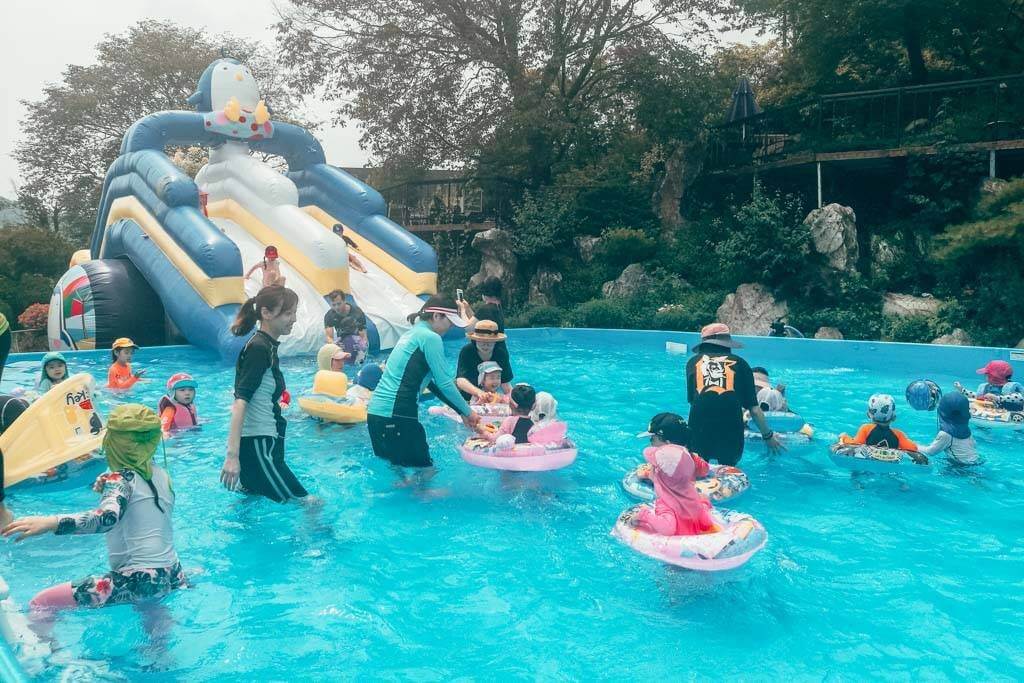 3. Location of your school within Korea
Hagwons, offer more flexibility when it comes to choosing where you want to teach English in South Korea.
You apply for the job knowing where the school is located.
Do you want to live in a big, busy city like Seoul or a smaller one with a tight-knit community?
This is one of the biggest pro's of working at a hagwon.
When applying for public school placements, you sign up for a program (which I've listed below). Here, you can select your top 3 cities where you would like to be placed.
However, this is a lottery and when teaching at a public school, you could end up anywhere in the country based on where there's a demand.
Read More: 24 Strange Things About Life In Korea
4. Salary for teaching English in Korea
The salary for English teachers in Korea at both hagwons and public schools are fairly similar, starting at around 2.1 million KRW ($1 800) per month.
However, when it comes to hagwons, your pay is not determined on a national scale (as it is at public schools) and the director decides your salary.
Therefore, you are more likely to find a hagwon that will pay slightly more if they really feel that you're a great candidate.
Both hagwons and public schools offer additional benefits and a similar package which includes flights, housing, medical aid, and pension.
However, public schools include a settlement allowance of around 300 000 KRW ($250) to help with your move to Korea, over and above all the other benefits. This is something not offered by hagwons.
5. Annual leave for English teachers in South Korea
As an English teacher at a hagwon (private school), you're allocated 10 days of paid leave per year.
Why only 10 days? Well, even though students may be on public school vacation, they still attend all their extra, private classes.
Their parents may even sign them up for additional classes to keep them busy.
5 of these leave days are in Summer, 5 are in Winter. These days are set by the school and you cannot choose when you want to take your vacation.
This one of the biggest con's about working at a hagwon in Korea. Trust me, working that hard for such few leave days is brutal!
In contrast, one of the main perks of working at a public school is the number of vacation days given to foreign teachers.
Public schools in Korea offer around 18 days of paid vacation per year!
In addition to annual leave, teachers at both public and private schools also get public holidays off. But, there are cases where teachers have had to make up these hours lost by working on Saturdays. This is something to ask before signing your contract.
Sick leave – well firstly, Koreans rarely take sick leave. If you have a slight cough, you work! Private academies allow 3 days of sick leave per year while public schools offer around 11.
Be sure to confirm all details pertaining to paid leave before you sign your contract as this can vary slightly depending on the academy.
Read More: 11 Best Ski Resorts in Korea (Near Seoul)
6. Class size
Hagwons in South Korea consist of smaller classes of 1 to 12 students, with no Korean co-teacher present during the class.
Public schools have much bigger classes of 20 to 35 students. But there is always a Korean co-teacher present in class to help manage the students.
7. English teachers at your school
If you teach English at a hagwon in South Korea, there may be other foreign teachers at your academy. Generally, there are 2 to 6 ELS teachers, depending on the size of the school.
If you work at a public school, you will most likely be the only foreign teacher.
8. Working hours when teaching in Korea
Working hours at hagwons are usually 1 pm – 9 pm. This will be quite the adjustment to your normal schedule as you only need to be at work by noon!
Your total teaching time will be no more than 30 hours per week but your director will ensure you teach most of these hours as they need to maximize their business profits. When you're not teaching, you'll be marking tests and assignments and assisting with lesson plans.
If you're lucky, your hagwon may serve as kindergartens during the morning and switch over to elementary/middle/high school students in the afternoon.
Because of this, there is a chance you can work normal hours (9 am – 6 pm) if you come across a kindergarten/elementary hagwon.
On the other hand, public school hours operate from 8:30 am – 4:30 pm.
When working at a public school in Korea, your actual teaching hours will generally be less than that of teachers at hagwons.
However, you would still need to physically be on the premises, even if you aren't teaching. This is a term commonly referred to by most foreigners as "desk-warming".
9. Teaching English in Korea as a couple
Many hagwons in Korea offer couple teaching positions where you're placed at the same school as your partner. You also receive a larger apartment suitable for 2 people and you'll work the same times.
However, couple teaching positions are hard to come by at public schools as most only have 1 foreign teacher.
As a result, you may end up in a completely different city from your partner. However, there are exceptions if you are married.
Read More: 10 Things You Need To Know About Jimjilbangs in Korea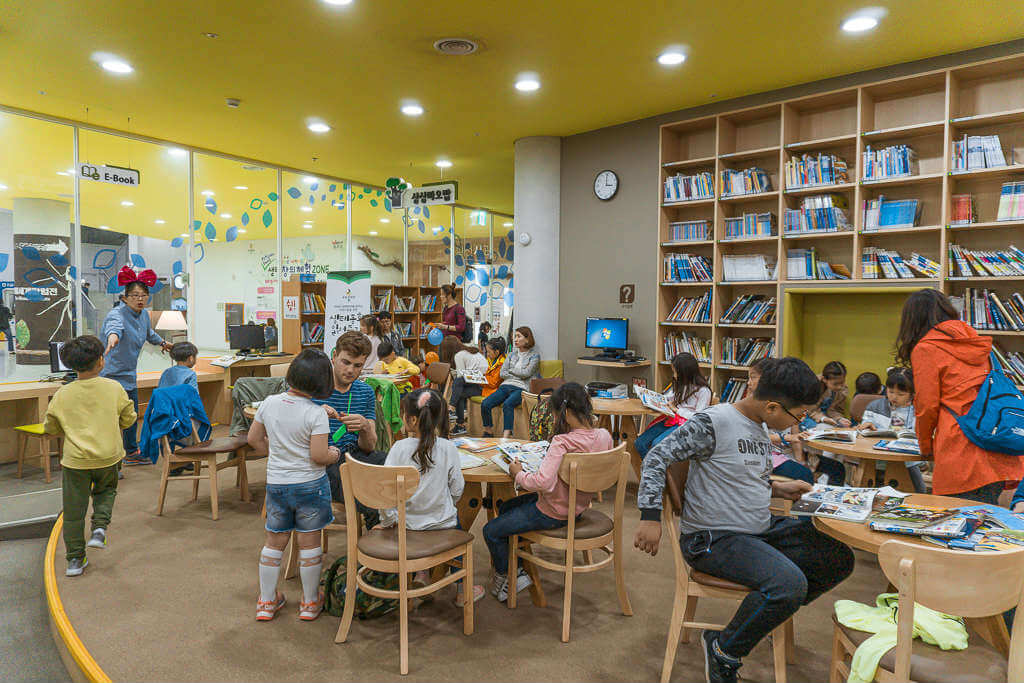 10. Level of students' English
Hagwons place students into classes based on their English level (and not their age group). The classes are therefore easier to manage as everyone is more or less on the same standard.
Classes at public schools, however, consist of students of the same age with varying levels of English.
Some of these students attend a hagwon after school and so their English is stronger, while others would never have attended additional classes.
Trying to find a balance between the students may be tricky at first, especially when you're teaching English to a class of over 20 students.
Government (Public) School English Teaching Programs in Korea
There are various public school teaching programs in South Korea that you can apply for namely:
SMOE (Seoul Metropolitan Office of Education)
This program recruits for over 2000 public schools within Seoul and is the most saught after program in Korea.
GEPIK (Gyeonggi English Program in Korea)
This English teaching program recruits for schools in provinces surrounding Seoul. This is a great option if you don't want the big city life, but you're still looking to be in close proximity to the capital, Seoul.
EPIK (English Program in Korea)
The EPIK program recruits for schools everywhere else in Korea. Chances are you'll end up in one of the rural areas but it's a great opportunity to immerse yourself in the Korean lifestyle.
So you've decided whether you want to work at a hagwon or public school in Korea.
How to Become an English Teacher in Korea: TEFL
TEFL stands for Teaching English as a Foreign Language. After completion of your TEFL course, you will have greater insight into the teaching methods and techniques that will assist you in the classroom.
If you're wondering how to teach English in Korea, a TEFL course will ensure you're properly prepared for a classroom environment so that you're a confident teacher.
If you have a teaching degree, there's no need to do a TEFL course.
Do you need to complete a TEFL course to teach English in Korea
A TEFL certificate with over 120-hours is a requirement to work in a public school. This is over and above the other requirements to teach English in Korea that I've listed above.
However, Hagwons in Korea (private academies) are more relaxed when it comes to this rule and so a TEFL course is not required.
Regardless, I recommend you complete 120-hour tefl course. The competition is increasing and you don't want to miss out on a great opportunity because you don't have the certification.
Which TEFL course is best
There are numerous TEFL courses that offer both online and in-class instruction. My advice is not to waste money on expensive in-classroom TEFL courses and rather opt for the online alternative.
I completed a 120-hour online certification through Teachtefl. The standard and quality of the course really impressed me and I would highly recommend it.
I booked through a 3rd party, Daddy's Deals, and received a massive discount on this course. Originally it was $175 but I only paid $35. My director didn't even ask for my certification but I felt more confident having it on my CV.
The Recruitment Process For Teaching English in Korea at a Hagwon
So, you've decided that you want to teach English in Korea and you're busy completing your online TEFL course. You want to apply for a teaching job at a hagwon and you know more or less where you want to live (and you've done some research on what to expect in Korea)…
What next?
Step 1: Create a resume suited for an ESL English teacher
First impressions count, so make sure you include a professional picture of yourself. Included should be your previous work experience, any tutoring or skills related to teaching.
Try to keep it short and sweet, not more than 2 pages.
Step 2: Search for English teaching jobs in Korea
There are an abundance of English teaching jobs in Korea, hence it's important to know all of the above before you start applying.
Here are a few sites and recruiters that will assist you in finding a job to teach English in Korea.
Reach to Teach. This is the recruiter I personally used and they guided me throughout the process. Having their assistance really made the interview and visa process a lot easier.
Korvia
We Teach Korea
Dave's ESL Cafe: There are also many websites that advertise jobs teaching English in Korea. Dave's ESL Cafe is the most popular one. Recruiters will post various job opportunities followed by their email address where you can send your CV to.
There are also many Facebook groups where recruiters post job vacancies so be sure to keep an eye out for these as well.
Step 3: See an English teaching job you fancy? Apply!
If the recruiter likes what he sees on your CV, he will set up a skype meeting where he will screen you and ask a few basic questions. These include your reasons for wanting to teach in Korea, your work experience, and your availability.
Thereafter, the recruiter will put you in contact with a school representative with whom you will have an official interview.
This may be the director, a Korean teacher or if you're lucky, the current foreign teachers.
Read More: Hiking Bukhansan Mountain in Seoul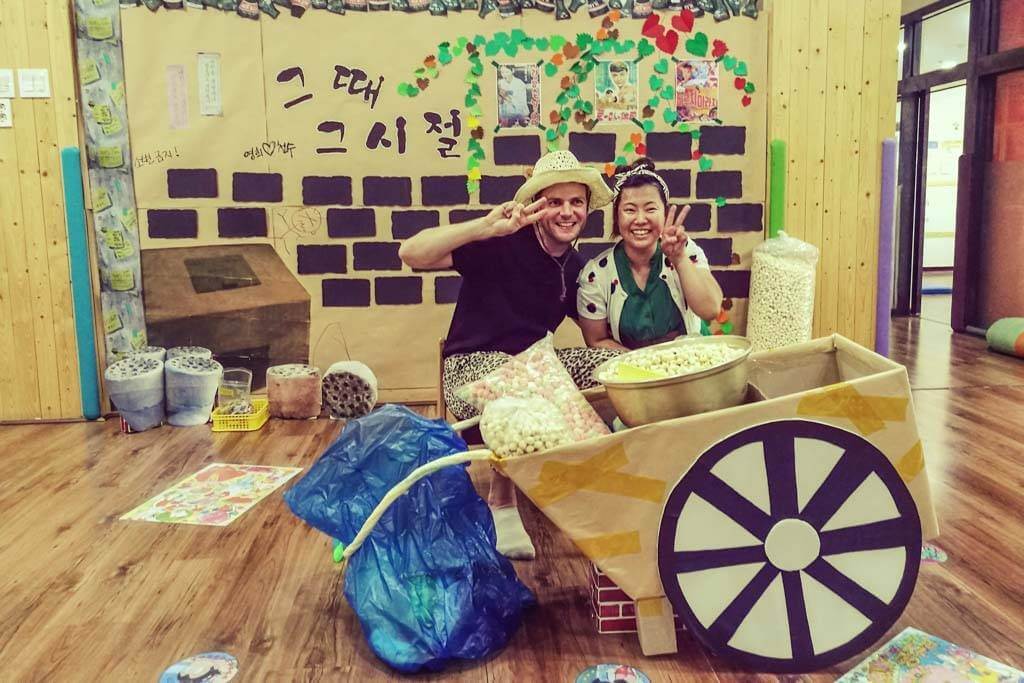 Step 3: The interview
This interview with the school director will be more detailed than that with the recruiters.
Expect questions such as why you have chosen to pursue a job teaching English in Korea? What age group do you want to teach and how will you keep students motivated in class?
Make sure you can answer standard questions such as your strengths, weaknesses, interests, and hobbies.
They may even give you real-life teaching scenarios that you would need to provide solutions for. The interviewer wants to see how you react to certain situations and your reasoning.
They will also ask about past incidents and how you handled them. For example, a time when you experienced conflict and how you resolved it.
Don't be afraid to ask questions during the interview. Variables such as the school culture, number of foreign teachers, the teaching environment and working hours need to be discussed.
Are the lesson plans provided and what age group are the students? Why are the current foreign teachers leaving? What is the expat community like in the city?
You don't want any surprises after you've signed the contract so jot down all your questions and ask away!
Step 4: Job offer and contract
If the director is happy with the interview and wants to hire you, the recruiter will send through a contract.
Make sure you read this thoroughly and ask questions if need be. If there are any red flags, run!
Before you sign the contract and commit to the job, ensure you contact the current foreign teachers and chat with them about the academy. Ask to see images of the housing that's provided and what it comes standard with.
If the school won't allow you to contact the other English teachers, then take this as a bad sign and move on to the next job.
Don't be afraid to turn down an offer – I turned down my first one and had another job lined up the next week. Rather wait until you find a job that is perfect for you.
I've heard many hagwon horror stories from people teaching in Korea and it's because they don't ask the right questions and they're too scared to turn down an offer.
After you've agreed to the contract, you generally wait another month or two for the visa process which involves a lot of admin, yet so worth it!
Read More: How To Spend 5 Days in Jeju Island
Where To Teach English in Korea
Bear with me, we're nearly at the end! Where you teach in Korea will also affect your experience.
Teaching in Big Cities in Korea
Many English teachers in Korea prefer life in the bigger cities as the Koreans that reside here speak English and are used to seeing foreigners walking through the streets.
These cities have a variety of western food options and creature comforts that you may miss from back home.
However, these areas tend to have a higher cost of living. I've spoken to many people who spend double the amount of money I do on amenities, entertainment, and eating out.
This is because you're spoilt for choice in the bigger cities. There's always something happening, people to meet, and an excuse to spend your hard-earned cash.
Seoul is the capital and the most foreigner-friendly city in the country, hence it's a popular choice for English teachers in South Korea.
Busan is the second-largest city located along the coast and is also a crowd favorite due to the beaches and relaxed atmosphere.
More inland are Daejeon and Daegu also offering a big city environment.
Read More: The Ultimate Nami Island Itinerary From Seoul
Teaching in Rural Areas of Korea
When Koreans speak of rural cities, they aren't referring to small farming towns with little infrastructure.
These rural areas are still well-developed towns or cities with good transportation systems, shopping malls, and schools.
They're just smaller cities that aren't necessarily as foreigner-friendly as the likes of Seoul and Busan. Communication may be an issue and you will struggle to find a wide variety of westernized restaurants.
In contrast to the cosmopolitan city of Seoul, the smaller, rural areas run at a slower pace and you could go for days without seeing a foreigner in your town!
Whilst you will save more money in these smaller towns, it can get lonely and boring. However, this allows you to really entrench yourself in the Korean culture and their way of life.
It also forces you to get out of your comfort zone and make an effort to meet people in your city.
So, where should you look at teaching in Korea
My recommendation: If you're traveling alone and you want to meet lots of people and have the convenience of westernized luxuries, choose a bigger city.
If you only plan on staying in Korea for 1 year, then Seoul is also a good choice as many foreigner-friendly tours depart from the capital, and the transportation network to all other cities is best from Seoul.
However, if your goal is to save money in Korea, and you're independent (and ok will not meeting tons of foreigners), choose a smaller town.
I'd recommend living close to Seoul or Busan so that you can still pop over for weekends and take part in the weekend activities, yet also distance yourself from the busyness of living in such a fast-paced city.
How Much Will it Cost to Get to Korea
As an English teacher, your flight to Korea is covered by your new school and they also take care of all visa sponsorship costs.
Upon arrival, you will need to have a medical check which costs around $100 but this is also covered by your school. (You may want to confirm that this as some teachers are required to pay for the medical themselves).
So what do you pay for?
Courier your contract and other documents to Korea: $55
Police clearance: $12
Passport photos and other miscellaneous items: $20
Money to get you by for your first month in Korea (as you'll only be paid at the end of the month): $550
TEFL course: $35
So that's it! Teaching in Korea really is as good as it seems, and if you manage your finances properly, you can save a lot of money.
Can You Teach in South Korea for 6 Months
All schools offer 12-month contracts and if you want to leave earlier, you'd need to give 2 months notice. However, you will forfeit your severance pay (1-month salary you receive at the end of your contract) and would need to pay back your airfare.
This was something I was considering before I moved to Korea, as I wanted to teach for 6 months and then travel for an additional 6.
However, 6 months' salary as an English teacher in Korea is just not enough to support the travels on my bucket list. Besides, Korea is an amazing country and there is so much to do, see, and learn.
I also wasn't ready to say goodbye to my kiddies! It takes a few months for the children to really warm up to you, and once you form a bond with them, it's not easy to let go.
Read More: 10 Things To Know About The Boryeong Mud Festival in Korea
Why Teach English in Korea (vs other countries)
When deciding where to teach English abroad, your reason for wanting to relocate is the most important consideration.
What do you want to get out of the experience? Is it a long-term move? Are you looking for a gap year filled with exciting adventures, partying and easy teaching?
Or do you want to save money, no matter how long the hours are and intense work is?
My reason to teach English in Korea was a compounded one: I wanted to spend 1 year abroad, experiencing a new, diverse culture, and most importantly, save money!
How did I end up teaching in Korea
Bearing in mind that my goal was to save money, I eventually decided on relocating to the K-Pop capital, Korea.
I didn't pursue teaching jobs in other countries for these reasons:
Thailand & Vietnam: As much as I would have loved to live in these tropical locations, the salaries for English teachers in both Thailand and Vietnam are much lower than other Asian countries and the benefits are also far less.
But, you don't need a degree to teach English here so it's a great option for some people.
China: China is a popular destination for English teachers. It has a huge expat community but I felt that the lifestyle would be too familiar. I was worried that I would get caught up in a foreigner crowd and not entrench myself in the local way of living.
I wanted to step out of my comfort zone completely and I didn't feel that I would achieve this here. I have friends who've taught English in both Korea and China, and their feedback is similar to what I expected.
Japan: Japan offers desirable packages for those looking to teach English abroad. Despite this, the cost of living in the country is very high and this could have you spending a lot of your teaching salary on daily expenses.
Bearing this in mind, I was reluctant to move to Japan as I wasn't quite sure how much money I'd actually be able to save. On top of this, the job market is competitive, especially for those with no prior teaching experience.
Why I eventually decided on teaching English in Korea
I knew nothing about South Korea – nothing!
Is it similar to China? Or Japan?
Actually, where is Korea?
It's often overlooked and lies in the shadows of it's bigger, more powerful neighboring countries.
Korea intrigued me as it was so foreign. The benefits and salaries for English teachers in Korea are great and it's easy to get a job in the country.
It took very little convincing and I immediately decided that this is where I wanted to teach English abroad.
After living in Korea for 14 months, here's what I love about the country.
What about North Korea
At the time, I knew very little of the North. I admit that had I been following the news, I may have been a bit apprehensive about moving to South Korea to teach English!
However, life in Korea is a far cry from how the media perceives it to be. Koreans do not care about the North.
The issues with North Korea have been ongoing for many years, and so the drama is nothing new. Threats continue to be made, as they were 20 years ago.
The general consensus here is to ignore them and not give any attention to North Korea. It's not that the North is a taboo and unspoken of topic, it's just that no one really cares!
What is Teaching in Korea Really Like
Teaching English in South Korea is the best decision I've ever made. Yes, the hours are long but the country is just so incredible!
I work at a Hagwon and teach at the kindergarten in the morning, and an elementary academy in the afternoon. Personally, I prefer the kindy.
Korean kids are absolutely adorable and even though I cannot speak a word to the 5-year-olds that I teach, I thoroughly enjoy singing songs with them and chasing them around the play area.
They can be a handful, yes, especially the boys, but if you love children, then kindergarten is for you.
My afternoons include classes with elementary and middle school students. I do enjoy these older kids as I can communicate with them and it's at this level that you see the greatest development in their English.
---
If you're looking for more resources about teaching in Korea, these posts might help you out:
---
Have you thought about being an English teacher in Korea? What's stopping you? And if you're a South African teaching English in Korea, did you have a similar experience to me? Let me know in the comments section below!
Looking for more Korea travel information? Check out my other posts!
---
Pin This!