Located towards the northern end of Palawan Island in the Philippines lies El Nido. A place of enchanting nature, unique geographical formations, and pristine white beaches. Did I mention that it's made up of 45 islands and islets?
All of this makes El Nido the ideal hub for travelers with an adventurous spirit and zest for life. After spending 7 glorious days on this tropical island, here is my list of the 12 best things to do in El Nido, Palawan, (besides just Island Hopping!)
Where is El Nido
El Nido lies north of Palawan Island. It's a small village and a bucket list destination for anyone traveling to the Philippines.
The best time to visit El Nido, Palawan
The wet season runs from June to October and brings with it daily rain showers.
Try to avoid traveling to the Philippines in September and October as this is typhoon season. The weather is notoriously bad during this time and will certainly put a damper on your vacation.
The dry season runs from December to May and this is the best time to visit El Nido. But, as with all tropical destinations, nothing is guaranteed. Our flight to Palawan was cancelled in December due to a typhoon which cut our holiday short by 2 days!
How many days do you need in El Nido
I recommend at least 5 days (4 nights) as these are so many things to do in El Nido.
Getting to El Nido itself is quite the journey and you'll want to have some time to relax and enjoy the island without being too rushed.
12 Best things to do in El Nido (Beside Island Hopping)
1) Go kayaking in El Nido
The islands surrounding El Nido, Palawan, are just a short boat trip from the mainland, but if you have some time, it's a great idea to go kayaking in the calm waters surrounding El Nido.
I stayed at Garden Bay Beach Resort where you are able to walk out of your room, onto the beach and hop into a kayak.
Where to go kayaking in El Nido
If you keep paddling out from El Nido harbor, for about 45 minutes, and you will reach Bukal Island which is included in the island hopping tour D. The water is crystal clear and the beach secluded and private.
It took us a bit longer to reach the island as we had a swim along the way. Actually, we capsized and both ended up in the water! And technically there was only one paddler as I was photographer/sunbather and needed to conserve my energy for the days to come.
Throughout our time in El Nido, we saw many people kayaking, leaving the mainland with energy and excitement in their faces.
However, a completely different expression was seen when they returned. Be careful when heading out to the further islands. They may seem closer than they really are. And if the weather changes, you could be in for quite a rough paddle on the way back in.
2) Overnight camping
If you're looking for the best things to do in El Nido at night, make sure beach camping is on your itinerary. Because who doesn't want to wake up with a front-row view of the sea?
As you'd expect, there is no electricity, no showers, and no bathrooms.
Be prepared to rough it up for the night, but it's definitely worth it.
With 2 beach bars, a few swings, a basketball hoop and of course, beach volleyball, who wouldn't want to camp on this beach?
Which islands to camp on in El Nido
I spent a night camping on 7 Commandos Beach in El Nido. For all costs and details check out this post!
There are a few tour operators that camp on other, more secluded islands near El Nido. If you really want that "survivor" experience be sure to confirm which island you'll be staying at before you book.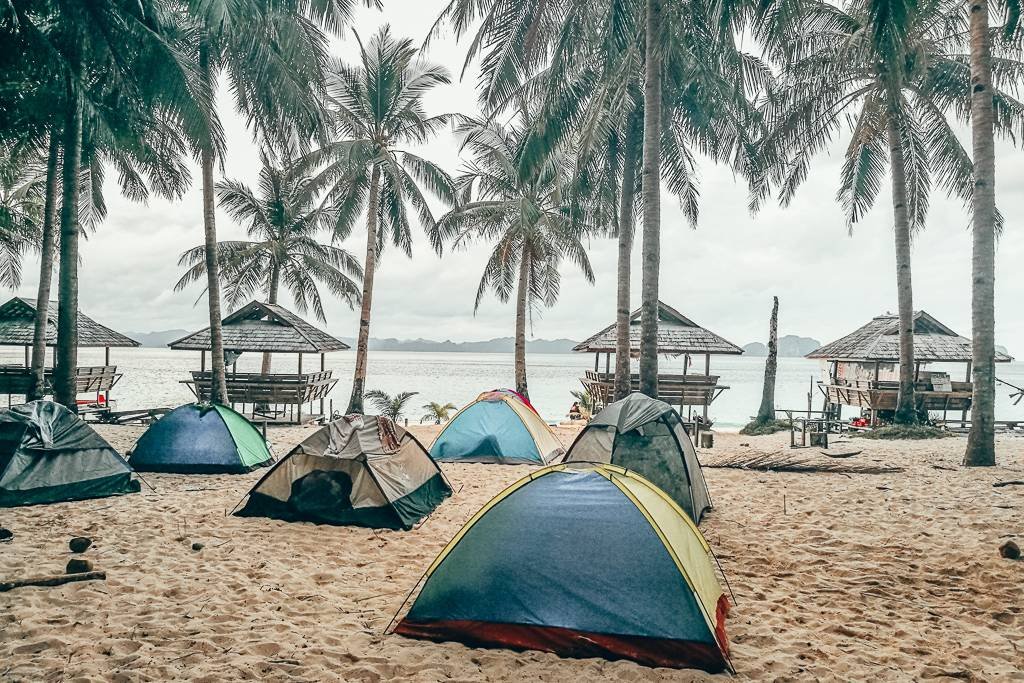 3) Scuba Diving in El Nido, Palawan
Many people ask me what to do in El Nido, Palawan, and scuba diving tops my list!
They say that you should never get your hopes up as you will be left disappointed in the end. However, not having high expectations left me completely and absolutely blown away.
Scuba diving in the Philippines is nothing short of spectacular and is one of the best activities in El Nido, Palawan.
Having explored only 2 of the 30 dive sites, I can only imagine what else is hidden beneath the waters of El Nido.
Best dive sites in El Nido, Palawan
Our first dive site was South Miniloc followed by the diving wall at Entalula Island.
Amongst the lively coral, we caught sight of turtles, groupers, stingrays, barracuda, nudibranchs, clown fish, parrot fish and many other tropical fish.
Being surrounded by the most beautiful school of yellow snappers was the highlight of my scuba diving experience in El Nido.
2 dives will cost 3 200 PHP ($60) per person which includes a light snack and all your diving equipment.
I have since been on a 4-day scuba diving liveaboard in the Komodo Islands in Indonesia. Read about my experience of diving with sharks and manta rays here!
We were back in El Nido before lunch time so it leaves you with plenty of time to do some of the other activities in the afternoon.
There are many diving shops in El Nido which all offer similar deals. We booked through Ranmarc Diving and they were absolutely great.
4) Visit Nacpan Beach
Nacpan Beach is one of the best beaches in EL Nido. It's a beautiful, long beach lined with coconut trees situated about an hours drive north of El Nido.
Over the years, it's popularity has increased and while it is still "untouched" compared to the likes of Las Cabanas Beach, I'm sure there will be many hotels and beach clubs lining the shores in the years to come.
How to get to Nacpan Beach
You can either rent a scooter or catch a tricycle to get to Nacpan Beach.
Drive 40 min from El Nido in a northerly direction. The signage isn't that great but keep your eyes out for the "Nacpan Beach Resort" sign and turn left. You will then follow a dirt road for another 15 minutes.
It's an adventurous ride indeed with some questionable bridge crossings, but a must-do.
After arriving at the beach, take a walk to your left and you'll reach a point where Nacpan Beach merges with the smaller Calitang Beach, both known as the Twin Beach of El Nido.
5) Surfing at Duli Beach
I'm not a fan of crowds, and I avoid them as best I can! And this is why Duli Beach is one of my favorite beaches in El Nido.
It's a far quieter and less popular getaway than its neighbor Nacpan Beach.
Once you reach the soft, sandy shores, there's an open stretch of white beach, sea and palm trees with very few people.
For surfers, Duli beach offers a fun beach break and is ideal for a longboard surfing session.
You can rent surfboards from any of the cafes nearby for 200 PHP ($3.5) per hour.
The waves at Duli Beach aren't nearly as exciting as those you'll find on Sumba Island or Lakey Peak in Indonesia, and if you're a regular surfer, you may be a bit disappointed.
How to get to Duli Beach
Duli Beach is about 90 minutes drive from El Nido and should be included in your trip to Nacpan Beach.
After taking the Duli Beach turnoff, drive an additional 20 minutes on a very rough and muddy dirt road. You will then reach the coast where you need to pay a 40 PHP entrance fee.
6) Climbing Taraw Cliff
Taraw Cliff is a sharp and jagged limestone cliff that overlooks El Nido. Climbing to the peak is one of the best things to do in Palawan.
Whilst the view from the top is incredible, the hike is a dangerous one and it is recommended that you have a guide with you. Yes, people have injured themselves and even died whilst attempting to reach the peak.
7) Island hopping tours in El Nido
El Nido is all about island hopping and you cannot visit the beautiful island without doing one of the tours available.
There are 4 different tours, marked with letters A, B, C and D. Each individual tour has the same itinerary, with tour A and C being the most popular.
From snorkeling to beaching, to kayaking, the island hopping tours of El Nido offer everything you could possibly want from a truly tropical experience.
Check out my review on tour A, B and C, here. Try to include at least 2 of these tours in your El Nido itinerary.
Tour operators are dotted all over El Nido where they offer the same itineraries at a standard price.
Tour schedules
Island hopping tours generally require you to be at the harbor at 9 am but expect to only leave an hour later. It's El Nido time so cheer up and don't get too impatient if your boat doesn't leave on time.
You should return to El Nido around 5pm, just in time to watch the sunset at Las Cabanas Beach.
Most island hopping tours include a BBQ lunch on the beach as well as snorkeling gear and a life jacket but be sure to confirm this before you book.
You can purchase soft drinks, ice-cold beer (70 PHP), ice creams and coconuts (50 PHP) at most of the lunch stops.
If you're visiting Philippines for the island life, you can easily get from El Nido to Coron and spend a few days exploring this hidden gem.
8) Sunset at Las Cabanas Beach
Las Cabanas. The name just slips off the tongue and has that exotic, tropical ring to it.
The beaches in El Nido itself aren't great and so most people flock south of El Nido to Las Cabanas Beach for some fun in the sun.
Sipping on cocktails or relaxing on Las Cabanas Beach is one of the best things to do in El Nido and you'll find scores of other travelers who agree.
It's a popular stop for beaching as well as sunset drinks and there are many beach bars lining the shore.
After spending the day on an island hopping tour, we raced to Las Cabanas Beach for sundowners. I ended up spending a few hours enjoying the calming sounds of the waves while sipping on cocktails, followed by dinner on the beach.
Las Cabanas is about a 15 minute tricycle ride from El Nido which will cost you about 160 pesos ($3).
9) El Nido Party Boat
Update 2019: Due to new laws, party boats are no longer allowed in Palawan and this activity in El Nido is not available.
Leave it to a South African to start a Party Boat in the Philippines!
Firstly, you get unlimited alcohol. Yes, unlimited! And yes, the beers are cold and the cocktails are strong. My favorite – the "Pam Special". It was this drink, and many others, that lead to us behaving like children on Snake Island before 12 o'clock (don't judge!).
Lunch is also included and we had the most delicious pork, chicken and mussels served on board the boat.
There's good music, great hosts and if you're looking to add a bit of fun to the regular island hopping tours, EL Nido Party Boat should be on your list of things to do in El Nido, Palawan.
At around 6 pm, slightly burnt and intoxicated, we anchored at Las Cabanas Beach where we had a magical swim in the rain before heading back to the harbor.
10) Eating Seafood
Did I mention that I absolutely love seafood? Nothing can beat fresh seafood grilled on an open flame (ok, perhaps a Korean BBQ can!).
You can imagine my excitement when walking the streets of El Nido and finding restaurant after restaurant serving only the freshest seafood.
With a choice of king prawns, lobsters, mussels, crab, and fish all served grilled, I was in my element.
11) Rent a scooter and explore
Whilst El Nido is a very small town, you will need to hop on a tricycle or scooter to explore the surrounding areas.
Tricycles can be found on every corner, at any time, going just about anywhere.
But the fun in missioning around El Nido isn't necessarily the destination you are heading to, but the journey.
Going off onto deserted roads, riding through villages and forests with no real direction is quite the adventure. It's times like these, where all you can do is breath in and appreciate the beauty that's out there.
We hired a scooter for 4 days and ventured off to Nacpan Beach and Duli Beach as well as other spots around El Nido.
Scooters are a dime a dozen and can be rented for about 500 PHP ($9) per day.
12) Zipline over Las Cabanas Beach
A 750-meter zip line connects EL Nido and Depeldet Island offering you the opportunity to fly from one island to the next.
There is a choice between one-way zipline ticket or return. It's best to do the zipline around 5pm and make your way to Las Cabanas Beach for sundowners after.
For only 500 PHP ($10) one way, it's something to include in your El Nido itinerary.
Where to stay in El Nido
Garden Bay Beach Resort: Situated just outside of El Nido, Garden Bay Beach Resort is the perfect place to stay in El Nido if you're looking to escape the crowds. It's a beachfront property with hammocks and sunloungers right on the waters edge.
Final Thoughts on El Nido
A trip to El Nido was just what I needed coming from the Korean winter snow! Despite a cancellled flight due to bad weather, we still made the most of it and packed our 5 days in El Nido with the best activities.
---
Looking for more Philippines travel information? Check out my other posts!
---
Pin this!