Lujan de Cuyo is a charming wine region south of Mendoza, Argentina. It's situated close to the Andes mountains and boasts picturesque views and gorgeous landscapes.
If you're looking for winery lunches amongst the vineyards and intimate wine-tasting experiences, look no further than Lujan de Cuyo.
I spent a few days exploring the area and loved every minute.
Here's everything you need to know about visiting the bodegas (wineries) of Lujan de Cuyo in Mendoza!
Torn Tackies contains affiliate links. If you make a purchase using one of these links, I may receive compensation at no extra cost to you. See my disclosure for more information.
Where is Lujan de Cuyo, Mendoza
Lujan de Cuyo is one of the three main wine regions in the Mendoza Province of Argentina. It lies 20 km south of the city.
You can reach Lujan de Cuyo via public transport from the Mendoza Bus Terminal, but I recommend using Uber. It's the quicker option and also affordable.
I loved Lujan de Cuyo. The streets are quaint and filled with character when compared to its neighboring wine region, Maipu.
Not only is it an excellent place for wine tours but also for a relaxing holiday.
The best time to visit Lujan de Cuyo
Lujan de Cuyo is a great place to visit all year round.
In the summertime, from December to February, you can enjoy long, sunny days. Just keep in mind that many tourists choose to visit Argentina during these months, and Mendoza can get very busy. You'll need to book your wine tastings and tours ahead of time.
If you prefer a quieter experience, consider visiting Lujan de Cuyo in the winter, from June to August. It's the off-season, so there are fewer tourists.
I went in June, and while it was cold, I could visit most wineries without needing a reservation. Surprisingly, even on weekdays, there were still quite a few people around.
For the best experience, spring (from September to November) is the way to go. That's when the vineyards start to look their most beautiful with all that lush greenery.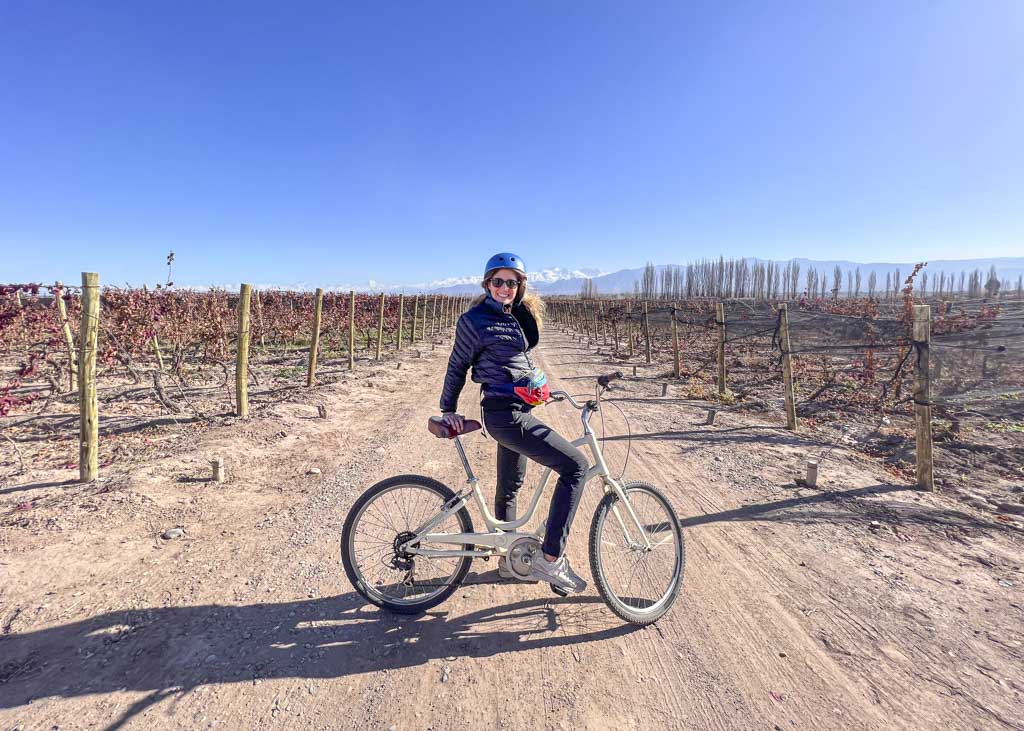 Lujan de Cuyo wines
Lujan de Cuyo sits at 1,000 m above sea level. The high altitude, favorable climate, and soil conditions contribute to the unique characteristics of the wines produced in this region.
The main grape they grow here is Malbec. The Malbec wines of Lujan de Cuyo are known for their deep purple hues, robust fruit flavors, and hints of spices, making them some of the finest examples of Malbec in the world.
But they also grow grapes like Cabernet Sauvignon, Chardonnay, and Torrontes.
How to visit the wineries of Lujan de Cuyo
You might come across Bodegas when looking for the best Lujan de Cuyo wineries. Bodega is the Spanish word for winery, and the two words are often used interchangeably.
There are a few ways to explore the Lujan de Cuyo bodegas, which I've detailed below. This depends on your budget and preferences.
A wine tasting will cost between 1,800 ARS and 3,200 ARS for three glasses.
Lujan de Cuyo wine tours
When traveling during the high season or school holidays, opting for a wine tour is the easiest option, as they will take care of all the wine bookings for you.
This small group tour includes guided tastings at 3 of the best wineries as well as a delicious lunch.
You can also opt for a private driver for the day and create your own itinerary of the Lujan de Cuyo wineries.
Lujan de Cuyo bike tours
I rented a bike and loved cycling through the winelands. If you're staying in Lujan de Cuyo, I recommend you do the same.
You can rent a bike from Baccus Bikes for 3,500 ARS for the day.
Lujan de Cuyo bodegas to visit
Bodega Pulmary
Bodega Pulmary is a quaint winery in the heart of Lujan de Cuyo. It's unassuming, and while it may not have the best views, it certainly has the character.
Of all the wineries I visited, this was the most unique! The owner/winemaker is incredibly passionate about wine production, and it was fascinating to walk through the cellar.
Bodega Kaiken
If you're looking for a fantastic winery lunch, head straight to Kaiken Winery.
Here, you'll be treated to the most gorgeous setting under the vines. The food is out of this world, and the wine is equally impressive.
I was very lucky to get a booking here, so be sure to plan ahead of time.
Bodega Carmelo Patti
Carmelo Patti has a similar atmosphere to Bodega Pulmary. It's a small, artisanal winery nestled in a residential side street.
Carmelo is passionate about winemaking, and it's evident in the experience he offers to guests who visit his winery.
Bodega Viamonte
The views of the Andes mountains from Bodega Viamonte are hard to beat (unless you're planning on visiting the Valle de Uco wineries).
I recommend ending your day of wine tasting here. Buy a bottle of their Malbec, grab a seat on their well-manicured lawns, and take in the incredible atmosphere.
Viamonte is also a great place for a winery lunch, but bookings are required.
Bodega Gieco
Bodega Gieco came highly recommended by a few people we met in Lujan de Cuyo. It has a relaxing atmosphere and a charming vibe.
But it doesn't fall short of the good stuff: wine and food! The owners are so hospitable, and you can't go wrong with stopping here for lunch and wine surrounded by vineyards.
Bodega Lagarde
Bodega Lagarde is famed for their wine as well as their food. If you're looking for a luxurious afternoon with a 7-course lunch, this is the place to go!
The beautiful setting makes it one of the best bodegas in Lujan de Cuyo, and bookings are required.
We tried to get a reservation a week in advance, and there was no availability. This was during low season and goes to show just how popular it is.
Bodegas Nieto Senetiner
Just a short walk from Bodega Gieco lies another stunning winery, Bodegas Nieto Senetiner.
Trees line the entrance, and it's a beautiful introduction to the winery. The tasting room and restaurant are set within a beautiful historic building.
We had a delicious meal here, and the service was outstanding.
Bodega Alta Vista
Bodega Alta Vista is a renowned winery in Lujan de Cuyo.
The winery strongly emphasizes traditional winemaking methods while incorporating modern techniques to craft its wines.
They are known for their Malbec wines but also produce other varietals such as Cabernet Sauvignon and Torrontés.
Other Lujan de Cuyo wineries
Bodega Martin Canepa
Bodega Vistalba
Where to stay
Luxury: Villa Mansa is a spectacular hotel in the southern part of Lujan de Cuyo. The luxurious suites resemble large wine barrels and feature spa baths. There's also a large pool, and the restaurant gets rave reviews.
Mid-range: Casa de Coria is a charming B&B with delightful hosts. The rooms are spacious and comfortable, and it's a great choice for a relaxing stay. The location couldn't be better, as it's within walking distance of shops, restaurants, and wineries in Lujan de Cuyo.
Budget: I stayed at Aires de Coria, and it was fantastic! The large rooms are tastefully decorated and include a private en suite bathroom. It's centrally located, just a short walk from the bike rental stores.
Is it worth visiting Lujan de Cuyo, Mendoza
Yes! Lujan de Cuyo was my favorite wine region of Mendoza.
Not only is it home to some of the best Mendoza wineries, but it's also an ideal location to base yourself in Mendoza Province.
You can easily visit all the other wine regions from here, and I highly recommend spending at least four days here.
---
Do you have any questions about Lujan de Cuyo, Mendoza? Drop me a question in the comments section below!
Like it? Pin it!