Valle de Uco, otherwise known as the Uco Valley, is a premier wine region of Mendoza Province in Argentina.
It may be the furthest of the three grape-growing areas from Mendoza city. But those who venture here are rewarded with sprawling vineyards and the best views of the Andes mountain range.
I wanted to see what all the hype was about, so I planned a trip to visit some of the best wineries in the Uco Valley.
Was it worth it? Yes!
Here's everything you need to know.
Torn Tackies contains affiliate links. If you make a purchase using one of these links, I may receive compensation at no extra cost to you. See my disclosure for more information.
Where is Valle de Uco
The Uco Valley lies 100 km south of the city of Mendoza, a 90-minute drive away.
Sitting at 1200 m above sea level, it's the highest altitude of the three grape-growing regions near Mendoza.
It's also the newest and the fastest growing.
What makes the Uco Valley so attractive
People are drawn to the Uco Valley for a few reasons.
Firstly, it's far from the hustle and bustle of Mendoza. The wine cellars sit on vast pieces of land surrounded by vineyards for as far as the eyes can see.
The grand buildings are architectural dreams, and the entire landscape is incredibly picturesque.
And you can't forget the Andes Mountain range. The Uco Valley is the closest wine region to these mountains, so the views are hard to beat.
But, it's quite a distance from Mendoza and isolated from conveniences such as shops, taxis, and public transport.
I also found the Uco Valley wineries to be architectural masterpieces compared to the Lujan de Cuyo and Maipu wineries, which were smaller yet filled with more character.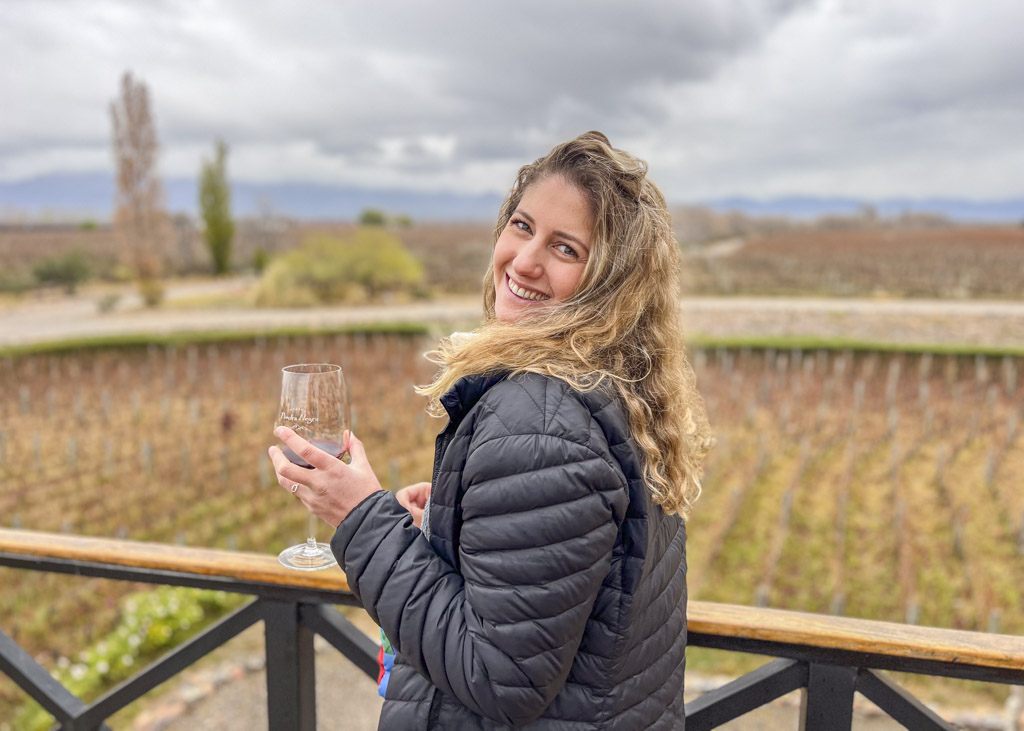 How to visit the Valle de Uco bodegas
Here's the thing. While the Uco Valley is stunning, the wineries aren't close to each other.
You can't cycle between them (as I did in Maipu and Lujan De Cuyo). And you won't find taxis or Ubers here. This means you'll need a car and a designated driver to get around.
Prior reservations for wine tastings are also a must, even during low season. Coordinating these bookings is time-consuming, and a lot of effort is required as there is such high demand.
Here are the two options for visiting the Uco Valley bodegas.
Stay in Lujan de Cuyo and book a group or a private tour like this of the Uco Valley. This is what I did, and I highly recommend it. This takes the hassle out of planning your trip, as you don't need to worry about transport or bookings for tastings.
Alternatively, if you're looking for a quiet, isolated stay, you can check into a gorgeous villa like this in the Uco Valley. You will need to rent a car to get around and hire a private driver to visit all the wineries. This is the more expensive option and is best for those who want to spend a few days exploring the area.
The best Uco Valley wineries
Here are some of my favorite wineries in the Uco Valley that should be on your Argentina itinerary. Keep in mind that you'll need prior reservations for tastings.
Bodegas Enzo Bianchi
I loved Bodegas Enzo Bianchi for the fantastic wine-tasting experience and service.
Here, you can experience the passion and dedication of the Bianchi family, who have been crafting world-class wines for generations.
Their Corte and Organic Malbec were my favorites!
Zorzal Wines
Zorzal Wines is a small winery that offers some of the most magnificent views. It lies at the foot of the Andes mountains and offers an excellent wine-tasting tour.
The experience here is unrivaled, thanks to the incredible team who are so passionate about the wine-making process.
Bodega Piedra Negra (Black Stone Winery)
Bodega Piedra Negra is a picturesque winery in the Uco Valley. It's part of the François Lurton Group, known for its commitment to sustainable and organic winemaking practices.
Their portfolio includes a range of varietals, with Malbec as the flagship grape, producing wines with intense fruit flavors, balanced acidity, and elegant complexity.
I particularly loved their Reserve Cabernet Franc.
Bodega Salentein
Salentein Winery is synonymous with the Uco Valley. It's one of the largest and most commercial wineries in Argentina.
However, people don't only visit Salentein for their wines.
The cellar is exquisite and features a grand piano. Their architecture is next level, and you can enjoy luxurious wine tours through the impressive buildings.
Their lunch menu is also highly regarded as one of the best experiences in Valle de Uco.
Bodega Monteviejo
Monteviejo is a beautiful, luxurious winery in the Uco Valley.
But it's not only a fantastic winery. Monteviejo is a renowned restaurant, too. If you want a quality experience, book their degustation menu with wine pairing.
The views from their restaurant and bar are absolutely spectacular!
Bodega La Azul
While many Uco Valley bodegas are striking in their appearance, Bodega La Azul is a smaller, more intimate option.
But when it comes to their wines, they're outstanding.
The family-owned winery offers a cozy atmosphere and is a great place to enjoy a hearty, home-cooked meal.
Claroscuro Bodega De Arte
Claroscuro Bodega De Arte was the most underrated winery I visited. Their wines were terrific and well-priced.
I also had lunch here and was so impressed with the food and service.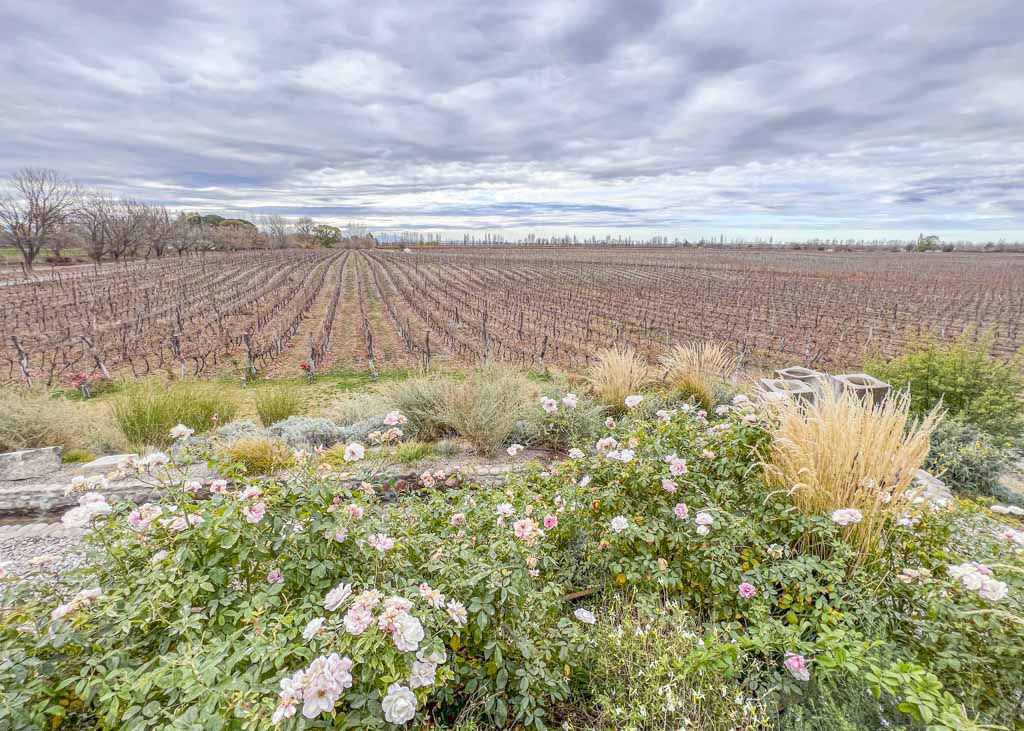 Bodega Corazon Del Sol
Bodega Corazon Del Sol is yet another superb winery in the Uco Valley. It may not be as big or as popular as its neighbors, but this boutique winery is worth a visit.
They offer an intimate tasting experience, and while their focus is on lesser-known varietals, their Malbec is delicious.
Other Uco Valley wineries
Bodega Diamandes
Domaine Bousquet
SoloContigo Winery
Where to stay
Luxurious: If you're searching for a luxurious stay with mountain views, look no further than Casa de Huespedes La Azul. The location is perfect, as it's next to several wineries, and the hospitality is outstanding.
Mid-range: Auberge Du Vin is a modern hotel with excellent facilities, including an outdoor swimming pool and fitness center. Wineries surround it, and guests can enjoy unspoiled views of the Andes from the property.
Budget: if you're traveling on a budget, I don't recommend staying in the Uco Valley as you'll need to rent a car. Instead, check into Aires de Coria in Lujan de Cuyo and make a day trip to the Uco Valley. This is where I stayed, and I loved it here.
Is it worth visiting Valle de Uco in Mendoza
Yes, Uco Valley is unmatched in terms of its architecture and views.
But I advise you not to spend all your time here. The other wine regions in Mendoza are vastly different, yet the wines are equally impressive as the Uco Valley wines.
My favorite was Lujan de Cuyo (which you can read about here), and I loved the wine bike experience at Maipu Valley.
---
Do you have any questions about Valle de Uco, Mendoza? Drop me a question in the comments section below!
Like it? Pin it!