If you're a wine fanatic like me, then a trip to the wineries of Mendoza should be on your travel bucket list.
The region is the biggest wine producer in Argentina, and the quality of the wines completely blew me away.
I'm talking bold flavors of their flagship Malbecs to the delicious Cabernet Francs and crisp, refreshing Torrentes varieties.
But there's so much more to Mendoza than what meets the eye.
While it may be the wineries that attract you here in the first place, you'll leave with not only a full heart (and belly) but a strong appreciation for Argentinian landscapes, culture, and cuisine.
Here's everything you need to know about visiting the Mendoza wineries (or bodegas as they're called in Spanish).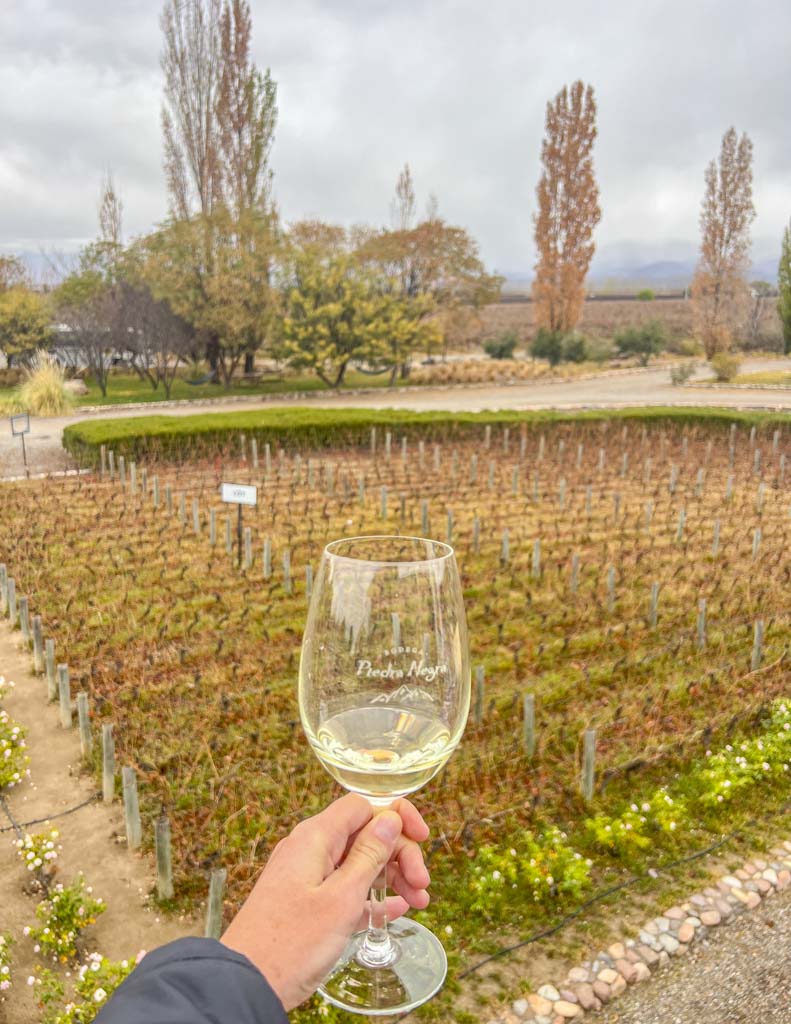 Where is Mendoza
Mendoza lies in the west of Argentina, near the Chilean border. It sits on the foothills of the Andes Mountains, with an altitude of 800 m + above sea level.
The easiest way to get here is via a 2-hour flight from Buenos Aires.
I came from Santiago in Chile and opted for a scenic 6-hour drive through the Andes to Mendoza.
If you're following my 2 week Argentina itinerary, I suggest visiting Mendoza after your trip to Patagonia in the south.
Where to go wine tasting in Mendoza
Mendoza is home to 3 high altitude wine regions: Maipu, Lujan de Cuyo and Valle de Uco.
Lujan de Cuyo: My best Mendoza wine region
Lujan de Cuyo is home to my favorite Mendoza bodegas.
It's only a 30-minute drive south of the city and boasts spectacular wineries and restaurants with beautiful views.
The town is quaint and filled with character, and it's a great base for your Mendoza itinerary.
Here's my guide to visiting Lujan de Cuyo.
Maipu: Home to the oldest wineries of Mendoza
Maipu is the closest wine region to Mendoza. It's also the oldest.
The town itself is a bit of a letdown, but the wineries here are fantastic! They're smaller and offer a more intimate experience.
Uco Valley: Most picturesque Mendoza bodegas
The Uco Valley is Mendoza's newest and fastest-growing wine region.
It sits at the foot of the Andes Mountains and offers unbeatable views. Here's where you'll find wineries that are architectural masterpieces!
But it's a lot further from the city – 100 km to be exact.
Mendoza wine tours
Because of how the wineries of Mendoza are dispersed, people often have trouble deciding how best to plan their trip.
Some wineries can be visited by bike; for others, you need a car to get around.
After spending two weeks in Mendoza, here's my advice on what to do and where.
Rent a bicycle
In Lujan de Cuyo and Maipu, it's best to rent a bike for the day and cycle between the wineries. They are all close to one another, and it's a cheap and fun way of exploring these wine regions.
I rented from Maipu Bike Rentals in Maipu and Baccus Bikes in Lujan de Cuyo. You will be given a map and a suggested route before going on your way.
I also did this multi-bike wine tour in Maipu and highly recommend it!
The highlight was peddling through the quiet streets, sipping delicious Malbecs while feasting on the most incredible cheese platter.
Go on a small wine tour
There are plenty of organized tours that depart from the city, Maipu, and Lujan de Cuyo. They visit some of the best Mendoza wineries.
The best part of booking a group or private tour is that all the admin is taken care of. You don't need to make any bookings for tastings or lunches as it's all done for you.
This tour includes wine tastings at three wineries, a gourmet lunch, and return transport.
Most group tours have a maximum of 8 passengers, so you're still guaranteed to have personal experience.
Bus Vitivinicola: Larger group tour
If you're hoping to visit the Mendoza bodegas on a budget, I highly recommend Bus Vitivinicola.
I can vouch for them as I did this tour, and it was so much fun! It's a large group tour that accommodates up to 50 people.
They have daily departures that rotate between all the Mendoza wine regions.
This is the best and most affordable way to visit Valle de Uco, which is a lot further south of Mendoza.
It's one of the larger group tours, so if you want an intimate experience, you're better off booking a private driver.
Rent a car
If you're drinking responsibly or have a designated driver, renting a car is the best way to explore the Mendoza vineyards.
You can then visit those wineries off the beaten track and change up your wine route depending on how your days are going.
A car will come in handy in the Uco Valley, where the wineries are spread out, and taxis aren't available.
The best Mendoza bodegas
After visiting over 15 bodegas in Mendoza, there wasn't one that I did not like.
Each was unique in its own right, from small family-run vineyards to larger productions.
A wine tasting will cost between 1,800 ARS and 3,200 ARS for three glasses, and most require prior booking.
Bodega Pulmary
Location: Lujan de Cuyo
Best for: Fascinating wine cellar and passionate winemaker
Bodega Pulmary is a quaint winery in the heart of Lujan de Cuyo.
It's unassuming, and while it may not have the best views, it certainly has the character.
Of all the Mendoza wineries I visited, this was the most unique!
The owner/winemaker is incredibly passionate about wine production, and it was fascinating to walk through the cellar.
Bodega Kaiken
Location: Lujan de Cuyo
Best for: Winery lunch amount the vines
If you're looking for a fantastic lunch with equally impressive wines, head straight to Kaiken Winery.
Here, you'll be treated to the most gorgeous setting under the vines. The food was out of this world, and the service was outstanding.
I was very lucky to get a booking here, so be sure to plan ahead of time.
Bodega Vino Cerno
Location: Maipu
Best for: Small, intimate winery
Bodega Vino Cerno is a small winery in Maipu with a great selection of wines.
It was one of my favorite wineries, thanks to the rustic tasting area and authentic atmosphere.
I also had the empanadas here, and they were terrific!
Bodega Piedra Negra
Location: Uco Valley
Best for: Andes Mountain views
Bodega Piedra Negra is a picturesque winery in the Uco Valley. It's part of the François Lurton Group, known for its commitment to sustainable and organic winemaking practices.
Their portfolio includes a range of varietals, with Malbec as the flagship grape, producing wines with intense fruit flavors, balanced acidity, and elegant complexity.
I particularly loved their Reserve Cabernet Franc.
Bodega La Rural
Location: Maipu
Best for: Wine museum
Bodega La Rural is an incredible winery and an impressive wine museum.
It features many tools and artifacts used in the production of wine, collected over hundreds of years.
This cellar door was one of the most unique ones we visited. It's set in a dark room surrounded by massive wine barrels.
Bodega Monteviejo
Location: Uco Valley
Best for: Impressive architecture
Monteviejo is a beautiful, luxurious winery in the Uco Valley.
But it's not only a fantastic winery. Monteviejo has a renowned restaurant, too. If you want a quality experience, book their degustation menu with wine pairing.
The views from their restaurant and bar are absolutely spectacular!
Bodega Mevi
Location: Maipu
Best for: Vineyard views
Aaaah. Bodega Mevi!
Here's where you'll find some of the best vineyard views.
We cycled into the property and were immediately surrounded by stunning vineyards. The wines are equally impressive.
Bodegas Enzo Bianchi
Location: Uco Valley
Best for: Amazing staff and informative wine-tasting tour
I loved Bodegas Enzo Bianchi for the fantastic wine-tasting experience and service.
Here, you can experience the passion and dedication of the Bianchi family, who have been crafting world-class wines for generations.
Their Corte and Organic Malbec were my favorites!
Claroscuro Bodega De Arte
Location: Uco Valley
Best for: Degustation menu
Claroscuro Bodega De Arte was the most underrated winery I visited. Their wines were terrific and well-priced.
I also had lunch here and was impressed with the food and service.
Bodega Viamonte
Location: Lujan de Cuyo
Best for: Andes Mountain views
The views of the Andes mountains from Bodega Viamonte are hard to beat (unless you plan to visit the Valle de Uco wineries).
I recommend ending your day of wine tasting here. Buy a bottle of their Malbec, grab a seat on their well-manicured lawns, and enjoy the incredible atmosphere.
Viamonte is also an excellent place for a winery lunch, but bookings are required.
Bodega Gieco
Location: Lujan de Cuyo
Best for: Relaxing, authentic atmosphere
Gieco Winery came highly recommended by a few people we met in Lujan de Cuyo. It has a relaxing atmosphere and a charming vibe.
But it doesn't fall short of the good stuff: wine and food!
The owners are hospitable, and you can't go wrong with stopping here for lunch and wine surrounded by vineyards.
Carinae Wines
Location: Maipu
Best for: Intimate tasting
Carinae Wines was the first stop on our wine bike tour.
It's a boutique winery with an intimate feel. The beautiful outdoor seating perched under the trees is the perfect place to do a tasting of their delicious reds.
Bodega Nieto Senetiner
Location: Lujan de Cuyo
Best for: Winery lunch and tasting
Just a short walk from Bodega Gieco lies another stunning winery in Mendoza, Bodega Nieto Senetiner.
Trees line the entrance, and it's a beautiful introduction to the winery. The tasting room and restaurant are set within a beautiful historic building.
We had a delicious meal here, and the service was outstanding.
Trapiche
Location: Maipu
Best for: Wine and walk
Bodega Trapiche is a gorgeous winery waiting to be explored.
It's one of the oldest wineries in Argentina. Trapiche is pretty big compared to some of the other Mendoza wineries on this list, but it's worth visiting.
We skipped the wine tour and instead purchased glasses of wine and opted for a self-guided walk through the stunning grounds.
Trapiche also offers a lunch and wine pairing.
Tempus Alba
Location: Maipu
Best for: Malbec Reserva
Tempus Alba is a more prominent winery with a modern feel.
They offer an impressive selection of reds and have an onsite restaurant overlooking the vineyards.
Other Mendoza wineries to visit
I was completely wined out after visiting so many bodegas in Mendoza.
Here are a few others that I wanted to visit but was unable to as they were either closed during my visit or had no availability as they require bookings a few weeks in advance.
Zorzal wines (Uco Valley)
Bodega Lagarde (Lujan de Cuyo)
Bodega El Enemigo (Maipu)
Bodega Carmelo Patti (Lujan de Cuyo)
Bodega Salentein (Uco Valley)
Bodega Alta Vista (Lujan de Cuyo)
Bodega La Azul (Uco Valley)
Bodega Domiciano (Maipu)
Bodega Corazon Del Sol (Uco Valley)
When to visit Mendoza
While Mendoza is an all-year-round travel destination, October to April is the best time to visit.
Summer: December to February
During the summer, Mendoza's vineyards are most vibrant, and the grapevines are in full bloom.
But summer is the high season in Mendoza. While you'll have long, sunny days, it will be crowded. Bookings need to be made weeks and even months in advance.
Autumn: March to May
March to May is a great time to visit the wineries of Mendoza. The temperature is cooler and more comfortable when compared to summer.
The grape harvest season starts in March, and you can enjoy the wineries with fewer crowds.
Winter: June to August
Winter in Mendoza means chilly mornings and evenings. But the days are often sunny, and you can still have a great time exploring the vineyards.
While they aren't as lush or vibrant, it's off-season and a lot quieter than other months.
I visited Mendoza in winter and was able to visit most wineries with no prior reservations. However, I did struggle to find availability for winery lunches.
Spring: September to November
Spring brings warm and comfortable temperatures to Mendoza.
The vineyards come to life from October, and it's a great time to witness lush wineries.
Tips for visiting the wineries of Mendoza
Winery lunches need to be booked weeks in advance. Even out of season.
Some wineries are closed on either Sundays or Mondays.
Uco Valley wine tastings need to be booked in advance.
Lujan de Cuyo and Maipu wineries are more flexible with walk-ins. But during high season, prior reservations are required.
Allow for three winery visits in a day.
Where to stay
If you're short on time or traveling on a budget, I recommend staying in Mendoza City and doing day trips to the various wine regions.
If you have a few days in the area, stay in Lujan de Cuyo. It's a beautiful town and the perfect base for exploring Maipu and the Uco Valley.
Stay in the Uco Valley if you have a car rental and want an isolated and relaxing holiday.
Luxury accommodation
If you're searching for a luxurious stay in the Uco Valley with mountain views, look no further than Casa de Huespedes La Azul. The location is perfect, as it's next to several wineries, and the hospitality is outstanding.
The Diplomatic Hotel is a luxury 5* hotel in Mendoza City. The entire property oozes opulence and is exquisite, inside and out. It also features an outdoor pool and a Mediterranean-inspired restaurant.
Mid-range places to stay
Posada Mawida is a family-run lodge in the heart of the Maipu wine region. You'll have beautiful views of the Andes mountains from the property, and there's even a pool with picturesque vineyards as the backdrop.
Casa de Coria is a charming B&B with delightful hosts. The rooms are spacious and comfortable, and it's a great choice for a relaxing stay. The location couldn't be better, as it's within walking distance of shops, restaurants, and wineries in Lujan de Cuyo.
Budget
I stayed at Aires de Coria in Lujan de Cuyo, and it was fantastic! The large rooms are tastefully decorated and include a private en suite bathroom. It's centrally located, just a short walk from the bike rental stores.
Windmill Hostel in Mendoza City is an excellent option for budget travelers and backpackers. It's a short walk to the bus station and has an awesome atmosphere. There are private rooms as well as dorms available.
Final thoughts on Mendoza wine region
I couldn't help but fall in love with Mendoza, Argentina.
Be it the stunning views of the Andes Mountains, the magnificent dining options under the vineyards, or the quaint streets and friendly neighborhoods. Oh, and the superb Mendoza wines, of course.
I suggest spending 5 days exploring the wineries of Mendoza. You won't regret it!
Like it? Pin it!
---
Do you have any questions about the Mendoza bodegas and wineries? Drop me a question in the comments section below!
Looking for more Argentina travel inspiration? Check out my other posts!
Torn Tackies contains affiliate links. If you make a purchase using one of these links, I may receive compensation at no extra cost to you. See my disclosure for more information.