Mendoza is the wine capital of Argentina. It's home to 3 high altitude wine regions: Maipu, Lujan de Cuyo, and the Uco Valley.
Maipu is the closest region to Mendoza and, hence, the most popular.
I spent a few days exploring Maipu, where I drank some of the best wines and ate the most delicious food.
Here's everything you need to know about visiting Maipu, Mendoza.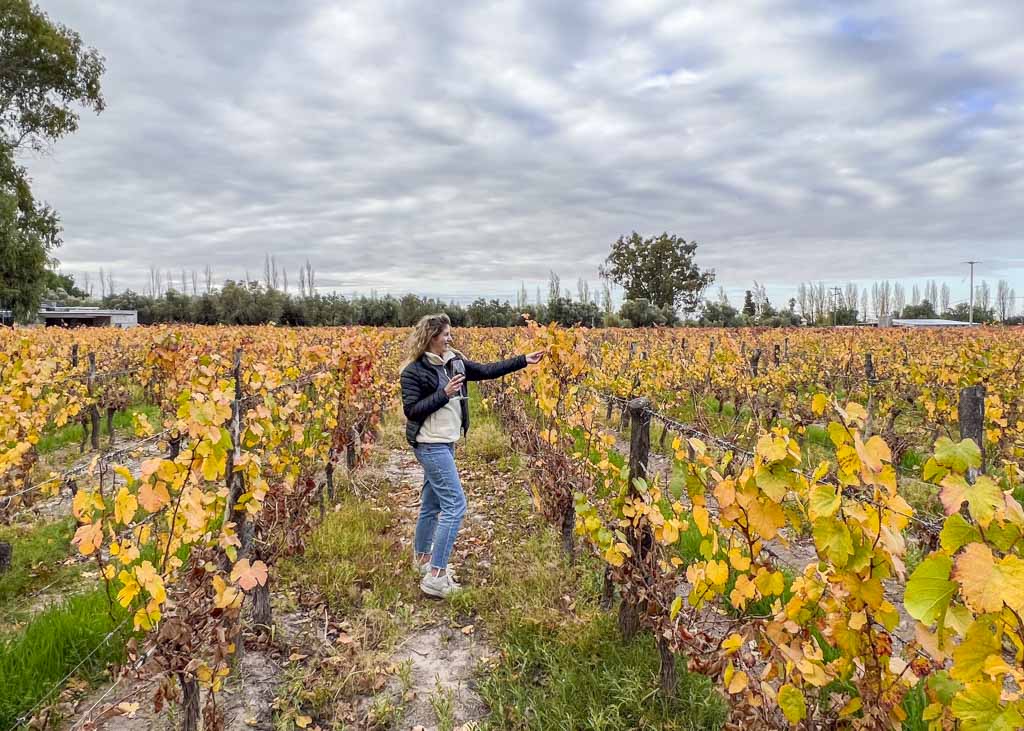 Torn Tackies contains affiliate links. If you make a purchase using one of these links, I may receive compensation at no extra cost to you. See my disclosure for more information.
Where is Maipu, Mendoza
The wine region of Maipu is 13 km southeast of Mendoza. It's a quick 20-minute drive from the Mendoza bus terminal and easily accessible via public transport or Uber.
However, the town itself isn't much to write home about, and I felt it lacked character compared to its neighbor, Lujan de Cuyo.
But don't let that deter you from visiting Maipu! Because you don't come here to explore the town. You come here for the wine.
And the wine? It did not disappoint!
The best time to visit Maipu wineries
Maipu, as with all the Mendoza wineries, is an all-year-round travel destination.
The summer months from December to February bring with them long, gorgeous days. But it's high season in Mendoza, so booking wine tastings and tours in advance is essential.
The winter months from June to August are considered off-season, but this is a great time to avoid the crowds. I planned my trip for June, and while it was cold, I was able to visit most wineries without making reservations. However, I was still surprised to see how busy it was, even during the week.
Spring (September to November) is considered the best time to visit Maipu, as the vineyards start to bloom with lush greenery.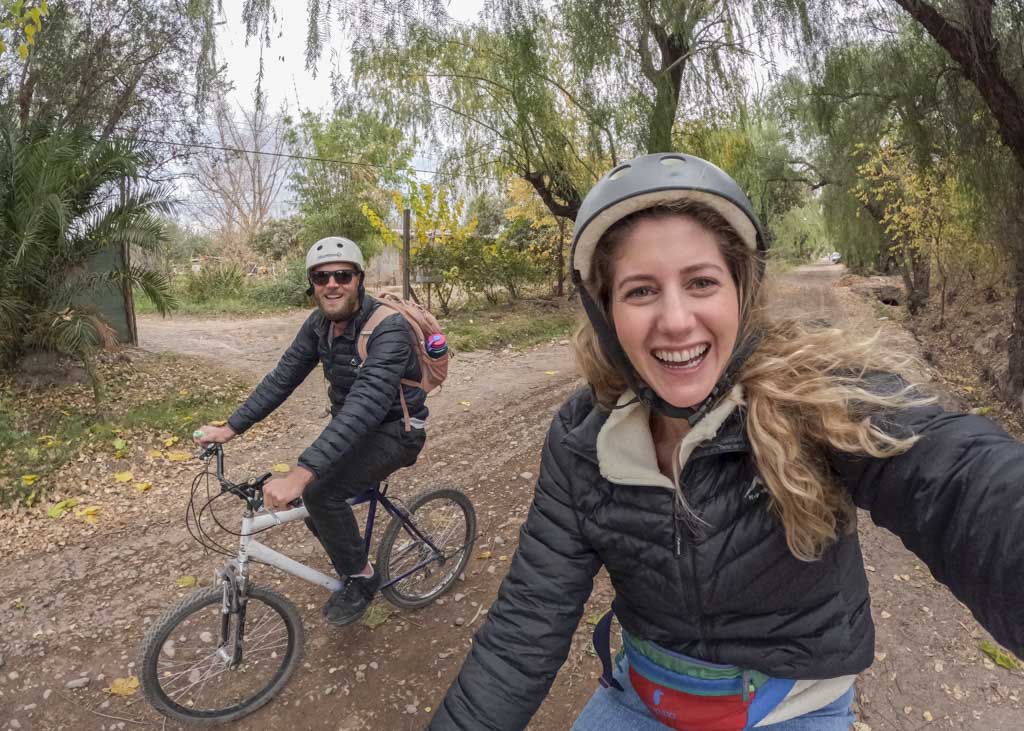 Maipu wines
Located at 850 m above sea level, Maipu is one of Argentina's oldest wine regions.
It sits at a slightly lower altitude than the other grape-growing regions in Mendoza yet still offers favorable conditions for grape cultivation.
Malbecs are the most famous grape variety in the area. They're known for their rich, full-bodied, and fruity characteristics. And I can confidently say that after my trip to Mendoza, Malbec is my new favorite wine!
Cabernet Sauvignon is another popular grape grown in Maipu.
How to visit the wineries of Maipu
Wine tasting in Argentina isn't the most budget-friendly activity. However, I found Maipu to be the cheapest and easiest wine region to visit.
This is one of the reasons it's so popular with backpackers.
The best way to explore Maipu Mendoza is by bike. The Maipu Bodegas (or wineries) are close to one another, and you can easily cycle between them.
A wine tasting will cost between 1800 ARS and 3200 ARS for three glasses.
Maipu Wine Bike Tour
I did this group wine bike tour. It's on a multi-bike, which was so much fun.
We visited three vineyards in Maipu, as well as an olive farm. The highlight was peddling through the quiet streets, sipping delicious Malbecs while feasting on the most incredible cheese platter.
Book here to avoid disappointment, as there are only ten spots available.
Maipu bike rental
On my second day in Maipu, I rented my own bike and did a self-guided wine tour.
This was a completely different experience, and I enjoyed the freedom of planning my own winery route.
I booked through Maipu Bikes Rental and highly recommend them. Mr. Hugo's is nearby and also came with great reviews. Costs are 3,500 ARS per bike.
Maipu wine tours
If cycling isn't your thing, or you don't trust yourself on a bike after a few glasses of wine, I highly recommend booking this private tour of Maipu winner region.
Maipu wineries to visit
You might come across Bodegas when looking for the best Maipu wineries.
This is because Bodega is the Spanish word for winery, and the two words are often used interchangeably.
The one thing to note about Maipu is that most wineries don't offer unspoiled mountain views. If this is what you're after, I recommend visiting the Uco Valley as well.
CarinaE Wines
Carinae Wines was the first stop on our wine bike tour.
It's a boutique winery with an intimate feel. The beautiful outdoor seating perched under the trees is the perfect place to do a tasting of their delicious reds.
Tempus Alba
Tempus Alba is a bigger winery with a modern feel. They offer an impressive selection of reds and have an onsite restaurant overlooking the vineyards.
The Malbec Reserve from Tempus Alba was one of the best wines I drank in Mendoza.
Bodega Vino Cerno
Opposite Tempus Alba lies Bodega Vino Cerno. It's a small winery with a great selection of wines.
Bodega Vino Cerno was one of my favorite wineries in Maipu, thanks to the rustic tasting area and authentic atmosphere.
I also had the empanadas here, and they were terrific!
Bodega Mevi
Aaaah. Bodega Mevi! Here's where you'll find some of the best vineyard views.
We cycled into the property and were immediately surrounded by stunning vineyards. The wines are equally impressive.
Bodega La Rural: Museo del Vino San Felipe
Bodega La Rural is not only an incredible winery but also an impressive wine museum.
It features many tools and artifacts used in the production of wine, collected over hundreds of years.
This cellar door was one of the most unique ones we visited. It's set in a dark room surrounded by massive wine barrels.
Bodega Trapiche
Bodega Trapiche is a gorgeous winery waiting to be explored.
It's one of the oldest wineries in Argentina. Trapiche is pretty big compared to the other Maipu wineries, but it's worth visiting.
We skipped the wine tour and instead purchased glasses of wine and opted for a self-guided walk through the stunning grounds. Trapiche also offers a lunch and wine pairing.
Other Maipu wineries
Unfortunately, I couldn't visit all the bodegas in Maipu.
Here are a few others we wanted to visit, but they were closed or required bookings.
Bodega Domiciano: They have set tasting times, and a booking is needed
La Iride: We had a bottle of their Malbec at dinner, and it was delicious
Bodega Alandes
Trivento
Where to eat in Maipu
Truth be told, I wasn't impressed with the restaurants in the center of Maipu town. Which says a lot as I absolutely love Argentinian food.
Instead, plan your itinerary so that you eat at the Maipu wineries or one of the restaurants close to the wineries. This is where I had the best food!
Casa de Campo
Love, love, love! We were supposed to have a quick lunch here but ended up spending 3 hours feasting on the most incredible degustation menu and delicious wines.
Casa Vigil at Bodega El Enemigo
The restaurant at Bodega El Enemigo is known to offer the most spectacular degustation menu.
It's next-level fine dining with a 7-course menu. Bookings need to be made weeks (even months) in advance. It's that good!
La Melesca Resto
This is a small restaurant close to Tempus Alba. The setting is beautiful, and the food is delicious.
Al Rescoldo
If you're going to eat in Maipu town, the best restaurant is Al Rescoldo. Everyone told us about it! Unfortunately, they are often fully booked, and reservations must be made a few days in advance.
Where to stay in Maipu
Luxury: Posada Verde Oliva is a boutique hotel within walking distance of Bodega La Rural. It's set on an olive farm with vineyards on your doorstep.
Mid-range: Posada Mawida is a family-run lodge in the heart of the Maipu wine region. You'll have beautiful views of the Andes mountains from the property, and there's even a pool with picturesque vineyards as the backdrop.
Budget: I stayed at La Palmera, and it's a fantastic option for budget travelers. The owners were the friendliest people I met in Argentina! It's located in the center of Maipu town and is close walking distance to shops and restaurants.
Top tip: If you don't have your own transport, I recommend staying in Maipu town center. You can easily catch the local bus from here, as well as Uber.
Is it worth visiting Maipu, Mendoza
The city of Maipu as a whole has an industrial feel. It's not picturesque!
I didn't feel like I was in wine country when I arrived.
But the moment you leave the center of town and get closer to the wineries, their entire atmosphere and setting changes.
I loved exploring the Maipu bodegas (wineries) by bike; it was one of the highlights of my Argentina trip.
Like it? Pin it!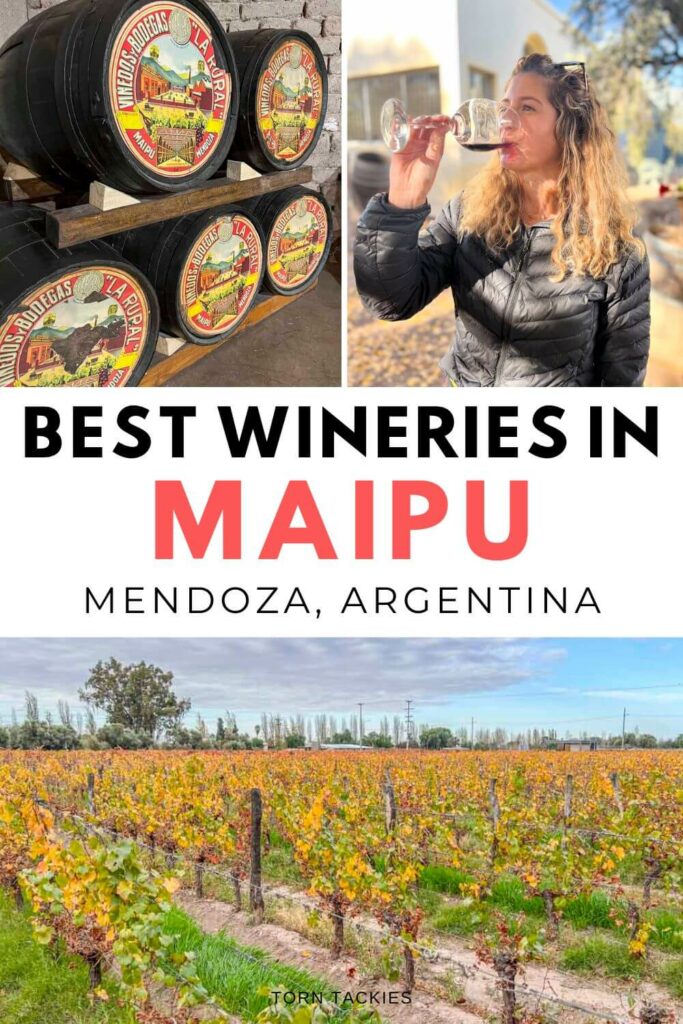 ---
Do you have any questions about Maipu, Mendoza? Drop me a question in the comments section below!