Are you looking for the best Salkantay Trek packing list? You've come to the right place.
Before my trip to Peru, I spent hours researching what to pack for the Salkantay Trek. That's when I discovered there's a weight limit of 7 kgs per bag.
This left me with more questions than answers.
It's a 5-day trek, after all. And 7 kgs is not exactly ideal, especially when packing for all kinds of weather.
But I managed just fine, and if you follow my tips, you'll be as prepared as I was.
In this comprehensive packing list for the Salkantay Trek, you'll find what you need to pack (and what you can leave behind). I've also included insider tips and things to consider in preparation for the trek.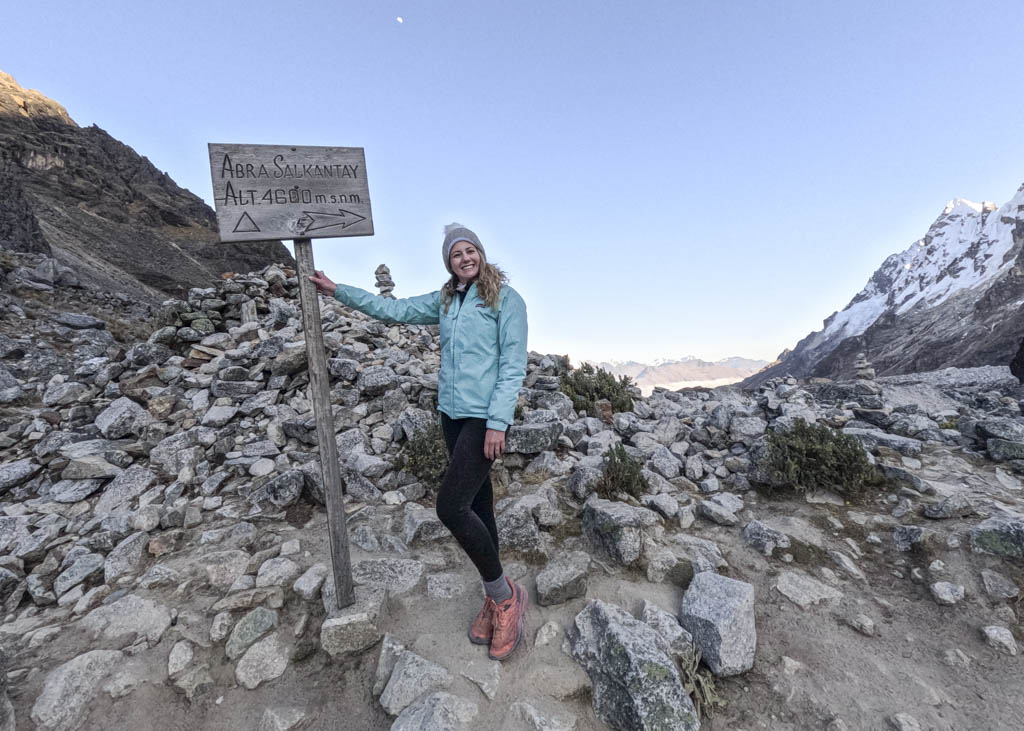 Considerations for your Salkantay trek
There are a few things to consider when packing for the Salkantay Trek.
The first is the weight of your pack. And the second is what to wear on the last evening and day in Aguas Calientes.
7 kg weight limit
You need to pack light!
Most tour companies have a weight limit of 7 kg per duffel bag. This bag will be carried by either porters or donkeys.
You'll store all your clothing and personal items in these bags. You also need to squeeze your sleeping bag in. If your sleeping bag weighs 2 kg (which mine did), then this leaves you with a 5 kg weight limit for your other items.
The last night in Machu Picchu
The 5 day Salkantay Trek involves three nights along the trail and one night in a hotel in Aguas Calientes (which is the gateway to Machu Picchu).
You'll want to treat yourself to a well-deserved dinner for your last night in Aguas Calientes. You'll also visit Machu Picchu the next day, and it would be nice to have a clean set of clothes for this.
But you only have 7 kg, so how will that work?
That's why you need to pack smartly! I go through all this in the clothing sections of my packing list.
Tips and tricks
Day 2 is the coldest. The Salkantay Pass lies 4,630 m above sea level. The first night of your trek and the ascent up the pass will be freezing cold. But the rest of the route is at a lower elevation and gets pretty hot.
Go to the hot springs. On day 3 of the Salkantay Trek, you have the option of visiting the Colcalmayo Hot Springs. Pack your swimsuit and get in those baths as they are just what your body is going to need!
Pack a set of non-trekking clothing to wear at the campsites. There's nothing better than putting on something clean and comfy after a long day of hiking.
You can shower. There are showers at most stops along the route. We chose to camp closer to the Salkantay Pass on day 1, so no hot shower was available. But from day 2, we had magnificent hot water showers.
Don't forget your passport. You need your passport to enter Machu Picchu. If there's one thing you must remember to pack for the Salkantay Trek, it's this!
Salkantay Trek packing list: Your bags
Duffle bag
Most companies, including Inkayni Peru Tours who I went with, will provide you with a duffel bag for your clothes, sleeping bag, and essential items. This cannot weigh more than 7 kg.
You'll leave your duffle bag with the team before you depart for the day's hike and will only get it back again when you reach your campsite that evening.
Day pack
You'll carry a daypack with you during the day. This should be a 20 to 30-liter pack that can fit the things you need while walking, including water, snacks, sunscreen, and a warm top.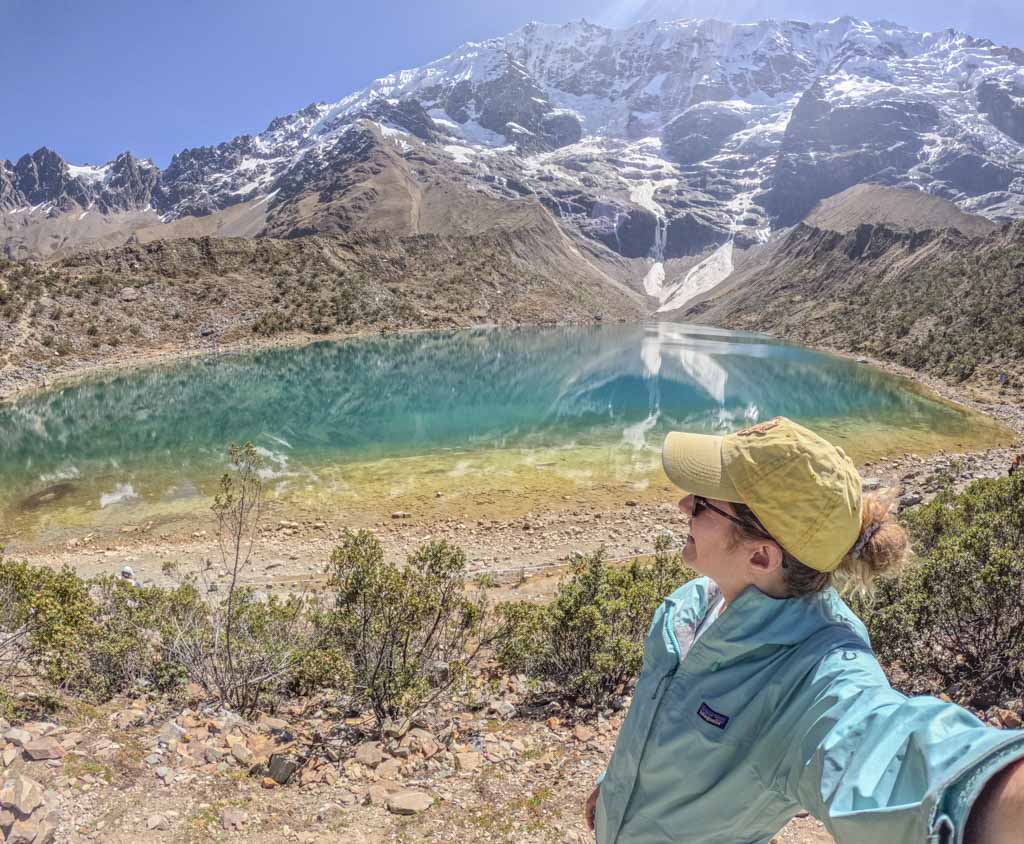 Bum Bag or foldable bag
On the last day of your Salkantay Trek, you'll visit Machu Picchu. There are strict restrictions as to the size of backpacks allowed.
The current limit is 40 × 35 × 20 centimeters or 20 liters.
Because of this, you'll need to leave all your bags at your hotel in Aguas Calientes.
But you'll want to take some water, sunscreen and your camera with so I suggest bringing a small foldable bag or bum bag.
Packing for the Salkantay Trek: Footwear
Trail shoes
I was once an avid hiking boot supporter. But I've since converted to the dark side: Trail shoes!
Before packing for the Salkantay Trek, I purchased a pair of Hoka trail shoes, and they were the best buy for my trip.
You'll walk for over 6 hours daily, and your shoes can make or break your hike. The trail is rocky and dusty in some areas, and I found that trail shoes offered all the support I needed.
Hiking boots
Proper hiking boots may be your preferred option for additional ankle support. My mom used Merrel hiking boots as she prefers walking in boots over trail shoes.
But this is unnecessary, and I was very happy with my decision to use trail shoes instead of hiking boots.
Camp shoes
Make sure you include a second pair of lightweight shoes in your Salkantay Trek packing list. Your feet will thank you!
I packed my Teva sandals (which I absolutely love).
They were great for the evenings, and I popped on a pair of socks if my feet got cold. I also wore them to the hot springs and while walking around Aguas Calientes.
Tevas are heavier than most sandals, but surprisingly, I was still within the weight limit. I recommend any lightweight slip-on shoes (like Havaianas) instead of trainers as they take up less space.
Salkantay Trek packing list: Clothing
To save space in your backpack, you'll re-wear your clothes from day one to day 4. Everyone does!
But you need to pack the right clothing.
Salkantay Trek Packing List: Upper Body
Base Layer: Thermal Top
Thermals are an essential base layer that you will need to include in your Salkantay Trek packing list.
I didn't hike with a base layer as it was not necessary. Instead, I used mine every evening as a long sleeve pajama top (because it gets chilly at night).
Top tip: You don't need to wear a thermal top when you cross the Salkantay Pass. Keep this base layer clean for the evenings. Instead, layer up with the below items while hiking.
3 x Short Sleeve hiking tops
Pack three lightweight, breathable exercise tops that will dry quickly. Cotton is not your friend!
I alternated between 2 tops over the 4-day hike to Aguas Calientes. And kept a third top for Machu Picchu.
1 x long, lightweight hiking top
Layering is essential when packing for Salkantay Trek, and this lightweight, long-sleeve top is necessary. I hiked in it for the first few hours of each day.
The long sleeves are a great sun protector as well.
1 x fleece top
A warm fleece top will come in handy as the sun starts to set and the temperature gets colder.
I wore my fleece at camp and on my last night in Aguas Calientes.
Lightweight Down Jacket
This was the best investment, not only for your Salkantay Trek packing list but for life in general.
You don't need a thick down jacket. Instead, pack a thin, lightweight one.
I wore mine over my fleece at night or under my windproof jacket when going over the Salkantay Pass.
Windproof Rain Jacket
You can have perfect weather and sunny skies every day. But you may also get rainy days with gusts of wind, so this windproof outer shell is a must.
Salkantay Trek Packing List: Lower Body
1 x long yoga pants
Yoga pants are a great alternative to hiking pants as they are stretchy and more comfortable.
I alternated between a pair of yoga and hiking pants. When it got colder, I hiked with my yoga pants under my proper hiking ones.
1 x long hiking pants
These lightweight, thin hiking pants are great to hike in. I fitted on a million pairs and eventually went with the Kathmandu option.
Some hiking pants have a zip which allows them to convert into shorts. But the material is super breathable anyway, so the shorts feature isn't necessary.
These pants won't provide much warmth on colder days, so you can wear your yoga pants underneath if the temperature drops.
1 x hiking shorts
It can get hot from day three, so bring a pair of short pants.
I only wore mine on day 3 to the hot springs. But they're small enough and won't take up much space in your bag.
1 Pair of track pants or leggings
You'll want to bring a pair of long pants for the evenings. But the secret is to pack something you can also wear to Machu Picchu (as you'll return to Cusco afterward).
While baggy, oversized pants are super comfortable, they will take up a lot of space in your bag. And they're not practical for Machu Picchu.
I packed in an extra pair of comfy yoga pants, which I used as pajama pants every night. I then wore these on the last day to Machu Picchu.
Salkantay Trek packing list: Headgear
Sun hat
Even if it's cold, the sun is still harsh, and you'll need a hat to hike in.
Beanie or warm hat
You're packing for four seasons, so bring a beanie or warm hat.
It gets pretty cold at night, and you'll wear it going up the Salkantay Pass.
Thin buff
A thin, light buff protects your skin from the sun, keeps your neck warm, and acts as a mask, preventing fine dust and other particles from entering your mouth and nose.
The thinner, breathable fabric of the light buffs means you can wear them every day, even in the heat.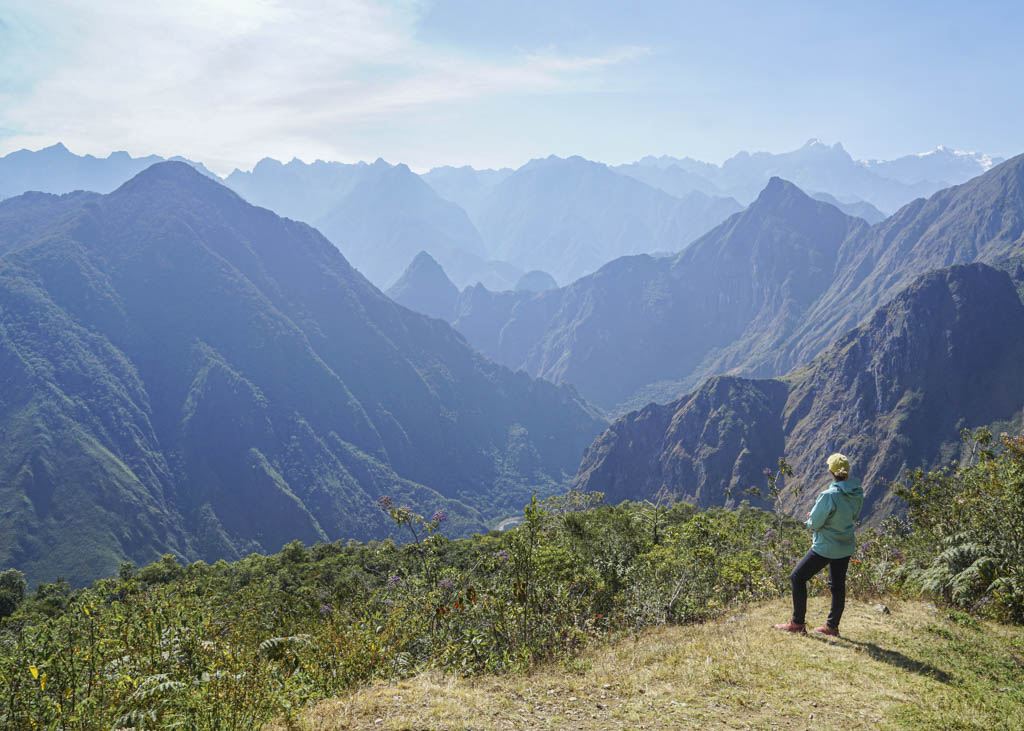 Salkantay Trek packing list: underwear
5 x underwear
2 x sports bras
2 x thick trekking socks
2 x normal socks for the evenings
Swimming gear for the hot springs
Salkantay Trek packing list: Accessories
Sunglasses
Headlamp (and spare batteries)
Gloves
Trekking poles
1L water bottle
Packing cubes: Packing cubes are a lifesaver when organizing your Salkantay trek packing list. They make finding what you need from your duffel bag much easier.
1 Plastic bags: It's always a good idea to carry a plastic bag that you can use for trash or wet clothes.
Laundry bag: I used a packing cube as my laundry bag. You can also use a plastic bag instead.
Salkantay Trek packing list: Toiletries
Sunscreen
A small pack of wet wipes
A small bottle of hand sanitizer
Small shower gel
Face moisturizer
1 roll of toilet paper
2 packs of travel tissues
Microfiber towel: I travel with a Turkish Towel
Toothbrush
Toothpaste
Deodorant
Lip balm (with sunscreen)
Hair ties and clips
Insect repellant (definitely need this)
Salkantay Trek packing list: Electronics
20 000 MaH Powerbank
There might not be a power supply at your campsites (depending on where you're staying.) And if there is, the plug points will most likely be taken.
A 20 000 mAh Powerbank was enough to keep my phone, GoPro, and camera fully charged during the 5-day trek.
GoPro
A GoPro was the best thing on my packing list for Salkantay Trek, especially for those wide-angle shots and selfies.
Salkantay Trek Packing List: Documents
Passport
You'll need to scan your passport to access Machu Picchu. If you left it in Cusco, you won't be allowed in!
Cash
Throughout the Salkantay Trek, there are vendors selling snacks, water, and fresh juices. So bring cash (Peruvian Soles) as no ATMs are along the route.
Credit card
You can use your card to pay for dinner and memorabilia in Aguas Calientes. There are also ATM's in Aguas Calientes.
Travel Insurance documents
Always, always have your travel insurance details handy. If anything happens to you, it is easier for other trekkers to assist, as they can contact your insurers.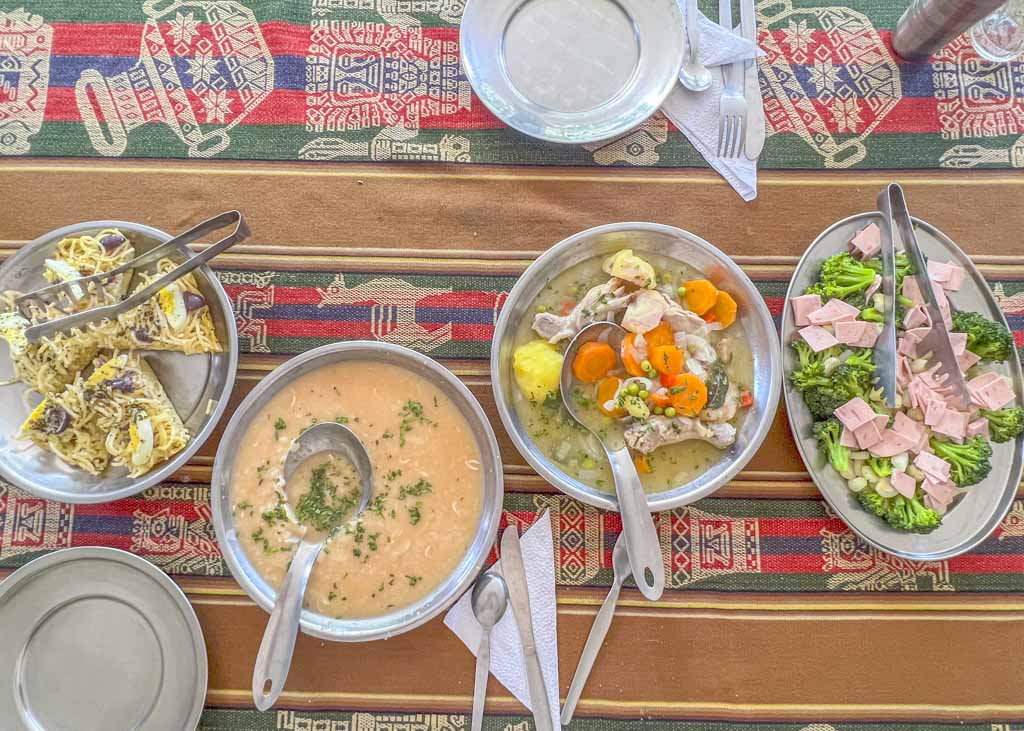 Salkantay Trek packing list: First Aid Kit
I bought a first aid kit for my trip. It's small enough and includes only the necessities needed if I get in trouble. I then added the below items to the bag.
Headache tablets (paracetamol/ibuprofen)
Throat lozenges
Anti-inflammatories
Nonessential items for your Salkantay Trek packing list
Each person is different! Here are nonessential items you can leave out of your Salkantay Trek packing list. But they're nice to have.
Diamox (Altitude Sickness medication)
On day two of the trek, you'll reach the Salkantay Pass. It sits at an altitude of 4,630 m, meaning there's less oxygen in the air.
Your body will feel the effects of the higher altitude – which is completely normal. This is the section that contributes most to the difficulty of the Salkantay Trek.
But if you become nauseous, dizzy, and start vomiting, it can be extremely dangerous.
Diamox, and other altitude sickness medications, help you acclimatize to the higher altitude. But this medication has other side effects that you need to consider.
I didn't take any altitude sickness meds. You are only at this high altitude for one day and immediately go to a lower altitude after reaching the pass.
But there are numerous factors to consider, and you should consult your GP before deciding.
Also, do not underestimate the importance of a good trekking company. Your guide should walk at a pace that will allow your body to acclimatize naturally.
Our team from Inkayni also carried an oxygen tank with them if needed.
Hydration pack
Some people prefer to hike with a hydration pack. If I had one at home, I would have added this to my Salkantay Trek packing list.
But I didn't and was reluctant to spend any more money when I already had a water bottle.
Snacks
We were given plenty of food and snacks from Inkayni Peru Tours. But other tour operators may be less generous, so check with them first.
Waterproof hiking pants
Again, another item I didn't pack for the Salkantay Trek. And I don't regret it!
Pillow
You can bring a small blow-up pillow. But I used my packing cubes instead. Put a few of your clothes in there, and it makes for a great pillow!
Headphones
I downloaded a few podcasts and brought my AirPods, thinking I would have plenty of free time in the evenings. But I didn't end up using them at all.
When you're not hiking, you'll be meeting people and socializing. Plus, by 8 pm, you'll be exhausted and ready for bed!
Playing cards
I always bring a set of playing cards with me on my travels. But this is the one time I never used them (for the same reason I didn't use my headphones).
Makeup
Don't bring your entire makeup bag (unless you're willing to trade space with your sleeping bag).
But you'll want some mascara and foundation for the last night in Aguas Calientes and your visit to Machu Picchu.
Final thoughts of packing for the Salkantay trek
The Salkantay Trek is one of the most incredible multi-day hikes I have ever done! But you need to be prepared with the right gear for long trekking days.
---
Do you have any questions about packing for the Salkantay Trek? Drop me a message in the comments section below.