Cusco, Peru, is a fascinating city. Not only is it the gateway to the Sacred Valley and Machu Picchu, but it is also the former capital of the Inca empire.
But, with this impressive title come the tourists. Yes, there are many of them (including me), making Cusco one of the most popular cities in South America.
This hype makes choosing where to stay in Cusco challenging, especially before the Inca Trail.
I visited the famous city in 2023 and crafted this detailed guide on the best places to stay in Cusco. It's the guide I wish I had before planning my trip and includes accommodation options to fit every budget and the pros and cons of each area (called 'barrios').
So, if you're looking for where to stay in Cusco before the Inca Trail or Salkantay trek or simply trying to escape the hustle and bustle, this is the perfect accommodation guide for you.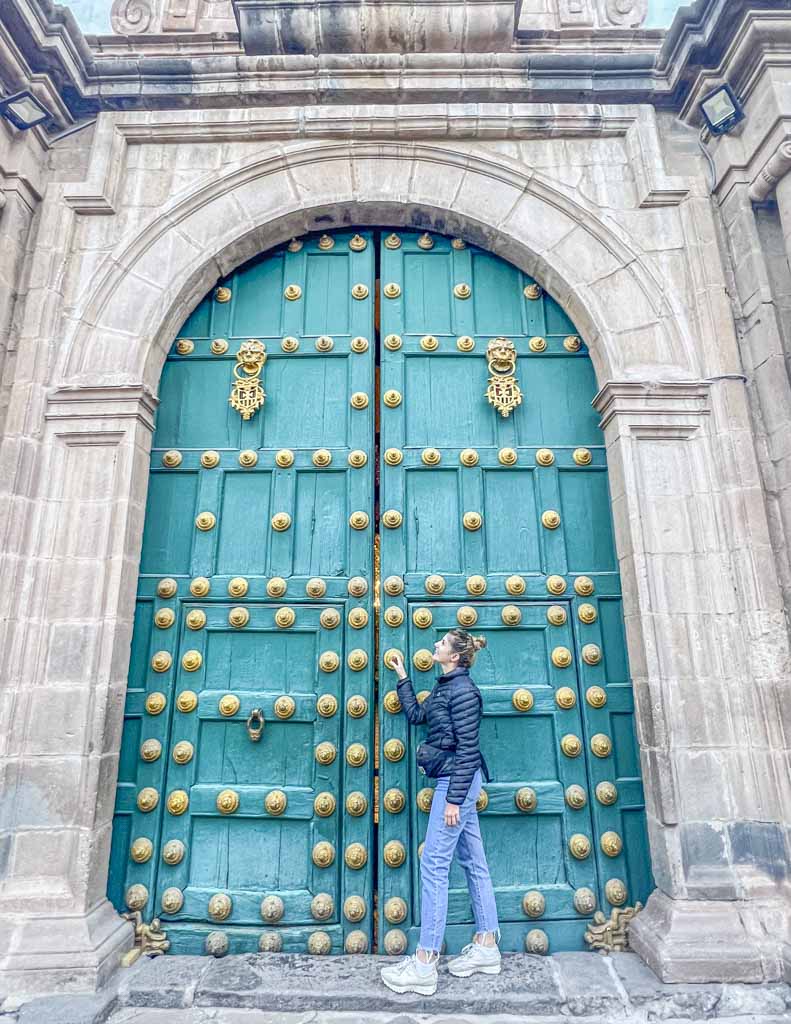 Torn Tackies contains affiliate links. If you make a purchase using one of these links, I may receive compensation at no extra cost to you. See my disclosure for more information.
Quick overview of where to stay in Cusco
Cusco accommodation guide
Here are the best areas to stay in Cusco, including hotels to fit budget and luxury travelers.
Centro Historica (Plaza de Armes): Where to stay in Cusco for tourists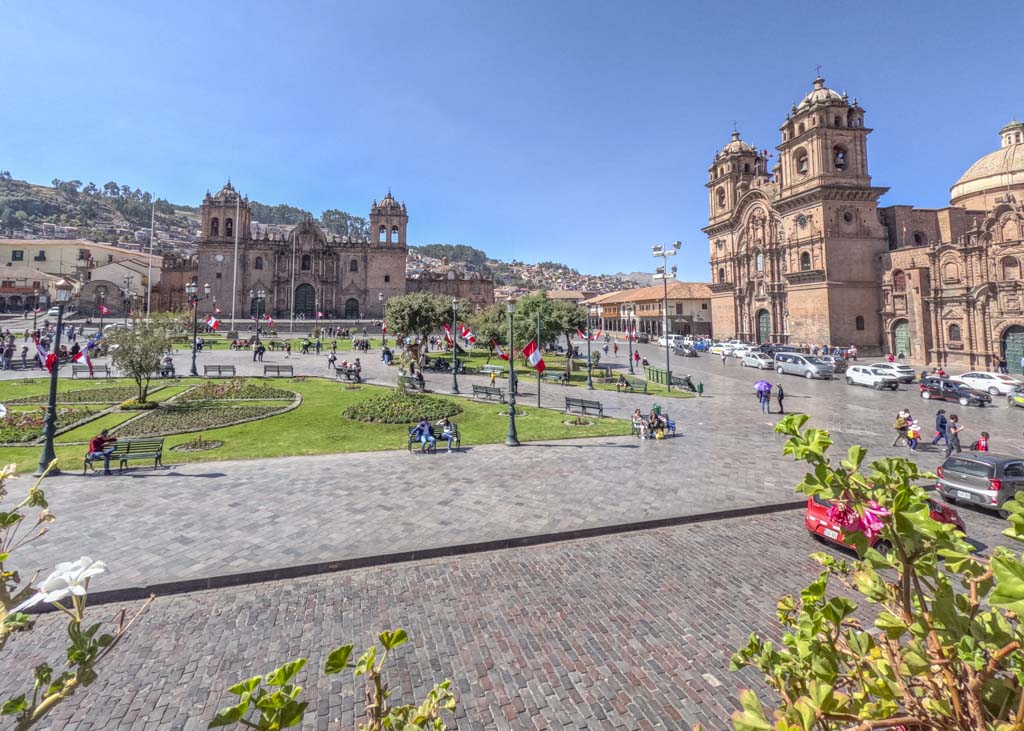 Plaza de Armes in Centro Historico is where all the action happens. It's the heart of the city and only a short walk from the top attractions.
Restaurants, pubs, markets, tour operators, museums, information centers etc. They're all on your doorstep!
But it's also the busiest place to stay in Cusco and can get noisy during peak periods. Accommodation prices here are also substantially higher than you'll find elsewhere.
However, if you're looking for luxury accommodation in Cusco, look no further than Centro Historico. You're spoiled for choice when it comes to 5* hotels and boutique accommodations.
Just 300 meters from Cusco's busy main square lies the JW Marriott El Convento Cusco. A hidden sanctuary. A very grand one.
Think high vaulted ceilings, antique exposed brick, and ornate stone arches. It was once a 16th-century convent and has two exhibition halls filled with Peruvian artifacts to satisfy history fans.
The rooms are luxe, comfortable, and tastefully done with dark wood fittings and soft suedes and linens.
At the heart, a large courtyard with high stone arches and a decorative fountain serves as your private town square, ideal for sitting down with a coffee to plan your day.
If you choose to take it easy, a wellness center and spa offer massages and treatments. A glamorously-lit indoor swimming pool also awaits.
There's no shortage of places to eat in Centro Historico, but I'd leave room for a meal at the two hotel restaurants – it's gourmet Peruvian cuisine at its best!
Click here to read reviews and check rates for JW Marriott El Convento Cusco.
Things to consider
With lots to explore within the grounds, you should stay longer than a night to feel you got your money's worth.
If you're looking for a cozy base to explore Cusco on foot, look no further than Cooper Hotel Boutique.
Central and charming, it's perfect for couples who want to be close to Main Square attractions, with clean and comfortable rooms, friendly staff, and (hands-down) the best breakfast in Cusco.
I'm talking fluffy omelets, eggs florentine, and next-level French toast enjoyed on a cheerful blue patio. If you're making an early getaway, they'll pack a breakfast box so you don't miss out.
A fun feature is the tea bar, stocked with Peruvian herbal teas and infusions – complete with a board listing all the health benefits.
The staff are incredibly warm and go out of their way to ensure you're comfortable. Plus, they have great recommendations if you need help planning your day.
Click here to read reviews and check rates for Cooper Hotel.
Things to consider
There's a nightclub around the back, which gets noisy on weekends. Unfortunately, this is the price you'll pay for staying in the heart of Cusco. If you're a light sleeper, you may want to stay a bit further from the hustle and bustle.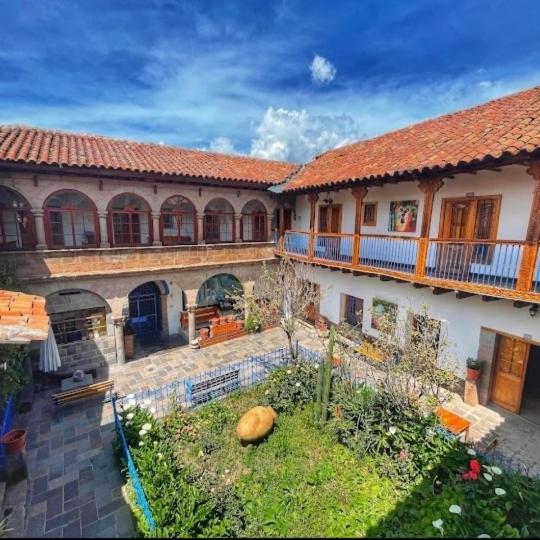 Terra Sagrada Cusco is a real gem if you're looking for where to stay in Cusco on a budget.
The location is spot on: It's a short walk from Main Square and the Plaza de Armas, where you'll find plenty of restaurants, shops, and people-watching opportunities.
The day starts on a high note with a feel-good continental breakfast included in your stay. And if you're saving on dining out, there's a communal kitchen to prepare your own meals.
You can book a shared dorm or a private en-suite room. The rooms are clean and spacious, with decent showers. You have everything you'd expect. And if not, the fantastic staff will gladly sort you out.
The large communal garden and courtyard is a real highlight, with lots of sunny spots to relax. There's also a restaurant and bar if you're feeling snacky or social.
If you're a couple or group looking for a central, clean, and comfortable stay – add Terra Sagrada Cusco to your list.
Click here to read reviews and check rates for Terra Sagrada.
Things to consider
The location is a vibe, but the nearby nightclubs can get noisy on the weekends. The Wi-Fi can be a bit hit or miss, but it can be overlooked for the affordable price point.
Lucrepata: Best for an authentic experience
I stayed in Lucrepata and highly recommend it if you're looking for a quiet and affordable place to stay in Cusco.
Many locals call Lucrepata home, and it has a local feel. This is one of the many things I loved about staying here as it's less touristy than other areas.
It's an easy 10-minute walk to Plaza de Armes. This means you're close enough to the main area, yet not directly in the hustle and bustle.
If it's a homey feel you're after, Casona La Recoleta definitely delivers. This was my choice, and I stayed here before the Salkantay Trek – I was not disappointed!
Less hotel, more self-catering lodge, you stay in individual apartments overlooking a big garden, complete with resident cats and some chatty parrots.
The apartments are quaintly decorated but comfy and spacious. It's decked out with a kitchen, warm blankets, and a fireplace lit by the staff every evening.
You're in charge of prepping breakfast, but the staff deliver a basket of delish ingredients the night before – eggs, cheeses, yogurt, buns, and tons of fresh fruits.
The units vary from small lofts to apartments, sleeping up to six. Perfect if you're a small family or traveling with a group.
If you're looking for a central, charming spot to rest your legs and lift your spirits, Casona La Recoleta fits the bill.
Click here to read reviews and check rates for Casona La Recoleta.
Things to consider
It's located on a very narrow one-way street, so large tour groups and travelers carrying lots of luggage may find it tricky to access.
Positioned close to the action but far enough to get a quiet night's sleep, Hostal Cusco de mis Sueños is the epitome of affordable comfort.
The rooms are basic, but clean and spacious with comfy beds and decent closet space. A private bathroom with complimentary toiletries, a hot shower, and strong water pressure seals the deal.
Reliable Wi-Fi and a big Smart TV are a plus for staying connected. Or step out and find your own adventure exploring the vibrant city center just 700 meters away.
The warm, helpful staff definitely give your stay that extra something. So if it's comfort, convenience, and value for money you're after, you'll find it at Hostal Cusco de mis Sueños.
Click here to read reviews and check rates.
Things to consider
There's no breakfast on offer, but you're within close walking distance of a fantastic bakery and mini market where you can grab a fresh sandwich or supplies.
San Blas: Best area in Cusco for backpackers
Just a short, 15-minute walk northeast of Plaza de Armes lies the San Blas neighborhood. Known for its bohemian atmosphere and artistic vibe, it's popular amongst expats and families.
You'll find a mix of luxury and affordable accommodation here, and there are plenty of cafes, galleries, and handicraft shops lining the streets.
The only downside of staying in San Blas is that you'll need to walk up a steep hill with many steps to reach the neighborhood.
This might seem irrelevant to some people. But remember that Cusco is over 3,300m above sea level, and any uphill walking will leave you feeling out of breath!
Old-world grandeur, modern luxuries, live opera while you dine. A taste of what's to come at Monasterio, A Belmond Hotel.
The former monastery gives drama, history, and romance, with vaulted ceilings, sculpted arches, original religious artworks, and even an ornate chapel.
The rooms are spacious and grand. And oxygen-enriched rooms are an option if you're still adjusting to the high altitude.
At the center, there's a large courtyard with an organic garden. It is a perfect spot to enjoy the generous buffet breakfast.
Lunch and dinner are a treat, with the onsite restaurants serving authentic Andean cuisine – and a popular lobby bar selling fine wines.
For adventurers, activities are easily arranged – from horse riding and mountain biking to treks to Machu Picchu. But if it's TLC you're after, the onsite spa offers massages.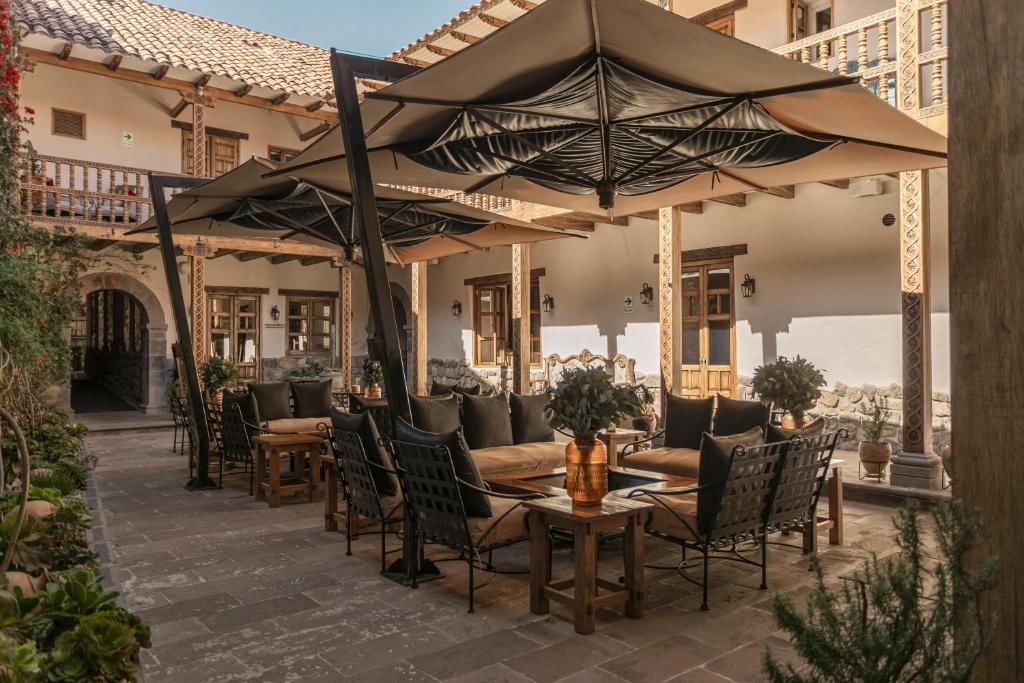 Antigua Casona San Blas is simply gorgeous. But what really sets it apart are the personal touches that make you feel at home.
Picture soft king-sized beds, toasty heaters, and wooden headboards. Then there's the evening turn-down with a cuppa herbal tea and hot water bottle in your bed.
The central patio is just as warm and inviting. Order a cocktail from resident bartender Alfredo – his Pisco Sours is the bomb – and take a seat by the crackling fireplace.
Yogis can also drop by a vinyasa or hatha class in the heated yoga studio.
More feel-good moments are found at Piedra & Sal, the hotel restaurant. Candle-lit dinners, soulful South African music, and Peruvian classics like Alpaca a la Pimienta are all on the menu.
Click here to read reviews and check rates for Antigua Casona.
Things to consider
Sure, it might take you 10-15 minutes to walk to the central plaza, but trust me, a rare (affordable) find like Antigua Casona San Blas is worth the extra steps.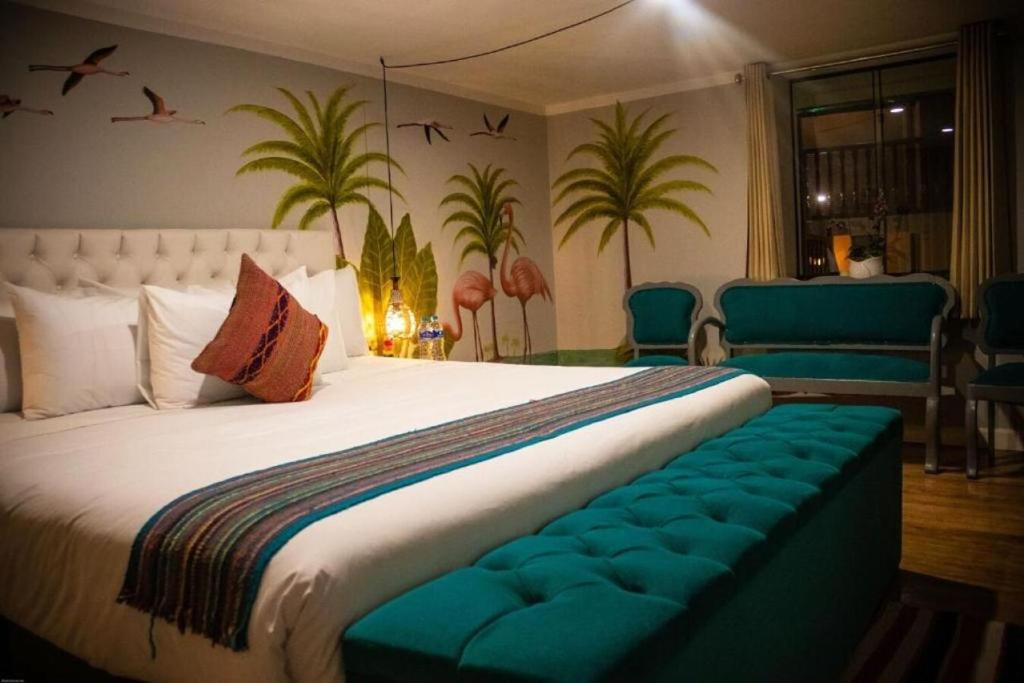 If you're looking for an affordable stay in the heart of bohemian San Blas, the Home Garden Hotel is a solid choice.
It's a bit of a walk from the main square and markets, but strolling through the vibey streets is worth it (just be ready for some stairs!)
The bathrooms may be on the small side and due for an update, but the bedrooms are spacious and cheerful, with colorful local designs painted on the walls.
On chilly evenings, staff light the fire pit in the garden courtyard – a great social space. While the rooftop terrace offers a unique view of the neighborhood.
With brekkie included in your stay, Home Garden Hotel is a vibey, budget-friendly home base for exploring Cusco.
Click here to read reviews and check rates for Home Garden Hotel.
Things to consider
The hotel is on a pedestrian street, which means you'll need to haul your luggage up some stairs from the nearest car-accessible street. The bedrooms can also get chilly at night without heating, but don't stress – they have plenty of blankets to keep you snug.
San Cristobal
San Cristobal is a quiet, friendly area north of Plaza de Armes.
As with the San Blas neighborhood, San Cristobal is known for its steep, uneven streets, which can be challenging for some people.
It's close to Saqsaywaman, one of Cusco's most famous Inca ruins. You'll find some of the best views of the city from here.
Sitting high above Cusco, Palacio Manco Capac is a feast for the eyes – both the hotel and the views.
Each room gets a garden view, and the impressive colonial property (once a palace) is as regal as it gets, with preserved historical structures, high ceilings, and elegant bedrooms.
It's a boutique hotel, so the grounds are small. But the special setting offers more than enough natural eye candy, including two (affectionate) alpacas who love a good meet-and-greet.
It's within walking distance from the Saqsaywaman Ruins, and the staff are happy to recommend nearby activities to top up your travel itinerary.
If you've come to relax, there's an onsite spa offering massages, and the gardens have lots of peaceful spots to read or take in the views.
Click here to read reviews and check rates for Palacio Manco Capac.
Things to consider
Yes, the uphill location offers the best views, but it also means you'll need some extra leg power when exploring the city. It's a trade-off that's well worth it for the chance to stay in such a unique setting – and a cab ride is just a call away.
Hotel Rumi Punku is a lovingly renovated colonial house located just 10 minutes (on foot) from the bustling main square.
You wouldn't guess it, though. From the central garden and leafy courtyards to the traditional wooden beams, it feels like you've stumbled into a retreat. Authentic, inviting, and peaceful.
For a 3-star rating, you've got spotless country-style rooms with private bathrooms and courtyard views, plus a generous breakfast with cut fruits, juices, and eggs cooked the way you like them.
You're on your own for lunch and dinner, but there's a variety of excellent restaurants within a 5-minute stroll.
Extra luxuries, like access to the hot tub and sauna, come at a small fee. But perks like hot water with coca leaves and herbal teas are available around the clock if you feel the altitude.
For active travelers, Hotel Rumi Punku is the perfect space to relax and re-energize after a day of exploring.
Click here to read reviews and check rates for Hotel Rumi Punku.
Things to consider
It's an old property, and sound travels at night. Rooms can get a bit cold when the heating is off, too, but quirks like this are part and parcel of the price and old-world charm.
Cozy Hostal Qolqampata is set high above Cusco, with panoramic city views.
It's a few blocks from Main Square and 300 meters from the Saqsaywaman Ruins. But be warned, it's quite a climb! Luckily, coca tea is served to help with energy, and the rooftop terrace rewards you with the best views in town.
The accommodation is thoughtful and comfortable. Beds are snugly prepared for cold nights, homemade cookies bake in the oven, and the common area is a welcoming space to kick back after a full day.
Rooms come with small private bathrooms, hot showers, and a cable TV. There are computers in the lobby, too.
Breakfast is included in your stay and served in a brightly painted dining area, complete with more jaw-dropping views.
Click here to read reviews and check rates for Hostal Qolqampata.
Things to consider
If you've just completed a multi-day trek, the steep ascent might feel like a hurdle, but for the affordable price and 5-star views, you can justify the challenge.
Santa Ana: Where to stay in Cusco before Inca Trail
If you're looking for where to stay in Cusco before Inca Trail, Santa Ana is your best bet.
Why? Because it's located west of Plaza de Armes, which is the route that takes you from Cusco to Machu Picchu and the Sacred Valley.
It's no more than a 15-minute walk from Centro Historico and the San Pedro Market. It's also one of the most popular places to stay in Cusco, and the hills are less steep than those in San Cristobal and San Blas.
I stayed in Santa Ana after my trek to Machu Picchu. Personally, I preferred the relaxed vibe of Lucrepata.
Aranwa Cusco Boutique Hotel offers the luxury you'd expect from a 16th-century mansion- also recognized as a National Historic Monument.
Part luxury hotel, part living museum – expect grand interiors with antiques, crystal chandeliers, and historic art. Even the courtyard feels like a town square from yesteryear, complete with a central fountain and stone archways.
The suites are spacious and glam, with frescoed walls and a large marbled bathroom featuring a whirlpool hot tub and separate shower.
You'll appreciate the built-in oxygen system that pumps fresh oxygen into each room, helping with altitude sickness.
Breakfast is served buffet-style, but foodies may find it has a slightly limited selection.
The hotel's Mishti Gourmet Restaurant and Kashikay Bar make up for what's missing with modernized Peruvian cuisine and (trust me) the ultimate Pisco Sours.
For a luxury experience within easy walking distance from the action, Aranwa Cusco Boutique Hotel is the real deal.
Things to consider
Some rooms have smaller windows facing the corridors and very little natural light. You should check these smaller details with the hotel when booking your stay.
Tambo del Arriero Hotel Boutique is in a great position, central to many good restaurants and popular attractions.
While you may feel close to the action, the hotel is on a quiet street, so you can enjoy a more peaceful night's sleep than most other central hotels in Cusco.
It's a happy place to stay, with helpful and enthusiastic staff, brightly painted courtyards, and a much-appreciated jet tub in some bathrooms.
The spacious, tastefully decorated rooms have everything you need – a private en-suite bathroom, heating, iPod station, TV, and work desk.
Brekkie is served buffet-style with a simple but satisfying selection of fruits, eggs, and croissants. Again, it's just what you need – not much more, but definitely no less.
Click here to read reviews and check rates for Tambo del Arriero Hotel.
Things to consider
The Wi-Fi is a little iffy in the rooms, but you'll get a good connection in the living room. With so much to explore right on your doorstep, it may be worth the compromise.
Casa Cristobal is a great central base that won't break your budget.
While the colonial building gives classic Cusco flavor, the interior is modern and clean, thanks to a young and enthusiastic staff who're always up and at it.
At the heart of the hotel is a lively outdoor courtyard where everyone gathers to eat breakfast and catch up over an evening drink.
The rooms aren't the largest, but they come with a smart TV and Netflix – and the beds are big and comfy. A stone wall adds a little extra character.
Not all rooms include en-suite bathrooms, but the shared facilities are easily accessible and kept spotlessly clean.
For the hungry, breakfast is available a la carte, so you may get less food than you would from a buffet.
Click here to read reviews and check rates for Casa Cristobal.
Things to consider
It's a social space, so expect to hear city sounds and guests chatting in the courtyard. If you're after a more tranquil vibe, look for somewhere further from the buzz.
San Pedro: Best place to stay in Cusco on a budget
San Pedro is slightly south of Santa Ana and west of Plaza de Armes. It's a lot more local than the other areas in Cusco and is home to the famous San Pedro Market.
There are no uphills here, and accommodation is ideal for those traveling on a budget.
If you're all about convenience, Hotel Monasterio San Pedro in Cusco's historic center is a great place to settle.
It's right across from the famous San Pedro Market and 50 meters from the train station, making it the ideal base to explore Cusco.
The staff are great and offer a complimentary coca tea to help with energy and altitude adjustment when you return. A relaxing massage is also on the table for an extra fee.
The property used to be a monastery, and you'll sense the history in the large garden courtyard – a peaceful spot to center yourself after navigating the Cusco crowds.
The rooms are just as welcoming, with comfortable beds, en-suite bathrooms, and tapestries covering the walls. Homey comfort you crave after a day on your feet.
Click here to read reviews and check rates for Hotel Monasterio.
Things to consider
Being so close to the market, there's a lot of foot traffic outside the entrance, and it gets noisy at night. If you're craving a quieter setting, consider exploring options further from the action.
Clean, affordable, and well equipped – Net House Cusco is a great place to put down your bags and rest up before the next adventure.
Located in the heart of downtown Cusco, you're getting a basic but modern bedroom with lots of natural light, closet space, outlets, TV, a private bathroom, and free Wi-Fi.
The amazing water pressure in the showers is a bonus.
Breakfast isn't included, but there's a hot water station with coffee, teas, and cereals in your room and a fully-equipped kitchen to prepare meals.
It's not too much to ask, considering you're directly across from a big grocery store and the famous San Pedro Market.
There's also a homey common area and study room if you need a quiet space to work or catch up on some reading. For itchy feet, there's also bicycle rental services.
Click here to read reviews and check rates for Net House.
Things to consider
The walls are quite thin, and it gets loud, especially in a room next to the common area or kitchen. But for the price and super central location, it's a good spot to set up a base.
Where to stay in Cusco near the airport
Cusco Airport is only a 20-minute drive from Plaza de Armes. This means you can easily stay in the city the day before or after your flight.
However, if you want to be on the safe side and closer to the airport, I recommend staying south of Historico Centro.
Recovering from the Inca trail? Or preparing for Rainbow Mountain? Either way, there's no better place to pamper yourself than Palacio del Inka.
It's a historical landmark located directly across from Koricancha 'Temple of the Sun' and minutes from famous museums, restaurants, and shops.
Inside, you get jaw-dropping stone archways, historical artifacts, a gourmet restaurant and bar, and (for the cute factor) a friendly baby alpaca.
The rooms are spacious and grand, and you'll be covered with oxygen and coca tea to make your altitude adjustment more comfortable. A buffet breakfast is included, and divine.
For extra indulgence, there's a spa and gym with a jacuzzi, sauna, indoor swimming pool, and massage treatments.
If you've got energy to spare, don't miss the free 5 pm history tour or the Pisco Sours masterclass at the bar.
Click here to read reviews and check rates for Palacio del Inka.
Things to consider
The hotel restaurant and bar close at 10 pm, but there are lots of spots nearby that'll happily accommodate the night owls.
If you're looking for a friendly, modern, and convenient stay, Sonesta Hotel in Cusco is just for you. It's located just 8 minutes from the airport and a short walk from Inca Rail.
The rooms are spacious and clean but unfortunately lack air conditioning. A small fan is provided on request.
If staff can make or break your stay, these guys make it shine. They're so caring and helpful – plus they'll happily arrange to store your bags (for free) when you're off on your next adventure.
Options, options, options! A generous breakfast buffet is included in your stay, and foodies will be excited to sample the variety of local cuisines. Gluten-free is also catered for.
Whether you've just arrived or heading home, Sonesta Hotel will ensure you're well taken care of.
Click here to read reviews and check rates for Sonesta Hotel.
Things to consider
It's an uphill walk to Cusco's main square and attractions, but being so close to the metro station means you can easily hop on a train to your next destination.
Final thoughts on where to stay in Cusco
You're spoiled for choice when it comes to the best places to stay in Cusco.
Even during high season, you'll find something to suit your budget.
But if you're picky, then you should definitely pre-book your accommodation as the best hotels get booked fast, and prices increase dramatically when the demand is high.
Like it? Pin it!
---
Are you looking for accommodation in Cusco, Peru? Drop me a message in the comments section below, and I'll give you as much info as I have.
Looking for more Peru travel inspiration? Check out my other posts!