The 5 day Salkantay Trek is one of the best alternative trails to Machu Picchu in Peru.
It takes you to stunning glacier lakes and across snow-capped mountain passes. Along the way, you'll enter cloud forests, walk ancient Inca pathways, and reach Peru's most famous landmark, Machu Picchu.
I did the Salkantay Trek in July 2023 and was blown away by its beauty.
Yes, it's a challenging hike. But it's also incredibly rewarding.
Here's everything you need to know about the Salkantay Trek, including what to expect along the way and how hard it is. I also share why I chose the Salkantay Trek vs Inca Trail and whether it was really worth it.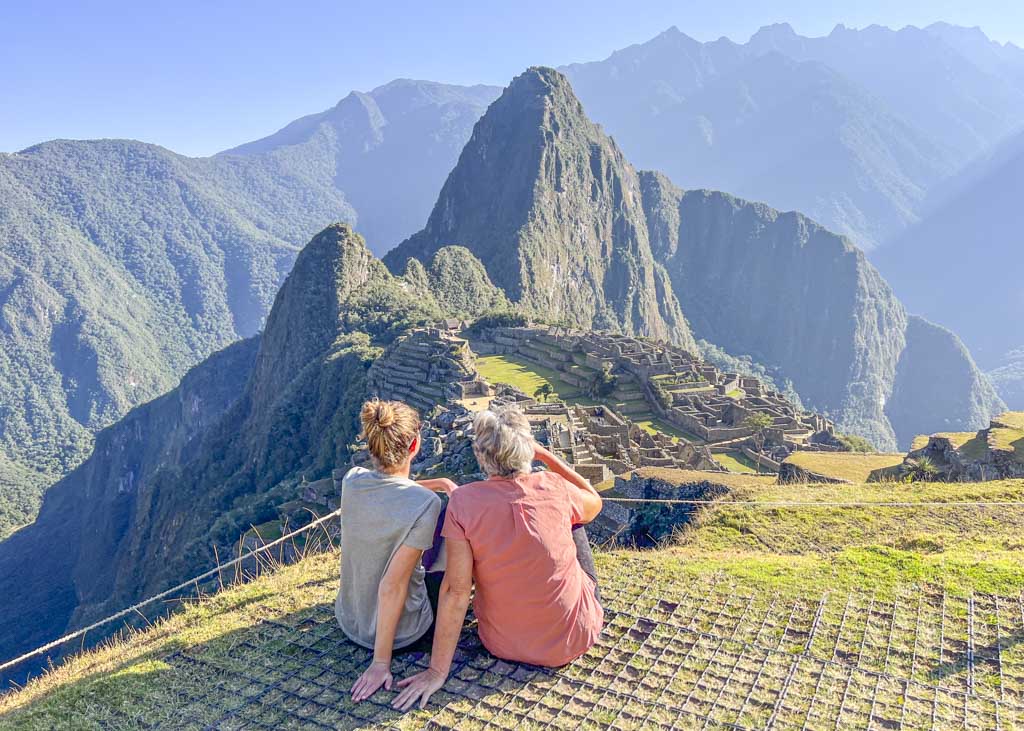 Salkantay Trek overview
Total distance: 74 km
Time needed: 5 days (the 5th day is at Machu Picchu)
Highest point: 4,630 m at the Salkantay Pass
Difficulty: Challenging
Starting point: Cusco
What is the Salkantay Trek
The classic Salkantay Trek is a 5 day hike to Machu Picchu. Named after the Salkantay Mountain, it's one of the most scenic trails through the Peruvian Andes.
It's easily accessible from Cusco, but the trailhead officially starts in Soraypampa, a 3-hour drive away.
The Salkantay Trek lies in the shadow of the more famous Inca Trail. But the two offer a very different experience.
Salkantay Trek vs Inca Trail
The Salkantay Trek is a popular alternative hike to Machu Picchu.
Below are a few differences and why I chose to hike the Salkantay Trek to Machu Picchu (instead of the Inca Trail).
1. The scenery & archaeology
The Salkantay Trek is said to be the most beautiful of the two hikes. It takes you over the mountains and crosses diverse landscapes.
It's also a higher altitude trek that reaches 4,630 m above sea level.
However, you only see ruins and authentic Inca pathways on day 4 of the Salkantay Trek.
The Inca Trail, on the other hand, follows the original trail that the Incas took to get to Machu Picchu. Every day, you'll visit archaeological sites, and the main focus of the trek are these Inca Ruins and walkways.
2. Tour costs & availability
The Inca Trail is significantly more expensive than the Salkantay Trek. You also need to book the Inca Trail at least six months in advance, as a limited number of permits are available.
In contrast, there are no restrictions to the number of hikers on the Salkantay Trek. This makes it a great option for travelers who don't have fixed dates yet or who missed out on the Inca Trail.
3. Difficulty
The Salkantay Trek is known to be harder than the Inca Trail.
This is due to the higher elevation, the challenging mountain terrain, and the total walking distance, which is 74 km on the Salkantay Trail vs 42 km on the Inca Trail.
4. Arrival at Machu Picchu
One of the main differences between the Classic Inca Trail and the Salkantay Trek is how you arrive at Machu Picchu.
The Salkantay Trek does not actually end at Machu Picchu. Instead, you finish in Aguas Calientes, the closest town to Machu Picchu.
Your last night is at a hotel in this town, and you'll visit Machu Picchu the next day. You can either take a bus or walk to the main entrance. But regardless, you'll be joined by every tourist going to the famous site.
With the Inca Trail, you follow the Inca's route to the iconic Sun Gate before hiking down to the lost city of Machu Picchu.
It's the best way to end your trek, and you don't spend the night in Aguas Calientes before visiting Machu Picchu.
This unique experience of finishing at Machu Picchu (and not at Aguas Calientes) is only available to those hiking the Inca Trail.
How long is the Salkantay Trek
There are two options for doing the Salkantay Trek: a 5 day tour or a 4 day tour.
With both of these, you'll spend the last day exploring Machu Picchu.
5 day Salkantay Trek
The most popular Salkantay Trek itinerary is a 5 day, 4 night hike. I chose this option and recommend you do the same.
This classic route takes you to all the iconic locations, including Humantay Lake, Salkantay Pass, and Llactapata Ruins.
During the 5 day Salkantay Trek, you walk the entire journey from the starting point in Soraypampa to Aguas Calientes town.
Top tip: From my experience, day 4 of the 5 day trek was extremely difficult but 100% worth it. This is the section you'll miss if you do the 4 day tour. It's the only day you actually walk parts of the Inca Trail, and the views from Llactapata are incredible.
4 day Salkantay Trek
If you're short on time, you can opt for the 4 day tour instead.
This is not the ideal option, but it's still a fantastic tour if you don't have much time in Peru.
Like the 5 day Salkantay Trek, the 4 day tour starts in Soraypampa and ends at Aguas Calientes.
So what's the difference?
On day 3, you'll walk most of the Salkantay Trail. At lunchtime, you'll separate from the 5 day tour and take a bus to Hidroelectrica Train Station. From here, you'll walk to Aguas Calientes.
This means you skip the Cocalmayo Hot Springs as well as the hike to Llactapata Ruins.
Things to know about the 5 Day Salkantay Trek to Machu Picchu
Here are a few things to consider if you're planning on doing the Salkantay Trek.
Salkantay trek difficulty
The Salkantay trail is a difficult hike, but it's achievable for most people.
So, what makes it difficult?
Firstly, the high altitude at the Salkantay Pass, which sits at 4,630 m.
The ascent up the pass is the hardest part of the trek. This is because there's less oxygen in the air, and it's a struggle to breathe.
As a result, you'll walk very slowly, and you may experience symptoms of altitude sickness. The freezing cold temperatures don't make it any easier.
Secondly, it's a long distance to walk.
The Salkantay Trek to Machu Picchu is a 74 km trail, and you're averaging 19 km per day over 4 days (because the last day is at Machu Picchu).
This, combined with the hilly terrain, only adds to its difficulty.
Here's my post on how difficult the Salkantay Trek really is. It covers everything you need to know to get through the 5 day trek.
Best time to hike the Salkantay Trek
It's possible to do the Salkantay Trek all year round.
But most tour operators don't offer tours in February. This is because the route is often closed due to maintenance.
Here's when you should plan your trip.
Dry Season: Best time to do the Salkantay Trail
Hiking season in Peru is from April to September.
During this time, you can expect clear skies and warmer temperatures. It's a great time of year to be on the trails, and I recommend doing the Salkantay Trek during these months.
July and August is high season and the busiest time to visit Peru. The trails will be teeming with people, and Machu Picchu will be extremely crowded.
However, don't be put off by this.
I did the Salkantay Trek in July and had a great time. But make sure you get to Machu Picchu early in the day to avoid the crowds.
Rainy Season
The wet season is from December to March. The weather can be unpredictable during this time, and you should be prepared for a few days of rain.
This makes the Salkantay Trek more dangerous, especially as you go up the Salkantay Pass. There is also a greater chance of last-minute cancellations due to bad weather.
Packing for the Salkantay Trek
The most important thing to pack for the Salkantay Trek is your Passport. You need this to enter Machu Picchu and will not be allowed in without it.
In terms of hiking gear, most tour companies provide a small duffel bag to trekkers.
This will allow you to store up to 7 kg of your clothing and personal items for the trek.
Yes – there's a 7kg weight limit, which includes you're sleeping bag. This is not a lot, considering it's a 5 day trek, so you need to pack lightly and smartly.
Accommodation along the Salkantay Trek
The accommodation along the Salkantay Trek differs between tour operators.
This ranges from basic and luxury camping to glass domes and cabins. Your last night is spent at a hotel in Aguas Calientes.
For most tours, there are no showers on the first night. But from night two onwards, you can treat yourself to magnificent hot showers.
My mom and I did the Salkantay Trek with Inkayni Peru Tours, and I highly recommend them.
We camped for the first three nights, but it was more like a glamping experience, and we were extremely comfortable.
Each day, we arrived at our campsite with our tents already set up and offered snacks and hot chocolate as a reward for getting through the day.
One positive about camping is that you have the option of staying higher up the Salkantay Pass on night one. This was a huge advantage as we got a head start to the day and had the Salkantay Pass all to ourselves for sunrise the next morning.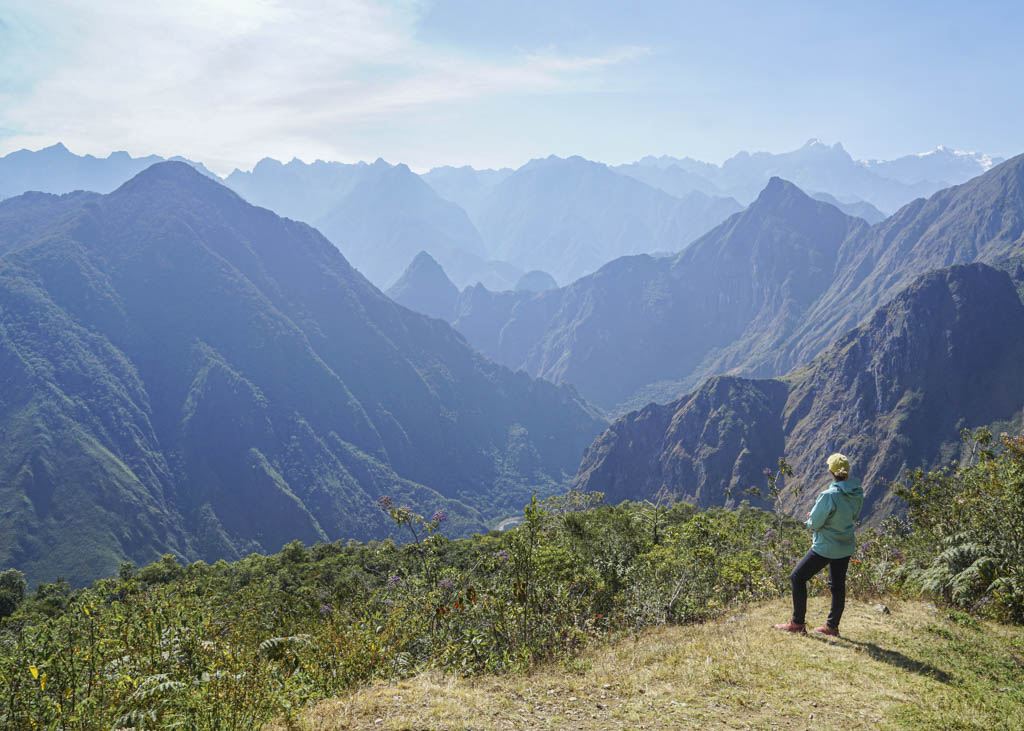 Salkantay Trek highlights
If I haven't convinced you to do the Salkantay Trek, this next part will!
Here are some of the highlights – most of which you won't experience on the Inca Trail.
Humantay Lake
The first day of the Salkantay Trek starts with a bang!
After driving a few hours from Cusco, you'll be dropped off at the trailhead in Soraypampa. Shortly after, the uphill hike to Humantay Lake begins.
Humantay Lake is a stunning turquoise glacier lake that sits at 4,200 m.
It's a popular day trip from Cusco, so this part of the trek will be busy. But after returning from the lake, you'll have the trail to yourself.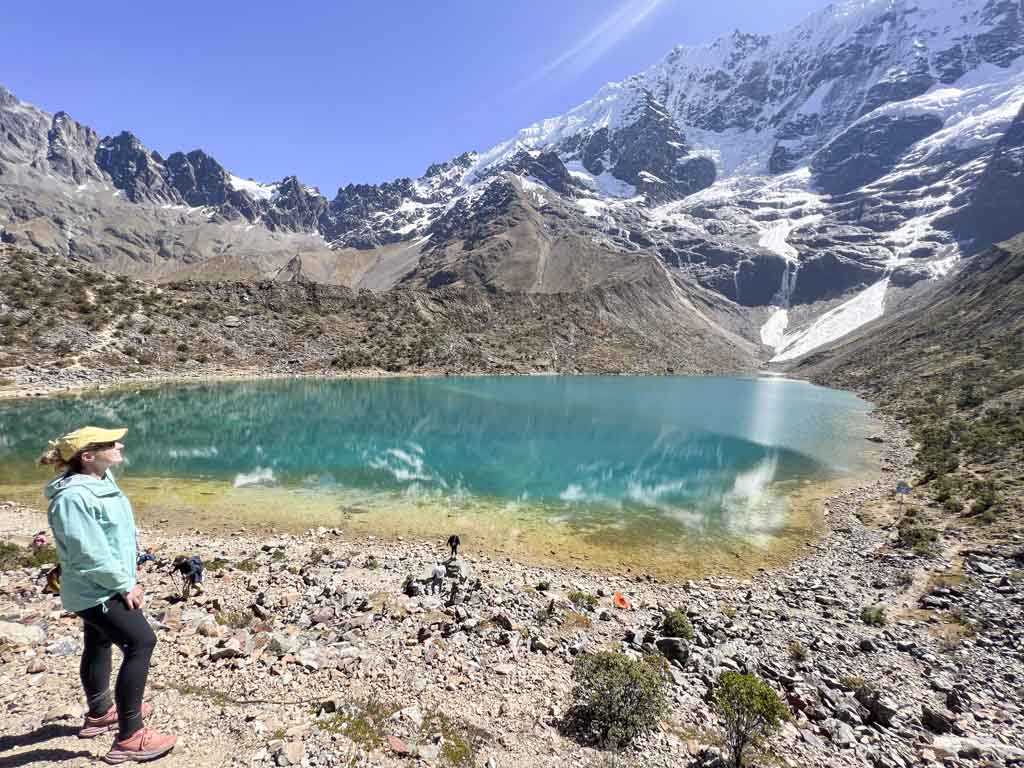 Salkantay Pass
With an elevation of 4,630 m, the Salkantay Pass is the highest point of the Salkantay Trek.
Getting to the pass takes a lot of mental and physical energy. But standing at the top and looking on to Salkantay Mountain is a feeling you'll never forget.
From here, the trek only gets easier (well, until day 4).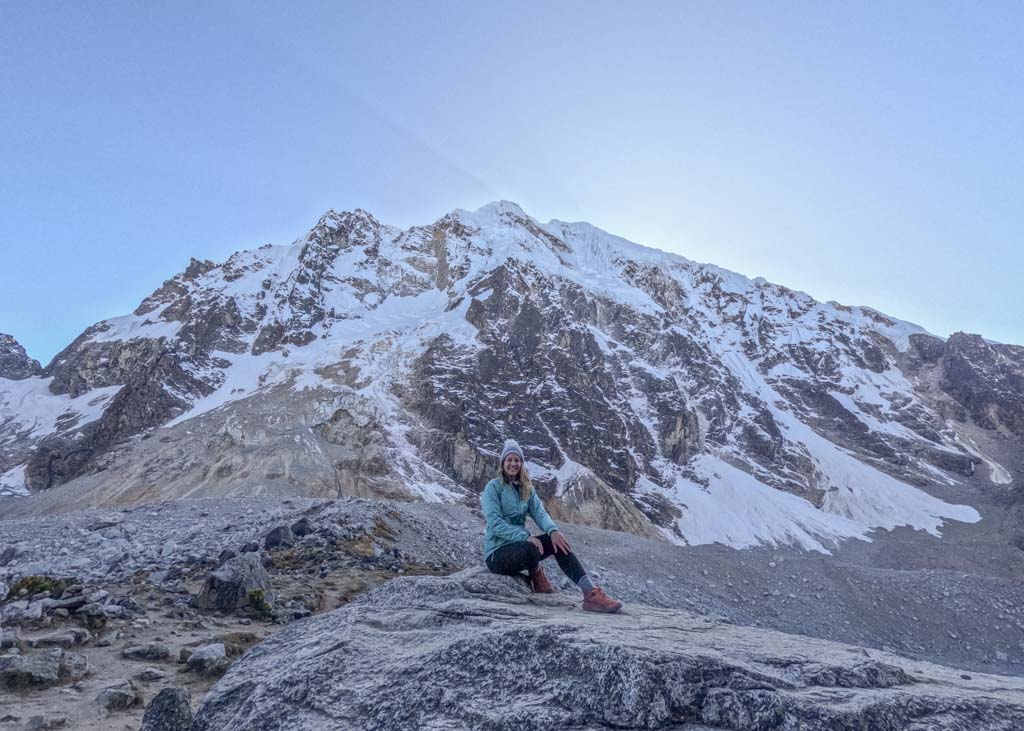 Cocalmayo Hot Springs
On the third day, you'll reach your campsite at lunchtime. This gives you a free afternoon to explore the nearby attractions.
You can either visit the Cocalmayo Hot Springs or do a coffee tour. There's even zip-lining!
I visited the Cocalmayo Hot Springs, and it's just what my body needed.
There are four natural pools here with water of varying temperatures. We spent an hour relaxing in them, and it was a great break from the long trekking days.
Outside the hot springs, you'll find kiosks selling refreshments and snacks.
Most people doing the Salkantay Trek congregate here, and it's a great place to enjoy a few beers and meet other hikers.
I nearly didn't visit these hot springs because of what other people said.
Yes, the water isn't boiling hot.
Yes, it can get crowded on weekends.
But after three days of hiking the Salkantay Trek, your body will not care!
You'll love the warm waters and will want to sit back and relax.
Llactapata archeological site
Llactapata is an important archaeological site near Machu Picchu. It's less explored than other Inca sites and offers unspoiled views of Huayna Picchu Mountain.
To get to Llactapata, you follow the same trail the Incas did. This is the only part of the Salkantay Trek that includes the Inca route.
It's a strenuous uphill hike from Lucmabamba to Llactapata. After exploring the site, you'll descend the other side of the mountain, which is equally as challenging.
If you do the 4 day Salkantay Trek, you will skip this section of the trail.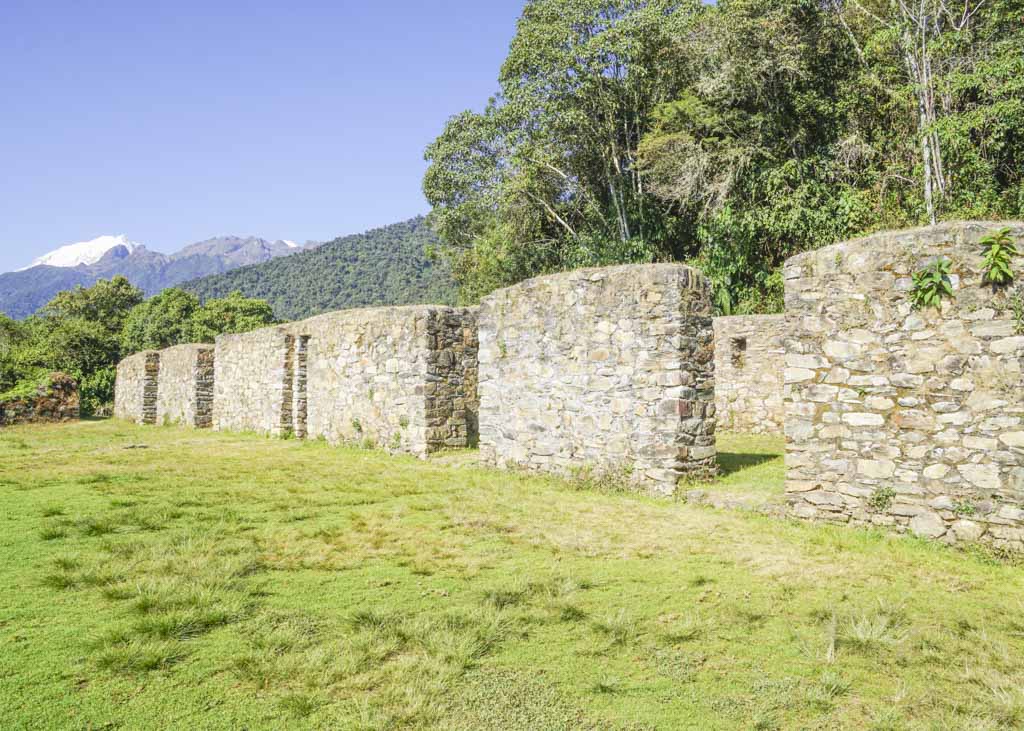 Machu Picchu: The Highlight of The Salkantay Trail
And finally, the most iconic site on the 5 day Salkantay Trek: Machu Picchu.
This wonder of the world completely blew me away. I had heard so much about Machu Picchu and thought it might be overrated.
But I can confirm that it is not!
Machu Picchu is a fascinating place, and our exceptional guide, Percy, played a big part in my experience of visiting it.
Over the past 5 days on the Salkantay Trek, Percy had taken us on this incredible journey through time and nature that culminated with the history of Machu Picchu.
He shared stories of Pachamama (mother nature), the Incas, their mystery, and Peruvian culture.
His passion for his country and its people was one of the most beautiful things, and I learned so much from him.
You can visit Machu Picchu without a guide, but you'll be missing out on so much.
Salkantay Trek itinerary
Below is an outline of the itinerary we followed.
Day 1: Cusco – Soraypampa – Humantay Lake – Soyroccocha
Day 2: Soyroccocha – Salkantay Pass – Wayraqmachay – Chaullay
Day 3: Chaullay – Lucmabamba – Cocalmayo Hot Springs – Lucmabamba
Day 4: Lucmabamba – Llactapata – Hidroelectrica – Aguas Calientes
Day 5: Aguas Calientes – Machu Picchu – Aguas Calientes – Ollantaytambo – Cusco
Salkantay trekking tours
I booked my Salkantay Trek tour through Inkayni Peru Tours after reading all these positive reviews, and they were fantastic.
Inkayni is a local tour operator specializing in smaller group tours and personalized services. And that's exactly what I got.
I did the Salkantay Trek with my mom, who is in her 60s. It was a tough hike for both of us, but we made it to the end – and I have no doubt that you will too.
Our guide was patient and kind and offered all the support and encouragement we needed.
Inkayni took care of absolutely everything for us, from the Machu Picchu entrance ticket to the scenic train ride.
This was a special mother/daughter trip that was made extra special thanks to the team at Inkayni Peru Tours.
Other Salkantay Trek tours
Unlike the Inca Trail, the Salkantay Trek doesn't need to be booked months in advance.
You can arrive in Cusco and book a tour for the next day. That's how easy it is.
But I do not recommend this.
Every tour offers a different experience and itinerary. So don't book with the first operator you come across.
If you're worried about your fitness levels and the high altitude. Or if you're questioning whether you will be able to finish the hike, I recommend opting for a smaller group tour like the one I did with Inkayni. You'll enjoy the experience a lot more as you won't feel rushed or pressured to walk faster.
Some Salkantay tours cater specifically to backpackers. This means you'll be one of eighteen people in your group, the food won't be anything to write home about, and you will have less one-on-one time with your guide.
If you're doing the Salkantay Trek on a budget, this might be your best option.
Do your research
But I cannot stress the importance of researching before booking your tour.
I met a few travelers along the route who complained nonstop about the quality of their food and camping gear provided by their tour company. They also moaned that their guide's English was not perfect.
I soon realized that they had paid next to nothing for their tour. I'm surprised they were even given food!
I don't know how their guides and porters are expected to live off that measly amount, and I felt sorry for their trekking team.
If you're paying for the cheapest tour, you cannot expect a five-star experience. I understand that not everyone has the budget, but you need to be realistic about what you'll get from a cheaper operator.
Tips for the 5 day Salkantay Trek
Check whether your tour includes Machu Picchu entrance tickets. If not, book this in advance and choose Circuit 2.
Spend at least two nights in Cusco to acclimatize to the higher altitude.
Rent hiking poles, as there are a lot of uphill and downhill sections.
Tip your trekking team at least 10% of your total tour cost. While tipping is not mandatory, it is expected and means the world to the team.
How long does it take to hike the Salkantay Trek?
The classic Salkantay Trek is 5 days and covers a distance of 74 km. Trekking time is 6 to 7 hours per day, except on the last day when you're exploring Machu Picchu.
Is the Salkantay Trek worth it?
Yes! The Salkantay Trek is a magnificent trek through the Peruvian Andes to Machu Picchu.
Is the Salkantay Trek harder than the Inca Trail?
The Salkantay Trek is harder than the Inca Trail as it is a much further hike and reaches a high altitude on day two.
Is the Salkantay Trek dangerous?
No, the Salkantay Trek isn't dangerous. But you need to acclimatize properly to ensure you don't get altitude sickness as you ascend the Salkantay Pass.
What's the difference between 4 and 5 day Salkantay Trek?
On the 4 day Salkantay Trek, you take a bus to Hidroelectrica instead of walking. This means you skip Llactapata, which is an archaeological site overlooking Huayna Picchu Mountain.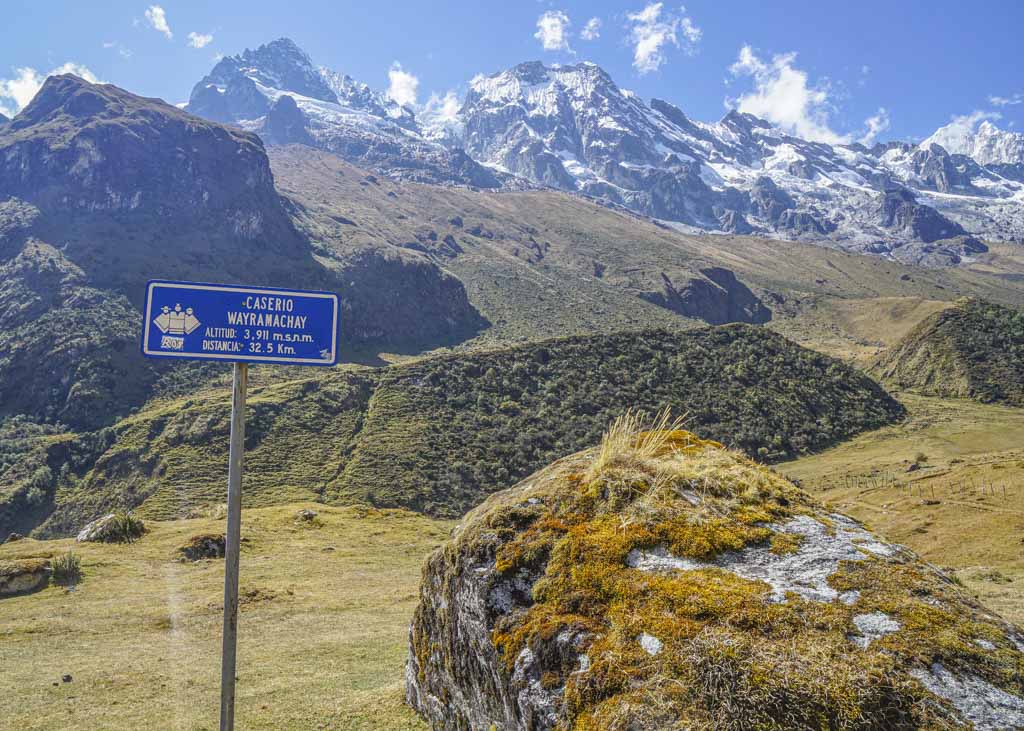 My Salkantay Trek review
I loved the 5 day Salkantay Trek to Machu Picchu.
It has everything you want from a multiday trek. Beautiful scenery where you're immersed in nature. Challenging sections that will push you to your limits. Incredible archaeological sites that take you back in time. What more do you want?
The Salkantay Trek was one of the best things I did in Peru, and I highly recommend adding it to your itinerary.
---
Do you have any questions about the 5 day Salkantay Trek to Machu Picchu? Drop me a message in the comments section below!