Are you looking for the best W Trek packing list? You've come to the right place!
I spent hours researching what to pack for the W Trek, second-guessing every decision. The more blog posts I read, the more questions I had.
With the struggle of finding available campsites and coordinating all logistics, you don't need this additional stress.
I get you!
Before you know it, you're making last-minute purchases, your budget is through the roof and your backpack is over weight!
In this comprehensive packing list for Torres Del Paine W Trek, you'll find what you need to pack and what you can leave behind.
It's the perfect W Trek packing list for women (and men) and includes insider tips and a food list.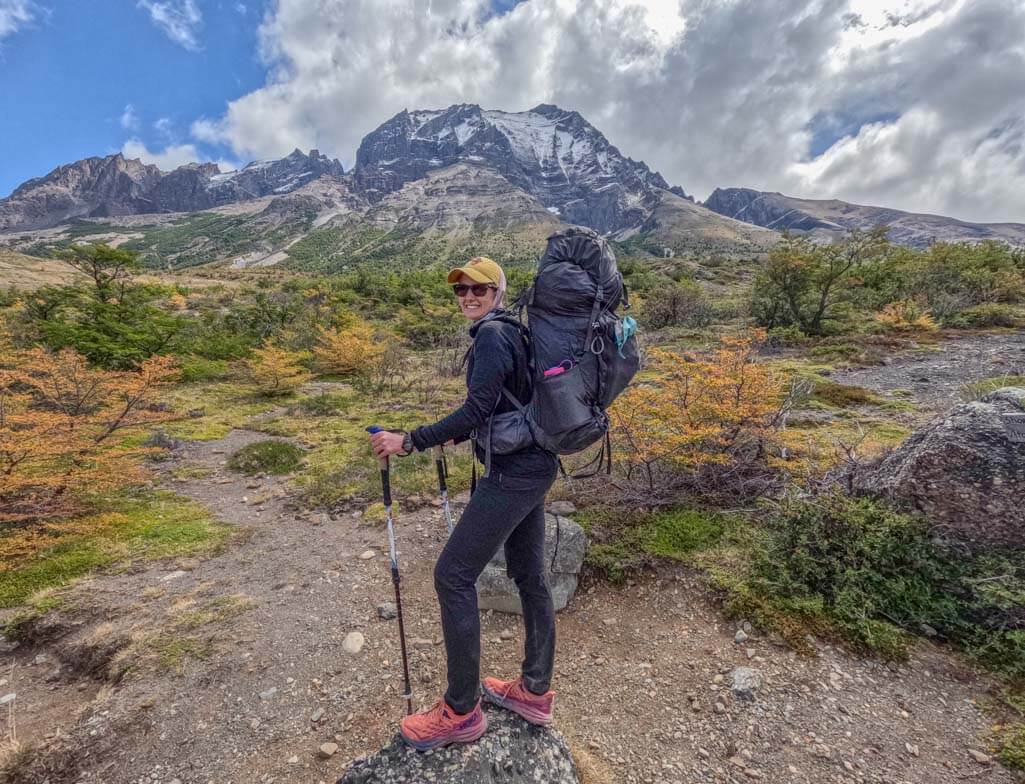 Torn Tackies contains affiliate links. If you make a purchase using one of these links, I may receive compensation at no extra cost to you. See my disclosure for more information.
Considerations for your W Trek packing list
You need to consider two main things when packing for the W Trek: The Weather and if you're doing it self-guided or with a tour.
Packing for the W Trek: The weather
I did the W Trek in January, supposedly the best time to visit Torres Del Paine.
Despite the warnings of unpredictable weather conditions, I didn't think it could be "that bad."
Well… now that I've been there and done that, the biggest lesson I learned is to never underestimate the power of Patagonia weather. It can be extremely harsh.
I had four seasons in one day! Sunny skies, rain, snow, and wind. And this was in January.
The key is to pack smartly and ensure you have enough layers.
My initial W Trek packing list didn't include proper waterproof gear, but I still managed, and my clothes dried quickly.
So don't go overboard with the rainproof gear, as it gets heavy (and expensive)!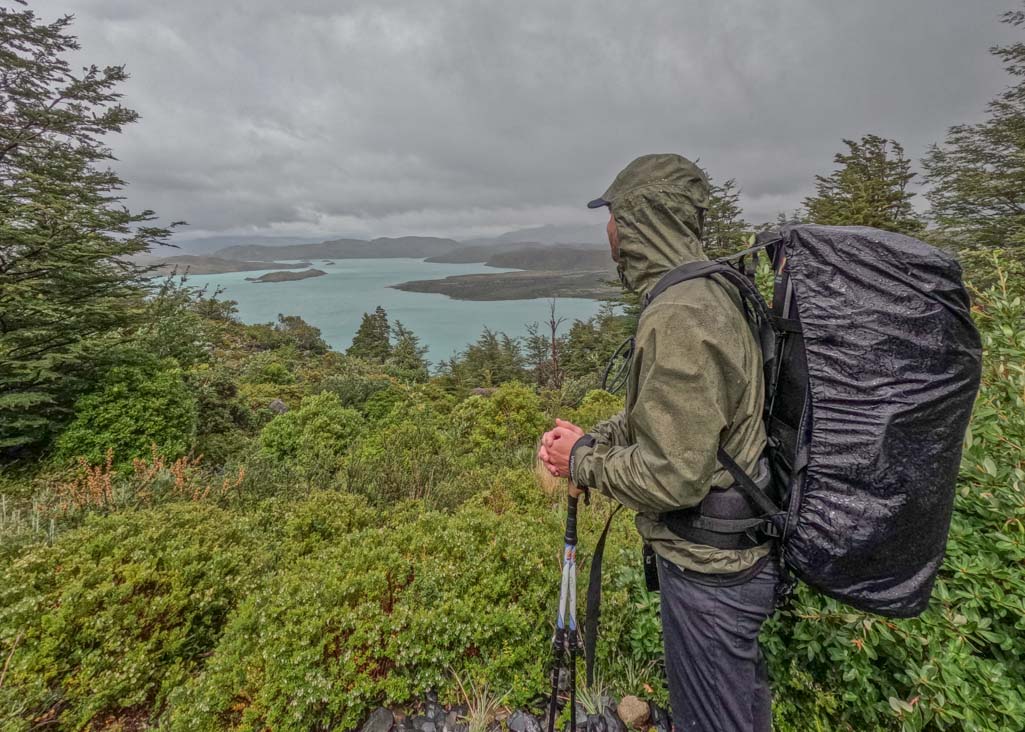 Packing for the W Trek: Self-guided vs tour group vs full board
The second consideration is whether you're doing the W Trek the budget way. Or the luxurious way.
You have the option of booking campsites where you carry everything from your tent, sleeping mat, and sleeping bag to your food and cooking equipment. Alternatively, you can arrive at the campsite with a tent already set up.
If you have some cash to splash, you can reserve a bed or private room in the refugios. These refugios also offer full board meal options where all your food, including lunch packs, is provided by the refugio.
There's a lot to consider, and your W Trek packing list depends on how you tackle the circuit.
This post includes everything you need, whether camping or staying at refugios, taking the full board option, or carrying your own food.
Things to know about this packing list for W Trek
Keep it light. If you're doing the W Trek independently, you'll have to carry all your own gear and food. This weight takes its toll, so you need to think carefully about what you pack.
Layering is key. You'll need to include three layers on your packing list for W Trek: A base, middle and outer layer.
Pack a set of non-trekking clothing to wear at the refugios. There's nothing better than putting on something fresh and comfy after a long day of hiking.
Leave the things you don't need in Puerto Natales. I stayed at El Patagonico Hostel, and they safely stored my non-trekking gear for me at no extra cost.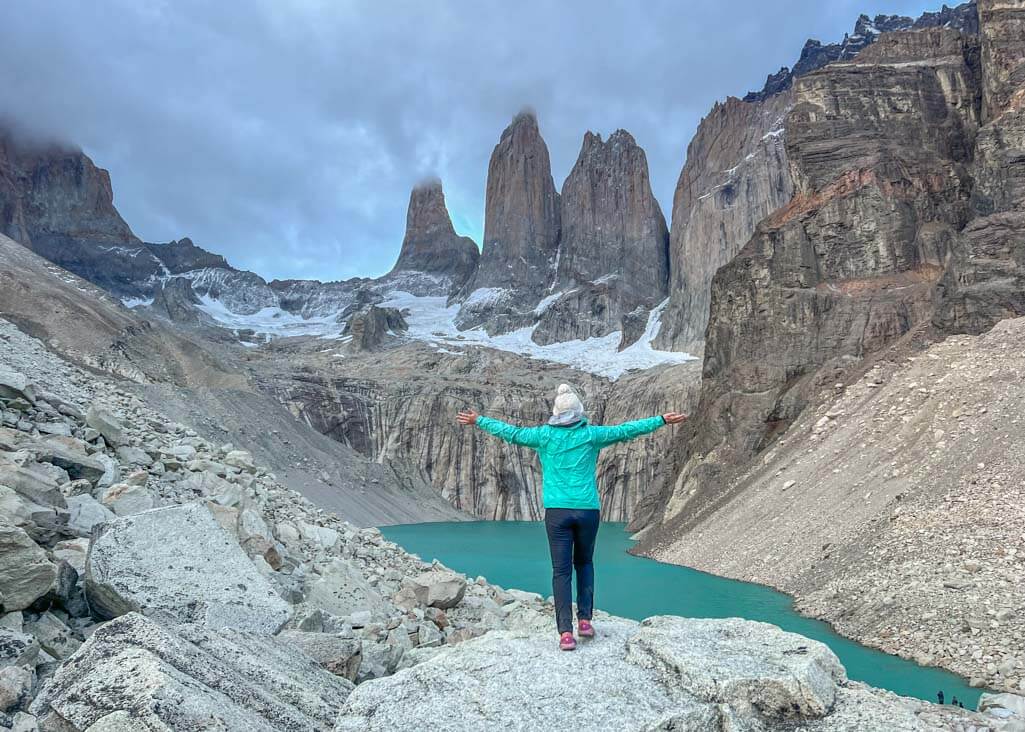 W Trek packing list: Your bags
Large backpack for the W Trek
The size of your backpack depends on how you plan on doing the W Trek.
55-70L Backpack (Hiking Independently)
If you're doing the W Trek self guided and carrying your own food and camping equipment, you will need a backpack that's big enough to fit everything.
I bought this 60L Gregory Deva backpack before my trip and absolutely love it.
The Gregory pack is one of the few hiking backpacks with a large front zipper allowing you to access the main compartment without going from the top of the backpack.
The small pockets on the waist strap are also handy and allowed me to keep my snacks and GoPro within arm's reach.
Gary used his older 70L backpack. While it didn't have all the special features that my bag did, it was still in good nick and perfect for the W Trek.
40L Backpack (Full board meal option)
A 40L backpack like this is the minimal size you'll need if you're not camping.
This is ideal if you book the refugio option that includes a bed, sleeping bag, and all meals. But you need to select these extras when making your bookings.
If you choose the "Simple Bed" option, you will be given a bed but will need to carry your own sleeping bag.
Keep that in mind when packing for the W Trek as you will need a bigger backpack (50L) if you're carrying a sleeping bag.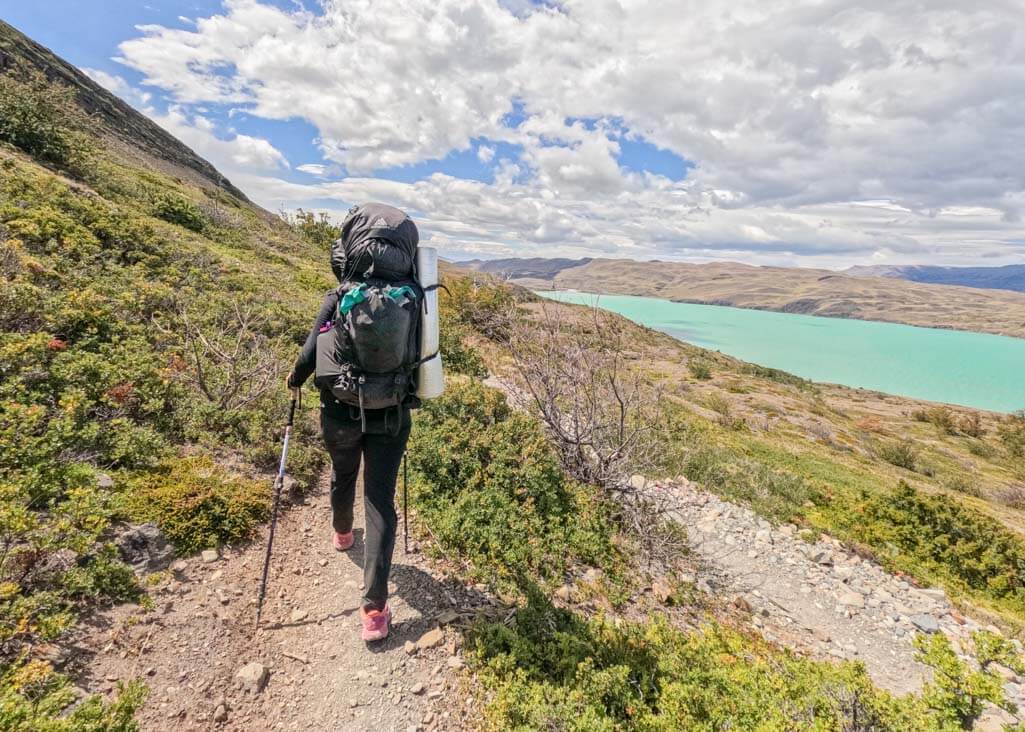 W Trek Backpack: Considerations
If, like me, you need to buy a new backpack for the W Trek, here are a few things to consider.
Hiking backpack vs standard backpack: Hiking backpacks are generally more expensive than regular backpacks as they offer more support and extra features catered toward multi-day treks. I opted for a hiking backpack as I planned to do a few hikes in South America.
Waist straps: Your backpack should have a waist strap so that the weight rests on your hips, not your shoulders.
Zips and pockets: Extra mesh pockets on the sides of your day pack are a game-changer. They allow you to store small items without stopping and removing your entire backpack when you need them.
Hydration: If you prefer drinking from a hydration pack when hiking, ensure you get a hiking pack with a separate holder for this.
Big zipper: You can access the main compartment from the front section of most travel backpacks. But hiking backpacks don't usually have this feature.
Packable daypack
Some parts of the route allow you to store your heavy backpacks at the refugios while you venture further into the park. You'll return after a few hours to collect your bags and continue with the W Trek.
These detours include the trails leading to Glacier Grey, French Valley, and The Towers.
Getting to and from here involves a few hours of uphill trekking. You'll want to take some water, snacks, and an extra layer of clothing with you.
This packable backpack is perfect for these parts of the trail. It's light and compact, and you can easily store it in your main bag until needed.
I bought the 16L one and used it throughout my 6 month backpacking trip.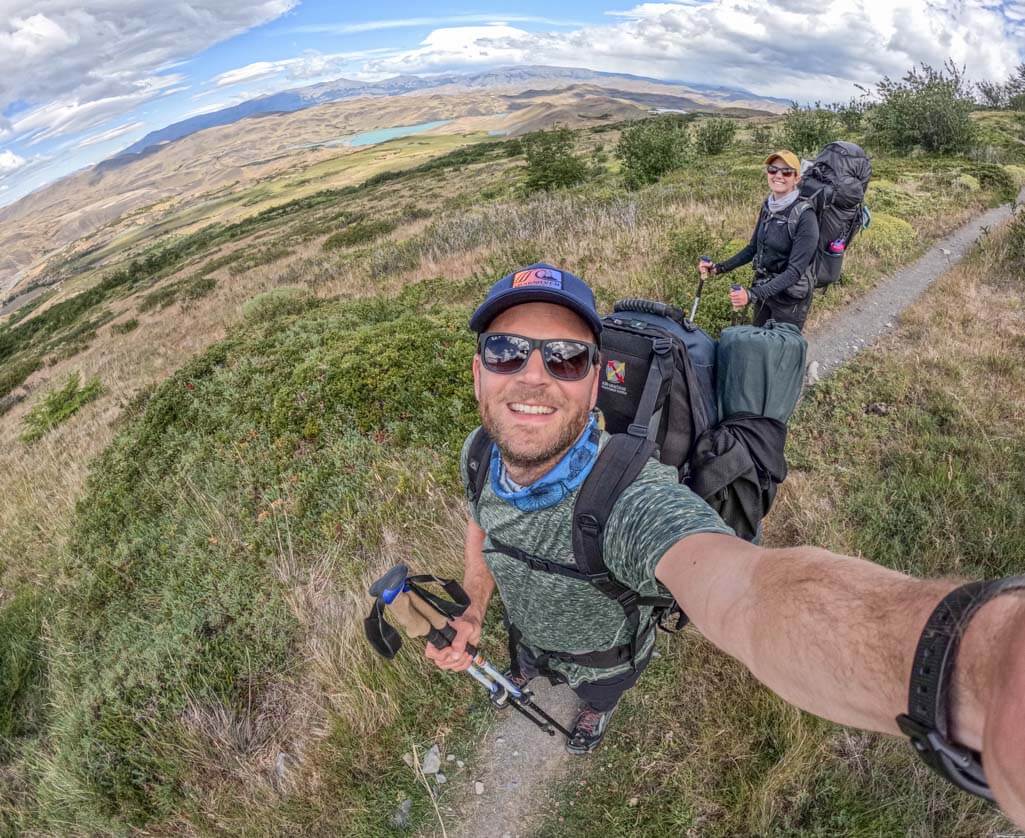 4 x Packing cubes
Packing cubes are a lifesaver when organizing your W Trek packing list. They make it much easier to find what you need from your backpack.
I recommend bringing an extra packing cube to use as a laundry bag.
Make sure you buy ones like these that come in varying sizes.
Packing for the W Trek: Footwear
You only need to pack two pairs of shoes for the W Trek: Trekking and camp shoes.
Trail shoes
I hiked in ankle hiking boots for many years but have now converted to the dark side: Trail shoes!
You'll walk for over 6 hours daily, so you need comfortable shoes. The trail is rocky and dusty in some areas, and I found that trail shoes offered all the support I needed.
Before packing for the W Trek, I purchased a pair of these Hoka One trail shoes. They are absolutely incredible, and they were the only shoes I needed for hiking and exploring.
Hiking boots
Proper hiking boots may be your preferred option for additional ankle support.
The trail is uneven, and slippery in places so the extra support can make a big difference.
But this is unnecessary, and I was very happy with my decision to use trail shoes instead of hiking boots.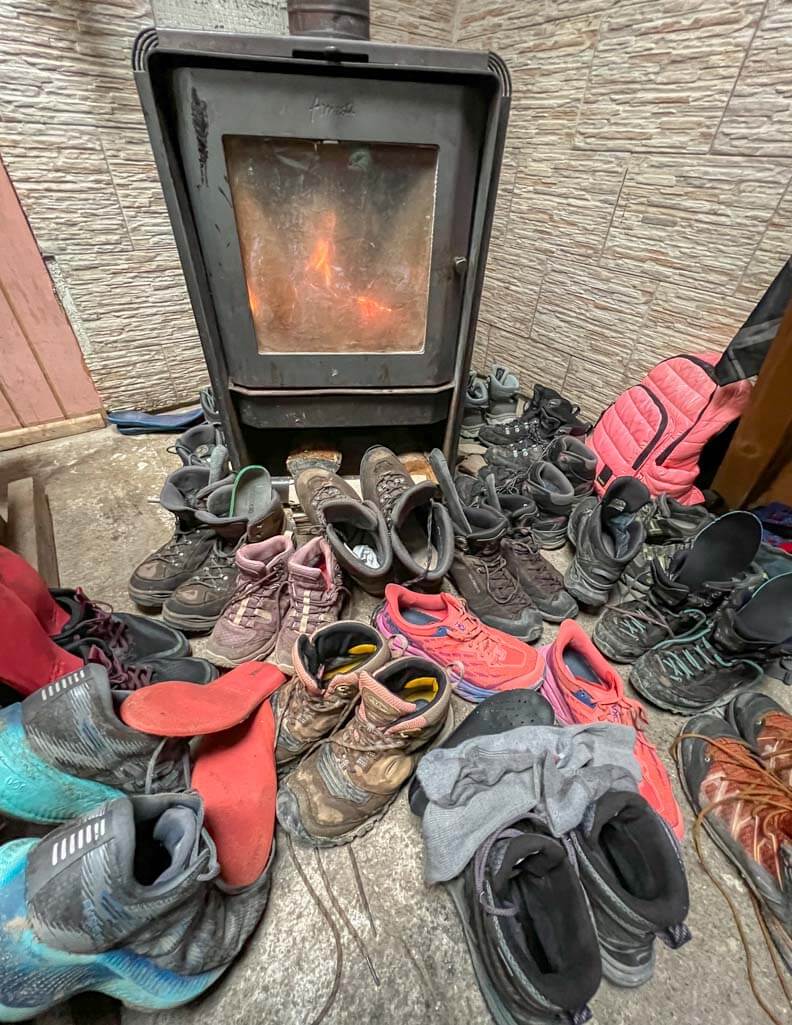 Do you need waterproof shoes
If you read my post on hiking the W Trek independently, you'll know I had torrential downpours on day 3.
Yes, it rained heavily the entire day.
I did my trek in January and did not expect this intense weather. As a result, when I was deciding what to pack for the W Trek, I didn't worry about the fact that my trail shoes were not waterproof.
But I had the last laugh.
Everyone's feet got soaking wet on this day. Whether they had the best waterproof hiking books or not, there was no escaping the rain – it was that hectic.
Trail shoes dry a lot faster than bulkier hiking boots. We left our shoes out to dry overnight, and mine were dry by the next morning.
Camp shoes
Make sure you include a second pair of lightweight shoes in your W Trek packing list. You'll use these in the evenings to get around the refugios.
I recommend lightweight slip-on shoes over trainers as they take up less space.
I packed my Teva sandals (which I absolutely love). But I don't recommend bringing them along for the W Trek.
Why?
Because they're pretty heavy and bulky, considering I only wore them for a few hours over the five-day trek. Yes, they were great, but I could have gotten away with a lighter pair of shoes to carry during the day.
W Trek packing list: Headgear
Sun hat
Despite the cold and overcast conditions, the sun is harsh!
You'll definitely need a cap for your W Trek packing list, and you'll wear it immediately after arriving at Torres Del Paine National Park.
Beanie or warm hat
You're packing for four seasons, so you'll need to bring a beanie or warm hat.
It gets pretty cold at night and you'll wear it for the sunrise hike to The Towers (Mirador Las Torres.)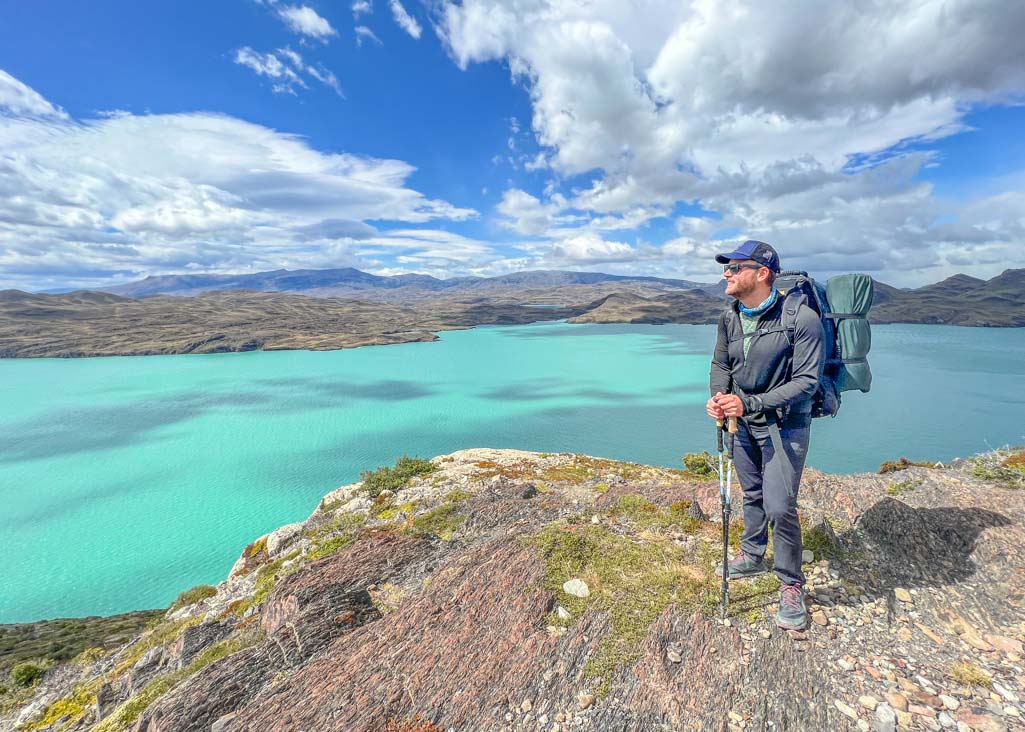 Thin buff
If there's one thing you can learn from me when deciding what to pack for W Trek, it's to bring a thin, light buff like this one.
It protects your skin from the sun, keeps your neck warm, and acts as a mask, preventing fine dust and other particles from entering your mouth and nose.
The thinner, breathable fabric of the light buffs means you can wear them every day, even in the heat.
W Trek packing List: Upper body
To save space in your backpack, you'll be re-wearing your clothes. Everyone does!
Base layer: thermal top
Thermals are an essential base layer that you will need to include in your W Trek packing list.
You'll only need 1 thermal top like this one here.
You can also use this as a base layer on the last day when you do the Mirador Las Torres sunrise hike.
Some people swear by Merino Wool thermals, but they are expensive. If you have the budget, it's worth it. The breathable fabric is incredible, and they are said to keep you warm, dry, and sweat-free.
I purchased a regular set, and I had no issues.
2 x Short Sleeve hiking tops
Pack two lightweight, breathable exercise tops like this that will dry easily. Cotton is not your friend!
I suggest packing an extra one if you get extremely hot and sweaty.
1 x long, lightweight hiking top
Layering is essential when packing for Torres Del Paine.
This lightweight, long sleeve top is a must, and the long sleeves are a great sun protector as well.
1 x fleece top
A warm fleece top will come in handy as the sun starts to set and the temperature gets colder.
I wore my fleece at camp over my sleeping thermals and as an extra layer on those cold hiking days.
Go for a zip-up jacket like this one here, as it's easier to get on and take off.
Mine also had zip-up pockets, which were great as I could keep my GoPro or tissues inside.
Lightweight down jacket
This jacket was the best investment, not only for your W Trek packing list but for life in general!
I always wore mine – either over my fleece or under my windproof jacket.
Windproof Rain Jacket
You can have perfect weather and sunny skies every day.
But you may also get rainy days with gusts of wind, so this windproof outer shell is a must.
I bought this Patagonia Torrentshell jacket and loved it!
W Trek packing List: Lower body
1 x long yoga pants
Yoga pants are a great alternative to hiking pants for women as they are stretchy and more comfortable. In my experience, these are the best trekking pants for the W Trek.
I alternated between a pair of these yoga pants and hiking pants. When it got colder, I hiked with my yoga pants under my proper hiking ones.
1 x hiking pants
These lightweight, thin hiking pants are great to hike in. I fitted on a million pairs and eventually went with this Kathmandu option.
Some hiking pants have a zip which allows them to convert into shorts. But the material is super breathable anyway, so the shorts feature isn't necessary.
Because they're made of such breathable materials, they won't provide much warmth on colder days, so you can wear your yoga pants underneath if the temperature drops.
1 x hiking shorts
It can get scorching hot on the trail, so bring a pack of short pants just in case. I never wore mine, but Gary wore his for two of the five days.
1 x pair of track pants or leggings
You'll want to bring a pair of long pants like these for the evenings.
While baggy, oversized pants are super comfortable, they will take up a lot of space in your bag.
Instead, bring a pair of tights that you feel comfortable wearing in the refugios and to sleep in.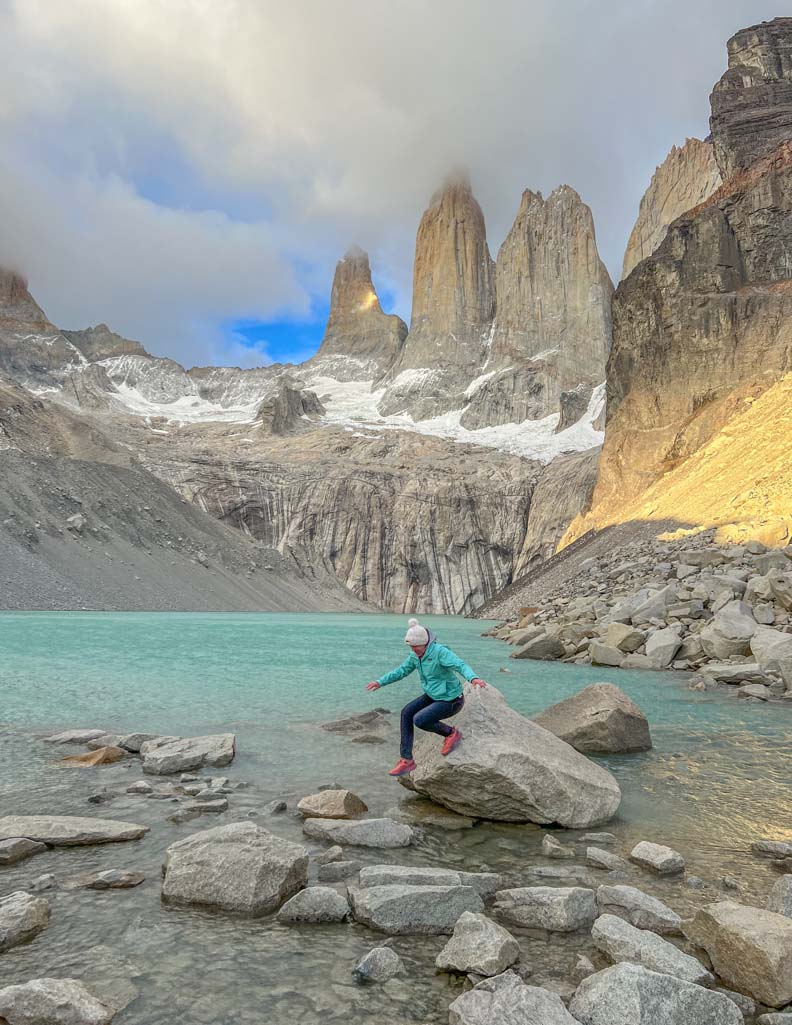 W Trek packing List: Underwear
5 x underwear
2 x sports bras
2 x thick trekking socks
2 x normal socks for the evenings
W Trek packing List: Accessories
Sunglasses
Headlamp (see the one I have)
Gloves
Trekking poles
Swiss Army Knife
1L water bottle (click here for the one I have)
Grayl Geopress water bottle: Drinking water is available from the refugios. While it's said to be safe to drink, I didn't want to take any chances. Instead, I filtered all my water using this Grayl Geopress before drinking it.
3 x Plastic bags. Bring a few plastic bags along with you. You'll use one for trash and another one for your wet clothes (if it rains heavily). Lastly, keep one plastic bag as a liner for the inside of your backpack when it rains.
Laundry bag: I used a packing cube for this.
W Trek packing List: Toiletries
Sunscreen
A small pack of wet wipes
A small bottle of hand sanitizer
Small shower gel
1 roll of toilet paper
2 packs of tissues
Microfiber towel: I travel with a Turkish Towel
Toothbrush
Toothpaste
Deodorant
Lip balm (with sunscreen)
Hair ties and clips
Insect repellant (I didn't use this, but it's good to have, just in case)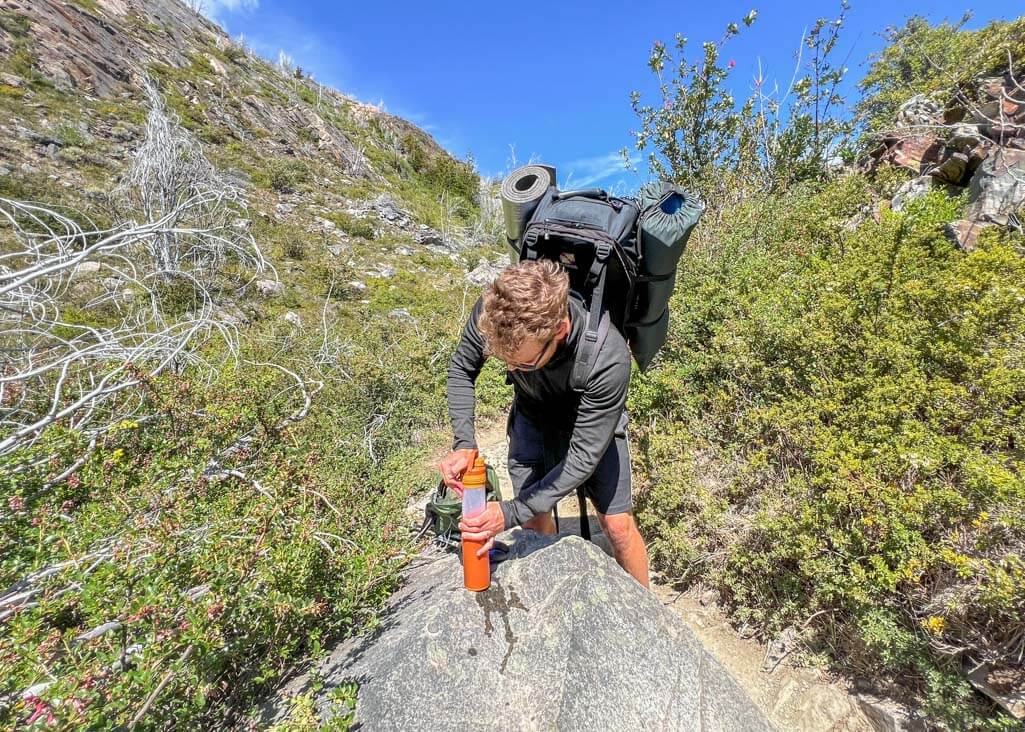 W Trek packing List: Electronics
20 000 mAH Powerbank
There are power outlets at the refugios which are free to use. However, they are limited and often used by other trekkers.
This 20 000 mAh Powerbank was enough to keep my phone, GoPro, and camera fully charged during the 5-day trek.
GoPro
If there was ever a need for a GoPro, it was for Torres Del Paine!
This was the best thing on my packing list for the W Trek, especially for those wide-angle shots and selfies.
Phone
I used an iPhone 14 Pro, which takes incredible photos. The trail has no reception, but you can purchase WiFi from the refugios.
W Trek packing List: Documents
Passport and PDI
When packing for Torres Del Paine, you must bring your Passport and PDI.
This PDI is the Chilean immigration paper you will receive when entering Chile. You will have to present it at the refugios, or else you may be charged Chilean tax, which is 19%.
Cash for the ferry
There are no ATMs in Torres Del Paine. The ferry to and from Paine Grande costs USD 35 and is payable in cash when you arrive at the dock.
Always carry extra cash with you, even if you don't plan on using it.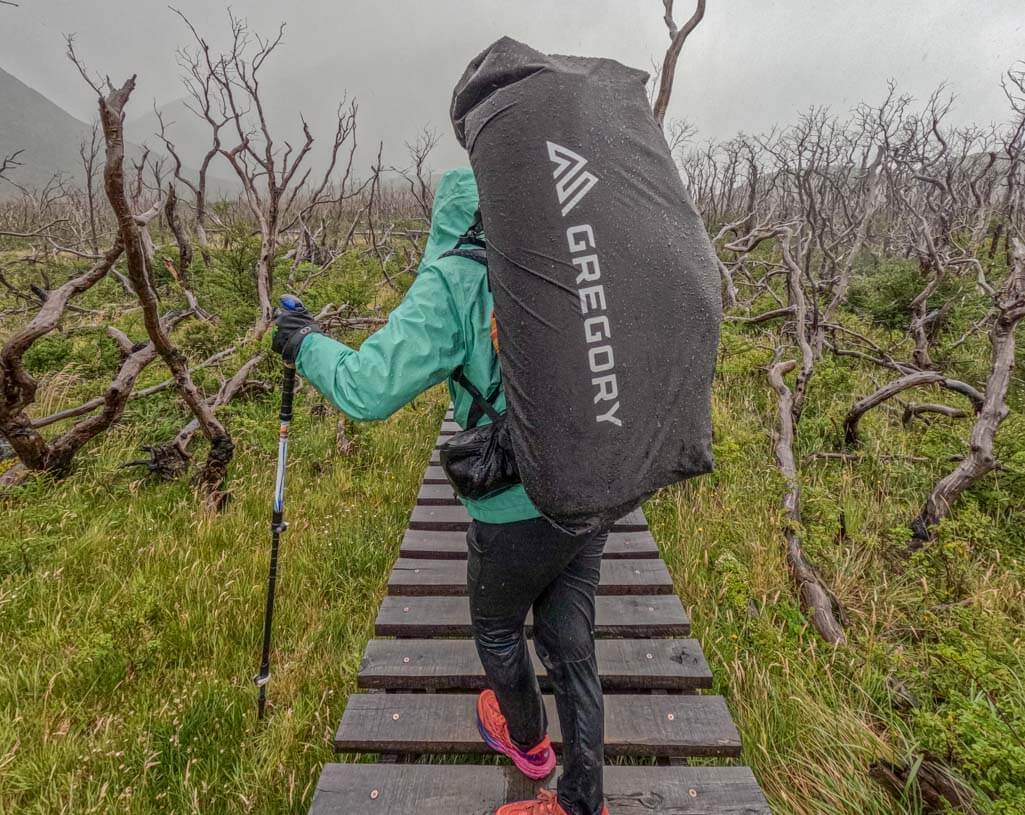 Credit Card
The refugios have card facilities. You can buy food and snacks here using your credit card or cash.
Accommodation confirmations
I had such a nightmare with my campsite bookings. I was seriously worried that I'd rock up and have nowhere to stay.
I saved screenshots of my booking emails on my phone, but you might want to print them out in case your battery dies.
While the refugios should have your booking details saved in their system, bringing a copy is recommended just in case of any issues.
Travel insurance documents
Always, always have your travel insurance details handy so that if anything happens to you, other trekkers can assist with contacting your insurers.
W Trek packing List: First Aid Kit
I bought this first aid kit for my trip. It's small enough and includes only the necessities needed if I get in trouble.
I then added the below items to the bag.
Headache tablets (paracetamol/ibuprofen)
Throat lozenges
Anti-inflammatories
Nonessential items for your W Trek packing list
Here are items you don't necessarily have to include in your W Trek packing list. They're nice to have.
Hydration pack
Some people prefer to hike with a hydration pack. If I had one at home, I would have added this to my W Trek packing list.
But I didn't and was reluctant to spend any more money, especially when I had just purchased the Grayl water bottle.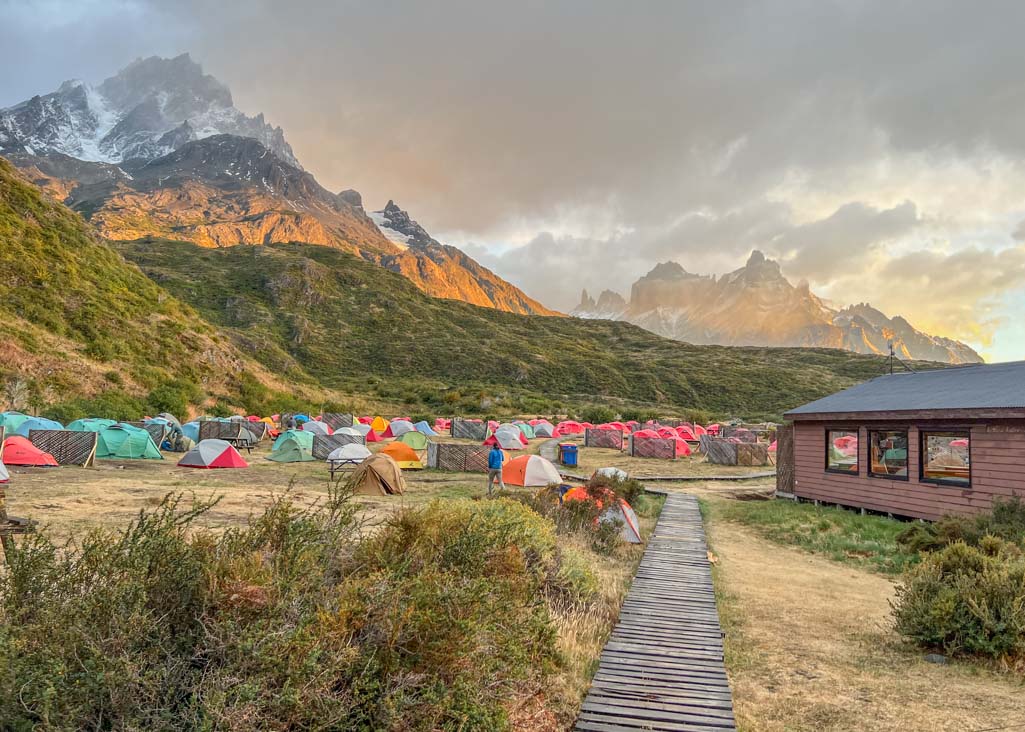 Rain Poncho
Rain ponchos are small and light so if you have one, bring it along. I couldn't find a cheap poncho so went without (but I didn't look very hard!)
With the heavy rain I experienced, a normal poncho wouldn't have provided enough protection. And from what I saw, people who wore rain ponchos struggled to keep them down. The strong gusts of wind blew the plastic all over the show, and they got wet anyway!
A proper, thick rain poncho would have done the trick. But these take up a lot of space and make your backpack heavier.
Waterproof hiking pants
Again, another item I didn't pack for the W Trek. And I don't regret it!
If you have waterproof hiking pants, pack them in. But it's not absolutely necessary to go out and buy a pair.
Yes, my legs were soaking wet on day 3. But I managed just fine, and my hiking pants were dry the next morning.
Pillow
You can bring a small blow-up pillow. But I used my packing cubes instead. Put a few of your clothes in there, and it makes for a great pillow!
Osprey backpack cover
You should consider getting a bag cover if you purchase a high-quality hiking backpack like the Gregory Deva. This protects the straps and support system when you're in transit.
This Osprey bag cover is a foldable bag that fits over your backpack. You can fold it and store it inside your backpack when you're not using it, as it takes up little space.
But it has more than one purpose!
When hiking the W, you will leave all your non-trekking clothes back at your hostel in Puerto Natales. You're going to need a bag to store these clothes in (as you will be using your main backpack for the hike).
I kept all my and Gary's things in my Osprey bag, which I would normally use as a bag cover.
Headphones
I downloaded a few podcasts and brought my AirPods with, thinking I would have plenty of free time in the evenings. But I didn't end up using them at all.
When you're not hiking, you'll be meeting people and socializing at the refugios. Plus, by 8 pm, you'll be exhausted and ready for bed!
Playing cards
I always bring a set of playing cards with me on my travels. But this is the one time they never got put to use as I was too busy chatting to people I had met at the refugios.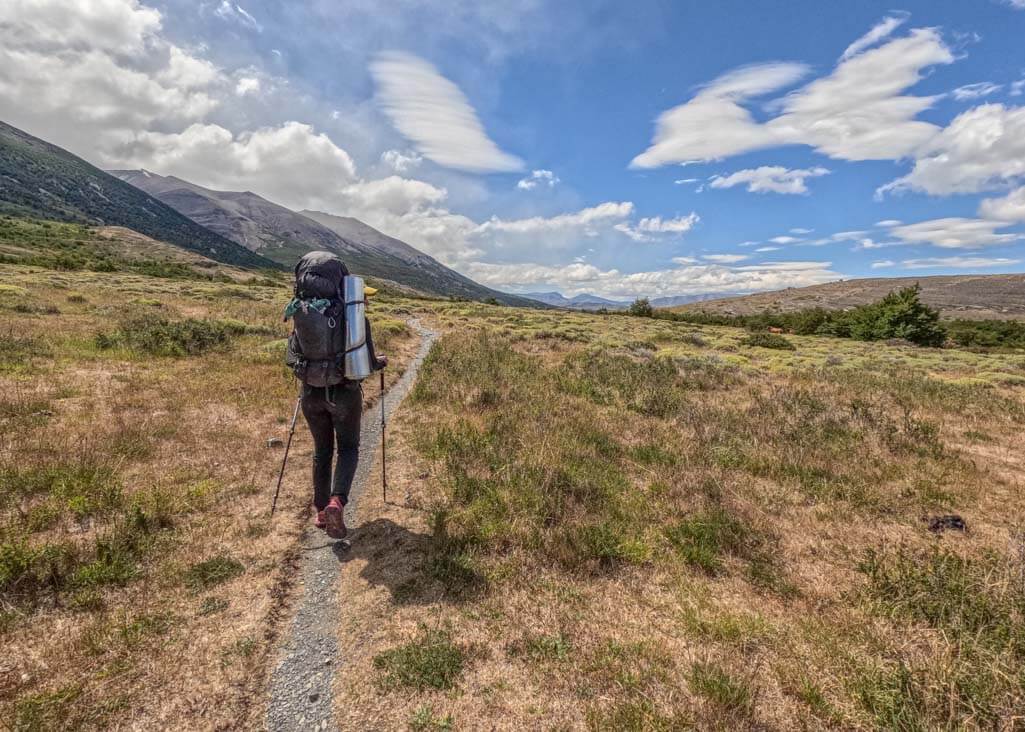 Earplugs
If you're camping, consider packing earplugs for the W Trek. The tents are set up close to one another, and you could have a noisy neighbor who snores through the night.
I hate sleeping with earplugs, so I was willing to take the risk and not bring them. But there was one night that I wished I had them.
Thick Buff
I get a lot colder than most people, so I always pack extra items to keep me warm. This thick buff is one of those.
Buffs act as a scarf and warm your face on those chilly nights. I used my thick buff every night and even slept with it on.
Gary didn't have one and didn't need one, either.
If you're susceptible to the cold, pack one in. If you don't foresee yourself getting too cold, it's not necessary.
Camping equipment to pack for the W Trek
If you're camping and preparing your own food, you'll need to pack the below.
Cooking stove
Pot
Gas
Bowl, cup, and spork
Tent (I booked campsites that had a tent set up)
Sleeping mat
Sleeping bag
Renting equipment for the W Trek
Purchasing camping equipment for the W Trek is unnecessary unless you plan on doing more multi-day hikes in Patagonia.
Rent instead. It's the cheapest option, and many stores and hostels offer equipment rental at a reasonable price.
I rented all these items from Nikos Adventure II and was happy with the quality of their stuff. Rental Natales also comes highly recommended, but they are more expensive.
Keep in mind that unless you pay top dollar, do not expect this rental gear to be compact and lightweight.
My sleeping bag weighed over 2.5kg, and the cooking equipment, while light, took up a lot of space in my backpack.
Keep this in mind when packing for the W Trek.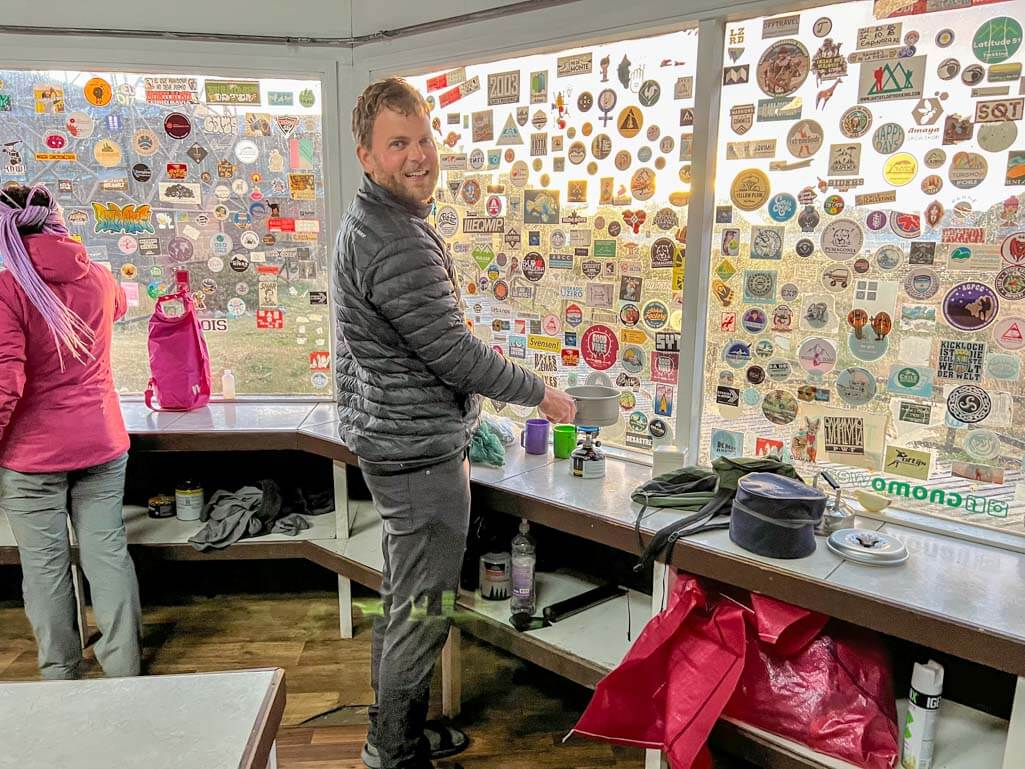 Should you pre-book camping equipment
I pre-booked my equipment as I was traveling during peak season and was worried there would be no availability.
Another reason was that I only arrived in town the day before my hike and didn't have time to shop around.
I'm glad I pre-booked, as it allowed me to spend the day organizing everything that was on my W Trek packing list.
However, even during peak season, I noticed many shops and hostels had equipment available.
W Trek packing list: Food
Now that we've been through all the bags, clothes and equipment to pack for the W Trek, let's get into the food.
Purchasing the full board meal package might sound like the easy way, but it's so expensive! And from what other hikers told me, the food isn't that great anyway.
The W Trek is 4 nights, 5 days so you'll need to prepare enough food to get you through the trek. I carried all my own food and enjoyed cooking alongside people I met during the day.
When organizing your food for the W Trek, remember that you cannot bring meat, fruits, and nuts into Chile. Before arriving in the country, you need to sign a declaration form stating that you don't have any of these food items.
Dehydrated food is allowed, so long as it's sealed. You'll struggle to find dehydrated food in Puerto Natales. And if you do, it's expensive, and the options aren't great.
I recommend packing 2 or 3 dehydrated dinners from back home. I did this, and then I purchased all my other food items in Puerto Natales.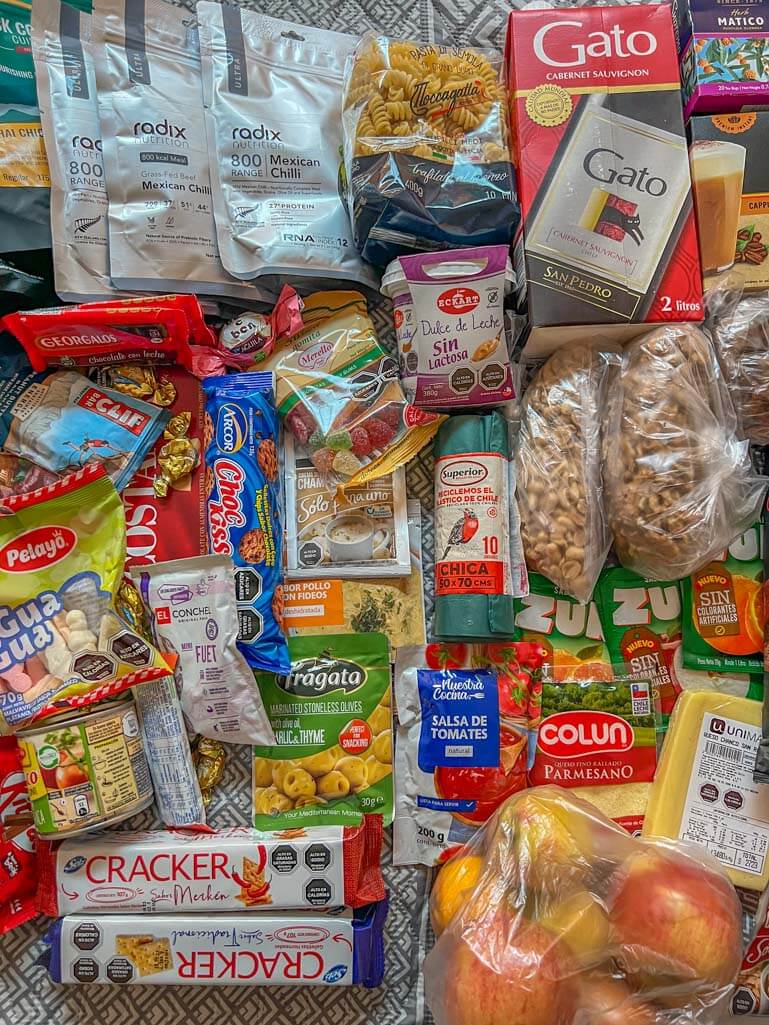 Breakfast
Instant oats
Dulce De Leche or peanut butter (for the oats)
Fruit
Instant coffee
Tea
Lunch
Gas can only be used in the designated cooking areas at the refugios. Because of this, you can't whip out your cooking equipment and prepare a quick meal along the trail.
I pre-made ham and cheese rolls for lunch on the first day. And then took the below with me for the other days.
Salami
Ham
Hard cheese
Packs of olives
Crackers
Dinner
Cup of soup
Dehydrated meals (3 nights)
Pasta
Ramen noodles
Box of wine (only for the first night)
Snacks
You can purchase snacks and drinks from the refugios, but they'll be much more expensive!
Dried fruit and nuts
Granola bars
Snickers
Chewy sweets
Oreo biscuits
Chocolate
What not to add to your W Trek packing list
Gaiters
A book
Tripod
Balaclava
Altitude sickness medication
Where to stay in Puerto Natales
Puerto Natales is the gateway to Torres Del Paine National Park.
When you're packing for the W Trek, you're going to want to stay somewhere close to all the shops and rental stores.
I stayed at El Patagonica Hostel and highly recommend it. It's a hostel in the heart of Puerto Natales that offers both private and dorm rooms. The staff are helpful and will assist with any questions about the W Trek.
There's a large kitchen where you can store or prepare your food. It also had a big living area which is great for meeting other travelers to get tips about the trek. Check availability here.
Thoughts on the W Trek
The W Trek involves a lot of pre-planning! While this should be the most exciting part leading up to your trip, it's often the most stressful.
But it's 100% worth it.
If you follow my tips for packing for the W Trek, you will be set to take on one of the most magical multi day hikes in the world.
---
Are you putting together your W Trek packing List? Do you have any questions? Drop me a message in the comments section below.