If you plan on doing the W trek self guided, you've come to the right place!
While this multi-day hike in Torres Del Paine is one of the best hiking trails in the world, it's also one that involves the most pre-planning – especially if you're hiking the W without a tour.
If that's the case, you're probably wondering:
How do I book campsites? And what if there's no availability?
What W Trek self guided itinerary should I follow?
Is it easier to book a tour instead?
I've answered all those questions (and a lot more) in this mega post on hiking the W Trek without a guide.
Torn Tackies contains affiliate links. If you make a purchase using one of these links, I may receive compensation at no extra cost to you. See my disclosure for more information.
Self Guided W Trek Summary
Length: 80 km
Duration: 4 nights / 5 days
Difficulty: Moderate
Highlights: Grey Glacier, Mirador Britanico, Mirador Las Torres
National Park entrance fee: $49
Best time: October to April (the only time you can do the W Trek without a guide)
You cannot do the W Trek without a guide in Winter
May to September are the winter months in Patagonia. During this time, there is snow and ice along the trail. This makes it more difficult and also a lot more dangerous.
While Torres Del Paine National Park is open during these winter months, doing the W Trek without a guide is forbidden.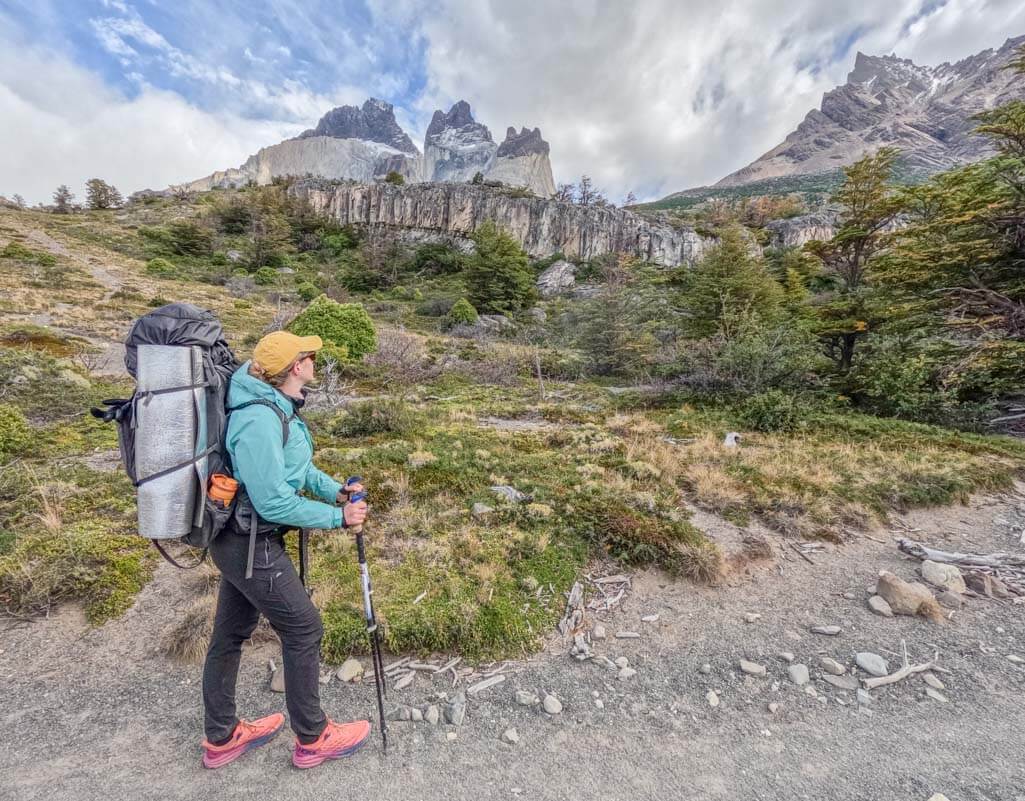 Do the W Trek self guided
Most people prefer to do the W Trek without a tour as it's easy enough to coordinate yourself.
But it does involve quite a bit of pre-planning. You can't free camp in the park, so you need a planned route as well as all the food and gear to get you through the five days.
Remember, you can only go hiking in Torres Del Paine without a guide between October and April.
Pre Book your bus ticket from Torres Del Paine to Puerto Natales
If you're doing the W Trek self guided, this is the one thing you need to know.
I didn't, and it's my biggest regret!
You must take a 2-hour bus back to Puerto Natales after completing the W Trek.
There are buses that depart from Torres Del Paine to Puerto Natales at 11 am, 1:30 pm, and 8 pm (exact times may differ slightly).
Bus tickets can be booked in advance or on the day. Do yourself and favor and book in advance here.
Here's why…
… availability on the earlier buses
The afternoon buses from Torres Del Paine to Puerto Natales sell out fast, which I didn't realize!
I'm a backpacker and don't usually book logistics in advance.
I wasn't sure of the exact time that I would be finishing the W Trek and didn't want to risk buying a ticket that I wouldn't use (if I didn't make it back in time.)
So I decided to buy my bus ticket from the Information Center at the end of the W Trek.
When I reached the ticket booth at 11 am, I assumed I'd get a seat on one of the three buses that departed before 3 pm.
I was very wrong!
The afternoon buses were all sold out, and the next available one was at 8 pm. This is an 8-hour wait.
So, buy that afternoon bus ticket here before you start the W Trek.
W Trek campsite bookings
If you're doing the W Trek without a guide, you'll need to organize your own accommodation. You can choose mountain huts or campsites, but the prices between the two differ substantially.
Bookings open in July every year, and it's a scramble to get a spot.
Two companies manage the accommodation along the W Trek: Vertice and Fantastico Sur (also known as Las Torres).
Below are the campsites along the trail, and which company to book with.
Paine Grande: Vertice
Refugio Grey: Vertice
Frances: Fantastico Sur
Los Cuernos: Fantastico Sur
Central Campsite: Fantastico Sur
Chileno: Fantastico Sur
If you're doing a self guided trek, here's a complete packing list with everything I packed for the W Trek (and what I wish I left behind).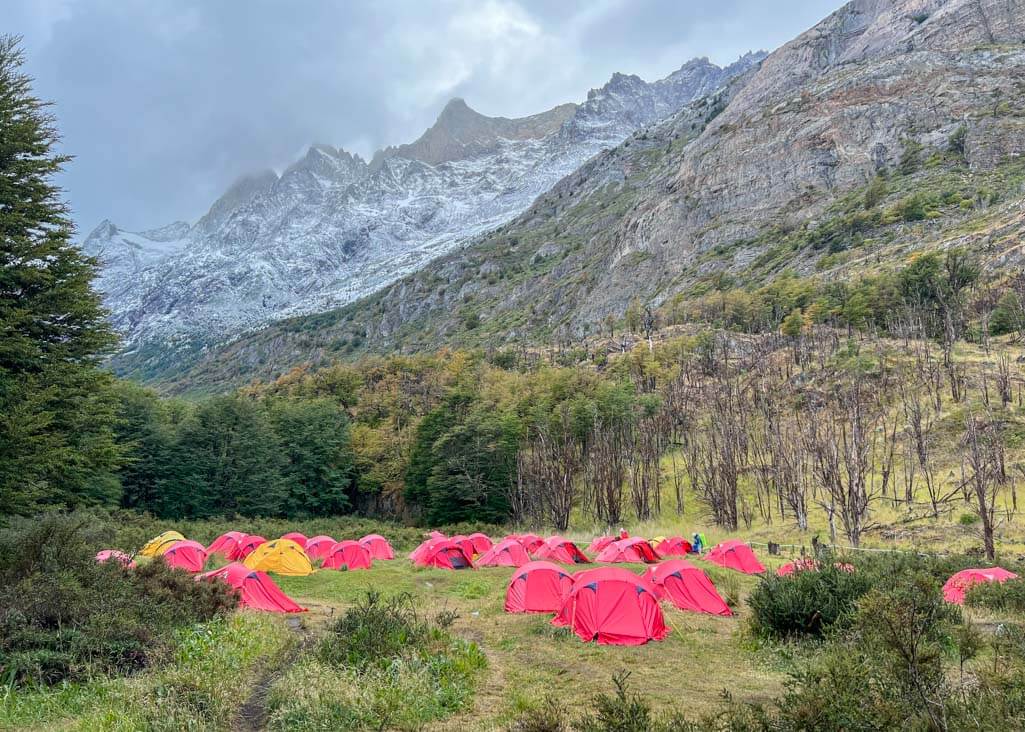 Campsite availability
Booking your accommodation for the W Trek is a serious mission and highly time-consuming. But it's the only downside of doing the W Trek independently.
I was able to book all my campsites after people canceled their reservations, and you can do the same.
Vertice offers 45 days free cancellation, and Fantastico Sur is 90 days.
As a result, when the bookings open in July, many people book more dates and campsites than needed. This is likely because they're finalizing their trip and want to keep their options open.
They then cancel before the free cancellation deadline. This means that spaces in campsites and lodges open up all the time.
But you need to be on the ball and check availability daily to book your spot.
This is what I did. When I started searching for W Trek campsites in September, everything was booked out. I had my preferred dates and route and checked availability numerous times a day for cancellations.
After a few weeks, I found an opening for one of the four nights. I booked it immediately and continued checking for the rest. By the beginning of December, I had all campsites secured for my January trip.
Book a site with a tent
You can do the W Trek without a guide the budget way. Or the luxurious way.
This means you can choose to carry everything from your tent, matt, and sleeping bag to your food and cooking equipment. Alternatively, you can arrive at the campsite with a tent already set up. Or better yet, you can book comfortable private rooms.
I chose the campsite option with a tent. This wasn't my initial plan, as I wanted to carry all my own equipment. But it was the only choice I had due to availability.
In hindsight, I am so happy it worked out this way!
Because of the strenuous days and wild weather, I could not think of anything worse than setting up my tent in the rain, let alone carrying it in gale-force winds.
If you have the option, I recommend booking a campsite with a tent.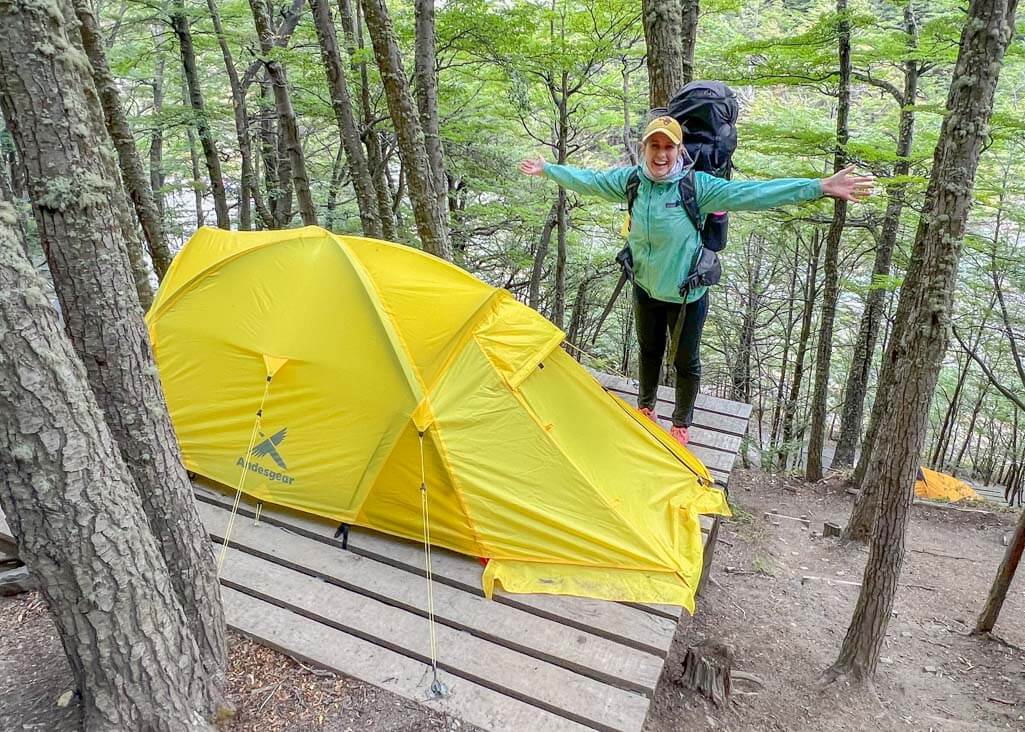 Stay at Chileno Campsite (not Central)
Chileno is the closest campsite to Mirador Las Torres, otherwise known as The Towers. From Chileno, it's a 2-hour trek to The Towers.
But you're lucky if you manage to find accommodation here.
The alternative option is Central Campsite. This is at the base of the mountain range, close to the Information Center and Las Torres Hotel. If you're doing the W Trek from West to East, Central Campsite is a detour to get to.
It's a steep and strenuous climb from Central to Chileno. Getting to The Towers from here also takes five or more hours.
So if you have the choice, stay at Chileno instead.
I booked Central Campsite as a backup as there was no availability at Chileno. Luckily someone canceled, and I managed to secure a camping site at Chileno.
The unpredictable weather
Every W Trek blog post emphasizes the unpredictable weather in Patagonia.
Gale force winds. Four seasons in one day. Heavy rain. That kinda stuff.
I carefully planned my trip for January (which is the best time to do the W Trek) and naively thought the weather "wouldn't be that bad."
Oh boy, was I wrong!
Expect the worse. Hope for the best.
During my self guided W Trek, I experienced the most intense weather conditions.
Day 1 started with sunny skies, but a few hours later, it was raining.
Day 2 was the same, and then it started snowing as we approached Grey Glacier. Yes, snowing in January.
Day 3 was the most hectic hiking conditions I have ever experienced in my life!
I was blown over numerous times while walking through French Valley and had to get down on my haunches to catch my breath. It rained heavily throughout the day, non-stop. It was a tough day that only got worse.
And day 4? The weather was perfect – sunny skies and all!
But despite not having the spectacular views that most people witness as they walk through French Valley, day three was one of my highlights. I got to experience Patagonia at its finest – the raw and harsh conditions were unlike anything I've experienced.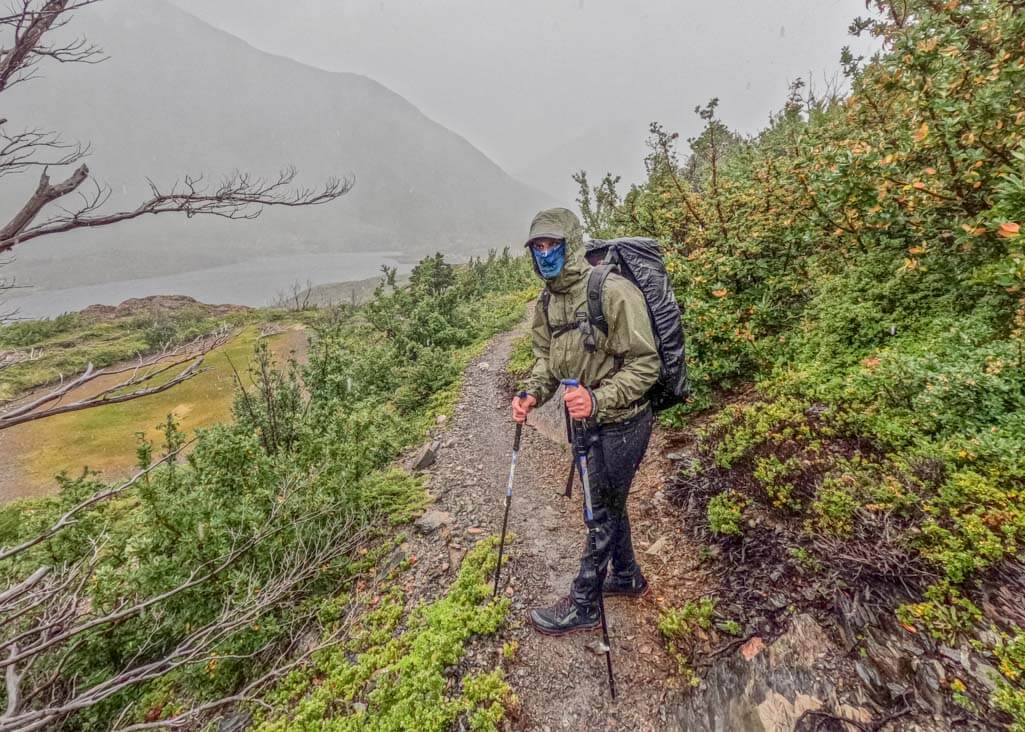 Bring cash for the ferry
Everyone doing the W Circuit must take a ferry at either the start or end of the trek, as there is no road access to Refugio Paine Grande.
It's a stunning ferry ride and the perfect way to start your adventure.
The 30-minute journey costs 35 USD and doesn't require any bookings in advance. You pay on arrival, and there is sufficient space for everyone.
W Trek self guided itinerary
The classic W Trek is from West to East. This is the route I followed, and I was very happy with my decision.
Here's what the West to East itinerary looks like.
Day 1: Accommodation Refugio Grey. Take the ferry to Paine Grande and trek to Refugio Grey, your campsite for the night.
Day 2: Accommodation Paine Grande. Leave your bags at Refugio Grey and walk to Grey Glacier. Retrace your steps to Refugio Grey, collect your bags, and hike to Paine Grande.
Day 3: Accommodation Los Cuernos. Walk from Paine Grande to French Valley. Leave your bags at Refugio Italiano and hike to Mirador Britanico. Returning to Italiano, fetch your bags and continue to Los Cuernos.
Day 4: Accommodation Chileno. Trek from Los Cuernos to Chileno, which is the closest campsite to The Towers.
Day 5: Start your trek to Mirador Las Torres by 4:30 am. Head back to Chileno to fetch your bags and walk past Central campsite to the Information Center. Catch a bus back to Puerto Natales.
The W Trek route is clearly marked
Many people choose to do the W Trek with a guide because they're worried about getting lost.
If you're thinking the same, then there's nothing to fear. The trail is well-marked with directional signage, making it extremely difficult to veer off the path.
Plus, it's a busy trail; you'll never be alone.
Stay in Puerto Natales
Puerto Natales is the gateway to Torres Del Paine National Park. It lies on the Chilean side of Patagonia.
The town itself was my least favorite town in Patagonia. There's little to do and it lacked character compared to El Calafate, El Chalten, and Bariloche, which are all on the Argentinian Patagonia side.
I recommend spending the night before and after your trek in Puerto Natales and moving on to your next destination.
I stayed at El Patagonico Hostel which is an amazing hostel in the heart of Puerto Natales. They offer private and dorm rooms as well as a big kitchen and lounge area. The price is hard to beat and they'll store your bags for free while you do the W Trek.
You can check availability here.
You can't use gas along the W Trek
If you're hiking Torres Del Paine without a guide, you're most likely carry your own cooking equipment and gas canister.
You are only permitted to use this gas at the designated areas at the campsites and refugios.
This means you cannot stop for lunch along the trail and make yourself a warm cup of tea or cook your instant noodles. You'll have to wait until you reach the campsite.
Lunch preparation
Your lunch options will be limited as you can't use gas on the trail. I recommend bringing slices of ham, salami, cheese, crackers, nuts, and fruits.
I started each morning with a big bowl of oats and snacked on the above at lunchtime. This was more than enough to get me through the day.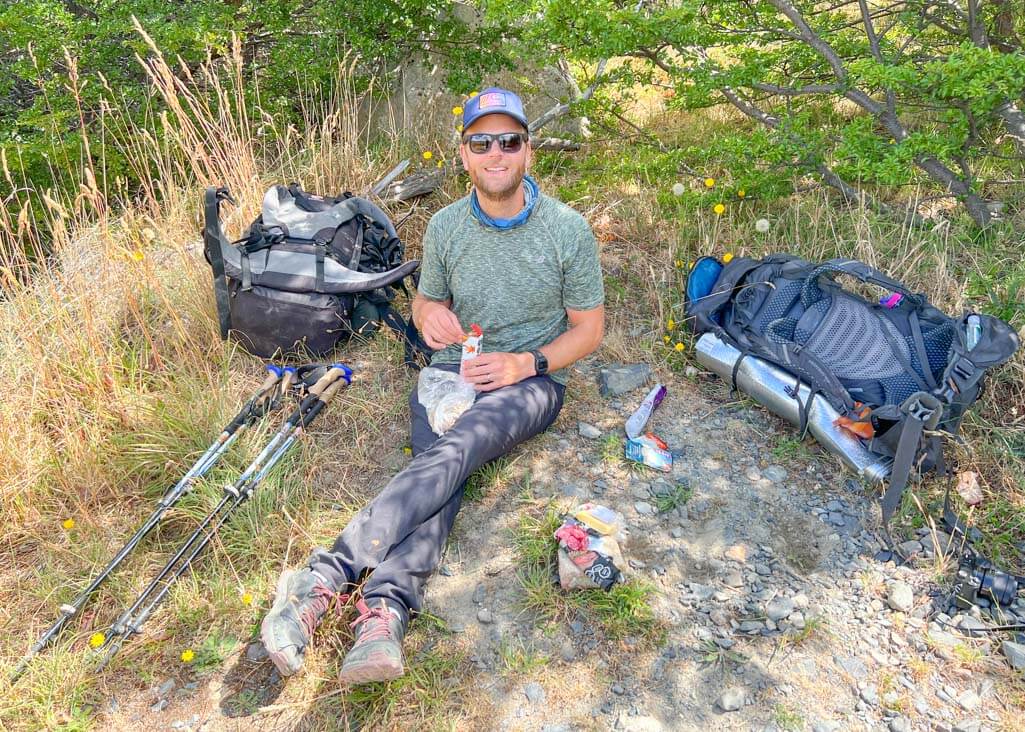 Book your Torres Del Paine National Park entry ticket online
To access Torres Del Paine National, you need to pay an entrance fee of 49 USD.
It's best to book your ticket online before you arrive. You can purchase it here.
You will need to show this to the rangers when entering the park. Keep a downloaded version and the QR code on your phone, as there won't be cell reception.
I read other blog posts that stated that this entrance ticket cannot be purchased at the park and needs to be done in advance. This was different from my experience in January 2023. People could pay in cash at the Torres Del Paine ticket office on the day of starting their trek.
However, to be safe, I recommend having your entry ticket sorted before arriving.
Bring a filter water bottle
The Grayl Geopress was the best purchase I made for the W Trek.
There are small rivers and streams throughout the trek, so getting water isn't a problem. It's getting clean, filtered water.
Instead of buying water every day and carrying 2l in my already heavy backpack, I would refill my bottle when needed.
The filter system on the Grayl is genius; it kills all bacteria and viruses and removes all sediments from the mountain water.
There are hot showers (for most people)
The campsites and refugios advertise that their bathroom facilities include hot showers. This luxury is not an additional cost.
I was lucky to have a hot shower every night. But people have mixed reviews on this one.
Some say the showers are lukewarm. Others say they had at least one cold shower over the five days.
Just like the weather, the temperature for the showers is unpredictable!
Rental gear can be heavy
If you're doing a self guided W Trek, renting camping gear from Puerto Natales is easy. It's the cheapest option, and many stores and hostels offer equipment rental at a reasonable price.
Unless you pay top dollar, do not expect this rental gear to be compact and lightweight.
My sleeping bag weighed over 2.5kg, and the cooking equipment, while light, took up a lot of space.
Keep this in mind when packing.
Consider doing the O Trek
The O Trek is one of the other hikes you can do in Torres Del Paine without a guide.
It's the longer version of the W Circuit and covers parts of the national park that few tourists venture to.
I spoke to many people who had done the O Trek. They all agreed they preferred the O Trek section as it wasn't as crowded.
While it's more challenging than the W, doing the O Trek has a few pros that you should consider.
Because fewer hikers are doing the O Trek, people tend to make friends much easier. I noticed a strong bond between the O trekkers, who were often solo travelers.
So if you prefer hiking without the crowds and want a longer trek that still includes the W, consider the O Trek.
Bring some wine (but not too much)
Beer and wine are sold at the W Trek campsites but are expensive.
If you're on a budget, bring a small box of wine (no more than 500ml) to enjoy on the first day.
But don't make the mistake I did by bringing too much!
After a few hours of carrying a heavy backpack with all my gear, I quickly realized that the 2l of box wine was the one thing I could get rid of to lighten the load.
Do the extra hikes (if you have the choice)
Glacier Grey and Mirador Britanico are not exactly on the W Trek route. However, getting to these iconic locations are detours that are well worth the effort.
I'm so happy I plucked up the courage to go to Grey Glacier despite the freezing cold temperatures, snow, and gale-force winds!
Unfortunately, I can't say the same for Mirador Britanico. The trail was closed by rangers due to the severe weather conditions, which made it a safety concern.
Bring trekking poles
If you're hiking Torres Del Paine without a guide, I highly recommend using trekking poles.
These were absolute lifesavers for trekking and keeping me on my feet when the wind was blowing me over!
You can rent trekking poles from Puerto Natales.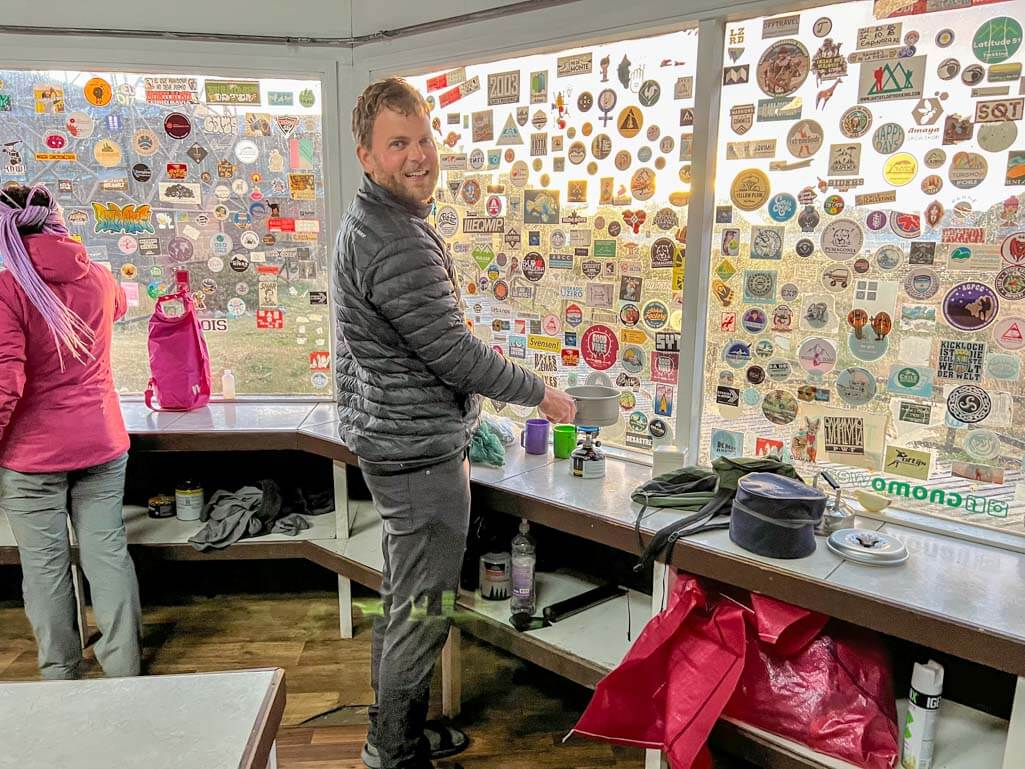 Keep your PDI safe
When you enter Chile by land or air, you'll be given a small piece of paper from immigration. This is called a PDI and acts as your tourist visa.
Do not lose this, as you will need to hand it in when you leave the country.
Line your backpacks with black bags
Bring one or two big plastic bags with you to the W Trek. This is my top tip for keeping your things dry.
A waterproof backpack cover only goes so far if there are torrential downpours!
If you're expecting rain, pop all your things in a plastic bag and put that bag inside your backpack (which should also have a waterproof cover).
Other tips for doing the W trek self guided
Bring cash, as you can buy snacks, drinks, and food along the trail
Take the first bus from Puerto Natales to Torres Del Paine National Park so that you start the W Trek early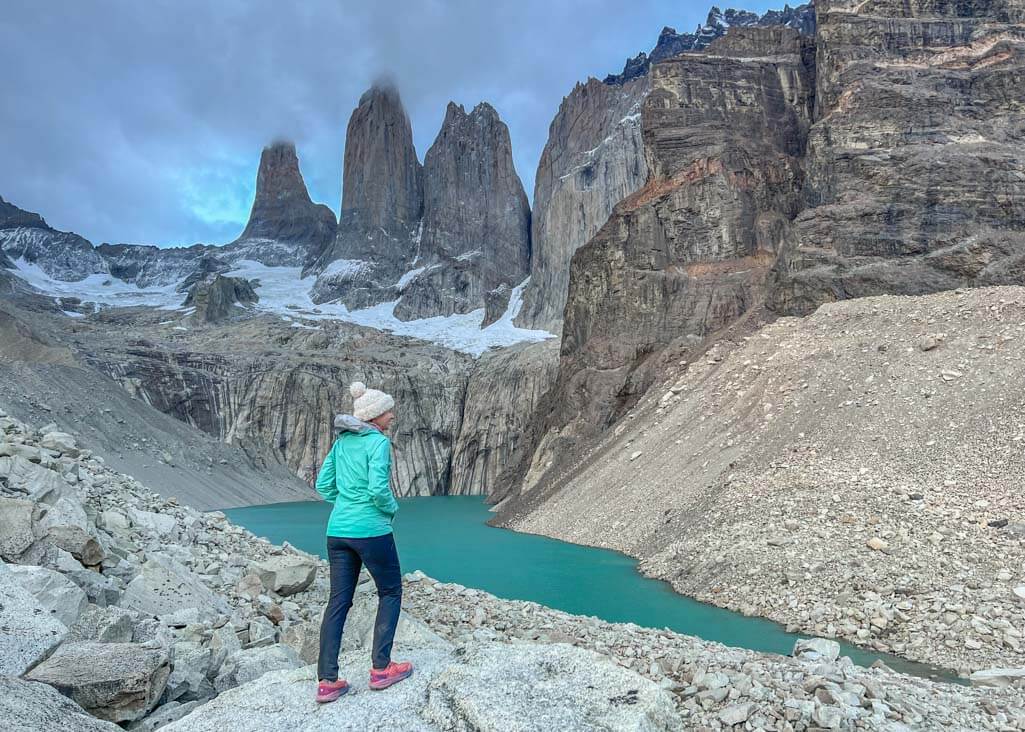 My W Trek Self Guided Experience
I had high expectations because of all the hype about Torres Del Paine National Park.
But the stress of finding campsites for the W Trek put a damper on the lead-up to my trip. I spent hours checking for availability, arguing with Fantastico Sur for refunds, and trying to justify paying for a more expensive camping option.
But the moment I arrived in Torres Del Paine, I knew it was all worth it. The W Trek is a fantastic adventure, and doing it self-guided is by far the best option.
The spectacular sunrise from the base of Las Torres was only one of the many highlights of the W Trek.
From cooking over a small camp stove in the refugios to sharing war stories with new friends who experienced the same hectic weather as we did. The memories I have of hiking the W Trek will last forever!
---
Do you have any questions about doing the W Trek self guided? Drop me a message in the comments section below!