Are you considering doing the Perito Moreno Minitrekking tour? Wondering if it's really worth the hefty price tag?
Or is it an "Instagram vs Reality" situation?
Don't worry; I understand your concerns – I had them, too. I did the glacier trekking on Perito Moreno in January 2023 and spent hours going back and forth about whether I should do it or not.
Spoiler alert – it was the highlight of my trip to Patagonia!
I've crafted this detailed guide with everything you need to know about hiking Perito Moreno glacier, including things I wish I knew, the best tours, what to pack, and more.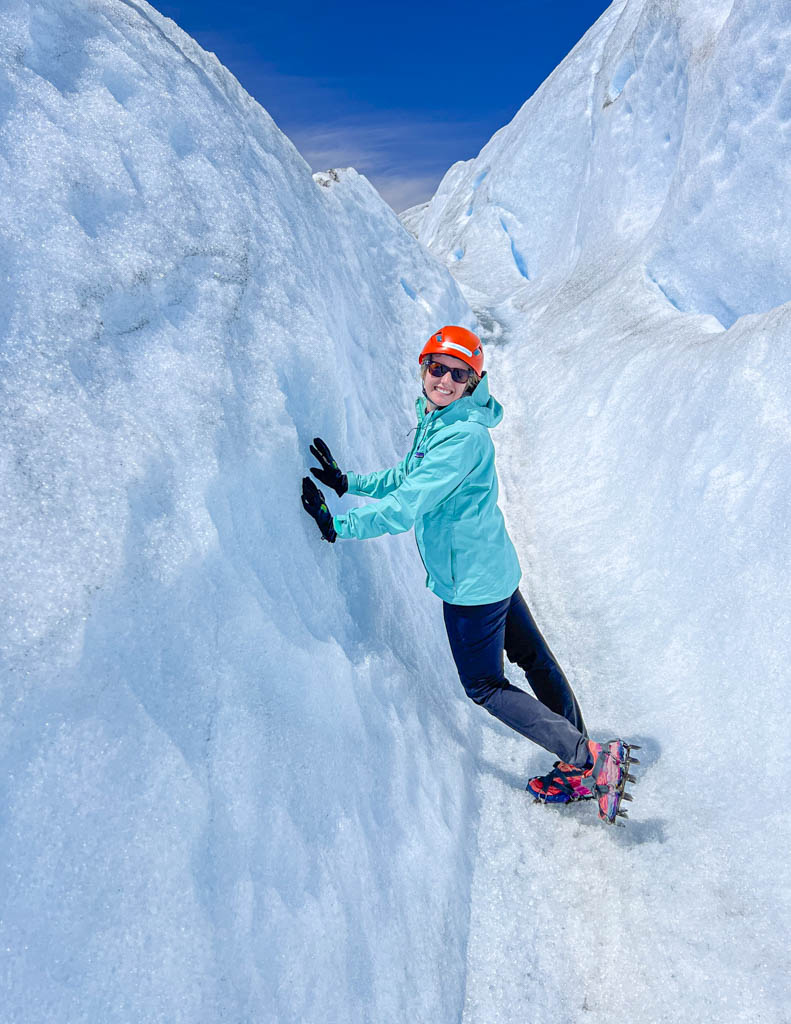 Torn Tackies contains affiliate links. If you make a purchase using one of these links, I may receive compensation at no extra cost to you. See my disclosure for more information.
Perito Moreno Minitrekking summary
Perito Moreno glacier tours
Before I go into the details of the Minitrekking tour, let's discuss your options for experiencing the Perito Moreno glacier.
| | | |
| --- | --- | --- |
| Perito Moreno Minitrekking | 3 hours ice trekking. Boardwalk & Boat | Cheapest trekking tour | Book here |
| Perito Moreno Boardwalk & Boat | No ice trekking. Boardwalk & Boat. | Cheapest tour | Book here |
| Perito Moreno Big Ice | 7 hours ice trekking. Boardwalk & Boat. | Most intense tour | Book here |
The most in-demand option, and the one that sells out weeks, even months, in advance, is the Perito Moreno Minitrekking.
Book the tour I did. It was worth every cent.
What is the difference between Minitrekking and Big Ice Perito Moreno?
To walk on the actual glacier, you have two tour options. Either the Perito Moreno Minitrekking or Big Ice Trek.
The main difference between the two is the time you spend on the glacier.
The Minitrekking tour allows 1.5 hours on the glacier, while the Big Ice gives you 3.5 hours.
Because of the trekking time, the Big Ice tour is also more physically demanding. It's also more expensive.
Read reviews and check prices for Big Ice Trek here.
It's important to note that every other aspect of the Mintrekking and Big Ice tours is the same.
They both offer the chance to walk the boardwalks and take the scenic boat to the glacier – but it's the time exploring the glacier that differs.
Why you should do the Perito Moreno Minitrekking
Trekking on Perito Moreno Glacier was the highlight of my itinerary for Argentina. I chose the Mini trekking option for a few reasons.
It's considerably cheaper than the Big Ice tour
1.5 hours on the glacier is more than enough time – trust me
The trekking part of the tour ends with whiskey and chocolates on the glacier
You start (or end) the tour by visiting the boardwalks and viewpoints
You get to enjoy the boat ride to the glacier
In summary, it has everything that comes with the Big Ice, but it's a mini version.
Perito Moreno MiniTrekking tours (and why are they so expensive)
There's one company that manages the actual glacier trekking part of the tour. This means that if it's sold out, there are no other ways of trekking on the actual glacier.
And yes, it sells out weeks in advance. You need to prebook ahead of time if you're including this on your Patagonia itinerary.
This company then partners with other tour operators who plan and coordinate the tours from El Calafate. These other tour agencies arrange your pick up and drop off, transportation, and Bilingual guides.
I booked this Perito Moreno tour through Get Your Guide and highly recommend it. This is an unbiased review as I paid for the tour myself, and they did not know I was a travel blogger.
Things to know about the Perito Moreno Glacier Trekking
Here are some real truths and things you need to know when visiting Perito Moreno.
1. It's touristy AF
The Perito Moreno Minitrekking tour is extremely touristy. No one can deny that.
Tour operators bring in busloads of people from El Calafate. You all stop at the same viewpoints and try to get selfies with the exact same backdrop.
So, manage your expectations and know everyone is as excited as you to see the glacier.
2. You can't walk where you want to (on the glacier)
From the moment you get onto the boat and make your way to the base of the glacier, there's a strict schedule to follow.
You'll put on your crampons at the same time and line up like school kids.
The lead guide will stand at the front, and he'll set the pace for the group.
You'll have a second guide at the back of the group, ensuring everyone stays in check.
You follow a well-marked course on the ice, and you cannot go rogue to get an uninterrupted photo. The guides are quick to call people out and ask you to get back in line or speed up. This is all for safety reasons.
3. There are designated photo spots
There are several assigned "photo" spots along the route. These offer the best views or backdrops, and each person will get a chance to take a photo.
But you need to be quick to allow others to get a picture. So, leave your tripod and outfit change at home because there's no time for this!
My tip is to always have your GoPro or phone on you, as you can sneak in some awesome photos if you're quick. But the moment you hold up the group, you will be told to keep moving.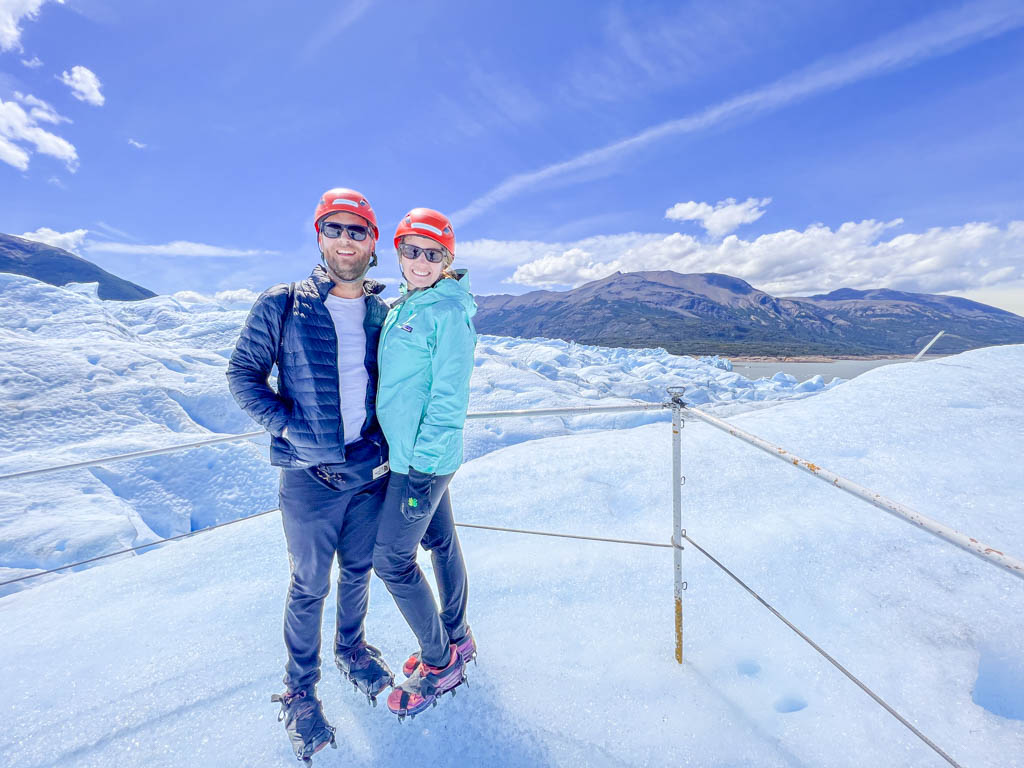 Is Mintrekking worth it?
Based on the points I discussed above, you might think it's not.
But yes, the Perito Moreno Minitrekking day tour is worth it!
And this says a lot, especially because it's coming from someone (me) who does not enjoy touristy activities and structured tours.
Perito Moreno Glacier is one of the most impressive glaciers in the world. I've never seen anything like it and may never see anything similar in my lifetime.
Viewing it from a distance is one thing, but actually stepping foot on the glacier is an experience in itself.
So yes, if you have the money but are unsure if it's worth the splurge, I guarantee it is.
On the other hand, if you do not have the budget and cannot afford it (or you'll have to sacrifice food for the next few days), I recommend the day tour option with just the boardwalk instead.
Read reviews and check prices here.
You still get incredible views from the walkway, and it's a good compromise that won't leave you broke!
What's not included
The Perito Moreno Minirekking tour is expensive, so you may think everything is included. Wrong!
Here's what you need to pay for or bring along with you.
5,500 ARS Entrance fee to Los Glaciares National Park
Packed lunch
Water
What is included
Return transportation from El Calafate
Boat ride
Bilingual tour guide
Equipment for the glacier trekking
What to expect
Here's a summary of what to expect. The Perito Moreno trekking is a full-day adventure that starts at 8 am, and you'll return to your hotel by 5 pm.
7-8 am Hotel pick in El Calafate
The drive from El Calafate to Los Glaciares National Park takes 90 minutes.
Before you enter the park, you'll need to pay the entrance fee of 5,500 ARS per person. This is not included in the tour price.
Credit card facilities are available, but there are often connectivity issues, so bringing cash along with you is recommended.
Next, you'll either go to the boat departure point or the boardwalk. This is dependent on your tour timing and availability
09:30 Arrive at viewing decks (Perito Moreno Walkways)
My tour started with the viewing decks and ended with the Perito Moreno Minitrekking.
The boardwalk comprises 4 km of interconnected paths that offer panoramic views of the glacier. Most tours allow for an hour to explore the viewpoints.
You'll separate from the group during this time and admire the glacier you'll soon be walking on. The views from here are incredible, and watching the massive ice break off the glacier is quite something.
When you finish this, you'll rejoin the group and take the bus to Puerto Bajo Sombras. This is where you'll hop on the boat for the start of your trekking tour.
Top tip: Many people opt for this boat tour, but if you're doing the Perito Moreno glacier tour, you won't need to, as the boat ride is included.
11:30 Scenic Boat to the base of Perito Moreno Glacier
It's a short 20-minute boat ride from the port to the start of your tour. Here's where you'll have some of the best views of the glacier (from the right-hand side of the boat)
12:00 Lunch at the base of Perito Moreno Glacier
Once we got off the boat, we had a 45-minute lunch break.
Depending on your timing and the number of groups ahead or behind you, you may have lunch before or after your ice trek.
Remember to bring a packed lunch as the tour does not include food and drinks. And there are no shops or places to buy a quick snack at this lunch point.
13:00 Crampons and briefing
In preparation for the glacier trekking, you'll be given a helmet, gloves, and a set of crampons. The guides will assist you in putting these on correctly and provide a brief lesson on walking with crampons.
13:30 Time to go trekking on Perito Moreno Glacier
Throughout the trek, the guide will share interesting facts and information about the glacier and its history. You'll walk in a single file and pass crevasses, ice caves, and more.
You'll also get turns to take pictures. But don't expect much time for this.
The tour then ends with a reward: A glass of whiskey on ice!
15:00 Return boat and El Calafate
You'll spend 90 minutes on the ice before returning to the boat.
The bus will be waiting for you on the other side, and you'll head straight back to El Calafate.
What to pack
Sunglasses. These are mandatory because of the harsh reflection from the ice
Sunscreen
Lunch. I made a cheese ham sandwich and brought some snacks with me as well.
Gloves. This is to protect your hands if you touch the ice. If you don't have, you'll be given at the ice trekking part of the tour
Trainers: Your crampons will fit over your shoes, so ensure they're closed (don't wear sandals). You can wear hiking boots, but they aren't necessary
Water
Rain jacket
Sun hat
Final thoughts on Perito Moreno Glacier
Perito Moreno Glacier is incredible. It's more impressive in real life, and while it is touristy, there's a good reason for this!
Book your Perito Moreno Glacier tour here, as there is limited availability for the ice trekking option.
Like it? Pin it!
---
Do you have any questions about this Perito Moreno Minitrekking guide? Drop me a question in the comments section below!
Looking for more Argentina travel inspiration? Check out my other posts!