Bariloche, also known as San Carlos de Bariloche, is the lake district of Argentina. Situated in Northern Patagonia, there's nothing like it.
The charming town has a great mix of everything from spectacular hiking trails to snow-capped mountains, gorgeous lakes, and more! And don't get me started on the delicious chocolates and mouth-watering steak houses.
Here's the perfect Bariloche itinerary and what to do with 3 days in Bariloche.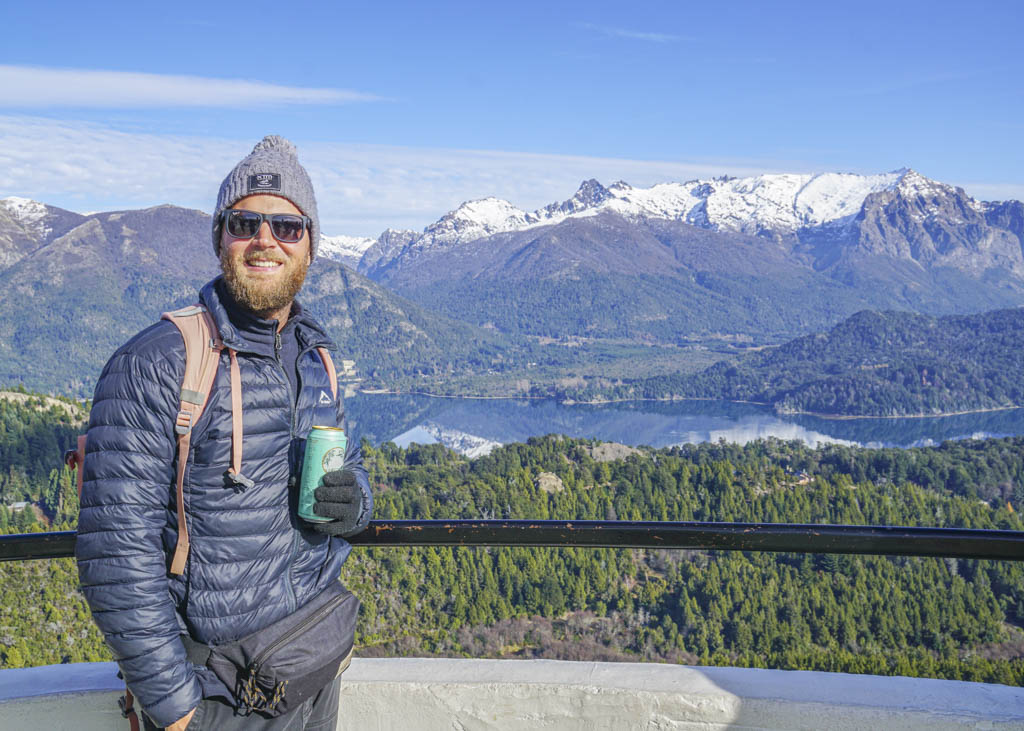 Torn Tackies contains affiliate links. If you make a purchase using one of these links, I may receive compensation at no extra cost to you. See my disclosure for more information.
How to get around Bariloche
Bariloche has an impressive public transportation network. Bus 20 will be your best friend as it passes most of the main attractions. But the buses can get crowded, and the journey may take longer.
To use the bus, you'll need to purchase a prepaid SUBE card from one of the kiosks in town. You can tap for multiple people with one card, and it can be used in Buenos Aires and other cities in Argentina.
Another popular way to get around Bariloche is to rent a car, which gives you greater freedom and flexibility. But car rentals are in high demand and expensive, and you'll need to book yours ahead of time. Check availability here.
Getting to Bariloche
By air: Bariloche Airport is 15 km outside town. There are regular flights from Buenos Aires, El Calafate, Mendoza, and even Santiago in Chile.
By bus: The public buses in Argentina are fabulous and in excellent condition. But the distances are long. I've experienced this first hand as I took three long-distance buses in Argentina. Most are overnight and have fully reclined seats. I felt extremely safe and recommend this if you're backpacking Argentina. Check bus availability here.
Where to stay for 3 days in Bariloche
Luxury: Llao Llao Resort is one of the most luxurious places to stay in Bariloche. The location is everything as it's surrounded by mountain peaks with incredible views from every window. Read reviews and check rates here.
Mid Range: Situated in Bariloche town, Studio Bariloche is a cozy apartment with lake views. It's within easy walking distance of restaurants, shops, and public transport and has a fully equipped kitchen.
Budget: I stayed at Trip Select Bariloche and highly recommend it. The private rooms are simple yet comfortable and are great value for money. It's also in a prime location. On my second visit to Bariloche, Trip Select was fully booked, so I stayed at Hostería Güemes. It's slightly further from town, but the hospitality of the owners is hard to beat.
Browse all Bariloche accommodation here.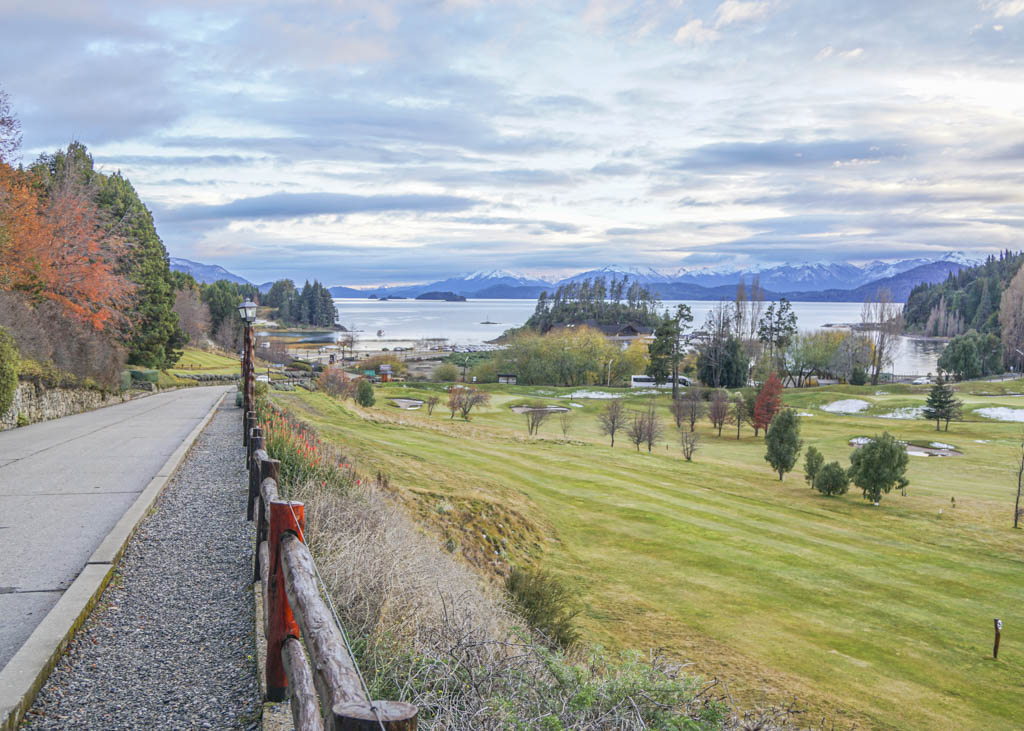 Top tip: If you only have 3 days in Bariloche, it's best to stay in town – unless you have your own car.
Quick overview of what to do in Bariloche in 3 days
Here's a quick look at what to expect in this Bariloche itinerary
Day 1: Llao Llao National Park, Cerro Campanario, Chiado Restaurant & Casa de Te
Day 2: Bariloche town and lakefront, Cathedral Our Lady of Nahuel Huapi, Chocolatiers Rapanui and Mamuschka, kayak tour
Day 3: 7 Lakes drive from Bariloche to San Martin de Los Andes or Refugio Frey hike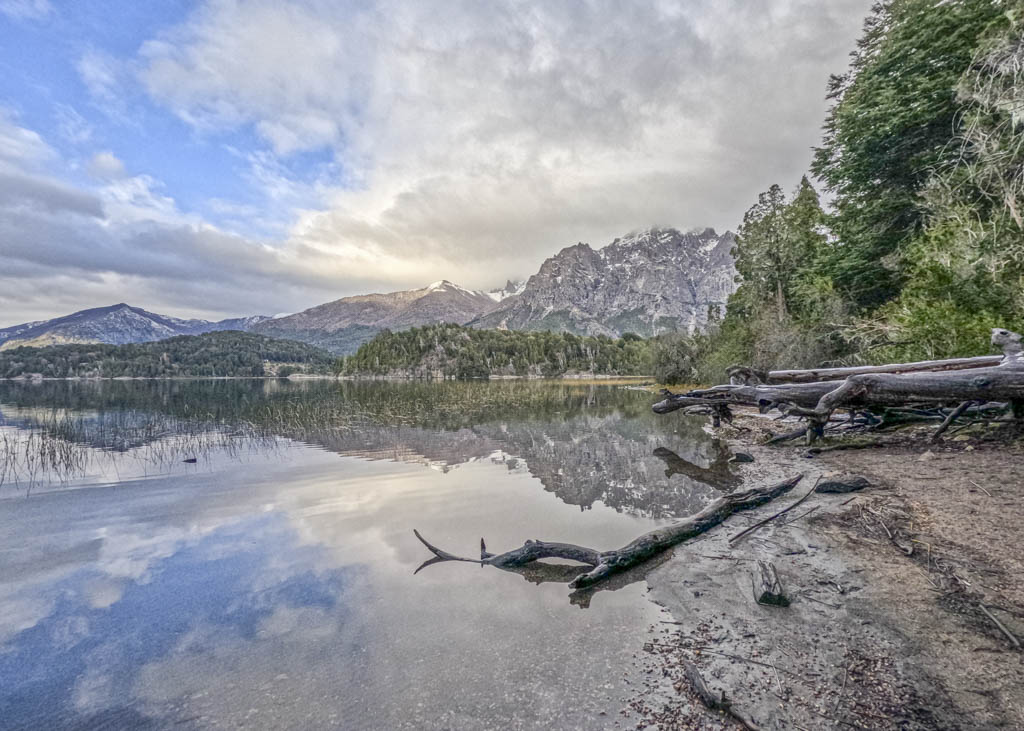 3 day Bariloche itinerary
Here is my suggested itinerary for 3 days in Bariloche. I've also included other things to do so it's easily adaptable if you have more time.
Bariloche itinerary: day 1
Your first day will be a busy but exciting one.
Parque Municipal Llao Llao
An hour west of Bariloche lies Parque Municipal Llao Llao. It's home to gorgeous hiking trails and spectacular views.
The most popular trail leads to Cerro Llao Llao, a panoramic viewpoint. You'll walk up a steep zig-zag trail for 30 minutes to get here.
You can combine this with the Sendero de los Arrayanes trail. This loop track meanders through Parque Municipal Llao Llao, passing lush walkways and the picturesque Lake Moreno. It's a flat trail and a great option for kids.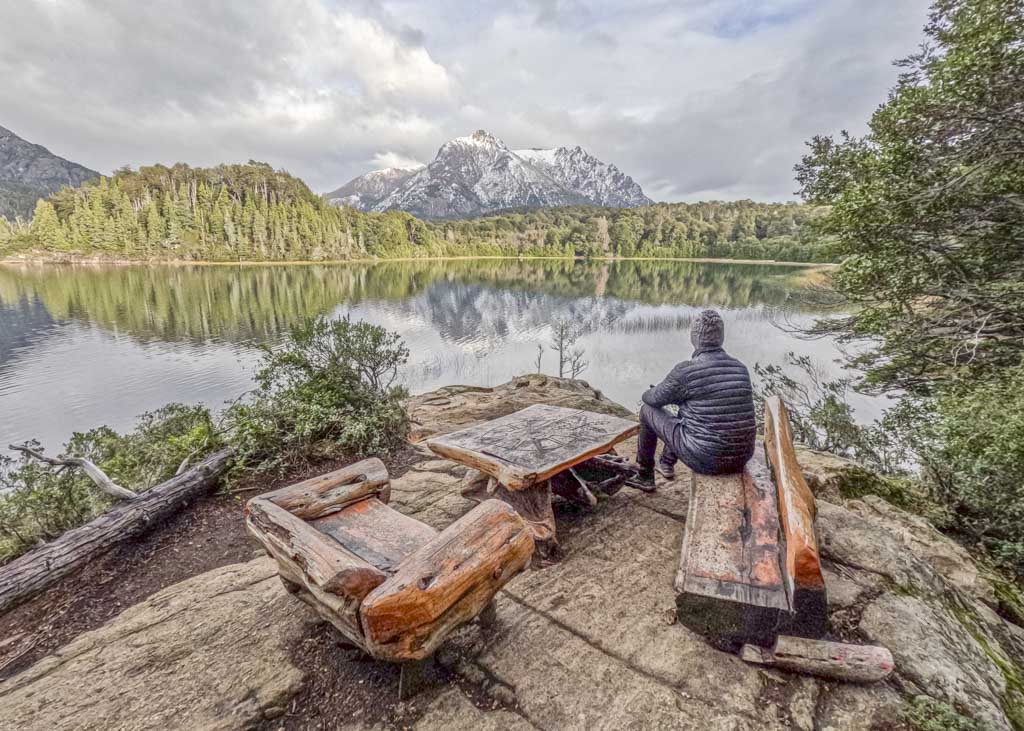 Cerro Campanario
Cerro Campanario offers the most impressive viewpoint in Bariloche, hands down!
The best part? There's no strenuous hike involved (unless you opt to walk instead of taking the chair lift to the top).
After hiking for 4 hours in Llao Llao, I chose the easiest option: The chair lift.
There are numerous viewpoints at the peak, and you'll have 360-degree views overlooking the lake district. There's also a small cafe and bar.
The entrance to Cerro Campanario is on the same road leading to Parque National Llao Llao, so I recommend visiting here afterward.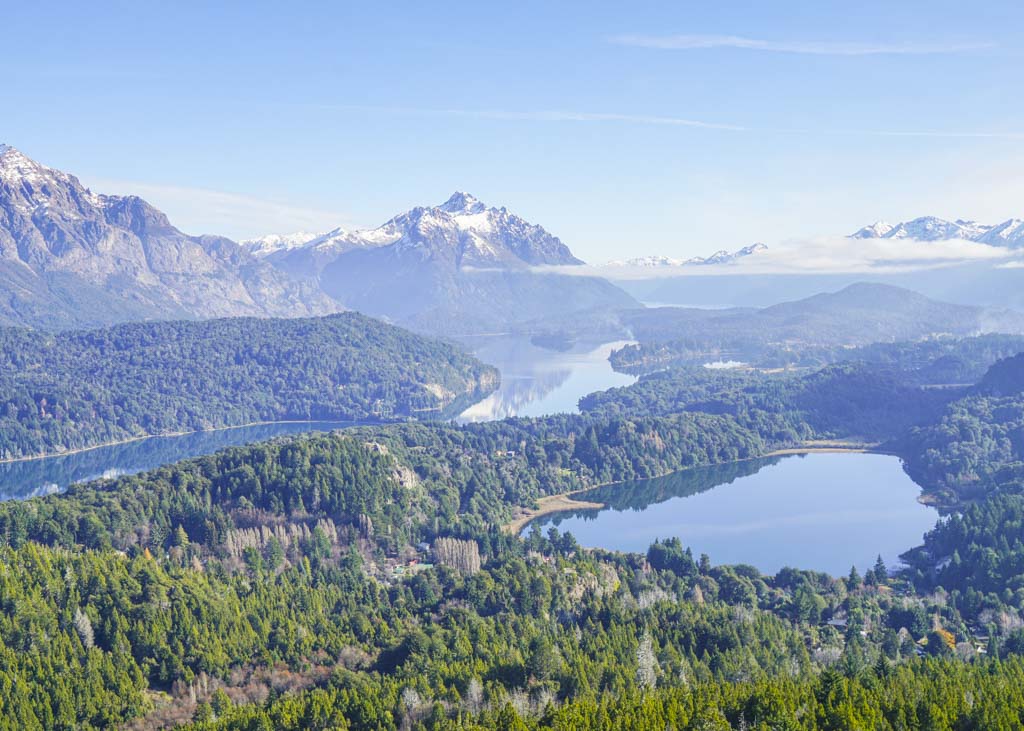 Chiado Restaurante & Casa de Te
Chiado Restaurant & Casa de Te is a cute cafe overlooking Nahuel Huapi Lake.
It's only a short walk from Cerro Campanario. Their sandwiches are delicious, but their homemade desserts steal the show.
This, combined with a few glasses of wine, is the best way to end the first day of your Bariloche itinerary.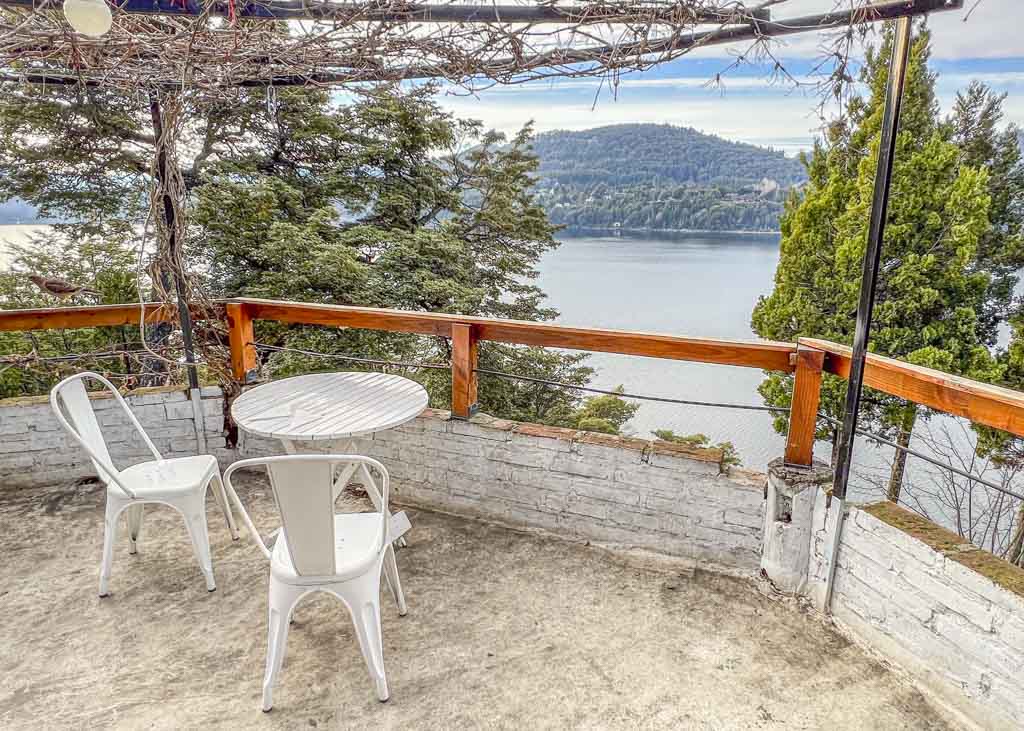 Bariloche itinerary: day 2
Your second day in Bariloche will be more relaxed than the first.
Indulge in the world-famous chocolate
Bariloche is the chocolate capital of Argentina.
It's famous for its high-quality, artisanal chocolates, and the streets are lined with chocolatiers selling everything from chocolate waffles, pancakes, ice cream, milkshakes, and more.
Check out Rapinui and Mamashuk, the two more impressive chocolatiers in Bariloche. Walking through the aisles of these chocolate shops is quite the experience.
Explore the town
Bariloche town is an attraction in itself. The streets are lined with alpine-styled buildings, and the Centro Civico (the town square) is incredibly picturesque.
This is where you'll find the tourist information center and people gathering for festivals.
If you're interested in the history of Bariloche and Germany's role, join this small group tour.
Wander the lakefront
The Bariloche lakefront is a great place to hang out. It overlooks Nahuel Huapi Lake and is calming and serene.
A beautiful walking path leads from the Bariloche sign (here) along the water's edge. It passes a skate park and other sites and leads to the next attraction on this itinerary for Bariloche.
Visit the Cathedral Our Lady of Nahuel Huapi
This catholic cathedral is one of Bariloche's most significant religious and architectural landmarks.
It's striking and hard to miss. You can enter the cathedral and explore the interior or admire the architecture from the outside.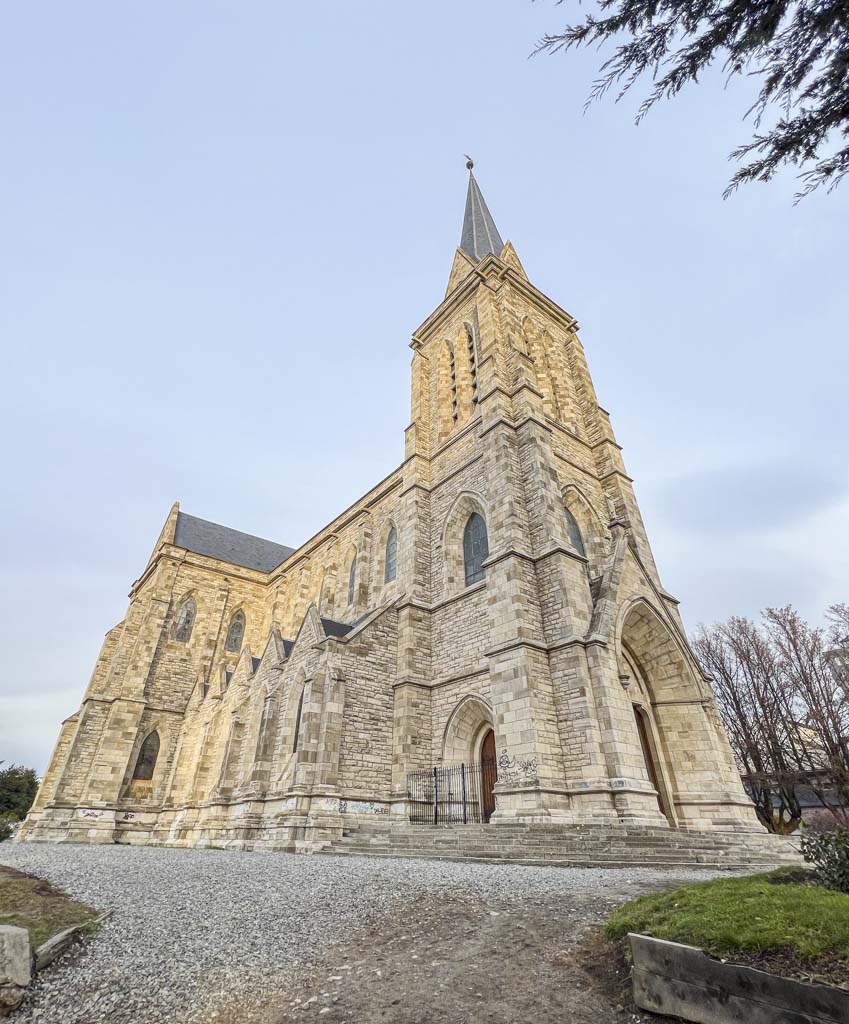 Extra: Go kayaking on Lake Moreno
If you're eager to fit in a few more activities, you can do a half-day kayaking tour at Lake Moreno. Check availability here.
Dinner at El Boliche de Alberto
Argentina is famous for its exceptional steaks, called Parrilla. And yes, they're worth the hype.
There are a few steakhouses in town, but my favorite is El Boliche de Alberto. They don't take reservations, so it's first come, first served.
We arrived 30 minutes before opening time, and there was already a queue.
But I would stand in that queue any day.
Bariloche itinerary: day 3
For the final day of your Bariloche itinerary, you have two options. You can either explore the iconic 7 Lakes route or do the popular full-day hike to Refugio Frey.
7 Lakes Drive
The 7 Lakes route is one of the most scenic drives in all of Patagonia.
It starts in a lake-side town just outside Bariloche called Villa la Angostura and goes north to San Martin de Los Andes. You'll pass seven stunning glacial lakes, dense forests, and picturesque mountain landscapes throughout the journey.
But with only 3 days in Bariloche, you'll be pressed for time and will need to squeeze this into one day, although 2 days is preferable.
This full-day tour from Bariloche stops at all the lakes. It's an excellent option for solo travelers or those on a budget. Find out more here.
Alternatively, you can rent a car. It's an easy route to follow.
Hike to Refugio Frey
I highly recommend the Refugio Frey trek if you'd rather spend your day hiking around Bariloche.
It starts at Cerro Cathedral, which is Argentina's largest ski resort. The trail ends at Refugio Frey, which sits in front of Laguna Toncek and is surrounded by craggy peaks.
The 22 km return hike takes 8 hours to complete. It's much more challenging than the other Llao Llao National Park hikes.
Other things to do in Bariloche
If you have more time on your Bariloche itinerary, here are a few more things to do.
Visit Cerro Catedral: It's one of the largest ski resorts in South America. If you're visiting in winter, you can go skiing or sledding. During the warmer months, it offers a spectacular viewpoint and beautiful scenery.
Go fly fishing: Bariloche is renowned for its exceptional fly fishing. Fly fishing is seasonal and can only be done between November and April. Find out more here.
Visit Colonia Suiza: This charming town has gained popularity over the years thanks to its traditional method of cooking meat and vegetables on hot rocks placed underground. This is called 'Curanto". They only do this on Wednesdays and Sundays.
Go on a lake tour to Parque Nacional de los Arrayanes or Puerto Blest. These tours depart from Puerto Pañuelo in front of the Llao Llao Resort and take you to the lesser visited areas of Lago Nahuel Haupi.
How many days do you need in Bariloche
You'll need at least 3 days in Bariloche, which will allow you to see the main attractions. If you prefer to travel slower, then it's best to spend a few more days here.
Is Bariloche worth visiting
Yes! Bariloche is absolutely beautiful. It's completely different to other areas of Patagonia. But you can't visit Bariloche and not El Chalten, which is one of the most incredible places in Patagonia. It's the hiking capital, and you can find out more about El Chaten here.
Like it? Pin it!
---
Planning your Bariloche itinerary and have any questions? Drop me a message in the comments section below.
Looking for more Argentina travel inspiration? Check out my other posts!