Like most people heading to the Blue Mountains National Park near Sydney, I came in search of the best hiking trails and lookout spots.
I weighed up everything before I decided which one to do – from the hiking distance to the views, difficulty levels to the terrains. And, of course, crowds – I wanted to avoid them like the plague!
Enter Porters Pass and Colliers Causeway circuit in Blackheath. This has to be one of the best hiking trails in the Blue Mountains!
Situated just a stone's throw away from Katoomba, the Porters Pass loop is a hidden gem in the Blue Mountains, perfectly suited for those adventure travelers.
This step-by-step guide walks you through the Porters Pass hike and includes some pretty awesome pictures that will easily convince you to add it to your Blue Mountains itinerary.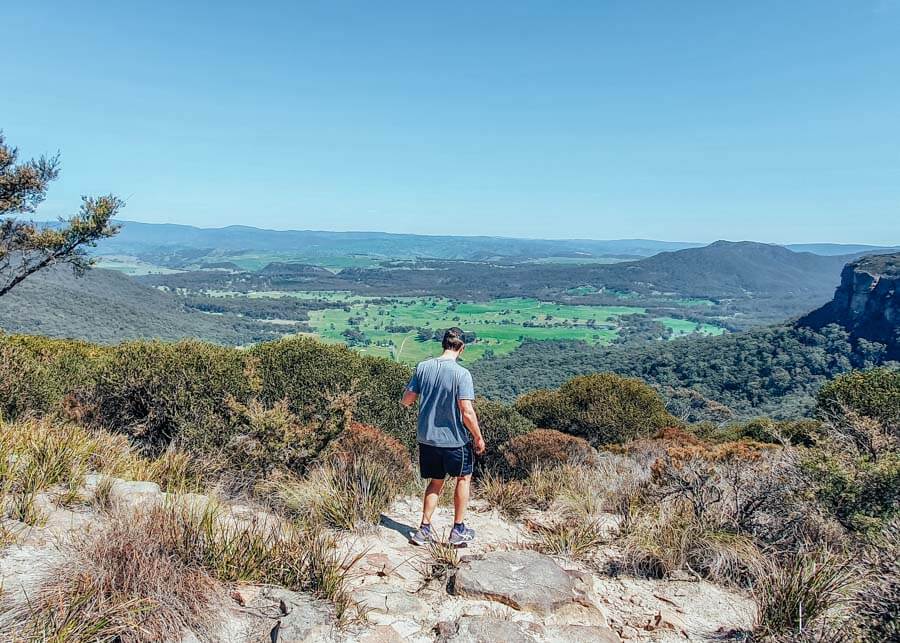 Porters Pass track overview
Distance: 4.2 km loop
Elevation gain: 249 m
Duration: 2.5 – 3.5 hours
Difficulty level: Moderate
Starting Point: Corner of Dundarra Street and Everligh Avenue in Blackheath (here)
Porters Pass Blackheath
The Porters Pass hiking trail is everything you could want from a hike!
It starts with incredible lookout points of lush green fields and then moves on to a more rugged track hugging the cliff face. It's hot and exposed in some areas, and lush and green in others.
You'll pass cascading waterfalls, hidden canyons, beautiful rainforests, and overhanging boulders, which make for some pretty epic rock-climbing walls.
The highlights of hiking the Porters Pass and Colliers Causeway trail include Fort Rock, Lamberts Lookout, and Centennial Grove Grotto "Canyon."
Porters Pass circuit route
If this is your first time hiking in the Blue Mountains, you'll soon realize that each trail has many diversions offering different hiking routes, all with spectacular lookout points. Although the trails are well-marked, it's easy to get lost or to take the wrong path.
Porters Pass, also known as the Porters Pass and Colliers Causeway trail, is a loop hike that's best done in reverse. That's why you'll find the starting point of my guide is different from those of others.
I didn't have clear instructions on the exact route to follow, except for a few guidelines from a local – Don't take "Centennial Pass".
And it's best you remember this, too (but this is only applicable to the first half of your hike.)
Porters Pass , Blue Mountains: Starting point
There are several starting points to the Porters Pass hike in Blackheath, but it's best to take took the entry on the corner of Dundarra Street and Everligh Avenue (here).
There's free street parking here, and it's only 650 m from the Blackheath Train Station if you're coming via public transport.
The hike starts on a rocky downhill path before reaching a section where you cross a flowing stream and continue on the exposed trail.
Fort Rock Lookout Point
From there, you'll reach a fork in the road. Remember when I said "Don't take Centennial" – keep that in mind for this part of the trail.
You need to take the Fort Rock route.
Note: You can take the Centennial Glen Route via Porters Pass, but this is the route you'll return on if you follow my guide.
This first part of the hike offers some spectacular vistas, the best of which is from the Fort Rock viewpoint. From there, it's downhill for quite a while before you make your way to Lamberts Lookout.
Lamberts Lookout and Porters Pass
To get to Lamberts Lookout, you'll go slightly off track – but it's so worth the detour as the views are stunning. Keep an eye out for the rock climbers on the cliff to the right of the lookout point.
After a short break, make your way back to the trail, where you'll continue to Porters Pass.
This is the exciting part of the trek, where you'll be walking through the forest, passing several waterfalls. The track can be muddy and slippery as well, so take it slowly.
Colliers Causeway
This reverse route saves the best for last!
From Porters Pass, you'll enter Colliers Causeway and follow a rugged trail that hugs the mountain.
To your left, you'll be alongside towering cliffs, and to your right is a steep drop!
The trail is rocky and uneven in some areas and slippery and wet in others, so be careful.
If you're walking with children, this may be the toughest section for them. But it's totally doable for kids – we saw 6-year-olds on the route who were totally up for the challenge.
Centennial Glen and centennial grove grotto "canyon"
After 2 hours of hiking, you'll have one last uphill push. We were told they were the stairs of death – it's probably the reason for my aching body the next day.
The stairs (of death) pass a waterfall which ends at one of the most beautiful canyons I've ever seen. I nearly missed it, but when you see the sign "Canyon," you go to the canyon!
To get there, you'll need to crawl on your haunches, but it's worth it. You can brave the water and go for a swim, but it was absolutely freezing when we went!
Centennial Glen
After some chill time at the canyon, you'll be on to the home straight!
Take the Centennial Glen track, which leads back to Bundarra Street, your starting point.
Just a few more stairs followed by a waterfall or two, and you'll be at the crossway between Fort Rock and Centennial Glen, back where you started!
Take a right and enjoy the last part to the entrance.
Tips for hiking Porters Pass, Blue Mountains
Bring 1 liter of water per person and pack in a few snacks.
Wear trainers. The trail is not made for thongs or sandals, and you can really hurt yourself if you don't wear proper shoes.
Be sure to use sun cream. About half of the route is exposed, and you will get burnt.
You're in nature, so be prepared to see all kinds of creatures. We saw a poisonous snake, and a huge swarm of bees as well as wasps and a monitor lizard.
Download the "All Trails" app. This takes you on a slightly different route, but it's good to have in case you get lost.
Where to stay near Porters Pass, Blackheath
The Blue Mountains is home to 3 main towns which travelers use as a base for their trip.
Katoomba is the most popular place to stay offering a wide selection of accommodation options and restaurant choices. The other two towns include Leura, famous for Lincoln's Lookout, and Blackheath, which is the starting point of the Porters Pass hike.
All three towns are just a short driving distance from one another, and they're all connected via the train if you're using public transport.
If it's your first time in the Blue Mountains, opt to stay in Katoomba.
Budget travelers and backpackers will love Flying Fox. This is one of the best places I've ever stayed at, and the vibe is awesome! There is a range of well-sized private and shared rooms on offer, and the owner, Ross, is an absolute legend! He arranges BBQ nights for guests and is super helpful in giving insider tips on things to do in the Blue Mountains. The price also includes breakfast. Find the best price here.
If it's views and a secluded setting you're after, Echoes Hotel is a charming boutique hotel set in a beautiful location near the Three Sisters. The cozy rooms are kitted with everything you need and there's even an onsite restaurant and spa – the perfect recipe for a relaxing weekend away! Find the best prices here.
Other things to do in the Blue Mountains
Hiking is just one of the many activities you can do in the Blue Mountains!
Here are other options for those adrenalin junkies looking for fun things to do with draw-dropping views.
Go Caving at the Jenolan Caves. This is one of the largest and most spectacular cave formations in Australia and is easily accessible from Blackheath. There are various cave tours to choose from, all of which offer incredible sights. Here's a great tour from Sydney.
Full-day canyoning experience where you'll spend the day abseiling down small cliffs and challenging drops. The tour also includes abseiling out of a canyon into a rock pool and swimming in creeks and beneath waterfalls. Find the best Canyoning tours here.
2 Day rock climbing course. The Blue Mountains is one of the best places to go rock climbing near Sydney. With draw dropping views, it's no wonder why it's such a popular activity here. This 2 day course is the perfect introduction to rock climbing which will also take you through standard technical and rope climbing training. Check out the rock climbing itinerary here.
4WD Adventure to secret spots only accessible with an off-road vehicle. You'll cross rivers and discover parts of the Blue Mountain that very few people get to experience – and you may even see a wallaby or two. Compare prices here.
Porters Pass hike
Of all the things I did in the Blue Mountains, Porters Pass was certainly the most memorable. If you're looking for an off-the-beaten-track route, then don't miss Porters Pass and Colliers Causeway!
Torn Tackies contains affiliate links. If you make a purchase using one of these links, I may receive compensation at no extra cost to you. See my disclosure for more information.
---
Looking for more Australia travel guides?
Pin This!