There are so many epic things to do on Fraser Island, making it a bucket list destination for any adventure traveler.
At 122 km long, it's the world's largest sand island and forms an important part of Australia's natural and cultural heritage.
Located off the east coast of Australia, Fraser is home to stunning lakes, massive sand dunes, and spectacular scenery.
After spending 5 days on Fraser (K'gari), I created this epic itinerary that includes what to do on Fraser Island, insider tips, how to get there, and more!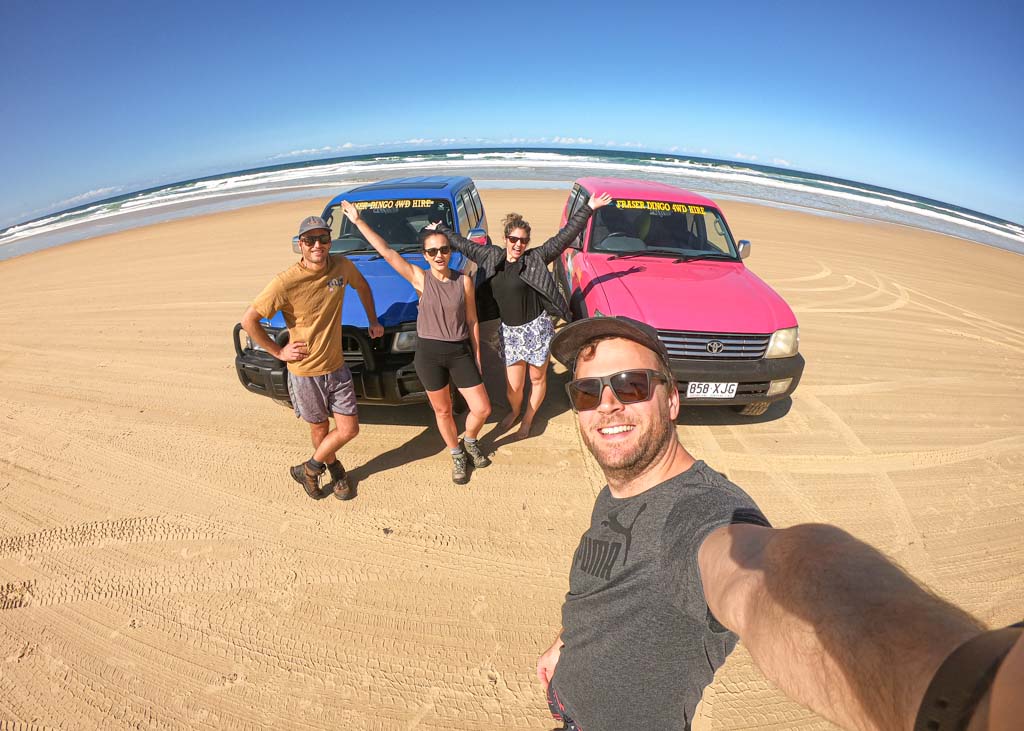 About Fraser Island
Fraser Island was recently returned to the traditional owners, The Butchulla people, who lived here for 50,000 years before being removed and sent to the mainland.
Their traditional name for Fraser Island is K'gari, which means paradise. This is now the official name for the iconic island.
There are two entry points to Fraser Island from mainland Australia – Hervey Bay on the west of Fraser and Rainbow Beach on the south.
If you're flying into Hervey Bay, it's best to start your Fraser Island itinerary here. Hervey Bay is also home to many Fraser Island tours and 4WD rental companies, so it's a convenient hub.
Best things to do on Fraser Island Itinerary
With so many things to do on Fraser Island, it will be difficult to squeeze them all in with only a few days.
1. Take a dip in Champagne Pools
Champagne Pools is one of the most iconic Fraser Island attractions. Located on the northeast of the island, it's a stone's throw away from Indian Head.
This natural rock formation is the perfect place to cool down. As the tide rises, the crashing waves fill up the pools, making the water bubbly. Hence the name Champagne Pools!
As you're walking down to the pools, you'll have a good vantage point for whale watching. You may even see a few sharks, turtles, and mantas.
Champagne Pools is the only place on Fraser Island where you can safely swim in seawater.
Yep, you read that right! Swimming is not allowed on any of the beaches due to the strong currents and sharks.
2. Camp in the rainforest at Central Station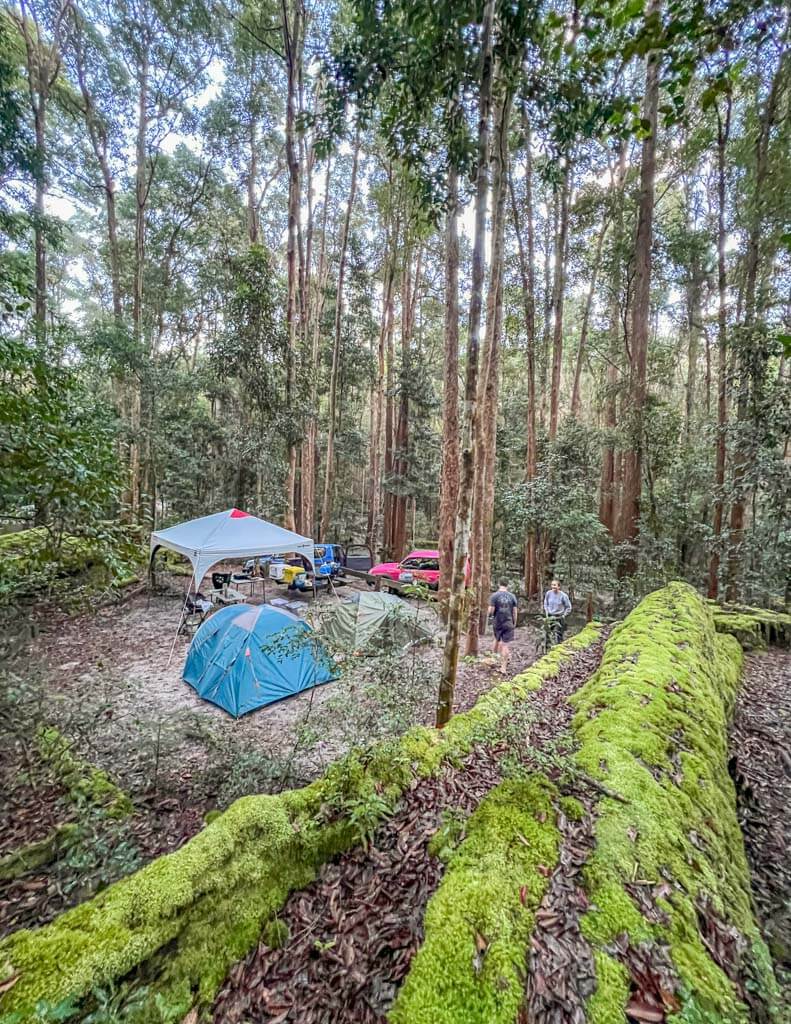 Central Station was originally set up as a forestry camp when logging was permitted on Fraser.
It lies in the heart of the island, and the drive to get here is absolutely spectacular.
Before experiencing Central Station, I thought Fraser was all about beach driving and ocean sights. Little did I know just how diverse the island is!
3. Visit Lake Mackenzie
Lake Mackenzie, also known as Boorangoora, is one of the most beautiful natural attractions on Fraser Island. This is thanks to its soft powder sand and crystal-clear waters.
It's a freshwater lake, meaning it's made up of only rainwater. It's not fed by streams and doesn't have a link to the ocean. The sand and organic matter at the bottom of the lake form an impressive layer that prevents the rainwater from draining away.
Lake Mackenzie is conveniently nestled in the middle of the island, close to Central Station, and should be on every Fraser Island bucket list.
It's a scenic drive through the forest and a 5-minute walk from the car park to the lake.
You're not allowed to eat or drink at Lake Mackenzie, so if you were hoping for a lake-side picnic, think again. There is a designated picnic area, but this is closer to the car park.
4. Hike to Lake Wabby
Lake Wabby is the deepest dune lake on Fraser Island. With sand dunes on one side and trees on the other, it's a gorgeous place to explore.
The lake has a striking green color and is safe to swim in.
It's a 40-minute walk from the car park to Lake Wabby, which is mainly through a forest. It ends with a 5-minute downhill trek to the base of the dune. It's relatively easy, but you'll need to walk up the sand dune when you return.
While Champagne Pools and Lake Mackenzie attract tourists in their numbers, Lake Wabby is a quieter alternative. This is because it's not included in day tour itineraries. You may even have the entire lake to yourself, as we did.
5. Drive 75-Mile Beach
75 Mile Beach is a long stretch of beach on the east coast of Fraser Island. It's the landing strip for light aircraft and is regarded as the national highway.
This means normal road rules apply, including driving on the left, strict speed limits, and no drink driving.
And yes, there are police who monitor this!
With the roaring ocean next to you, you'll pass many of the best things to do on Fraser Island, including Maheno Shipwreck and Eli Creek.
It's easy to get caught up in the moment with all the excitement of driving on Fraser Island. But be aware of the tides!
They creep up quickly, and you can have trouble reaching your final destination. Remember to check the tide charts daily and only drive on low tides.
6. Explore SS Maheno Shipwreck
The S.S. Maheno is a famous wreck found on 75 Mile Beach.
Named after the Maori word for "Island", S.S. Maheno started her life as a hospital ship during World War I. She was later used as a luxury passenger liner that traveled between Australia and New Zealand.
In 1935, the S.S. Maheno was bound for a Japanese wrecking yard but was washed ashore by a cyclone. Fortunately, all 8 passengers survived.
The S.S. Maheno shipwreck is hard to miss, and you only need 10 minutes to wander around.
7. Walk the Wun'gul Sandblow: My top thing to do on Fraser Island
Time needed: 2.5 hours for the circuit. 30 minutes for only viewpoint.
The Wan'gul Sandblow circuit was one of my favorite things to do on Fraser Island.
Why? Because it was so untouched!
The walk to the Wan'gul Sandblow starts from the Dundubara campground. There are two options you can take to experience it. Either the circuit trail or the shorter return track to the viewpoint.
I highly recommend the circuit track!
It begins with a scenic walk through the forest, about 30 minutes before you reach the top of the Wan'gul Sandblow. The views here are spectacular, and whale sightings are coming during the migration season!
The best part of doing the circuit track (vs the viewpoint only) is that you enter the sand dunes from the highest point. This is often untouched with no traces of tourists. The dunes flow, and it's a glorious sight.
You'll then walk for about 30 minutes to the base of the sandblow. This bottom section is where you connect with the shorter viewpoint walk. It isn't nearly as impressive as the top.
So, even if you opt for the viewpoint walk only, I still recommend walking up the dunes to get a better vantage point.
8. Chill at Eli Creek
Eli Creek is a popular Fraser Island activity that's located close to S.S. Maheno Shipwreck. The sparkling clear water is filtered by the sand, and the creek has become Insta famous with floaties.
Every hour, about 4 million liters of fresh water is pumped from Eli Creek into the ocean. That's a lot of water!
If I'm being honest, Eli Creek isn't quite as impressive as I was expecting it to be. But it's still definitely worth including on your Fraser Island Itinerary.
Walk up the boardwalk to the start of the creek and wade back through the water before heading to the next destination.
If you see tour buses pull up, rather enjoy the beach and wait 10-15 minutes for them to leave.
9. See turtles at Lake Allom
Time needed: 2.5 hours (including drive time)
Lake Allom is the best place on Fraser Island to see freshwater turtles. The lake is a 5-minute walk from the car park and boasts a viewing deck for turtle sightings.
When we arrived, we immediately saw turtles swimming around and peeking their heads above the water. You can see them clearer with polarized sunglasses.
Lake Allom is a 45-minute drive inland from 75 Mile Beach, so you need to take that into account.
But it's a thrilling 4WD drive following challenging tracks.
While there, I overheard someone say, "We drove all the way here for this?" – and I agree. Lake Allom isn't necessarily the most exciting attraction on Fraser Island, but half the reason to visit is the drive leading to it.
So, if you're enjoying the beach driving and looking for something a bit more exhilarating, then you should add this to your Fraser Island travel route.
10. Rent a 4WD
Fraser Island is 4WD territory!
You'll be driving through sandy tracks, crossing slow-moving creeks, dropping down massive potholes, and doing everything possible not to get "bogged" – which is Australian slang for getting stuck.
Renting or driving your own 4WD is the best way to visit all the Fraser Island attractions.
No prior off-road driving experience is required, and you can rent a 4WD from one of the many shops in Hervey Bay. The only requirement for 4WD rentals is that you're over 21 years.
If you don't feel comfortable driving on Fraser, you can do one of these tours. It's a busy day one-day tour, so if you the time, I recommend this 2 day Fraser Island tour instead.
11. Camp on the beach
Every Fraser Island trip should include at least one beach camping site.
These unfenced areas are hidden behind the sand dunes and offer the most incredible camping experience.
Bookings for all campsites are required, and rangers check up on this. But when you get there, it works on a first-come, first-serve basis. You can pretty much camp anywhere between your designated camping area signs.
But beach camping is not the most glamorous experience. You won't find toilets, showers, or washing facilities (and you'll need to keep an eye out for dingoes).
But it's worth it and was the highlight of my Fraser Island trip!
12. Check out The Pinnacles
The Pinnacles is a small section of colorful sandy cliffs on 75 Mile Beach. This unique geological formation is easily recognizable by its shades of orange, yellow, red, and brown.
They are a significant sight in the Aboriginal culture. While the Butchulla people have their stories of how The Pinnacles were formed, the scientific theory is that it is a result of thousands of years of wind, rain, and waves crashing against the cliff.
This attraction is situated a few minutes north of the Maheno Shipwreck and is an easy addition to your Fraser Island itinerary. You don't need to spend much time here, as it's not the most exciting thing to see on Fraser Island.
13. Take in the views from Indian Head
Indian Head is a coastal headland located northeast of Fraser Island.
It's one of the best places for wildlife spotting – you can often see massive schools of fish, turtles, and mantas.
If you're visiting Fraser Island between June and September, keep an eye out for the pods of whales as they make their annual migration.
14. Enjoy a campfire at Dundubara campsite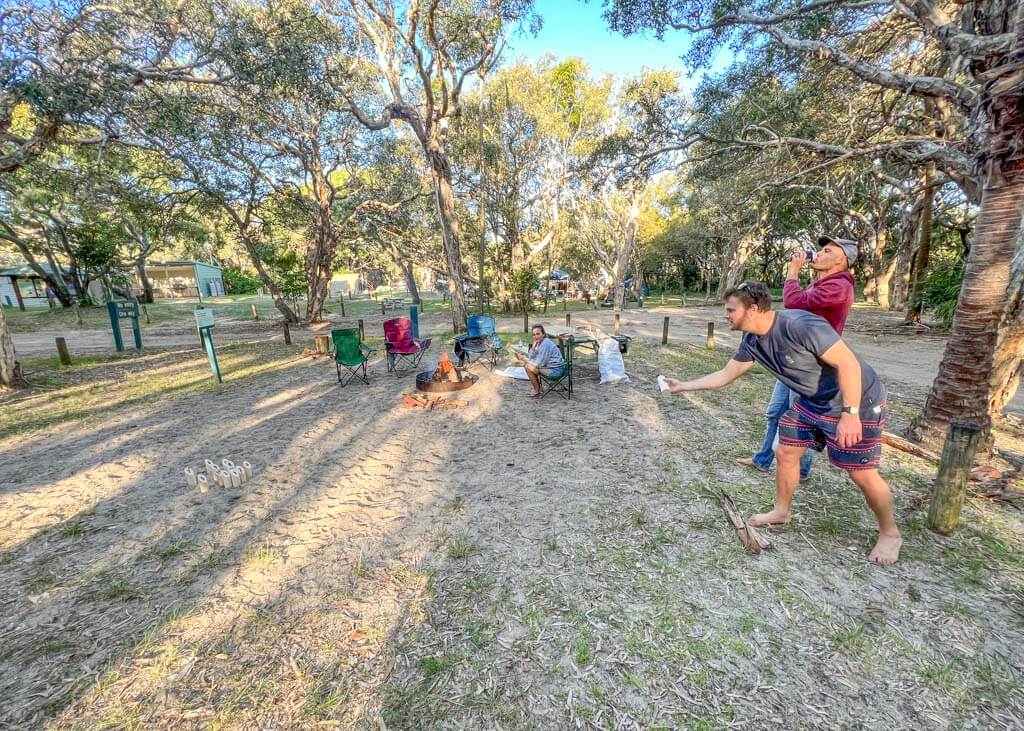 Dundubara and Waddy Point campsites are the only places on Fraser Island where you're allowed to have open fires. Nowhere else.
This is to prevent wildfires and stop the environmental impact of collecting wood.
But there are a few things to consider if you're planning on camping and having a fire at Dundubara campsite.
You can only make a fire in the designated fire rings. These are communal fire pits and not on individual campsites.
The wood you use must be milled timber and not bush wood. It's best to buy this in Hervey Bay. We managed to find some wood at Cathedrals on Fraser, but we got lucky as we purchased the last 2 bags ($20 per bag).
I have my own firepit, which I was hoping to use – but this is also not allowed.
Luckily, there was an open fire ring near our site that no one had taken. We brought our snacks, drinks, and games and had it all to ourselves the entire night.
Dundubara Campground is a fenced-off site and has excellent facilities, including hot showers.
15. Spot a dingo
Due to its remoteness, Fraser Island is home to the purest breeds of dingoes. And while they may seem harmless at first, they are unpredictable.
Dingoes roam around in packs, often in search of food. There have been numerous reports of threatening encounters with dingoes, so it's best to keep your distance.
Be alert and aware. If you're traveling with children, keep them close.
Don't feed the dingoes, and it's best to carry a stick around if they approach you. But also remember that this island is their home.
We only saw 2 dingoes during our 5 days on Fraser Island. Apparently, their numbers are sadly dwindling.
Some campsites, like Central Station and Dundubara, are fenced off, so you don't need to worry about dingoes. But if you're camping on the beach or walking to the attractions, keep an eye out for them.
16. Do a bush walk: Wanggoolba Creek Board Walk
Ancient king ferns. Crystal-clear waterways. Exciting birdlife. The Wangoolba Creek Boardwalk is a must-do on Fraser Island.
It's a quick walking trail that starts at Central Station Day Use area and winds through the lush forest surrounding Wanggoolba Creek.
17. Fish for Tailor
One of the reasons people keep coming back to Fraser Island is because of the fishing.
Whiting and bream are popular catches in the warmer months, while the winter season is great for catching tailors. There are rules about fishing in certain areas, such as Indian Head, so do a bit of research before you plan your trip around fishing
After setting up camp at Eli Campground, we took a walk along the beach and got chatting with a few people who had been coming to Fraser for years.
They were kind enough to give us a fish they had caught earlier that day and we feasted on a delicious seafood BBQ for dinner!
Fraser Island self-drive itinerary
Now that you know all the best things to do on Fraser Island, let's see how you can fit them into a perfect itinerary.
This is based on a self-drive trip, which is 100% the way to go!
Anxious about off-road driving? Don't fear.
Your rental company will give you a thorough briefing on how to drive a 4WD and the dodgy parts of the island to avoid. We booked our 4wd through Fraser Dingo Tours in Hervey Bay and would recommend them to anyone looking to hire a car.
There is also the option to join a tag-along tour. This means you'll travel in a group with a lead driver and get the chance to drive.
These companies that organize tag-along tours will put your itinerary together and provide all the food. It's a much easier and hassle-free way to explore Fraser Island if you're a solo traveler or nervous about 4WDing.
Day 1 Fraser Island itinerary
Campsite for day 1: Central Station
Depending on whether you're renting a vehicle, using your own, or joining a tag-along tour, you may need to account for a 90-minute briefing session on day one of your Fraser Island itinerary.
You'll need to do all your shopping before this briefing, so I recommend booking the 1 pm ferry from Hervey Bay (River Heads) to Kingfisher Bay (Fraser Island).
8am – 10am: Shopping
While there are small convenience stores on the island (Eurong, Happy Valley, and Cathedrals), the prices are higher, and it's best to buy everything before arriving on Fraser.
Make sure you stock up on bottled water, snacks, and beers!
10:30am – 12pm: 4WD Briefing
You will be taken through all the safety tips and rules for driving on Fraser Island.
12:30am- 2pm: Ferry (1 pm departure)
Try to get to the ferry 30 minutes before the scheduled departure time.
If you've pre-booked your return trip, double-check your times, especially for your return ferry. You can do this at the ticket office at River Heads.
Yes, this happens! Our return ferry time was different from what we had scheduled. Luckily, we picked it up.
All that is left for you to do is drive onto the ferry and enjoy the 50-minute ride to Kingfisher Bay.
2pm – 3:30pm: Drive to Central Station and Wanggoolba Creek Boardwalk
Immediately after arriving at Kingfisher Bay, you should let the air out your tires – we reduced ours to 25 psi.
Then you're off to Central Station, your camping ground for the night.
The drive is absolutely gorgeous, and it's a great introduction to your Fraser Island 4WD adventure.
Before getting set up at Central Station, stop at the day-use area and do the 20-minute Wanggoolba Creek walk.
Central Station is my favorite campsite on Fraser. It's fenced off from dingoes, and each site is surrounded by trees, offering privacy from other campers.
There are hot showers and toilets as well as washing-up facilities.
Day 2 Fraser Island Itinerary
Campsite for day 2: Dundubara
9am – 10am: Drive to Eurong Beach
After breakfast, pack up your site and head east to Eurong.
This is one of the biggest towns on Fraser Island and is home to a few resorts, a (very expensive) fuel station, and a delicious bakery.
Make sure you stop here – I was seriously impressed with how good the coffee and croissants were, given the location!
10am – 1:30pm: Drive 75 Mile Beach to Eli Creek, Maheno Shipwreck, and Lake Allom
Eurong is the gateway to 75 Mile Beach. This will be your first taste of beach driving!
After 20 minutes on the sand, you'll reach Eli Creek. From there, you'll continue north to S.S Maheno and Lake Allom.
1:30pm – 2:30pm: Lunch on the beach and The Pinnacles
After returning to 75 Mile Beach from Lake Allom, continue driving in a northerly direction to The Pinnacles.
This is also a good time for a lunch break on the beach.
2:30pm – 3:00pm: Drive to Dundubara Campground
It's time to get back to camp before the tide comes in!
Shortly after leaving The Pinnacles, you'll come across Cathedrals on Fraser. Here, you'll find a shop where you can top up on ice, snacks, and firewood before heading to Dundubara campsite.
READ MORE: COMPREHENSIVE GUIDE TO SCUBA DIVING AT JULIAN ROCKS IN BYRON BAY
Day 3 Fraser Island Itinerary
Campsite for day 3: Eli Campground
7:30am – 10am: Walk the Wun'gul Sand Blow Circuit
If you're rushed for time, you could do the viewpoint walk only.
9:30am – 10:30am: Pack up camp and have breakfast
10:30am – 1:30pm: Indian head and Champagne Pools
The drive from Dundubara Campsite to Champagne Pools takes 30 minutes, so consider that when looking at the tides.
Your first stop will be Indian Heads. Here, you'll notice a small sandy section that you need to pass through – it's pretty dodgy, and we saw a few cars get stuck. Some rental companies don't even let you go past here.
You have 2 options.
If you're feeling confident, you can drive this section yourself from Indian Heads onto the beach leading to Champagne Pools – this is what we did. Or you can park your 4wd at Indian Heads and walk from there to Champagne Pools. This is a 40-minute walk (one way).
1:30pm – 2:15pm: Drive to your beach campsite
After visiting Champagne Pools, it's time to go back down 75 Mile Beach to your beach camping site.
We camped at Eli Beach Campsite, a 45-minute drive from Champagne Pools.
2:30pm: Set up camp and walk the beach
Remember to keep all your food securely stored as the beach sites aren't fenced, and dingoes will be around your campsite.
After setting up camp, grab a few beers and walk along the beach to watch the fishermen (or go fishing).
Day 4 Fraser Island Itinerary
Campsite for day 4: Central Station
9:30am – 11:30am: Lake Wabby
Today is your last day of beach driving on Fraser Island.
I recommend having a slow start to the day. Enjoy your morning coffee while watching the waves crashing and whale watching. And then head south to Lake Wabby.
11:30am – 1pm: Lake Wabby – Eurong – Lake Mackenzie
After having a dip at Lake Wabby, take your last snaps on 75 Mile Beach, stop at Eurong for a coffee, and continue inland to Lake Mckenzie.
1pm – 2pm: Visit Lake Mackenzie
You can either have lunch on the beach near Lake Wabby or in the picnic area at Lake Mackenzie.
2pm – 3pm: Lake Mackenzie to Central Station
Lake Mackenzie is the last attraction on this Fraser Island itinerary. From there, you'll head back to Central Station for the night before taking the morning ferry back to the mainland.
There is a 5 pm ferry, so you could take that on day 4 (today) after your visit to Lake Mackenzie.
But keep in mind you'll only get back to Hervey Bay after 6 pm. This means you'll most likely need to spend the night in Hervey Bay.
Sooooo…. Why spend the night in Hervey Bay when you can spend an extra night on Fraser? You can then take either the 7:50 am or 10 am ferry the next morning, which is what we did.
Day 5 Fraser Island itinerary
Your fifth day in Fraser Island is a half day as there are no activities planned for today.
You'll need to get from Central Station to Kingfisher Bay. Allow for 75 minutes for this.
We left on the 10 am ferry, and this timing was perfect for us. We had returned the rental by 12 pm and spent the rest of the afternoon driving to our next destination.
How long to spend on Fraser Island
There are so many things to do on Fraser Island, and 1 or 2 days isn't enough.
I recommend at least 3 days. If you have the time, 4 days on Fraser is ideal. This will allow you to see most of the attractions.
Fraser Island Ferry
The ferry terminal near Hervey Bay is located 15 minutes from town, at River Heads. This is the Kingfisher Bay Ferry, which arrives at Kingfisher Bay Resort on the west coast of Fraser Island.
It's a 50-minute crossing from River Heads to Kingfisher Bay Resort.
Ferry departure times
From River Heads (Hervey Bay) to King Fisher Bay Resort: Daily at 6:45am, 9:00am, 1:00pm, 3:30pm
Ferry return times
King Fisher Bay Resort to River Heads (Hervey Bay): Daily 7:50am, 10:30am, 2:30pm, 5:00pm
The return price for this ferry is:
Vehicles: Off-peak is $205 per vehicle and peak is $230 per vehicle (return). This cost covers the driver, and you'll need to pay an additional $7 for additional passengers.
Walk-on passengers: $65 for adults and $35 for children (return)
What is the best time to visit Fraser Island
Fraser Island can be visited all year round, but I recommend going in Spring (August/September to November) or Autumn (March to May). The temperatures are cool and offer perfect conditions for hiking and exploring.
Try to avoid Fraser during the school holidays, as it can get very busy! Also, keep in mind that the summer months, from December to February, can get extremely hot, so this might affect your experience, especially if you're camping.
I visited Fraser Island in August, and if possible, I advise you to do the same. The days were sunny and warm, while the nights were pretty chilly. We saw so many whales, and the island wasn't as busy as I expected.
Fraser Island Tides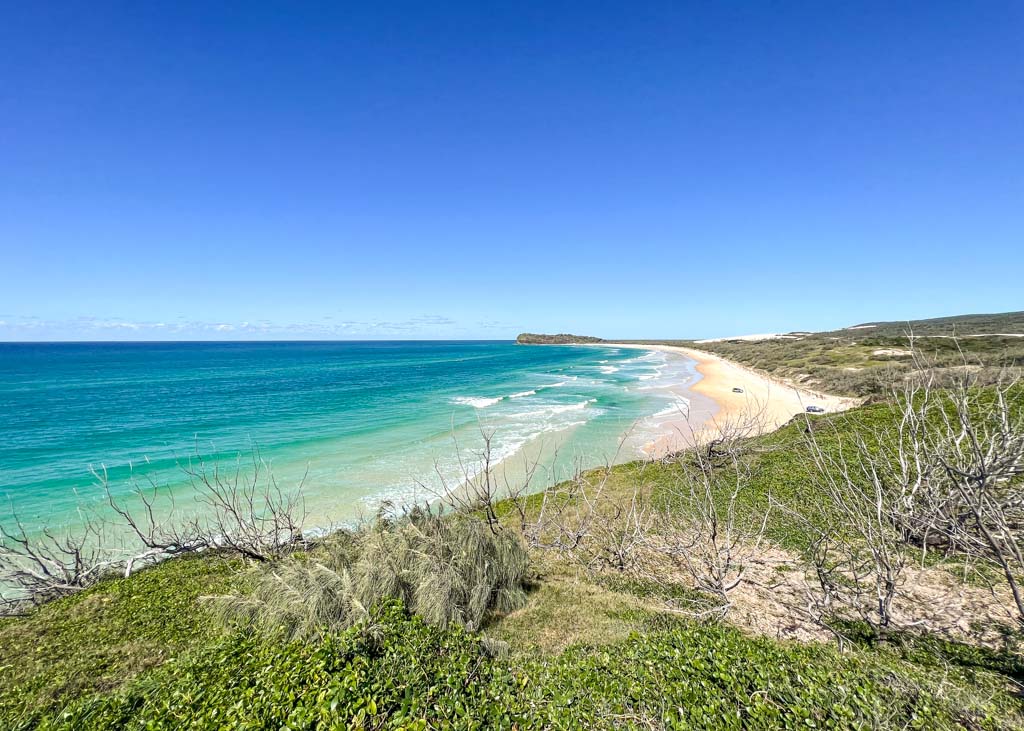 There's one thing that will affect your Fraser Island itinerary – the tides.
As a rule, it's best to be off the beach for 2 hours on either side of high tide.
Don't underestimate just how quickly they come in. This often leaves travelers stuck or bogged.
But what's the worst that can happen? You could get bogged which may result in your entire vehicle getting submerged! It happens so be careful.
This is another reason why Fraser is not one of those destinations you can visit with little planning. You need to know where you're going and how the tides will affect your plans.
Where to stay on Fraser Island
There's no better way to explore Fraser than by camping on the island.
But some people may not be campers – and that's ok. Here are a few Fraser Island accommodation options:
Kingfisher Bay Resort: Located on the west of the island, Kingfisher Bay resort offers self-contained villas with sprawling views of the surroundings. It's one of the most popular places to stay on Fraser Island.
K'gari Beach Resort: If you're wanting to stay closer to 75 Mile Beach, K'gari Beach Resort is a great option. It's located in Eurong – you can't miss it! You'll be a stone's throw away from the beach and it's a great base for all your Fraser Island activities.
Fraser Island Beach Houses: If you're not the resort type (I sure am not), then you'll love Fraser Island Beach House in Eurong. The property boasts a collection of houses with up to 3 rooms, perfect for families or groups of friends.
Fraser Island Retreat: Fraser Island Retreat is situated in Happy Valley, a small village between Eurong and Indian Head. They offer one and two-bedroom bungalows as well as a swimming pool and restaurant.
Tips for planning your Fraser Island itinerary
Bring $2 coins for hot showers at the campgrounds
If you're traveling in separate cars with friends, buy walkie talkies
Fires are illegal on Fraser Island. (Except Dundubara and Waddy Point campsites)
If you're renting a 4WD, there are often restrictions about where you can go. Most companies won't allow you to go further than Champagne Pools on the north and you also can't access the west of the island.
Is Fraser Island worth visiting?
Yes! I enjoyed every second on Fraser Island.
Planning a trip to Fraser Island also gives travelers a glimpse of true Australian culture – camping and epic 4wd adventures!
And if there's one thing you take away from this Fraser Island itinerary, it's that there is so much more to Fraser than the Instagrammable sights and attractions.
And if I'm being honest, not one stood out to me as Wow!
My highlights?
The entire 4wd experience, the connections with people I met along the way, walking on the beach at sunset, and the thrill of driving on soft sand for the first time.
So don't be in too much of a rush to get places. Take it slow and enjoy the ride!
Torn Tackies contains affiliate links. If you make a purchase using one of these links, I may receive compensation at no extra cost to you. See my disclosure for more information.
---
Are you looking for the best things to do on Fraser Island? Do you have any questions about your trip? Drop me a message in the comments section below.
Looking for more Australia travel inspiration? Check out my other posts!