I seriously underestimated the Everest Base Camp trek difficulty. After all, it's a hike to the base of Mount Everest, not the summit.
This is just one of the reasons why I didn't think it would be SO hard.
Another is that I'd previously summited Mount Kilimanjaro, the highest point in Africa. Everest Base Camp sits at 5 360m, which is lower than Kilimanjaro at 5 895m – so it couldn't be more difficult, right?
Wrong!
Trekking to Everest Base Camp is tough and will push you to your limits. But it is an achievable goal for anyone.
You don't need to be an Olympic athlete or a high-altitude mountaineer but you need to be prepared for what's in store for you during your time in the mountains.
So, for everyone asking how difficult is the Everest Base Camp trek, this post has got you covered and will answer all your questions regarding training, altitude sickness, and what you can do to make your trek easier.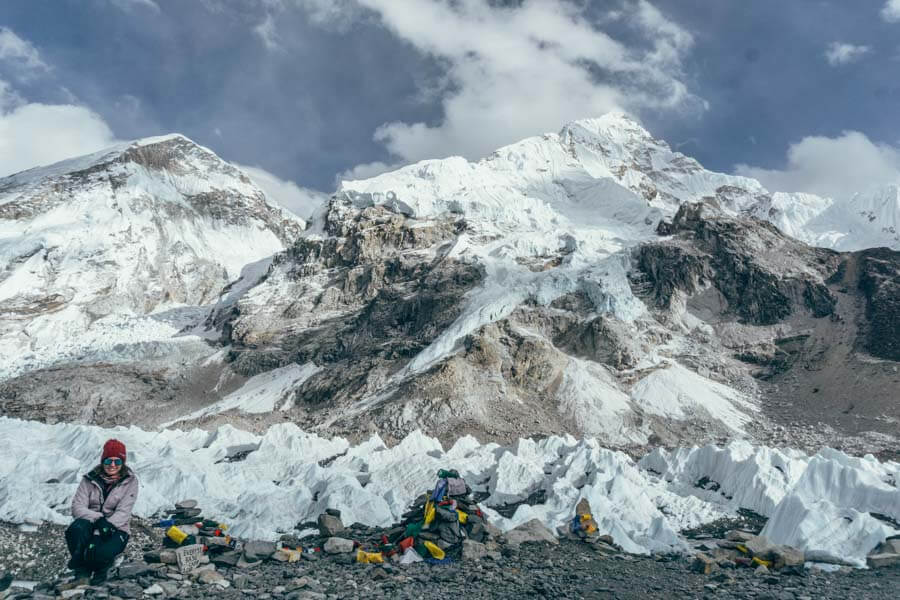 11 Things About EBC Trek Difficulty
1. Training
Instead of just signing up for the standard Everest Base Camp trek, I stupidly decided to pair EBC with the higher, and more technical Island Peak climb.
Another not so clever decision I made – backpacking for 4 months before arriving in Nepal.
It all worked out so perfectly: I'd finish teaching in Korea, then spend some time in China, Indonesia, and Sri Lanka. By the time my backpacking shenanigans were over, it would be November which, coincidentally, is the best time to trek to Everest Base Camp.
The timing couldn't have been more perfect! But this also meant that I'd be spending all my time on the beach, and not the gym.
Having now been there, and done that, I can honestly say that one of the main factors that made my Everest Base Camp trek difficult is not doing enough training.
But, I still made it to the finish line and sumitted Island Peak a few days later. The trek was extremely tough, but here's my theory of why I made it.
The slower you walk, the better! Taking frequent stops helps your body adjust to the altitude change and perhaps not being as prepared, or fit, worked in my favor because I moved along at a snail's pace and stopped every few minutes!
So yes, you can do Everest Base Camp with no training. But everyone's body is different, and your level of tolerance and strength will be different from mine, and the person next to you.
If possible, try to get as much time in at the gym. Walk on an incline on the treadmill. Build up strength in your legs. Do squats, lots of squats. Go for long walks or hikes and wear a small day bag with about 5kg in weight. And take the stairs, rather than the elevator.
It's not a sprint, so you don't need to be super fit and you don't need to go all out on your training. But, getting to Everest Base Camp involves long days of trekking, uphill, and downhill climbs, and your legs and knees will take strain.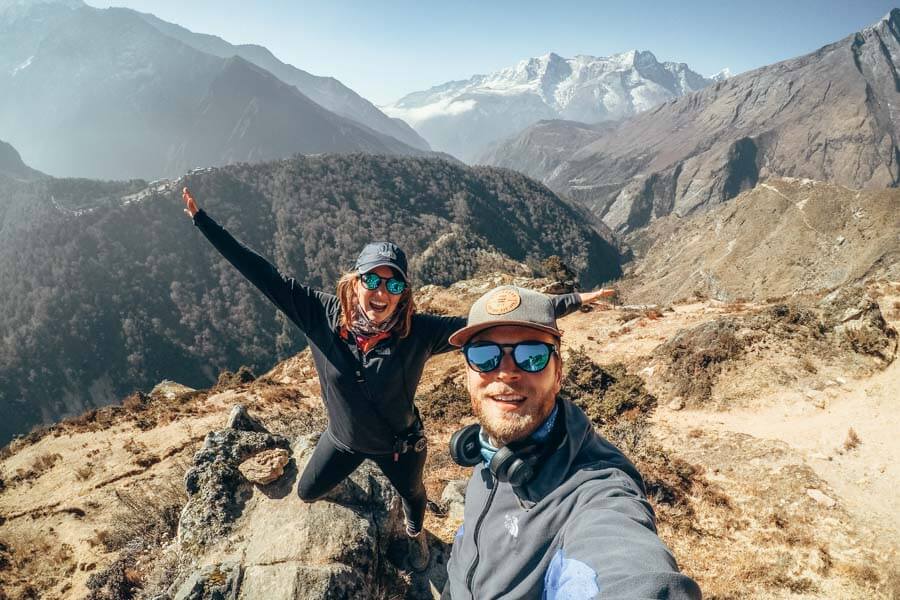 2. Trekking at high altitude
If there's one thing that makes the Everest Base Camp trek difficult, it's the high altitude!
You won't quite understand the effects that altitude has on your body until you're hiking 4 000m above sea level.
The gradual incline doesn't feel so gradual, your light backpack doesn't feel so light and the nearby resting spot doesn't feel so close.
Every step is that much harder, and every breath is a struggle.
You won't be walking fast – because your body just can't. Also, your sleep is disturbed, and you'll lose your appetite. It's not fun!
3. Everest Base Camp weather
The monsoon season in Nepal runs from June until August. People still choose to do the Everest Base Camp trek during this time, but the conditions may not be optimal, and you'll most likely find the trek to be tougher than if you'd done it in peak season.
The winter months of December, January and February bring with them harsh and freezing cold conditions which too add to your Everest Base Camp trek difficulty.
But, for some hikers, the quieter routes and snow-laden mountains make this one of their preferred times to trek to base camp.
If you're looking for the best months to plan your trip, I would recommend pre-monsoon (March, April, May) or post-monsoon (October, November).
But this doesn't guarantee perfect weather conditions and you can still have 4 seasons in one day!
One minute you're boiling hot, wearing only a T-shirt and then suddenly the clouds start rolling in and you'll rush to get your warm clothes out and layer up.
The nights are chilly, the days can be overcast, and there's that wind-chill factor that you'll need to take into consideration.
Check out my Everest Base Camp and Island Peak photo diary with all the highlights from my trek! This will give you a good idea of what to expect.
4. Pack the right gear
And speaking of the seasons and how they'll affect your EBC trek difficulty, make sure you pack correctly.
I rocked up in Kathmandu with no hiking gear, except a pair of hiking boots! So, I spent my first 2 days shopping. I bought everything in Thamel and paid a fraction of what you'd pay elsewhere.
Quality-wise, all my gear got me through the 3 weeks of trekking, and most of it is still going strong!
Also, make smart decisions about what and how you pack for Everest Base Camp.
You're only allowed 10kg checked-in luggage on the flight to Lukla, and if you don't have a porter, you'll need to carry all this gear to EBC which adds to your trek difficulty.
Bearing in mind that my body hates the cold, I was not taking any chances when it came to getting the right gear for my Everest Base Camp trek.
Here are just a few tips:
It's cold: layer up and bring two pairs of thermal pants and tops.
Get the best sleeping bag and include a liner. It's chilly on the mountain and you want to get a good night's rest.
Trekking poles really help with all the uphill and downhill climbing.
Get a hydration pack so that you're constantly hydrated.
5. Your route, acclimatization schedule & how it affects your Everest Base Camp trek difficulty
Most trekkers choose a 12 day Everest Base Camp trek which allows for 9 days to get to base camp. Some do it faster, others slower.
At a minimum, you should allow for an acclimatization day at 2 stops along the route: Namche Bazaar and Dingboche. This means you'll spend an extra night at each of these places.
This doesn't mean that you have an "off day". During these acclimatization days, it's important to do a day trek to a higher altitude point, before returning to where you're based.
Those that choose not to allocate acclimatization days to their schedule may struggle later on and find their Everest Base Camp trek more difficult.
Take a look at this trekking itinerary with the route I used to get to EBC. It follows the uncrowned trail and has the perfect acclimatization schedule.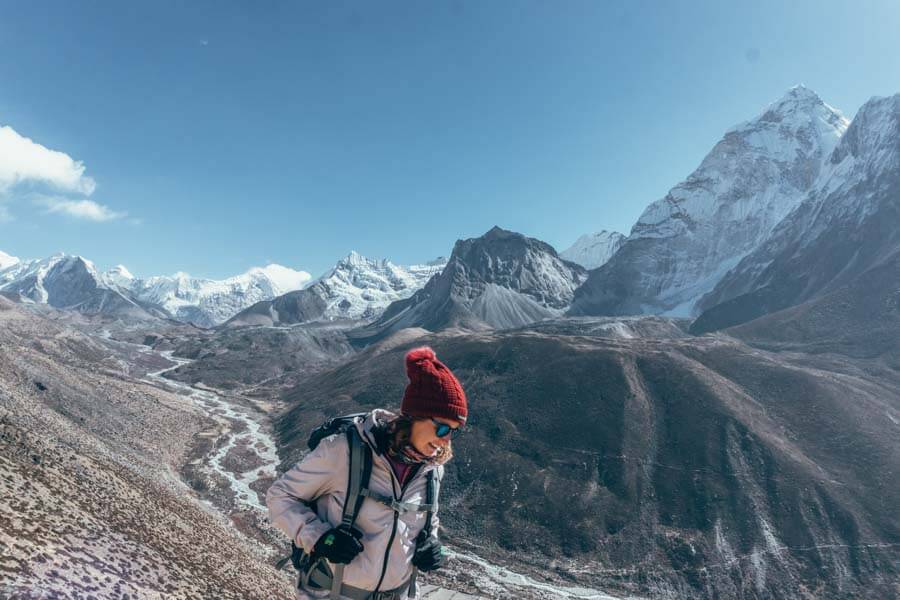 6. Everest Base Camp Altitude Sickness & the Khumbu Cough
So, you're walking slowly, one step at a time. You're following my recommended itinerary. You've packed correctly, and warmly.
Surely reaching Everest Base Camp can't be that difficult if you're this prepared.
Wrong!
Firstly, the Khumbu cough is inevitable. Everyone gets it.
What's this "Khumbu Cough" you may ask?
Well, due to many factors, including the dust, high altitude, and low humidity, your throat will start to act up and you'll be coughing non-stop when trekking near the Khumbu Valley on your way to base camp.
You're not sick, per se, but you're coughing the entire time! This just makes breathing harder and adds to your EBC trek difficulty.
To prevent this, I highly recommend that you wear a thin buff from day one. I didn't and I had a serious case of the Khumbu cough, while Gary, who wore a buff from the start wasn't coughing as much. Also, drink a cup of ginger and lemon tea every day, stay hydrated, and force yourself to eat even if you don't feel like it.
The normal spout of altitude sickness, headaches and fatigue will set in as you trek further toward the Everest region and this also makes the trek tougher.
AMS (Acute Mountain Sickness) is a common occurrence and can be fatal, so if you're developing a headache, loss of appetite or other symptoms, make sure you proceed with caution. If it gets worse, and your guide begins to worry, turn around immediately.
The best way to cure AMS and other symptoms of altitude sickness is to go down to a lower elevation.
7) Trek with a tour operator or independently
Everyone has their own opinion on this one. Whether you choose to trek independently or as part of a tour can be the deciding factor on your Everest Base Camp success.
It is often said that you should trek independently, and not as part of a tour. The reason being is that if you're in a big tour group, you'll have to keep up with everyone and you won't have the freedom to trek at your own pace. This may result in you walking faster than you should or not being able to stop as frequently as you want to, adding to your Everest Base Camp trek difficulty.
I disagree with this but it can be true in some instances. You need to do your research on the trekking company you're joining.
How many people are in the group? How many guides will there be? What are the reviews saying?
I had 5 people in total on my tour with Mountain Monarch and two guides who ran the show. One guide at the front with the fast people, and a guide at the back with the slow people – me.
Each and every day I was the last person to arrive at our tea house, but I never felt rushed or pressurized to move faster. Perhaps if the tour group consisted of 10 people and only two guides it would have been a different story.
If you're traveling in a group of 4 or doing the Everest Base Camp trek as a family with your kids, then I recommend a private tour. This could either be arranged by hiring a guide and porter independently or by going through a trekking company and requesting a private tour.
Trekking to Everest Base Camp independently
I know of many people who made it to base camp with no guide and no porters. This is possible as the trail is easy to follow, and tea houses are scattered all along the route. It's the cheapest option and will be quite an adventure.
But here's why I'd recommend going through a trekking company.
Firstly, Acute Mountain Sickness can be fatal. If you're with a professional guide, they'll assist you if you start having side effects of AMS. Many trekkers may freak out unnecessarily and choose to return to Lukla, but a seasoned guide can monitor your condition, and he'll know if it's time for you to end your EBC dream, or to continue with the trek. They also carry oxygen with them for emergencies. And yes, I saw many people turning to oxygen at Gorak Shep, just before Everest Base Camp.
Also, the fellow trekkers that I met on my EBC tour were the best teammates anyone could ask for. We were a small group of all ages and from all over the world, sharing stories of our countries, families and past experiences. I loved the support, the humor, and the motivation.
As you get closer to Everest Base Camp, you're going to need all the encouragement you can get.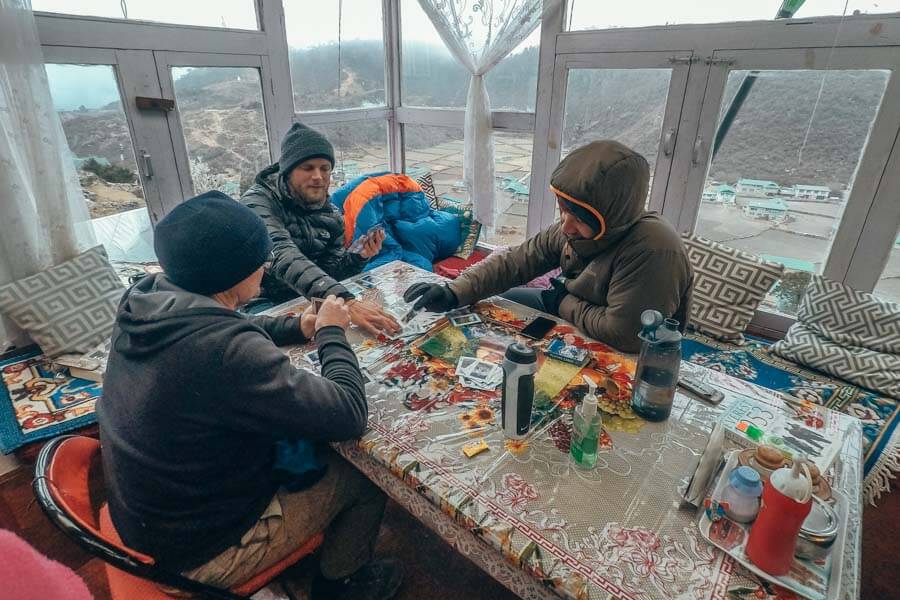 8. The trekking time to Everest Base Camp
I'm constantly comparing my Everest Base Camp trek difficulty to my Mount Kilimanjaro summit.
Kilimanjaro takes 6 days to reach 5 895m.
Everest Base Camp takes 9 days to reach 5 360m.
But that's good, right? I made it to the summit of Kilimanjaro so EBC should be a walk in the park – I'll have more days to reach a lower altitude.
Well, yes, that's true! But, the time on the mountain is tough. The round trip from Lukla is 130km and you'll cover this in 12 days.
On average you'll trek 10km per day, mostly uphill and at high altitude. Expect to spend 7-10 hours daily on the route. You're constantly moving and packing, and the days are long and tiring.
Going like this for 12 days, non-stop, will take its toll on you.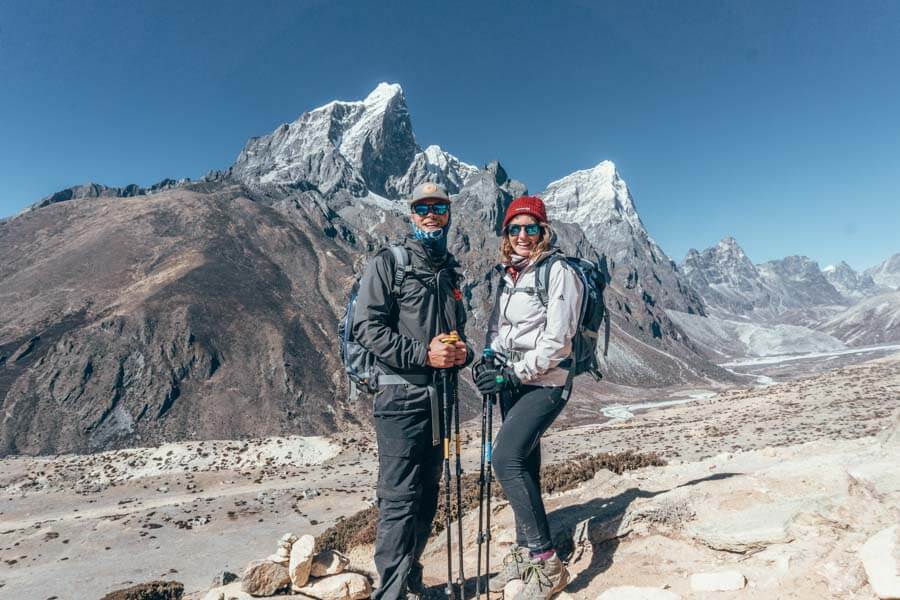 9. Luxuries you'll miss: Warm bed, cell reception, flushing toilets, showers
I never knew how much I would miss feeling clean – until I had my first shower after 13 days of trekking to Everest Base Camp and Island Peak.
13 days of being filthy, stinky, and dirty!
And the toilets – they're rough (but I was pretty much used to this after my time backpacking Indonesia)!
As you get closer to Everest Base Camp, the conditions get worse, and your beautiful flushing toilets are replaced with bucket toilets.
Never seen one? Well, basically, the toilet is a hole in the ground. Alongside the toilet is a huge bucket with a smaller one inside. You scoop the water to "flush" the toilet. The problem is, as you get higher, this water is frozen making the toilets unflushable!
It's just not very nice and if you're not used to roughing it up, you may find this rather unpleasant!
Tea houses
The tea houses are freezing cold but overall, I was quite impressed by how well kitted out they are. Most have a fireplace in the communal eating area which is where you'll spend a lot of your time.
But when it comes to the rooms, some are tea houses are more comfortable than others. None have proper insulation, and this is why having a warm sleeping bag is crucial.
I found the food to be good, with a variety of options to choose from including pizza, pasta, soups, and curries. Avoid eating meat after Namche Bazaar and if you begin to lose your appetite, plain boiled potatoes are the way to go!
Dal Bhat curry is the local favorite and you'll often hear the phrase "Dal Bhat Power – 24 hour", meaning that the curry will keep you going for 24 hours.
The porters swear by this!
Internet and Power
When it comes to other luxuries such as the internet, the best service provider is Ncell and reception is relatively good until Dingboche. From there you're off the grid for a few days.
You can purchase Wi-Fi at the tea houses, but this is expensive and not worth it.
Power is available on the mountain, but you pay per plug point. All in all, purchasing a large power bank works out to be more affordable and I only had to charge my devices once.
A few people choose to bring solar chargers, but these take a while to charge. Even after a full day out in the sun, they still couldn't fully charge their devices with the power generated from the solar chargers.
In all fairness, you're trekking to Everest Base Camp. It's not a luxurious getaway and at over 3 500m, you honestly can't expect much.
You've signed up for the adventure and all of the above just adds to the experience.
10. Hardest part of Everest Base Camp trek
In my Everest Base Camp itinerary, I retraced my steps to base camp, highlighting each section and how difficult it was.
But, if I think of one day that was the hardest, it certainly was day 8, the trek from Dingboche to Lobuche. It was brutal!
The path starts easy – a short incline out of Dingboche toward Everest Base Camp. But then, you reach Dukla and the trail shoots up sharply.
For the next 2 hours, you're criss-crossing up a steep section to the EBC memorial.
At this high altitude, it's an excruciatingly difficult section and I really struggled to move and breathe (but perhaps this is just because I had done no training, I'll never know!).
11. To take Diamox or not to take Diamox. The age-old question!
Diamox is the most common altitude sickness medication and prevents and reduces the side effects that so many trekkers experience.
And I know the effects of AMS all too well!
When I trekked to Mount Kilimanjaro, I experienced this firsthand. I was throwing up, I felt nauseous and fatigued, I had a severe headache, and I completely lost my appetite.
My biggest concern with my EBC trek was that I'd go through these moments all over again.
For Kilimanjaro, I was able to fully recover over night and could continue with the trek, but this wasn't guaranteed for Everest Base Camp. I had sleepless nights thinking that I got lucky on Kili, and that the altitude at EBC may not be so kind.
I was on the fence about taking Diamox.
If there's something you can take to make your Everest Base Camp trek easier, would you do it?
After all, the medication can reduce headaches and assist with breathing. And trust me, breathing is tough on that mountain!
But there are also a few side effects to take into consideration.
These include numbness, a tingling sensation in your hands, feet and lips, sleeplessness and vomiting. These too are the symptoms of AMS and so knowing which is which, can be hard to distinguish. You also need to drink a lot more water, you'll pee more often, and will need to get up many times during the night.
I was confident that if I followed the right acclimatization schedule, my body would adjust naturally.
And it did. You just need to give it time.
Yes, there were days when I had a headache and struggled with breathing, but taking a headache tablet, slowing down, and resting often made it easier.
Note: Every time I wasn't feeling great, I told my guide and if I took a headache tablet, I notified him as well. Don't try cover up how you're feeling and don't try mask your symptoms.
In the end, taking diamox is a decision only you can make. I am not a medical professional so the above is just my experience and my reason for not taking Diamox.
If you are planning on trekking Everest Base Camp, and you're worried about AMS, consider taking medication but consult your doctor first.
Overall thoughts on Everest Base Camp trek difficulty
Phew ok, so I've covered all the hard parts of the Everest Base Camp trek, and I may have scared some readers off!
But honestly, it's not that difficult.
Just follow my tips above, make sure you're prepared for 12 long days of trekking, pack warmly, and do a bit of exercise to gain strength. You can do it!
---
Have you thought about trekking to EBC? Do you have any questions about how hard it is? Drop me a message in the comment section below!
Psst… Looking for more adventures to add to your bucket list? Check out my other posts!
---
Pin This!