Looking for an experience of a lifetime? Well, Island Peak climbing should be next on your bucket list. Adventure enthusiasts in search of more than just a scenic trek through the Himalayas are flocking to Island Peak to put their bodies to the test.
After successfully completing the 18-day Everest Base Camp Trek and Island Peak climbing in Nepal, I have one piece of advice: don't underestimate the beast that is Island Peak!
So, here it goes, a complete guide to Island Peak climbing, Nepal.
Where is Island Peak
Island Peak, otherwise known as Imja Tse, towers at 6 189m above sea level and is situated in the Everest region of Nepal.
When looking at the snow-capped peak from afar, it looks like an island rising tall amongst a sea of ice in the middle of the Chukhung Valley. Hence the name, Island Peak.
Because of its ideal location, most people pair an Island Peak expedition with the popular Everest Base Camp trek. This adds an extra 10 days to your Island Peak climbing itinerary but the more time you spend on the mountain, the better you will adapt to the high altitude and the stronger your body will feel.
And then you have those over-achievers who do both the Mera Peak and Island Peak treks, via the more challenging passes route. To you lot, respect!
I barely made it to Everest Base Camp and adding Island Peak to my itinerary saw me being pushed to my limits – mentally, physically, and emotionally.
Island Peak Difficulty
Unlike the more technical expeditions such as Ama Dablam and Lhotse, Island Peak is making a name for itself as being an entry-level mountaineering peak in Nepal.
But is it really?
Island Peak is actually a training peak for those attempting the Everest summit. That alone speaks volumes to the degree of skill and effort needed for a successful climb.
For those experienced trekkers and climbers, Island Peak will be relatively strenuous yet not technically challenging.
But, if like me, you have no mountaineering experience and have done absolutely no training, your Island Peak trek will push you to your wits' end.
But I'd managed to get to the top of the highest mountain in Africa, Mount Kilimanjaro, so surely I could make it to the summit of Island Peak?
What everyone else says about Island Peak difficulty
Before my trek to Island Peak, I'd read that the summit push is "relatively challenging yet doable", "no experience needed", and "good for novice climbers".
However, after passing scores of trekkers returning from their summit climb, I was less convinced that my Island Peak summit attempt would be a successful one.
The overwhelming response to my questions about Island Peak difficulty was "it is so tough", "difficult", "physically taxing" – certainly not a walk in the park as I'd hoped it would be.
How difficult is Island Peak really
Fast forward a few days and I can safely say that I 100% agree with every sentiment shared by my fellow summiteers.
Climbing Island Peak in Nepal is physically tough! But it is doable and by far the best thing I have ever done. (I've detailed every step of my Island Peak expedition below so keep reading!).
Reaching the top of Island Peak can take 6-8 hours of strenuous trekking and then you need another 3-4 hours for the descent.
That's 12 hours of non-stop walking and climbing from 1 am!
Unlike other trekking routes and peaks in Nepal, Island Peak includes various sections which require technical work such as crampons, climbing ladders, ascenders, descenders, and rope work.
This makes climbing Island Peak that more challenging, yet also a dramatic, fun, and thrilling experience.
And no, it doesn't get easier the further up you climb, but each corner brings with it something new and exciting.
Hardest part of my Island Peak trek
Climbing Island Peak is difficult and the most challenging part is the vertical ice wall leading to the summit.
This technical section requires you to know what you're doing as you need to safely maneuver yourself between anchor points and attached and detach your harness from fixed lines.
Along with this, you need the strength to pull yourself up the ice wall, and no, it's not a few meters, it's 300m!
The difficulty of Island Peak isn't only physical – it's also mentally tough.
I can't tell you how many times I buried my head in the snow, wishing it was over. But you just have to take it one step at a time, one foot in front of the other, breathe deeply, and do not lookup. You will eventually get there!
If you're pairing your Island Peak climb with a trek to Everest Base Camp, check out this post on EBC difficulty as the same would apply for your Island Peak trek.
Island Peak Climbing Itinerary
I combined the Everest Base Camp Trek (5 435m) with Island Peak climbing (6 189m).
Adding Everest Base Camp to my Island Peak itinerary helped my body acclimatize to the higher altitude and after summiting, made me realize the enormity of what I had just accomplished.
If you want to add EBC to your Island Peak trek, check out this Everest Base Camp itinerary!
Depending on your trekking routes, your itinerary will vary. However, you should give yourself 3 nights at Island Peak Base Camp.
Day 1 Island Peak itinerary: Getting to Island Peak Base Camp
Route: Dingboche (4 400m)/Chukhung to Island Peak base camp (5 100m)
Time: 6 hours
Difficulty: moderate
After spending the night in Dingboche, make your way to Island Peak Base Camp where you'll have some of the best views of Ama Dablam and Lhotse. The route hugs the river offering a scenic trek amongst the mountains of the Imja Valley.
After 3 hours you'll reach Chukhung which lies between Island Peak Base Camp and Dingboche. This may also be the village where you'll meet up with your Island Peak climbing guides if you have done Everest Base Camp independently.
From here the trail gets slightly more challenging, and if, like me, you're struggling with your breathing, the next 3 hours may seem to go on forever.
After a few ups and downs, you'll set your sights on your home for the next 3 days, Island Peak Base Camp.
Take it easy after your arrival and enjoy some hot chocolate and dinner. Before you know it, it's 8pm, your bedtime. Too early? Well, your body will disagree.
Every evening at base camp I was lights out by 7pm.
Day 2 Island Peak itinerary: Rest day and climbing clinic
Depending on your technical expertise, your trek may or may not include a climbing clinic in your Island Peak itinerary.
As this was my introduction to mountaineering, I insisted on having a rest day allocated for a climbing clinic. This was led by my climbing Sherpa, who is an absolute boss!
The 2-hour clinic began with an introduction to all the gear we'd be using (most of which I'd never even heard of before). Everything was completely foreign to me!
We then practiced how to use the climbing gear, rope, ascenders, and descenders by climbing up and down a 30m wall.
Only then did I realize just how dangerous the climbing section of Island Peak can be.
The actual climb would be 300m long, 10 x higher than what I was practicing on!
I left the climbing clinic more nervous than before. Why? Because this is when I realized that Island Peak is a serious climb and yes, it can be dangerous.
There's no time for games on the mountain – mountaineering is not child's play!
The afternoon is yours to do as you wish. I enjoyed an afternoon nap followed by an early dinner. By 6pm we were in bed, packed, and ready to wake up at midnight for our Island Peak summit attempt.
Day 3 Island Peak itinerary: Summit
Route: Island Peak base camp (5 100m) to Island Peak summit (6 189m) and back
Time: 10-14 hours
Difficulty: Strenuous plus
Ready, set, go!
12:30am is your wake-up call. I warmed up with a cup of tea and a boiled egg for breakfast. Admittedly, I was too nervous to finish either.
We left Island Peak base camp at 1:30am and I was cold, nervous, and already out of breath!
The first part: Rocky terrain
The route starts off with a gradual incline through rocky terrain. Then the real hiking begins!
For 4 hours in pitch darkness, you make your way through steep sections covered with loose rock.
This first section is somewhat similar to trekking Kalla Pathar near EBC, however, slightly steeper and the route is longer. It then narrows into a rocky channel and yes, I was out of breath after every step I took.
Frostbite is a major concern for climbers and so instead of stopping every time you're out of breath, you need to find the strength to keep moving, one step at a time, to avoid getting your fingers and toes cold.
This is the part I struggled with the most. My motto up until now had been "slow and steady wins the race". But not on Island Peak.
You need to keep up with your guide and push yourself if you want to have a successful summit. Continuity is key.
Crampon point on Island Peak
As the sun began to rise across the horizon, we finally reached crampon point.
As the name suggests, this is the time to put on your crampons, helmet, and harness. I watched the group in front of me as they slowly began walking through the snow and ice.
We all roped up together and followed suit.
The next hour includes walking through snowy landscapes, over hills, and crossing glaciers with ladders.
I eventually reached a point where my legs caved in and I just sat there in the snow feeling very sorry for myself.
However, I quickly picked myself up and continued trotting through the snow in my crampons.
Climbing Island Peak ice wall
That's when I saw it. The peak. Island Peak.
However, I didn't get that warm, happy feeling – one you get when you're almost at the finish line.
Why? Because lying ahead was the ice wall. A 300m vertical sheet of snow blocking me for the Island Peak summit.
And this was my next challenge.
After reaching the bottom of the ice wall, we attached ourselves to the fixed-line and began ascending to the peak. I started off strong, impressed with the progress I was making.
But with every step, every pull, the wall just seemed to get steeper and steeper. I buried my head in the snow, looked back at my guide and I'm sure he could feel the pain in my eyes!
The ascent up the ice wall took over an hour and looking back down, I felt sick to my stomach to see the steepness of what I'd just tackled.
Island Peak summit
Next up was the summit ridge where you climb the final 8m to the peak. I was on all fours, too scared to step off the narrow path.
Finally, I took my last step toward the summit. I was broken.
It took a while to sink in that I had in fact summited Island Peak. There was no more climbing to be done and I'd achieved my goal.
Being surrounded by some of the highest mountains in the world is a feeling I cannot explain.
With Nupse (7 879m), Lhotse (8 501m), Makalu (8 475m), Baruntse (7 129m), and Ama Dablam (6 812m) all in sight, I can understand why people dare to climb Mt Everest.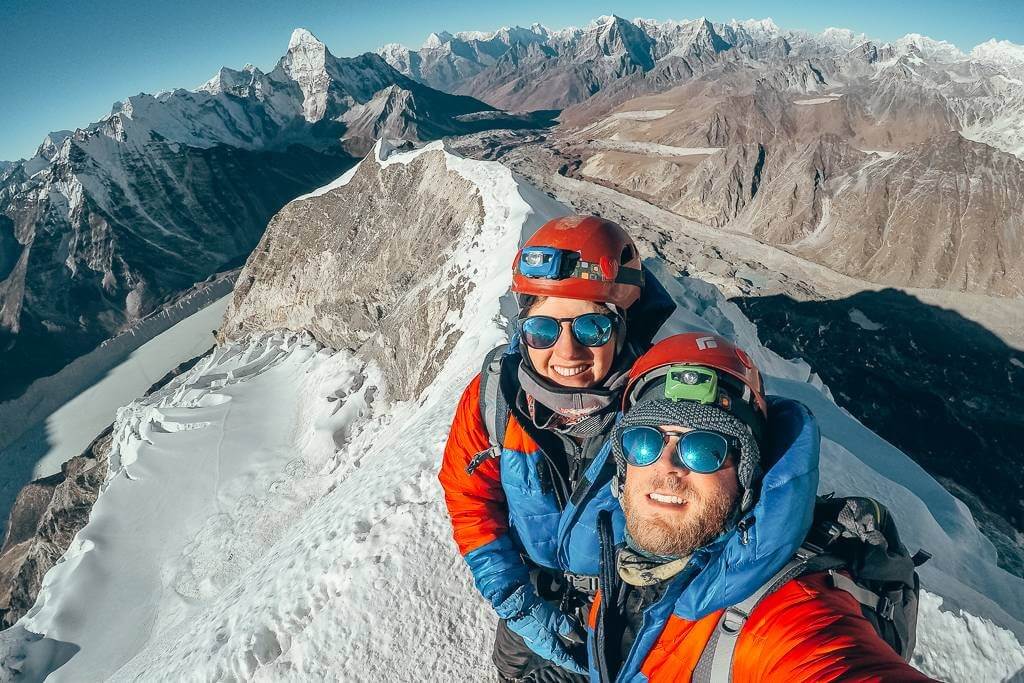 Island Peak descent
And so the descent begins – down the summit ridge, abseiling to the bottom of the ice wall and across the snow plains.
We made our way down the ladder and back to crampon point where we enjoyed some well-deserved snacks and looked in awe as to what we had just achieved.
Below crampon point lay the route we'd conquered in the early hours of the morning.
I could not believe that I was descending the same rock-laden, steep paths I'd trekked earlier that day.
3 hours after leaving the summit, we reached Island Peak Base Camp and I had the best wet wipe shower I'd had in 15 days!
The rest of the day
After returning to Island Peak base camp you can either opt for a quick snooze and lunch before heading back to Chukhung/Dingboche.
This, might I add, will be another 3-5 hours of trekking.
Alternatively, your Island Peak itinerary can include an additional night at base camp allowing you to take the rest of the day off to recover.
Day 4 Island Peak itinerary: Island Peak Base Camp to Pangboche
Route: Island Peak base camp (5 100m) to Pangboche (3 900m)
Time: 5-7 hours
Difficulty: moderate, mostly downhill
After you've completed your Island Peak summit, you'll want to get off the mountain as quickly as possible!
From Island Peak Base Camp, it's best to go straight to Pangboche via Dingboche.
There are numerous teahouses in Pangboche which offer hot showers, so treat yourself to one, you deserve it!
Island Peak Death Rate
Peak climbing comes with its own risks and climbing Island Peak in Nepal is no exception.
Altitude Mountain Sickness (AMS)
Symptoms of altitude sickness is a reality most climbers will face. Headaches and loss of appetite are common amongst trekkers and depending on whether you're able to acclimatize or not, AMS could be fatal.
Many trekkers may want to hide their deteriorating condition from their Sherpas and guides to avoid having to turn around.
However, this can be fatal and when climbing over 6 000m you need to know when your body is telling you to stop.
Climbing and technical sections
Another risk and cause of death on Island Peak is the technical and climbing aspects.
Just two weeks before my Island Peak summit climb, there had been a death on the mountain. A woman was descending the ice wall below the summit and hadn't properly secured her safety line and descender.
This wall is scary and yes, it's dangerous.
For a novice like me, the roping section was the most technical and confusing part. Even though I'd been through an Island Peak climbing clinic the previous day, I did not trust myself with connecting the ropes and using the figure of eight devices.
I shared these concerns with my climbing guide from the get-go which ensured that he was there to assist at every anchor point.
Whilst descending, you may feel on top of the world. You've just summited Island Peak! But this is when you need to be even more careful and cautious, especially with the roping section.
Don't rush down the mountain.
Frostbite and other issues
Another health risk on Island Peak is frostbite. When climbing at temperatures of -20 degrees, frostbite is a reality and many people turn around because they begin to lose the feeling in their hands and toes.
Again, it's important to listen to your body and to be honest with your guide if you start to suspect anything abnormal.
And finally, make sure you're in good health. I had a severe case of the Khumbu cough, which you will most likely pick up as well. This is common among Everest base camp and Island Peak trekkers and the symptoms include non-stop coughing, all day and all night.
Along with this, I lost my voice and was stopping every 2 minutes to blow my nose. Of course, this all affected my sinuses, which in turn hampered my breathing.
And as breathing is the most important factor when climbing at altitude, I thought I was doomed.
This was a big red flag for my Island Peak climbing Sherpa who was worried that I would pick up a chest infection or other serious ailments on my summit attempt. He monitored my condition, checked my heart rate and oxygen levels daily, and finally gave me the go-ahead to climb Island Peak.
If you're feeling under the weather, ensure you communicate this with your guide. The mountain will always be there. Your health and safety should be your number one concern.
Read More: The Perfect Everest Base Camp Packing List
Best time to climb Island Peak
The best time to climb Island Peak is during the spring and autumn seasons. Stay away from the mountains during the monsoon season which runs from June – August.
The spring season begins in March and carries on through to May. It brings with it warmer temperatures, making your summit attempt more pleasant with chances of frostbite being reduced.
The autumn months of September, October, and November are also prime times to climb Island Peak, with October being the busiest time.
Climbing during these peak periods, especially spring, can bring with it a lot of traffic on the mountain.
If you opt for an Everest Base Camp trek with Island Peak climbing, you'll most likely have busy routes and crowded tea houses. The shoulder periods are the best times to climb Island Peak as it is quieter with less congestion on the mountain.
Climbing Island Peak in November
I climbed Island Peak in mid-November and my climbing guide's biggest concern was the weather. Winter season was soon approaching, bringing with it temperatures below -20.
On a positive note, the trekking route was empty and Island Peak Base Camp was a lot quieter than it had been the month before. The days were sunny and clear, albeit cold, and I had the perfect weather to reach the summit of Island Peak.
However, the day after our Island Peak climb brought with it gale-force winds making a summit attempt near impossible! We narrowly missed this but it just goes to show that the mountain is in control and she alone can determine your fate.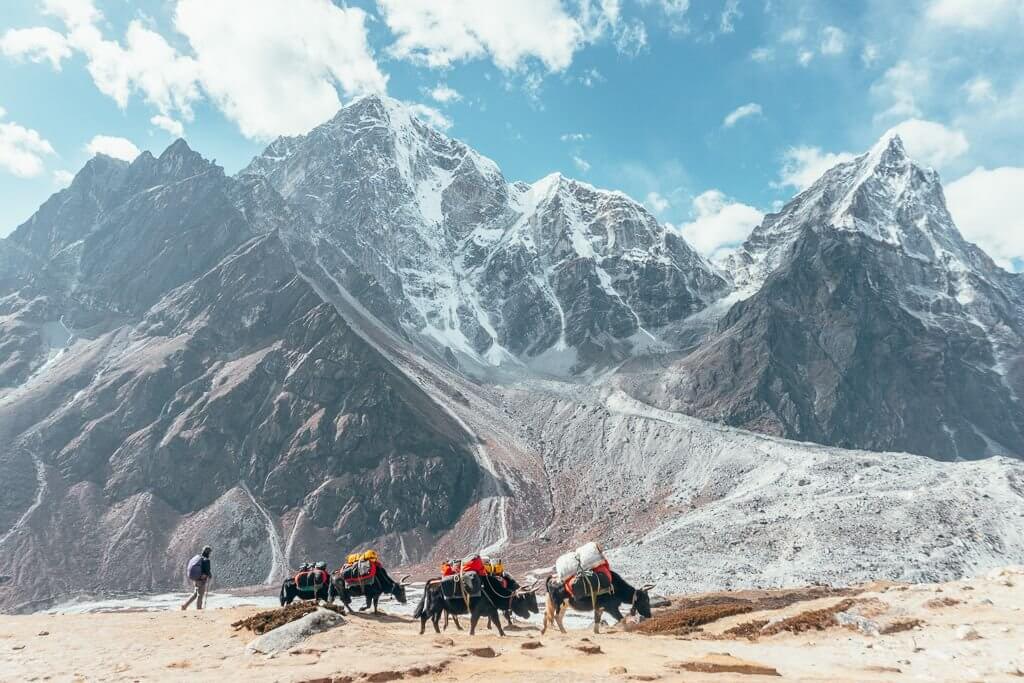 Island Peak Base Camp
The Everest region is scatted with tea houses allowing you a more comfortable stay in the mountains.
Here you're treated to communal dining rooms with fires to keep you warm, a variety of hot drinks to choose from, and the necessities such as toilets (albeit questionable) and even the occasional hot shower.
However, all these luxuries are replaced with tented camping at Island Peak Base Camp.
After 11 days on the mountain, a change of scenery and accommodation was like a breath of fresh air and added a new dimension to our already exciting trek.
Island Peak Base Camp sits at 5 100m above sea level and is nestled between the peaks of Ama Dablam and Lhotse. Scores of tents mark the entrance to Island Peak Base Camp which runs along the Imja River.
There's no internet connection and no electricity at base camp so make sure your devices are charged up before your arrival.
Island Peak Advanced Base Camp
Situated above 5 500m and a 1.5-2hours walk from Island Peak Base Camp lies Advanced Base Camp.
It's not a popular overnight stay. Most trekking companies choose to begin their summit climb from Island Peak Base Camp instead of Island Peak Advanced Base Camp.
But why?
This is because getting water to Island Peak Advanced Camp is not easy and requires more resources. Additionally, sleeping at altitudes of above 5 500m can be dangerous.
It's also very rocky and isolated up there, which may leave you feeling more anxious before your summit climb.
Having summited Island Peak and starting my climb from Island Peak Base Camp, I do think that ascending from the very bottom is better.
However, some people climb extremely slowly and for them, spending a night at Island Peak Advanced Base Camp may be a better option.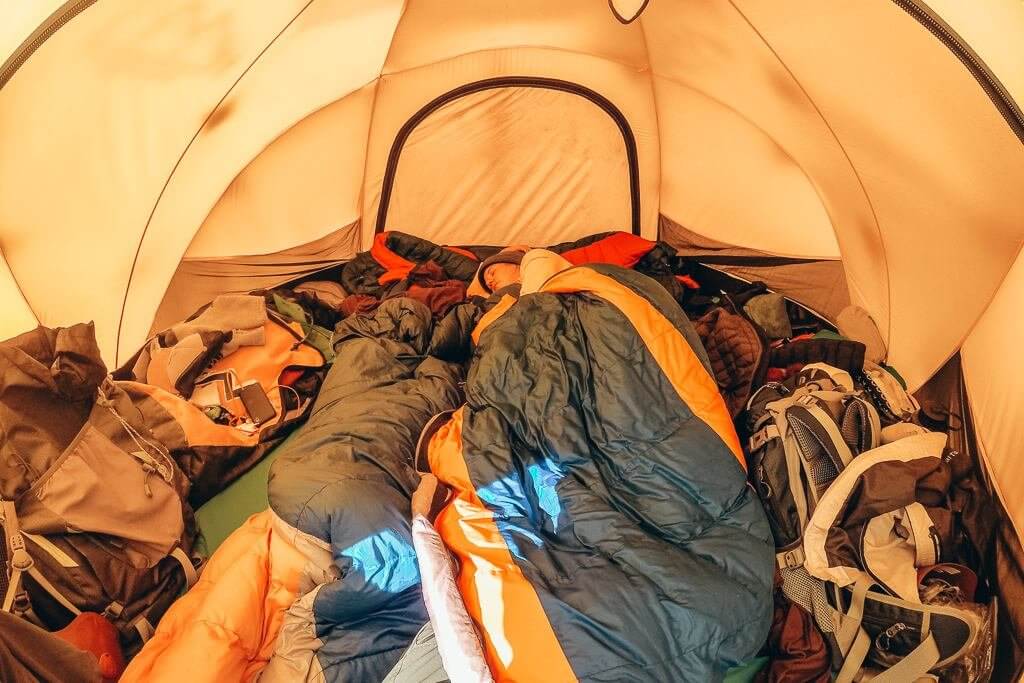 Mera Peak vs Island Peak
Mera Peak and Island Peak are two popular peaks in the Himilayas which attract novice trekkers and climbers.
They can both be included in your Nepal itinerary as they are relatively close to one another. But I, and most sane people, choose to conquer one mountain at a time!
So, which is better?
If it's the height you're looking for then Mera Peak wins this one as it sits slightly higher than Island Peak at 6 476m.
Mera Peak also brings about its own unique challenges including more days of camping and an extremely strenuous snow trek to the peak.
However, I wasn't looking for a high peak with a long trek. I wanted to do something that would test my limits and scare the daylights out of me.
And Island Peak did exactly that!
Island Peak vs Mera Peak
The main difference between Mera Peak vs Island Peak is that Island Peak adds the mountaineering and technical aspect to it, something Mera Peak lacks.
I discussed this with numerous people who'd summited both Mera Peak and Island Peak and they shared this sentiment with me.
An Island Peak expedition was more fun because of the climbing aspect, but once again, don't underestimate either of these trekking peaks in Nepal.
So, you might think that Island Peak climbing is out of your reach because of the technical part. But I am living proof that it's not!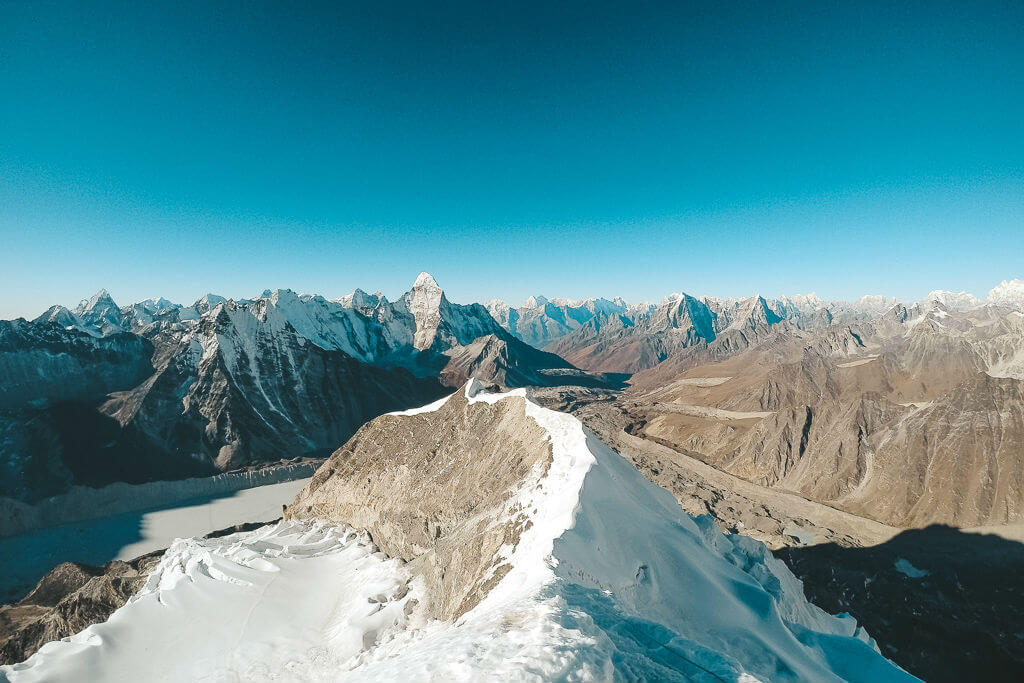 Island Peak trek costs
Climbing Island Peak is no joke and you cannot put a price on your life so I strongly advise that you do your research when it comes to Island Peak climbing.
Don't skimp on costs in an effort to save a few bucks.
My 22-day Everest Base Camp trek with Island Peak climbing cost $2 750 with Mountain Monarch.
This included transfers, a city tour of Kathmandu, all meals, return flights from Kathmandu to Lukla, accommodation, Island Peak climbing permits, sleeping bag, down jacket, and all climbing gear such as boots, helmets, crampons, harness, and ascenders.
However, Island Peak trek costs vary depending on what package you are looking for.
If you're on a tight budget and want to trek to Everest Base Camp or do other routes independently, you can join an Island Peak climbing group from Island Peak base camp only. These 4 days of tented camping will cost between $600-$1 000 per person.
Tipping in Nepal
Over and above your Island Peak trek costs, you will need to factor in 10% of your total trip costs for crew tips.
This is the standard rate for tipping in Nepal and is something that the team expects and rely on as part of their monthly income.
Make sure you add this tip to your budget and count it in as a mandatory cost so that there aren't any unexpected surprises on your day of departure.
If you're not happy with the service and quality of your trek, then make sure you discuss this with your trekking guide or company director.
Island Peak Tour Operator
In order to ensure a safe and successful summit, it's important to use a climbing company that are not only technically skilled but knowledgeable about the constantly changing routes, weather and have years of experience on the mountain.
This is more so a factor if you're a novice and are attempting mountaineering and peak climbing for the first time.
Mountain Monarch
Mountain Monarch lives up to the high standards and reviews across the web and I highly recommend booking your Island Peak climb through them.
Their climbing guide and cook are based at Island Peak Base Camp throughout the season and when you arrive, your tent and everything else is set up and ready for you.
This isn't the case with many companies who only arrive at base camp when they have clients.
Mountain Monarch also has a 1 trekker-1 porter rule, which not only creates more jobs but also ensures that their crew are not abused and over-worked.
It's heartbreaking to see the huge loads that porters have to carry, and Mountain Monarch are doing their part to help the community and porters.
Island Peak climbing guide
Mountain Monarchs' climbing Sherpa is a serious expert and a no-nonsense kind of guy. He knows the dangers of Island Peak and safety is his no 1 priority.
Throughout our trek, I explained what my weaknesses were and the concerns I had.
Final Thoughts on Climbing Island Peak in Nepal
Climbing Island Peak is by far the toughest thing I've ever done.
The days are long, the nights are cold, and you reach a point where your body physically tells you to slow down. It's not a holiday, it's a brutal fight.
And that's what makes it so appealing. It builds you as a person and teaches you lessons no one else can. To set goals, to challenge yourself, and step out of your comfort zone.
Would I do it again? No! But it sure was the best and most memorable thing I've ever done in my life!
---
Psst… Looking for more epic adventures to add to your bucket list? Check out my other posts!
Pin this!