Munduk is Bali's best-kept secret! The small village is tucked away in a lush jungle surrounded by cascading waterfalls, iconic lakes, and sweeping rice fields.
It makes for an impressive place to explore as there are so many things to do in Munduk, Bali. The village has a remote feel and is perfectly suited for travelers looking to go off the beaten track.
I spent a few days in Munduk Village and loved every minute of it. From the natural beauty to the kind people, and even the cooler temperature, Munduk is everything I imagined it to be (and more).
So if you're wondering what to do in Munduk, Bali, I've got you covered!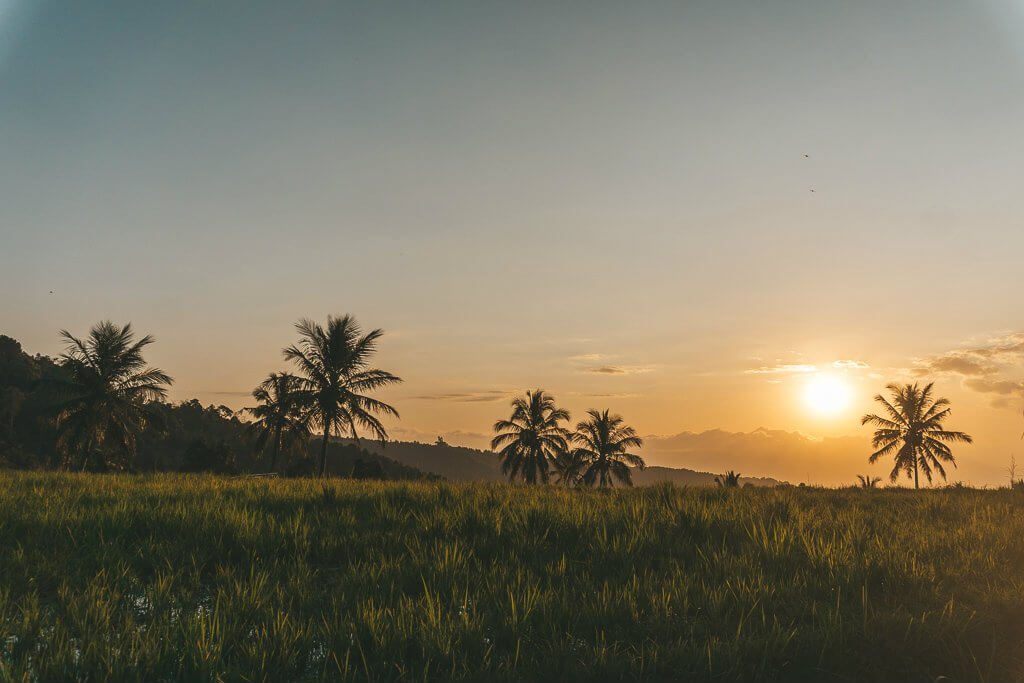 How many days do you need in Munduk
It's best to spend 2 days in Munduk village before heading to the next destination on your Bali itinerary.
There are a few touristy things to do in the area which can be done on a day trip to Munduk from Ubud or Kuta.
However, to get a feel for the real Munduk, it's best to stay in the village, visit a homestay, eat at the local warungs, and get lost in the rice fields, away from the crowds.
Things to do in Munduk
Visit Pura Ulun Danu Bratan Temple
Location: 30 minutes east of Munduk
The Ulun Danu Temple is arguably one of the most recognizable sites in Bali. You may notice this iconic temple from the local currency as it sits on the 50 000 IDR note. It was built in the 17th century in honor of Goddess Danu who was the goddess of lakes, water, and rivers.
Whilst Munduk is less crowded than the rest of Bali, Ulun Danu Temple attracts hundreds of daily visitors who venture up north to set their sights on this famous landmark on Beratan Lake.
The temple itself is smaller than you'd expect, and I felt it lacked that personal touch when compared to some other temples I've visited in Ubud and Uluwatu.
If you're visiting the Ulun Danu Temple, do so before 9 am to avoid the crowds. Otherwise, you can give it a skip and continue to do other things in Munduk.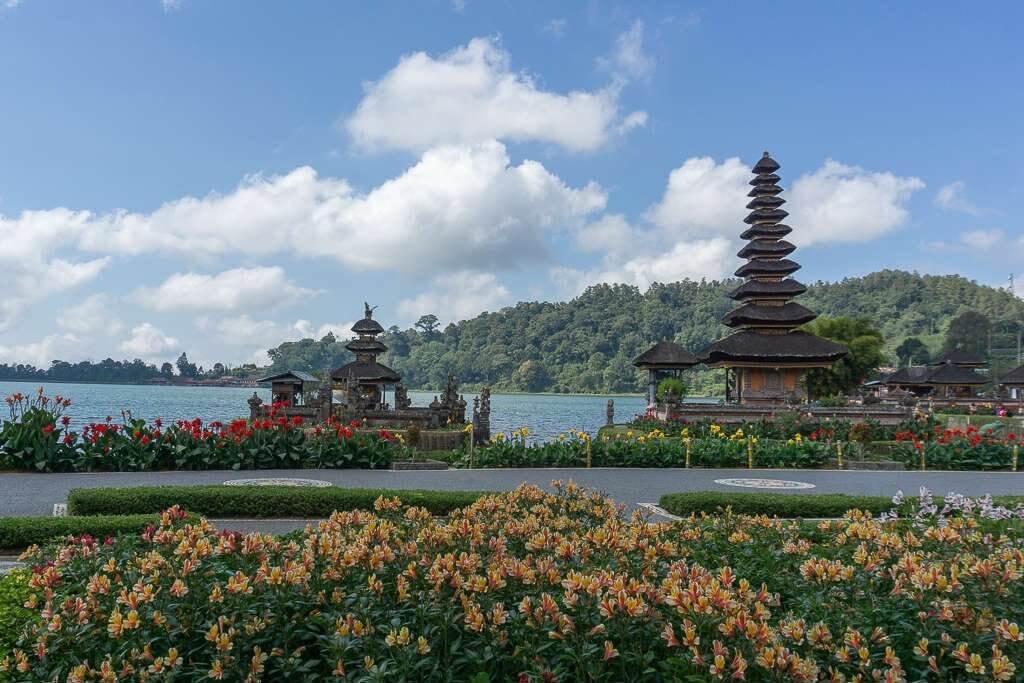 How to get to Ulun Danu Temple
Driving from Ubud or Kuta, Ulun Danu Temple will be your first stop en route to Munduk. It's about 1.5 hours from Ubud and about 2.5 hours from Kuta or Canggu.
Ulun Danu Temple entrance fee and operating hours
The entrance fee for Ulun Danu Temple is 50 000 IDR ($3.5) per person and 5 000 IDR for parking.
Officially the operating hours are 08:00 – 18:00 daily, but there have been cases where people were able to enter from 7 am.
Take a photo at the iconic Handara Golf Gate
Location: 25 minutes east of Munduk
The Handara Golf Gate has fast become a leading attraction in Munduk thanks to the thousands of pictures floating around on social media. And deservedly so!
The majestic mountain makes for the perfect backdrop to this grand entrance of the Handara Golf course.
If you drive by in the afternoon, you will notice scores of tourists lining up to take their snaps in front of the Handara Golf Gate. I'm not one to queue so I chose to visit the next morning on my way to the Ulun Danu Temple. I'd recommend you do the same as I had the gate all to myself.
How to get to the Handara Golf Gate and entrance fee
After your visit to the Ulun Dan Temple, drive about 5 minutes north, toward Munduk. The Handara Golf Course will be on your right – it's hard to miss.
30 000 IDR ($2) for 10 minutes
Explore the Munduk Waterfalls (The best thing to do in Munduk)
There are many Munduk waterfalls that are easily accessible from the village.
These can be visited on a waterfall trek by following the below route. This takes you to Red Coral Waterfall (otherwise known as Munduk Waterfall), Labuan Kebo Waterfall, Melanting Waterfall, and Golden Valley Waterfall.
And unlike those waterfalls in Ubud, your sights won't be ruined by hundreds of tourists all vying for the same picture.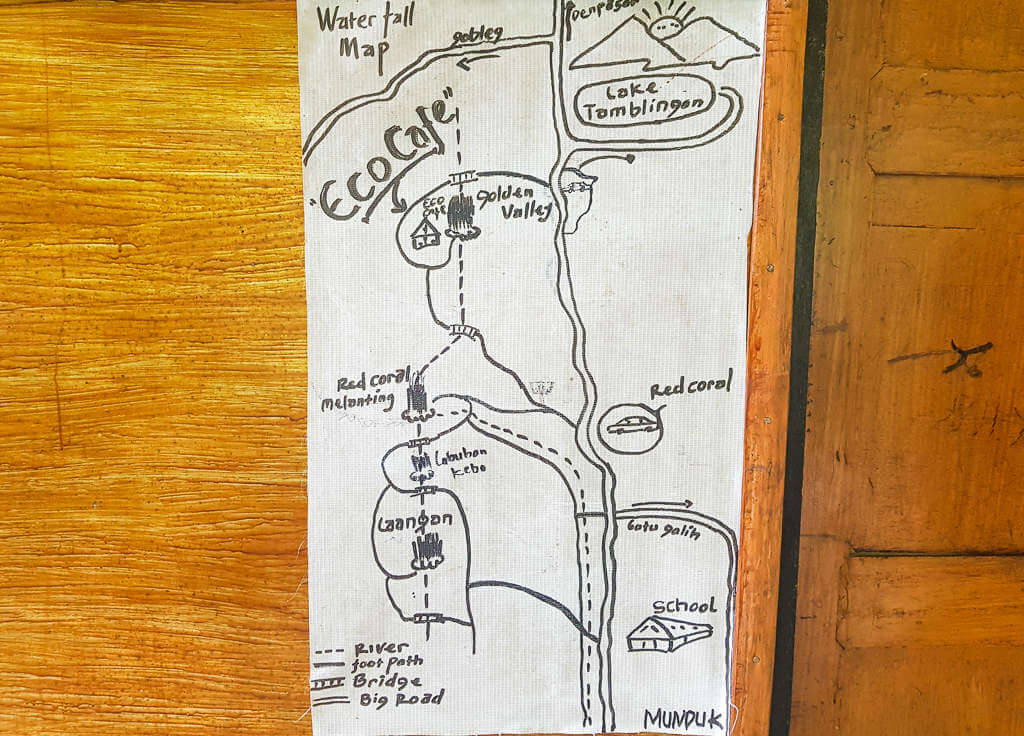 Munduk Waterfall (otherwise known as Red Coral Waterfall)
Visited by day trippers from other parts of Bali, the Munduk Waterfall is located just outside Munduk Village. Of the 4 waterfalls in the area, the Munduk Waterfall is the most impressive.
It's fast becoming a leading tourist hotspot and whilst it is far less crowded than most, don't expect to have it all to yourself.
How to get to Munduk Waterfall
To access the waterfall, put "Munduk Waterfall Parking" in your GPS. You'll see a small parking area and the path is right beside this. It's a short walk down a well-marked path with cemented steps leading to the gorgeous waterfall.
Entrance: 20 000 IDR ($1) per person
Melanting Waterfall
Continuing down the same path that leads to Munduk Waterfall, take a left and venture all the way down until you reach Melanting Waterfall.
Unfortunately, I sprained my ankle the night before and after spending the day hopping through temples and waterfalls, I just couldn't bring myself to continue further to this one.
Entrance fee: Free
Golden Valley Waterfall (near Eco Café)
The 3rd and final waterfall near the Munduk Waterfall forest is the Golden Valley Waterfall.
It is less dramatic than the Munduk Waterfall and attracts fewer crowds. However, this is one of the reasons I recommend you add this to your list of things to do in Munduk.
Alongside the Golden Valley Waterfall are 2 small cafes with stunning views of the falls. Order your breakfast or lunch, sip on some good local coffee and take some time out to enjoy the peace and quiet of Munduk.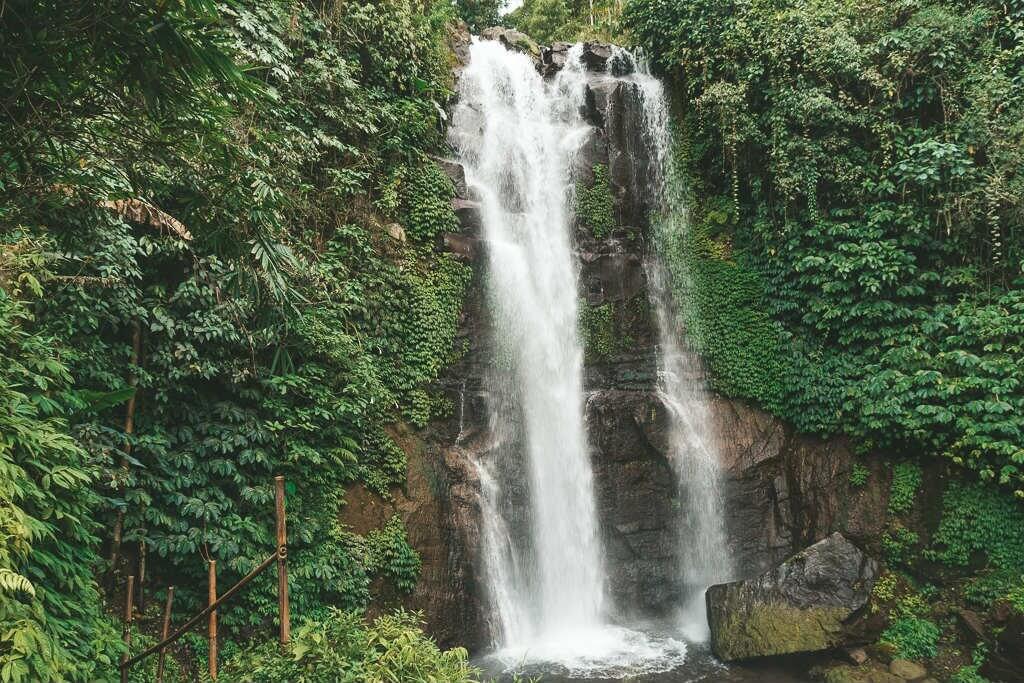 How to get to Golden Valley Waterfall
There are two ways to get to Golden Valley Waterfall in Munduk.
The first is to walk down from the main road (about 5 minutes drive past Munduk Waterfall entrance). Look for the point "Access to Golden Valley Waterfall" on your GPS.
There are signs on the road directing you to Eco Café and this is where you should park your scooter to access the trail. It's about a 20-minute walk to the Golden Valley Waterfall and from there you can continue further onto the Munduk Waterfall.
The second way to get to Golden Valley Waterfall is to start where you begin the Munduk Waterfall hike. Instead of taking a left on the path to the Munduk Waterfall, keep going straight.
Entrance fee: Free
Banyumala Twin Waterfall
About a 30-minute drive from the Munduk Waterfall lies the Banyumala Twin Waterfall. Streams from the falls flow into a massive pool below where you're able to swim. The twin waterfalls have a wild feel to them with very few people venturing this far out of Munduk.
The walk to the base of the falls takes about 20-30 minutes but be sure to wear sturdy shoes as it can get rocky and quite slippery.
Entrance: 20 000 IDR ($1)
Stay in a treehouse
Munduk village has some of the most incredible bamboo houses in Bali and if you're looking for an Instagrammable treehouse, you'll be spoiled for choice.
Remote and romantic, they're the perfect place for couples. If you book a stay at one of these, you'll never want to leave. And I don't blame you!
With views for days and a jungle setting, Ekommunity is one of the most unique places to stay in Munduk. It is a stunning glamping option set up in the mountains with gorgeous scenery.
Join a cooking class in Munduk
If the weather isn't playing its part, there are so many other things to do in Munduk including joining a cooking class at one of the many local warungs.
This is a fun way to mingle with the locals, learn more about Balinese cooking, and be rewarded with a delicious meal after! Prices for cooking classes vary from 300 000–500 000 IDR ($20-$35) per person, depending on the meals you make.
Where to go for a cooking class in Munduk
Chef Rico and Warung Made's Munduk both come highly recommended.
Watch the beautiful sunset
One of the best things to do in Munduk after a long day of exploring is to sit back, relax (with a beer in hand of course) and watch the sun as it disappears over the horizon.
The best place to do this is at Warung Classic which is not only popular for its amazing views, but also its delicious food.
Explore Munduk rice terrace
Munduk is known for its coffee and clove plantations, as well as rice paddies that dominate the landscapes.
What better way to see all three of these than by renting a scooter for the day and getting lost amongst the fields?
However, don't necessarily trust Google Maps on this one! It led us down questionable paths, through backroads, and finally took us on a road that leads to nowhere. And herewith lies the beauty of it all.
We managed to navigate our way back home after debating whether to trust our maps or the locals. Turns out the locals were right, and Google had failed us!
Seeing this side of Munduk, away from the crowds, is an awesome way to go off the beaten track in Bali and discover hidden gems on the island.
How to get to the coffee or clove plantations in Munduk
After passing Warung Classic, continue along the road which will lead you to the villages and plantations.
The viewpoints around the twin lakes and the famous Munduk Swing
The twin lakes near Munduk are home to numerous viewpoints where selfie parks have been created to serve the needs of Instagrammers and couples looking to get that perfect picture.
Here, you can take snaps in birds' nests, life-size hearts, eggs (yes!), extended bridges and of course, the famous Munduk swing. There's even an Eiffel Tower and a fake helicopter which you can pose alongside!
And the best part, they aren't nearly as busy as those in Ubud or on the south coast of Bali.
However, these spots come at a price! Whilst I love a good photo, paying 100 000 IDR ($7) for one didn't quite make sense considering the tight backpacker budget I was on. So, grab a bite to eat at one of the many cafes instead and enjoy the views of Lake Buyan and Lake Tamblingan.
How to get to the viewpoints at the twin lakes – Lake Buyan and Lake Tamblingan
Driving from Ubud to Munduk, you will pass the gorgeous twin lakes.
After your stop at the Handara Golf Gate, continue further north toward Munduk where you will reach the main Jl. Raya Wanagiri Road. Be sure to check out this entire strip as there are many cafes and selfie parks scattered along the road.
Alternatively, put in "Wanagiri Hidden Hills" into your GPS.
Entrance fee
The price to access the Munduk swing and other viewpoints range between 50 000 IDR and 100 000 IDR ($3-$7).
Check out Munduk Moding Plantation – get that day pass
Visiting Munduk Moding Plantation will be a bit of a splurge so if you're on a tight budget, perhaps give it a skip. However, this coffee plantation in Munduk is well-known for its organic coffee and picturesque views.
Unlike other coffee plantations around Munduk, Munduk Moding Plantation produces Kopi Luwak using ethical practices. It's pleasing to know these cats aren't caged and force-fed as you may come across elsewhere.
The infinity pool at Munduk Moding Plantation has also made quite a name for itself. It overlooks the mountainous valley with a glorious view of the fields below and are an Instagrammers dream shooting location.
Munduk Moding Plantation day pass
Munduk Moding Plantation offers a day pass for 900 000 IDR ($60) per person.
This includes a welcome drink, a guided tour of their coffee plantation followed by a 2-course meal and access to the infinity pool for an hour. The coffee tour starts at 10:00 daily so ensure you arrive before. You can also choose to stay here!
READ MORE: ULTIMATE ULUWATU ACCOMMODATION GUIDE
Munduk trekking
The scenery in Munduk is awe-inspiring and attracts many tourists in search of a serene experience.
You can combine visits to the local Munduk waterfalls with trekking to learn more about the coffee and clove plantations.
Munduk trekking guides
Whilst you're able to do this trek independently, it's advised to get a local guide who will take you through a scenic route through the best areas of Munduk.
Most accommodation and warungs offer this guided tour and charge about 300 000 IDR ($20) per person for a half-day trek.
How to get to Munduk, Bali
Munduk is located towards the northern end of Bali. It's easily accessible for a day trip from Ubud which will take 1.5 hours or 2.5-3 hours from Kuta.
A Grab taxi will cost between 300 000-600 000 IDR ($20-$40), depending on where your starting point is.
How do you get around Munduk
The easiest and cheapest way to get around Munduk is to rent a scooter. Scooter rental costs around 80 000 ($5) per day and this price can be negotiated down depending on the duration of your rental.
Alternatively, you can hire a private driver. Normally these drivers double up as tour guides and cost 500 000–600 000 IDR ($35-$40) per day.
The attractions near Munduk are all fairly spread out, making it difficult to walk between them.
What's the weather like in Munduk
The cooler weather in Munduk offers a nice break from the scorching hot and humid coastline.
At times it gets rainy and cold so make sure you pack in a jacket and these other items.
Where to stay in Munduk, Bali
If you're looking for budget accommodation with impressive views, you've come to the right place.
I stayed at Maliana Homestay which is located in the middle of Munduk village with gorgeous views. This budget accommodation option comes with a delicious breakfast, hot showers and the owners are very kind and helpful.
Here are few alternatives that would suit any budget:
Budget: Aditya Homestay has impressive reviews with arguably one of the best sunset spots in Munduk.
Mid Range: Lesong Hotel's location couldn't be better. If you're looking to stay on the rice paddies, this is the best place to stay in Munduk.
Luxury: Munduk Heaven Luxury Villas offer spectacular accommodation in Munduk with sprawling views of the lush forests. The facilities are next-level and it's the perfect place to come home to after a busy day of exploring.
Where to eat in Munduk
All of the below warungs offer unspoiled views of hills and valleys, along with some of the most delicious food I've eaten in Bali.
Warung Made: The best Indonesian curry (and the owner is super sweet)
Warung Classic: The best sunset spot followed by dinner
Warung D'Munduk: Delicious cap cai (and great views)
Eco Café 2: The best views of the Golden Valley Waterfall and they make a mean mie goreng
Is Munduk worth visiting
Yes! Whilst the influx of tourists increases, these smaller, lesser-known hill areas if Bali are making a name for themselves.
They are fast becoming the go-to places to escape the crowded coastline and Munduk sure is a hidden gem that should be on your Bali bucket list!
Final thoughts on what to do in Munduk
My decision to visit Munduk was a last-minute one. I had no expectations and no plan. I wanted to get away from the business of Bali that I'd come to resent.
And then I found Munduk and it made me remember why I'd fallen in love with this island in the first place.
---
Looking for more Indonesia travel information? Check out my other posts!
There is a really good chance that this post contains affiliate links. If you click one of them, I may receive a small commission at no extra cost to you. As always, views are my own!
---
Pin this!