If there's one spot you cannot miss in Sri Lanka, it's this little piece of heaven nestled on the south coast of the country, Hiriketiya Beach.
Hiriketiya is a surfer's paradise, a yogi's delight and the ultimate place to chill and relax.
After spending most of my Sri Lanka trip exploring the tea plantations and waterfalls in Hill Country, I was very much looking forward to a seaside escape.
And Hiriketiya Beach did not disappoint. Not only did I learn to surf, but I met awesome travelers from all over the world, ate the most delicious local food and spent my days soaking up the sun and taking in all the attractions.
And I'm sharing all my experiences in this Hiriketiya Beach travel guide.
About Hiriketiya Beach
Hiriketiya is an exquisite bay neighboring the southern town of Dickwella. Although it's not quite the well-kept secret it used to be, it's still unique and has that raw, untouched feel to it.
Palm trees line the beach, and rustic, local cafes serve cocktails right on the water's edge.
The relaxed atmosphere is hard to beat, so if it's the laid-back life you're looking for, head straight to Hiriketiya Beach in Sri Lanka.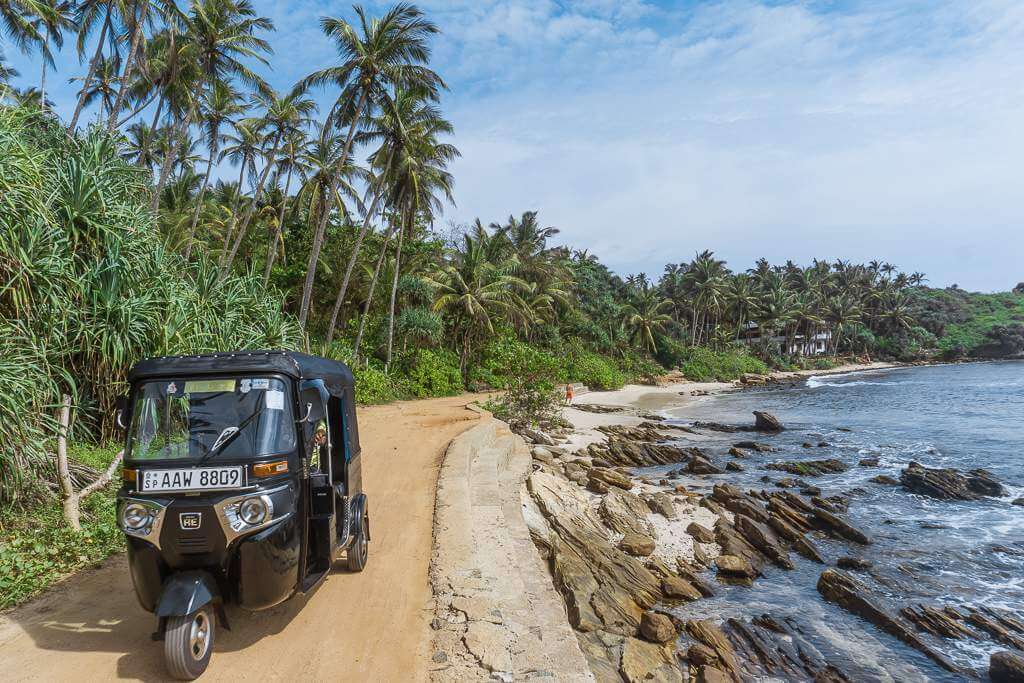 Things to do in Hiriketiya Beach
If you're coming from Sri Lanka's hill country or the busier destinations along the coast, you'll welcome the change of scenery.
Here are the best things to do in Hiriketiya Beach.
1. Hiriketiya Beach Surf
If you want to up your surfing game, Hiriketiya is the place to go.
There are waves for all grades of surfers including a more advanced reef break and a gentle, fun wave for beginners.
Hiriketiya is the spot where I went from complete newbie to foamy riding surfer-gal in 5 days!
The highlight of my surfing experience in Hiriketiya was being in the water and meeting people from all over the world. We formed a cheerleading squad, encouraging our new "friends" to take that big wave, cheering if they stood up and laughing together if they wiped out.
Families were attempting to take party waves with just about everyone spurring them on.
The banter was great, and the vibe was awesome!
Surfboards can be rented for just over $1.5 per hour and surf lessons in Hiriketiya start at $15.
If you're looking for other beaches in Sri Lanka, Trincomalee is right up there with some of the best. Whilst the beaches in Trinco aren't great for surfing, I'd highly recommend you check them out if you have time.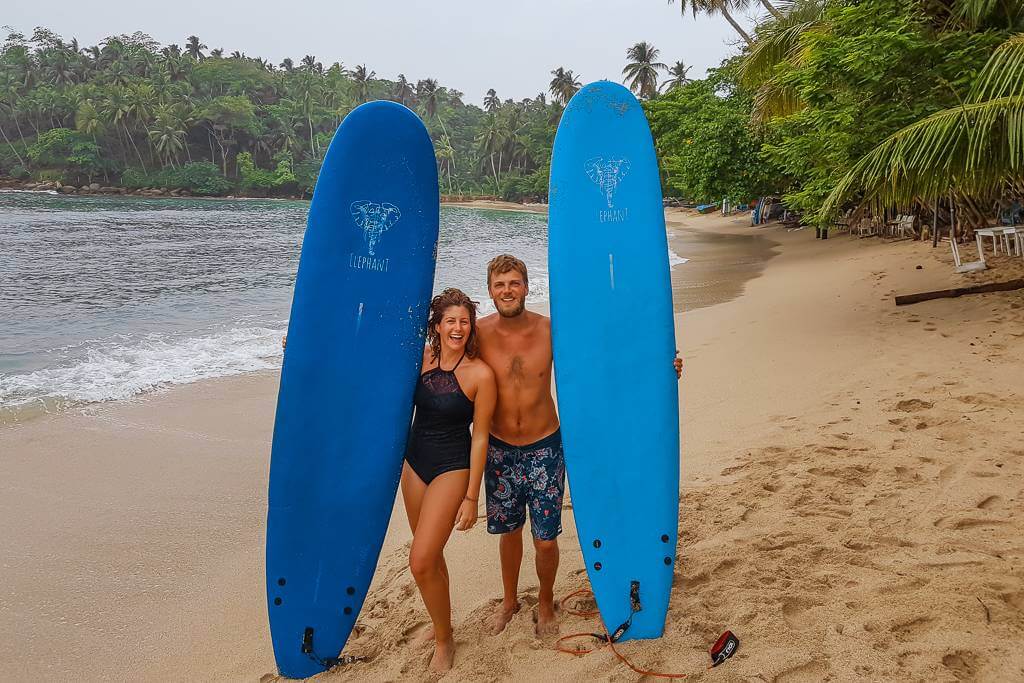 The downside of surfing in Hiriketiya Beach
Hiriketiya is a much smaller bay when compared to Arugam Bay and Weligama so expect lots of surfers all vying for the same wave.
To avoid the crowds, head to the water just after sunrise or during lunchtime when it's slightly quieter.
If you're a serious surfer, you're going to have to deal with the beginners at Hiriketiya Beach. Most people in the water have never been on a surfboard before so try not to ruin everyone's mood by getting too hectic.
If you're one of the newbies, respect the locals and try to exercise good surfing etiquette.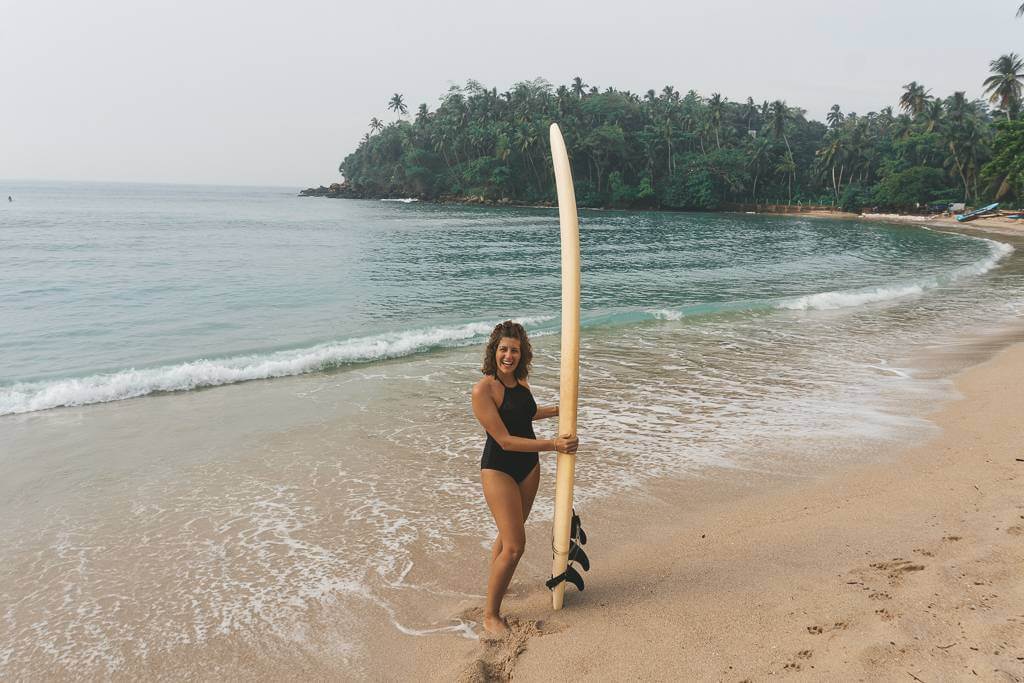 2. Relax at he peaceful bay of Hiriketiya
One thing you'll soon realize about the south coast of Sri Lanka is that the main highway literally runs alongside the coast!
This means that your island paradise is often spoiled by the sounds of speeding buses and the infamous hooting of scooters and tuk-tuks.
However, Hiriketiya Beach is an exception.
The bay is about a 5-10 min drive from the main town of Dickwella where most buses pass through. This means you have the beach to yourself, with no disruption, no noise, and no chaos.
3. Do yoga at Hiriketiya
After your morning surf, why not head to Dots Bay House, Jasper House or Salt for a yoga class. The jungle setting is quite something!
They're hotels but non-guests are welcome to join their 8am or 5pm classes for $8.
4. Take a trip to Talalla Beach
Talalla Beach is a long, white sandy beach just 20 minutes west of Dickwella.
Whilst it's only a stone's throw away from Hiriketiya, the beaches could not be any more different and so I'd highly recommend you visit both if you have time.
Talalla Beach is a calm, relaxed oasis offering a longer stretch of shoreline when compared to Hiriketiya. The waves are smooth and virtually non-existent, making it one of the best beaches for families or those who'd prefer to unwind on a Lilo in the middle of the ocean.
I spent a few hours enjoying the empty beach, lazing on a sunbed and sipping on fresh fruit juice before heading back to Hiriketiya for some sundowners.
To get to Talalla Beach, rent a scooter for the day, or catch the local bus from Dickwella.
5. Explore Hummanaya Blowhole – is it worth it?
Eager to experience all the best things to do in Hiriketiya, I hopped on my scooter and headed to the neighboring bay to check out the famous Hummanaya Blowhole.
It's the second biggest blowhole in the world, reaching an impressive 30m in height.
However, the best time to see the blowhole is during the monsoon season when the seas are rough. I clearly missed the brief on this!
After I arrived at the entrance, I spoke to a group of people who warned me that the blowhole was completely underwhelming and not worth seeing because of the low water levels. So, I quickly turned around and headed straight back to Hiriketiya Beach for an afternoon surf session.
Entrance to the Hummanaya Blowhole is $1.5 but ask a local about the tides before you make a mission out there.
READ MORE: WHAT TO PACK FOR SRI LANKA
How long should you stay in Hiriketiya Beach
I initially booked two nights in Hirikitiya Beach but ending up staying five.
Yes, it's that good!
If you're limited for time, I recommended two nights. You can even get by with only one night – but I guarantee you won't want to leave.
Hiriketiya Beach Accommodation
I stayed at Peak House in Hiriketiya Beach and highly recommend it if you're on a tight budget but still looking for a clean and comfortable stay.
Although it's not right on the beach, the hospitality of the owners sure makes up for it. Staying at Peak House was the highlight of my time in Sri Lanka. Ask for the fish and prawn braai (barbeque) – you will not be disappointed!
Here are few alternatives that may be better suited for your budget: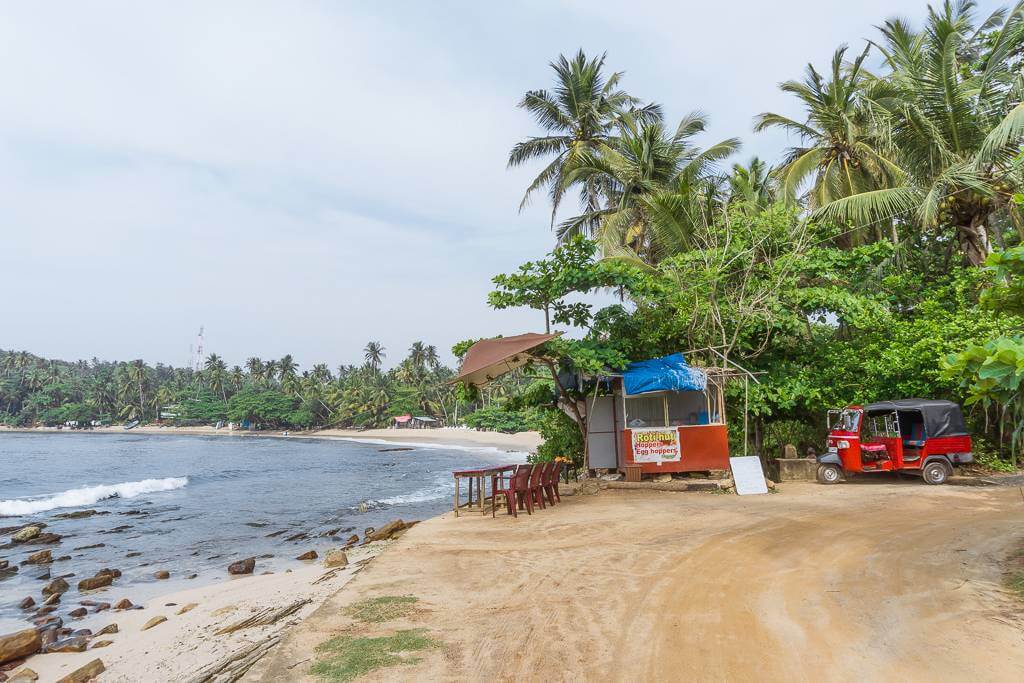 Hiriketiya Restaurants
Roti Hut: You cannot miss this spot and it's worth stopping here at least once a day, be it for breakfast, lunch or supper. Their rotis are not only cheap – less than $1 for one – but absolutely delicious.
Garlic Cafe: Situated in a garden courtyard, the currys at Garlic Cafe are delicious and only come with a $3 price tag. The best time to visit is during the evening when the fairy lights are up, and the vibe is festive.
Beach House, Hiriketiya: Need a break from curry? Head to Beach House for a delicious wood-fired pizza, literally on the beach.
The Grove: The Grove is a hit for lunch or dinner.
Salt House: With a garden setting and delicious food, you can't go wrong at Salt House.
READ MORE: 24 THINGS I WISH I KNEW ABOUT BACKPACKING SRI LANKA
Best Time To Visit Hiriketiya Beach
Sri Lanka is known for its 2 seasons. May to September brings with it the south-west monsoon season and November to March is the north-east monsoon season.
However, Hiriketiya seems to be an exception to this rule as the waves are great all year round. I visited Hiriketiya Beach in October and had perfect weather every single day, however, the beach was crowded with scores of surfers hitting the water throughout the day.
I had a friend who visited a few months earlier in June, which is supposed to be monsoon season. The beach was empty with fewer tourists yet still had great weather and waves.
It's hard to believe that just a few days prior to visiting Hiriketiya Beach, I was in Nuwara Eliya where the weather was gloomy and cold, and I spent my days tucked under the blankets next to the fireplace.
How To Get To Hiriketiya, Sri Lanka
Hiriketiya Beach is on the south coast of Sri Lanka, next to Dickwella. Unfortunately, the trains don't run here, but getting to Hiriketiya by bus is relatively easy.
The journey will take about 4 hours from Colombo to Dikwella and 1 hour from Mirissa to Dickwella.
Hop off at the bus stop in Dikwella and catch a 5-minute tuk-tuk to Hiriketiya Beach.
Is Hiriketiya beach worth visiting?
Yes, Hiriketiya Beach is definitely worth visiting if you're looking for a seaside escape. The small bay has a relaxed vibe and is unlike any beach I visited in Sri Lanka.
---
Are you wondering what to do in Hiriketiya? Do you have any questions about your trip? Drop me a message in the comments section below.
Looking for more Sri Lanka travel information? Check out my other posts!
---
Pin this!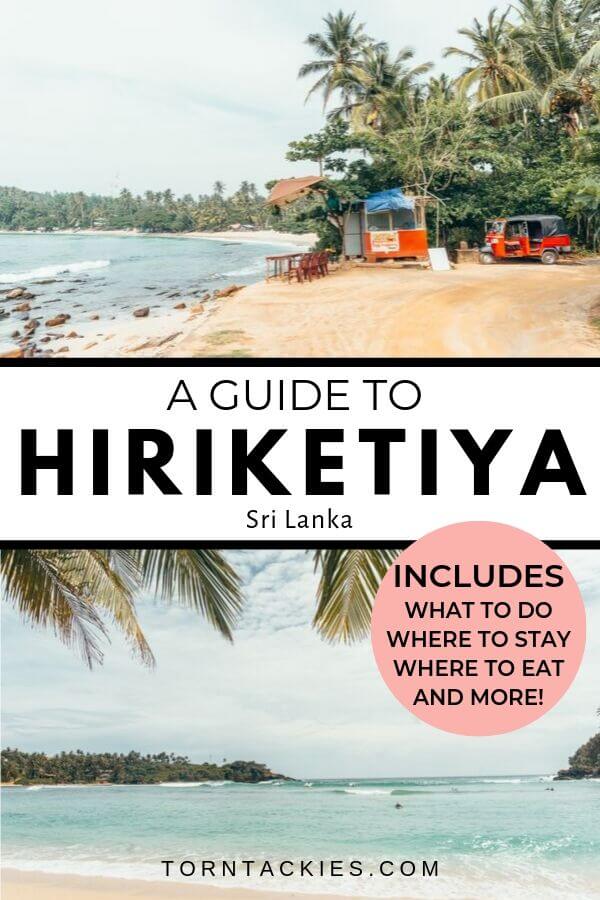 There is a really good chance that this post contains affiliate links. If you click one of them, I may receive a small commission at no extra cost to you. As always, views are my own!