Indonesia – it's a magical place! Epic waterfalls, lush forests, diverse landscapes. I've visited the country numerous times over the past few years, and I keep coming back for more.
So, after multiple trips (and a few too many packing mishaps), I think it's fair enough to say that I know a thing or two about what to pack for Indonesia. And I've covered them all in this mega packing guide.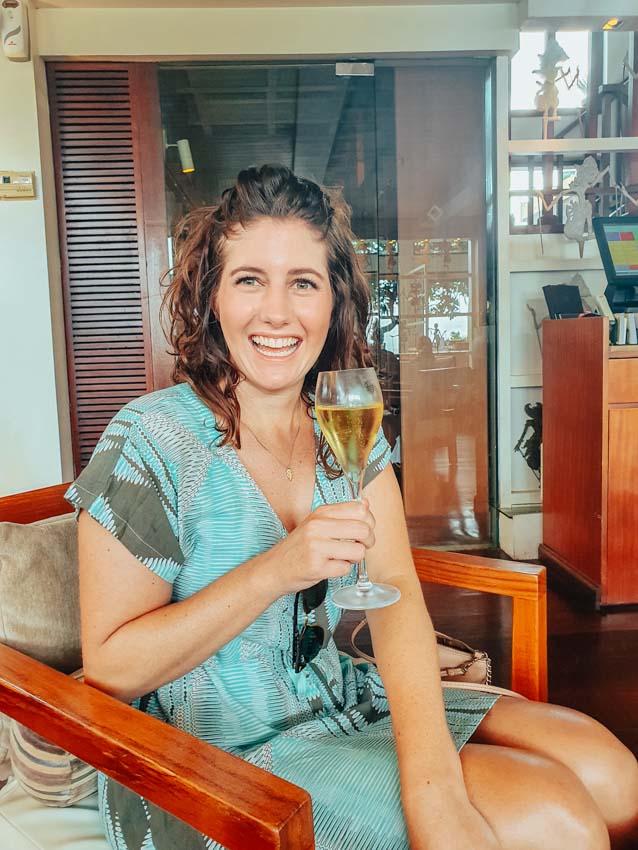 What to pack for Indonesia: Your bags
Before you do anything, you'll first need to decide what you're going to pack everything into.
Large Backpack
If you're a luxury traveler embarking on a 5* resort holiday with private transfers, then you'll get away with a hard wheelie suitcase.
But for everyone else, a backpack is a must-have when packing for Indonesia! They're light, easy to carry, and won't get muddy or wet from dragging across dirt roads or through ferry terminals.
And backpacks like this aren't only for backpackers – they're for everyone.
Carry on backpack or day bag
Having a good carry-on backpack is essential to every packing list for Indonesia. This over-the-shoulder bag is needed for your day trips, beach hopping shenanigans, and scooter missions.
Store your water, snacks, phone, camera, sunscreen, and beach towel in here. You'll be all set and ready for the day. These ones come in different colors and are trendy and practical!
Packing cubes
Packing cubes should be on your list no matter where you're going.
They can be used to separate all your clothing items, from swimwear to underwear, dresses to shorts. They are affordable and generally come in sets of 3 or 4 varying sizes, so you'll definitely get your money's worth.
And they're not only for clothes! When I was backpacking in Indonesia, I used packing cubes as my laundry bag, toiletry bag, and make-up bag.
What to wear in Indonesia (for women)
Packing for Indonesia is no easy task – especially for us ladies. You want to be prepared for every occasion but that often means overpacking. Don't do that!
Depending on your itinerary for Indo and the type of activities you'll be doing, you can amend the below packing list items. But keep in mind that when packing from tropical climates, stick to fabrics that are lightweight and don't crease easily.
Trainers
If you're hiking Mount Bromo in Java or doing a walk through the rice fields of Bali, you'll need a pair of closed shoes. They'll get very dirty so don't bring your new sneakers! You can also wear these on your scooter trips and during the flight.
Flip-flops (Havaianas)
Every Indonesia packing list should include a pair of flip-flops. I wore mine every single day – to the beach, shops, restaurants, and bars.
3 tank tops
They're light, quick-drying, and don't take up much space. Best worn to the beach and when you're going out.
2 tops/loose-fitting t-shirts
Bring 2 tops that cover your chest and shoulders. These can be worn when visiting temples in Java, hiking in Flores or doing yoga in Lombok. And if you get a bit too much sun, you're going to want to cover up the next day, so these are great for that as well.
3 pairs of shorts
I recommend a pair of denim shorts and 2 light shorts that you can wear over your bathing suit.
1 pair of yoga pants
I always carry a pair of long tights/yoga pants with me. You can use them for yoga, exercise, and travel in them.
2 sundresses
When you're packing for Indonesia, bring 1 or 2 flowy dresses that you can dress up or down.
2 bikinis/bathing suits
You might be tempted to bring more, but 2 are enough.
2 sarongs or large, light scarves
I wore my sarong just about every day. Whether it was as a beach towel, a skirt, or a shoulder cover-up at a temple.
Top tip: Laundry in Indonesia is cheap! So instead of packing more clothes, rather opt to get your clothes washed every few days. It will be ready within 24 hours!
A light jacket
Although it will be hot, bring a light jacket like this to wear in the mornings, on boat trips, and for your flight. Avoid a denim jacket as it takes up a lot of space and you may not even need it.
Summer PJ's
3 pairs of socks
6 underwear
Sling bag
Bring a small sling bag that you can use when going out for dinner or drinks. It doesn't need to be big – just something that can fit your purse, phone, and keys. This one will even fit a camera.
Sunglasses
Make sure they're UV protected.
Hat
I have a hit like this and love it as it's easy to travel with.
Things to bring to Indonesia (For Men)
It's so easy for guys to pack for Indonesia. Gary had half the amount of clothing that I did!
1 Pair of trainers
Flip Flops
Sunglasses
Hat
2 x boardshorts
1 x smarter shorts
2 x vests
3 x round neck t-shirts
1 x collar shirt/Polo
1 x light jacket
1 x exercise top (for hiking)
1 x exercise pants (for hiking)
3 pairs of socks
6 x underpants
Other items to pack for Indonesia
Beach towel
While most homestays and hotels in Bali will provide you with bath towels, you'll still need to pack a small, lightweight towel for the beach. It should be small enough to fit in your day backpack, along with the other items (so don't bring a large heavy towel). Some people prefer microfibre towels, but I love these and they're quick to dry.
Reusable water bottle
The tap water in Indonesia is not safe to drink. Your accommodation may offer complimentary water that you can decanter into smaller reusable water bottles – so keep this in mind when packing for Indonesia. If this isn't an option, purchase the bigger 10l water canisters from the corner store and decanter them into smaller bottles for your day trips.
Combination locks
I've never had a problem with theft in Indonesia, despite traveling on buses and ferries overland to other islands. But rather be safe than sorry and bring a lock to keep your items safe.
Toiletries
Shampoo and conditioner (2 in 1): To save space in your Indonesia packing list, I recommend that you use a 2-in-1 shampoo and conditioner for my hair and body (so no need to bring a separate body wash.)
Facewash
Moisturizer
Body cream: After hours in the hot Indonesian sun, you're going to want to moisturize
Toothbrush and toothpaste
Razors
Deodorant
Sunscreen: Indonesia is hot. With the intense sun, I recommend bringing 50 SPF for your face and 30 SPF for your body. You can buy sunscreen from most stores and pharmacies in Indonesia, but rather pack a bottle in so that you don't need to worry about shopping around when you get here. Reef safe sunscreen is the way to go!
Hairbrush
Make-up: Don't pack too much makeup. All you need is a bit of foundation, mascara, and blush.
Hair ties and clips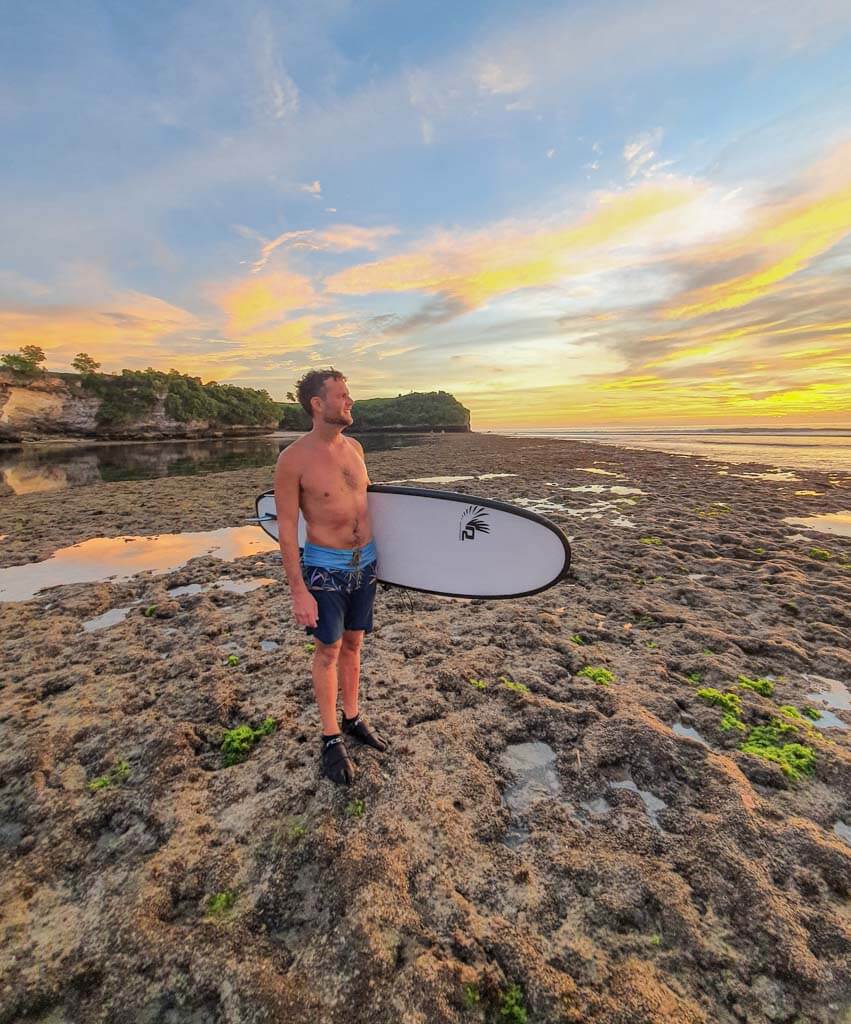 First Aid Kit
If you're packing for Indonesia and going far off the tourist track, you might need to include a more extensive first aid kit. But if you're following a tourist route with access to pharmacies and grocery stores, you should be able to get most supplies.
I recommend packing these in:
Hand sanitizer or wipes
Painkillers (Paracetamol, ibuprofen, aspirin)
Bandages/plasters (Band aid)
Antiseptic cream
Imodium
Mosquito repellent (e.g. Nobite, Autan, with ingredient DEET or similar)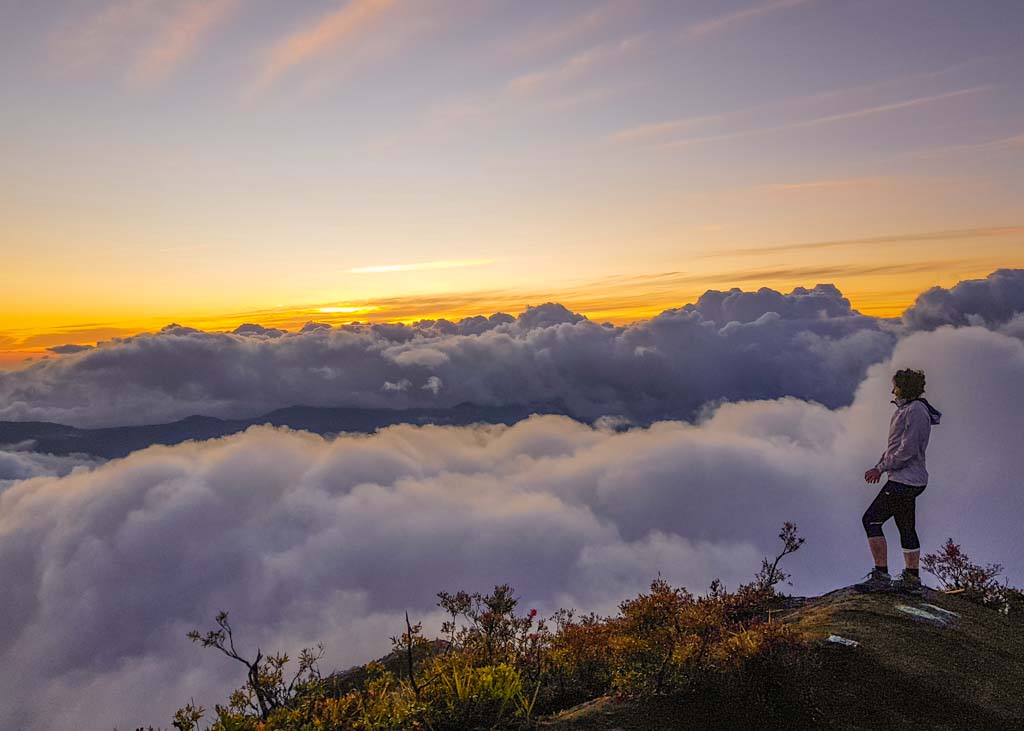 Travel Insurance
When you're hiking volcanoes, diving with Manta Rays, surfing big swell, driving scooters, and eating street food, you need to be covered for emergencies.
It's scary how many people travel without insurance. In Indonesia, it's a common occurrence for foreigners to end up in the hospital due to motorbike accidents, food poisoning, and even dengue fever. Make sure you're covered in case this happens to you.
I personally use World Nomads when traveling as they cover everything from stolen luggage, missed flights, natural disasters, and vehicle accidents as well as activities such as surfing and scuba diving.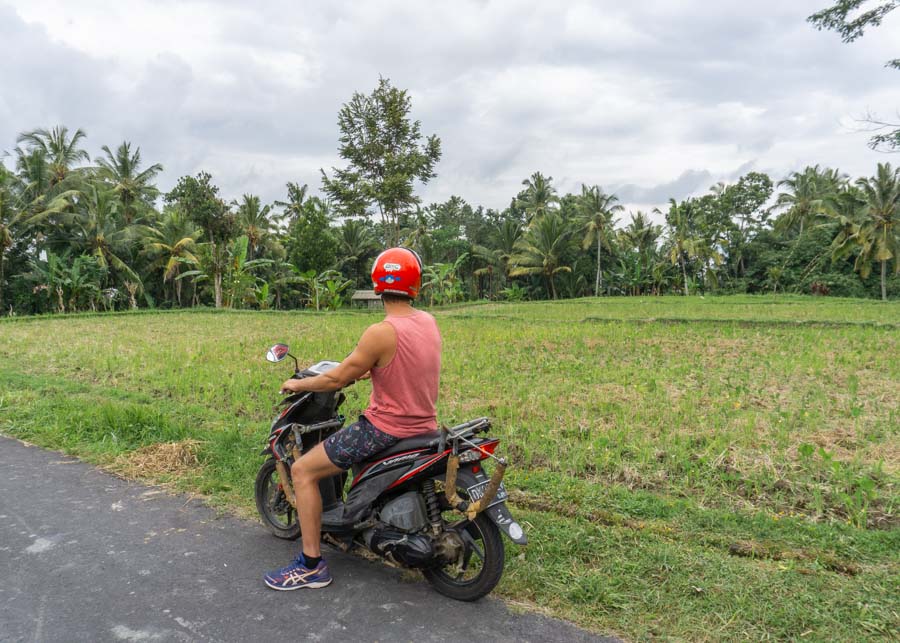 Electronics
GoPro: If you don't have one, buy one! You'll want to capture all your favorite memories at these famous Indonesia landmarks (and they're also great for selfies)
Portable power bank: Your phone battery may not last an entire day when you're using it to follow Google maps and taking photos every two minutes. You're going to need a portable power bank like this (and make sure it's charged)
Adapter: US plug ports don't work in Indonesia. The plugs here take twin round pins, similar to European and South African pins. (Type F + G)
Speaker: A speaker will come in handy when you're chilling at your homestay with a Bintang in hand, playing an intense game of cards. We used ours often but if you're planning on being on the go all the time, then it might not be necessary.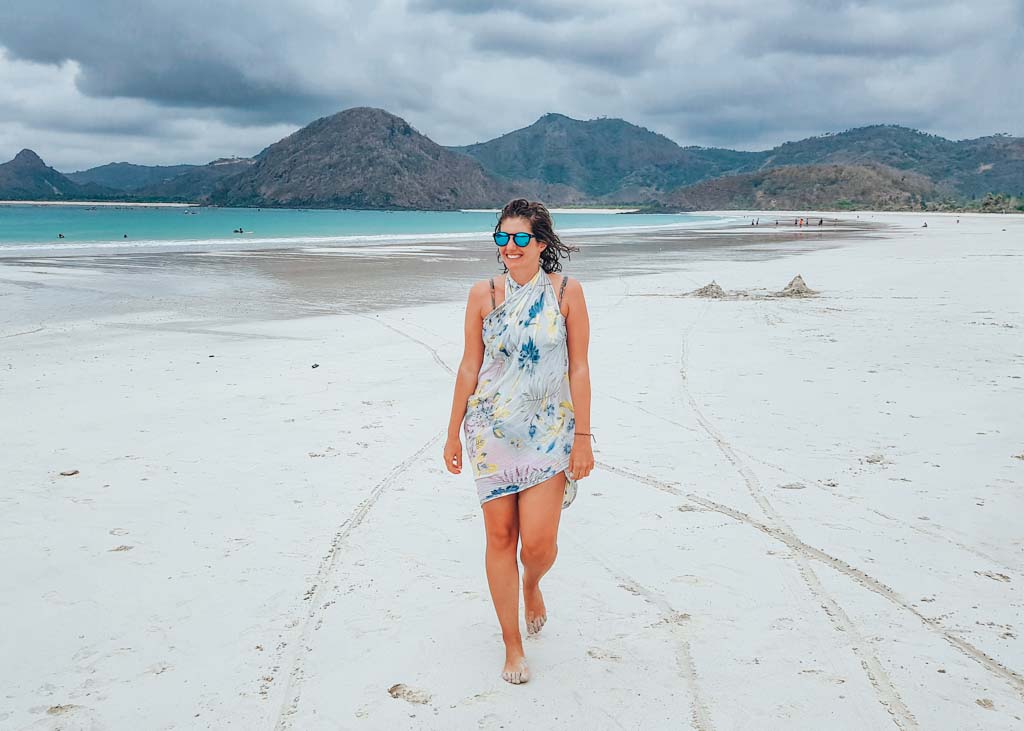 What to bring to Indonesia: Essential travel items
Passport (and visa if you're staying longer than 30 days)
Air ticket
Debit and credit card: bring both as you never know if one will give you issues
Driving license and International Driving License (you need an international license if you're driving a scooter)
Copy of Passport, Travel insurance, Driver's license, accommodation booking
Passport wallet to hold your Passport and other important documents (all the above)
Money purse: When going on day trips or scooter adventures, don't travel with a big wallet. Instead, keep your cards, drivers' licenses, and other documents in your travel wallet (above) and use a small money pouch to carry cash for the day's activities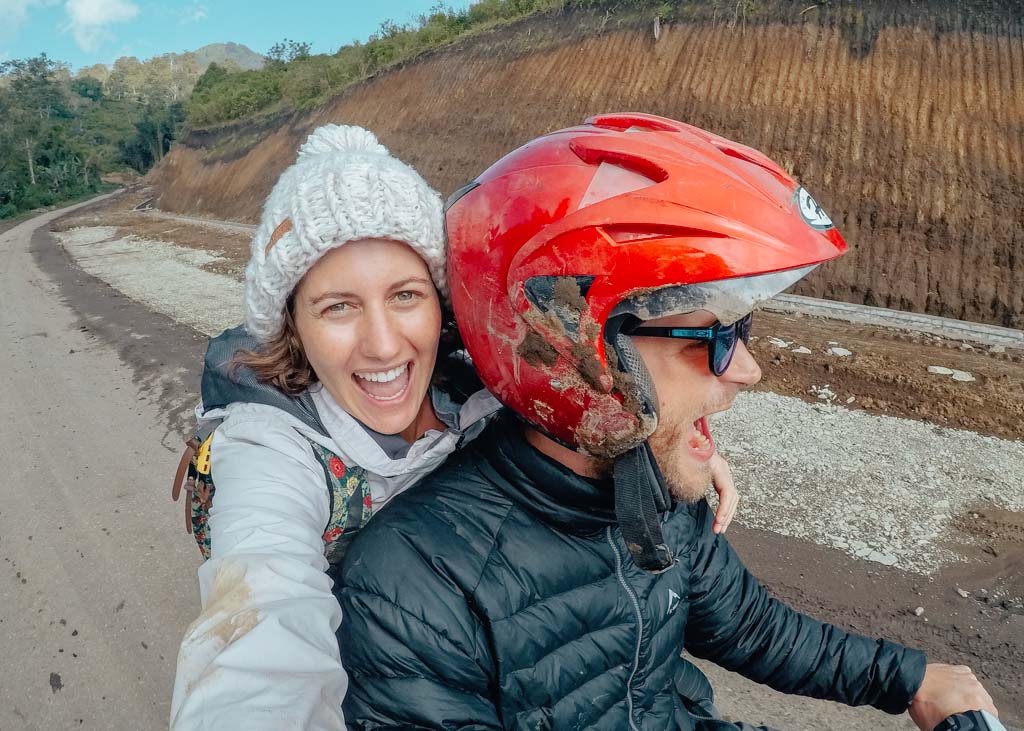 Non-essential items to pack for Indonesia
Here are a few extra items that you might want to include on your packing list for Indonesia, although most are not necessary.
A pair of dressy sandals
If you're planning a nice dinner during your trip, then you'll need a pair of sandals. But if these types of activities aren't on your Indonesia itinerary, leave them at home.
A dry bag
Planning on doing a bit of island hopping, snorkeling, or diving? Bring a dry bag to keep your things safe. But honestly, these dry bags do take up a bit of space so if you're only doing 1 or 2 boat trips, then it's not entirely necessary.
A beach bag
Some people may prefer to have a nice beach bag for their day out in the sun. A tote bag also works well and takes up little space. Or better yet, leave these at home and use your small backpack instead – that's what I did.
Snorkel and mask
Carrying around bulky snorkeling gear is a mission and it's easier to rent them on the islands.
Exercise clothes
Unless you'll be exercising every day, don't bring any workout gear. All you need is a pair of yoga pants (which I included earlier) and a normal top.
Money
You don't need to bring Indonesian Rupiah with you to Indo as there are many ATMs just outside the arrival terminal at the airport.
Rash guard or swim shirt
If you're learning to surf and expect to spend hours in the water, then you may want to consider adding a rash guard to your Indonesia packing list.
Rain Poncho
Traveling during the dry season (May-September)? Don't pack a poncho! But you'll need one for the rainy season. They're sold on every street corner in Indo so don't stress if you left yours at home.
Playing cards
I always travel with a pack of cards!
The book "Snowing in Bali"
I don't read much but this book is amazing and I couldn't put it down. It's all about the history of drugs and gangs in Indonesia. Super interesting! Read the reviews here.
What not to pack for Indonesia
High heels: When packing for Indonesia, rather bring a nice pair of sandals.
Expensive jewelry: Or any jewelry for that matter. It's not needed.
Jeans: They're heavy and bulky and you won't wear them because it's so hot.
Too much makeup: Trust me on this one – If you're packing for Indonesia, you don't need much more than mascara and a light foundation. While Instagram may showcase a more dolled-up side to Indonesia (especially the island of Bali), the country is super easy going and I didn't feel the need to dress up or have my face caked in makeup.
Water shoes: I've seen a few Indonesia packing list blog posts that recommend bringing a pair of water shoes. While these could come in handy when you're walking over the reef at low tide, they aren't necessary, and I never needed them during my time in Indonesia.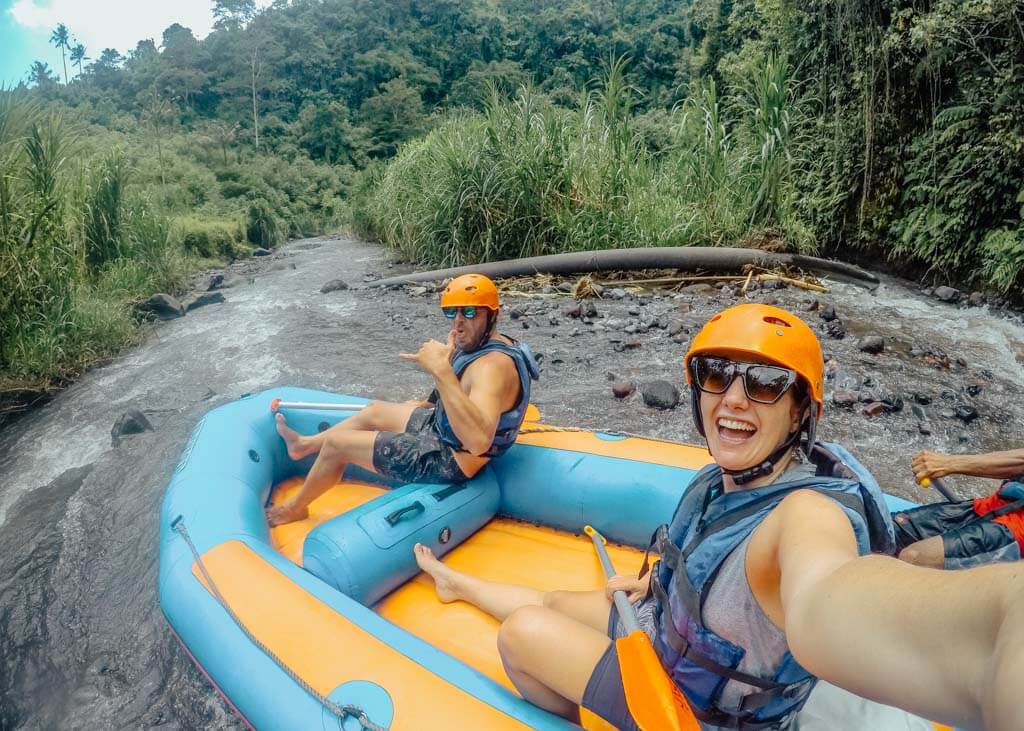 Packing for each season in Indonesia
Indonesia has a tropical climate and overall, you can expect warm days throughout the year. The climate varies from region to region, but the rainy and dry seasons are a pretty good starting point when it comes to packing for the different times of the year.
Rainy (wet) season in Indonesia
The rainy season runs from November to April. If you are traveling during this time, you can expect short yet heavy rain showers throughout the day.
But don't let this deter you from visiting. You just need to be a bit more prepared with rain poncho and extra dry clothes. It's best to have the flexibility to adjust your plans based on how the weather is behaving.
But it's also extremely hot and humid during the rainy season. You won't be needing long pants and you'll most likely spend all day and night in shorts and a t-shirt!
Dry season in Indonesia
The dry season is from May to September. During this time, the days are sunny and warm, and the nights are moderate temperatures. You might need a warm top for those sunrise scooter missions but overall, the temperature is warm.
But the best part – it rarely rains so no need to pack a poncho or extra clothes!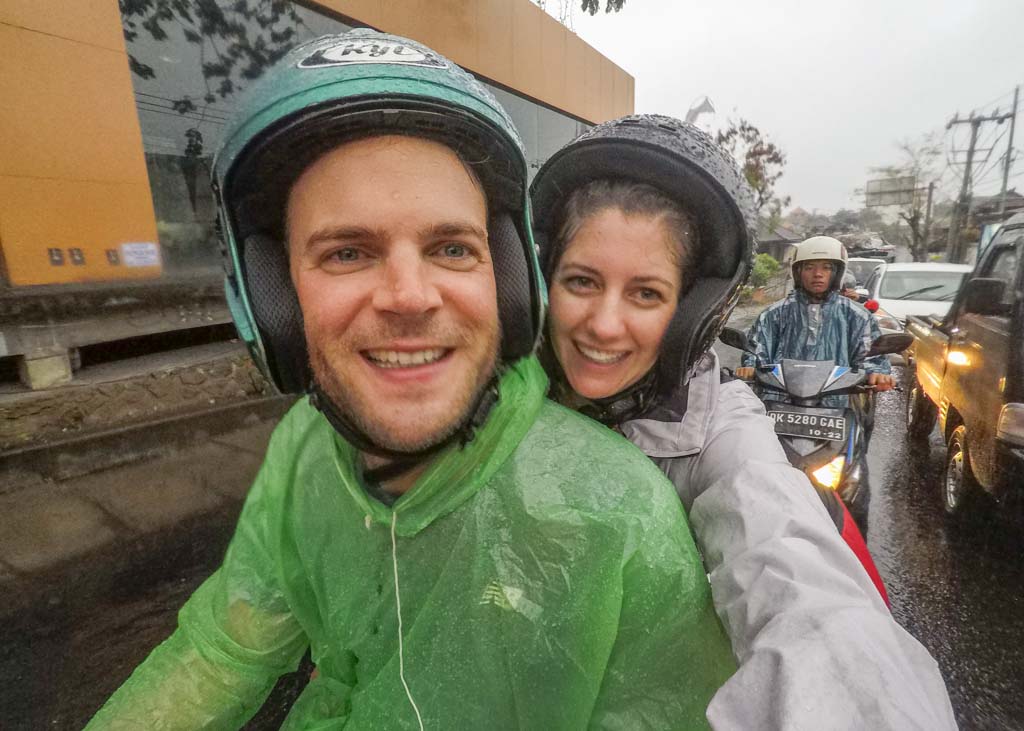 What to wear in Indonesia: How modest to dress
This is a question that gets asked by most people when packing for Indonesia.
In destinations that are frequented by tourists such as Bali and Java, it's generally okay to wear summer clothing and show skin. But if you're going deeper into the country and visiting locations with few tourists, it's better to pack more modest options.
Despite going completely off the beaten track to Sumba Island, I never felt judged by what I was wearing. Use your discretion and if you're surrounded by people who not showing skin, then maybe wear a sarong and shirt instead.
Conclusion of what to take to Indonesia
As you can imagine, there are so many factors to consider when deciding what to pack for Indonesia. This guide covers all the items you might need but the final decision comes down to you – and how you travel. If you're backpacking Indonesia, you can get by with fewer clothes, but if you can't travel light, then you may want to include more options.
My final piece of advice: Less is more (and pack light-weight clothes)
---
Are you packing for Indonesia? Do you have any questions about what to wear? Let me know in the comments section below!
Looking for more Indonesia travel inspiration? Check out my other posts!
Did you find this post helpful? Save it for later on Pinterest!