Victoria Falls – there's nothing like it!
Not only is it the biggest sheet of falling water in the world, but Victoria Falls holds the title of being one of the Seven Natural Wonders.
Forming a natural border between Zimbabwe and Zambia, these mighty falls can be visited from Livingstone (on the Zambia side) or Vic Falls (on the Zimbabwe Side).
It's a playground for adventure enthusiasts, and there are so many activities in Victoria Falls to keep you busy for days on end.
Here are my 15 top Victoria Falls activities and fun things to do in Zimbabwe and Zambia.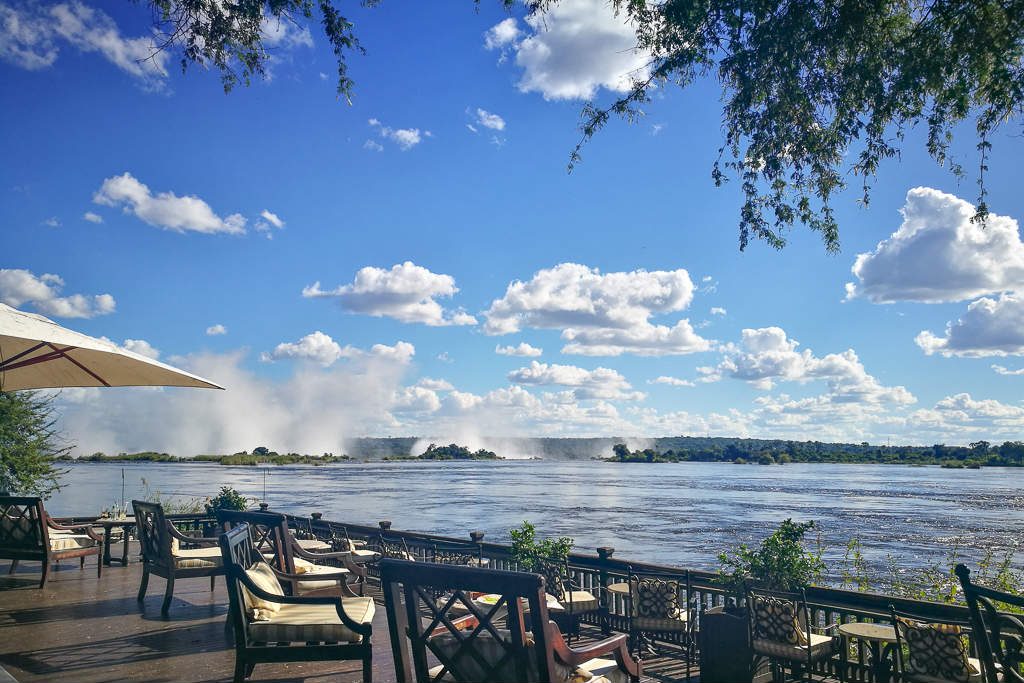 Torn Tackies contains affiliate links. If you make a purchase using one of these links, I may receive compensation at no extra cost to you. See my disclosure for more information.
Best time for Victoria Falls activities
You can visit Victoria Falls National Park all year round. But the seasons will impact what activities are available.
This is due to the fact that during the wet season, the falls are at their fullest. This means that it becomes dangerous to do certain water activities such as Devil's Pool or water rafting.
But on the flip side, the wet season is a great time to see the actual falls as you can literally feel its power!
In this post, I've detailed which activities to do in Victoria Falls based on the time of year you're visiting.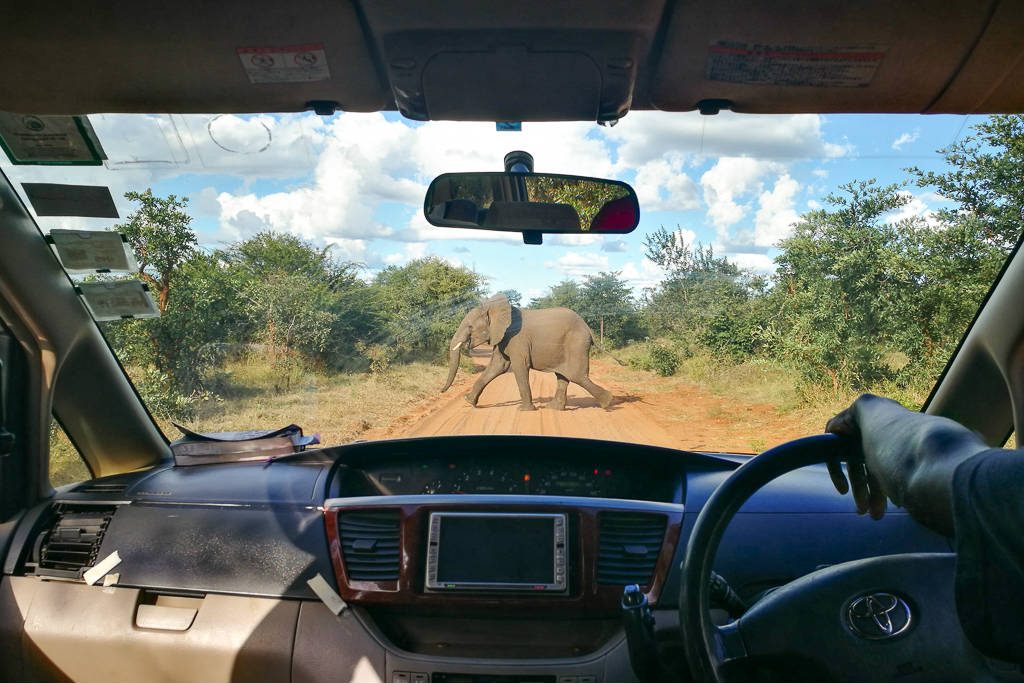 Zambia or Zimbabwe side
The general agreement is that Victoria Falls is best seen from the Zimbabwe side. But regardless of where you decide to stay, be it the Zambia side or the Zimbabwe side, you'll be spoiled with awesome things to do in Victoria Falls.
It's easy to get between the towns of Livingstone and Vic Falls, with most tours departing from both areas.
But, if you're traveling on a budget, you'll quickly realize that there aren't many cheap (or free) things to do in Victoria Falls. I was shocked by the prices, and it definitely isn't backpacker friendly!
Regardless, I had some of the most amazing experiences and was able to see and do a lot with a limited budget.
Summary of the best Victoria Falls activities
Overall best thing to do in Victoria Falls: Visit Victoria Falls National Park
Top adventure activity: White water rafting | Check prices here
What to do in Victoria Falls at night: Zambezi Sunset Cruise | Check prices here
Visit Victoria Falls National Park: The Best thing to do in Victoria Falls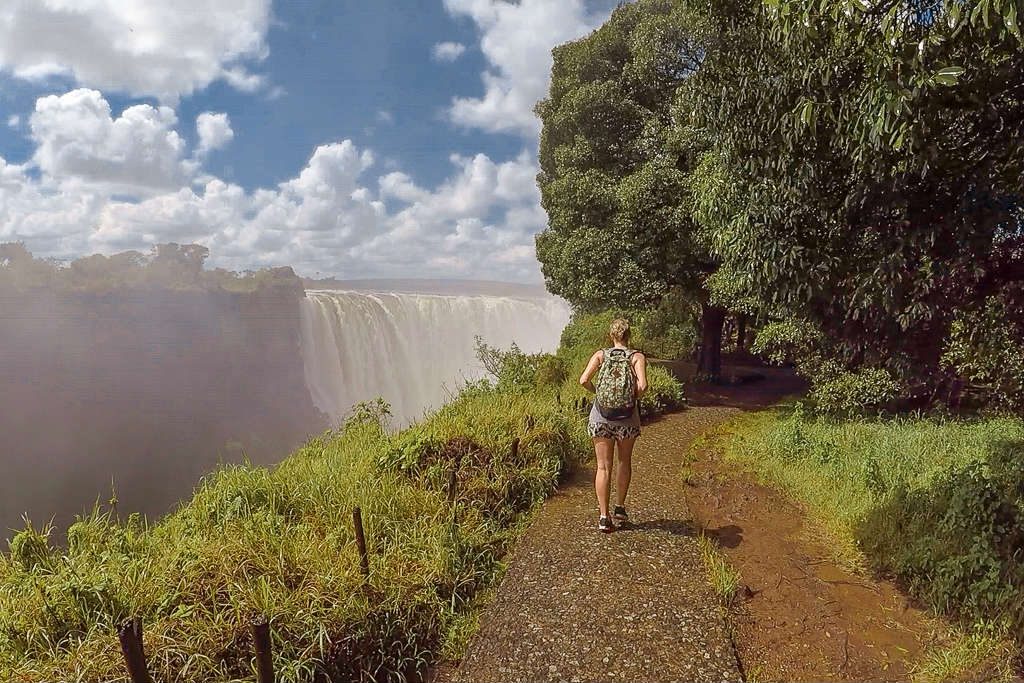 Cost: $50 for international tourists and $30 for SADC passport holders
When to visit: Year-round, but I recommend the wet season from February to June
In search of the best Victoria Falls activity? Seeing the actual falls, of course!
I was completely blown away by the power of Victoria Falls and the sheer volume of water thundering down.
Experiencing something as spectacular as this is one of those "Pinch me moments" and makes the trip to Vic Falls so worth it.
While you can also see Victoria Falls from the Zambia side, Zimbabwe has the lion's share of viewpoints, with 75% of the total area being in the county.
Walking along the cliff path in the Victoria Falls National Park is breathtakingly beautiful and offers gorgeous viewpoints along the way.
During a full moon and when the water levels are high, you will set your sights on the spectacular Lunar Rainbow or Moonbow. Seeing this rainbow at night is pretty magical so don't miss out on it if you're looking for things to do at Victoria Falls between April and July.
Top tip: Depending on whether you visit during the dry or wet season, your experience of Vic Falls will be completely different. My advice is to visit between April and June, as this is when the falls are at their fullest.
The best Vic Falls adventure activities
Victoria Falls is the adventure capital of Africa! Here's a few things to add to your bucket list.
Go Rafting on the Zambezi River
There's no arguing that white water rafting is one of the best Victoria Falls adventure activities.
With a number of grade 5 rapids and terrifying drops along the way, the Zambezi River has made a name for itself as being one of the most exciting places to go water rafting in the world.
The rafting season only runs from August to mid-January, as the water levels are lower during these times. This provides optimal rafting conditions and huge crashing rapids.
This adrenaline-pumping activity includes paddling through some epic rapids where you'll most likely flip off your raft and endure nature's washing machine.
This, and surviving crocodile-infested waters, makes you a total badass!
Crocodiles? Is white water rafting in Victoria Falls safe?
The Zambezi River is home to crocodiles and hippos. But these animals struggle to function in the fast-moving waters.
Because of this, they aren't found near the rapids as they choose to stay closer to the calmer waters.
So fear not! The guides are extremely well-trained and experienced in judging the safety of the water, and no risks will be taken.
Bungee Jump Over the Zambezi River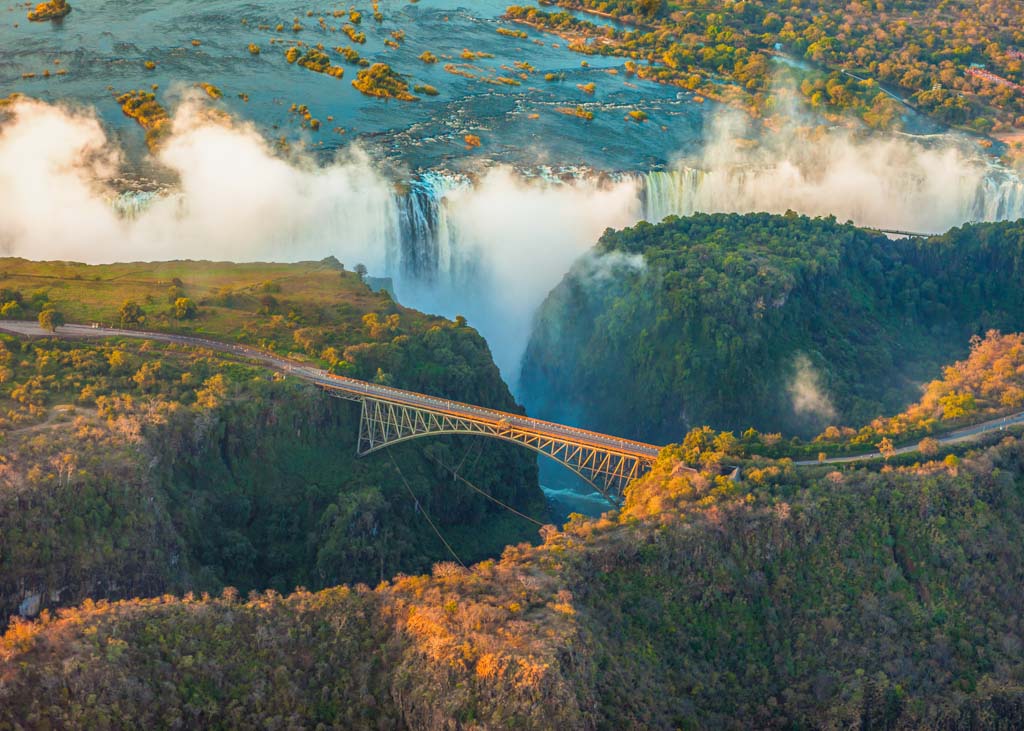 Only for the brave!
If you're a thrill seeker, then jumping 111 m off the Victoria Falls Bridge and landing just above the raging Zambezi River is the perfect adventure activity for you!
I, on the other hand, would much rather watch from the side as many people do.
Swim in Devils Pool
Devils Pool is a naturally formed rock pool located on Livingstone Island, near the edge of Victoria Falls.
This infinity pool can only be accessed from the Zambian side of the Zambezi River. It can be a dangerous activity, so you need to book your Devil's Pool tour through a tour operator.
Devil's Pool is yet another Victoria Falls activity that is largely dependent on the time of year you visit.
During the peak of the wet season from March to July, the Zambezi overflows, making a trip to Devil's Pool impossible due to the risks involved.
September to December offer optimal conditions to experience Devil's Pool.
Canoeing along the Zambezi river
Canoeing along the Zambezi River is a spectacular way to take in the beauty of Victoria Falls and experience the wildlife of the Zambezi.
During this full-day tour, you may see crocodiles, hippos, elephants, and a variety of fish and birds.
Before you begin your tour, you are given a full safety briefing. The guides will ensure you do not have any life-threatening encounters with hippos or crocodiles, as safety is their primary concern.
Camping along the Zambezi River
If you're a camping enthusiast, this one's for you! After a day of canoeing, you set up camp along the water's edge where you'll enjoy a few beers and a good ol' braai.
The thought of spending the night along the Zambezi River, surrounded by hippos, elephants, and crocodiles is terrifying, but what an experience it would be!
Do the Batoka Gorge Swing
If you're up for an adrenaline activity but not keen on bungee jumping, the gorge swing is a perfect alternative.
With a 70 m free fall from the Victoria Falls Bridge, it's a daring adventure!
Other top things to do in Victoria Falls
Not so keen on all the adventure activities in Victoria Falls? You might prefer these!
Enjoy a Zambezi River Sunset Cruise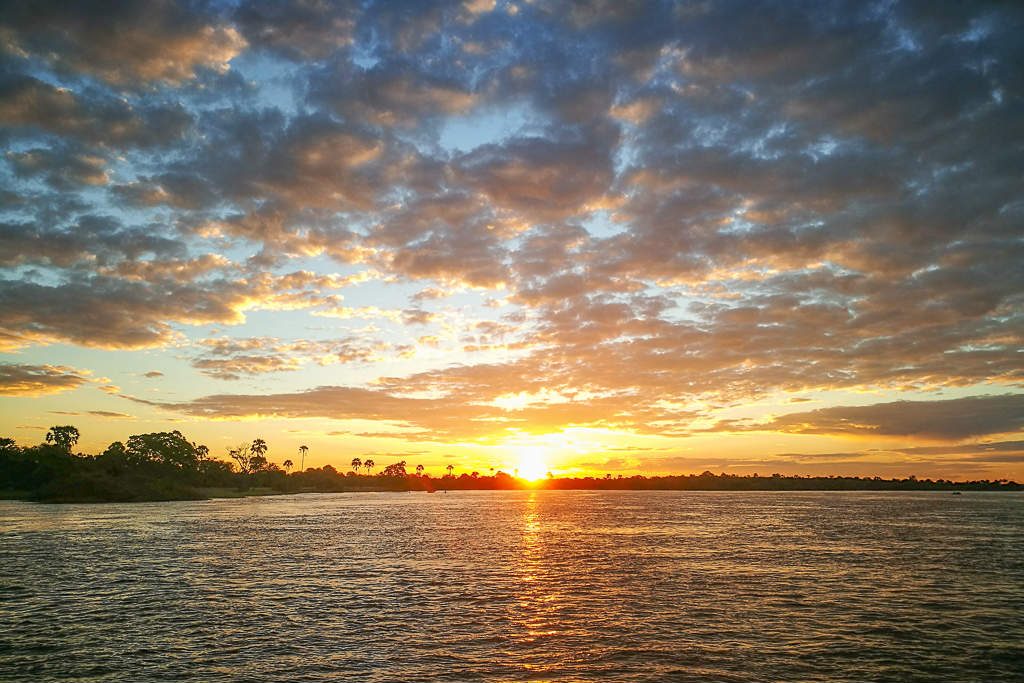 The Zambezi River is over 2 500 km long and creates a natural border between Zambia and Zimbabwe. It's filled with crocodiles, hippos, and an array of wildlife that live along the water's edge.
The best way to take in this spectacular scenery is by joining one of the cruises along the Zambezi River.
For a magnificent sunset, I highly recommend booking a Zambezi sunset cruise, or booze cruises, as I call it.
Here you'll enjoy an unlimited supply of cocktails whilst watching the sun slowly sink below the horizon. If you're traveling on a bigger budget, you can book a cruise with a four-course dining experience where you're treated to all-inclusive drinks and dinner on the water.
This is yet another Vic Falls activity to include on your bucket list.
Views of the Falls from Victoria Falls Bridge
Take in the spectacular views of Victoria Falls along with the lunar rainbow, which is one of the most impressive sights.
If you're traveling on a budget, this is one of the best Vic Falls activities that allow you to see the falls whilst not burning a hole in your pocket!
The Vic Falls Bridge connects Zimbabwe and Zambia and is a short walk from Victoria Falls town in Zimbabwe. If you're coming from Livingstone, it's advised to take a taxi as it's a bit far to walk to the border.
Here's a detailed guide on how to cross the bridge and visa requirements for moving between Zambia and Zimbabwe.
Victoria Falls Helicopter Flight
If budget isn't an issue, then treat yourself to a flight above Victoria Falls.
This flight is arguably the most scenic flight in the world. Here's why you shouldn't miss out on this once-in-a-lifetime experience!
The "Flight of Angels," as it is commonly called, is a quick 12-15-minute flight with breathtaking views of Victoria Falls and the Zambezi River.
It offers the best aerial experience where you can see and feel the power and beauty of mother nature.
Sundowners at the Royal Livingstone Hotel
The stunning Royal Livingstone Hotel is situated on the banks of the Zambezi River, just a few kilometers outside Livingstone. It offers a grand experience in contrast to the untouched and rugged areas of Zambia and Zimbabwe.
Zebra, giraffe, and buck roam freely throughout the grounds, and they enjoy the occasional close-up selfies with guests!
The highlight of the Royal Livingstone Hotel is the sundeck which is the perfect place to watch the setting sun whilst enjoying a drink or two (or three)!
To the left of the sundeck is Vic Falls, where you can see and hear the mighty falls thundering in the distance.
I spent my afternoon admiring the views of the Zambezi River as it flowed relentlessly toward the falls.
Every afternoon at 3 pm, tea is served along with all the bells and whistles, which make it an extremely popular high tea for tourists.
Vulture feed at Vic Falls Safari Lodge
Best time: Year round
Top tip: Be there by 1 pm daily to watch the vulture feed
Vic Falls Safari Lodge is a beautiful thatched lodge situated on the Zimbabwe side of Victoria Falls.
It's set on a high plateau overlooking the magnificent Zambezi National Park. These sights are better than most I've seen, with unspoiled views and nothing but trees and wildlife in front of you.
The bar and dining area at Vic Falls Safari Lodge leads to a massive deck that overlooks a waterhole. Here, you can watch the vulture feeding at 1 pm daily. You may even spot other animals, such as elephants, waterbuck, and impala, so keep your eyes open!
You can find out more about the vulture feed here.
A trip to Victoria Falls Safari Lodge is one of the best free things to do in Victoria Falls, as visitors aren't charged to watch the vulture feed. The lodge also offers a complimentary shuttle to and from Vic Falls.
If you're unable to make the vulture feed, don't let that deter you from visiting Victoria Falls Safari Lodge anyway. The sights and atmosphere alone are a worthy reason to visit.
Better yet, book a night's stay here!
How to get to Vic Falls Safari Lodge
Victoria Falls Safari Lodge is located a short drive from Vic Falls town. You can't walk there.
The hotel offers a free shuttle service to and from their lodge. This shuttle makes stops outside "Wild Adventures" every hour on the hour.
It's a 10-minute drive from Victoria Falls to Vic Falls Safari Lodge, but the shuttle stops at various points along the way to pick up and drop off other guests.
Tip: Their cocktails are delicious, and their food is even better!
Local community tour in Zimbabwe or Zambia
Cost: Free without tour | $25-$50 for organized tour
Africa is beautiful, and the people are partly to thank for this.
Being South African, I immediately promote my country and continent as it truly is the most beautiful and unique place I've been to.
You can't visit Victoria Falls and not take a walk along the paths that the locals do every single day. Township tours can be arranged through tour agencies where you learn more about life in these communities, the history, and traditions, and have the opportunity to feast on the local cuisine.
However, I opted for the route less taken.
After an adventurous day along the Zambezi River, I joined a group of friends from our hostel who were visiting a few local taverns in the townships near Victoria Falls. Of all the Victoria Falls activities I did, this was by far the most memorable.
But is it safe? And what made it so unique? Read about my experience here.
Safari at Chobe National Park
Botswana is home to Chobe National Park, one of the best places to go on a safari in Africa. It's about a 1h 30 min drive from Victoria Falls.
This day trip includes a game drive with magnificent sightings of the many lion and elephants in the park as well as a cruise along the Chobe River.
However, if you don't have the time (or budget) for this Victoria Falls activity, give it a miss as you'll see a decent amount of wildlife in Zimbabwe or Zambia.
I spotted elephants roaming around Victoria Falls town, there were giraffes and buck at the Royal Livingstone Hotel, and crocodiles and hippos were common sightings along the sunset cruise.
Tiger fishing along the Zambezi River
Cost: $100 – $200 for an organized fishing trip. If you're arranging a private tour you need to pay entrance to the park ($12 p/p) and a $3 fishing fee.
If you're an avid fisherman, the Zambezi River is a prime spot for tiger fishing
These fishing trips can be arranged through most tour companies from either the Zimbabwe or Zambia side of Vic Falls. They'll provide you with all the equipment needed to make that big catch, and you'll enjoy a stress-free day on the Zambezi River.
However, I managed to find a more affordable fishing experience. A Zimbabwean gentleman we met offered to take us to his local fishing spot along the banks of the Zambezi River, which we happily accepted!
After driving through the Zambezi National Park and passing numerous elephants, we turned off onto a small path that led to the Zambezi River. Whilst the fish weren't anything to write home about, the peacefulness and beauty were incredible.
Elephants, giraffes, and many other wild animals roam around this park, so be vigilant, as they may decide to join you.
There are also crocodiles and hippos in the river so don't even think about putting your feet in the water!
Tip: Be friendly to the locals and take a genuine interest in their lives. They may invite you to join them on one of their daily fishing trips.
Dinner at the Boma Restaurant
Time: 7 pm – 9 pm daily
Cost for dinner: $59, excluding alcohol
The Boma is a popular restaurant at the Victoria Falls Safari Lodge, offering guests a truly unique African experience.
You'll be treated to a four-course meal including a few local delicacies such as mopane worms and game stews.
Guests are entertained throughout the night with traditional dancing, drumming and singing and are later invited to take part in these activities.
Information for your Victoria Falls activities
Make sure you read this guide before you start planning your trip. It will answer all your questions!
Most activities include transfers to and from your lodge
The prices are more or less the same between the different companies
If you don't have much time in Vic Falls, look at choosing a packaged option that includes a combination of various Victoria Falls activities in one day
Ensure you have local currency on you before you arrive in Victoria Falls as the ATM's and banks won't be able to exchange (I learned this the hard way!)
---
Looking for more Victoria Falls travel information? Check out my other posts!
---
Pin this!