Hidden between the islands of Sumbawa and Flores in Indonesia lies the Komodo National Park. While it's famously known for its resident Komodo Dragons, people are flocking to its shores for other reasons: to experience the magical underwater life that surrounds the Komodo Islands.
And what better way to explore this diving mecca than by spending a few days on a Komodo diving liveaboard.
But the costs for these Komodo liveaboards often exceed backpacker budgets (as it did mine). So, is it really worth it?
Keep reading to find out how you can dive Komodo on a budget, the top dive sites to visit, and the best liveaboards in Komodo Islands.
Diving in Komodo Islands
The Komodo Islands are magnificent! From snorkelers to divers, young and old – the Komodo Islands are yours to explore, and nothing quite compares to the natural beauty and unspoiled islands that make up Komodo National Park.
It's a scuba divers' playground with over 30 dive sites to choose from. These sites are scattered throughout the massive park with day tours departing from the port town of Labuan Bajo in Flores, Indonesia.
Best Time to go Diving in Komodo Islands
Manta Rays, sharks, eels, and turtles – diving in Komodo Islands is a worthy bucket list activity and was the highlight of my 2 month Indonesia backpacking trip.
December to March: If there's a time of the year you should avoid diving Komodo Islands, it's the rainy season between December and March. The rainy season is brutal and you can expect massive rainstorms, almost daily. There are still day tours and Komodo diving liveaboards that operate during this time, but it will be rather unpleasant. But, on the bright side, the wet season is the best time to see manta rays!
April to June: This is one of the best time to go diving in Komodo National Park and you can expect warm sunny days, clear skies, great visibility, and lush green islands after the rainy season.
July to August: The peak diving season starts from July but this means large crowds and scores of liveaboards throughout the park. I did my 4 day Komodo diving liveaboard in August, and yes, it was busy. But the weather was perfect, the visibility was excellent and I saw manta rays!
September to November: From September, you'll have fewer crowds and more underwater activity! Expect scores of Mantas and possibly even whale sharks from September. The conditions are optimal and it's one of the best times to go diving in Komodo Islands.
Komodo Diving Liveaboard vs Day Tour
You can either visit the Komodo Islands on a day tour from Labuan Bajo or join a Komodo liveaboard. Liveaboard diving is epic as you spend a few days on a boat that's fitted with cabins and a kitchen, diving during the day and sleeping under the stars at night.
And while Komodo diving liveaboards aren't cheap, they offer a once-in-a-lifetime experience.
I spent hours debating whether a diving liveaboard was worth the investment or not. I kept going back and forth but I eventually decided to go for it and booked a 4-day scuba diving liveaboard – which meant I was going to be diving 14 Komodo dive sites in just a few days!
If you're deciding whether to do a Komodo liveaboard or a day tour from Labuan Bajo, here are a few things to take into consideration.
Diving in Komodo: Day Tours
The Komodo Islands cover a massive area! One of the downsides of a day tour is the distance and time it takes to get to the best dive sites in Komodo National Park.
The boat ride alone can take over 2 hours from Labuan Bajo to the Komodo Islands, which will leave you spending most of the day traveling to and from the park.
So, why would you do a day tour instead of a Komodo diving liveaboard?
Firstly, a day trip is a more affordable option, costing only 1 600 000 IDR ($105) for 3 dives.
Secondly, if you have limited time in your Flores itinerary, a day tour might be your best option as it allows you to explore the Komodo National Park and get a glimpse of the rich marine life that call these waters home.
Diving in Komodo: Liveaboards
There's no doubt that the best way to experience the underwater world of Komodo is through a diving liveaboard as the sites are all spread out over a vast distance.
Another factor to take into consideration is just how popular Komodo National Park has become over the past few years. This has resulted in crowded dive sites with hundreds of snorkelers and divers in the water at a given time.
Being on a diving liveaboard gives you the flexibility to visit the popular sites during the quieter times of the day, or when the conditions are optimal.
You will also be spoilt for choice when choosing dive sites as the liveaboard will move between the northern and central parts of the park. This gives you the best Komodo dive sites to explore.
To top it off, you'll also have the chance to do a night dive which will be a first for many people!
So my final verdict: If you're visiting one of the most well-preserved and spectacular dive sites in the world, you have to make the most of it and dive your brains out!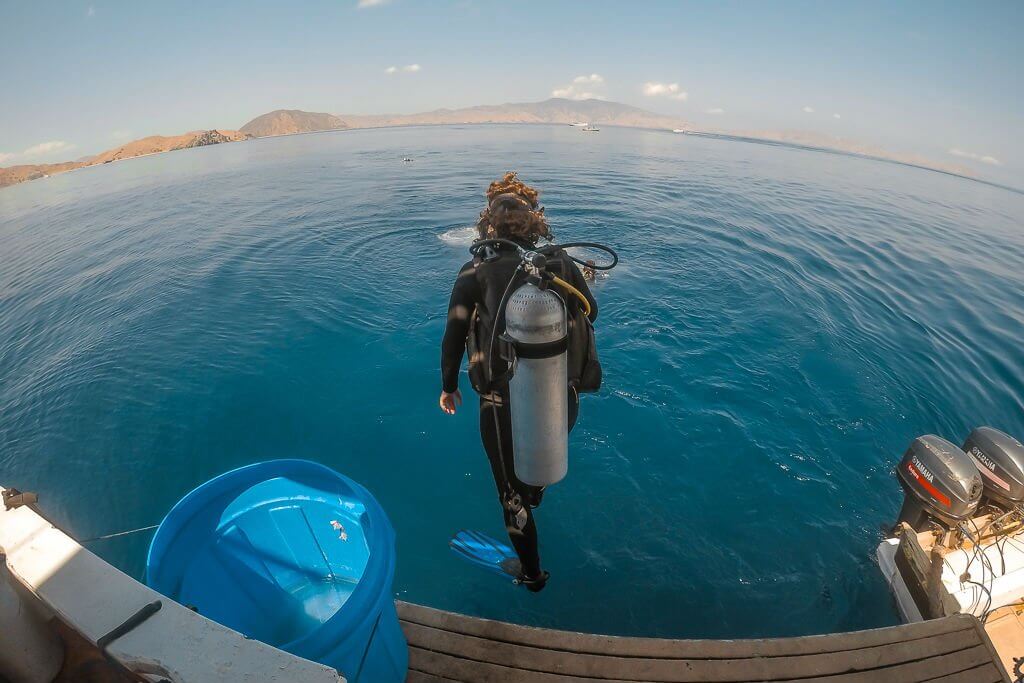 How Many Dives on a Komodo Diving Liveaboard
The schedule for each Komodo diving liveaboard is different but most include 2 or 3 nights on the boat.
I booked my 4D/3N liveaboard with Dive Komodo and we completed 3 dives on the first day, 4 dives on the second and third day, and 3 dives on the final day.
So, a total of 14 dives in 4 days!
This was my biggest concern – did I really want to dive so much? I enjoy diving but not that much!
Well, I can honestly say that after completing 12 of the 14 dives, I found each one to be completely different and unique in its own way. Be it the currents, the fish, the coral, the visibility – I was always left wanting more!
There are also options for trekking and canoeing, so you can skip one or two dives if you're not up for it.
Read More: 7 Incredible Bali Hidden Gems
Komodo Diving Currents
I hate to break it to you but the Komodo diving currents are notorious for being unpredictable and strong.
During my second dive, I descended as normal and before I knew it I was out of sight of the rest of the crew. I managed to swim against the current and find my dive buddy, but it was still a shock.
Throughout the 4 days, we did several fast-paced drift dives, and while they can be exhilarating, there is a dangerous aspect to it, so make sure you stick with your guide.
But don't let the strong currents deter you from diving Komodo. If you're still new to diving, just be prepared to use more energy than you're used to and perhaps be more cautious when descending.
How Experienced Do You Need to be to go Diving in Komodo National Park
Spending 4 days on a Komodo diving liveaboard will be tiring – no matter how experienced you are.
The minimum requirement needed is an Open Water diving certification. This will allow you to complete all dives and get the best out of your Komodo liveaboard experience.
It's extremely important to choose a reputable dive operator with dive masters who can help and guide you if there are any issues.
I'm by no means a pro-diver and still get anxious before every dive because I struggle to equalize. But I was back in the swing of things very quickly and was lucky enough to be with a group of divers who were on a similar level to me.
The Best Komodo Dive Sites
When you've explored sites that are as bright and vibrant as Komodo National park and compare them to others around the world, it will make you truly understand the effects of climate change.
Warmer waters, coral bleaching and pollution are a reality.
It's so sad to see how the Komodo Island dive sites are slowly changing and the scores of marine life are gradually diminishing. Hopefully we do enough to keep these sites and the marine life as healthy as possible.
Here are the dive sites we explored on our Komodo liveaboard.
1. Crystal Rock
Crystal Rock is a crowded site, even at 8 am!
But despite the large number of divers, this was still one of my favorite places to go diving in Komodo as I spotted incredible blacktip reef sharks, grouper, moray eels, and long-finned batfish.
There was so much action on this dive site with beautiful fish and bright colored coral everywhere you looked.
2. Cauldron
Prepare yourself for a fast-paced drift dive. This world-class site is popular amongst all divers and it's no mystery why.
We saw manta rays, eagle rays, moray eels, and white tip reef sharks. This dive site in Komodo is not to be missed.
3. Castle Rock
We dived this site twice!
Why? Because the current was so strong!
For our first attempt, we spent a good amount of time anchoring onto a rock for support. After a while, I slowly began to lose my grip and was on the verge of being swept away by the current. Luckily, I found my dive guide's fin which I grabbed onto and was able to safely maneuver back to my dive team.
After that experience, I wasn't too keen on diving Crystal Rock again. However, my guide convinced me that it was worth a second try later in the day. This is the beauty of staying on a Komodo liveaboard – you're not pressed for time so you can dive when conditions are optimal.
Diving Castle Rock a second time was the best decision I made that day! It didn't even feel like we were at the same dive site.
There was no current and the coral and sea life were on show. Grey and white tip reef sharks, giant trevally, barracuda, and many other tropical fish are common sightings here and it was a spectacular dive (the second time around!)
4. Batu Bolong
Batu Bolong is arguably the most popular dive site in Komodo National Park. Swimming around Batu Bolong feels like you're in an aquarium as you're surrounded by schools of fish throughout the dive.
You can breathe easy as the currents here are quite light compared to the others – or perhaps I was lucky enough to dive Batu Bolong on a good day!
Although it's a crowded site with many other divers eagerly descending the waters, you'll still see an array of multi-colored fish and coral. Also expect to set your sights on turtles, napoleon wrasse, tuna, surgeonfish, giant sweetlips, and even reef sharks as they circle the reef.
5. Manta Point
Manta Point may not have the bright colored coral that the other Komodo diving sites are famous for, but it does have one thing, manta rays!
The dive itself wasn't the greatest and we spent most of our time searching for mantas at their cleaning stations (which is where they hang out and remove external parasites).
With about 15 minutes of air left, we'd given up hope of finding one. But as we approached the final cleaning station of the dive, we set our sights on a giant female manta ray circling the reef.
We maneuvered quickly behind her, hooked into the sand bed, and sat in awe for the rest of the dive, watching as she moved from left to right of the cleaning station.
Pro Tip: Looking for more stunning places to go snorkeling in Flores? Check out 17 Islands Marine Park in Riung!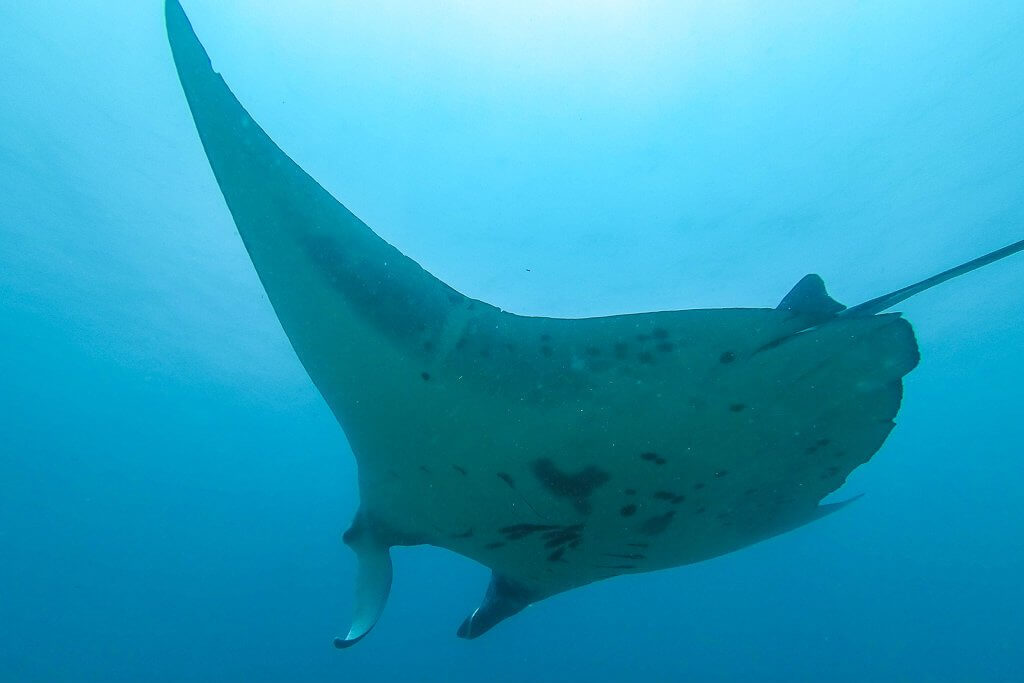 6. Sebayur Kecil
Sebayur Kecil was the first dive site of our Komodo liveaboard trip and definitely the easiest.
This initial dive is a good way to familiarize yourself with the equipment and for your dive guide to get to know how confident you are in the water.
Diving Sebayur Kecil was a nice introduction to the beauty that was to come as we spotted parrotfish, triggerfish, lionfish, and stingray. But it didn't quite prepare me for the strong currents that the other sites are notorious for.
7. Tatawa Besar
The currents at Tatwaw Besar were strong but it still offered a great dive with loads of giant trevallies, turtles, and angelfish. It's not a deep dive and the sloping reef is covered in bright orange coral.
8. Darat Passage
Darat Passage was the site for our night dive. I'd never done a night dive before and so I was both nervous and excited for this dive.
Our guide gave us a thorough briefing and explained how to use the torch to give signals. We then hopped into the dark waters and made our way down to the ocean floor.
With most of the fish sleeping, I saw the most beautiful spanish dancer and also a moray eel sleeping on the sand bed.
READ MORE: The Ultimate 3 Week Bali Itinerary
9. Siaba Kecil
Siaba Kecil was one of our last dives and having already dived incredible sites like Batu Bolong and Cauldron, I had very high expectations.
The coral here wasn't as healthy as the other sites but despite the strong current, we saw a huge turtle and many sweetlips.
10. Pengah Kecil
This site didn't compare to the ones we had dived earlier on our Komodo Island liveaboard trip.
The visibility wasn't great but the massive parrotfish and black and white striped sea snake we swam next to made up for it.
11. Mawan Island
Mawan Island was our last dive location and is another popular site to spot manta rays.
However, we didn't see any during our dive but we did swim past a blacktip reef shark and bamboo shark, and spotted the biggest turtle I've ever seen!
The Best Komodo Diving Liveaboard: Budget Liveaboards in Komodo
Now that I've managed to convince you to go diving in Komodo Islands, let's talk about the liveaboard budgets.
If money is not a concern, you'll be spoilt for choice. Seriously, there are some Komodo diving liveaboards that are more like floating 5-star hotels. A girl can only dream!
Most backpackers and budget travelers can't afford this luxury and so the search for the best budget diving liveaboard in Komodo begins!
I shopped around for months hoping to find a deal or last-minute discount that would fit my tight Komodo liveaboard budget.
What I quickly learned is just how popular liveaboard diving is in Komodo National Park.
Budget Komodo diving liveaboards range from $150 – $200 per person per day which includes all your meals and diving equipment. If you're looking to splurge, you can expect to pay between $250-$350 per person per day!
Over and above this daily rate, you'll need to add the Komodo National Park fees into your liveaboard budget. This is 175 000 IDR ($12) per diver per day and an additional 75 000 IDR ($5) on Sundays and national holidays.
Read More: Why You Should Visit Kelimutu Lakes in Flores
Dive Komodo Liveaboard: Tatawa
Are you looking for the best liveaboard in Komodo Islands? Dive Komodo offers a budget liveaboard at $175 per diver per day. Whilst it's slightly more expensive than the Wanderpus Diving liveaboard option below, there is the extra perk of having a private cabin to sleep in.
If you're going for a budget Komodo liveaboard, don't expect the luxury of flushing toilets, beautiful cabins, and 3-course meals. That being said, I didn't want a hostel vibe and Dive Komodo's Tatawa liveaboard was anything but.
The Boat
Tatawa can fit 8 guests comfortably with 2 double, 2 single and 1 twin cabin. The rooms are small yet cozy and are all fitted with a fan.
There are 2 shared bathrooms which are very basic, with bucket toilets and fresh running water for the showers and basin. This is all you need, and the most important thing is that everything was always clean.
The food on board the Tatawa Liveaboard was delicious (and plentiful) and varied from local to western food.
The Vibe
Tatawa is extremely spacious considering there are only 8 guests onboard. The best part is the large deck towards the front of the boat which is where we spent most of our time reading, sleeping, or just enjoying the beautiful views.
There was a great atmosphere onboard and the crew were always happy to help. They were extremely professional when it came to organizing our diving gear and briefing us on the Komodo dive sites.
Other Budget Komodo Liveaboards
While searching for a Komodo diving liveaboard in Labuan Bajo, I also contacted Wunderpus Diving whose price for a budget diving liveaboard is hard to beat.
Their daily rates are 2 200 000 IDR ($145) per diver per day where you sleep on the deck (and not in private cabins as with Dive Komodo's Tatawa liveaboard).
Wunderpus Diving was fully booked during the time of our stay in Flores. But just from the numerous positive reviews I read online, I would definitely consider them when looking for a budget liveaboard option in Komodo.
Non-Diving Activities in Komodo National Park
If you have an adventurous spirit, you'll absolutely love the Komodo Islands! There are many attractions within the park and most Komodo liveaboards include stops at the below destinations.
1. Komodo Dragons on Rinca Island
No trip to the Komodo Islands would be complete without seeing the mighty Komodo Dragons.
We were given the option of a Komodo Dragon tour on Rinca Island for the last day of our diving liveaboard tour. Those who wanted to dive instead were able to do so, but we welcomed the land excursion after being on the boat for 4 days.
How could we not check out these beasts! They're the largest reptiles in the world and grow up to 3m long. Komodo Dragons have a venomous bite which can kill humans and when on the hunt, these dragons only want one thing so do not get in their way.
There are various trekking options on Rinca Island. The most common is a 1-hour trek with a ranger who will lead you through the park and continue to a viewpoint.
Most of your Komodo Dragon sightings will take place in the first section, near the kitchen as this is where the dragons hover around in search of food.
The best time to see Komodo Dragons
Another bonus of being on a Komodo liveaboard is that you're able to visit Rinca Island early in the morning. Because of the cooler weather during this time of the day, the Komodo Dragons are more active and they're often on the hunt for food.
If you're doing a day tour from Labuan Bajo, you might visit Rinca Island in the afternoon which isn't the best time to see them. It's generally hotter and so the dragons are hiding in the shade and not moving around much.
The cost to see Komodo Dragons on Rinca Island is not included in your Komodo diving liveaboard price. You'll need to pay 100 000 IDR ($7) per person for a ranger and a little extra for a tip.
2. Gili Lawa Sunset and Trek
We enjoyed our first Komodo sunset from Gili Lawa Island.
This is a popular stop to watch the sunset and has two vantage points. The higher lookout point has a great view of the Komodo National Park and the islands around it.
However, we went to a lower viewpoint which was still awesome but the views didn't quite match those of the other spot on the island.
Read More: The Ultimate Guide to Hiking Mount Inerie in Flores
3. Padar Island
Padar Island boasts iconic views and is one of the most famous landmarks in Indonesia.
After a short 20 minute walk up the steep hill, you'll be rewarded with beautiful views of the beaches and landscapes. This is a popular stop so don't expect to have the island all to yourself as with Gili Lawa.
I was eager to visit Padar Island, but it didn't quite match up with our Komodo liveaboard schedule, so we opted for an extra dive instead of visiting Padar Island.
Komodo Diving Liveaboard Tips
If you're on the fence about signing up for a Komodo liveaboard, just do it!
Most dive centers will keep your extra baggage that you won't be needing on the boat so pack only your necessities.
Don't forget your GoPro with waterproof casing and red filter.
Drinking water will is provided on your Komodo liveaboard so bring an empty water bottle that you can refill.
Beer and soft drinks are allowed on the boat (Tatawa liveaboard) and there's a fridge to keep them cold so stock up before you depart from Labuan Bajo.
Pack in lots of sunscreen and a good book to read. You can find my complete packing list for Indonesia here.
Bring a pair of trainers if you're planning on doing the Komodo Dragon tour on Rinca Island.
There is power onboard Dive Komodo's Tatawa liveaboard but Wi-Fi isn't available. If you have a local sim you'll be able to get a connection, but this gets weaker the further out you go.
Crew tips are not included in your diving liveaboard costs so factor that in when doing your budget. Whilst tips vary and they are discretionary, the crew are always grateful to receive something
How to get to Komodo National Park
The Komodo National Park is a stone's throw away from Labuan Bajo on Flores, the gateway to the Komodo Islands.
Labuan Bajo is nothing more than a port village and there's not much else happening there. My advice is to spend your days on the boat, and when you're done, get out of there!
Flight
Coming from Bali? You can catch a direct flight to Labuan Bajo for under $50 one way.
Garuda Indonesia and Nam Air both offer great flights at minimum costs and the flight time is just over an hour.
Overland
An increasingly popular option is to travel from Bali to Lombok and then on to Sumbawa before reaching Flores. If you choose to do it in one go, you would need around 3 days. The driving can become quite tedious so it's best to take it slow and explore the other islands along the way.
Pro tip: If you're an avid surfer, visit Lakey Peak in Sumbawa which is right next to Flores Island.
Explore The Island of Flores
My initial plan was to head straight to Labuan Bajo and spend a few days diving in Komodo National Park.
But I got completely side-tracked and ended up taking a huge detour to the eastern part of Flores Island. I hiked the challenging Mount Inerie in Bajawa which really tested my limits. Drank far too much Arak in Riung where I spent my night singing and dancing with the locals. And finally, visited the magnificent Kelimutu Lakes in Moni.
Check out my awesome Flores backpacking guide to read more about why Flores was the most memorable and adventurous of all the islands I visited in Indonesia.
---
Looking for more Indonesia travel information? Check out my other posts!
---
Pin this!