December in Korea means icy cold winters, a white Christmas, and of course, the chance to ski at one of the many resorts in the country.
As soon as winter hit, I headed to Oak Valley Ski Resort (오크밸리 리조트) to test out their slopes.
Here's everything you need to know about planning your Oak Valley ski day tour, including how to get there from Seoul and what to expect!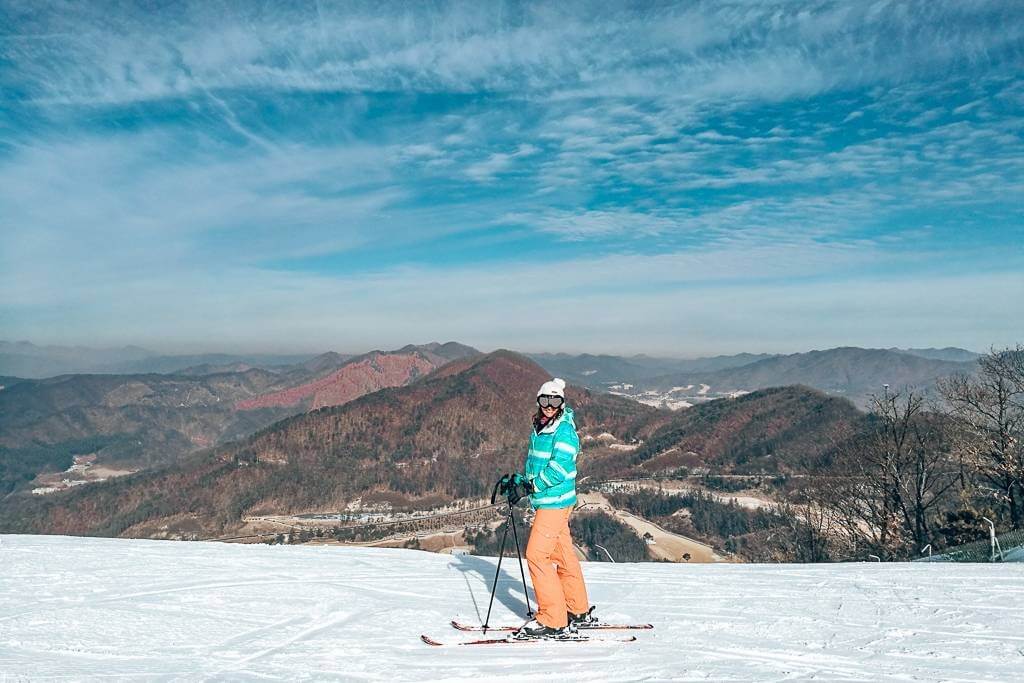 Torn Tackies contains affiliate links. If you make a purchase using one of these links, I may receive compensation at no extra cost to you. See my disclosure for more information.
Oak Valley Snow Park: Quick Overview
Distance from Seoul: Under 2 hours (100 km)
Number of slopes: 9
Pros: Great for beginners
Cons: Limited slope variety for those with more experience
Best ski package: Oak Valley ski day trip from Seoul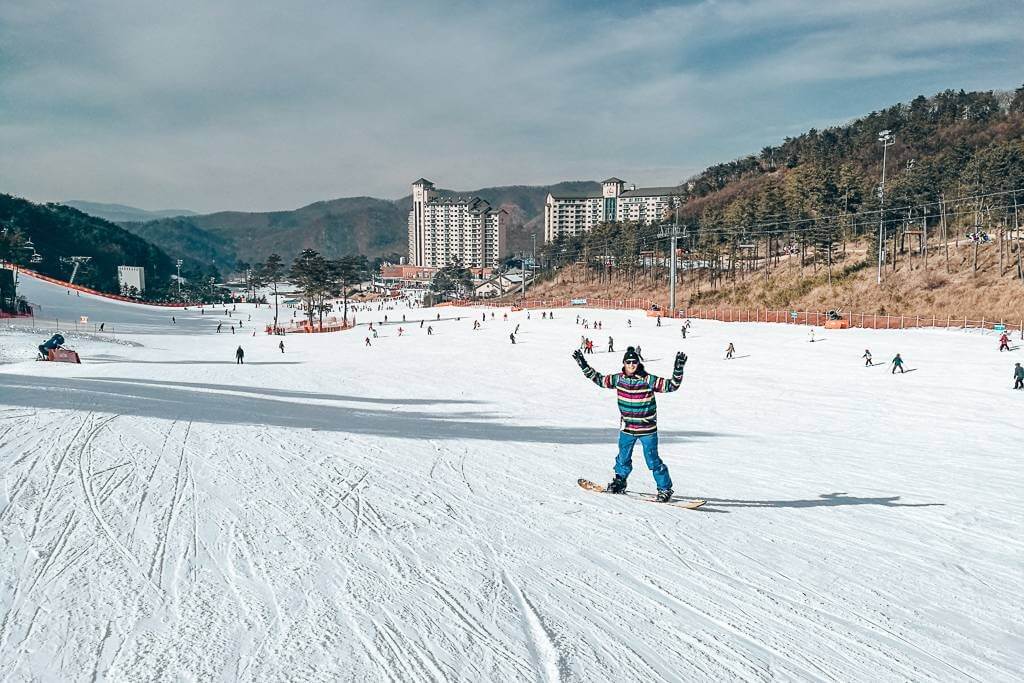 About Oak Valley Ski Resort, Korea
Oak Valley Resort is one of the closest ski resorts to Seoul, lying only 100km from the capital city.
The short 90-minute drive means it's easily accessible, and hence it's a popular day tour from Seoul.
In comparison to Vivaldi Ski Park, I was pleased to find that Oak Valley Ski Resort is a far less commercial ski park.
It has a relaxed atmosphere, with many families visiting the park to enjoy a day on the slopes.
The resort is foreigner-friendly, with all signage in both Korean and English.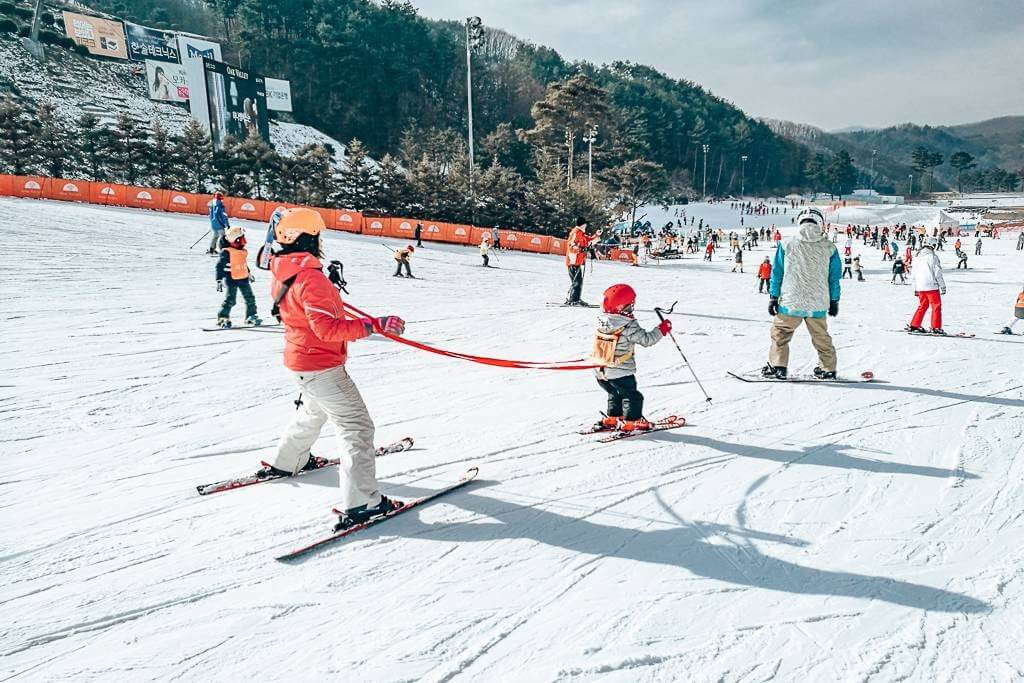 Oak Valley Snow Park
Oak Valley Resort prides itself on being a premium ski park for the whole family.
With wide slopes that have a gentle incline, Oak Valley Snow Park attracts many beginners who are eager to learn and improve their skiing.
3 ski lifts lead to 2 beginner, 5 intermediate, and 2 advanced courses, with the longest slope being 1.6km.
You can check Oak Valley ski prices here.
The Ski Slopes at Oak Valley, Korea
Unfortunately, you won't find many long ski slopes in Korea when compared to the likes of Europe or Japan.
This is something I've come to realize after visiting some of the best ski resorts near Seoul.
But, whilst they may not be as impressive as you'd hoped for, they still make for an awesome day out!
The beginner slope at Oak Valley Ski Resort is wide and long, offering more space for beginners to practice. You can also book a ski lesson which I recommend for first-timers.
There was often a queue for the beginner ski lift, but it was no longer than a 5-minute wait.
The intermediate slopes appear scary at first, but they're less crowded and offer a nice long ride.
The queues for the intermediate/advanced ski lifts were very short, and I didn't have to wait to grab a spot on one of them.
The snow was icy in some areas but fluffy and soft in others.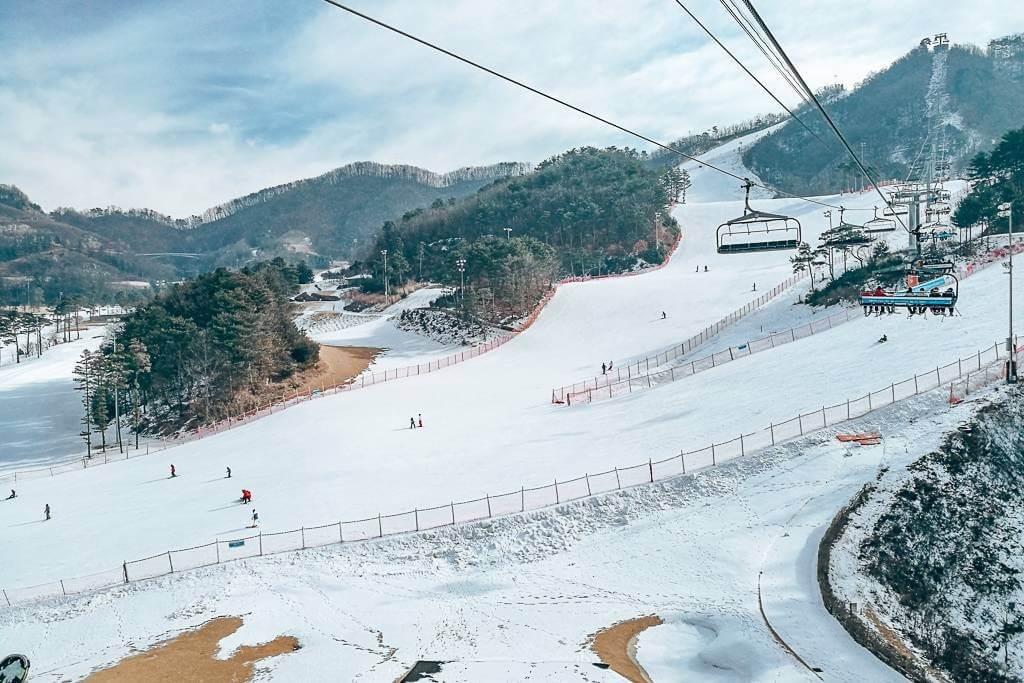 Ski Equipment, Gear Rental, And Facilities
Oak Valley Ski Resort lives up to the high standards of Korean ski parks, with top-class facilities, ski courses, and many restaurants around the resort.
As with all Korean ski parks, don't expect a nice cozy bar with a fire going in the corner.
The restaurants are simple and offer a quick stop to carbo-load before hitting the slopes again.
READ MORE: THE BEST SOUTH KOREA ITINERARY
There are many ski shops en route to the ski park which offer equipment and clothing for rental at a reduced rate compared to renting these at the resort.
There is also a ski shop at Oak Valley where you can purchase gloves, goggles, beanies, and everything you need to ensure you stay warm and comfortable on the slopes.
Lockers are available and will cost you 1 000 won for the day rental.
How to Get to Oak Valley Ski Resort From Seoul
Oak Valley Ski Resort is a 90-minute drive east of Seoul and is accessible via a free shuttle service operated by the resort.
Alternatively, you can book an Oak Valley ski day tour, like this one, through an operator who will provide you with transportation, as well as all your ski passes, gear, and lift tickets.
I highly recommend booking a tour (which is what I did), as time on the slopes is valuable, and you want to get there early before the crowds arrive.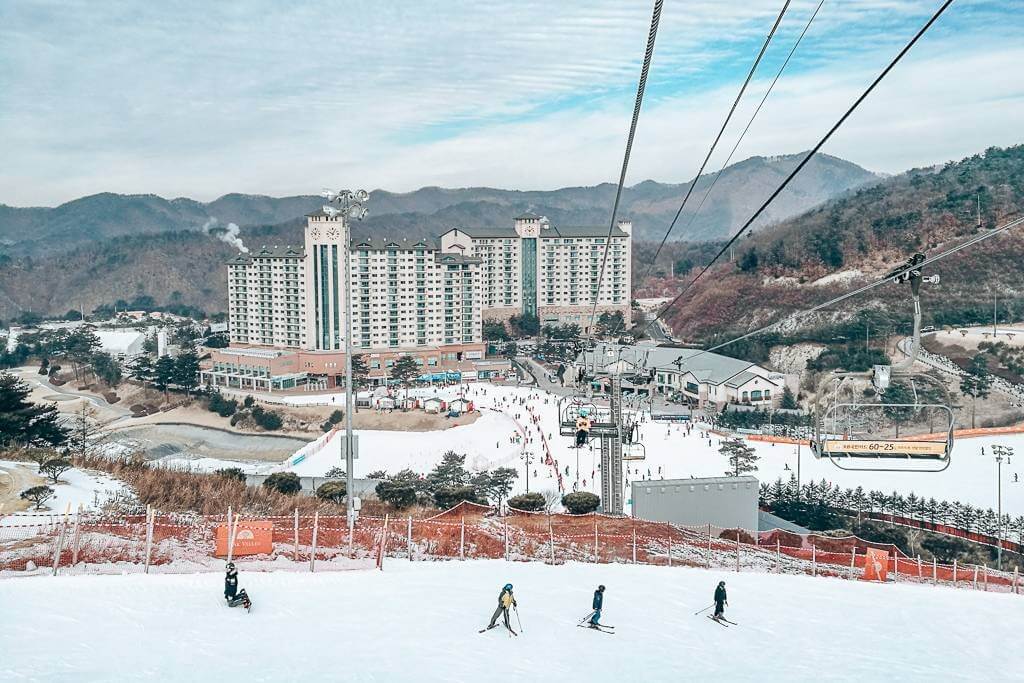 Oak Valley Ski Resort Prices
For tourists, the easiest way to go skiing in Korea is to book a ski package through a tour company like Klook
or Trazy.
This is by far the cheapest and most convenient way to plan your trip.
Both tour operators offer massive discounts for foreigners, and it saves you the hassle of trying to find your way around an unfamiliar resort.
Oak Valley ski packages cost around 110 000 won for a 1 Day Ski tour which includes your gear, clothing, and lift pass, as well as transportation from Seoul to Oak Valley Resort.
The buses leave from Myeongdong Station at 07:30, and you will arrive back in Seoul by 18:30.
You can compare prices with Klook here or Trazy here.
Booking without a tour group
When booking directly with Oak Valley Ski Resort, a full-day lift pass will cost you 76 000 won ($70).
After purchasing this, you will need to hire clothing, 24 000 won ($20), and ski/snowboard gear, 34 000 won ($30).
This works out to a total of 134 000 won ($125) for a day at Oak Valley Snow Park – far more expensive than this tour!
My Oak Valley Ski Resort Review
Overall, I preferred Oak Valley Ski Resort to Vivaldi Ski Park in Korea.
But Vivaldi is unique and great for kids. I suggest reading this post if you're thinking of visiting Vivaldi Park.
I may have been lucky as I visited Oak Valley Resort on a Sunday, which was probably the reason for the uncrowded slopes.
As with other ski resorts in Korea, the ski park at Oak Valley isn't as exciting as those in the US or Europe, but it's close to Seoul and makes for a great day out!
---
Have you been skiing at Oak Valley Ski Resort? Or do you have any questions? Drop me a message in the comments section below.
Looking for more Korea travel information? Check out my other posts!
---
Pin this!