Daemyung Vivaldi Ski Park is one of the most popular ski resorts in Korea.
What's not to love? Each slope has its own theme with funky music to accompany it, and it's the perfect place to learn how to ski.
But, it can get crowded.
So, as soon as the cold weather started approaching, I booked my tickets and went skiing at Vivaldi Ski Resort.
The verdict? It's well worth the hype!
Here's the best way to visit Vivaldi Park, Korea, including what ski packages to choose from and other things to do in the area!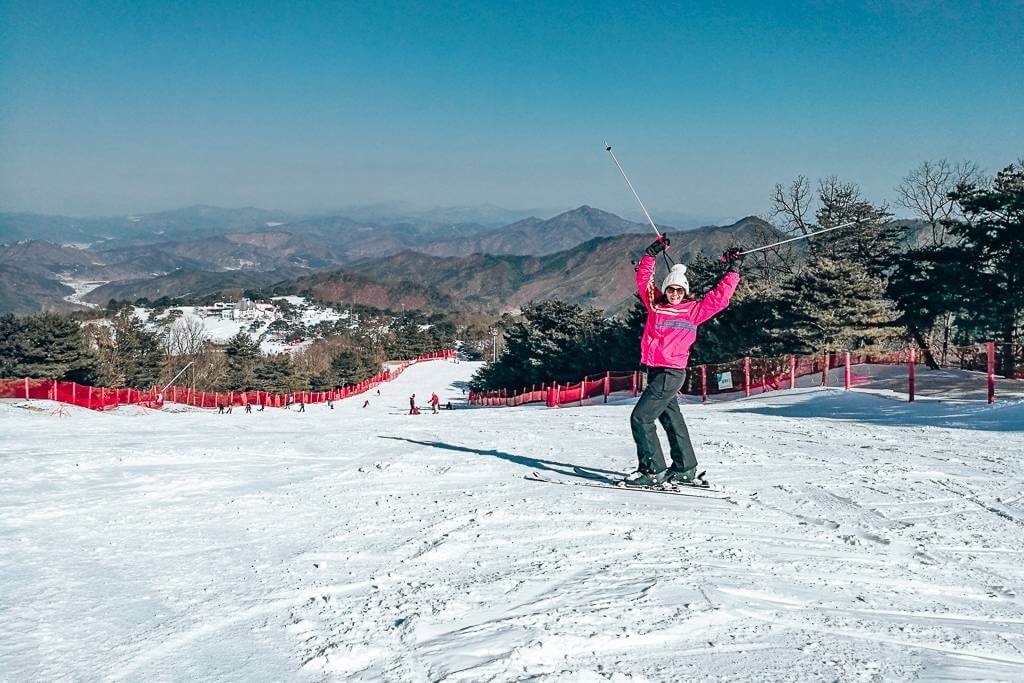 Torn Tackies contains affiliate links. If you make a purchase using one of these links, I may receive compensation at no extra cost to you. See my disclosure for more information.
Vivaldi Ski Resort: Quick Overview
Distance from Seoul: 1.5 hour drive
Number of slopes: 12
Pros: Snowy Land is a winter paradise for kids
Cons: Crowded on weekends
Best ski package: 1 Day Ski Tour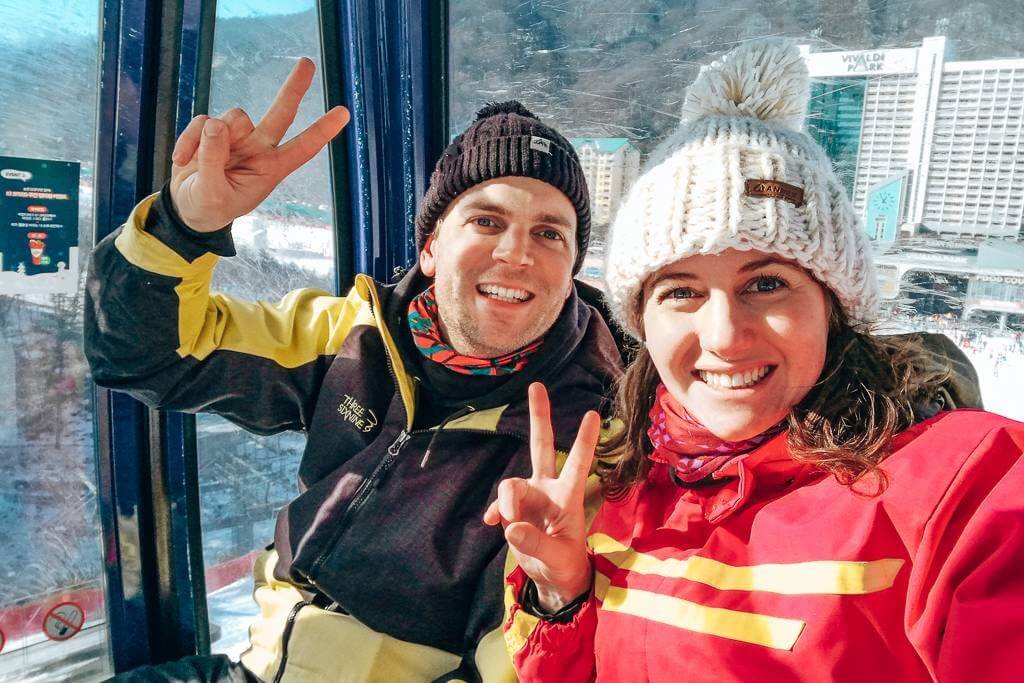 About Vivaldi Ski Resort in Korea
90 km from Seoul, and a 1.5-hour drive east of the capital city, lies Daemyung Vivaldi Park in Korea.
Notably a crowd favorite, it has been voted the most visited ski resort in Korea for 7 consecutive years.
Together with its easy accessibility from Seoul and its world-class ski facilities, Vivaldi Ski Resort continues to grow in popularity. It's often seen as a bucket list destination on South Korea winter itineraries.
There are constant upgrades to all facilities and amenities to cater to the needs of the ever-growing number of visitors, which can reach 20 000 people per day!
Cafes, restaurants, and food stalls are dotted all over Vivaldi Ski Park, offering both Korean and Westernized food at reasonable prices.
However, with this title come thousands of tourists and avid skiers in search of the best places to go skiing in Korea.
This means crowds, queues for the ski lifts, and busy slopes.
The Skiing at Vivaldi Park
Vivaldi Ski Park is home to 12 slopes: 2 beginner, 5 intermediate, 4 advanced, and 1 expert.
There are 10 ski lifts, which also include a gondola.
With a total slope length of 6.7km, it may be a smaller ski park than what you're used to in Europe or America, but overall it makes for a fun day out.
Pro tip: If you're looking for a bigger ski park in Korea, I suggest you visit High1 Ski Resort. Although it's further from Seoul, the park has the longest slopes, with the best skiing in the country.
What makes Vivaldi Park Ski Resort Unique
If there's one thing that Vivaldi Ski Resort has that the others don't, it's the energy and the vibe!
The slopes are named after different music genres, with speakers blaring the music that accompanies each slope name.
If you're looking for a more relaxed and easy slope, then "Blues" is just right for you.
"Reggae" is stepping it up a notch, whilst "Techno" is one of the more advanced slopes.
Rule of thumb, the faster the beat, the more advanced the slope is.
My favorite slope was "Hip-Hop". It is a steep slope (from my point of view) and wider than the other slopes.
I also enjoyed "Jazz" as it is a nice wide slope, but tends to get a bit busy as it caters to intermediate/beginner skiers.
You can check Vivaldi Ski Tour costs here.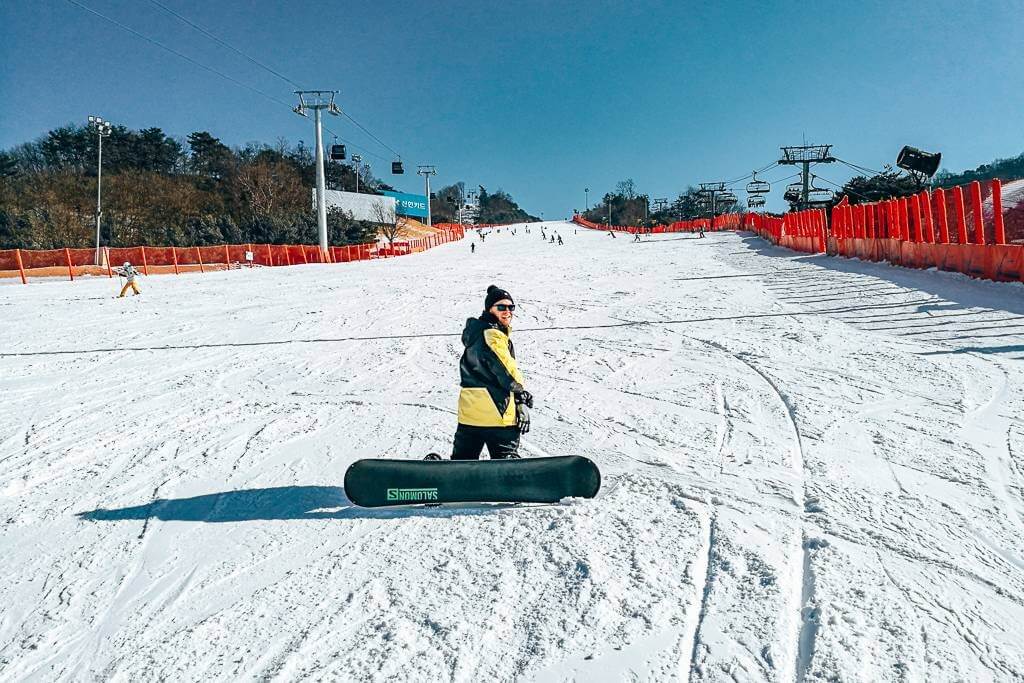 The Ski Slopes at Vivaldi Resort: How Buzy Are They?
The beginner slope is an extremely popular slope, with mostly young children and first-timers waiting in the 15-minute queue for the lift.
The waiting time for the other ski lifts varies from 2 to 15 minutes, depending on which one you want to go on.
The more challenging slope has a shorter queue.
The gondola is another way to reach the top of the highest slope. The waiting time for this is the same, if not quicker, than the ski lifts.
I visited Vivaldi Ski Resort in South Korea at the beginning of December, which is generally a quieter time. I can't imagine how busy it would be during peak periods!
I recommend you do the same and book your Vivaldi tickets for outside of the Christmas and January peak times.
Vivaldi Park Snowy Land
Vivaldi Park Snowy Land is a perfect alternative for kids or adults who would rather spend their day doing other snow activities instead of skiing.
Snowy Land is truly a fairytale winter experience with candlelit streets, sledding, and so much more!
This is one of the best Snowy Land packages, which includes transport and entrance to the fun park.
Navigating Your Way Around Vivaldi Ski Park, Korea
Being a tourist hotspot, Vivaldi Ski Resort caters to foreigners, and all its information and signage is in both Korean and English.
If you choose to visit Vivaldi Park independently, it is easy to navigate your way around, and you'll find a staff member who will be able to assist you.
How To Get To Vivaldi Ski Park From Seoul
There are two ways to plan your trip to Vivaldi Ski Resort. You can either go independently or purchase a ski package through a tour operator such as Klook or Trazy.
Booking through one of these tour operators is the cheapest, easiest, and most convenient way to plan your ski trip to Vivaldi Park.
They're both highly regarded as the best tour operators in Korea and will take all the hassle out of you trying to book your trip independently.
You can also customize your tour package depending on whether you're looking for a return shuttle service, gear rentals, or an all-inclusive package.
Compare tour prices on Klook here and Trazy here.
Vivaldi Park Ski: Package (All-Inclusive)
Klook offers this 1 Day Ski Package, which includes transport from Seoul, a lift pass as well as ski equipment, and clothing rental.
All of this is arranged by the Klook team, which saves you the stress of having to find your way around the ski park in search of the various ticket offices or gear outlets.
Vivaldi Park: The DIY Option
If you can speak Korean and read Hangul, you could visit Vivaldi Ski Park independently.
They offer a free shuttle service from Seoul for all foreigners. This bus leaves Seoul at 08:00 and arrives back around 20:00 the same day.
Once at Daemyung Vivaldi Ski Resort, you will need to purchase a lift pass for 75 000 won ($60), and equipment rental (ski/snowboard) will cost you 36 000 won ($30).
Additionally, you'll need to hire your ski jacket and pants for 24 000 won ($20). A total of 135 000 won ($110) for a day on the slopes.
As you can see, it's much cheaper to visit Vivaldi Park as part of a tour. This is because they offer massive discounts to foreigners.
READ MORE: BEST DAY TRIPS FROM SEOUL
Vivaldi Ski Resort: Equipment And Gear Rental
Vivaldi Ski Park offers great gear and equipment for rent – all of which will be included in your ski package.
It is all good quality, clean, and mostly new.
You will need to bring your own ski gloves, scarf/buff, and beanie. If you don't have these, then you can buy them at the ski park.
Good quality waterproof ski gloves, scarves, and beanies are on sale for $18 each.
They also sell ski goggles, jackets, sweaters, pants – basically anything and everything you need. The selection is also very big, with many different styles and designs.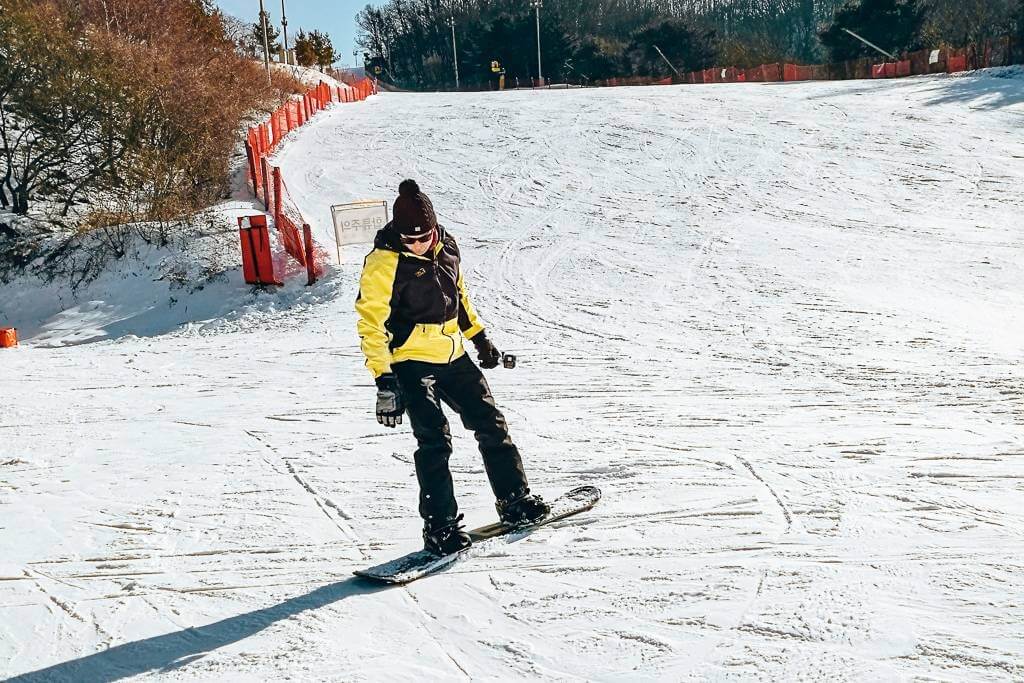 Vivaldi Park Accommodation
If you decide to spend the night at Vivaldi Park, there are a few great accommodation options to choose from.
At the foot of the slopes, you'll find the Sono Hotel group with their popular Vivaldi Park Hotel. This is a great option for couples or small groups, and the location could not be better.
The Sono Felice Vivaldi Park offers luxurious options as well as larger apartments for the whole family. Staying so close to the ski slopes will make your trip even more memorable.
Click here to find all accommodation near Vivaldi Ski Resort.
Key Information For Vivaldi Park Resort
There are lockers available where you can keep your bags
Take some money with you on the slopes so that you can stop and have lunch or coffee at the high point.
Wear sunscreen and reapply often! I made the mistake of only putting it on in the morning, and after a full day of skiing, I arrived home with a bright red nose and face.
For those first-timers, ensure you wear thick socks and thermal layers under your ski jacket and pants.
Vivaldi Park offers ski and snowboard lessons at an additional cost which you are able to pre-book here.
If you're questioning whether it's worth traveling all the way to Vivaldi Ski Park, or any ski park, for only one day, well yes, it is! You will be exhausted afterward, but if you arrive at the park by 10:00, you will have at least 6 hours of skiing ahead of you. And in my opinion, that's just the right amount of time.
READ MORE: THE BEST SEOUL ITINERARY
My Vivaldi Ski Resort Review
Vivaldi Ski Resort is a well-managed ski park and operates extremely smoothly. The queues weren't as bad as I thought they would be, but this could be because I visited Vivaldi Park before peak season.
My advice, if you don't like crowds and waiting in long lines, avoid Vivaldi Park on a Saturday afternoon in January and February.
But this also applies to other parks near Seoul, such as Oak Valley, which are also extremely popular destinations during winter in Korea.
Check availability for your preferred dates here.
There were around 4 000 people at the ski park on the day I visited, and the lines were only just bearable. I can't even imagine how busy it must be when they are at full capacity of 20 000 people!
---
Have you been skiing at Vivaldi Park? Or do you have any questions? Drop me a message in the comments section below.
Looking for more Korea travel information? Check out my other posts!
---
Pin this!