If there was ever a reason to get down and dirty, the Boryeong Mud Festival in Korea sure is a good enough excuse!
Be prepared to unleash your inner child with a host of mud events, parades, K-pop concerts, and other fun activities all taking place at Boryeong Mud Festival in 2023.
The dates for the festival are from 21 July to 6 August so best you start planning your trip.
Here are 10 things you need to know about this epic mud festival in Korea including where to stay and what to expect.
1. What is Boryeong Mud Festival
Boryeong Mud Festival was initially created in the 90's to promote Boryeong's mud based-products that are sold for cosmetic purposes.
This mud is said to contain beneficial nutrients with healing and anti-aging properties, leaving your skin feeling radiant and healthy.
Today, Boryeong Mud Festival has grown to be one of the biggest festivals in Korea with people traveling from far and wide to frolic in the mud. If it's not on your South Korea summer itinerary, it should be!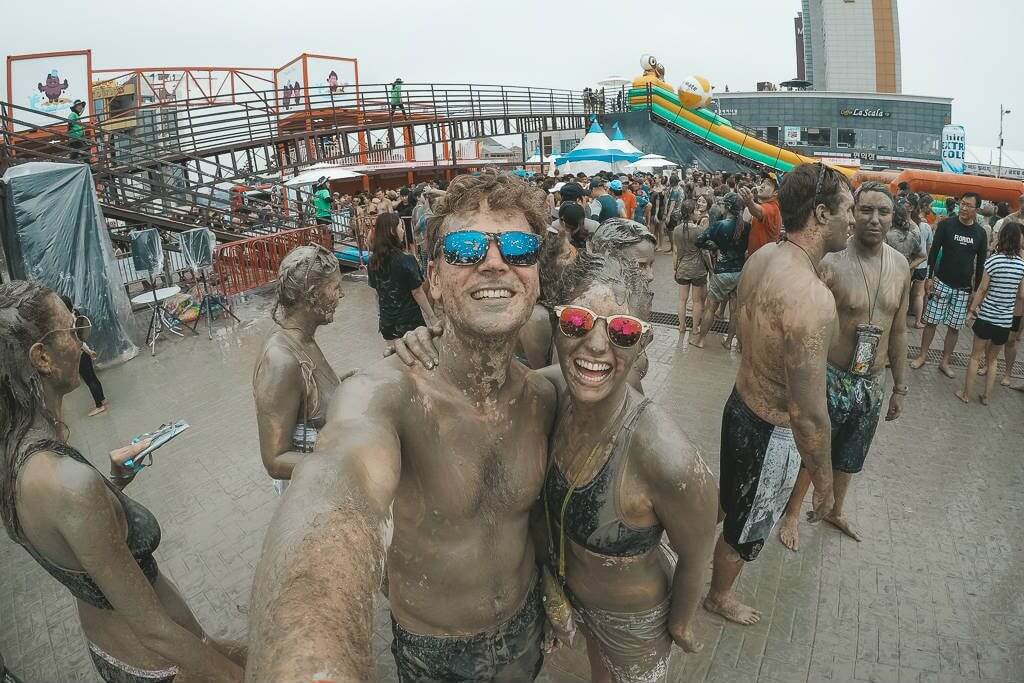 2. What to expect from Boryeong Mud Festival in 2023
I was expecting a massive mud park filled with intoxicated foreigners!
The reality – Boryeong Mud Festival is extremely popular, not only with foreigners but also Koreans.
This mud event in South Korea attracts locals from all over the country and of all ages. It's busy and crowded, but this is something I've come to terms with having lived in Korea for the past year.
To the one end of this beach lies the children's mud zone with activities for the kids. Walk 2km along the shore and you'll find the official mud zone as well as the stage where the performances take place at night.
The beachside cafes are bustling with excited tourists and numerous mud festival parades take place along the beachfront. The entire area of Daecheon Beach is filled with a joyful and lively atmosphere.
There is a sense of excitement in the air with people laughing and being silly. No one is stressed, or in a rush to get somewhere.
It's about the mud and the enthusiasm is contagious!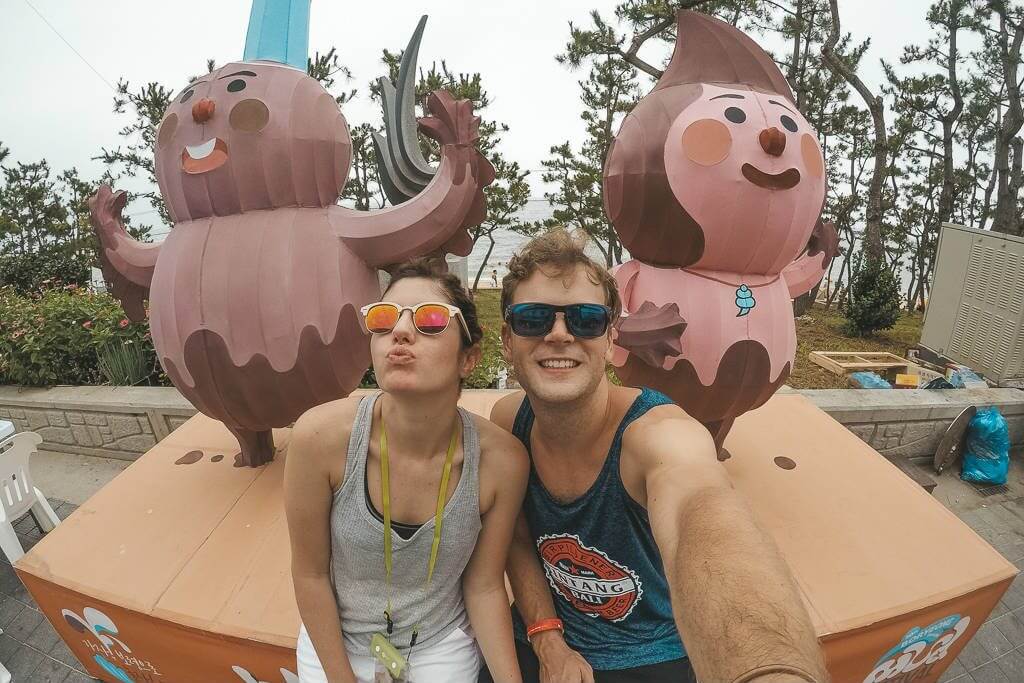 3. When and where is the 2023 Boryeong Mud Festival
Boryeong Mud Festival takes place on Daecheon Beach on the west coast of Korea. It spans a 2-week period from 21 July to 6 August 2023.
If you're planning your Korea backpacking itinerary for the summer, make sure you check it out.
4. Book your accommodation for Boryeong Mud Festival early
If you're going for the weekend you should definitely pre-book accommodation as thousands of people head to Daecheon Beach over the mud festival period.
Whilst the town does cater to the large influx of tourists during this time, you may struggle to find accommodation conveniently situated nearby the main mud festival area.
Why you shouldn't just "wing it"
When you arrive in Boryeong, you don't want to spend your first few hours going from one motel to the next looking for an open bed. This is time wasted where you would rather be sipping on a cold beer on the beach!
Best accommodation near Daechon Beach, Boryeong
I stayed at the Pine Motel which is a 2-minute walk to the beach and great value for money! It might not have the best reviews but book this spot for the convenient location – After all, it's just a place to shower and rest your head for a couple of hours.
Here are a few options within walking distance of Boryeong Mud Festival.
Budget: Deciding where to stay during the Boryeong Mud Festival is a tough choice, but luckily Hotel Lohas always seems to have availability. While the rooms are basic and minimal, they offer privacy and a convenient location close to the beach.
Mid-range: When it comes to location, you can't beat Hotel Wooyeon Flora. Situated just a stone's throw away from Boryeong Beach, it's a quick walk to all the mud festival. The private rooms are large and spacious and the staff are super warm and welcoming.
Luxury: Daynice Hotel is the best place to stay if you're visiting the Boryeong Mud Festival and looking for clean, modern accommodation. Not only can you watch the mud activities from your private balcony but it's ideally located with ocean views.
Another option is to book a day tour which includes a return shuttle bus and mud festival entrance ticket. Find out more here!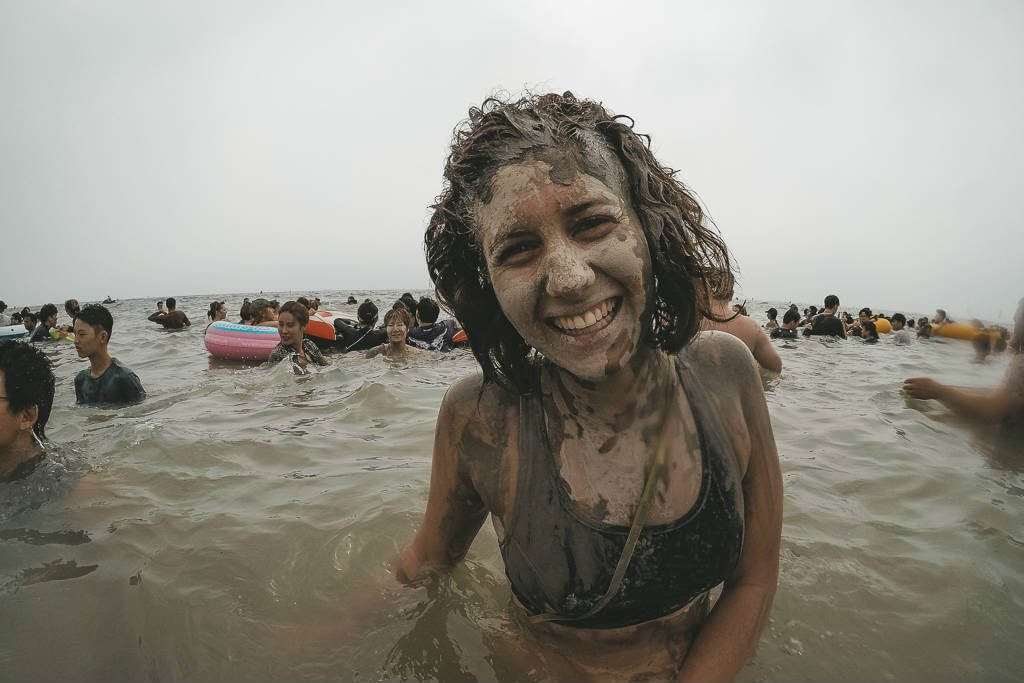 5. Should you buy a ticket for the mud zone
The Mud Zone is where all the fun Boryeong Mud Festival activities take place such as Mud Wrestling, Mud Football, and the Mud Super Slide!
Tickets to enter cost 14 000 won ($11) and can be purchased either online or at the event.
However, this mud zone is only one small part of this entire festival area. The rest is open to the public, with no entrance fee, but there are no mud activities.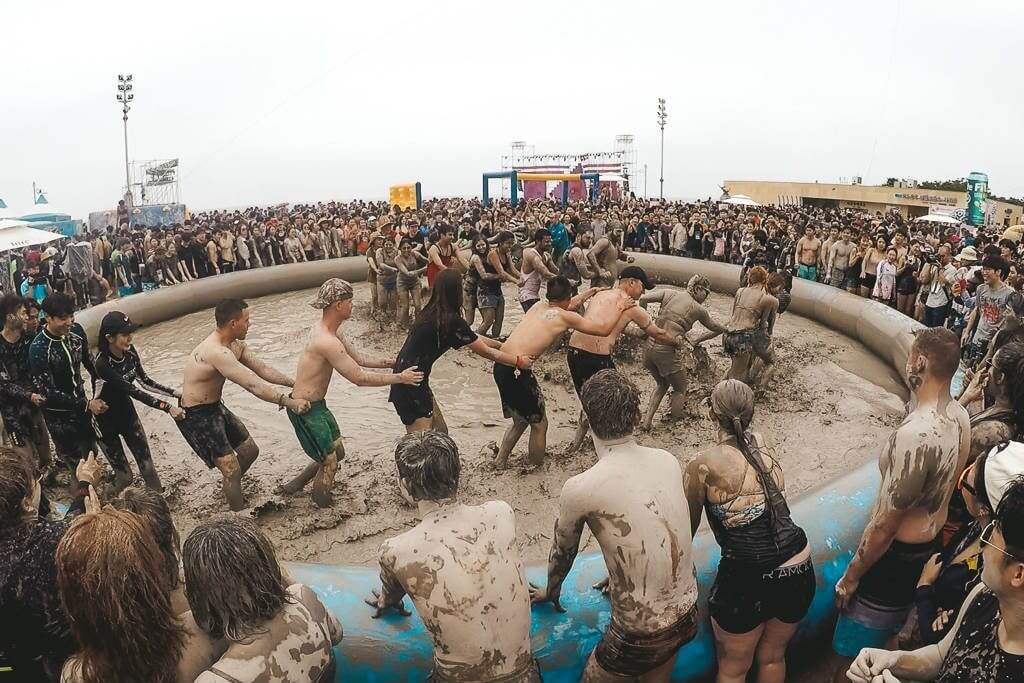 My thoughts on the mud activities at Boryeong Mud Festival
Queues
I'm going to be straight with you – Getting into the actual mud zone at the Boryeong Mud Festival is a hassle and the queues are long.
It was so busy that we had to wait for people to leave the mud zone before we could enter!
At first, it was fun. We met some interesting people in the queue and fed off everyone's energy. 45 minutes later we reached the entrance to the mud zone and my patience had worn thin by the pushing and shoving.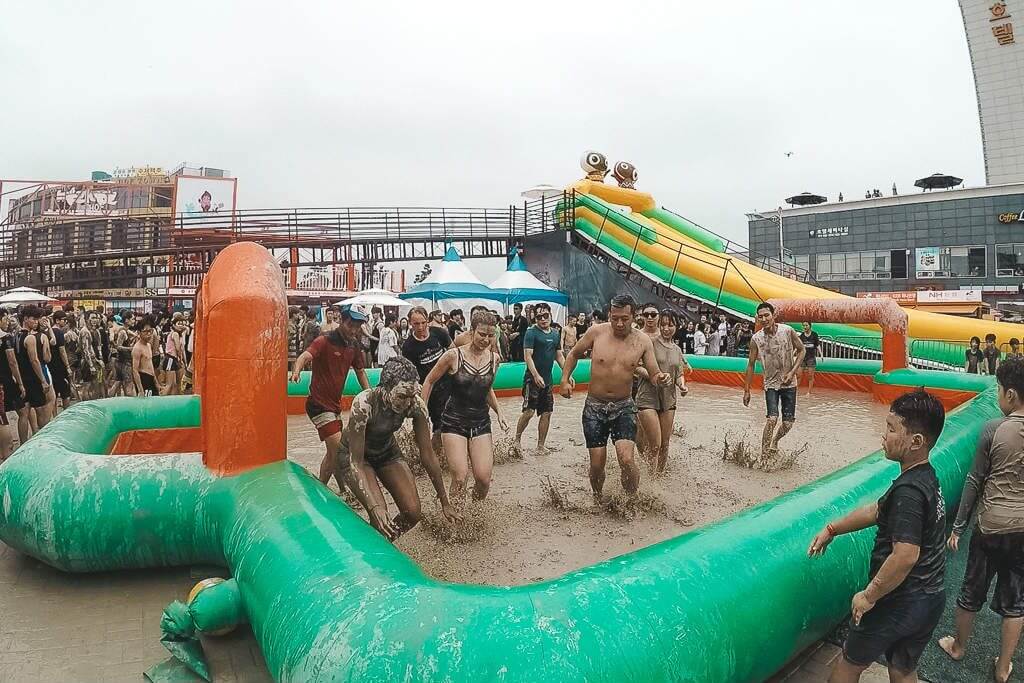 Mud zone activities
By the time I was finally inside, I was not keen on standing in any more queues.
To my dismay, the lines to take part in the mud activities were just as long. You can wait more than an hour for your chance to roll around in the mud for 2 minutes.
Did I have the patience for this? No!
Getting mudded at Boryeong Mud Festival
But I'd come to Boryeong for the mud. And I couldn't leave looking as clean as I did.
So, I made a beeline for the Mud Prison. The queues weren't long because, to be honest, the other mud activities are WAY cooler!
Here, they fit 15 people into a 5×2 cage before locking you up. For about 10 seconds, mud is thrown in your face and all over your body by the mud staff standing opposite you.
One word of warning for those of you who wear contact lenses – be careful! I hadn't had lasek eye surgery yet and so I spent the next 30 minutes trying to get the mud out of my contact lenses!
Sounds fun right? (not really!) But the result: we got mudded!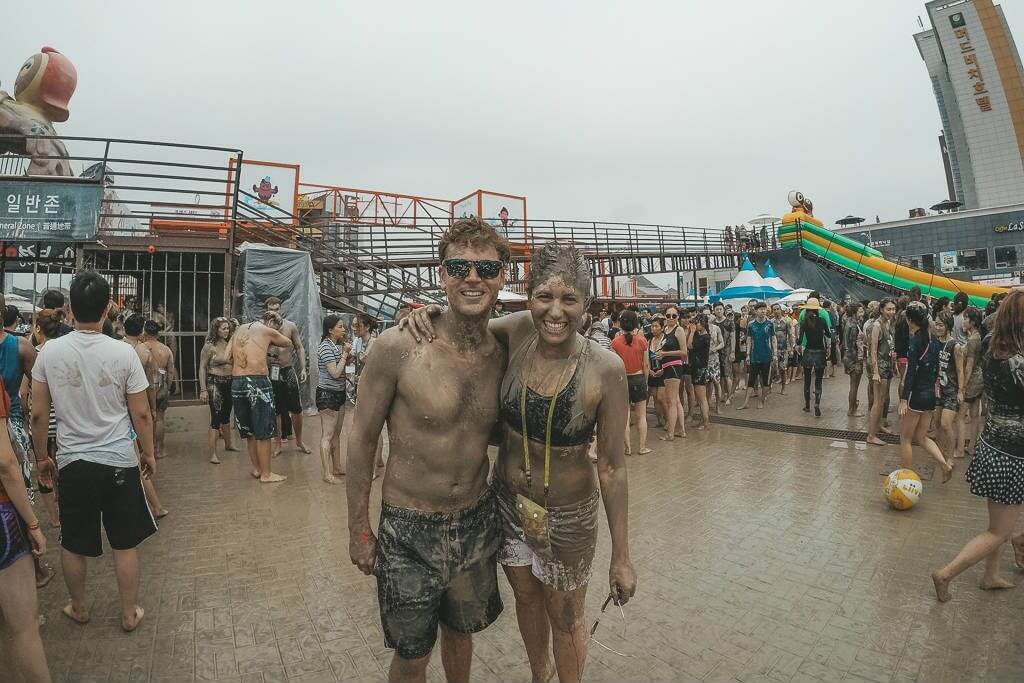 So, is the mud zone worth it?
Yes, buy that ticket!
Chances are you'll only visit Boryeong Mud Festival once in your life and going to a mud fest, and not getting mudded is just lame!
Things get messy and if you're walking around in a pretty outfit and trying not to get dirty, you won't enjoy the full experience!
So, buy that ticket, wait in the queue, roll around in the mud and then head to the beach where you can spend the rest of your afternoon swimming, drinking and making friends!
Read More: The Ultimate 7 Day Seoul Itinerary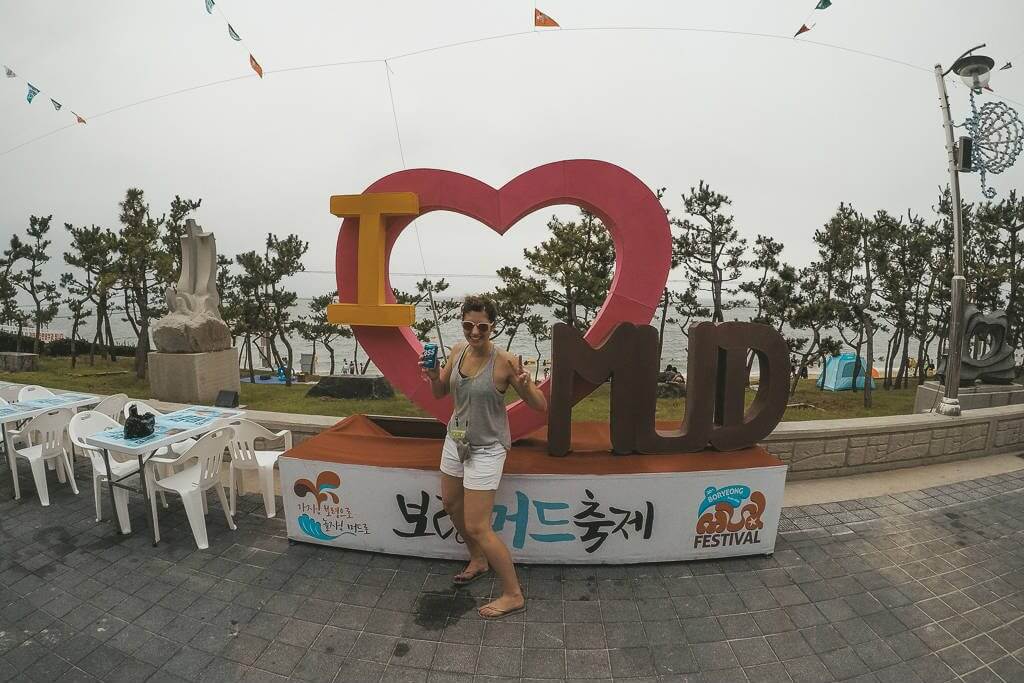 6. What to wear to Boryeong Mud Festival
Don't wear anything that you aren't willing to throw away afterward! There is no point in trying to look good when you're smothered in mud.
This is the part I loved as I didn't feel that I had to dress to impress and no one cared that I wore old, ripped pants or a sports bra.
With knotted, muddy hair, no makeup, and my not so ripped "6 pack" on display, I trotted around Daecheon Beach feeling completely content with life!
My advice would be to wear comfortable, old shorts with a dark-colored tank top or sports bra. Don't worry about carrying a towel or an extra shirt.
You go from the mud zone, straight into the sea, and then walk around like this for the rest of the day!
Wear a pair of flip-flops and cheap sunnies and you're good to go. If you're busy planning your trip, my packing list for Korea will come in handy.
7. What's the itinerary like? Do you stay in your mud clothes all-day
This was my biggest question. I mean, I'm all about being dirty but at some stage a girls got to shower.
So, when does this transition into normal attire happen?
Arriving at Daecheon Beach in Boryeong
We arrived at Daecheon Beach around 11:00 and after checking in to our motel, headed straight to the mud zone.
From here, we went for a dip in the ocean which was super refreshing and much needed! The shore is packed, chock-o-block full and the same goes for the sea.
Read More: 9 Awesome Day Trips From Seoul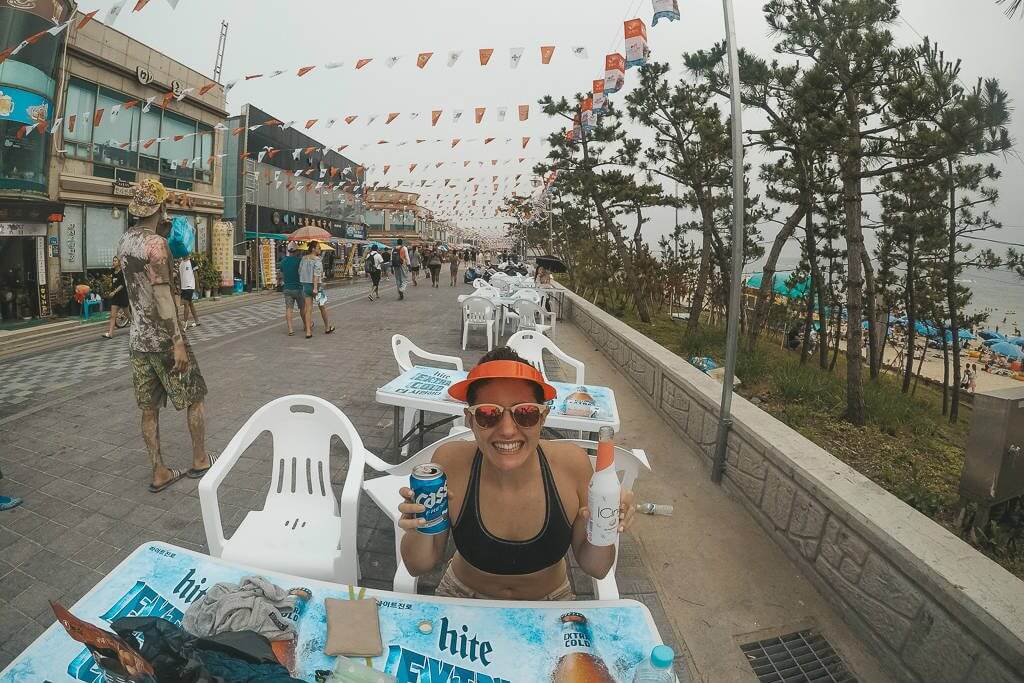 Really taking in the Boryeong Mud Festival atmosphere
Next, we headed to the convenient store along the beachfront and purchased some snacks and refreshments (ie: beer). Along the walkway, there are hundreds of tables and chairs with front row views of the ocean and it's the perfect spot to people watch!
At this stage, we were a couple of beers down, as were most of the people we were surrounded by. There were also numerous parades, street performances, and people dressed up in crazy outfits all cheerfully walking down the road with not a worry in the world.
This was my favorite part of the day.
We sat here for about 3 hours greeting just about everyone we saw and offering snacks and drinks as they walked past!
We danced and played games with our new friends and at about 7 pm we decided to make our way back to the motel to freshen up. After a quick shower, it was back to the beach for dinner.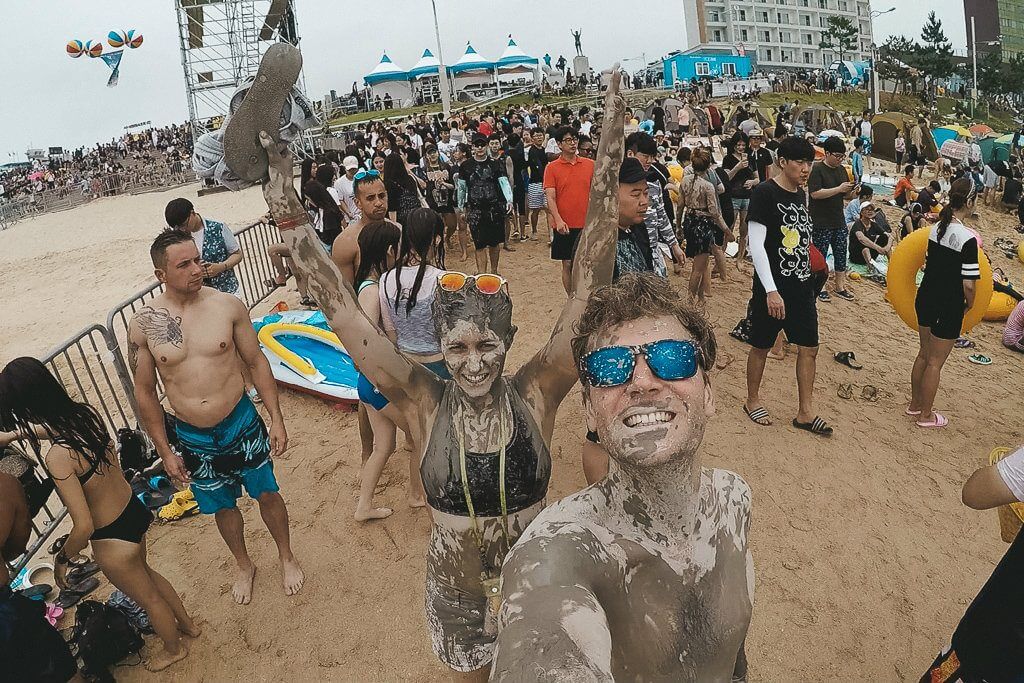 Boryeong Mud Festival at night
Many people opt for a day trip from Seoul to Boryeong Mud Festival. Bear in mind that traffic during the mudfest time makes the bus drive even longer.
If you want to fully immerse yourself in the festival, you need to spend the night in Boryeong.
Right on the beach is a performance stage that features an impressive entertainment lineup for the evening. This K-pop concert is free to watch and attracts people of all ages.
Following the performances is a spectacular fireworks display. I'm talking pyrotechnics with dramatic music, sound effects, colors, and smoke that lasted over 10 minutes.
But the night doesn't end here!
The normally quiet and placid village takes on a complete transformation during Boryeong Mud Festival! The streets are buzzing during the night and there are bars and clubs eagerly inviting you in.
If that's not your scene then enjoy a delicious seafood dinner along the beachfront. There really is something for everyone and this is what makes Boryeong Mud Festival so special.
Read More: 24 Strange Things About Korea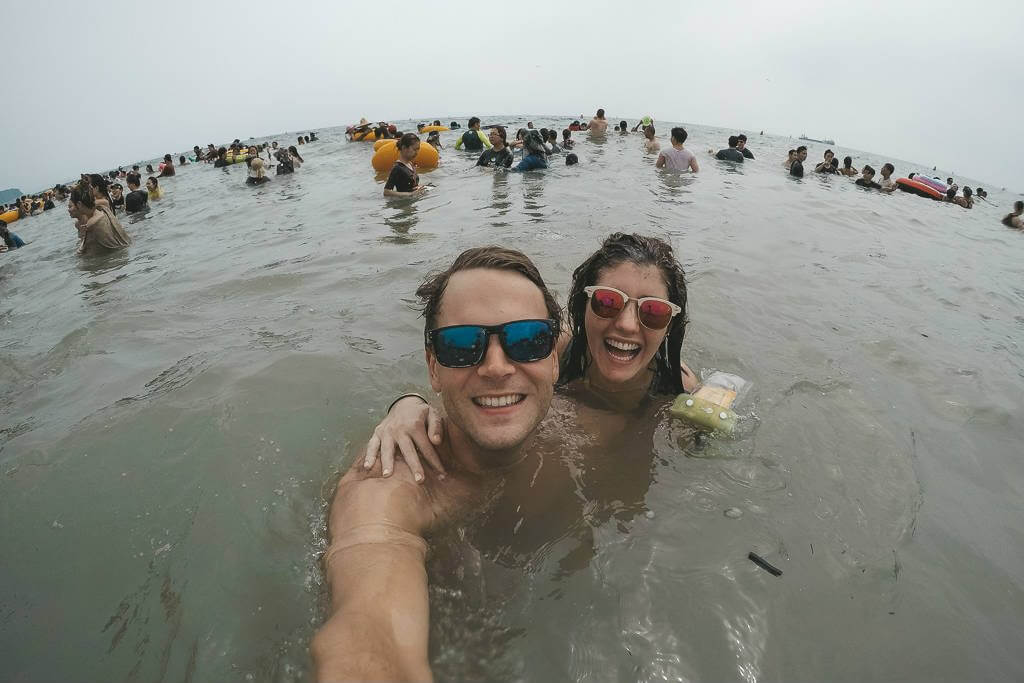 8. Should you book your trip to Boryeong Mud Festival with a tour group
To be honest, I'm not a big fan of tour groups. Meeting people when you join a tour is awesome but when I travel, I like to go by my rules and my time.
But with Boryeong Mud Festival it's different.
Logistically, planning a trip to Boryeong Mud Festival is a hassle and I wanted a carefree weekend. I didn't want to be scrummaging around for tickets, and accommodation or waiting for trains and buses.
Having a tour group take care of all the admin allows you to really enjoy the festival.
Which tour to book
I joined Bangawayo Tours on their Boryeong Mud Festival tour. They were actually the last tour group I contacted as the others had already been fully booked – that's how popular the festival is.
Klook also offers great tour packages. These are perfect for people who want to join in on the festival fun but can't find accommodation.
The tour departs from Seoul at 10 am and you'll return by midnight. Your tickets are included so it's a hassle-free way to experience the Boryeong Mud Festival in 2023. Find out more here.
Read More: Where to See Cherry Blossoms in Seoul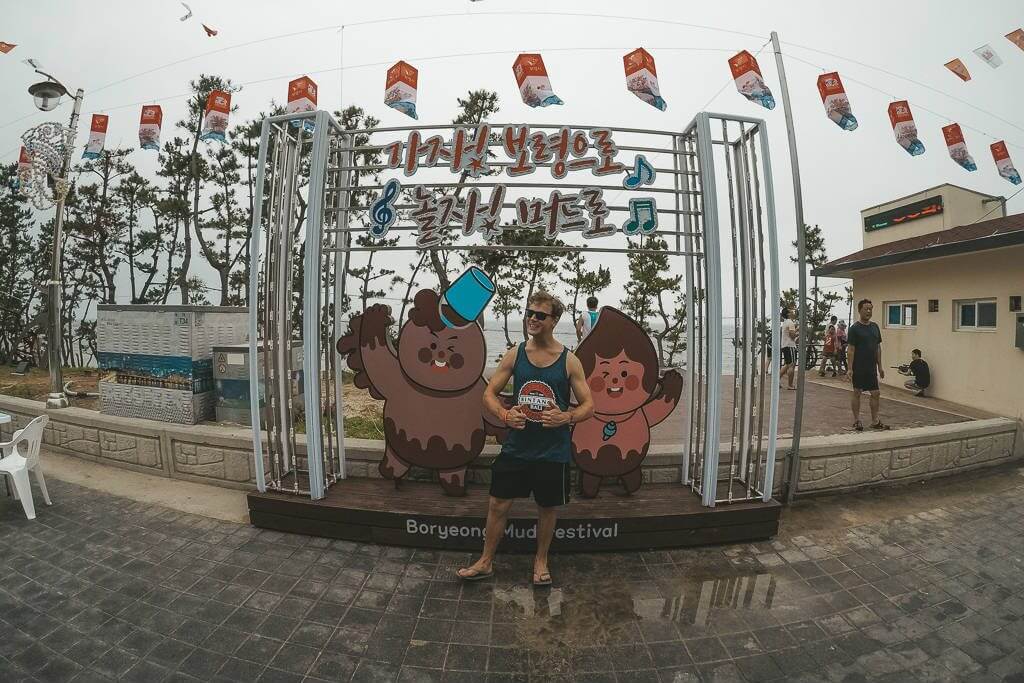 9. Boryeong Mud Festival tips
Purchase a waterproof pouch: Everything will get wet or muddy! I bought a waterproof casing from a local store at Daecheon Beach so don't stress if you arrive without one
Go Pro: If there was ever a time to have a Go Pro, it's for Boryeong Mud Festival
Sunscreen: Summer is scorching hot in Korea! It may look overcast (thanks to the pollution) but it's hot out there and the last thing you want is to be burnt. Actually, the worst would be hungover AND burnt! The hangover is not avoidable, but the burn is. So layer on that sunscreen
10. How to get from Seoul to Boryeong Mud Festival
Bus from Seoul to Boryeong
This bus ride normally takes 2h 30min but add an extra hour to this due to traffic
During the Boryeong Mud Festival, there is a direct bus from Seoul Express Bus Terminal to Daecheon Beach so be on the lookout for this
If you can't get this direct bus from Seoul to Daecheon Beach, take the bus from Seoul Express Bus Terminal or Dong Seoul Bus Terminal to Boryeong Bus Terminal
After your arrival at Boryeong Bus Terminal, you will need to take a bus or taxi to Daecheon Beach
Train from Seoul to Boryeong
The Korail train take 2h 40min to reach Daecheon Station
From Yongsan station take the train to Daecheon Station
Final thoughts on Boryeong Mud Festival
With all the hype and excitement surrounding Boryeong Mud Festival, it sure did not disappoint.
I have never seen so many happy and friendly people in one place.
Seriously!
It's like everyone switches off and their friendly alter egos come out to play for the weekend!
My only regret is not being able to take part in the mud zone activities because of the long queues. However, I soon forgot about that as there were so many other fun things happening.
---
Psst… Planning your trip to Korea? Check out my other posts!
---
Pin this!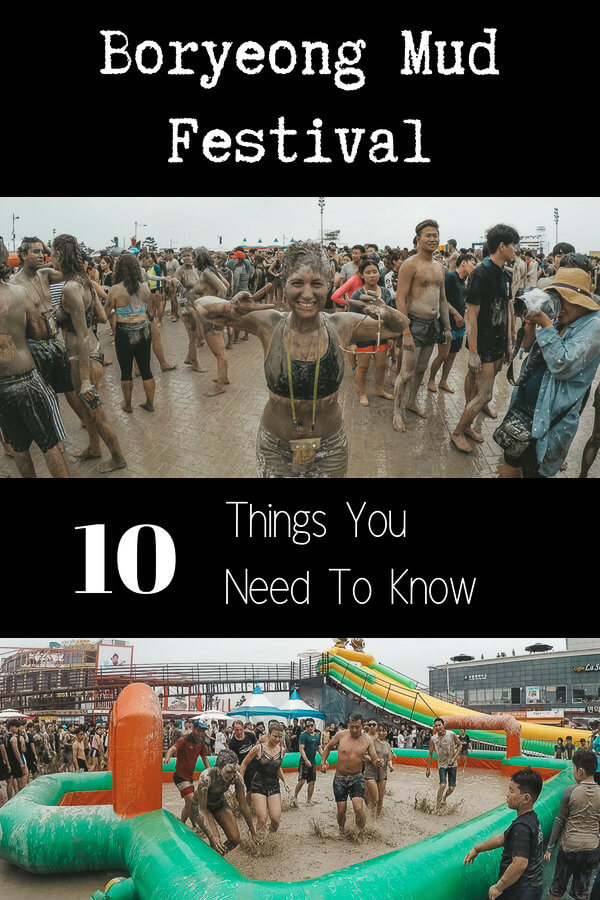 There is a really good chance that this post contains affiliate links. If you click one of them, I may receive a small commission at no extra cost to you. As always, views are my own!