Jeju Island in Korea is a popular getaway for thousands of people looking to escape the hustle and bustle of the mainland. It has a bit of everything: Delicious food, several cascading waterfalls, an abundance of hiking options, caves, beaches and so much more.
Jeju's biggest attraction lies in the fact that it was formed by many volcanic eruptions almost 2 million years ago. This volcanic island offers numerous UNESCO World Heritage Sites and has recently been named one of the 7 New Wonders Of Nature.
If there's one thing you have to do in Korea, it's visit Jeju Island! I had pretty high expectations before arriving – and whilst Jeju is often referred to as the "Hawaii of Korea", it's certainly nothing like Hawaii.
I spent 5 days in Jeju Island exploring the island and put together this detailed Jeju itinerary highlighting the best things to do in Jeju Island.
How To Plan Your Jeju Itinerary
Jeju lies just off the south coast of Korea and is just a quick flight from Seoul, making it an ideal weekend trip or a short vacation getaway if you only have 2 weeks in South Korea.
The island is much bigger than you realize so don't underestimate the size of Jeju! It takes over an hour's drive (by car) to get from one side to the other, and with buses, it's even longer!
Before you go ahead and confirm your travel bookings, you need to put together a Jeju itinerary so that you have an idea of what you want to do during your visit.
A trip to Jeju in spring brings with it perfect temperatures and cherry blossoms. Are you visiting Jeju in the summer? Then hit the beaches! A winter getaway means fewer crowds and beautiful, unspoiled landscapes.
As you can see, it's always a good time to visit Jeju Island, so what you waiting for!
Getting To Know Jeju Island
There are 3 main areas of Jeju including Jeju City, Seogwipo, and Seongsan. Deciding where to stay in Jeju is often the most challenging part of organizing a trip as the island is massive!
Jeju City is on the north of the island and is where you'll fly into. It's a great base if your time is limited but it does have a city vibe and the areas down south are way better – in my opinion!
Seogwipo is arguably the best place to stay. It's found on the south of the island and is close to the top attractions in Jeju.
Seongsan is where you'll find the famous Seongsan Ilchulbong on the east coast of Jeju. It's great if you're looking for a quieter place to stay, yet you still want to be close enough to the attractions on your Jeju itinerary.
Pro tip: If your time is limited, I recommend that you book a tour where you have a set itinerary and all your transportation is pre-booked. Tours such as this Southern Jeju Island Tour
allow you to visit the best places in Jeju in one or two days.
However, if you have more than 3 days, it's easy to plan your own Jeju Island itinerary and not go through a tour operator.
5 Day Jeju Itinerary: Best Things to do in Jeju Island
There are so many attractions and it's impossible to fit them all into your Jeju Island travel itinerary if you only have a few days on the island.
Below I've detailed my exact itinerary for 5 days in Jeju highlighting the best natural sights and fun outdoor activities, all using public transport.
Jeju Itinerary: Trip Overview
Day 1: Fly to Jeju, head to Seogwipo and explore the Seogwipo Olle Market
Day 2: Jeju Folk Village, Pyeonsan Beach and indulge in a Jeju Black Pork BBQ
Day 3: Walk the Jeju Olle trails and see Jeongbang Waterfall
Day 4: Hike Mt Hallasan
Day 5: Climb Seongsan Ilchulbong and explore Manjanggul Cave
Jeju Itinerary: Day 1
The first day of your Jeju itinerary will involve quite a bit of travel. The easiest way to get from Seoul to Jeju is to take a flight from Gimpo Airport in Seoul to Jeju International Airport.
The flight duration is just over an hour and there are over hundreds of flights weekly. I flew with Eastar Jet and would recommend them if you're looking for a low-cost airline.
If you have 5 days in Jeju, it's best to divide your time between the south (Seogwipo) or the east coast of the island (Seongsan).
How to get from Jeju International Airport to Seogwipo using public transport
After you've landed at Jeju Airport you need to get the airport limousine bus (#600) to Seogwipo. This bus is easy to find and will cost you 5 500 KRW ($5) for the
If you're headed to the center of Seogwipo, then get off at stop 22, New Kyoungnam Hotel. The trip takes around 2 hours by bus.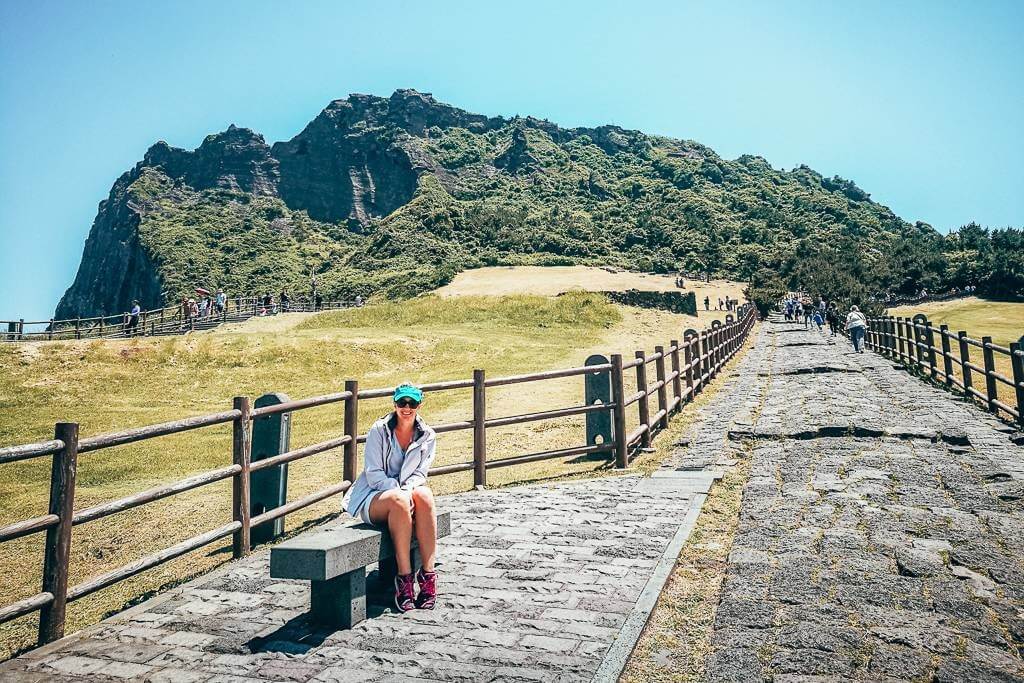 Grab dinner at the Seogwipo Olle Market
You'll probably arrive in Seogwipo late afternoon so after you've checked into your hotel, head to The Seogwipo Olle Market. It's the largest traditional market in Seogwipo consisting of over 200 shops and street vendors.
It offers a variety of local specialties including seafood, tangerines, dried fruit, fermented side dishes as well as cooked food. Perhaps you're looking for some pot and pans to buy?!
You'll find these and many other household items at this market as well!
Opening hours: 7:00 am – 9:00 pm
Jeju itinerary: Day 2
Seogwipo will be your base for the first 3 days in Jeju and you can reach the below attractions using a local bus from the Seogwipo bus stop.
Jeju Folk Village
Visit the Jeju Folk Village and travel back in time to explore Korea's cultural heritage.
More than 100 houses make up the 4 villages inside the Jeju Folk Village. The property is large and you can spend hours walking around learning about the traditional games that were played as well as how the people of Jeju used to live their lives.
Immerse yourself in folklore by dressing up in traditional Korean attire, the hanbok. You can buy your Jeju Folk Village tickets here
which includes hanbok rental.
There's also a maze within the folk village and if you visit Jeju in spring, you'll be treated to colorful flowers which line the walkways.
Admission: 11 000 KRW ($10)
Location: Pyoseon
How to get to Jeju Folk Village from Seogwipo
The duration is about 40 minutes from Seogwipo to the final stop. Take bus 101 from Seogwi Bus Terminal to Pyoseon-myeon Community Service Center. From here, take a right and walk toward the coast.
When you reach the sea, turn right and the Jeju Folk Village will be along that road. The walk from the bus stop to the folk village is about 15 minutes, but it's a pleasant one.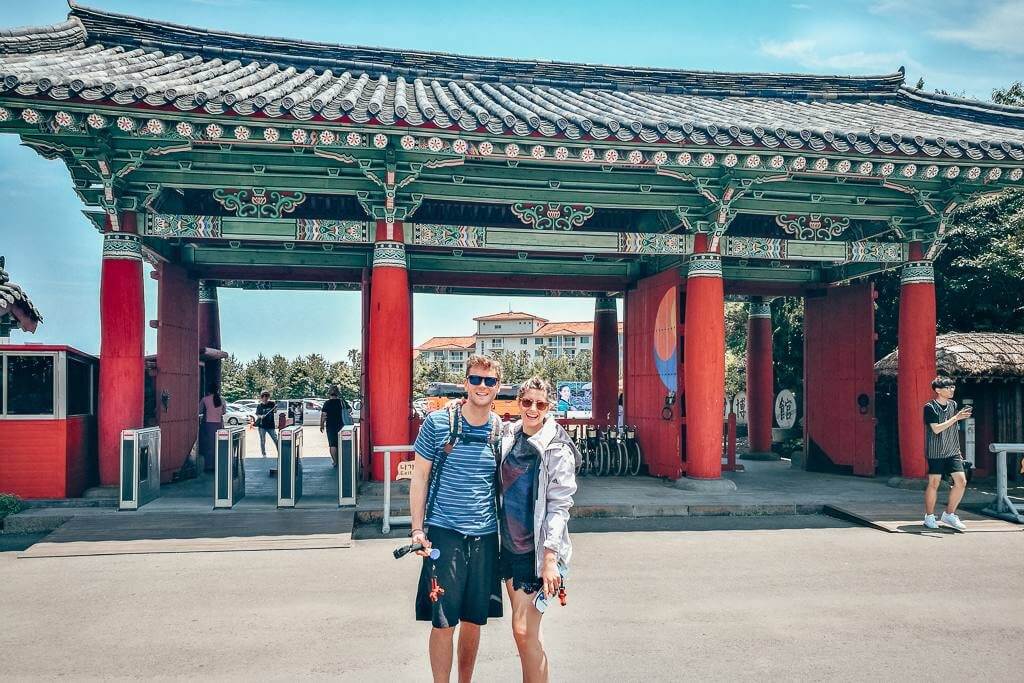 Take a walk along Pyoseon Beach
Jeju Folk Village is situated alongside the coast. After your visit, head towards the seaside, grab a cup of coffee or ice cream and take a stroll along the beach before heading back to Seogwipo.
Eat Jeju Black Pork at Tam Gung Restaurant
Today's the day you get to treat yourself to the famous Jeju Black Pork, a must-do on any Jeju itinerary!
The island is renowned for its Black Pork BBQ's and these restaurants can be found on every street corner in Jeju.
The meat is in a league of its own, tender and juicy. The name "Black Pork" is derived from the color of the pig's hair and not the color of the meat itself.
Because of its exclusivity to Jeju Island, the price for a Jeju Black Pork BBQ is higher than its mainland counterparts. But is it worth the 18 000 KRW ($15) price tag it comes along with? YES!
Considering it's not something you eat every day, it's most certainly worth indulging in. To date, this is the best Korean BBQ I've had, and that says a lot!
How to get to Tam Gung Restaurant in Seogwipo
Take the public bus from Seogwipo to Jeju World Cup Stadium. Here, you'll walk to your left, away from the main road.
Tam Gung is to the right, on the opposite side of the road.
Jeju itinerary: Day 3
Day 3 of your Jeju itinerary is all about nature and getting out and about to discover some truly magnificent Jeju Island attractions.
Explore the Jeju Olle Trails
The Jeju Olle Trails are a series of paths that circle around the outskirts of Jeju Island.
Created by a Korean journalist, the Jeju Olle Trails were inspired by her hike along the Camino De Santiago routes in Spain. There are 26 different routes with varying levels of difficulty.
These trails lead through beaches, villages, mandarin farms, and forests that cannot be accessed by buses or cars. As a result, you have a more authentic and less crowded experience of Jeju Island.
Whilst you can spend your entire vacation making your way around Jeju by means of the Olle Trails, most people choose to walk a specific route for the day. You can also opt to walk only a certain distance before heading on to the next activity.
Here's an epic day tour that takes you through the best parts of the Jeju Olle Trails, and gives you a taste of the stunning Korean countryside!
Indulge in Jeju Tangerines
Another big attraction in Jeju is its citrus fruit. Lush orchids fill the countryside and the moderate climate in Jeju is to thank for this.
Tangerines are by far the most prized fruit of Jeju, and they aren't cheap!
After paying 3 000 KRW ($2) for 1 tangerine, I couldn't help but compare it to the cheaper ones in my home country, South Africa. Let's just say that I won't be buying any more tangerines in Korea.
Since then, I've come to realize that in Korea, all fruit is expensive and not just tangerines. So, check it out for yourself and you decide whether they're worth it or not?
Jeongbang & Cheonjiyeon Waterfall
For those who love chasing waterfalls, Jeju has many of these for you to explore.
The 3 most popular ones include Cheonjiyeon Waterfall, Cheongjeyeon Waterfall, and Jeongbang Waterfall.
Both Cheonjiyeon and Jeongbang are located within walking distance from Seogwipo and don't require a strenuous hike to get there.
Jeongbang Waterfall is the only waterfall in Asia to fall directly into the ocean so I was excited to check it out.
Needless to say, it was a nice afternoon exploring Seogwipo and seeing what all the hype is about.
Admission: 2 000 won ($2)
Operating hours: 9 am – 7 pm
How to get to Jeongbang Waterfall
If you're staying in the center of Seogwipo, it's a 30-minute walk to Jeongbang Waterfall. It's a pleasant route through the harbor where you pass many local restaurants and hidden cafes so I'd recommend walking vs getting a taxi or bus.
Read More: 9 Awesome Day Trips From Seoul
Jeju itinerary: Day 4
If there's one day out of this Jeju itinerary that you absolutely cannot miss, it's day 4! If you have less time on the island, make sure you squeeze in a visit to Manjanggil Cave and Seongsan Ilchulbong.
Manjanggul Cave
Manjanggul Cave is another one of Jeju's UNESCO World Heritage Sites and is one of the longest cave tunnels in the world, making it one of Jeju's biggest attractions.
This lava tube is 13km long, but only 1km is accessible to the public. Manjanggul Cave houses a variety of natural formations that are well-preserved and the tunnels are lit up with illuminating soft-colored lights.
It does get chilly inside and it's advised to wear closed shoes as the floor is slippery and uneven. Of course, you always have the exceptions with ladies walking through the caves in their sky-high heels and short skirts all trying to get the perfect snap!
Admission: 2 000 KRW ($2)
How to get to Manjanggul Cave
From Seogwipo, take bus 101 to Manjanggul Cave Entrance. The trip will take about 1h 30min, but if you board the bus at Seongsan Ilchulbong, it takes 40 minutes.
Once you exit the bus, you need to cross the street and walk about 2.5km to the entrance of Manjanggul Cave. This was a long walk in the scorching heat so I'd advise you to take a taxi from the bus stop instead of walking.
There are buses that go to the main entrance of the Manjanggul Cave, but they don't run as frequently and it's better to walk the 30-minutes than wait for the bus to arrive.
Pro tip: After using public transport to get to Manjanggul Cave, I wish I had opted for a private transfer like this which includes pick up from your hotel as well as an English or Chinese speaking driver. We wasted so much time getting to and from Manjanggul Cave and it's worth paying a bit more for convenience.
Seongsan Ilchulbong & Jeju Women Divers
Climbing Seongsan Ilchulbong is another UNESCO World Heritage Site and a must-do in your Jeju itinerary.
Otherwise known as "Sunrise Peak", Seongsan Ilchulbong is an extinct volcano that was formed thousands of years ago after a series of volcanic eruptions.
The climb to the top takes about 30 minutes, with many picturesque spots along the way. At the peak, you'll get a great view of the crater and Jeju Island. The trail is well-marked and there are proper steps along the way.
Hiking Seongsan Ilchulbong is one of the best Jeju Island activities, so don't miss it.
After you've completed the climb you can watch the Jeju Women Divers, also referred to as Haenyeo (sea women).
These divers make their living by harvesting seafood from the ocean floor. Using no diving equipment, they can stay underwater for up to 3 minutes. They're quite popular in Jeju, and Korea, so watch them do their thing!
Admission: 5 000 won ($4)
Operating hours: 7:30 am – 7:30 pm
READ MORE: 40+ THINGS TO PACK FOR KOREA
How to get to Seongsan Ilchulbong Peak
Take bus 101 to Goseong-Ri. Once off the bus, you will notice the scores of people making their way to Seongsan Ilchulbong.
You will also pass many restaurants and cafes along the way so grab a bite to eat if you're hungry.
Pro tip: This Eastern Jeju Discovery day tour
includes stops at both Seongsan Ilchulbong, Manjanggul Cave, plus you can also check out the Jeju women divers.
Jeju itinerary: Day 5
Save all your energy for your last day in Jeju Island as you'll need it!
Hike Mount Hallasan
If you have 5 days in Jeju, Mount Hallasan needs to be on your itinerary!
Sitting at 1 950m, it's the highest mountain in Korea and attracts thousands of tourists to the island. Mount Hallasan is also an active volcano that forms the bulk of Jeju Island.
You'll need a full day for your summit climb and there are various other walking routes around the mountain if you choose not to go all the way to the top. The most popular trail to the peak is Seongpanak.
How to get to Mount Hallasan
From the Seogwi Bus terminal, take bus 182 to Seongpanak for about 30 minutes.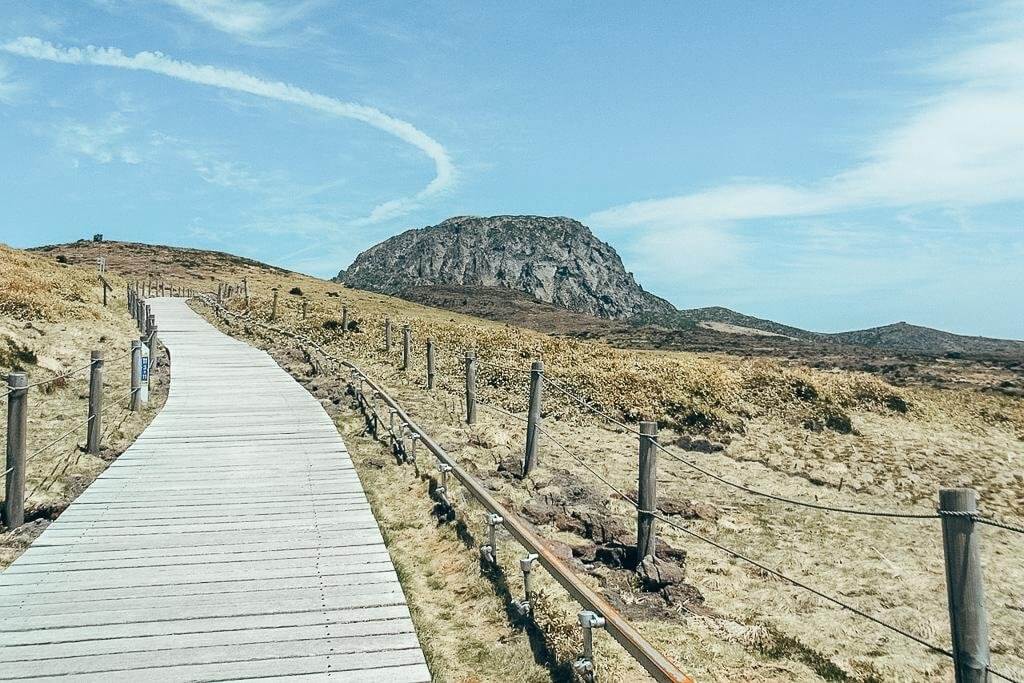 Other Things To Add To Your Jeju Itinerary
If you're struggling to decide what to do in Jeju island, I don't blame you! The island is home to some of the greatest attractions in Korea and you need more than 5 days in Jeju to visit them all.
Take a day trip to Udo Island. The ferry leaves from Seongsan harbor to Udo Island where you can spend the day exploring Udo on bikes or scooters before heading back to Jeju. You can buy tickets here
Visit one of the many museums on Jeju Island. These include the Hello Kitty Museum, Love Land, Mini Mini Land, Glass Museum, and the Teddy Bear Museum. Yes, Koreans love museums! If you're traveling with kids these museums are a must-see. Check out the museums and buy your tickets here.
Spend your summer days enjoying the beaches of Jeju. The more popular ones include Hyeopjae, Jungmun, and Samyang. Unfortunately, the beaches are closed outside of summer, so if you visit Jeju in spring or fall, don't focus on including them in your Jeju itinerary.
Jeju Nanta Show. This is one of the best things to do in Jeju City! The show combines acrobatics, martial arts, music, and culinary skills and is an incredible performance. I saw the performance in Seoul and it's worth every cent! Tickets need to be purchased in advance, here.
Best Way To Get Around Jeju Island
There are 3 ways to get around Jeju island: Public transport, car rental, or private transfer/organized tour.
You can also take a taxi, but that's going to cost you an arm and a leg! Make sure you grab a map at the airport as these come in handy when finalizing your plans.
Car rental in Jeju
Renting a car is by far the easiest way to get around Jeju but this needs to be booked this in advance. And yes, I would know as I arrived in Jeju without having reserved one, and they were all rented out!
You can rent a car here and it will be ready and waiting when you arrive.
You will need your passport and international driver's license on you in order to rent a car in Jeju. Also, take note of which side of the road you should drive as it can get confusing!
Jeju's public transportation system
Public transportation on Jeju is not as convenient as that of the capital, Seoul but it's a far cheaper option than renting a car if you're traveling solo.
During my 5 days in Jeju, I was able to see most of the main attractions using public transport only.
Yes, it takes longer, yes it can be difficult to find the bus stops, and yes, I did a lot of walking. But it was an experience and luckily I had time and good weather on my side!
The buses run at 20-50 minute intervals and so you'll need to add extra time to your Jeju itinerary. The bus numbers, routes, and schedules have also recently changed so be sure to double-check all entry and exit points.
This is the updated Jeju Tourism site where you can download the bus schedule.
Jeju Island Tours
There is so much to see and do in Jeju. If you're looking to get the most out of your time on the island, check out these awesome tours which include stops at the best attractions in Jeju.
Jeju UNESCO Site Tour stops at all the UNESCO World Heritage sites in Jeju Island. It's one of the best ways to see Jeju if you only have a few days to explore.
Jeju Western Island Exploration takes you to the popular sites on the west of the island including Hyupjae Beach and Cheonjeyeon Waterfall.
Jeju 3D/2N Tour includes accommodation in a 4* hotel as well as a private vehicle and driver to ensure you get to see the best of Jeju!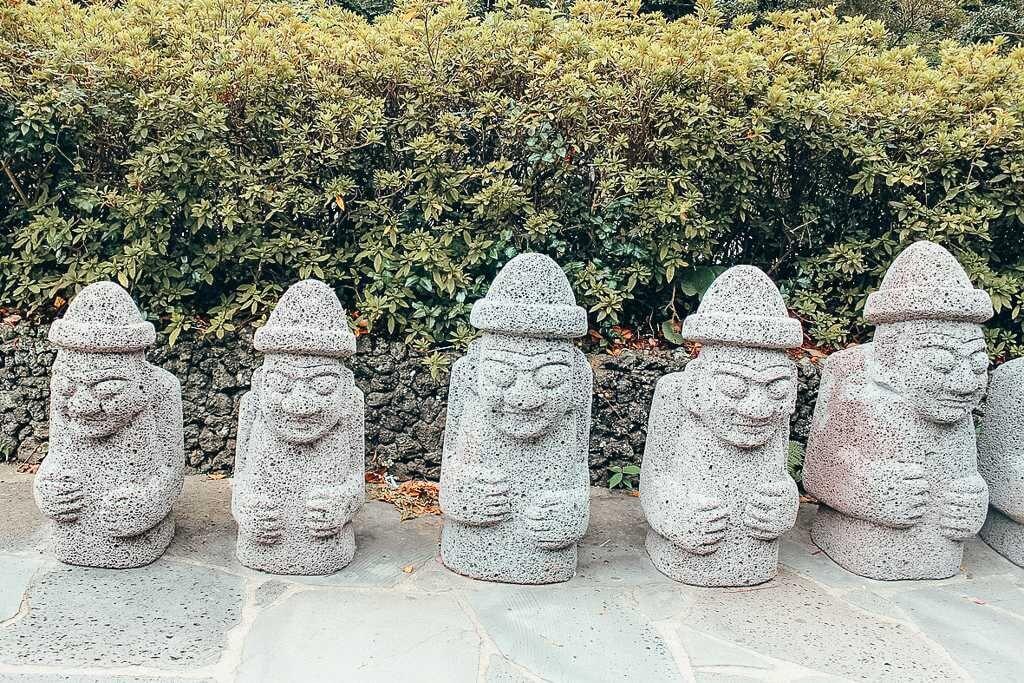 Where To Stay During Your 5 days in Jeju
There are two main areas within Jeju: Jeju City (near the airport) and Seogwipo (toward the south of the island).
Alternatively, you can stay on the east of the island, near Seongsan Ilchulbong, which I also recommend.
When booking accommodation, Booking.com and Airbnb are the best platforms to use in Korea and offer a wide variety of options at affordable prices.
When it comes to accommodation in Jeju, I'd recommend Booking.com if you're looking for hotels and Airbnb if you're in search of a more budget option, such as a pension or a motel.
Where to stay in Jeju City
Backpackers will love Yesjun Hostel! With views of the ocean and a small breakfast included, this is the perfect place to stay if you're backpacking Korea and looking to meet other travelers.
If you're looking for a budget place to stay in Jeju City, head over to Ganderak Guesthouse. It's conveniently situated in the heart of Jeju City, close to the airport. It's quiet, clean, and cozy, and even comes with a complimentary breakfast!
If your budget is slightly higher, and you're looking for a mid-range place to stay, Jeju December Hotel is your best bet. The rooms are a decent size and the hotel is decorated with simple, wooden furnishings.
For luxurious accommodation in Jeju Island, Lotte City Hotel is just what you're looking for! The large rooms are paired with a modern style and the rooftop pool is one of the key selling points (well, that and its perfect location).
Where to stay in Seogwipo
Seogwipo is closer to the many attractions on the island and this is where I decided to spend my 5 days in Jeju – I suggest you do the same.
A popular spot for backpackers is SLOW City Hostel in Seogwipo. You can choose from private or dorm rooms, and the price includes breakfast. If you're traveling alone, this is the best place to stay as you're bound to meet other tourists.
If you're traveling on a budget, the best place to stay (and where I stayed in Seogwipo) is Gudeok Guesthouse. It's slap bang in the center of Seogwipo and has a great communal rooftop area with views of the port. The owners are also so lovely!
If you're looking for mid-range accommodation, I recommend Pino Hotel. Situated only a stone's throw away from Cheonjiyeon Waterfall, the location could not be any better! It's a luxurious hotel with a modern design and affordable price tag.
If luxury is what you're looking for Artstay Seogwipo Harbor is the best place to stay in Seogwipo! The rooms are tastefully decorated and are much bigger than most in Korea. There is also a rooftop terrace with spa baths!
Best Time To Visit Jeju
Korea offers 4 distinct seasons but there are so many things to do in Jeju and so you won't be short of options, no matter the season.
Winter (December-February): Winter in Korea is cold and you can expect a bit of snow in Jeju, although the weather is warmer than the mainland during this time. Because winter is the off-peak period, there are fewer crowds and accommodation is cheaper.
If you're visiting Korea in Winter, check out these ski resorts near Seoul!
Spring (March-May): Spring is one of the better times to visit Jeju Island. With sunny skies and pleasant weather, you can enjoy all the outdoor activities on offer. The flowers will be showing off and it's a great time to get out and explore. However, there are thousands of tourists who visit Jeju during this time.
Summer (June-August): Summer is extremely hot and humid. Hiking or other strenuous activities may be uncomfortable during this time, but you'll be able to enjoy the beaches (crowded beaches at that!)
If you're visiting Korea in Summer, check out Naksan Beach – the best beach in Korea!
Fall (Sept-November): Fall is also a great time to visit Jeju Island as it offers warm, sunny days. As with Spring, there is a lot more natural beauty due to the change of the seasons which brings along orange and red leaves and beautiful photo opportunities.
Jeju Island: The Hawaii of Korea, So They Say
Firstly, Jeju is as different from Hawaii as apples from oranges!
Despite the rumors, Jeju Island is NOTHING like the surfing hotspot of Hawaii. If you're in search of palm trees, white sandy beaches, and pristine waters, then perhaps island hopping the Philippines is a better option for you!
However, Jeju is popular for many other reasons and the unique attractions on the island make it a worthy reason to include it on your Korean bucket list.
My Thoughts of Jeju Island
Jeju will always hold a special place in my heart as it was my first stop before I started teaching English in Korea.
Not knowing anything about Korea, the culture, and the food, I had no idea what to expect, except a "Hawaii" like atmosphere!
I quickly learned that most Koreans cannot speak English, hiking is part of their lifestyle, and the whole "let's drink cocktails on the beach whilst catching a tan" isn't a thing here! Here are 24 other strange things about Korea!
I was also amazed by the number of people who flock to Jeju. It's a tourist hotspot and every attraction I visited was packed with people as the island is geared for tourism. There's nothing untouched or mysterious about Jeju.
But that's what I enjoyed about the island, I learned something new about the way Koreans travel and what they deem to be an amazing vacation. My students often go to Jeju and tell me how much they love it there. Learning about different countries and cultures continues to amaze me and it's experiences like these that make one appreciate the differences.
---
Have you been to Jeju Island? Do you think it lives up to its name as being the "Hawaii of Korea"? Let me know in the comments section below!
Looking for more Korea travel information? Check out my other posts!
---
Pin this!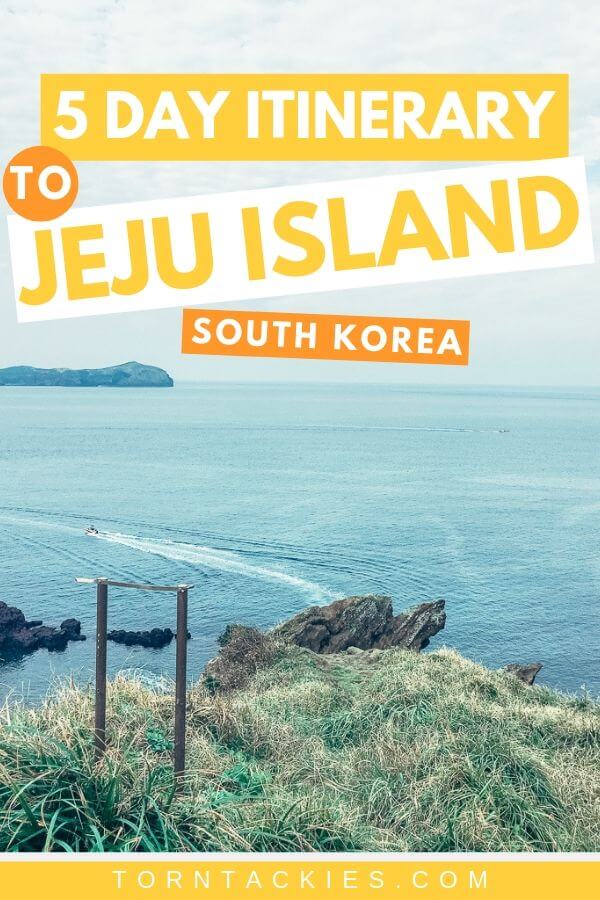 There is a really good chance that this post contains affiliate links. If you click one of them, I may receive a small commission at no extra cost to you. As always, views are my own!