Last updated on July 19th, 2021
Nuwara Eliya, Sri Lanka, is one of the most unique towns in the country. With its obscure climate, and seemingly out of place architecture, Nuwara Eliya leaves you feeling slightly confused: Sri Lanka or England?
Nuwara Eliya sits between Kandy and Ella and whilst many people give this quint village a skip, I highly recommend you include it in your Sri Lanka itinerary.
Here's my list of the 9 best places to visit in Nuwara Eliya including things to do and a complete travel guide to exploring "Little England".
About Nuwara Eliya, Sri Lanka
Nuwara Eliya sits at 1 889 m and is nestled high away in the mountains of hill country. Its cooler temperatures provide optimal conditions for tea plantations, leaving the countryside covered with lush green fields that run as far as the eyes can see.
There are lots of places to visit in Nuwara Eliya and whilst the tea plantations are the highlight, don't miss out on the other things to do in the area.
Nuwara Eliya, Sri Lanka, is otherwise known as "Little England" as there are colonial-styled buildings dotted all over the town. This village was once a popular vacation destination for British settlers who would visit Nuwara Eliya and enjoy some downtime among the mountains.
Where is Nuwara Eliya
Need to get your bearings right? If you're taking the Kandy to Ella train, Nuwara Eliya is en route.
Your first main stop will be Hatton (which is the gateway to Adam's Peak), then Nuwara Eliya, followed by Ella. Nuwara Eliya is a great destination to break the long train ride as it's practically the halfway mark.
If you're going to Nuwara Eliya, I highly recommend that you stop in Hatton and climb Adam's Peak and then move on to Ella afterward.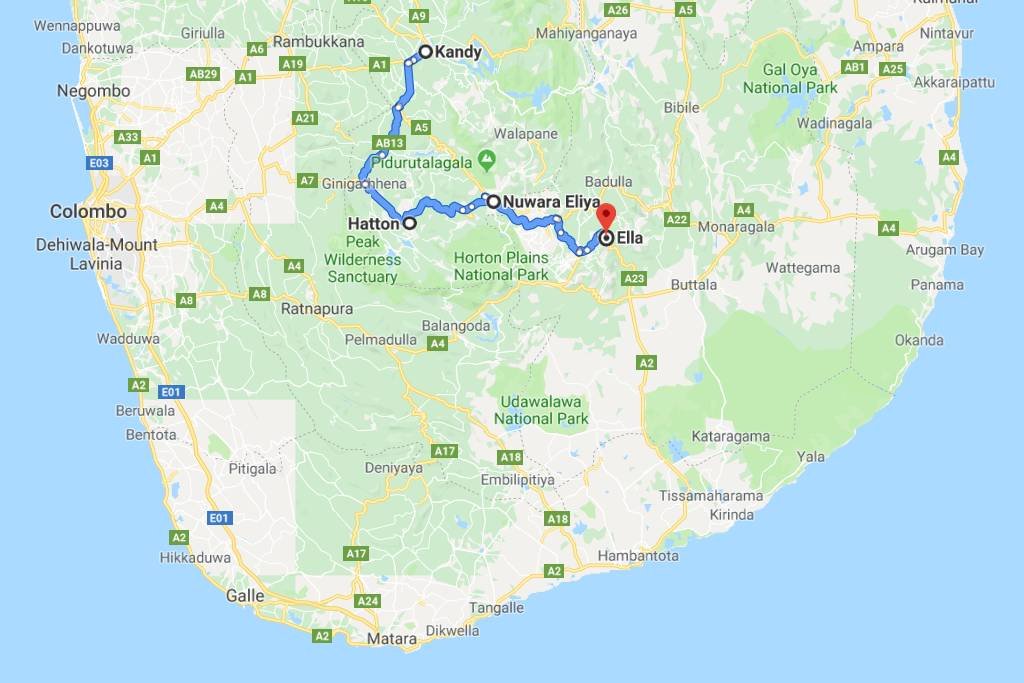 5 best places to visit in Nuwara Eliya
1. Nuwara Eliya Waterfalls: Ramboda Waterfall
Top of my list of places to visit in Nuwara Eliya is Ramboda Waterfall which is arguably one of the best waterfalls in Sri Lanka. It sits 1 hour outside of Nuwara Eliya and you cannot miss it as it's alongside the road.
But wait, there are actually two waterfalls attached to the Ramboda Waterfall.
If you're coming from Nuwara Eliya and stop at Ramboda Falls, there is one waterfall to your right, up the mountain, which is a short hike to get to. The second is to your left and the entry point to this waterfall in Nuwara Eliya is through Ramboda Falls Hotel.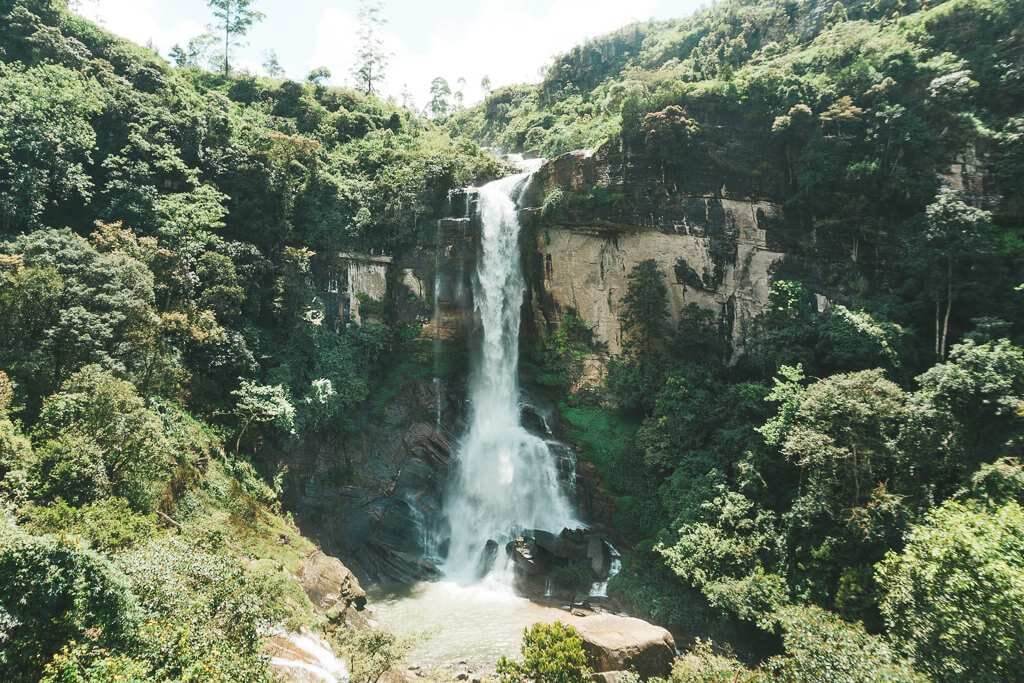 How to get to the Ramboda Waterfalls
This first waterfall is more tricky to reach as it's a 20-minute hike along a jagged and uneven staircase. I was still recovering from my climb up Adam's Peak in Dalhousie and so this hike felt a lot tougher than it really was. Make sure you're wearing trainers as it does get slippery and there are leeches along the route. There is a 50 LKR ($0.2) fee to enter.
The next waterfall is accessed through Ramboda Falls Hotel which is to the left of the road. This is a much easier waterfall to get to as you walk down a paved path to the Ramboda Falls Hotel. You then enter the hotel and make your way to the restaurant which leads to the viewpoint.
So which waterfall is better?
Well, if you've come all the way to see Ramboda Waterfalls in Nuwara Eliya, you might as well take a look at both. However, I personally preferred the waterfall which requires a bit of a hike to get to. This felt more adventurous and secluded, whereas the other was just a pretty photo spot.
Other waterfalls close to Nuwara Eliya include Lovers Leap and Glen Falls, but neither of these are as impressive as Ramboda Falls.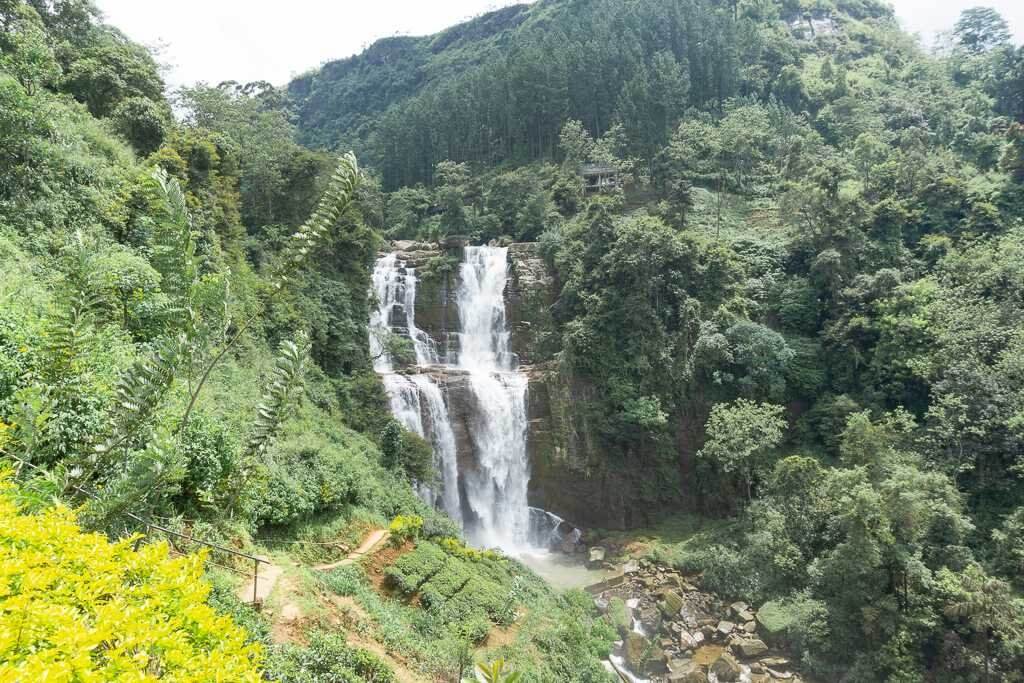 2. Tea plantations in Nuwara Eliya
Nuwara Eliya is surrounded by rolling hills covered with endless tea plantations which are the main attractions in Nuwara Eliya. On your way to Ramboda Falls, you will be spoilt for choice as there are so many of these tea factories to visit in Nuwara Eliya. Stop and take in these views as they really are spectacular.
Bluefield Tea Factory
I decide to visit Bluefield Tea Factory as it is en route to Ramboda Falls, and free of charge.
Upon your arrival, a guide will take you through the entire tea making process. It's quite remarkable just how much tea these factories produce and how they distribute their products to the overseas market.
This tour lasts 30 minutes and you're treated to a cup of tea after. Whilst this is all complimentary, I encourage you to tip your guide or support the plantations by purchasing their tea.
Other popular tea plantations to visit in Nuwara Eliya include Pedro Tea Factory and Damro Labookellie Tea Centre.
Tip: First visit Ramboda Waterfall and then go to the tea plantations after as the weather can be unpredictable.
3. The Grand Hotel Nuwara Eliya for high tea
Chances are that at some point the weather will be, well, gloomy! So, if you're looking for a place to visit in Nuwara Eliya on a cold, rainy day, head straight to The Grand Hotel for high tea. This is the perfect opportunity to treat yourself and explore the old hotel which was built in 1891.
There I was, in Sri Lanka, sipping on my afternoon tea whilst watching the rain pour in the background. Who would've thought!
High tea is served from 15:30-18:00 daily and costs 1 500 LKR ($8).
4. Hike to World's End in Horton Plains National Park
Horton Plains National Park is a vast, open park situated 30km outside of Nuwara Eliya. It's one of the most popular places to visit in Nuwara Eliya and hence it was on my Sri Lanka bucket list.
However, I didn't end up going to Horton Plains. Some may blame it on one too many drinks the night before, but what it all came down to were the costs. Whilst most hikes in Sri Lanka are free, Hortons Plain will burn a hole in your pocket and if you're on a backpacker budget, you'll want to give World's End a skip too.
Is a trip to Horton Plains and World's End worth it?
Horton Plains is a beautiful park that attracts hikers and adventure seekers alike. The park is home to many wild animals and beautiful spaces with spectacular viewpoints from World's End.
This is why I chose not to go to Horton Plains:
Costs: There is no public transport going to Horton Plains and so you need to take a Tuk Tuk or van to get there. This will cost 4 500 LKR ($25) for the 1.5-hour trip. You then need to cover entrance fee into Horton Plains National Park. This is quite complicated as you pay for your fee, your guides, the vehicle, and tax. This works out to more than 4 000 LKR ($23) per person. Add that to your transport costs and you've already spent a good chunk of your budget.
Time: You need to be at the viewpoint at World's End before 09:00 as this is when the clouds start rolling in and your views will be hampered. This means you must leave Nuwara Eliya before 06:00 as it's a 1.5-hour drive from Nuwara Eliya to Horton Plains. If you want to make sunrise, you'll need to leave even earlier. The round trip from the entrance of Horton Plains to World's End is 9 km and takes 3 hours so you will only return to Nuwara Eliya after 13:00.
Other options: If you're planning on spending a few days in hill country, there are so many other hiking options to choose from including Little Adam's Peak, Ella Rock, and Adam's Peak.
Read More: Ella Rock or Little Adam's Peak: Which is Better?
5. Explore Nuwara Eliya town and the post office
There's no need to get a taxi to explore Nuwara Eliya town itself. Just take a slow stroll from the one side to the next and you'll pass an interesting mix of Sri Lankan and British architecture.
Nuwara Eliya town is filled with food and clothing markets and street vendors, as well as a pristine golf course, and the iconic Nuwara Eliya Post office.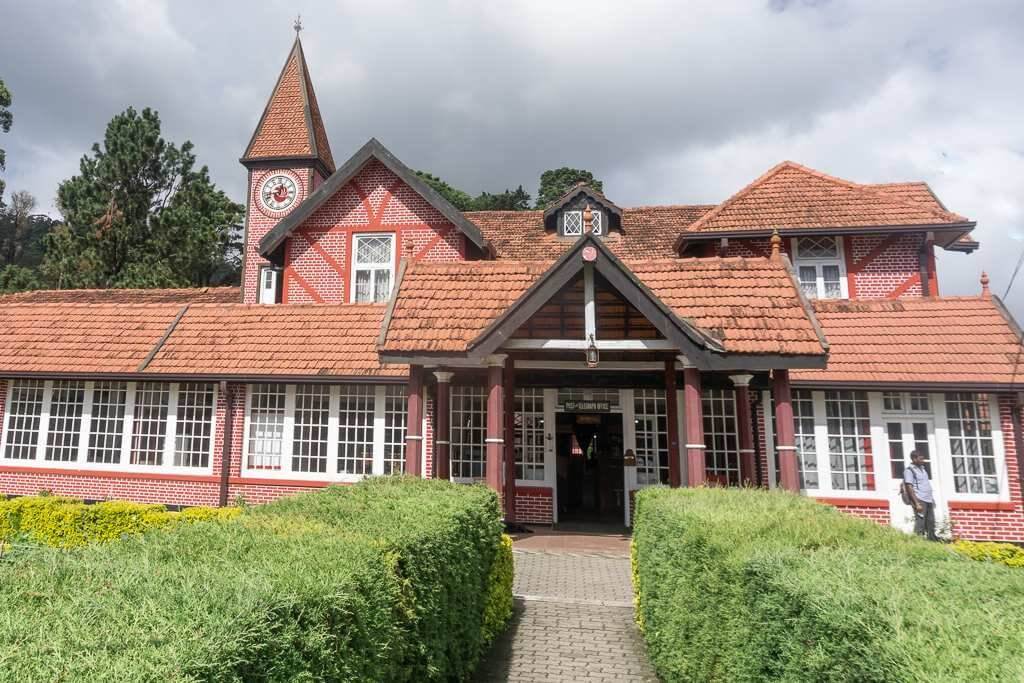 6. The Pub, Nuwara Eliya
Some people love it, others, not so much! But The Pub is one of my best places to visit in Nuwara Eliya.
The beers are cheap, 360 LKR ($2), and the food is absolutely delicious! It's a spot where all the locals go, so if you're looking to escape the cold night and warm yourself up with some comfort food, head straight to The Pub in Nuwara Eliya.
7. 19th Hole Pub, Nuwara Eliya
I arrived in Nuwara Eliya to a cold, wet welcome. After sipping on a few beers at The Pub, I headed to the 19th Hole to meet up with some travelers I'd met in Dalhousie.
The 19th Hole is a cozy pub with a great atmosphere and like most of Nuwara Eliya, it resembles that of a pub you'd find in England.
The prices here aren't budget-friendly, and the food isn't as great as The Pub, but the warm fire and friendly staff make up for it. They also have a "buy 1 get 1 free" special from 17:30-19:30 daily.
8. Gregory Lake: Is this really one of the best places to visit in Nuwara Eliya?
Lake Gregory comes up on all searches as one of the best places to visit in Nuwara Eliya. But to be honest, I wasn't impressed. So, what's all the hype about?
Gregory Lake is a big lake, with beautifully manicured lawns. It lies in the heart of Nuwara Eliya where you can enjoy an afternoon stroll along a boardwalk that runs alongside the lake. If you have kids, they'll enjoy the activities such as paddle boats, jet ski rides, and horse riding.
But Lake Gregory didn't stand out for me and I'd advise that you rather visit all the other places in Nuwara Eliya instead.
There's a 200 LKR ($1) entrance to enter Lake Gregory.
9. Victoria Park
Victoria Park lies in the middle of Nuwara Eliya and similarly to Lake Gregory, Victoria Park has lawns that are grown to perfection, bright colored flowers, and a playground for children.
It's a great place for an afternoon walk but I wouldn't list this as one of the best places to visit in Nuwara Eliya, especially if you're pressed for time. Entrance Fee is 300 LKR ($1.50).
How to get to the best places in Nuwara Eliya
The best way to explore Nuwara Eliya is to get a Tuk Tuk and a driver for the day. If you're worried about the weather, still go the Tuk Tuk route as opposed to a van or car.
Tuk Tuk's are easier to travel with because you're able to stop as and when you please. I paid 2 500 LKR ($15) for a 4-hour tour to the top attractions in Nuwara Eliya, including the waterfalls and tea plantations.
The best time to visit Nuwara Eliya
There is no best time to visit Nuwara Eliya as the weather is continuously cold and rainy, hence it's such a great area for tea plantations. If you're looking for sun and beaches, head to Trincomalee and Hiriketiya Beach instead.
The months of February and March are said to be the best times to visit Nuwara Eliya. April is the busiest time and so you should avoid traveling to hill country then.
Another tip: pack warm clothes as Nuwara Eliya gets pretty cold!
READ MORE: THE ULTIMATE SRI LANKA PACKING LIST
Nuwara Eliya weather in October
October to December are the rainiest months but don't let this deter you from visiting Nuwara Eliya offseason. I was in hill country in October and yes, the weather wasn't great, but I still had a lovely time and Nuwara Eliya was one of the highlights of my time in Sri Lanka.
Make sure you do all the outdoor activities in the morning, when the weather is generally clearer, and leave your afternoons open to enjoy indoor activities such as the high tea, pubs crawling, or snuggling close to the fire.
Where to stay in Nuwara Eliya
How to get to Nuwara Eliya
Train from Kandy to Nuwara Eliya: There is no train station in Nuwara Eliya town itself. To get to Nuwara Eliya from Kandy, you need to get off at the Nanu Oya train station which is a 15-minute drive from Nuwara Eliya. This ride takes 4 hours from Kandy to Nuwara Eliya. If you're going from Ella to Nuwara Eliya, the train ride will take 2.5 hours and you'll also get off at Nanu Oya train station.
Bus from Colombo to Nuwara Eliya: If you're coming from Colombo to Nuwara Eliya, the easiest way is via public buses. Alternatively, you can take the train that goes from Colombo to Kandy and then on to Nuwara Eliya.
READ MORE: The Best Places to Visit in Kandy
How long to stay in Nuwara Eliya
Depending on your arrival time, I'd recommend you spend 2 nights in Nuwara Eliya. This will give you enough time to see the best places to visit without being too rushed.
Nuwara Eliya or Ella? Or both!
After your visit to Nuwara Eliya, your next destination will either be Ella (if you're coming from Kandy) or Hatton (if you're coming from the south).
If you're torn between Nuwara Eliya or Ella, why not do both! You don't need more than 2 nights in Ella and 2 nights in Nuwara Eliya. I'd advise that you visit Nuwara Eliya instead of Kandy and if you have an additional day or 2, include a trip to Adam's Peak in Dalhousie before/after Nuwara Eliya.
---
Looking for more Sri Lanka travel information? Check out my other posts!
---
Pin this!