Midigama Beach is a small coastal village south of Sri Lanka. It's often overlooked by travelers who have their sights set on the backpacker community of Weligama or plan to hit the trendy beach bars of Mirissa.
After spending a month in Sri Lanka, I decided to base myself in Midigama Beach for my last 3 days in the country.
If you're looking for friendly locals and chilled vibes, I suggest you do the same.
About Midigama Beach
Sri Lanka has made a name for itself thanks to its great coastline, exotic beaches, and fun surf spots.
Whilst the areas on the south coast are more developed than those on the east, Midigama is less chaotic than its neighboring villages.
Why Midigama (and not Mirissa)
The coastal towns near the capital city of Colombo, are developing rapidly. Hotels and resorts are replacing what used to be palm trees and open land. This is particularly true for Mirissa, where construction is ongoing.
Unlike Midigama Beach, Mirissa Beach is packed with tourists, sun loungers, and offers activities to keep you busy all day.
Midigama Beach, on the other hand, is secluded with very few other people around. It is unspoiled yet has everything you need within reach.
It's also a great place to base yourself as there are so many things to do towards the east and west of Midigama.
How to get around Midigama Beach, Weligama and Mirissa
The best way to travel around Midigama is to rent a scooter for the duration of your stay.
A scooter will cost $6-$8 per day and you'll need your passport and driver's license on hand.
Alternatively, take a tuk-tuk. But if you're traveling on a budget, this could work out quite expensive as you'll be making numerous stops.
Driving around Midigama
But be careful as driving in Sri Lanka can be dangerous.
If you aren't familiar with riding a scooter, then rather opt for a tuk-tuk and driver instead.
The south coast between Galle, Midigama, Weligama, and Mirissa is extremely busy. Buses come flying around every corner and they overtake on blind rises – we even witnessed a pedestrian being hit by a truck right in front of Midigama Beach!
Phew, now that you've been warned, let's get on to the best things to do in Midigama.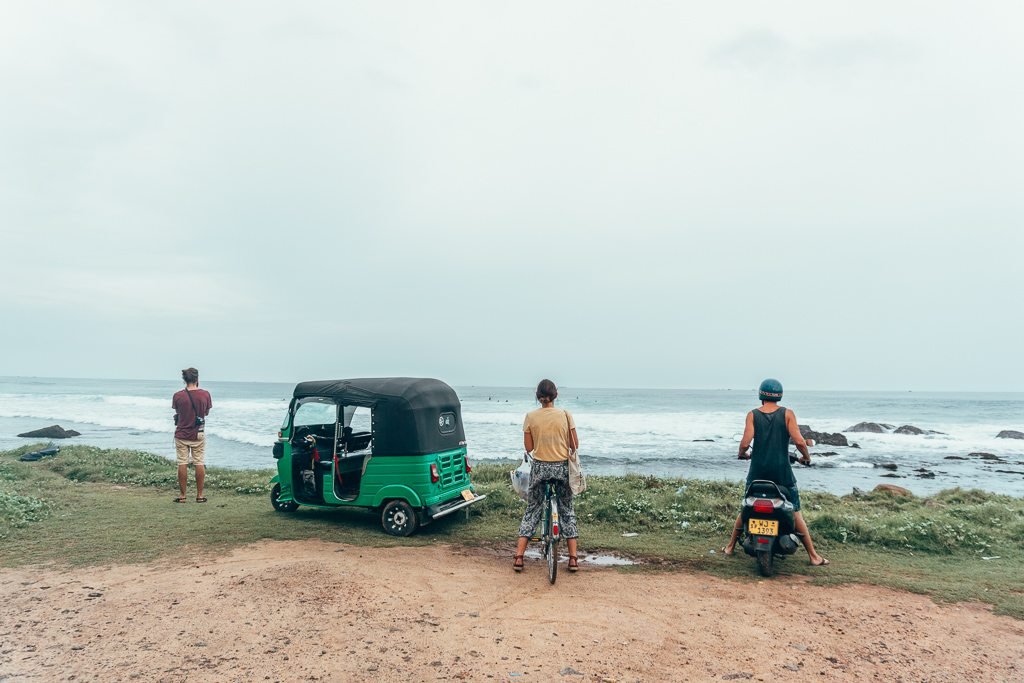 9 Things to do in Midigama Beach
1. Surf in Midigama
It's no secret that Midigama is hot on surfer's radars. There are a few surf spots in Midigama, and these are all best for more experienced surfers.
Coconuts, Plantation Point, Rams, Lazy Left, and Lazy Right are the 5 surf spots in Midigama, all located a short distance away from each other. They range from reef breaks to fun long-board waves.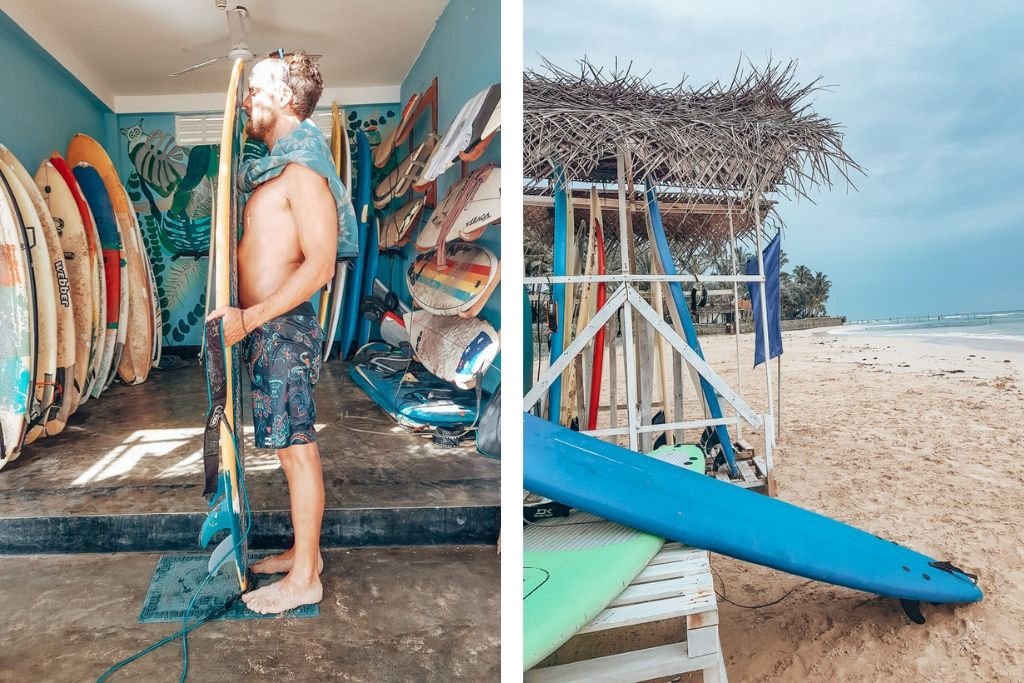 2. Chill out on Midigama Beach
Midigama Beach is a great place to spend your morning. The beach itself is quite small compared to others along the coast, but it's also a lot more secluded which I loved.
Take a book with you, sip on a fresh coconut, and chill out!
READ MORE: The Best Beaches in Trincomalee
3. Explore Mirissa
Mirissa is just 20 minutes away from Midigama and makes for a great day trip. It's also popular with backpackers in Sri Lanka.
Here are some of the biggest attractions in the area.
Mirissa Beach and Parrot Rock: Mirissa Beach is a beautiful, long beach with great waves to body surf. Relax on a lounger or take a stroll to Parrot Rock which is to the left of the beach.
Coconut Hill: Coconut Hill is a gorgeous hill covered in coconut trees. It can be seen from Mirissa Beach and is easy to access from the main road. It's a popular attraction so try to get here as early as possible.
Happy hour specials: Most beach bars and restaurants in Mirissa have daily happy hour specials. Ironically, these happy hours generally run for the entire day so grab your beer, order some fresh seafood for lunch and soak up the sun.
Secret Beach: Secret Beach is a small bay with rock pools and is only a stone's throw away from Mirissa Beach. Admittingly, this is one thing I didn't do in Mirissa. I'd heard that it's not so secret and just as busy as the main beach, so I gave it a skip.
Go Whale Watching: Whale watching is a popular thing to do in Mirissa from November to April. If you're traveling on a budget, you may want to skip this one.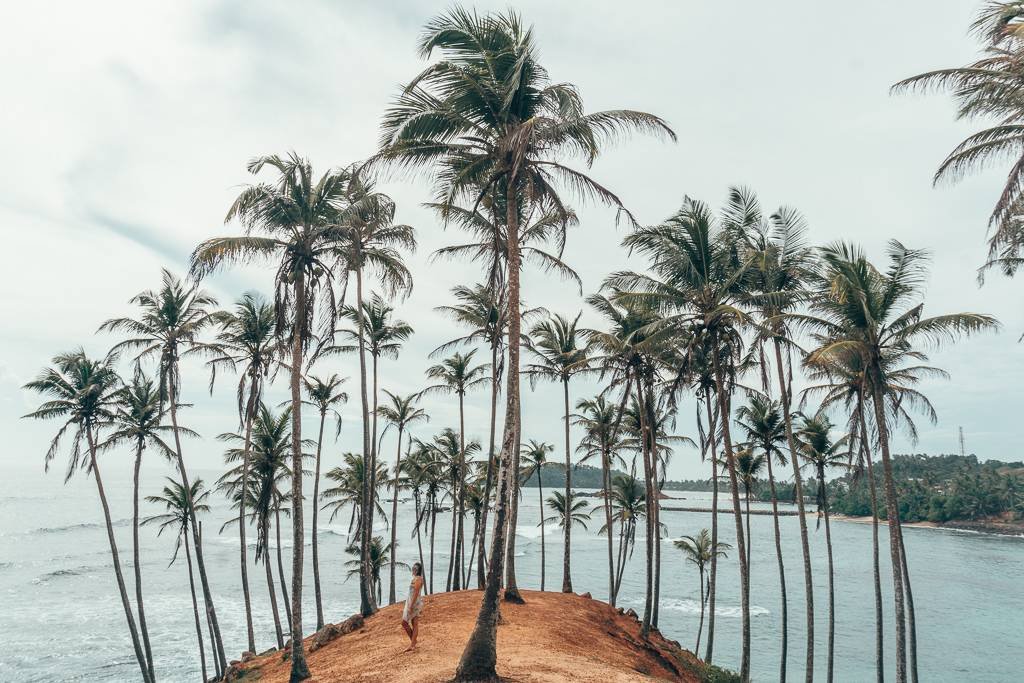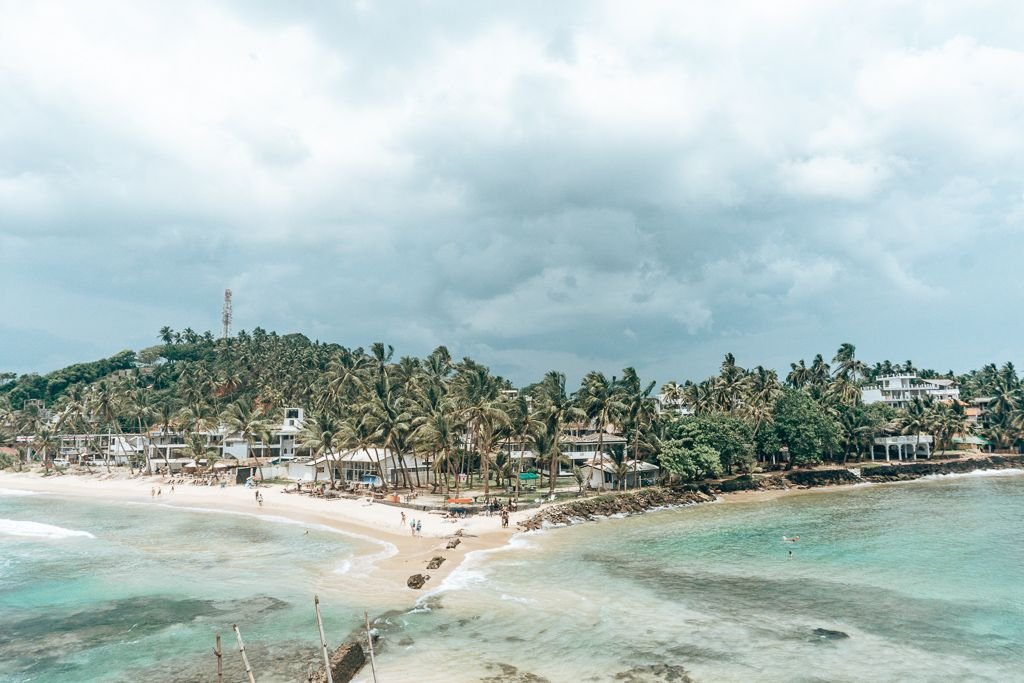 4. Surf in Weligama
Weligama is a short 10-minute drive from Midigama and is one of Sri Lanka's most popular surf spots. The town itself is super chilled, with lots of backpackers and bars.
The waves here are pretty small and great for beginner surfers. There are loads of surf schools and vendors renting boards along the main strip.
If you're a more experienced surfer, then you'll prefer to surf in Midigama. And if you're just looking to laze on the beach, then head straight to Mirissa or Midigama Beach instead.
5. Visit Madiha Beach and The Doctor's House in Walgama
Walgama is about 18km from Midigama. It's best to explore the village on your scooter and enjoy the super relaxed atmosphere.
The Doctor's House is a trendy bar in Walgama. If you're looking for an afternoon party, this is the place to go!
I preferred the bar on the opposite side of the street "Chill Bar". It's on the water's edge and a great place for sun downers.
6. Explore Kabalana Beach
Kabalana Beach is another great place to go surfing near Midigama. The waves are gentle enough for beginners, but the swell can get quite big, so it's also enjoyed by more experienced surfers.
On your way to Kabalana Beach, stop at one of the many sea-front restaurants, and grab yourself some lunch whilst watching the fishermen of stilts.
7. Trip to Galle Fort
Galle Fort is synonymous with Sri Lanka Instagrammers and offers picturesque photo opportunities.
Located just 23 km from Midigama, it's easily accessible for a day trip where you can take a walk through the town and explore the fort which was built by the Portuguese in 1588.
READ MORE: The Best Things to Do in Kandy, Sri Lanka
8. Stop at Unawatuna
Unawatuna is yet another location made famous by its iconic swing.
If you're heading to Galle for the day, stop at Unawatuna and take a snap at Wijaya Beach. You don't need too much time here as it's one of the more commercial beaches in Sri Lanka.
9. Sundowners at Cape Weligama Hotel
Cape Weligama is one of the most luxurious resorts in Sri Lanka and would never usually be on my backpacker itinerary!
But the bar here offers the most incredible sunset spot with daily happy hour specials. It's worth popping in for one drink.
How much time to spend in Midigama
I recommend that you allow 3 nights for Midigama as there is so much to do in the area.
If you're pressed for time, 1 or 2 nights will suffice. Ensure you have enough days to visit the beaches of Hiriketiya and Trincomalee as these were my personal favorites.
Best time to visit Midigama Beach
The best time to visit the south coast of Sri Lanka is from November to April.
But, as with all of Sri Lanka, the weather can be unpredictable.
I visited Midigama at the end of October and had the occasional rain shower, but that didn't affect my overall experience. I actually prefer traveling out of season when it's less busy!
My overall experience of Sri Lanka would have been very different had I traveled during peak season as it does become very crowded.
Where to stay in Midigama
I stayed at Dreams Garden Surf Lodge which is a perfect place to stay in Midigama. For only $15 for a double room, it's great value for money.
We spent 3 nights here and got to know our host family quite well. They taught us how to play one of their favorite games, Carrom, and treated us to the most delicious curries.
Here are a few alternatives that may be better suited for your budget:
Luxury: Cape Weligama is incredible. Perched on a cliff overlooking the ocean, the infinity pool and bar make for the perfect sunset spot.
Mid Range: Colors of Life Home is set in a great location with clean and spacious rooms.
Budget: Coconut Grove is extremely affordable and within walking distance to the beach.
Backpackers: Surfing Wombats is the best place to hang out with other surfers and backpackers in Midigama.
Where to eat in Midigama, Sri Lanka
Blue Portch Surf View Restaurant: This is my favorite place to eat in Midigama and judging but its popularity, most travelers seem to agree.
Mama's: Situated along the main road in Midigama, Mama's make a mean curry buffet at a great price.
Tiki Cliff Top Restaurant and Bar: Tiki Cliff is a great place to go for sunset drinks followed by a delicious dinner overlooking Weligama.
W&D Beach Hotel and Restaurant in Mirissa: Pop in here for a seafood lunch on the beach and take advantage of their all day happy hour special.
How to get to Midigama Beach from Colombo
Midigama is along the south coast of Sri Lanka and the easiest way to get here is via train. This train hugs the coast offering great views of the beaches between Colombo and Midigama.
There isn't a train station in Midigama itself, so you'll need to go from the Colombo Fort Train Station to the Ahangama Train Station which is just outside Midigama.
This train ride takes about 3 hours. Once you've arrived in Ahangama, take a tuk-tuk to Midigama which is about 5 minutes away.
READ MORE: WHAT TO PACK FOR SRI LANKA
There is also a public bus that goes from Colombo to Midigama and takes between 4 and 5 hours.
From Colombo, you'll need to get on the bus heading in the direction of either Matara or Tangalle but tell the driver you want to get off in Midigama which is en route.
Final thoughts on Midigama Beach
The landscape of Sri Lanka is so diverse. You'll notice that along the south coast of the county, the main road runs a few meters parallel to the beaches.
Because of this, the beaches around Midigama, Weligama, and Mirissa are loud with busses, trucks, tuk-tuks, and scooters.
The restaurants that are lined along this main road also get pretty loud and it's quite a contrast from the other areas in Sri Lanka. But despite this, I loved my time exploring Midigama and it's a great place to visit if you are heading back to the airport.
---
Have you traveled to Mirissa? Or are you still undecided about Midigama Beach and Weligama? Ask away in the comments section below!
Looking for more Sri Lanka travel information? Check out my other posts!
---
Pin this!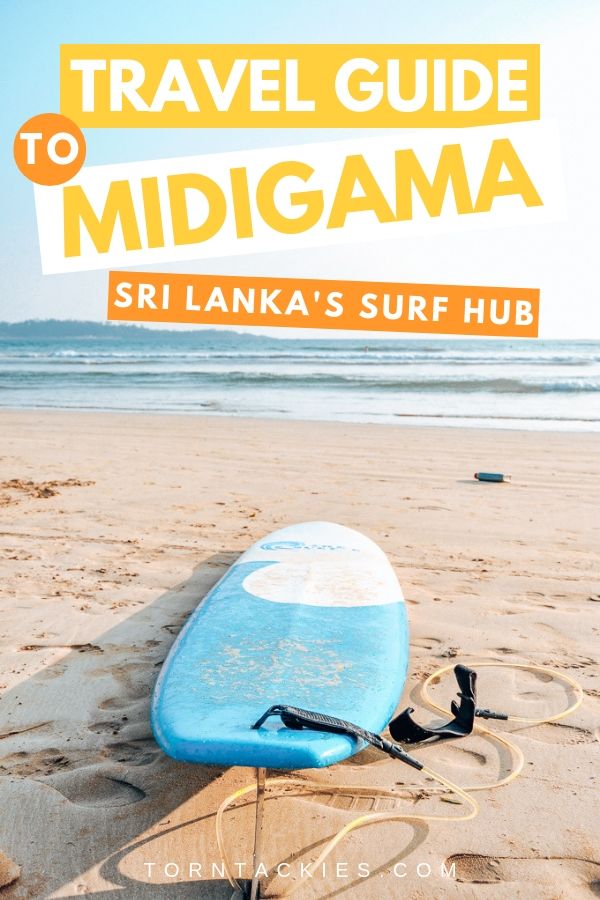 There is a really good chance that this post contains affiliate links. If you click one of them, I may receive a small commission at no extra cost to you. As always, views are my own!