Last updated on July 19th, 2021
I spent one month in Sri Lanka and was lucky enough to experience the best of what it has to offer. I loved everything about the country so I put together this 3 week Sri Lanka itinerary, to help you plan your perfect trip!
This includes my favorite places to see, and things to do in Sri Lanka, and is geared more toward the adventurous traveler who enjoys hiking, surfing, eating local cuisine and traveling on a budget. You'll explore the cultural triangle, hill country and set your sights on the best beaches.
The travel route is flexible and can be cut to a shorter 2 week Sri Lanka itinerary, or extended to one month in Sri Lanka.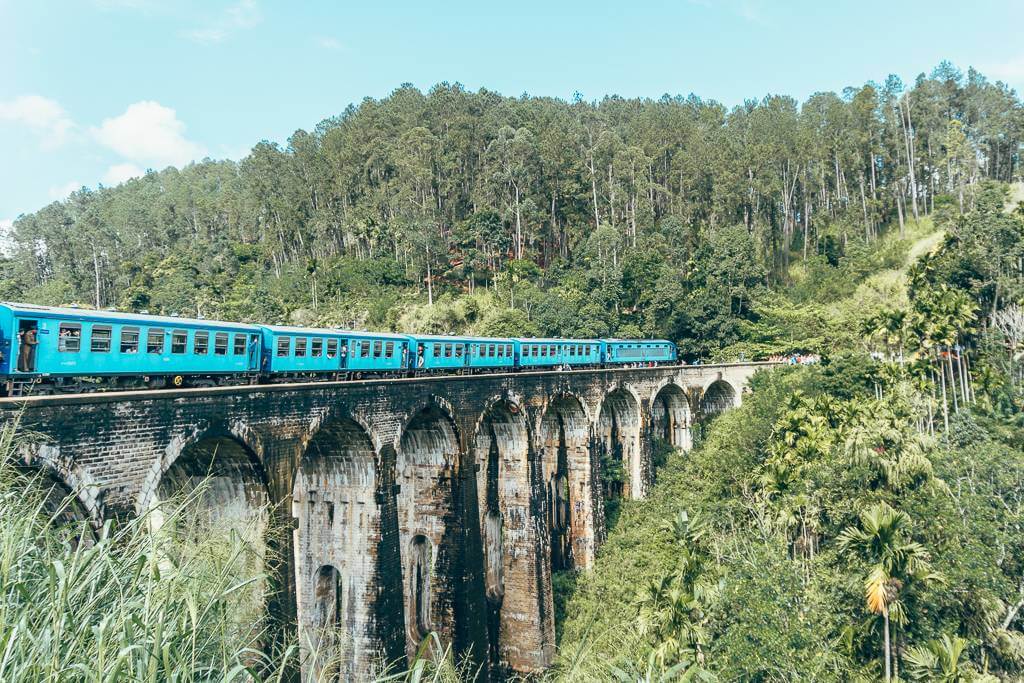 3 Week Sri Lanka Itinerary: Map
This 3 week Sri Lanka itinerary follows the map below. You'll start in Negombo, and continue on to the Cultural Triangle, Sigiriya.
From here, you'll head to the beaches of Trincomalee before making your way to Hill Country which includes the towns of Kandy, Dalhousie, Nuwara Eliya, and Ella.
Finally, you'll spend your last 10 days in Sri Lanka along the coast where you'll visit Arugam Bay, Hiriketiya Beach, and Mirissa before heading back to Negombo.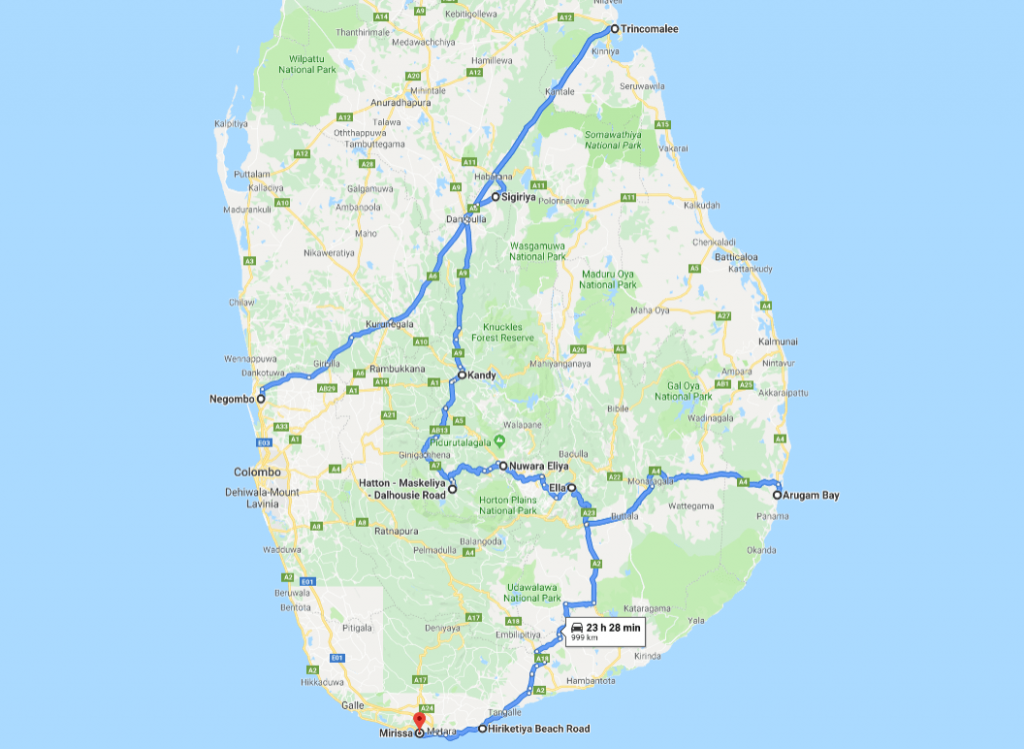 Day 1 Sri Lanka Itinerary: Negombo
Bandaranaike International Airport in Negombo is the gateway to Sri Lanka and the starting point of your journey.
Negombo is just under an hour's drive from the capital city, Colombo. Despite what you may read online, both Colombo and Negombo don't have much to offer compared to the rest of the country. They're both loud, busy cities with chaotic streets, and your time is better spent exploring the east and south coast.
It's best to stay in Negombo for the night and catch an early morning train or bus to the next location on your Sri Lanka itinerary.
Time needed: 1 night
Where to stay in Negombo: Lilly Palace Villa Guest House. This beautiful couple are 2 of the kindest, most generous people I've ever met. They are both deaf and staying in their home was an experience I'll never forget!
How to get to Negombo from Colombo International Airport: After your arrival at Bandaranaike International Airport (CMB) catch a tuk-tuk to Negombo, which is about 15 minutes away. I recommend using the PickMe app (which is like Uber) to find a driver. If you arrive late at night, I suggest you do the same as the taxi prices can be quite expensive at the airport.
Day 2-3 Sri Lanka Itinerary: Sigiriya
Sigiriya is one of my favorite spots so make sure it's on your Sri Lanka itinerary! It's a beautiful, relaxed village, unspoiled by tourism and development. This village was a great introduction to the country and paved the way for what was the most amazing month in Sri Lanka.
The area surrounding Sigiriya is known as the cultural triangle, so if you're interested in the history of Sri Lanka, you'll be in your element here! I skipped both Anuradhapura and Polonnaruwa as I wanted to allow time to explore the beaches and less touristic areas.
Check out this travel guide to Sigiriya for everything you need to know, and why you should stay in Sigiriya, and not Dambulla.
Time needed: 2 nights (3 if you want to experience more of the cultural triangle)
Things To Do In Sigiriya
Lion (Sigiriya) Rock: Lion Rock is one of Sri Lanka's UNESCO World Heritage sites. It was once a fortress and home to Sri Lanka's King. It has a deep historical significance along with beautiful views from the top but there's a hefty $30 entrance fee.
Pidurangala Rock: Pidurangala has the most beautiful views overlooking Lion Rock. It's a scenic hike to the top and more affordable if you're traveling Sri Lanka on a budget.
Anuradhapura: This is a historical site, home to ruins of an ancient city. Anuradhapura is 73 km from Sigiriya and can be done in a day trip if you make use of a private van.
Polonnaruwa: Polonnaruwa is yet another UNESCO world heritage site and one of the second oldest kingdoms of Sri Lanka. Just 56 km from Sigiriya, Polonnaruwa is best explored by bicycle.
Where to stay: Shen Residence. A lovely homestay in the countryside of Sigiriya. The hosts make the most delicious food and you can rent scooters and bicycles to explore the village.
How to get to Sigiriya from Negombo: To get to Sigiriya, you'll need to make your way to Dambulla but unfortunately there's no direct bus from Negombo to Dambulla. First, go to Negombo Bus Terminal. From here, catch the bus going to Kurunegala which takes 2 hours. After you've arrived in Kurunegala, take the bus to Dambulla which is another 2 hours. Finally, from Dambulla, you can either take a public bus or tuk-tuk to Sigiriya which is 30 minutes away.
Day 4-5 Sri Lanka Itinerary: Trincomalee
After a few days exploring the cultural triangle, it's time to hit the beaches on the east coast of Sri Lanka!
Trincomalee is the main town, but when you head this side it's best to stay in either Uppuveli or Nilaveli. Never heard of these places? Don't worry, I've got you covered! I wrote this guide to Trincomalee and it includes where you can find the best beaches.
Time needed: 2 nights. (If you have more time, I suggest spending an extra night in Trincomalee. But if you only have 3 weeks in Sri Lanka, stick to this itinerary)
Things To Do In Trincomalee
Beach: The water is incredibly flat, and you can spend hours lazing on the beach, reading a book (or sipping on a Lion Lager). The beaches aren't good for surfing and they're completely different from those on the south coast.
Fernando's Bar: The best (albeit only) beach bar to go to! With its great vibes, food, and people, make sure to include Fernando's in your 3 week Sri Lanka itinerary.
Pigeon Island and snorkeling/diving: A trip to Pigeon Island is very popular, but from what I've heard, the reefs are damaged and the coral has been destroyed from over-tourism.
Where to stay: Blue Blu Resort. Located near the beach, Blue Blu is affordable and a good place to stay in Trincomalee.
How to get to Trincomalee from Sigiriya: Take a tuk-tuk (or public bus) from Sigiriya to the main road in Dambulla, near Bentoka Bake House. You will then need to catch the bus to Trincomalee which takes 3 hours. Once you arrive in Trincomalee, take a tuk-tuk to your accommodation in either Uppuveli or Nilaveli.
Day 6 Sri Lanka Itinerary: Kandy
After Trincomalee, you'll head back inland to the cultural capital of Sri Lanka, Kandy. Kandy is synonymous with the famous train ride, which is another must for your 3 week Sri Lanka itinerary.
Time needed: 1 night. (If you only have 2 weeks in Sri Lanka, I suggest you spend 1 night in Kandy. But if you have more time and you're able to travel slower, I suggest staying in Kandy for 2 nights.)
Things To Do In Kandy
Kandy Forest: Most people skip this and opt for the more popular attractions in Kandy, but exploring the Kandy Forest was the highlight of my time in Kandy. It's in the city center with a few great views of Kandy Lake.
Kandy Lake and Big Buddha: Take a stroll around the Kandy Lake and walk to the big Buddha on the hill. It overlooks the city of Kandy, offering great viewpoints.
Kandyan Dance: Check out this cultural dance which takes place every evening.
Temple of the Tooth Relic: This temple is one of the holiest shrines in Sri Lanka and houses Buddha's tooth.
Read More: The Best Places To Visit in Kandy
Where to stay: Resident View Guest House. The owner is extremely accommodating, and the rooms are comfortable. She also makes a mean curry!
How to get to Kandy from Trincomalee: Take a tuk-tuk from Nilaveli or Uppuveli to Trincomalee Bus Station. Here, you'll catch the bus back to Dambulla. From Dambulla, hop on the tourist bus that travels directly to Kandy.
Day 7-8 Sri Lanka Itinerary: Dalhousie (via Hatton)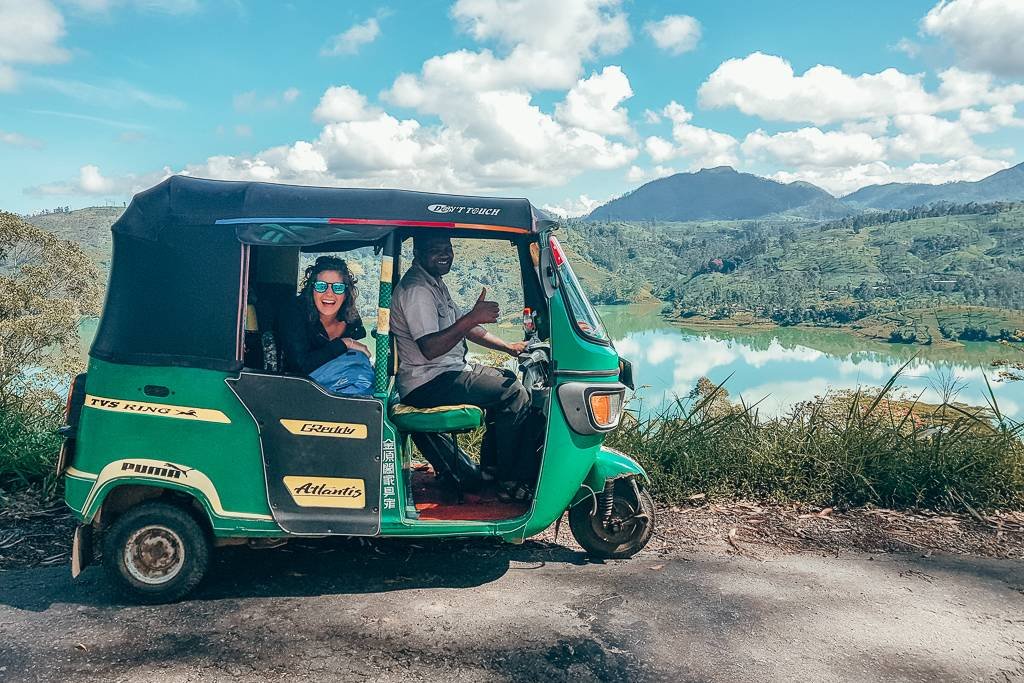 My trip to Adam's Peak was one of the highlights during my month in Sri Lanka. And not because of the most incredible scenery or the kind people I met, but because of the actual journey to get there!
This included taking a train, tuk-tuk, bus, walking 5 km through tea plantations, and dodging a landslide.
Safe to say that I was extremely happy when we arrived in Dalhousie, with our new friends who endured the torturous journey with us! Read this article on why you should include climbing Adam's Peak in Dalhousie in your 3 week Sri Lanka itinerary.
Time needed: 2 nights. (If you have 3 weeks or one month in Sri Lanka, I highly recommend you spend 2 nights in Dalhousie so that you have enough time to recover from the hike)
Things To Do In Dalhousie
Climb Adams Peak: No, this is not Little Adam's Peak in Ella. This is the sacred mountain where thousands of Sri Lankans congregate for an annual pilgrimage. Depending on the time of year you visit, your experiences will be different and the weather will impact the views from the top.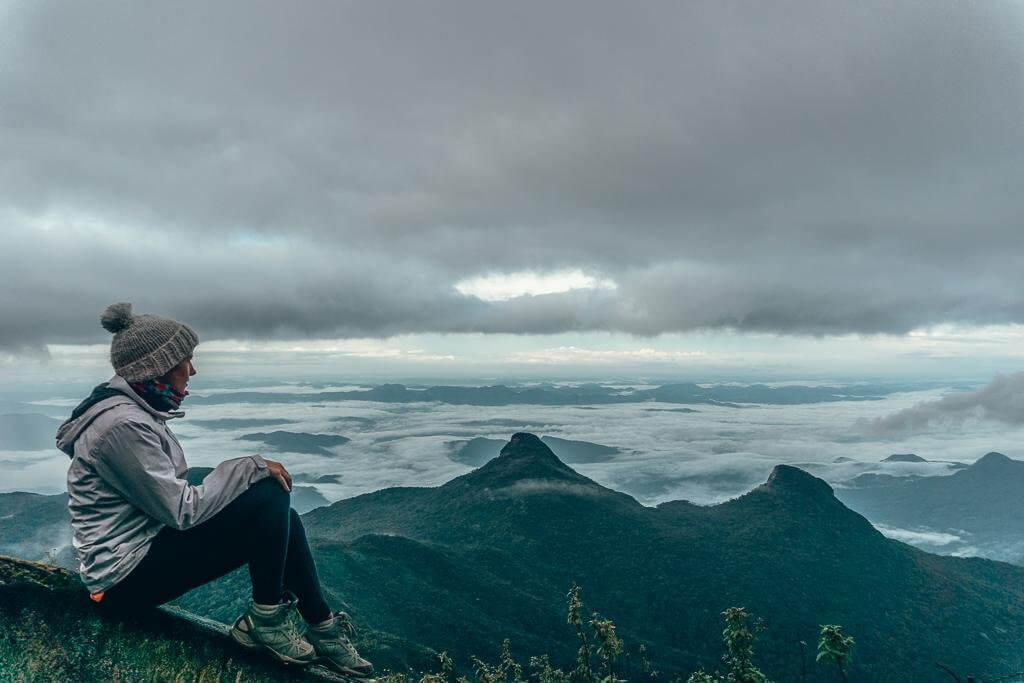 Where to stay: Subash Hotel. It's located a short drive from the entrance to Adam's Peak. Coming home to a hot shower, a delicious meal, and a comfortable bed after 8 hours of hiking made this the perfect place to stay!
How to get to Dalhousie from Kandy: Time for the famous Kandy to Ella train ride (except you get off at Hatton, not Ella!) The train departs from Kandy station at 08:47 but get there an hour before. After 2.5 hours, you'll arrive at Hatton station which will be your exit point. From here you can either take a tuk-tuk or public bus to Dalhousie which is an hour away. If you take the bus, you'll first go to Maskeliya and then Dalhousie.
Day 9-10 Sri Lanka Itinerary: Nuwara Eliya
To ensure your 3 week Sri Lanka itinerary includes the best that the country has to offer, make sure you visit Nuwara Eliya. It's a quaint little village situated between Kandy and Ella and doesn't quite fit in with the rest of Sri Lanka!
Nuwara Eliya is much colder than the rest of the country and I even had to pull out my winter clothes after we arrived! It felt like I was in the middle of an old English town, hence it's often referred to as Little England.
I read a lot of conflicting reviews on Nuwara Eliya, with most recommending that if you have less than 2 weeks in Sri Lanka, you should give it a skip. But I disagree!
Check out this guide to Nuwara Eliya with all the best things to do and see, and why you will love it, despite how un-Sri Lankan it is.
Time needed: 2 nights
Things To Do In Nuwara Eliya
Ramboda Waterfall: Yet another great hike to get to these waterfalls with very few other tourists.
Tea plantations: Nuwara Eliya is surrounded by lush fields filled with tea plantations that hug the side of the hills.
High tea at The Grand Hotel: Because one needs to have an afternoon tea!
Pubs in Nuwara Eliya: The Pub and The 19th Hole are not to be missed.
How to get to Nuwara Eliya from Dalhousie (via Hatton): First, you need to take a tuk-tuk from Dalhousie to Hatton. (After doing this route with both a bus and tuk-tuk, I suggest you opt for a tuk-tuk ride. It's the most beautiful part of hill country and going with a tuk-tuk means you can stop along the way and take in all the scenery).
Once you arrive in Hatton, get back on the "Kandy to Ella" train and hop off at Nanu Oya station which is 15 minutes outside of Nuwara Eliya. From here, take a tuk-tuk to your accommodation in Nuwara Eliya.
Day 11–13 Sri Lanka Itinerary: Ella
Nearly 2 weeks in Sri Lanka and we finally made it to Ella which is arguably the most famous destination in hill country. It's bustling with tourists and there are a few trendy bars and cafes along the main road.
Time needed: 3 nights
Things To Do In Ella
Little Adam's Peak: A quick, easy hike with stunning views.
Ella Rock: A longer hike compared to Little Adam's Peak, but equally as beautiful and unique. If you don't have 3 weeks in Sri Lanka and want to spend less time in Ella, you'll need to choose between this hike or Litte Adam's Peak.
9 Arch Bridge: This iconic bridge is so unbelievably beautiful and is best done after Little Adam's Peak.
Tea plantations: Ella is surrounded by lush tea fields so if you haven't visited any yet, now's your chance.
Read More: Ella Rock or Little Adam's Peak: Which is Better?
Where to stay: Broad View Guest House. This local homestay lies on top of a hill, overlooking Ella. The owner is so friendly and welcomed us into his home where we ate our daily meals with the family.
How to get to Ella from Nuwara Eliya: From Nuwara Eliya, take a tuk-tuk to Nanu Oya train station and hop on the train to Ella.
Day 14-16 Sri Lanka Itinerary: Arugam Bay
Arugam bay is a popular surfer and backpacker hub on the east coast of Sri Lanka. It was hit hard by the 2004 Tsunami but has since grown to be one of the most popular destinations in the country.
It's slightly off the standard route and so many people skip it if they only have 2 weeks in Sri Lanka.
Note: I traveled to Sri Lanka in October and Arugam Bay was the one destination on my itinerary that was negatively affected by the weather. Most restaurants and bars were closed during this time, the waves were choppy and not great for surfing, and there weren't any other tourists around. If you're planning your 3 week Sri Lanka itinerary from October to November, rather skip Arugam Bay (and read my suggestions below of where to go instead).
Time needed: 3 nights (because it's quite a journey to get there and back)
Things To Do In Arugam Bay:
Surf and relax on the beach.
Rent a scooter for the day and take a trip to Peanut Farm and other hidden beaches.
Arugam Bay is known for its beach parties, especially at Whiskey Point.
Take a run along the coast, all the way to Pottuvil.
Where to stay: Mid Bay Guest House. This beautiful property is just a stone's throw away from the beach. It's extremely affordable and comes with a delicious breakfast. But for the price, you're going to have to sacrifice hot showers, which we were happy to do.
How to get to Arugam Bay from Ella: The journey to Arugam Bay is the longest of my 3 week Sri Lanka itinerary. Most people choose to take a private van to save time, but if you're on a budget, I suggest taking a public bus instead. From Ella, you'll take the bus to Weliwaya which is 40 minutes away. Here, you'll change buses and take one that goes to Mongara, another 50 minutes. Finally, you'll get on your last bus from Mongara to Arugam Bay. The bus will pass through Pottuvil before reaching Arugam Bay. This is the longest leg of the journey and takes 2.5 hours.
Day 17 – 18 Sri Lanka Itinerary: Hiriketiya Beach
Hiriketiya is a small bay lined with palm trees. It has a fun wave well suited for all levels of surfers. It was the ultimate stop during my 3 weeks in Sri Lanka and should definitely be included in your itinerary.
Read More: Hiriketiya Beach: All You Need to Know About Sri Lanka's Paradise
Time needed: 2 nights (if you have one month in Sri Lanka, spend 3 or 4 nights in Hiriketiya, like we did)
Things To Do In Hiriketiya
Surfing: The waves are perfect for beginners.
Tallala Beach: Just a short drive from Hiriketiya is Tallala Beach. It's a much bigger beach with fewer people and makes for a great day trip.
Sunset drinks on the beach: We took chairs, got some beers, and sat right on the water's edge.
Where to stay: Peak house. It might not have beachfront views, but Peak House is a great place to stay if you're on a budget.
How to get to Hiriketiya Beach from Arugam Bay: From Arugam Bay, you will need to take a tuk-tuk to nearby Pottuvil. Here, hop on a public bus to Dikwella – be prepared for a long journey! Once you arrive in Dikwella, take a tuk-tuk to Hiriketiya Beach, which is about 15 minutes away.
Day 19 – 21 Sri Lanka Itinerary: Mirissa/Weligama/Midigama
The southern part of the country is popular with tourists and is closer to the airport than other destinations on my Sri Lanka itinerary. It's a great place to spend a few days before your 3 weeks in Sri Lanka comes to an end.
There are a few small villages near Weligama where you can base yourself, all within a 10-minute scooter ride away from each other.
Mirissa: The most popular of the 3 is Mirissa. It's a busy little village with lots of bars and restaurants as well as tuk-tuks and scooters zooming around. The beach here is great, and you can enjoy a cocktail at one of the many beach bars. Mirissa makes for a better day trip if you prefer to stay in a less crowded area.
Weligama: Weligama is one of the best beginner surfer spots in Sri Lanka. It has a relaxed, backpacker atmosphere with heaps of surf schools along the main road.
Midigama: Most tourists choose to stay in the above two places rather than Midigama because it's not one of the hotspots. But I loved Midigama! It's a laid-back little village, there are great restaurants (Surf View Restaurant is my favorite!) and it's close to lots of hidden beaches. If you're looking for good surf breaks, Midigama is best for those who are more experienced.
Here's my detailed travel guide to Midigama!
Time needed: 2 nights
Things to do in Midigama
Surfing: Midigama (experienced) or Weligama (beginners) are your best choices.
Coconut Hill: This picturesque hill covered in palm trees is a short drive from Mirissa.
Delicious fresh seafood lunch on the beach in Mirissa.
The Doctors House and sunset at Chill Cafe: The Doctors House is a vibey spot near Mirissa. Right in front of it, on the beach, is Chill Café. Make sure you go here for sunset!
Where To Stay In Midigama: Dreams Garden Surf Lodge. The family who owns Dreams Garden are incredibly kind and friendly. They made sure that our last few days in Sri Lanka were some of the best.
How to get to Mirissa/Weligama/Midigama from Hiriketiya Beach: Take a 15-minute tuk-tuk from Hiriketiya to Dikwella. Here, you'll get on a public bus which will take you to your next destination which is about a 1.5-hour drive away.
Day 21 Sri Lanka Itinerary: Negombo
After 3 weeks in Sri Lanka, it's time to head home! Depending on the time of your flight, I suggest you check into a homestay near the airport so that you can freshen up before your departure.
How to get to Negombo from Midigama: Take the train from Ahangama to Colombo Fort. From here, you can get on the airport shuttle bus to Bandaranaike International Airport in Negombo. After you've arrived at the airport, take a tuk-tuk to your homestay where you can freshen up and return to the airport 2 hours before your flight departs.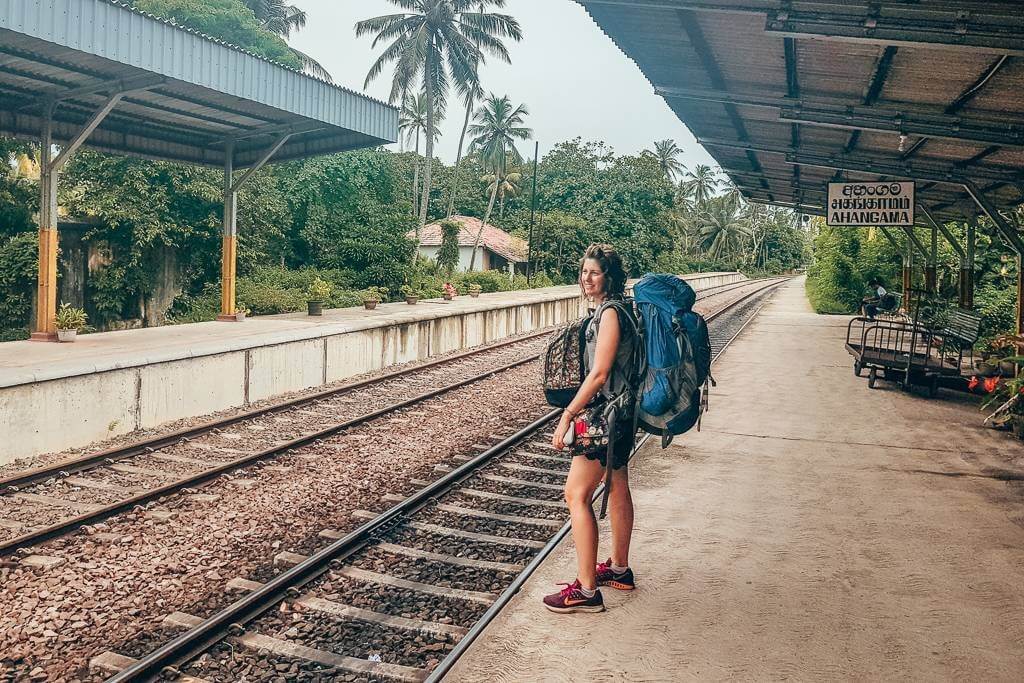 Suggestions for more than 3 weeks in Sri Lanka: 1 month Sri Lanka Itinerary
Spend more time here: Trincomalee (3 nights), Kandy (2 nights) and Hiriketiya Beach (4 nights)
Explore the National Parks: Most people choose to include a trip to a Yala or Udawalawe National Park as part of their Sri Lanka itinerary. The reason I didn't is that these parks get so busy and your sightings are often over-crowded with other tourists. You also need to arrange a proper safari which will eat into your Sri Lanka budget. My thoughts? Rather enjoy the beaches of Sri Lanka and save your cash for an African safari where you'll see elephants, lions, leopards and so many other wild animals with very few people around.
Experience authentic life in Jaffna, a city on the northern tip of Sri Lanka. Known for its raw city charm and friendly locals, it's far off the tourist track and is a great spot if you want to experience more of the Sri Lankan culture.
Suggestions for less than 3 weeks in Sri Lanka: 2 week Sri Lanka Itinerary
If you have less than 3 weeks in Sri Lanka, or if you prefer to travel slowly, then I suggest the following:
Don't miss: Sigiriya, Trincomalee, Ella, and Hiriketiya Beach are must-see destinations in your 2 week Sri Lanka itinerary.
Less time: Spend only 1 night in Kandy, or drive-by if you arrive early enough to catch the Kandy to Ella train in time.
Skip Adam's Peak in Dalhousie: It's with a heavy heart that I say this as I loved traveling to Dalhousie. But I'd rather see Nuwara Eliya if you only have 2 weeks in Sri Lanka.
Skip Weligama/Mirissa/Midigama: Hiriketiya Beach and Trincomalee are two of the best beaches in Sri Lanka so rather ensure they are part of your 2 week Sri Lanka itinerary.
Travel by private van: The buses and trains in Sri Lanka are a slower means of transport, so if budget isn't a concern, rather travel by van.
Practical Information For Your Trip To Sri Lanka
Visas: Sri Lanka visas operate on an electronic system and you need to apply online a few days before your arrival. This costs $35 and is valid for 30 days. Apply for your visa here. The Sri Lankan government have recently given certain nationalities visa-free entry so be sure to check if you qualify for this.
Currency: The local currency is the Sri Lankan Rupee (LKR). ATMs and credit card facilities are available in the country. If you stay at homestays, use public transport, or eat at local restaurants, ensure you have cash on you. It's best to draw money at the ATMs as you arrive at the airport.
Tipping: 10 % is encouraged.
Internet: It's best to buy a sim card and load it with data. Most places don't have wi-fi and the connection can be terrible at times. After your arrival in Sri Lanka, go straight to the Dialog stand at the airport and purchase a local sim card. This costs 1300 LKR ($7) and includes 9 gigs of data!
Dress: You'll need to consider what you pack for Sri Lanka. Be respectful of their cultural norms and dress appropriately when entering sacred areas.
3 Week Sri Lanka Budget
If you're traveling Sri Lanka on a budget, you'll need between $25-$40 per person per day. This will cover food, transport, accommodation, and a few activities.
As soon as you start adding tourist attractions to your Sri Lanka itinerary (such as national parks, whale watching, historical sites) your Sri Lanka budget will increase. To keep prices down avoid too many paid experiences, don't travel by private van, stick to local food, and avoid drinking too much as alcohol is expensive!
Transport: How to travel around during your 3 weeks in Sri Lanka
There is an extensive transportation network throughout Sri Lanka and getting around the country is easy, and affordable. It can also be uncomfortable and highly frustrating, especially if you're trying to stick to a 2 or 3 week Sri Lanka itinerary.
Note: Driving in Sri Lanka is not for sissys! The roads are hectic, narrow, windy, and busy with hordes of trucks and buses. The drivers go extremely fast, hooting most of the time. Keep this in mind when walking along the streets or driving long distances with a tuk-tuk or scooter.
Train
It's best to travel by train in hill country and the southwest coast of Sri Lanka. The trains are extremely slow and can sometimes be delayed, but the cheap price makes up for it! Vendors walk up and down the isles selling local treats, refreshments, and snacks.
You can book 1st, 2nd, or 3rd class tickets. In my opinion, traveling 3rd class with the locals is the only way to do it! If you're looking for a more comfortable ride, you'll need to book 1st or 2nd class tickets in advance. Check out the train prices and schedule here.
Public bus
Throughout my one month in Sri Lanka, I traveled mostly with public buses as the trains don't cover all areas. The buses are easily identifiable by their red or blue color. Expect no aircon, lots of stops, school children hopping on and off (every 5 minutes), and a tiring journey but it's the cheapest way to travel through the country.
The buses run frequently (every 15-45 minutes) and whilst there are time schedules, they aren't followed. The buses leave when they're full, and if they're not, you'll have to wait!
When trying to find a bus, just go to the station and tell everyone where you're wanting to go to. The Sri Lankan people are so helpful and whilst they may not be able to speak English, they'll make sure you get on the right bus. Sometimes you're charged extra for luggage (if your bag takes up a seat on the bus).
Tuk-Tuk
Tuk-tuks are the best way to travel for short distances. They're more expensive than public buses and require some bargaining skills or else you will get ripped off. You can also rent a tuk-tuk and drive yourself, but it's easier to just hop on with a driver, especially since driving in Sri Lanka is not child's play!
Private van
Not quite the authentic Sri Lankan experience but if you have less than 2 weeks in Sri Lanka, it's worth it to travel by private van. You can either hire a car and driver who will take you to all the destinations on your Sri Lanka Itinerary.
Alternatively, you can find a driver at each destination if you'd prefer to make use of other means of transport. There are a few Facebook groups for travelers who are looking to share vans so check those out. One of them is "Sri Lanka Taxi Share". Book a private transfer here.
Scooters
Because of my warning about Sri Lanka roads and drivers, I don't recommend that you hire a scooter and travel throughout the country this way. Rather use a scooter to explore the area you're staying in.
I rented one in Arugam Bay, Ella, Hiritekiya, and Trincomalee and went exploring to the nearby beaches and villages, but limit your scooter rides to these short distances. You'll need your passport and driver's license to rent a scooter in Sri Lanka.
Sri Lanka Accommodation
Accommodation in Sri Lanka ranges from budget to luxurious. If, like me, you're happy to rough it up a bit, then I suggest you stay at homestays with local families.
Here, you'll have an authentic Sri Lankan experience, you'll eat with the family and you'll form a connection with the people and the country that you'll never forget. Make sure you eat at least 1 meal at your homestay – these were some of the best meals I've ever had!
Budget rooms range from $12 – $20 for a private room for 2 people with basic amenities. At this price, don't expect hot water or Wi-Fi. A small breakfast is usually included, and it will be good enough to rest your head for the night. For $20-$35 you can expect hot water, a fan (aircon if you're lucky) and perhaps Wi-Fi.
When backpacking through Sri Lanka, it's best to book your accommodation the day before your arrival as your itinerary may change. I made all my bookings through Booking.com.
Sri Lanka Food
I didn't know much about Sri Lanka cuisine and so I was pleasantly surprised by just how delicious it is. Below were my favorites which I ate for breakfast, lunch, and dinner during my one month in Sri Lanka.
Rice and Curry: The name speaks for itself!
Kottu Roti: Shredded pieces of roti bread, chopped up and stir-fried (my favorite!)
Devilled Chicken: Marinated chicken pieces with vegetables
To save costs, eat local, and make sure your accommodation includes breakfast. Curry and rice costs $1-$3 per meal which is super affordable and delicious.
Alcohol is more expensive, and a beer will cost around $2-$4, depending on where you buy from.
Best Time To Visit Sri Lanka
Sri Lanka is an all-year-round travel destination. You can spend hours researching the best time to visit but the weather can still be unpredictable.
December to March is peak season so expect lots of tourists and crowded beaches. Try to avoid traveling to Sri Lanka during this time.
April–August is the south-west monsoon so it's best to visit the north or east coast during this time.
October–January is the north-east monsoon season so it's best to visit the central and southwest coast.
October and November are synonymous with erratic weather and it can rain anywhere at any time.
Sri Lanka Weather In October
If you follow my 3 week Sri Lanka itinerary in October, as I did, expect the below:
Sigiriya, Hiriketiya Beach, and Midigama had perfect weather.
Ella, Dalhousie, and Nuwara Eliya were overcast at times but it didn't affect my experience of these areas.
Trincomalee had its daily afternoon rain shower but the vibe was still great.
Arugam Bay was dead with no tourists and constant rain so I don't recommend that you visit during October.
Is Sri Lanka Safe?
I traveled to Sri Lanka in October 2018. Just a few months later the country was hit with horrific terrorist attacks. Never did I ever think this would happen to such a kind and caring nation.
But it's a reality that no matter where you travel to there is a chance of something devastating happening. Don't let this fear stop you from exploring countries as unique as Sri Lanka. It's an amazing country; the people are so generous and they rely heavily on tourism.
---
Have you been to Sri Lanka? What was the highlight of your Sri Lanka itinerary? Let me know in the comments section below!
Looking for more Sri Lanka travel information? Check out my other posts!
---
Pin this!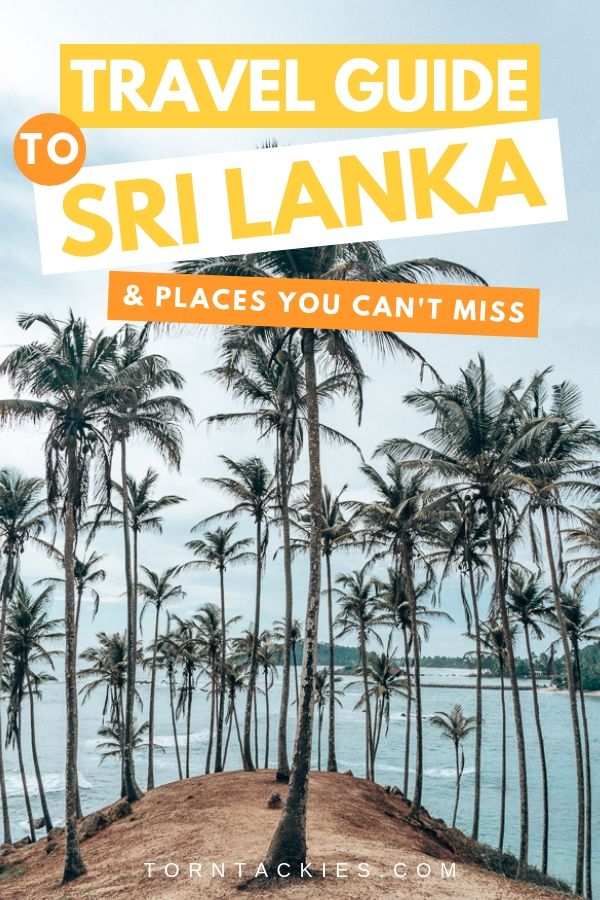 There is a really good chance that this post contains affiliate links. If you click one of them, I may receive a small commission at no extra cost to you. As always, views are my own!