Jimjilbang: A Korean bathhouse like no other. If you're visiting the K-pop capital, experiencing one of these unique spas is a must.
Jimjilbangs are part of Korean culture and they're pretty awesome. But, you have to get naked first!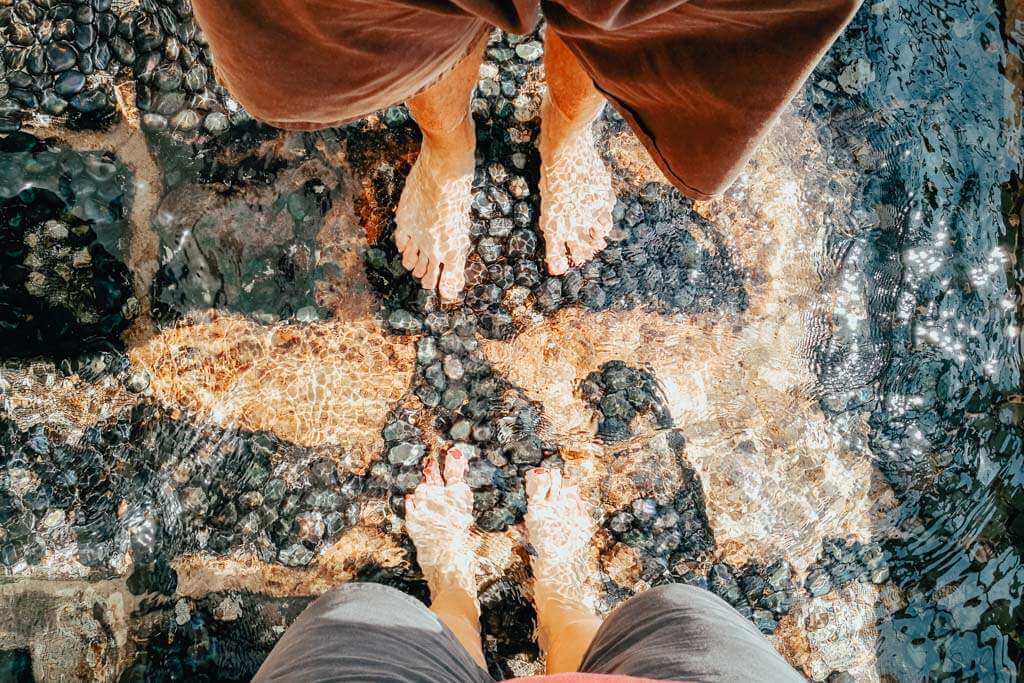 What is a Jimjilbang?
A jjimjilbang is a traditional Korean bathhouse where people come to enjoy hot and cold pools, relaxing saunas, massage areas, and communal sleeping rooms.
It's a cultural institution and enjoyed by all Koreans, be it a family excursion, a date night for couples, a pampering session for friends, or a social outing for older people.
Jimjilbangs are a place to meditate, relax and unwind.
Spending your day at a jjimjilbang supposedly improves blood circulation, reduces stress, clears out your pores, and even helps with weight loss. Because of these benefits, jimjilbangs are an important part of most Koreans' weekly beauty rituals.
I can try to explain exactly what a jimjilbang is, but no amount of descriptive analogies can prepare you for your first jimjilbang experience!
Jimjilbangs are one of the many things I love about Korea – here are 16 other amazing things!
10 things to know about a jimjilbang in Korea
Jimjilbangs are gender-separated
Phew, ok so you won't be getting naked with the opposite sex!
Here's how it works. There are 2 distinct areas in a jimjilbang: the wet rooms and the dry ones.
After entering the jimjilbang, the men go to one side of the building and the women go to the other.
The wet area which comprises of hot and cold baths (or jacuzzis) are gender separated. Men stick to their side, and the ladies stay on theirs.
Why? Because everyone is naked!
The dry areas which include saunas and communal rooms are mixed with both men and women enjoying these facilities together, wearing their matching jimjilbang pajamas.
Don't be afraid to get naked
When you enter the wet areas (which are gender-separated), everyone is completely naked – yup, you need to strip down to your birthday suit!
Initially, this was bizarre to me! Kids, teenagers, adults and grandparents of all shapes and sizes walking around naked.
You may be self-conscious and feel completely exposed at first but remember this is completely normal and part of Korean tradition.
Embrace it!
Everyone gets naked and nobody cares.
I tried (unsuccessfully) to cover up with my tiny towel but soon realized that if you look shy and nervous, you'll stand out from the crowd. This is what will result in stares, not the nakedness!
Scrub like you've never scrubbed before
With hundreds of people hopping in and out of the hot baths, surely, they must get dirty, right?
Nope, and that's because you have to scrub every inch of your body before taking the plunge into the pools.
In general, hygiene and cleanliness are of utmost importance to Koreans and this scrubbing routine is an integral part of jimjilbang etiquette.
You'll also notice many Koreans scrubbing each other – this is also common practice. So, don't be surprised if someone comes and starts scrubbing your back unexpectedly!
For a true Jimjilbang experience, I highly recommend getting a scrub from one of the ajummas (older Korean woman).
This scrub, also known as seshin, takes about 30 minutes and costs between 15 000 KRW-25 000 KRW ($12-$20). Don't expect a soft gentle massage. The ladies will scrub you properly and it's intense. Oh, and they're also naked!
At first, this was something I wasn't keen for, but after my fair share of visits to jimjilbangs in Korea, I decided to give it a go and you should too.
It's a great place to spend the night
You haven't really experienced a Korean jimjilbang until you've spent a night at one.
Jimjilbangs are open 24/7 and so it's the perfect place to rest your head if you're traveling Korea on a budget (or after a big night out on the town).
The sleeping areas within the jimjilbang are huge open spaces that aren't gender-segregated.
You'll be provided with mats to sleep on and a soft, plastic block which is used as a pillow. It's by no means the most comfortable option – the floor is hard and expect a lot of snoring, but it's quite the experience.
It's a super cheap activity
Korean bathhouses are extremely affordable for what you get!
Where else would you pay 10 000 KRW ($8) for unlimited time to enjoy hot baths, saunas, game rooms, and relaxation zones.
Prices vary and if you're spending the night, the fee is slightly more expensive (14 000 KRW)
Jimjilbangs are not a tourist trap
If you visit a jimjilbang in Korea, there's a high chance that you will be one of the very few foreigners in the bathhouse. To really get the most out of your visit, it's best to go after strenuous activities like hiking Bukhansan Mountain in Seoul.
It was one of the most unique things I did in Korea, and if you want to learn more about Korean culture in an authentic way, make sure you take some time to fully immerse yourself in the jimjilbang experience.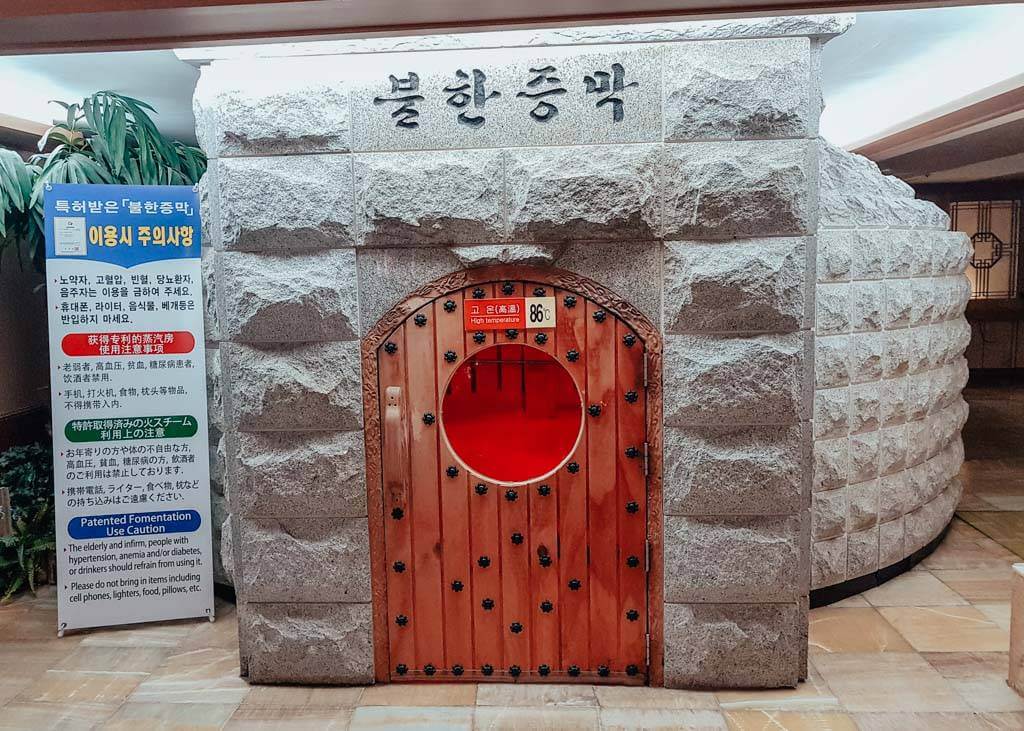 Be conscious of jimjilbang etiquette and know what to do
Tourist friendly jimjilbangs such as Spa Land in Busan have English speaking staff and modern facilities.
This means that you can easily ask questions if you're confused and the staff will assist in explaining general jimjilbang etiquette.
This was great for my first jjimjilbang experience, but I much prefer the smaller, local ones as they're a lot more authentic and the experience is truly a unique one.
But you need to be prepared and know what to do before you arrive. Some signs and notice boards are in English, and the staff may be able to point you in the right direction, but don't expect to be handheld throughout the process as chances are they won't be able to communicate with you.
Don't be "those tourists"
Whilst many Koreans visit these bathhouses with their friends or family, it's still a place of tranquility where they come to disconnect from the outside world.
Silence is golden here, so be conscious of your tone, don't talk too loudly and don't splash around in the hot baths.
Make sure you pack the right things
Many Korean bathhouses will provide you with complimentary toiletries such as body wash, body lotion, and earbuds. But some don't so be sure to pack the below items just in case.
There are also stores within the jimjilbang where you can buy toiletries if you forgot yours at home.
Shampoo & conditioner
Body wash
Loofah or sponge
Toothbrush & toothpaste
Face wash
Hair ties as your hair must be tied back in the baths
Water bottle
READ MORE: WHAT YOU NEED TO PACK FOR KOREA
Don't rush
A jimjilbang is a place to relax, close your eyes and enjoy the soothing properties of the mineral pools and fomentation rooms.
Don't rush the experience! Spend at least an hour in the wet area, and another in the dry areas. (Even longer if you have the time)
Take your time to scrub, to wash, to pamper yourself. I promise you'll leave feeling refreshed and rejuvenated.
Step by step: Beginners guide to your first Jimjilbang experience
Step 1: Pay and get your key and bracelet
As you enter the jimjilbang, you need to pay your admission fee at the front desk.
You will then be given a pajama looking outfit which consists of a pair of shorts and a shirt. These are to be worn in the communal dry areas.
You'll also be given 2 small hand towels, as well as a wristband with a key to your locker.
This key will have a number on it which will correspond to your locker number that's inside the change room.
Most jimjilbangs will have electronic keys and all purchases inside such as snacks, water, massages, scrubs, etc will also be charged to that key number. You'll then settle this bill when you leave.
Read More: 9 Awesome Day Trips From Seoul
Step 2: Go to the female or male change room and find your locker
If you're with a friend of the opposite sex, this is where you say goodbye and enter the gender-segregated change rooms.
You're not allowed to wear shoes inside these change rooms so as you enter, there will be smaller lockers for you to place your shoes in. (Some jimjilbangs in Korea have these shoe lockers at the front entrance instead)
Once you've locked your shoes away, go further into the change room and find your big locker. Again, this locker number will match that number on your key.
Step 3: get naked
Next, you need to strip down!
Everyone's naked in the change room, and no one's trying to cover their girly parts so just go with the flow and don't over analyze it.
Lock everything in your locker including your money and phone as you'll be heading to the wet area of the bathhouse.
Leave with only your locker key, toiletries, water bottle and 1 of the 2 towels you received from the front desk.
Just a note, the towels in Korea are tiny and are equivalent to western hand towels! But, these are seen as normal-sized towels to Koreans.
Here are 24 other strange things I discovered when living in Korea!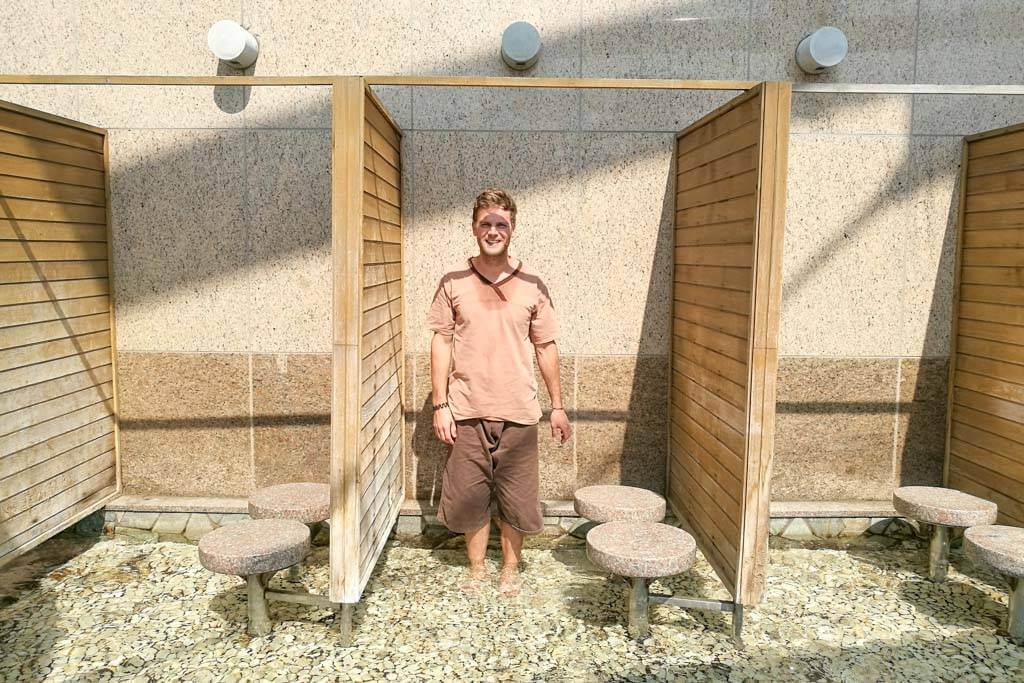 Step 4: Enter the wet area and scrub
Naked, you'll walk to the hot and cold pools of the jimjilbang. The entrance to this wet area is through a separate door to the one you entered the change room from.
As you make your way inside, you'll notice the hot baths and showers that line the room.
Before you do anything, take a shower and scrub yourself clean. Spend time making sure every inch of your body is clean as it's jimjilbang etiquette to do so.
If you wash your hair, be sure to tie it back up again.
Step 5: Hop into the hot and cold baths
You'll have your pick of several baths, with varying levels of heat from freezing cold to boiling hot. Spend about 10 minutes in each pool, alternating between hot and cold.
There is normally a sauna inside this bathing area, which you can also enjoy. If you take a sauna, be sure to go and shower again before you re-enter the pools.
There are also water coolers throughout the wet rooms so fill up your bottle and stay hydrated!
Step 6: Take a shower and change
When you're done with the pools, have another shower, exit the wet area and return to the change room. Yes, you're still naked but that will soon change!
Put on the shirt and pants that you were given earlier and make your way to the dry area.
You can take your phone with you as some people choose to spend hours relaxing in the rest areas, listening to music or playing games on their phones.
Step 7: Try out the saunas
The saunas, or Fomentation Rooms, are the communal areas where both ladies and men are all in the same area, wearing the same outfits!
You'll find an array of dry, heated rooms to choose from each with a different theme and varying temperatures.
People literally fall asleep in these fomentation rooms so don't be surprised when the old man next to you starts snoring.
Read More: The Ultimate 2 Week South Korea Itinerary
Step 8: Enjoy the communal areas
Each jimjilbang differs from the other but all of them have a small shop within the communal areas where you can buy snacks or drinks. Some even have ping pong tables, cinemas, karaoke rooms and beauty facilities for massages and manicures.
If you're spending the night at the jimjilbang, this is where you can take a mat and "pillow" and find a spot to rest your head.
Step 9: Time to leave the Koreans bathhouse
Once you're done, head back to the change rooms.
You may want to have a final shower before you leave. On your way out, throw your towel and top/pants in the basket, take your shoes, and return your key to the front desk.
Which Jjimjilbang to go to in Korea
You'll find a jimjilbang in every neighborhood in Korea! Each will be slightly different when it comes to the number of pools, saunas, and other facilities.
Jjimjilbangs in Seoul
Siloam Sauna
Siloam Sauna is one of the most popular jimjilbangs in Seoul and one of my favorite bathhouses in Korea.
It's located right next to the Seoul Station and so is easily accessible for all travelers. Just pop the location into your GPS and walk about 5 minutes from Seoul Station.
2023 Update: Siloam Sauna is currently closed.
Itaewon Land
Itaewon Land isn't as impressive as Siloam Sauna, but the location is hard to beat if you're heading out for a party in Itaewon.
Read more: The Ultimate 7 Days Seoul Itinerary
Jimjilbangs in Busan
Spa Land
Spa Land is one of the most famous jimjilangs in Busan, with modern facilities catering to foreigners. It's situated in Shinsegae Centum City, one of the largest department stores in the world!
This is a great option if it's your first time visiting a Korean bathhouse, but I recommend you visit a more traditional one if you have the chance.
Hill Spa Busan (Vesta Spa)
Hill Spa in Busan overlooks Haeundae Beach and is another popular Jimjilbang in Busan. It's situated in a prime location and has an array of pools and saunas to choose from.
Final thoughts on jimjilbangs and Korean saunas
Love love love! I would often spend my Saturday morning relaxing at a jimjilbang. And it's not only for the ladies! Men enjoy jimjilbangs just as much. It's truly a unique experience and something that should be on your Korean bucket list.
---
Looking for more Korea travel information? Check out my other posts!
---
Pin this!