Flores, Indonesia: Famously known for its incredible dive sites and off-the-beaten-path attractions, Flores is an island that screams adventure!
I spent 2 weeks backpacking Flores where I ventured east of the island in search of new discoveries and new connections. Those who follow suit will be rewarded with culturally rich experiences, beautiful rolling hills, volcano hikes, and incredible scenery.
Here's my perfect Flores Indonesia itinerary including the best things to do on Flores Island and how to plan the perfect Flores overland tour.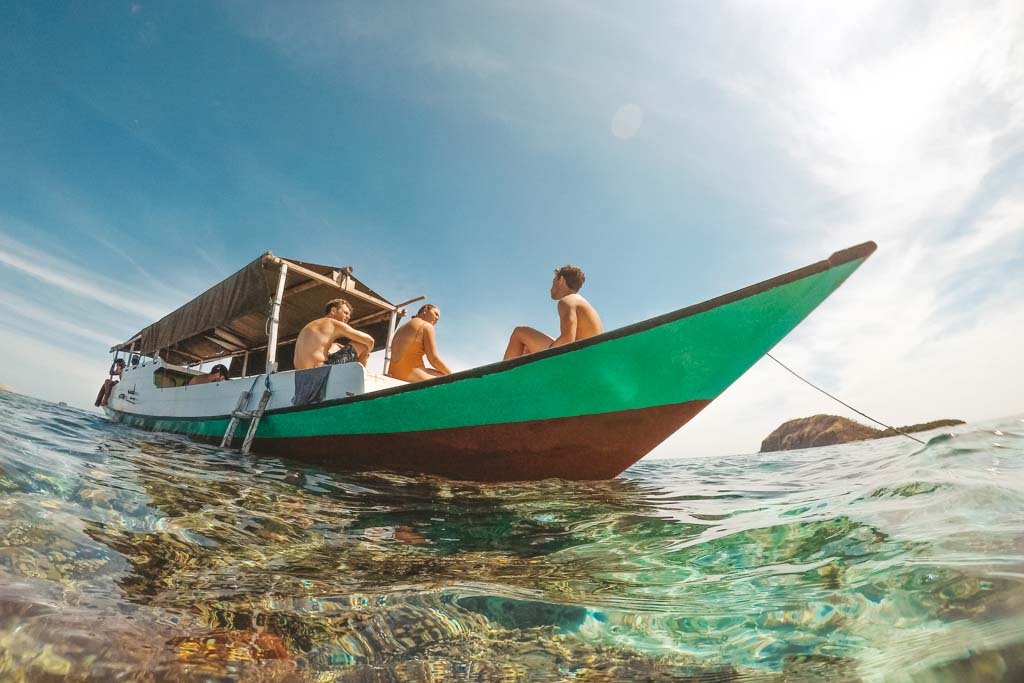 How to get to Flores, Indonesia
Flores Island is in the East Nusa Tenggara province of Indonesia. It's a stone's throw away from Bali and can easily be added to your Bali itinerary.
There are 3 ways to get to Flores Island from Bali.
By air: Bali to Flores
Depending on where you start your Flores overland tour, you can either take a direct flight from Bali to Labuan Bajo on the west side of Flores. Or alternatively you can fly from Bali to Ende/Maumere on the east side.
This 50-minute flight between Bali and Flores costs around $45 and there are several flights daily.
By Boat: Ferry or liveaboard
If you're doing an Indonesia overland trip from Bali to Flores (which will include Lombok and Sumbawa), you can easily get to Flores Island via a ferry from Bima in Sumbawa.
This is the cheapest (albeit slowest) way to travel between the islands. The ferry from Labuan Bajo in Flores to Bima in Sumbawa takes 5-7 hours and costs 60 000 IDR ($4).
Backpacking option: 4-day liveaboard boat from Lombok to Labuan Bajo
This boat trip is another popular backpacking option to get to Flores, Indonesia. It's great for adventurous travelers looking to island-hop from Lombok to Sumbawa and then all the way to Komodo National Park, whilst meeting like-minded travelers and sleeping under the stars.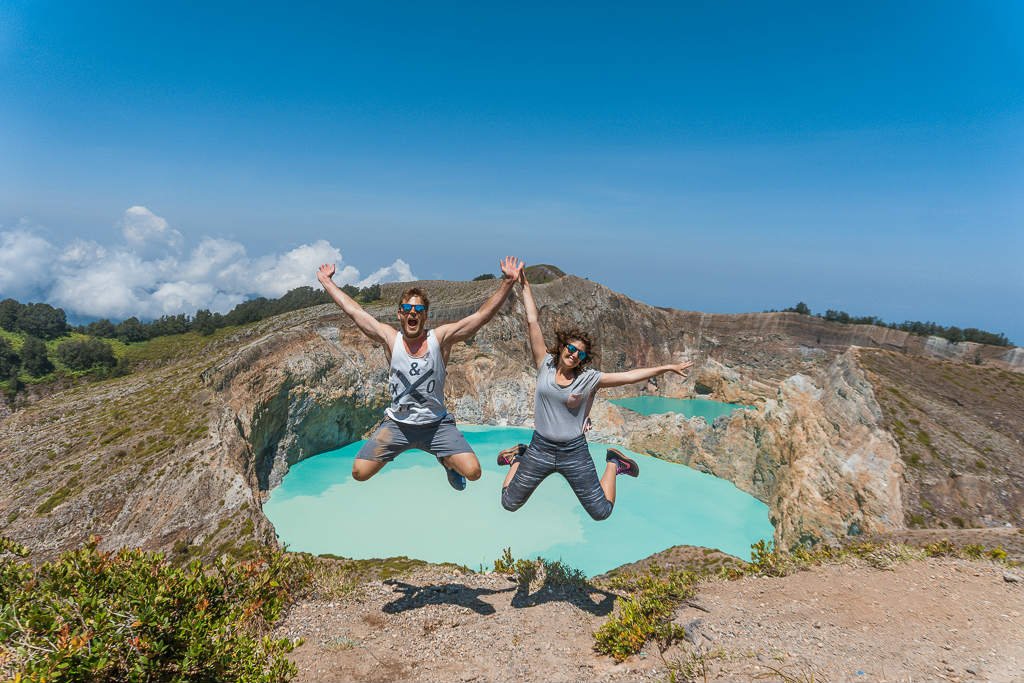 Flores Backpacking bucket list
There are so many things to do in Flores Island, and it can be difficult to choose the best activities if you have limited time. The island is home to some of the most famous places in Indonesia so I can guarantee that you won't leave disappointed!
Below are my highlights and things that you should absolutely not miss when planning your Flores itinerary.
Scuba diving and snorkeling with Manta Rays in the Komodo National Park
Seeing Komodo Dragons on Rinca Island
Hiking Mount Inerie in Bajawa
Drinking Bintangs in the Malanage Hot Springs in Bajawa
Island hopping in 17 Island National Park, Riung
Witnessing the Kelimutu Lakes in Moni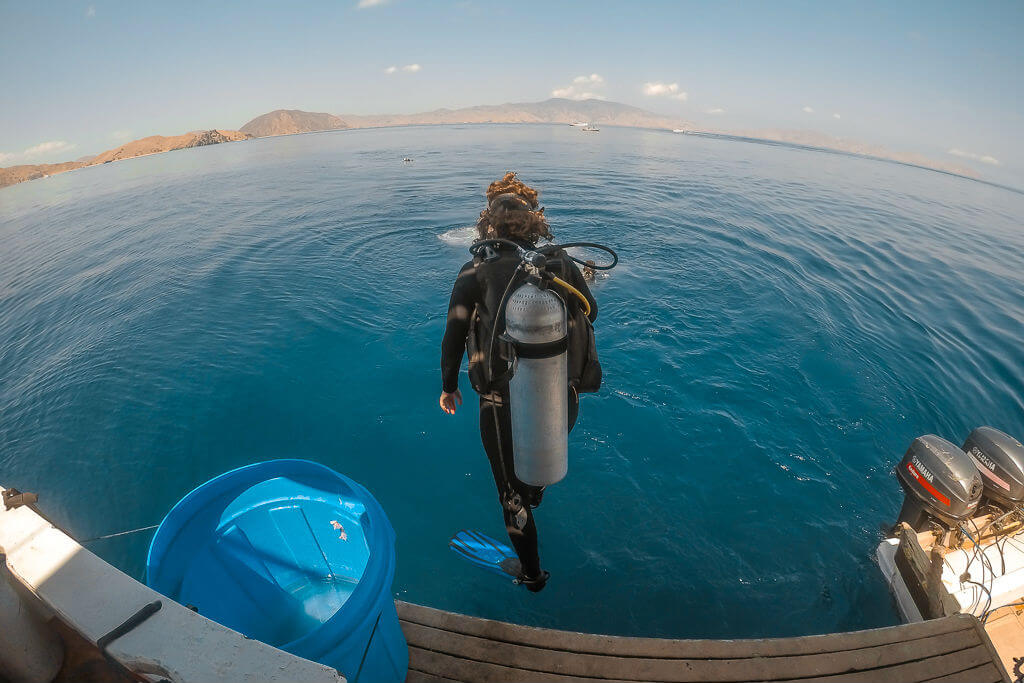 Flores itinerary: How many days do you need in Flores
Flores is not an island you want to explore in a rush.
Each attraction is a far distance from the other, and it's often a case of the journey to get there being better than the actual destination.
I spent 2 weeks backpacking Flores and this is the optimal time needed to explore the island. This allowed me to travel slowly and have "chill" days in between all the adventuring.
If you don't have as much time, I recommend spending at least 1 week exploring Flores, but 10 days is ideal!
You can either start your overland Flores itinerary from the west side of the island (Labuan Bajo) and make your way to the east (Ende or Maumere) or do it in the opposite direction.
Along this route, there are numerous places to visit including Ruteng, Bajawa, Riung, Moni, and Ende.
So here it is, my perfect Flores Indonesia itinerary which includes all the best stops to make on your overland tour.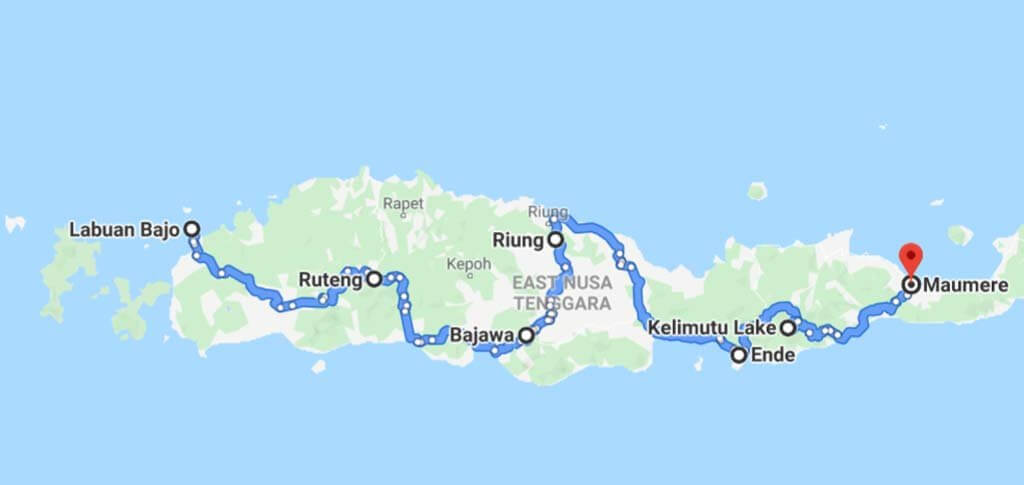 Flores itinerary: 1 week
Labuan Bajo: 3 nights
Bajawa: 2 nights
Moni: 2 nights
Flores itinerary: 10-days
Labuan Bajo: 3 nights
Bajawa: 2 nights
Riung: 2 nights
Moni: 2 nights
Flores itinerary: Komodo Islands (Labuan Bajo)
Time needed: 3 nights
Labuan Bajo is the gateway to the Komodo National Park in Flores, Indonesia. These islands have put Flores on the map and no trip to Indonesia is complete without experiencing the natural beauty surrounding Komodo.
From pristine beaches, bright-colored coral, manta rays, Komodo Dragons, and gorgeous viewpoints, the Komodo Islands are a must-see on your Flores itinerary.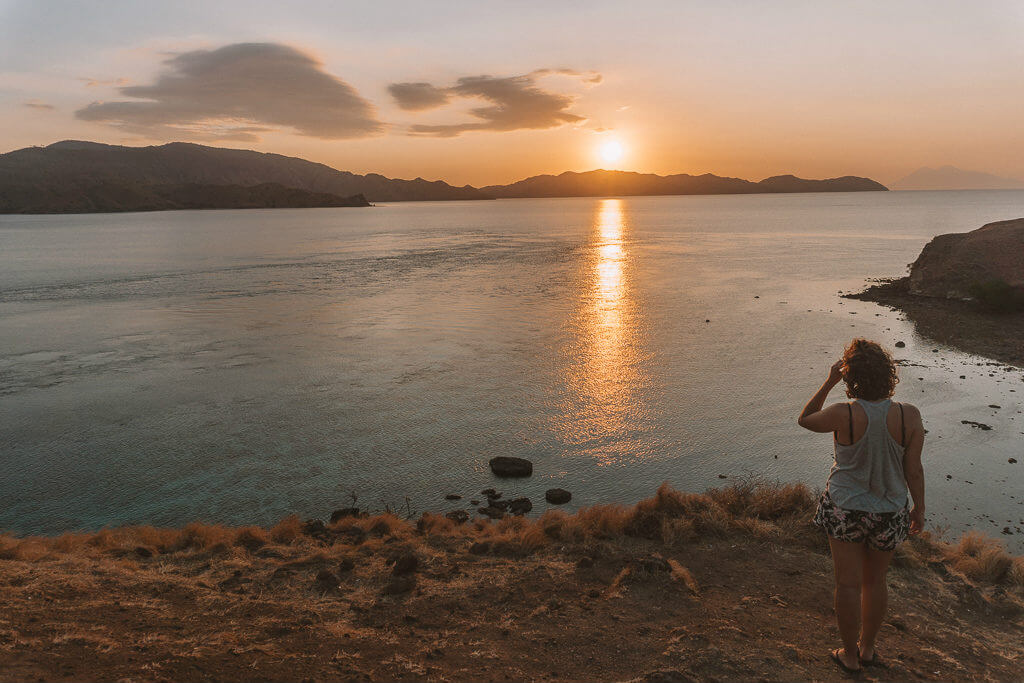 Things to do in Labuan Bajo
The port town of Labuan Bajo has very little to offer so my advice is to head straight to Komodo National Park after your arrival. There are both day tours and multi-day liveaboard options available, depending on your time and budget.
The main road of Labuan Bajo is lined with scores of travel agencies, tour operators, grocery stores, and restaurants. It's best to shop around until you find a boat tour that suits your preferred itinerary and try to negotiate a good deal.
Below are the main attractions in Komodo National Park.
Scuba dive with sharks at Batu Bolong dive site
Snorkel with manta rays at Manta Point
Visit Rinca Island to see Komodo Dragons
Soak up the sun on Pink Beach
Catch the sunrise and take a photo on Padar Island
Snorkeling day trips or liveaboards
The most popular thing to do in the Komodo Islands is to join a 2D/1N liveaboard. Here you'll experience a good mix of snorkeling, beaching, and island hopping.
These liveaboards range from budget and basic to luxurious. Experiencing the beauty of the Komodo Islands is possible for any traveler, on any budget.
If you're backpacking Flores, Indonesia, don't pay more than 900 000 IDR ($65) for a 2D/1N snorkeling liveaboard which will include your snorkeling gear and all meals onboard.
There is an additional Komodo National Park entrance fee which is required and costs 150 000 IDR ($10).
Scuba dive the Komodo Islands
If you have your scuba diving certification, diving the Komodo islands will blow your mind away – seriously!
I recommend that you include at least 2 days of diving on your Flores itinerary. Or better yet, join a scuba diving liveaboard as I did.
For budget scuba diving liveaboards, expect to pay around $175 per day for 3 or 4 days. This includes a minimum of 3 dives per day, scuba diving equipment, and all meals.
Where to stay in Labuan Bajo
Seaesta Komodo Hostel & Hotel: Seaesta Komodo Hotel is the perfect place to spend your first night in Labuan Bajo. Not only is it situated in a prime location, but the views from the rooftop pool are also pretty epic! With shared dorm rooms and private ensuite alternatives, it's a great option for all travelers.
Villa Domanik: If you're looking for something more private (and more luxurious), you'll love Villa Domanik. Set on a hillside with panoramic views over the Labuan Bajo port, it's the perfect base for couples or those looking to escape the hustle and bustle.
Flores itinerary: Ruteng
Time needed: 1 night
As you drive 4 hours east of Labuan Bajo, you'll come across Ruteng, a small village hidden amongst the hills of Flores Island.
Although Ruteng wasn't on my own Flores backpacking itinerary, I've included it here as many people choose to spend the night in Ruteng to break up their trip between Labuan Bajo and Bajawa, which is further east.
So, why didn't I include Ruteng in my Flores overland itinerary?
Based on feedback from other travelers I'd met, I gathered that the attractions in Ruteng weren't nearly as bucket-list-worthy as those elsewhere on the island.
If you're traveling by motorbike or private vehicle, you can easily stop at the sights in Ruteng, take a photo and continue with your journey. But this isn't possible with public transport.
So, should you include Ruteng on your Flores itinerary
If you have limited time and you're planning to see the traditional villages in Bajawa, rather give Ruteng a miss and head straight from Labuan Bajo to Bajawa. Yes, the ride is long (270km) and may take over 8 hours, but at least you'll get to tick everything off your Flores bucket list.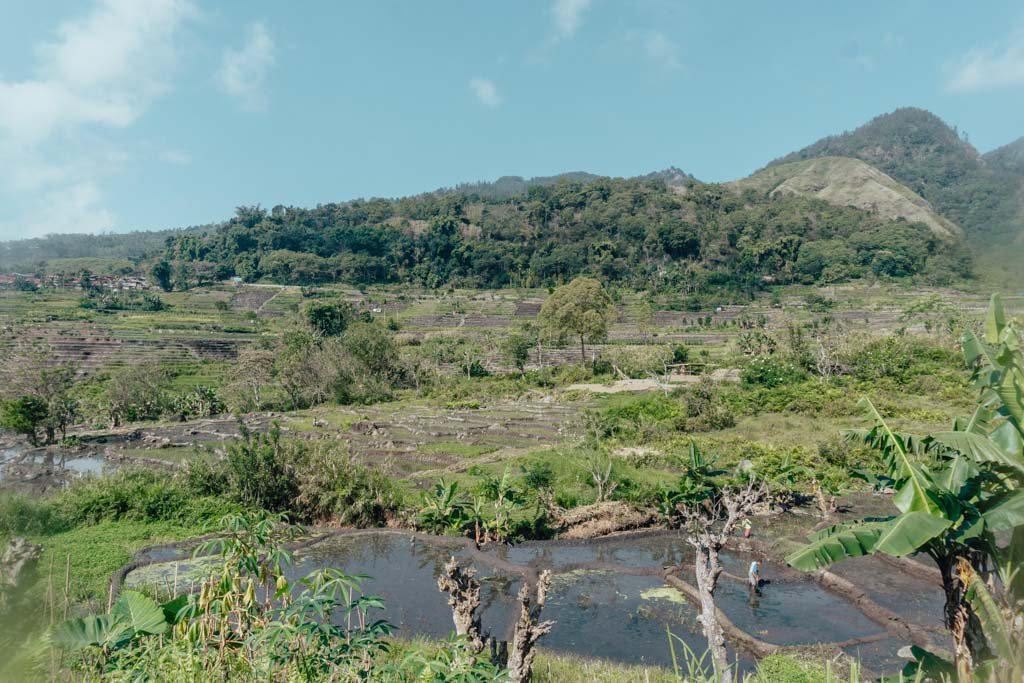 Things to do in Ruteng
Ruteng is best explored by bike, so after you arrive in the village, organize a motorbike and check out the below attractions.
Trek to Wae Rebo traditional village and spend the night with a local family
Explore the "hobbit's cove" where skeletal remains of hobbit humans have been found
Check out the spider web rice fields
Where to stay in Ruteng
Sun Rice Homestay: Sun Rice Homestay offers a gorgeous setting nestled amongst the rice fields. The overall experience is hard to beat, especially given the affordable price point.
Flores itinerary: Bajawa
Time needed: 3 nights (if you don't climb Mount Inerie, only 2 nights are required)
Of all the places on my Flores Indonesia itinerary, Bajawa was my favorite.
Why? Because I had no expectations!
Known for its cooler climate and incredible scenery, Bajawa's biggest attraction is Mount Inerie – the highest volcano on the island of Flores.
If you're coming from Ruteng to Bajawa, the trip shouldn't take more than 4 hours. But, if you decided to skip Ruteng and head straight to Bajawa from Labuan Bajo, expect a long, 8-10-hour journey.
As with all the destinations in your Flores itinerary, it's best to rent a scooter and explore the nearby attractions on a bike.
Best things to do in Bajawa
Hike Mount Inerie: You'll need at least 6 hours for this incredible yet challenging hike, but it really is one of the best things to do in Flores. Read about it here.
Swim in the Malanage Hot Springs: This impressive natural hot spring is made of a boiling hot stream that flows into a freezing cold one. I spent hours here, with very few other people in sight.
Visit Bena Traditional Village: These traditional villages are unique to Flores Island and visiting them allows you to take a step back in time and see what minimalist living is really about.
Check out the Wolobobo viewpoint: This viewpoint offers the best views of Mount Inerie
Where to stay in Bajawa
Cinnamon Guest House: Cinnamon Guest House boasts a great location in the heart of Bajawa. The large, comfortable rooms are well-priced and the wonderful owner will go out of his way to ensure you're happy.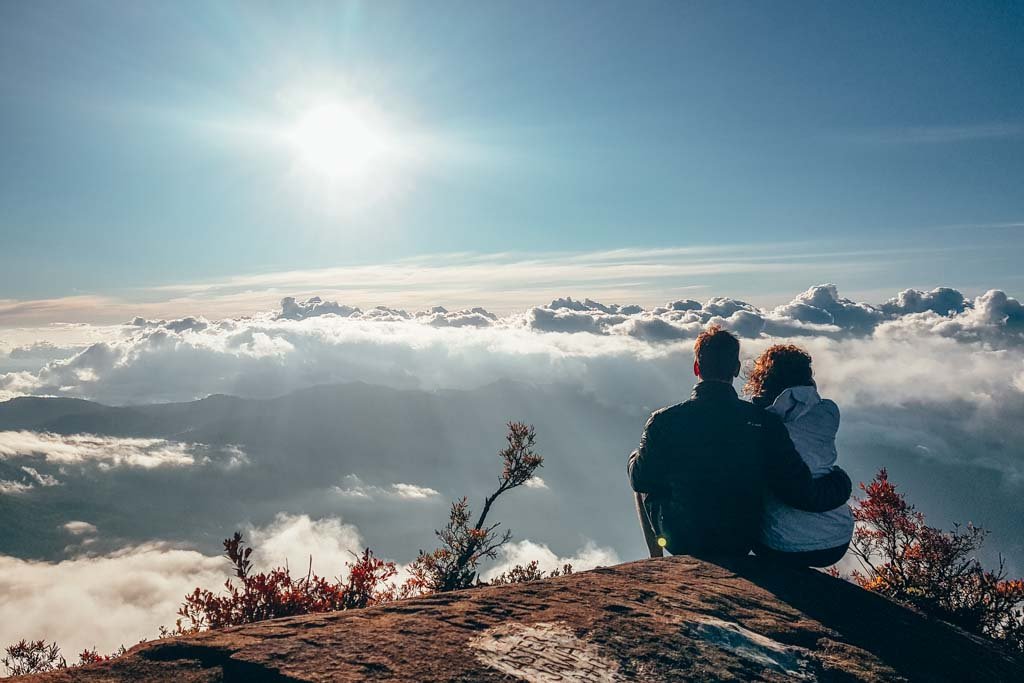 Flores itinerary: Riung
Time needed: 2 nights
My initial plan was to head straight from Bajawa to Moni to check out the tri-colored Kelimutu Lakes. But a group of fellow backpackers managed to convince me to add Riung to my Flores travel route.
Riung is a small fishing village north of Flores Island. It's the gateway to 17 Islands Marine Park and despite its natural beauty, it's not included in many travel itineraries for Flores Island.
But if you're keen to go off the beaten track, make sure you visit Riung.
I'm going to be straight with you: getting from Bajawa to Riung is a bitch! The drive should take 2 hours, but it took us over 4 with public transport. It's bumpy, slow and it's crowded.
Things to do in Riung
Go island hopping in 17 Islands Marine Park: Spend your day on a small boat making your way between several islands just off the coast of Riung. What makes this extra special is that the waters are free from tourist boats which is quite a contrast from island hopping in Komodo National Park.
Whilst island hopping is the only thing to do in Riung, the village is so quint and has a unique charm to it. Spend a few hours walking around and watching as the locals go about their daily lives
Where to stay in Riung
Riung Guesthouse: There's not much choice when it comes to accommodation in Riung. The best place to stay is Riung Guesthouse which is just a short walk from the port. The price includes a simple breakfast and the kind owner will assist with booking island hopping tours.
Flores itinerary: Moni
Time needed: 2 nights
Moni is home to the famous Mount Kelimutu, a dormant volcano more commonly known for its tri-colored lakes. And yes, they are just as fascinating as the pictures, if not better!
These tri-colored lakes change color drastically as a result of chemical reactions beneath the surface.
Most people spend one night in Moni, and leave after seeing the Kelimutu Lakes for sunrise. But it's best to spend an extra night here to explore the village.
To get to Moni, you'll first take a bus to Ende which is two hours away. From here, you need to hop on another bus or bemo and head to Moni. When you arrive, rent a scooter and go exploring!
Ende or Moni?
Ende is one of the bigger cities which you'll pass on your Flores road trip. It's the closest big city to Kelimutu Lakes and has an airport that offers daily flights to and from Bali.
There's not much to do or see in Ende so if you're considering spending the night here or in Moni (which is a small village at the base of Kelimutu National Park) pick Moni instead!
Things to do in Moni
Hike to the summit of Mount Kelimutu: Allow for 2 hours to explore Kelimutu National Park. Most people choose to hike to the summit for sunrise, but optimal conditions are not guaranteed!
Relax in the Moni hot springs: Unfortunately, these are nothing compared to the Bajawa hot springs but worth a visit if you have time.
Where to stay in Moni
The Geckos Homestay: The Geckos Homestay is a short drive from Kelimutu National Park. The newly built bungalows offer beautiful garden views and a hearty breakfast is included in the price.
Flores itinerary: Maumere
Time needed: 1 night
Maumere is the city furthest east of the island and is most likely to be the first or last stop on your Flores Indonesia itinerary.
Most travelers only spend a night here where they meet up with their private driver and then continue to their next destination.
Maumere was not a stop on my Flores overland tour. Instead, I went back to Ende after visiting the Kelimutu Lakes, and flew out of Flores Island from there.
There is also an airport in Maumere so you can book a flight from either here or Ende.
Why Maumere wasn't part of my Flores itinerary
As with Ruteng, I'd heard that Maumere doesn't have any remarkable attractions that make it a must-see. On top of this, I'd already included Riung in my Flores itinerary, so my days were limited.
There are traditional villages to explore in Maumere or you can go island hopping nearby. I'd already done both of these activities in the previous days and so I was happy to give Maumere a skip.
The only thing I wanted to see in Maumere was Koka Beach, but it's actually a 90-minute drive from Maumere and because I was using public transportation, it seemed to be quite the mission to reach.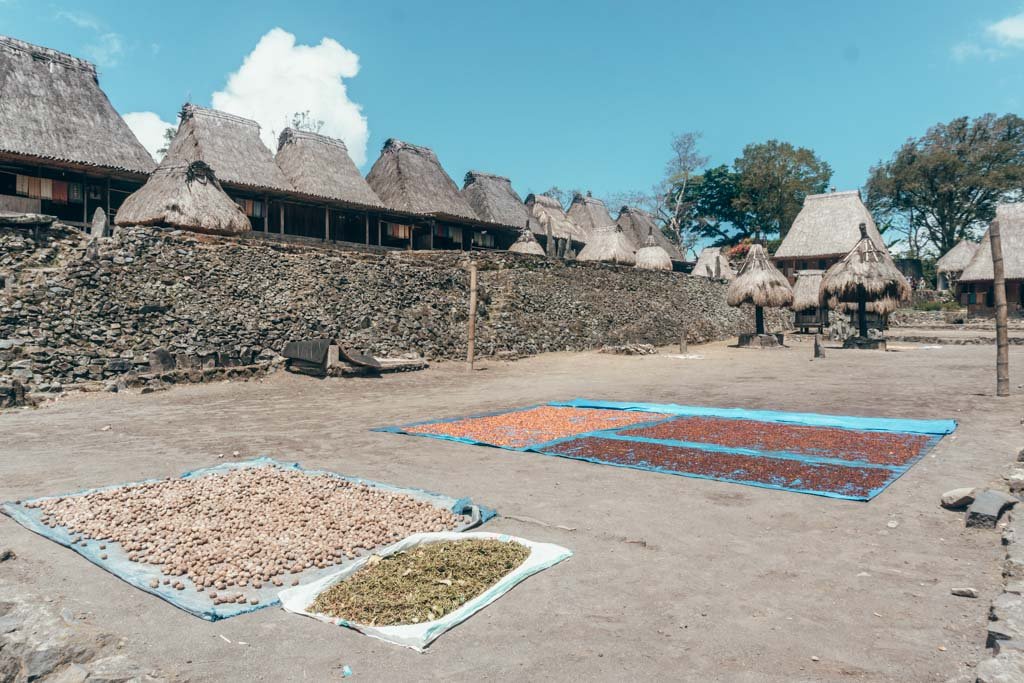 How to plan your Flores overland itinerary
Flores, Indonesia, is a much bigger island than you may expect. Spanning over 13 000 km square, traveling overland is not as quick and easy as you may hope it to be.
There are various ways that you can plan your Flores overland tour depending on your travel preferences, budget, and time.
READ MORE: THE ULTIMATE 3 WEEK INDONESIA ITINERARY
Hire a private driver
A popular way of traveling around the island of Flores is to hire a private vehicle and driver for the duration of your overland tour. This allows you to create your own itinerary and customize it as you see fit.
This is also the best option if you have limited time or if you're traveling in a group (or with children).
A private vehicle and driver costs 700 000 IDR-900 000 IDR ($50-$65) per day which includes fuel and the drivers' accommodation and meals.
Rent a motorbike and do a Flores overland tour
Scooter missions are the best way to travel Flores. But, whilst this is the fun, more adventurous option, there is one downside: You'll need to get your bike back to your original starting point.
So, if you begin your Flores itinerary in Labuan Bajo and go overland by motorbike to Ende or Maumere, you'll need to go back the same route to return the bike to Labuan Bajo.
This will also add an extra 2 days of travel to your itinerary for Flores which is not ideal!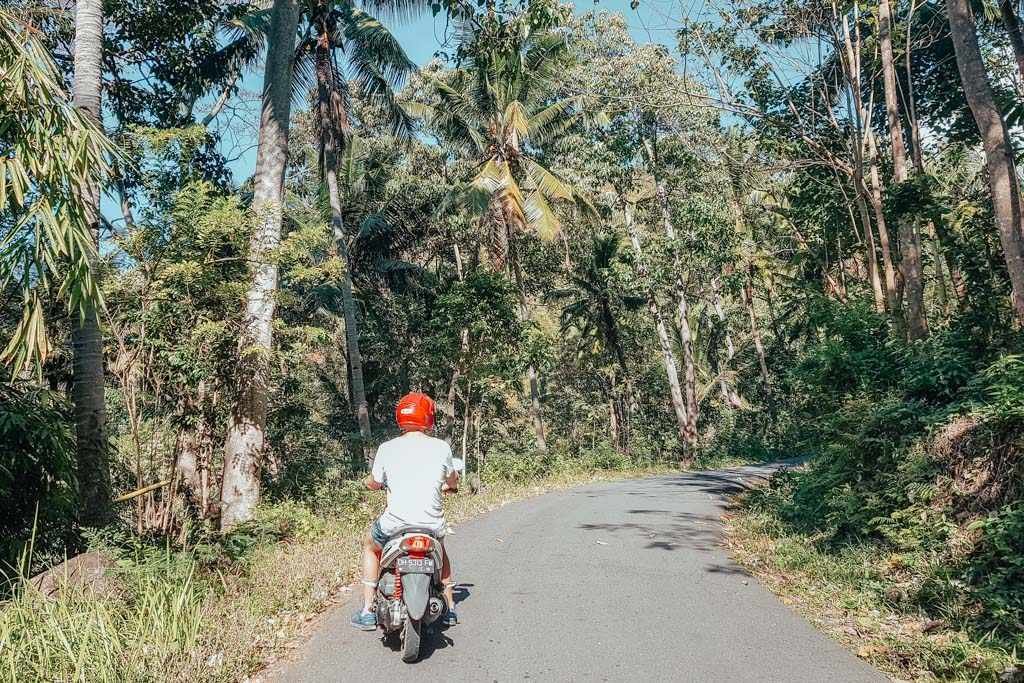 Use public transport
There is a great public transportation network on Flores Island and buses leave at 08:00 daily to all destinations on the island.
Your homestay owner will give you more details of the schedules and locations of where to find the bus, and if you're lucky, they may even arrange a pickup from your guesthouse.
Another easy way to get around is to catch a bemo which is a small minibus taxi.
Public buses and bemos cost between 40 000 IDR and 100 000 IDR ($3-$7), depending on the length of the journey.
On the downside, public transport is the slowest way to travel across Flores as these busses only leave when they're full, and the drivers often make detours to drop locals off in the nearby villages.
This means of transportation is also not for the faint-hearted! Expect no aircon, countless stops, chickens and other animals on the bus, and passengers who smoke like chimneys. Not to mention the kids hanging out of doors and sitting on the roof, the actual river crossings, and the countless mechanical issues.
But with a bit of patience, you'll get through it and these moments will hold some of your fondest memories of your Flores itinerary!
Once you've reached your destination, you can easily rent a bike to explore the area before you head off to your next stop. Expect to pay 60 000 IDR – 80 000 IDR ($4-$6) to rent a bike for the day.
You can also hire a motorbike and driver for the day if you're not comfortable going on your own. This will set you back around 150 000 IDR ($10).
Things to know before backpacking Flores
You need to pack lightly when backpacking Flores. But there are also items you require such as trainers or hiking boots and a warm top. Be sure to follow this guide when packing for Indonesia.
Don't pre-book accommodation as your Flores backpacking schedule may change depending on the people you meet along the way.
Budget advice: If you're backpacking Flores, using public transport, staying in local homestays, and eating local food, you need between $20-$30 per day to travel the island.
Internet and cell reception are widely available throughout Flores Island, but it's best to get a local sim (Telkomsel) as most homestays do not have WiFi.
Unfortunately, you cannot surf in Flores, Indonesia as there is no swell. Head to Sumba or Lakey Peak in Sumbawa after your Flores trip if you're looking for great surf.
Best time to visit Flores Indonesia
When planning your Flores overland tour, your trip should coincide with the dry season (May to September). The weather is cool and dry during this time, and you'll be able to explore without worrying about the rain.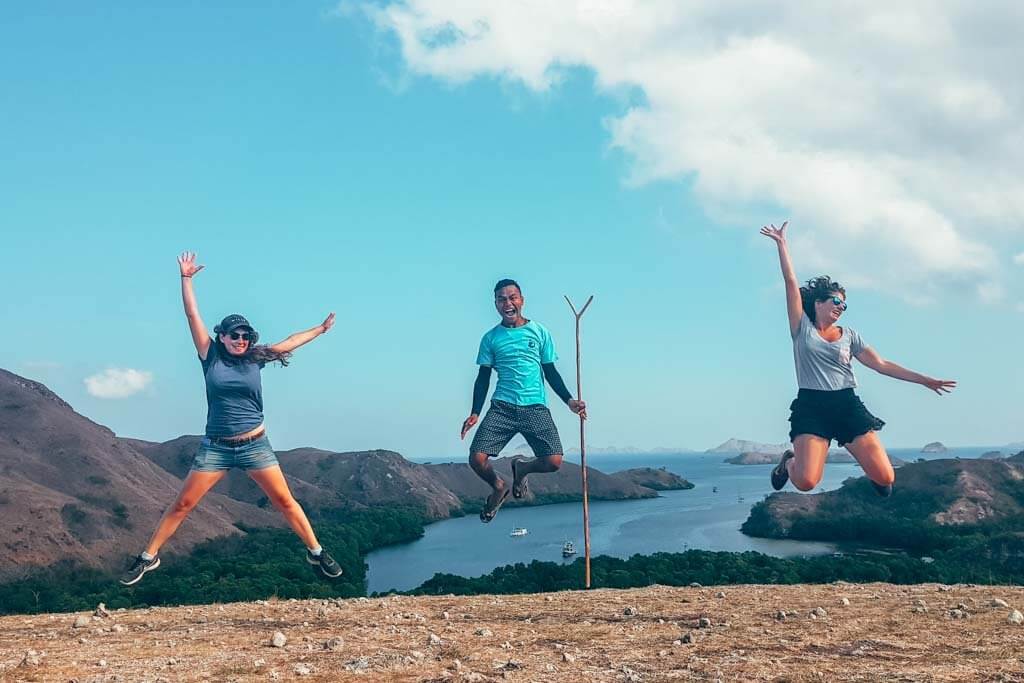 Is Flores Indonesia worth visiting
Yes! Visiting Flores was one of the highlights of my Indonesia backpacking trip.
There's just enough tourist infrastructure in place to make it easy to travel overland, yet the island is also remote enough to not be overcrowded and touristy.
---
Looking for more Indonesia travel information? Check out my other posts!
There is a really good chance that this post contains affiliate links. If you click one of them, I may receive a small commission at no extra cost to you. As always, views are my own!
---
Pin this!