Are you planning your Busan itinerary and looking for the best things to see and do in 3 days? You've come to the right place!
Famous for its picturesque coastline, fresh seafood, and bustling atmosphere, Busan is a top tourist destination – especially in the summer.
The port city is the second-largest city in South Korea. It doesn't shy away from those fun and quirky attractions that make the country so unique – from themed cafes to BBQ restaurants, karaoke rooms, and more, Busan has it all.
This post details the perfect Busan 3 day itinerary and includes all the top attractions and places to stay from someone who visited them all!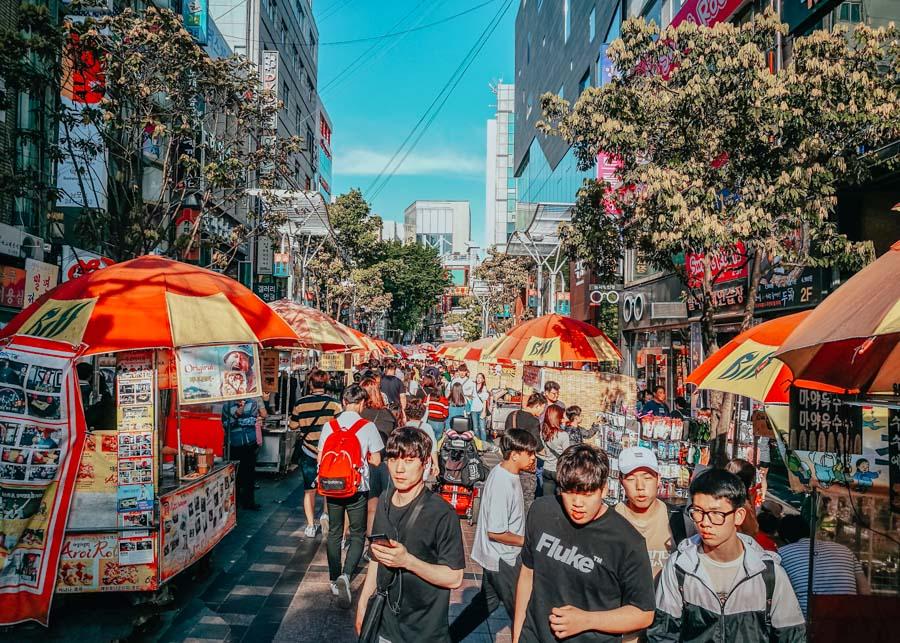 3 Day Busan itinerary
I bet you're wondering: "How many days in Busan?".
I had initially given myself 5 days, but after 3 I was ready to head to the next destination on my South Korea travel route. And I recommend you do the same.
With 2 or 3 days in Busan, you'll have enough time to see all the top attractions, explore the beaches, and indulge in delicious food.
And whilst this travel guide allows for 3 days in Busan, it's easy to add or remove days, and customize your itinerary depending on how much time you have.
3 Days in Busan Summary
This itinerary for Busan includes a mix of things that make the city so attractive.
Stunning beaches, bustling markets, historic temples – here's what you'll find.
Day 1: Gamcheon Cultural Village, Nampo District, Busan Tower Observatory, Gwangalli Beach
Day 2: Spa Land, Haedong Yonggungsa Temple, Haeundae Beach
Day 3: Busan Air Cruise, Igidae Coastal Walk, Seomyeon District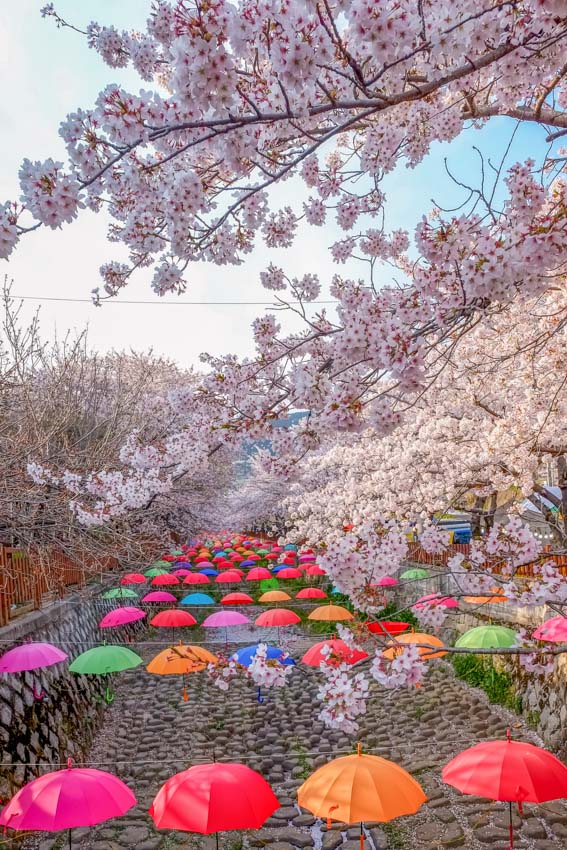 Busan Itinerary Tips: How To Get Around
Busan has a well-connected transportation system, making it easy to get around the city via bus or train.
You'll need a T-Money card to access Busan's public transport. This is a stored money card that can be recharged and used between buses, trains, and subways throughout Korea.
You can purchase this T-Money card from one of the many convenience stores or kiosks at the subway stations. Alternatively, you can buy one online here and it will be waiting for you at the airport when you arrive in Korea.
Tips for getting around Busan
Download the "Subway Korea" app on your phone. This will give you updated train times and routes for the Busan subway.
Buy a local sim card – trust me! It's far easier to navigate around the city if you have access to the internet. You can conveniently purchase your sim card here.
Download the "Naver Maps" app for directions. Naver Maps shows you more detailed directions including the fastest routes to all the Busan attractions using car, bus, and subway. (I used Google Maps to navigate around Busan, but I followed my location on the map as directions for driving and walking don't work.)
Where is the best place to stay in Busan
When deciding where to stay during your 3 day Busan itinerary, it's best to choose one area that will act as your base.
Everything is a lot more spread out when compared to Seoul, so you need to think about what type of trip you want.
The most central district is Seomyeon which is a transportation hub that connects to train lines 1 and 2. It's popular with those backpacking Busan and is famous for its shopping and partying. Many people compare the vibe in Seomyeon to Hongdae in Seoul.
But I chose to stay in Haeundae, the seaside district on the east of the city. I wanted to be close to the ocean and I absolutely loved it here. While it is slightly further from all the Busan attractions, you won't get this beach experience elsewhere in Korea.
Busan Accommodation
Looking for a luxurious place to stay in Busan? It doesn't get much better than Park Hyatt Busan. Located on the shores of Haeundae Beach, the views of the Busan skyline coupled with the fine furnishes make it one of the best places to stay.
Traveling on a mid-range budget but in search of ocean views? H Avenue Gwanganri Beach is the answer. Located in Gwangalli Beach, the panoramic views are hard to beat, and overall, the accommodation provides a lot of value.
If you're backpacking Busan, MAMA Guesthouse in Haeundae is for you! Given the affordable price tag, prime location, and helpful staff, it's the perfect option for travelers on a budget.
Day 1 Busan itinerary: Culture and cuisine
It's your first day in Busan and it's going to be a busy one!
We're venturing out to the west of the city and will slowly make our way back to enjoy the sunset from Gwangalli Beach.
Visit Gamcheon Cultural Village
Time needed: 3 hours
Cost: Free entrance
Exploring Gamcheon Cultural Village is one of the best things to do in Busan.
This bright and colorful mountain-side village was once a slum town, and home to refugees from the Korean war.
But in 2009, it was transformed into an artsy neighborhood with bright paintings and life-size murals, cute cafes, and art galleries. It has since become the cultural hub of the city and a must-visit destination on any Busan itinerary.
When entering the village, get hold of the tourist map which includes a "scavenger hunt". It highlights the best viewpoints and art installations to see.
But remember, people still live here so be respectful when passing locals and don't make too much noise when exploring the alleyways.
You'll need half a day for your visit. If you want to explore the Gamcheon Cultural Village at night, you may want to consider doing this Busan night tour.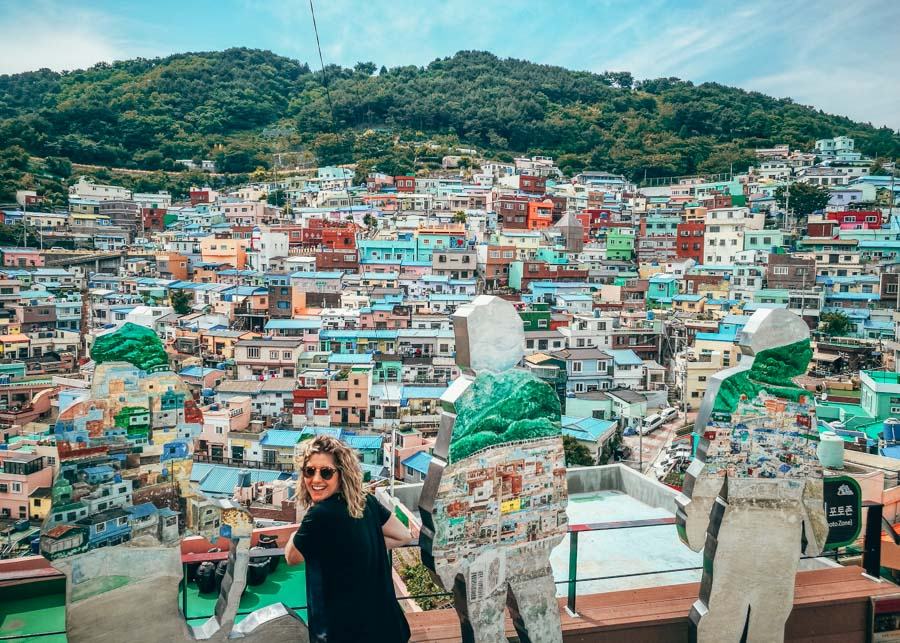 How to get to Gamcheon Culture Village
The closest metro station to Gamcheon Culture Village is Toseong, which is found at the end of Line 1.
Take exits 1, 6, or 8 and look for the bus 1-1, 2, or 2-2 in front of Pusan National Cancer Center. This takes you to Gamcheon Elementary School Bus Stop which is up the hill.
The other option is to go to Seojeong Station on Subway Line 1. At exit 6, take the bus Sakha 1 or Sakha 1-1 to the Gamcheon Elementary School Bus Stop.
Explore the Nampo District
Nampo is one of the oldest districts in Busan and has several key attractions that I've mentioned below. These can all be visited in one afternoon.
Try to get here by lunchtime so that you can feast on all the mouthwatering food up for grabs.
Nampo District Attractions
Gukje Market: This market is located in the central streets of Nampo. It boasts hundreds of shops selling everything from electronics, souvenirs, clothes items, household goods, and mouth-watering Korean street food.
Jagalchi Fish Market: If you're looking for the biggest fish market in South Korea, look no further than Jagalchi Fish Market. Located on the edge of Nampo port, it's worth a visit – even just for the scenes.
Biffs Square: Home to the Busan International Film Festival (BIFF), BIFF Square is a bustling area featuring movie theatres, shopping stalls, various dining options, and vibrant nightlife.
Take in the views from Busan Tower
Time needed: 1 hour
Entrance to obseravtor: $6
For the best views of Busan, head to Busan Tower which is a short walk from Gukje Market in the Nampo District.
The iconic symbol of Busan stands proudly at 120m high, offering dramatic panoramic views of the city. Admission to the Busan Tower Observatory is $10.
A free alternative to include in your Busan itinerary is the Lotte World Observatory Deck which is on level 13 of the department store. With equally impressive views as Busan Tower, Lotte World is also located in the Nampo district, close to Jagalchi Fish Market.
Sunset from Gwangalli Beach: What to do in Busan at night
If you're following my 3 day itinerary for Busan, you're probably exhausted from exploring cultural villages and street markets all day!
But there's one more destination you can't miss on day 1 – Gwangalli Beach.
Gwangalli Beach is one of the most popular beaches in Busan. Try to get here towards the end of the day as it's the best place to watch the sunset.
You'll also be treated to unspoiled views of Gwangan Bridge, otherwise known as Diamond Bridge, in the distance.
Visiting Gwangalli Beach is one of the best things to do in Busan at night as this iconic bridge is completely lit up. There are also live performances and movies screenings on the sandy shores of Gwangalli Beach.
On that note, if you're expecting sun lounges, cocktails, and palm trees, think again! The vibe at the beaches in Korea is totally different from other beach destinations in Asia, like Bali or Sri Lanka.
After sitting by the beach and watching the sun go down, head to one of the many Korean BBQ restaurants near Gwangalli Beach and enjoy your first BBQ in Busan before heading home.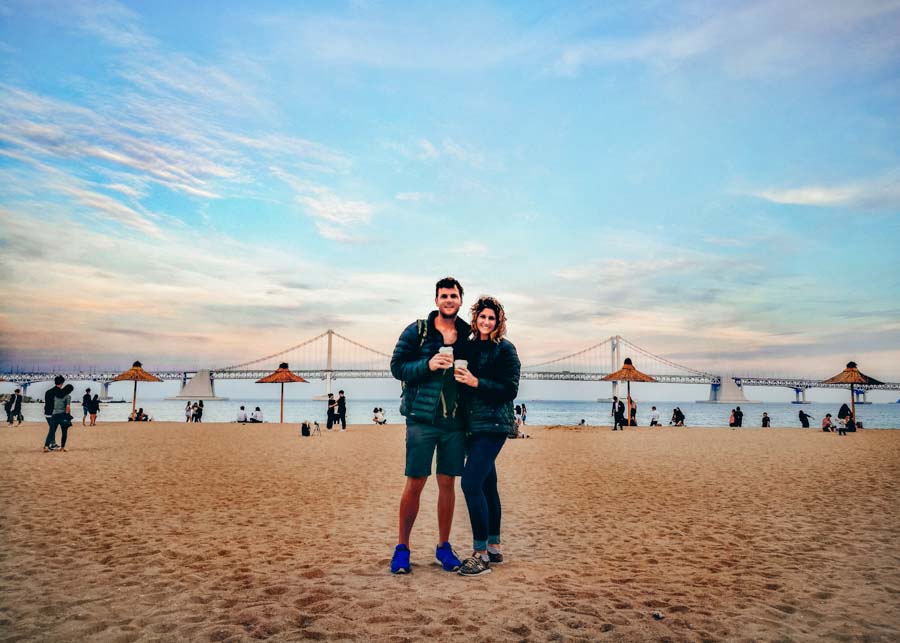 Day 2 Busan itinerary: Pampering and nature
After a busy first day in Busan, you're going to love what's in store for today – pampering and nature!
Spa Land
Time needed: 3 hours
Cost: 17,000 won ($13)
If you're traveling to Korea, you need to experience a traditional Korean bathhouse. This is where people come to enjoy hot and cold pools, relaxing saunas, massage areas, and communal sleeping rooms.
They're called jimjilbangs and they're pretty awesome. But, you have to get naked first!
Jimjilbangs are a place to meditate, relax and unwind. Because of the benefits, jimjilbangs are an important part of most Koreans' weekly beauty rituals.
After living in Korea, I've visited my fair share of Jimjilbangs, of which Spa Land was the first. Jimjilbang etiquette can be confusing so be sure to read my post here before you go.
You'll find Spa Land inside Shinsegae Centrum City Department Store, connected to Centrum City metro station. After visiting Spa Land, grab a bit to eat from the food hall in Shinsegae.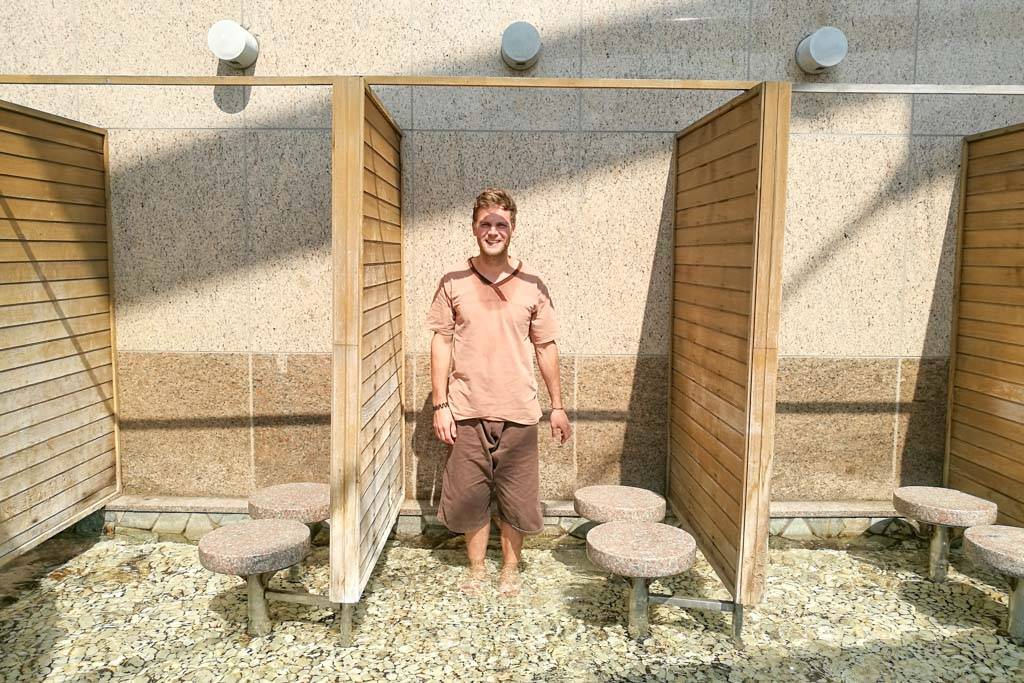 Haedong Yonggungsa Temple
Time needed: 4 hours (including transport)
Located on the coastline on the east of Busan, lies Haedong Yonggungsa Temple. This beautiful Buddhist temple, otherwise known as Temple by The Sea, was built in 1376.
It was partially destroyed during the Japanese invasion of Korea and rebuilt in the 1930s.
Haedong Yonggungsa Temple offers sweeping views of the ocean and beautiful scenery. This in itself attracts tourists in their numbers – so expect a crowd.
Pro tip: Haedong Yonggungsa Temple is extremely popular and a bit further to travel from the center of Busan. If you'd prefer a walk with similar ocean views, minus the crowds, then head to the Igidae Coastal Walk instead. You can find out more about this on day 3 of my Busan itinerary.
READ MORE: 25 STRANGE THINGS ABOUT LIFE IN KOREA
How to get to Haedong Yonggungsa Temple
Haedong is located far from areas like Nampo and Seomyeon, so it can take over an hour to get there.
Using public transport, take bus 100 or 181 from Haeundae subway exit 7 which will take you to the Yonggungsa Temple Bus Stop.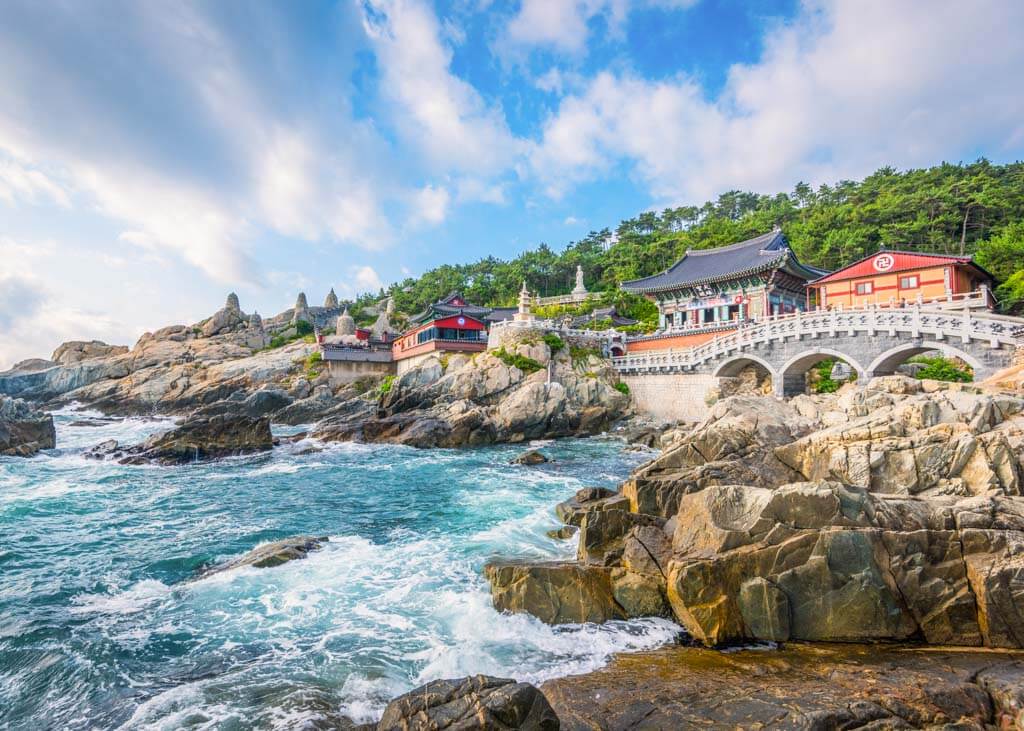 End the day at Haeundae Beach
On your way back from Haedong Yonggungsa Temple, stop at Haeundae Beach which offers a similar vibe to Gwangalli Beach.
It's a great place to walk the streets with the sound of the waves breaking in the distance or you can listen to the music spilling out from local bars while admiring the illuminated city skyline.
At 1.5km long, there are so many things to do in Haeundae. It's a great swimming beach and draws a large crowd over the summer.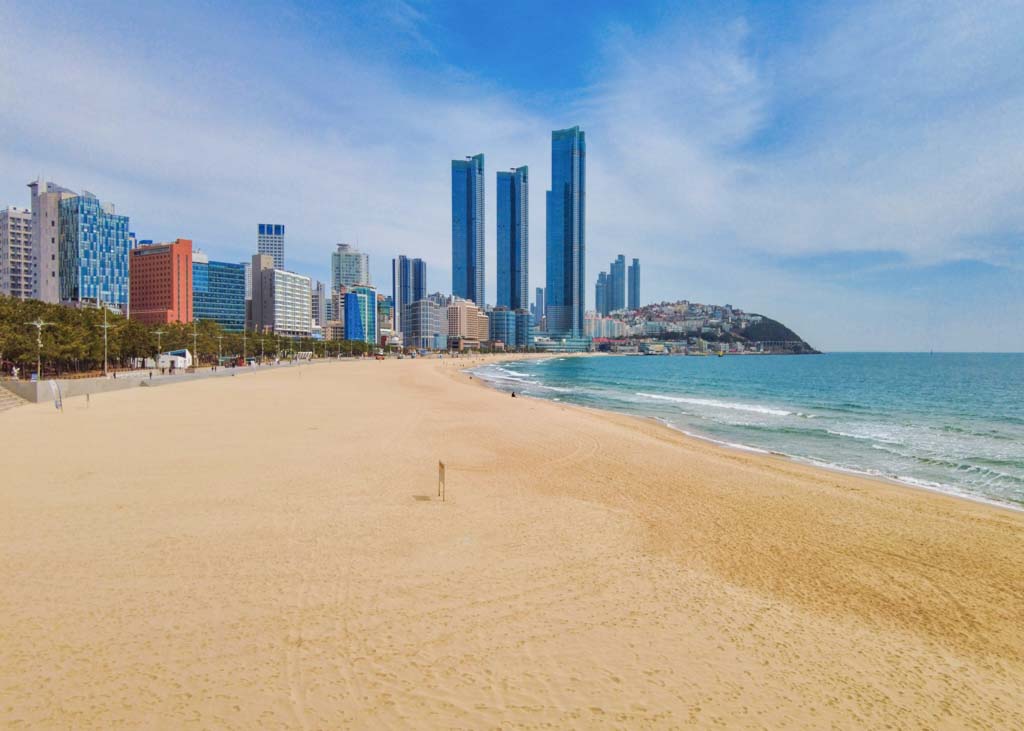 Day 3 Busan Itinerary: A bit of everything
You've reached day 3 of your Busan itinerary.
There are so many things to do in the city, so I'll leave the last day for you to pick and choose which activities you prefer.
Busan Air Cruise (Songdo Cable Car)
Time needed: 2 hours
Costs: $11
The Busan Air Cruise is a cable car that takes you from Songdo Beach, over the sea to Amnan Park offering panoramic views of the Busan skyline and ocean beneath.
At the top, you can hop off and grab a bite to eat or enjoy a walk through the scenic park which also boasts a dinosaur museum. This activity is popular for families and couples so if you're looking to enjoy Busan from above, be sure to add it to your itinerary.
Pro tip: The start of the Busan Air Cruise is on the west of Busan, close to the Nampo district and Gamcheon Culture Village. I recommend that you include this on day 1 of your Busan itinerary and perhaps visit Gwangalli Beach on day 2 or 3.
Songdo is also one of the best beaches in Busan so you could also skip Haeundae Beach in favor of the Busan Air Cruise.
How to get there
Take bus 6,26,30,71,96 or 96-1. Get off at Amnam-dong Community Service Centre bus stop.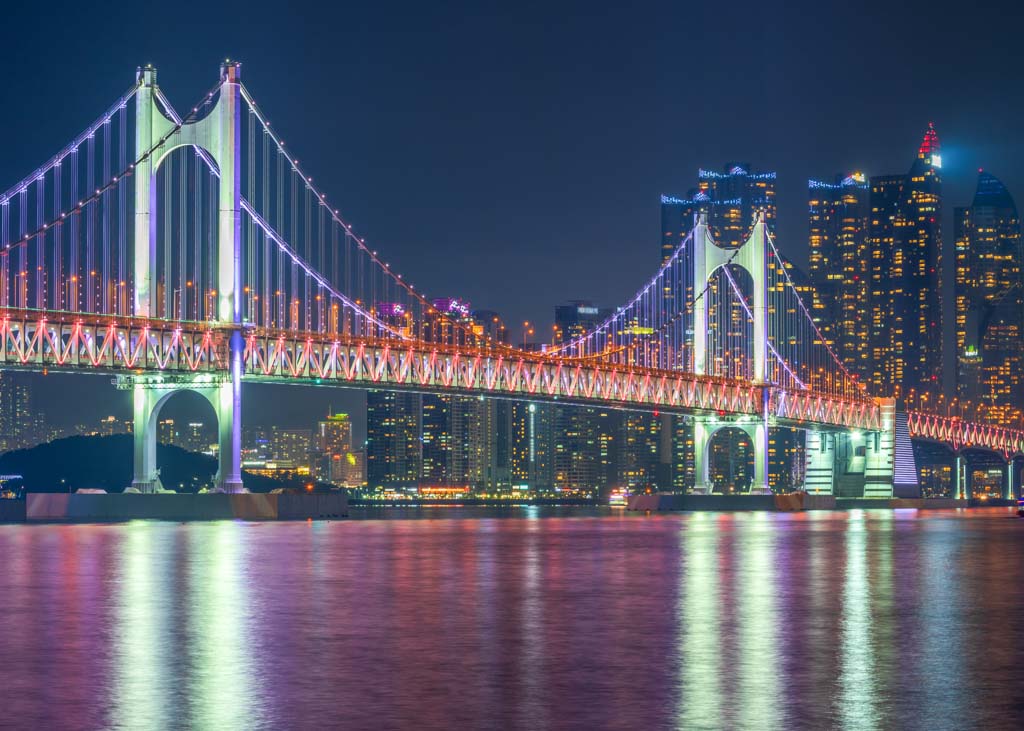 Igidae Coastal Walk and Orukdo Skywalk
Time needed: 3 hours
Walk distance: 4.7km
The Igidae Coastal Walk is centrally located. It's a great alternative to visiting Haedong Yonggungsa Temple on day 2 of your Busan itinerary.
This scenic walk follows a well-marked path that hugs the Busan coastline from Igidae Dongsaengmal to Oryukdo Sunrise Park.
At the end of the trail, you can enjoy Oryukdo Skywalk which is a glass skywalk perched over the sea.
There are numerous steep sections, and you need to come prepared with water and trainers.
Taejongdae Resort Park
Time needed: 1.5 hours.
Walk distance: 5 km
Taejong Resort Park is located on the southern side of Yeongdo Island which is easily accessible from Busan.
With its famed coastal views and iconic landmarks including Taejongdae Observatory and Yeongdo Lighthouse, it's one of the best things to do in Busan in spring or fall.
Taejong Resort Park is often skipped in favor of the temples or the more popular things to do in Busan. But those who venture here will reap the rewards of spectacular scenery, and somewhat quieter trails (when compared to the other locations on this Busan itinerary).
And don't be fooled by the term "resort" in the name. It's actually a large seaside park with rocky outcrops and spectacular nature.
How to get to Taejongdae Resort Park
The best way to get here is by bus from Nampo subway station exit 6.
Hop on bus 8,30 or 113 which all take 40 minutes. Alternatively, take bus 88 or 101 from Busan Station.
Enjoy Seomyeon at night
If you're backpacking Korea and looking for nightlife in Busan, head straight to Seomyeon.
The neighborhood comes alive at night with its bright lights, street performances, and bustling atmosphere. There's shopping, partying, and a hive of activity that continues until the early hours of the morning.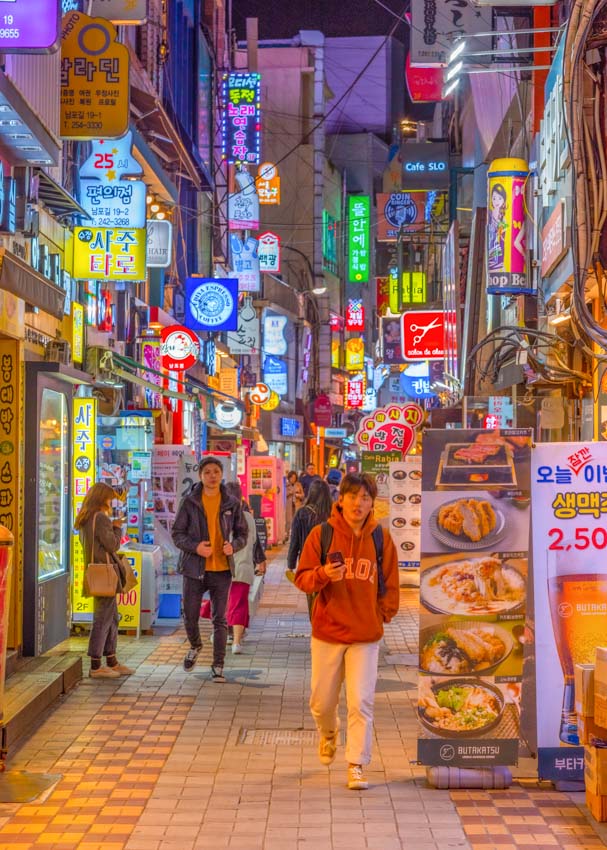 When to plan your Busan itinerary
Korea has 4 distinct seasons!
I'm talking extremely hot and humid summers (to a point that you do not want to be outdoors) and ice-cold winters which can affect what activities you do during your 3 day Busan itinerary.
You'll also need to pack carefully depending on the time of year you visit. Here's my complete packing list for all seasons in Korea.
Summer: Hot and humid
June to August is summer in Korea and whilst it's the busiest time to visit Busan, it's not pleasant!
If you're familiar with high humidity and you can withstand the heat, then you'll be ok. But, it's a sticky kind of hot.
I spent two summers in Korea and only went outdoors when I really had to.
Domestic travel is at an all-time high during the summer due to school holidays so expect inflated prices and lots of crowds as many families plan their vacations to Busan during this time.
READ MORE: 17 THINGS I LOVE ABOUT KOREA
Fall: The best time to visit Busan
The fall season from September to November is one of the best times to visit Busan! The weather is pleasant with low humidity and comfortable temperatures.
It's a great time to be outside and the city is filled with bright orange and red leaves. Try to avoid visiting Busan during Chuseok (Korea Thanksgiving) as many shops will be closed and the tourist attractions are generally very busy.
Busan in winter: Freezing cold
If you enjoy the cold, visit Busan during the winter from December to February. But be warned, the temperature can reach below 0!
Korea's winter is icy and freezing cold and while many people flock to the northern part of the country to go skiing, Busan doesn't get much snow at all.
There are a lot of things to do in Busan in winter, but you may not be able to do as much hiking or outdoor exploring as you would have liked to.
Spring: Beautiful time to visit Busan
March, April, and May are my favorite months to visit Busan. It's spring in Korea and the best time to be outside, hiking, and exploring the streets.
March is still cold but the weather slowly heats up toward the end of the month. Cherry blossoms line the streets of Busan during the first weeks of April which attracts tourists in their numbers.
READ MORE: THE BEST SKI RESORTS IN KOREA
Where to stay in Busan
No matter where you choose to base yourself for your 3 days in Busan, you're never too far from a beach-side attraction, vibrant street market, or coastal walk.
Haeundae Beach
Haeundae Beach is my favorite place to stay in Busan.
The mile-long stretch of golden sand is one of the best-known beaches in South Korea, and there are lots of things to do in the Haeundae District.
If you're looking for a luxurious place to stay in Haeundae, Park Hyatt should be top of your list. This five-star property boasts touches and offers guests spectacular views over the South Korean coastline from the Sky Lobby or their accommodation.
Traveling on a mid-range budget? Shilla Stay is great value for money given its prime location: it's just a minute's walk from the ever-popular Haeundae Beach.
If you're backpacking Busan, MAMA Guesthouse is a hit with budget travelers. It's located right next to Haeundae Market and the friendly owner will make you feel at home.
Seomyeon
Seomyeon is Busan's answer to Hongdae in Seoul. It's very much at the beating heart of Korea's second-largest city.
If you like to be in the thick of things, then you may want to consider spending your 3 days in Busan here.
Looking for the best place to stay near Seomyeon? Lotte Hotel Busan will exceed your expectations. This luxurious hotel is ideally placed if you want to explore this lively part of town from dawn till dusk.
Are you traveling to Busan on a mid-range budget? Hotel Kyungsung comes with all the bells and whistles and the front desk staff are known for exceeding guest expectations. The location is central and all accommodation at this three-star property is kept squeaky clean.
If you're traveling on a budget, Seri Inn Guesthouse offers a good range of accommodation choices to suit your budget! The location is superb: it's within striking distance of bustling Bujeon Market and well-connected Seomyeon Station, making it super simple to get around the city.
Nampo
Located in southern Busan, Nampo-Dong is bordered by the Nakdong River to the north.
Nampo-Dong is popular with students and this historic part of downtown Busan has a welcoming and local feel.
The best place to stay in Nampo on a mid-range budget is Nampo Hound Hotel Premier. The three-star hotel makes the ideal base for guests from all over the globe, as it has a lounge, a garden, and a restaurant and bar with an outdoor terrace. Be sure to book a room with a view of the city!
K79 Guesthouse is just the spot for travelers on a budget. Guests will appreciate the Korean feel of the property, which has delightful, quirky touches like hanging egg chairs or seats shaped like dice, textured wood-effect flooring, and faux foliage or flowers draped across the ceilings.
Gwangalli Beach
Gwangalli Beach lies to the west of Haeundae Beach and like its neighbor it boasts an attractive curve of fine golden sand.
The presence of Gwangan Bridge ensures it retains a big-city feel, however, and there is plenty to do during daylight hours as well as at night.
Arguably the best hotel in Busan for coastal views is H Avenue Gwanganri Beach. Room types range from comfortable doubles to executive suites, and some even have private balconies for kicking back while soaking up those stunning ocean vistas.
Budget travelers will love Wood House Hotel near Gwangalli Beach. If there's one factor that sets this above the rest, it's the generous hospitality of the owner. The large private rooms offer great value for money and a tasty breakfast is included in the price.
How to get to Busan
Busan lies in the east of South Korea and is easily connected to the rest of the country thanks to the impressive transportation network.
Getting to Busan by bus
If you're backpacking Busan on a budget, you may want to consider taking a bus. Not only are they super comfortable and spacious, but they're also affordable.
The trip from Seoul to Busan by bus takes just over 4 hours (depending on traffic in Seoul) and costs $20.
Getting to Busan by Train
For a quicker trip, hop on the lightning-fast KTX fast train which takes under 3 hours and costs around $50.
Getting to Busan by Plane
You can also fly to Busan but this is the most expensive option. It takes time time and effort to check-in, board, fly and wait for your luggage. The KTX train is often quicker!
READ MORE: 19 THINGS YOU NEED TO KNOW BEFORE MOVING TO KOREA
Is Busan worth visiting
I guess this might be the most important part of the entire post: is it worth going to Busan?
I had time on my side, so yes – I'm glad I spent 3 days in Busan.
But as I mentioned earlier, I had initially planned for 5 days and after 3, I was ready to move on to the next destination.
If your time is limited, you may want to consider which destinations are a must-do in Korea. Seoul is one of them!
There's just something about the capital city and it's one of the most fascinating places I've ever visited. So, you should definitely allocate at least 5 days in Seoul (I recommend 7 days).
And then there's Jeju Island which is equally as impressive, with its striking natural formations and quirky museums.
If you have less than 10 days in Korea, give Busan a skip and visit Seoul and Jeju instead. But if you have more time, then it is worth a visit.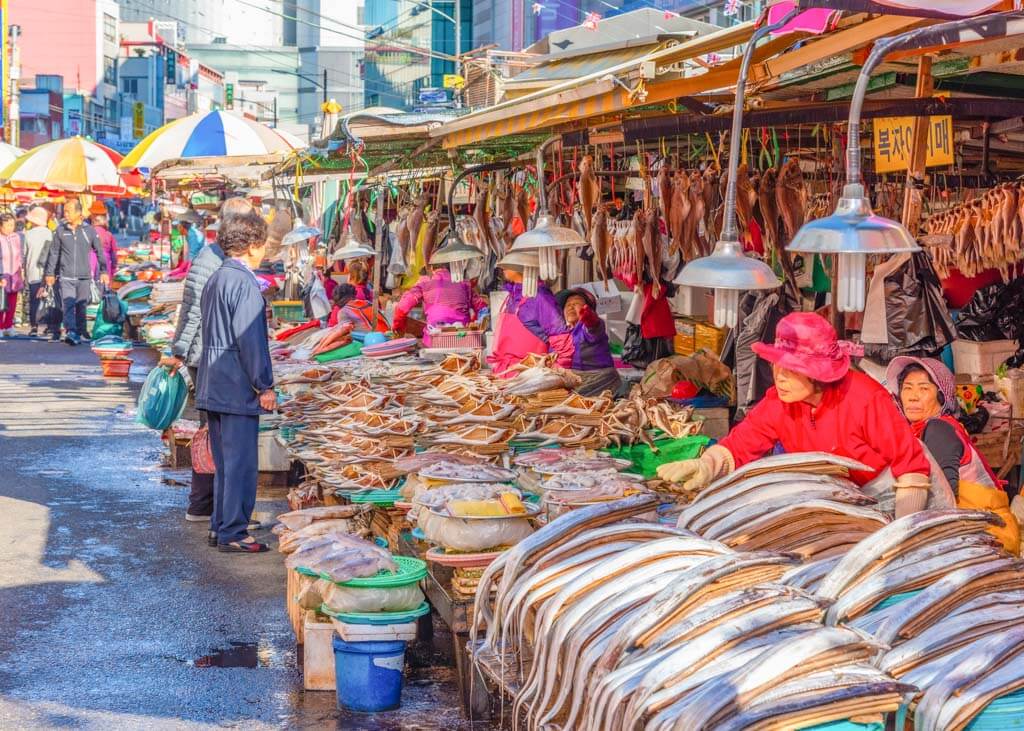 Frequently Asked Questions
How many days in Busan?
I recommend spending 3 days in Busan. This is enough time to see all the main attractions.
What to do in Busan?
If you're planning your 3 days in Busan, be sure to visit Gamcheon Cultural Village, Gwangalli Beach, Haeundae Beach and Spa Land.
Essentials and etiquette for your Busan itinerary
I'm not quite done with this 3 days itinerary for Busan!
Here are a few more tips.
Escalator etiquette: Always stand on the right and walk on the left. Always!
When packing for Korea, consider not only the weather but the local customs as well. For example, exposing your shoulders (and chest) is not ok in certain environments.
Ensure you have cash on you when you're walking through the markets in Busan as they don't have card facilities. You can easily draw from the ATMs.
Tipping in Korea is a big no-no. And don't offer – it's seen as an insult!
Download Google Translate – you'll need it.
In Korea, everything starts later and is open later. People only appear from their apartments after 10 am but they'll be up until midnight, including the children!
READ MORE: THE BEST THINGS TO DO IN JEJU ISLAND
Final thoughts on a 3 day Busan itinerary
Busan is a leading tourist destination in Korea and is loved by locals thanks to its glorious coastline.
---
Have you been to Busan? Is there anything you'd add to this 3 days Busan itinerary, or do you have any questions about your trip? Let me know in the comments section below!
Planning your trip to South Korea? Check out my other posts!
Did you find this post helpful? Save it for later on Pinterest!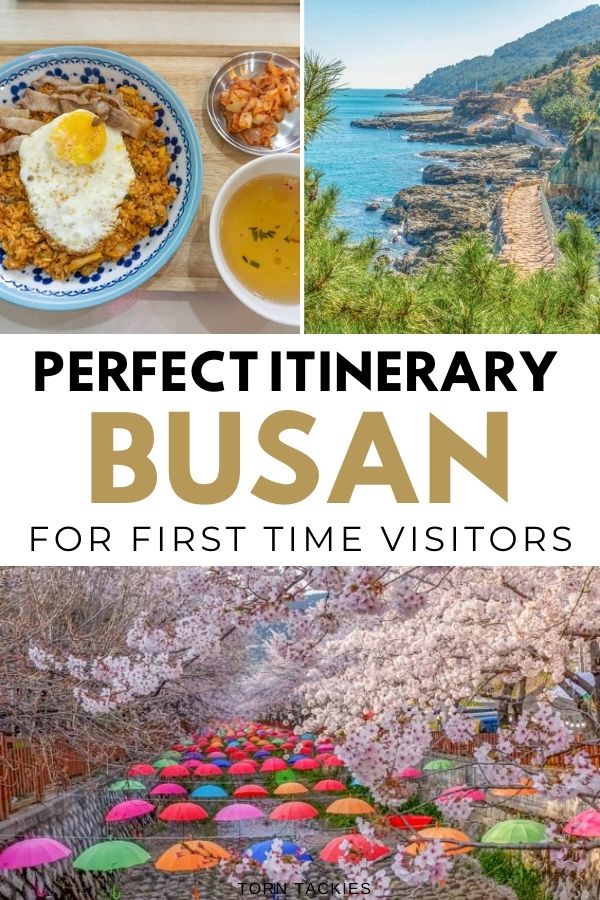 There is a really good chance that this post contains affiliate links. If you click one of them, I may receive a small commission at no extra cost to you. As always, views are my own!