Do I need an international driver's license to rent a scooter in Bali?
Is it safe to drive a motorbike on the island?
How much is a Bali scooter rental?
I had all these questions, and a whole lot more, when I first arrived on the island.
This guide to renting a scooter in Bali covers absolutely everything you need to know so that you stay on the right side of the law. It also includes the latest updates on the scooter laws on the island.
From who should (and shouldn't) rent a scooter to what documentation you need, costs, and more, here's everything you need to know about scooter rentals in Bali.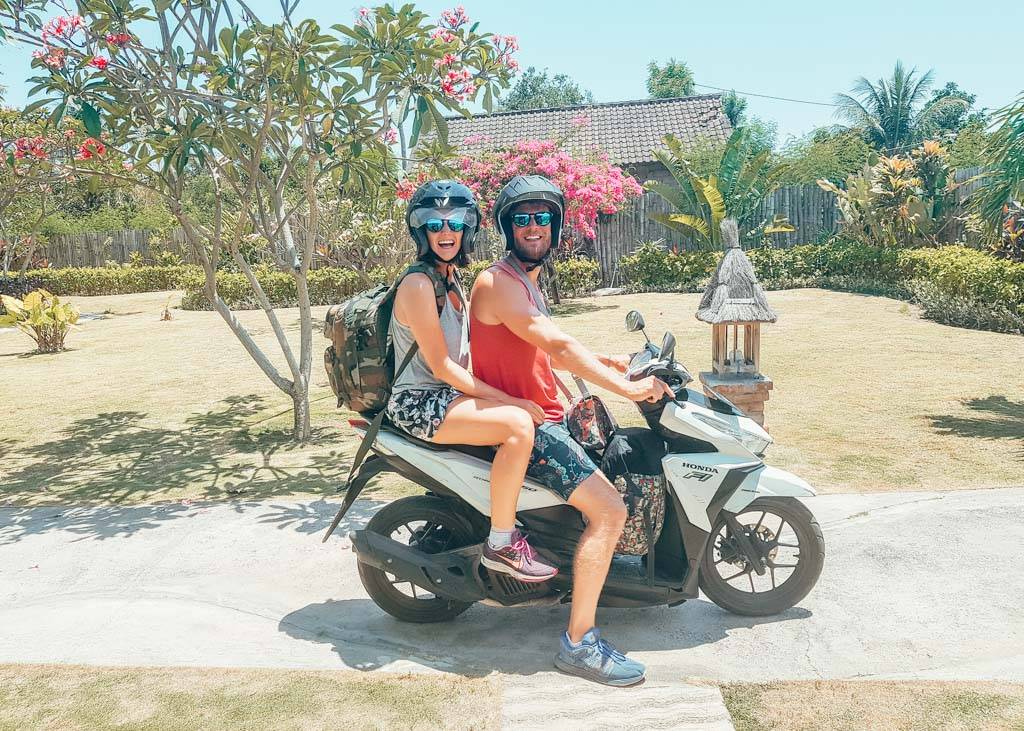 Torn Tackies contains affiliate links. If you make a purchase using one of these links, I may receive compensation at no extra cost to you. See my disclosure for more information.
New laws about renting a Scooter in Bali
Scooters have made headlines news in Bali over the past couple of months.
This is due to the increasing number of traffic violations and accidents involving foreigners.
As a result, the governor wants to impose stricter rules about renting scooters in Bali.
However, this is all in talks, and there are currently no bans for tourists renting mopeds in Bali.
Documents you need to rent a scooter in Bali
International Drivers License
Passport (I always hand over a copy instead)
Address to your hotel in Bali
Email address and contact number
Cash (Indonesian Rupiah)
Should you rent a scooter in Bali?
Yes, you should definitely rent a scooter in Bali. It's the best way to explore the island and find hidden gems in Bali.
You'll also save lots of time as traffic is crazy. If you're driving a scooter, you get to skip the long queues of cars and buses.
But it's not for everyone, and you need to know how to ride one as the roads can be dangerous.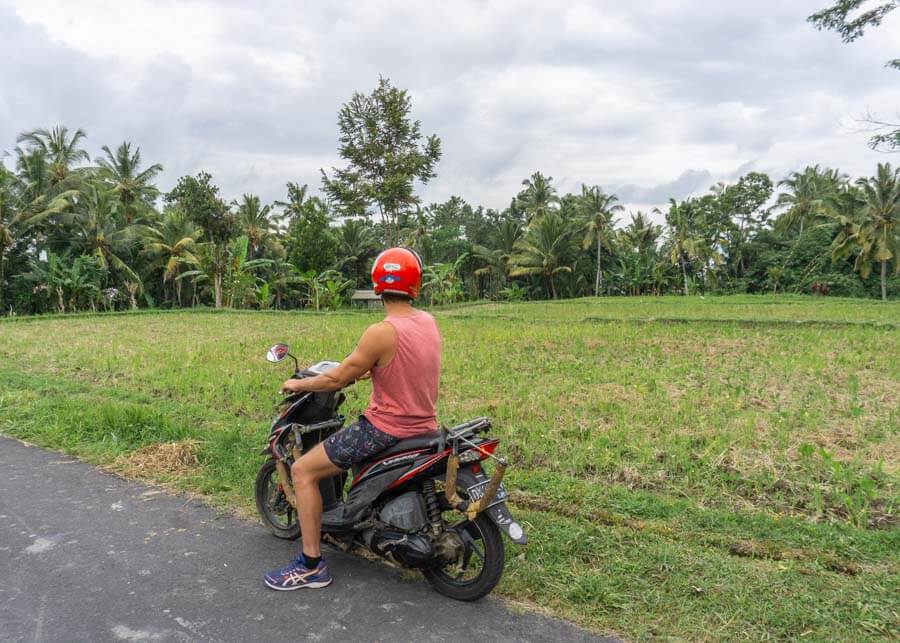 Take caution when learning to drive
Never driven a scooter before?
No fear; just give yourself some time to learn.
If you only have a few days in Bali, don't rent a scooter, as you will not have enough time to practice.
If you're here for a longer vacation, find a quiet space in the area where you stay in Bali and familiarize yourself with the scooter first.
They're really easy to drive but can be risky if you're not comfortable with the accelerator and brakes.
Also, if this is your first time driving a motorbike in Bali, don't drive with any passengers. This is just completely irresponsible, as it's far more difficult and dangerous.
Who shouldn't drive a scooter in Bali
If you're an anxious driver or not confident on a scooter, do not rent a motorbike in Bali.
It can be overwhelming when you have hundreds of bikes surrounding you at an intersection. By hesitating or making a wrong move, you could put others at risk.
In that case, don't drive in the busy parts of Kuta, Seminyak, and Canggu if you have zero experience driving a scooter in Bali.
Seriously, these areas are choc-o-block full!
There are scooters and cars coming at you from all directions, and it can be very dangerous. Also, if you drive overland, there are many trucks, and the roads are also busy.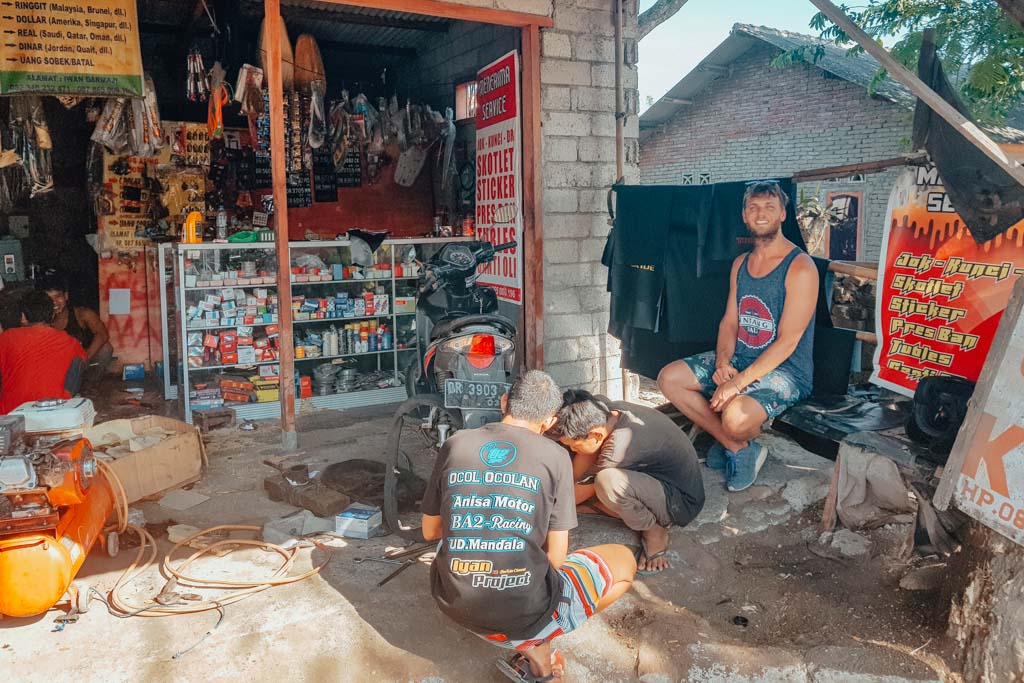 9 Things you need to know when renting a scooter in Bali
If there's one thing you take from this post, it's to err on the side of caution when renting a scooter in Bali.
Remember that you're a tourist in a foreign country.
Even if the laws aren't enforced – and even if the police are corrupt – you still need to respect their rules.
Whether you're looking for a short-term or long-term Bali scooter rental, here's absolutely everything you need to know!
1. Always have your International Driver's license on you
You need an international driver's license to drive a scooter in Bali. It's the law.
This does not need to be a motorbike license. Any vehicle license will do, but it must be converted to an international license.
Always keep this license with you.
The reason why there is so much confusion around this is that the Bali scooter rental shops don't actually ask to see your international driver's license before you rent a motorbike from them.
They rent their scooters to anyone, no matter your age or driving record.
So yes, you can technically rent a scooter in Bali without a license. This is why so many travelers get away with it.
The problem isn't renting the scooter; it's being stopped by the police. They enforce this.
With more tourists on the road, and more accidents happening, the police have become stricter, and there are now regular roadblocks throughout the island.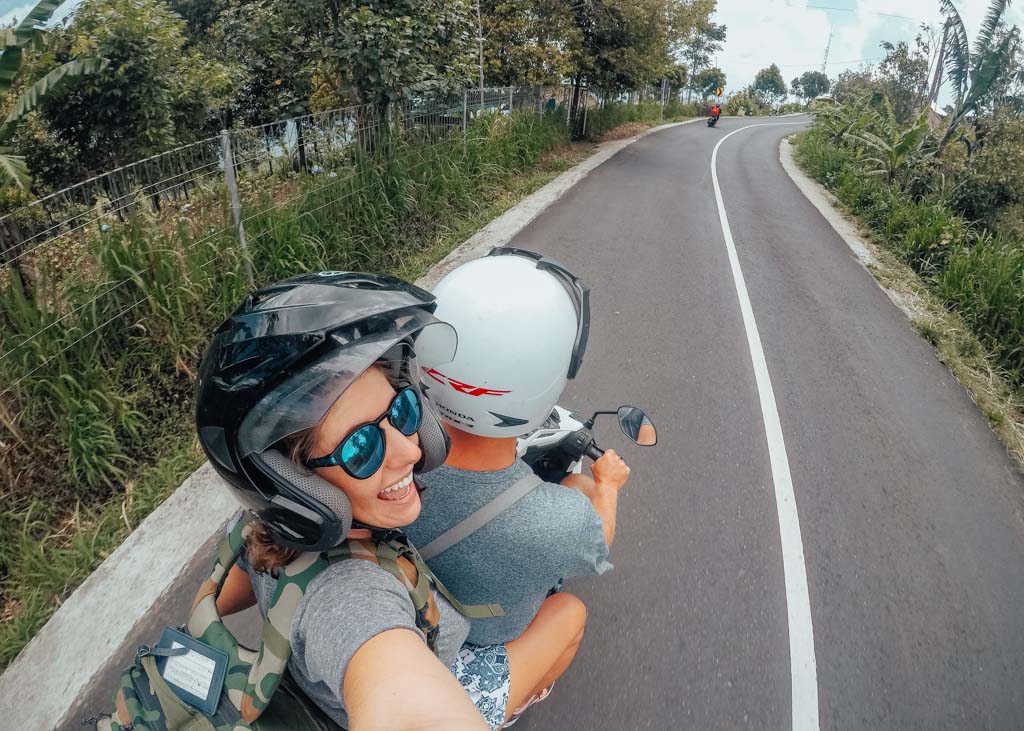 Renting a scooter in Bali without a license
Thinking you won't get stopped by the police?
I've rented many scooters in Bali over the past 10 years. Up until last year, I had never been pulled over and asked to show my scooter license.
But things have since changed!
I've been stopped many times this year, and there's an increase in police presence on the roads.
If you do get pulled over and you don't have your international driver's license on you – even if it's sitting at your hostel just 50 meters away – you will have to pay a fine.
In some cases, they may even threaten to confiscate your motorbike (worst-case scenario).
Also, if you don't have your international license on you, it's a great opportunity for the police to extort tourists and get them to pay "fines" directly to the police officer.
Where to get your license for renting a scooter in Bali
In order to get an international driver's license, you don't need to do any tests.
It's a quick, 20-minute process that needs to be done in your home country before you travel to Bali.
It's basically just a translation of your driver's license into several different languages. It's totally worth getting if you're planning on renting a scooter in Bali.
2. Check the scooter before you rent it
Do a full check on the condition of your motorbike and note all the areas where there are dents and scratches.
Check the indicators, lights, and breaks as well.
To be safe, take images and a close-up video of the scooter. This way, if there are issues when you return it, you'll have proof that the damage was done prior to you renting the scooter.
Personally, I've never been questioned about the condition of my scooters when I return them, but I know people who have been.
Taking photos is an extra precaution.
3. Wear a helmet when driving scooters in Bali. ALWAYS
Wearing a helmet should become second nature when renting a scooter in Bali.
Don't leave your house without one. It's just not worth the risk!
Bali traffic is hectic, and commuters fly past you on their scooters. There are drunk tourists who take chances, and there's been a drastic increase in accidents, especially in Canggu.
It's better to be safe than sorry.
Also, not wearing a helmet is another good excuse for the police to pull you over and give you a fine.
The locals have their own rules and can pretty much do as they please. You'll notice kids driving scooters, a whole family of 5 on one bike, no helmets. But this doesn't apply to foreigners.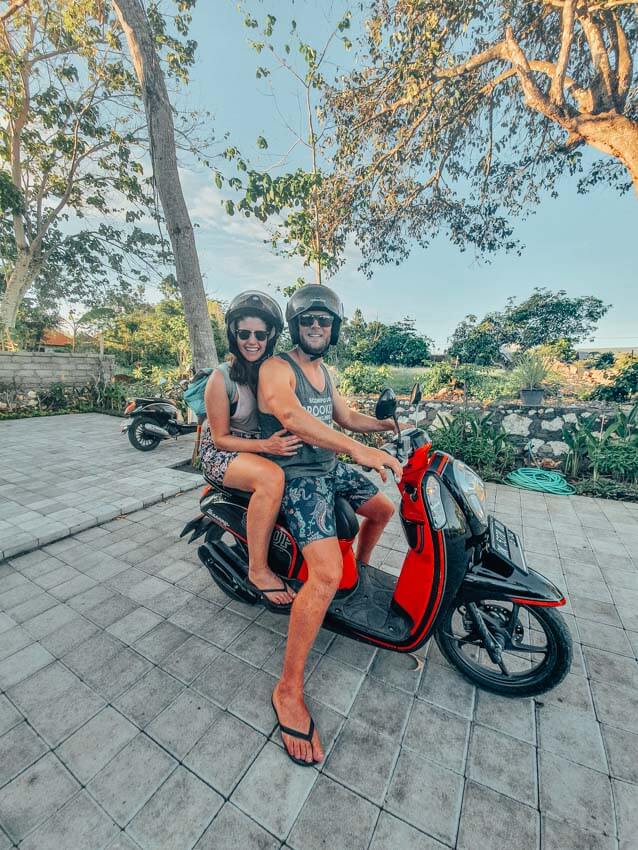 4. Process for Bali Scooter Rentals: Passports, Driver's license, and more
There are three ways to rent a scooter in Bali: through a reliable online travel agency, from your accommodation, or at the nearby scooter shop.
Each one will have a different process when it comes to renting scooters but below is my personal experience.
Documentation for renting a scooter in Bali
International drivers license
Passport
Address to your hotel in Bali
Email address and phone number
Cash in Indonesian Rupiah
READ MORE: ULTIMATE BALI PACKING LIST
SHow your driver's permit and passport
First, you'll need to show your driver's license and passport so they can capture your details.
This is not always the case, and if you have copies of these on your phone, they'll be happy to take the details from there. Most don't even ask for your international license.
I've heard that some Bali bike rental companies keep your original ID or Passport until you return the scooter. Personally, I would never leave my passport or ID with anyone!
Move on to the next shop if you feel the same.
Complete the form
Secondly, you'll sign a form with the rental company details, stating the date of your rental and the return date.
This will also include your address in Bali and contact details. Ensure the details of the scooter are correct in this form.
I always take a photo of this receipt in case I lose the physical copy.
Take photos and pay
Lastly, you'll need to pay in full for your Bali scooter rental.
If you're renting long-term, they may ask for a deposit. But this isn't the case at most places.
I've never paid a deposit for a motorbike rental in Bali. If I had to, I would also look elsewhere.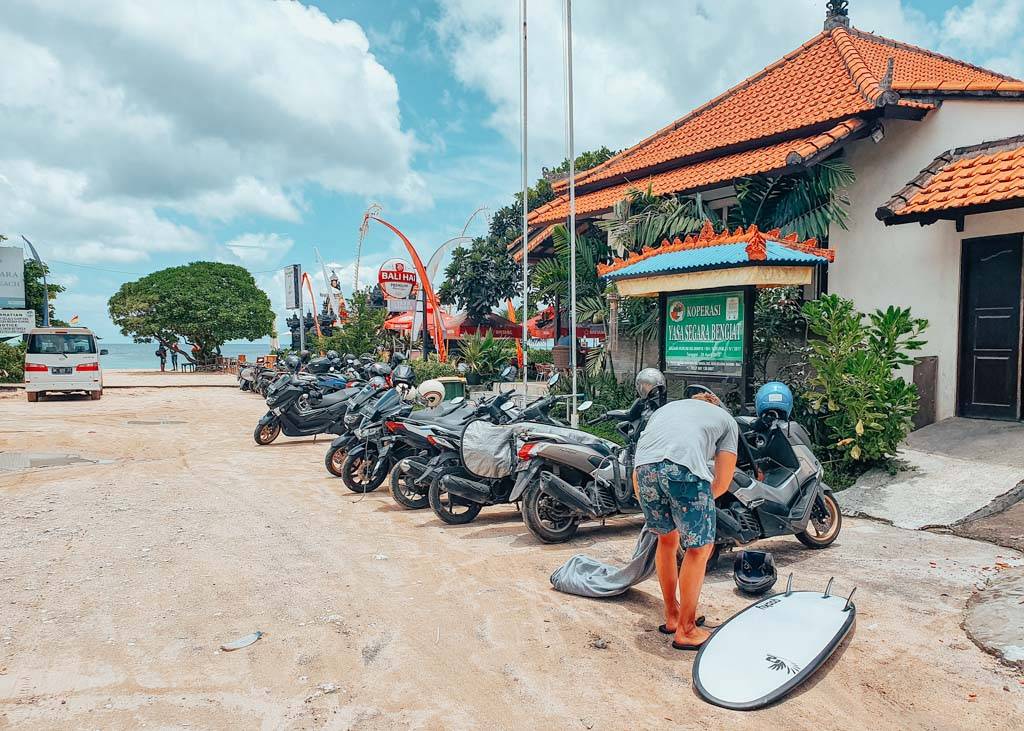 5. How to rent a scooter in Bali: Know your options
Before you rent your scooter, you should know what's out there.
Scoopy: These are pretty scooters, and they're super light and easy to drive. They aren't all that powerful, as they only have a 110cc engine, but they look good and are often the cheapest you can get.
Vario 110cc: I'd classify this at Scoopy level but more "masculine". These Bali scooters don't have a lot of power. But they get the job done and are better suited for driving around the area where you're staying, as opposed to long distances.
Vario 125cc: This is more powerful than the above two. I rented a Vario 125cc scooter for my Bali road trip, and it was perfect. But, if you're 2 people on the scooter and you're driving pretty far, you will start to get uncomfortable after a few hours of driving. There's also not much storage space under the seat.
NMax: The NMax has a 155cc engine and is the best Bali scooter rental out there. It's got lots of power and plenty of space under the seat. Also, it's super comfy! However, it may be a bit too heavy for those who haven't driven a scooter before.
5. Bali scooter rental cost
Before I rented a scooter in Bali, I had done a fair amount of research. I read everywhere that Bali scooter rentals shouldn't cost more than 50 000 IDR ($3) per day.
So, when I went in search of one to rent, I was expecting to pay just that.
But, this 50 000 IDR is the bottom end of the scale. And honestly, you won't find many good scooters in Bali at this price.
The cost is dependent on the model and age of the scooter, as well as where you rent it from.
Costs for short term scooter hire in Bali
If you're looking at a daily rental, expect to pay:
Scoopy or Vario 110cc: 70 000 – 110 000 IDR ($6) p/d
Vario 125cc : 100 000 – 150 000 IDR ($7) p/d
NMax: 100 000 – 200 000 IDR ($8) p/d
These rates are not often negotiable, especially in the popular areas such as Canggu, Seminyak, Ubud, and Uluwatu.
There's such a high demand for scooter rentals in Bali, and the owners know that if you don't rent theirs, someone else will.
If you're only looking for a one or two-day rental, it's really not worth spending your time searching for the cheapest Bali scooter rental.
Your efforts may save you 10 000 IDR ($1) in total, but you'll have wasted such precious time where you could be exploring.
If you'd prefer to have your scooter delivered to your front door, you can order one here.
Costs for long-term scooter rental in Bali
If you're spending more than three weeks on the island or planning to live in Bali, it's best to dig a bit deeper. You can find some great deals for long-term scooter rentals in Bali.
I planned on spending 4 months in Bali, and so I searched far and wide for a good deal.
Below are the most common costs for long-term bike rental in Bali (but you can get lower – more on that below)
Scoopy or Vario 110cc: 1 100 000 IDR ($70) p/m
Vario 125cc: 1 500 000 IDR ($95) p/m
NMax: 2 000 000 IDR ($125) p/m
But, through community Facebook groups and referrals, I managed to find a bike shop in Sanur that offered me the below rental rates.
You can contact him via Whatsapp at +62 852 3818 1380.
It's worth spending the extra time searching for a good deal and putting in a bit more effort if you're looking for a long-term rental.
READ MORE: WHERE TO STAY IN ULUWATU
7. Taking your Bali scooter to other Indonesian islands
If you're planning on doing an overland scooter trip to other islands – Lombok is another favorite – there are a few things you need to know.
Ensure you have the original scooter papers on you. When taking ferries, you may be asked to show these. This is not always the case (I was asked for mine when going to Java), but ensure that you keep them under your seat.
Notify your rental company. It's also important that you tell the scooter rental company of your plans to explore other islands. Sometimes they do not want this, especially if they don't have the original papers.
Always have your international driving permit on you. When crossing from Bali to Java, I was asked to show mine. The standard driver's license was not permitted.
Make sure the scooter is in good condition. You'll be driving far distances on busy roads, so check that the tread on the tires is still good and that your lights and brakes are working properly.
Here's my recommended Indonesia travel route if you want to venture further from Bali.
8. Filling up with petrol
There are many petrol stations throughout Bali where you can fill up.
But the most common place to refuel is with the vendors who sell petrol on the side of the streets in old vodka bottles. They are everywhere!
The standard is 10 000 IDR ($0.6) for 1 liter. Don't pay more than this!
9. Tips for Scooter Rentals in Bali
When using Google Maps, follow the bike routes. They're often a lot more scenic with less traffic.
If you need a surfboard rack, they're easy to add to your scooter and shouldn't be an extra charge.
Remember that when driving a scooter in Bali, you stick to the left side of the road.
You'll often hear people hooting around sharp corners. This is a safety measure to warn other cars that there's an oncoming vehicle.
Keep a rain jacket/poncho under your seat if you're renting a scooter in Bali, especially during the rainy season. You can buy these from any local store for around 30 000 IDR ($2).
Don't drive with your handbag around you. There are more and more cases popping up of bags being ripped off of tourists while driving. Keep them under your seat.
Cover up or wear sunscreen when riding a scooter in Bali. You'll be surprised just how burnt you can get.
Insurance for scooter rentals
Most insurance companies require you to have a valid motorbike license in order to be covered. This means that you will not be insured with only your International Drivers Permit.
It's best to check with your insurer before renting a scooter in Bali to know what they will and will not cover.
Best scooter trips in Bali
Now that you've rented your scooter in Bali, let the adventure begin!
I found several hidden gems in Sidemen, including waterfalls and rice fields, and this is a great area to visit on your scooter.
If you're planning on exploring beaches, head straight to the Bukit Peninsula and visit these 12 best beaches in Uluwatu. This is also an awesome region to explore as the roads are less busy.
If you're looking at doing an overland trip, I suggest you start with Ubud for some yoga, before going north to Munduk, which has the most incredible views and sights in all of Bali.
Take the short ferry ride over to Java Island and hike Mount Ijen. Then drive to Red Island in Java and enjoy a few days on the remote beach where you can learn to surf.
On your way back to Bali, stop at Balian Beach. It's one of the most secluded beaches I've been to. I did this trip over 10 days and loved every minute of it!
Alternatives to renting a scooter in Bali
Not everyone will be comfortable riding a scooter in Bali. Perhaps you're visiting with your family and a scooter isn't an option.
You should consider the below alternative:
GoJek and Grab: Both Grab and GoJek have cars and scooters available. They work like Uber (but Uber isn't allowed in Bali).
All you need to do is download the app, and order your scooter or car.
The drivers take cash so make sure you have some change on you.
In certain areas, Grab and GoJek are not allowed to pick up tourists. So they will drop you off at Uluwatu Temple (for example) but you won't find a Grab or GoJek driver to take you back after.
In that case, you'll need to get a local taxi or scooter from someone in the area. These are a lot more expensive, sometimes triple the price of GoJek, but it's the only option you have if you don't rent a scooter in Bali.
Alternatively, you could get a driver and car for the day
for as little as 500 000 IDR ($30). This will allow you to explore the hot spots and travel in an air-conditioned vehicle with a local guide.
Click here for reliable transport in Bali.
FAQs about scooter hire in Bali
Do you need a license to rent a scooter in Bali?
Yes, you need an International Drivers Permit to rent a scooter in Bali. This is the law, and I have been stopped a few times by police and asked to show my license.
How much does it cost to rent a scooter in Bali?
Scooter rentals cost between 70 000 IDR and 200 000 IDR per day ($5 – $13). This is dependent on the model, the year, and the demand in the area you are looking in.
Is riding a scooter in Bali easy?
No! The traffic in Bali is intense and if you have never ridden a scooter before, you can hurt yourself and others. But if you only ride a scooter in quiet areas with little traffic, it will be easier.
---
Psst… Planning your Bali adventure? Check out these other posts!
---
Pin this!