It's no secret that Bali is on the brink of over-tourism. With nearly 7 million foreign arrivals in 2019, it's clear that it's not the chilled-out island destination it once was.
But despite this, you can still have an authentic experience if you venture off the beaten track in Bali. You might be skeptical, just like I was, but there are some true hidden gems in Bali that are well worth a visit.
Not convinced?
Keep reading, because in this guide I've detailed 7 of the best-kept secrets in Bali, as well as other destinations in Indonesia that are worth a visit if you truly want to escape the hustle and bustle of popular Bali attractions.
Can you really find hidden gems in Bali in 2023
Social media shows the good side of the attractions in Bali – the dreamy images of picturesque rice fields with mountain backdrops and the breathtaking beaches with crystal clear waters and not a soul in sight.
More often than not, these photos are taken at the crack of dawn when most people are still fast asleep.
Photoshop also does a really good job of creating this idyllic and remote atmosphere – simply edit the unwanted people, the distracting signs and power cables as well as the heaps of rubbish out of the image – and there you have it, paradise personified!
Realistic expectations of Bali secret spots
For any other traveler, who would prefer not to wake up at 5 am on their vacation, you may be disappointed when visiting these iconic areas of Bali.
I'm not a fan of the traffic and the long queues. But the worst is arriving at a destination expecting one thing and finding another. This is especially true at the Tegal Wangi Beach "cave" – which is totally not a cave, by the way.
But, there's hope!
After visiting Bali numerous times over the past few years, I was less than convinced that I'd find the remote island vibe that I was looking for. But, if you're willing to go off the beaten track to find hidden gems in Bali, you'll be surprised at what you'll discover.
My advice, give Bali a chance; when planning your Bali itinerary, try to go off the beaten path for a few days to discover a more authentic part of the island.
Bali hidden gems to add to your itinerary
1. Sidemen: Where to go in Bali for a remote stay
If there's one hidden gem in Bali that needs to be on your bucket list, it's Sidemen.
Picture rolling hills for as far as the eyes can see, palm trees, and rice terraces. This is what you'll be treated to when you arrive in Sidemen. And yes, crowd-free!
Tucked away on the east of the island, Sidemen is the epitome of an off the beaten track destination in Bali.
Driving to Sidemen, you'll immediately notice the change in atmosphere when compared to the south of the island. The traffic dwindles as you follow the winding roads toward Mount Agung, passing through several small villages.
Despite being so untouched, there's actually so much to do in Sidemen. Go white water rafting, enjoy cooking classes, or explore nearby waterfalls – Sidemen is a great base for all of these fun activities and there's no doubt in my mind that it's one of Bali's best-kept secrets.
If you want to fully immerse yourself in the spectacular setting, I recommend booking a stay at a guest house in the mountains. These are only a stone's throw away from the village yet provide a secluded escape that you won't find anywhere else.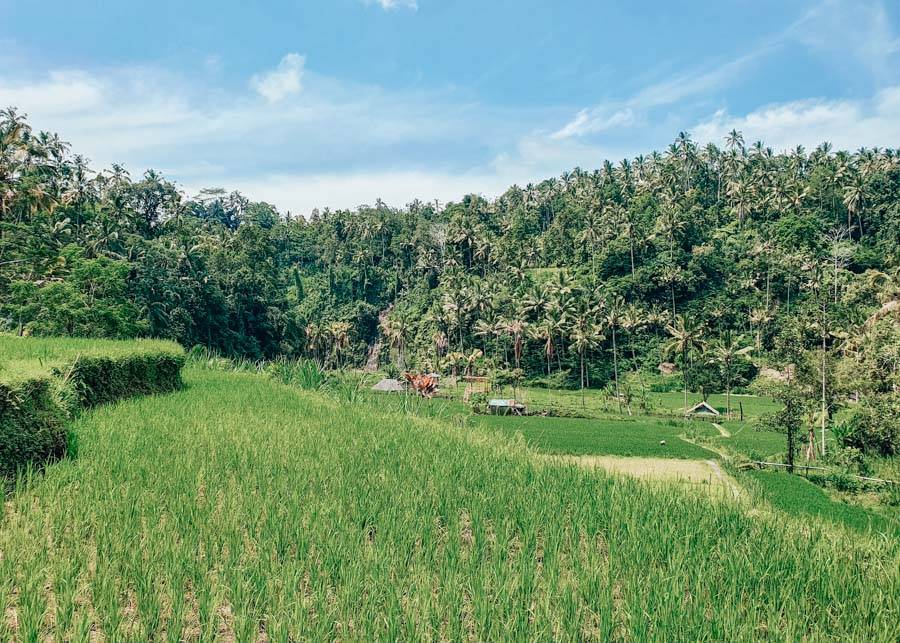 2. Munduk
When I first visited Munduk, I had zero expectations! It was an accidental stop as I was doing an overland trip to Java and needed a halfway point to spend the night.
I loved Munduk so much that I ended up staying here for 3 nights, exploring all that the charming village has to offer.
Recently, Munduk has become Insta famous thanks to the numerous bird nests and swings as well as the picturesque Handara Golf Gates and Ulun Danu Temple
What most people don't realize is that these bucket list locations in Bali are not found in Munduk itself, but rather about 30 minutes drive from the village. There's so much more to this hidden gem in Bali than what meets the eye and you need to spend a few days here to really discover the true side of Munduk.
Get lost amongst the rice fields, go trekking through the forests, chat with the local people, and enjoy unspoiled views from your homestay. These were my highlights from my time in Munduk!
As with Sidemen, Munduk is another place where you can find super affordable accommodation high up in the mountain with panoramic views. This is the perfect place to sit back, relax, read a book, and take in the tranquil atmosphere of the island.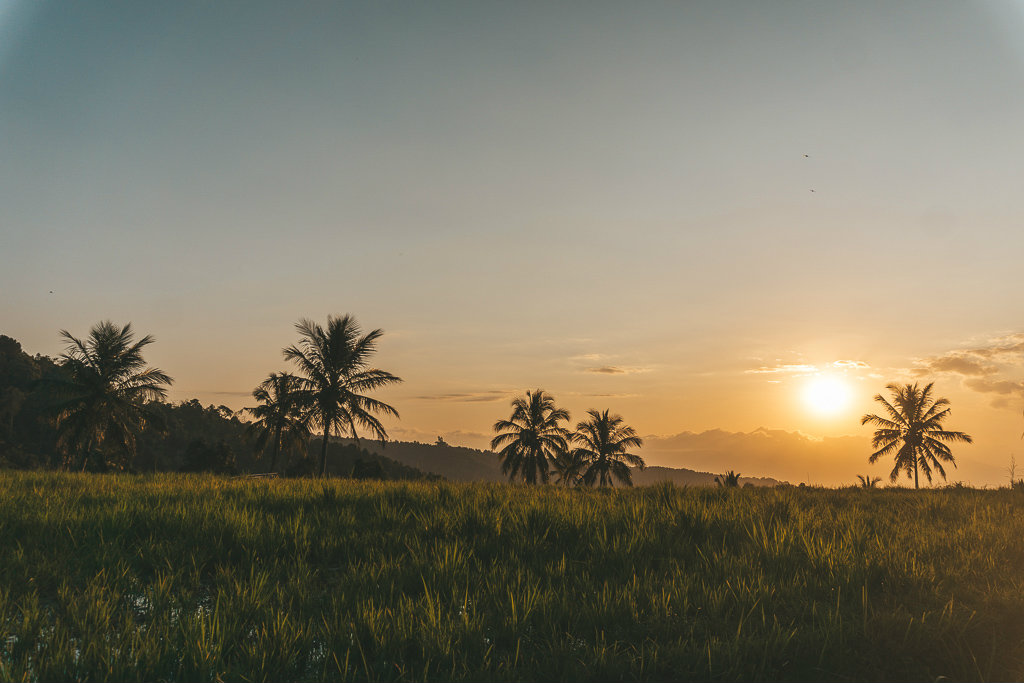 3. Balian Beach
I'm constantly blown away by just how diverse and unique every village in Bali is. Each has its own vibe, be it festive or relaxed, or perhaps even spiritual.
I loved the chilled-out atmosphere of Balian Beach and if you're looking to escape the hustle and bustle of the beaches in Canggu, then head to this hidden gem slightly further up the coast.
This black sand beach is the perfect getaway if you're looking to enjoy the summer sun whilst sipping on some Bintangs and avoiding the crowds.
If you're a yogi, there are several awesome yoga retreats where you can join for a daily yoga class. The good news is you won't be fighting for a spot as you'll most likely be the only person there!
The surf's also good here so expect to spot a few surfers, but other than that, there's not much going on in this sleepy seaside village in Bali.
4. Jatiluwih Rice Terrace
Bali wouldn't be Bali without rice terraces and you don't have to venture too far to find them on the island – They're everywhere. And yes, they are as stunning as the photos portray them to be, even those Bali haters will agree with me on this one!
Jatiluwih Rice Terrace stands out above the rest and is far more impressive than all the other rice fields on the island.
This hidden gem in Bali is fast becoming THE place to visit. You know, the one where everyone goes to skip the crowds that flock to the more popular Tegalalang Rice Terrace near Ubud.
The good thing is that Jatiluwih is so vast and if you just follow one of the many small trails that lead off the main path, you'll soon find yourself amongst the fields with no one in sight.
5. Nyang Nyang Beach
No trip to Bali is complete without exploring some of the best beaches in Uluwatu.
They are arguably the most breathtaking beaches on the island with powdery white sand, crystal clear waters, and large towerings cliffs as the backdrop.
But most beaches on this side of Bali are tourist hotspots with Padang Padang and Suluban Beach being the most popular.
The least popular? Nyang Nyang Beach!
The reason for this is most likely because of the strenuous trek down the cliff face to reach the golden shores. It's not for the faint-hearted and hence it's a good idea to come prepared to spend a few hours here.
But, if you make the extra effort to get to Nyang Nyang, you'll be rewarded with an empty stretch of beach which you can enjoy all to yourself!
Go for a long stroll along the water's edge, catch up on some reading, work on that tan, or swim in the turquoise waters, just make sure you bring refreshments and snacks as there are no vendors or sun loungers to rent – and it gets hot down there.
READ MORE: THE BEST PLACES TO STAY IN ULUWATU, BALI
6. Balangan area: Bali's best kept secret
So, I wouldn't quite call Balangan Beach a Bali hidden gem. Whilst it's my favorite beach in Uluwatu, the beach itself attracts tourists in their numbers thanks to the iconic viewpoint.
But it isn't necessarily just Balangan Beach that I'm a huge fan of; it's the entire area of Balangan. It's an awesome place to base yourself in Uluwatu, away from the crowds, and off the beaten track.
And yes, I would know as I spent 6 weeks in Balangan and it's one of the best locations for finding hidden places in Bali.
The vibe here is super relaxed, with lots of open spaces filled with palm trees. There's no traffic, and cows and chickens roam the streets. Not only is it close to several beaches but it's also home to some of the best local warungs on the island.
Many people visit Balangan Beach on an organized day tour which generally includes stops at other beaches in the area, but if you're looking to escape the crowds, I highly recommend that you spend some time here.
7. Brunch at St. Regis
I'm a budget traveler and quite frugal with my money.
But, I'm willing to splurge on once-in-a-lifetime experiences, like a scuba diving liveaboard in the Komodo Islands which put a huge dent in my budget during my 2-month backpacking trip through Indonesia!
I also love food… and champagne.
So, when my 30th birthday approached, my boyfriend knew just how to spoil me: Brunch at the St. Regis Resort in Nusa Dua!
No, Nusa Dua isn't quite off the beaten track but I've included this as a Bali hidden gem as this experience isn't as widely advertised as others you'll find.
To date, brunch at St. Regis is one of the highlights of my time in Bali, no questions asked.
It was more than just a brunch; it was a 4-hour lavish experience where we indulged in over 20 courses of the most incredible food I've ever eaten!
Everything was on point from the service to the free-flowing sparkling wine to the presentation of the meals. If you're celebrating a birthday, an anniversary, or you simply want a memorable experience in Bali, head to St. Regis.
And yes, I totally rocked up in style at one of the most extravagant 5* resorts in Bali: On my scooter!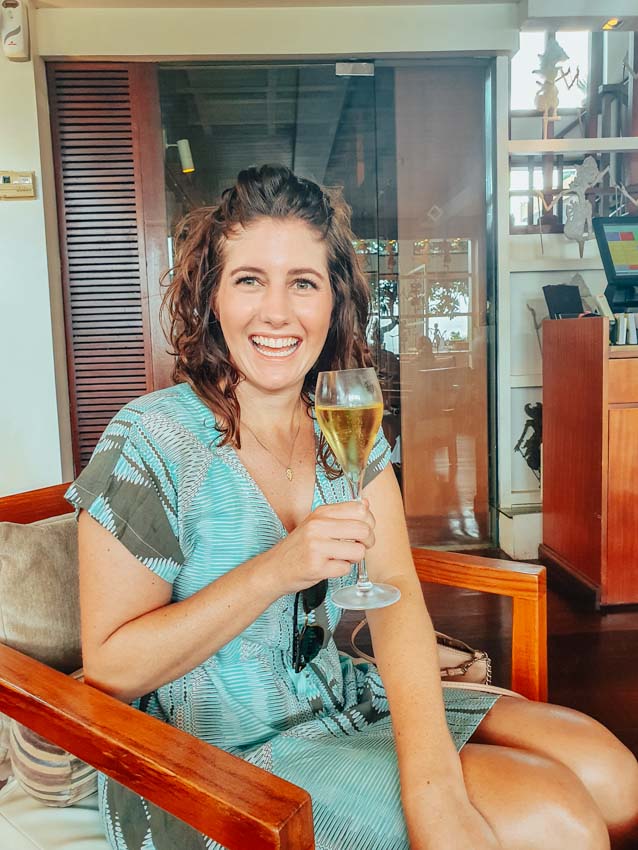 Not so hidden gems in Bali
I'm including this section because I feel that many places that were once considered hidden places in Bali are no longer so.
Melasti Beach
With a new beach club right on the beachfront, there's no way Melasti Beach will maintain the off the beaten track appeal it once had.
There's massive development in the area and builders are excavating the entire cliff to create roads that are sure to cater to high-end hotel chains and resorts.
Having said that, as it is now, I love Melasti Beach and it's one of my favorite beaches in Uluwatu as the water is sparkling shades of turquoise and the sand is incredibly soft.
To get away from the crowds, walk further away from the beach and you'll find a small warung where you can hang out and rent a sun lounger.
But it's certainly not off the beaten track in Bali.
Gili Islands: Once a hidden place in Bali
The Gili Islands, found just off the coast of Bali, are yet another one of my favorite places to visit. But, just because they're my favorite, it doesn't mean that they're Bali hidden gems.
Because they aren't!
Gili Trawangan attracts scores of backpackers and has a festive nightlife scene. On the other hand, Gili Meno and Gili Air are far more relaxed and attract a mature crowd and honeymooners.
There are no motorized vehicles allowed on the islands and the only way to get around is to walk or ride a bicycle.
Overall, the atmosphere on the Gili's is so different from that of Bali, and whilst it isn't quite as remote as the likes of Sidemen or Munduk, the islands have a unique charm that's worth checking out if you have time.
Pemuteran
The fishing village of Pemuteran was another stop on my overland trip to Java. It's conveniently situated on the north coast of West Bali, close to the West Bali National Park and Menjangan Island.
I was pretty excited to check out this supposedly hidden gem in Bali. But unfortunately, I was underwhelmed. Whilst I enjoy visiting black sand beaches, I found this to be too rocky and extremely polluted.
It's a fishing village so don't expect the same sort of scenery you'd find at one of the more tropical beaches on the island and I only advise a stay here if you happen to be planning a trip to this side of the island.
I did, however, discover the absolute best place to eat in Pemuteran: Warung Setia. The food is incredible and well worth a visit, even if you're just driving through the village.
Nusa Penida
Just a 30-minute boat ride from Bali, Nusa Penida is the biggest of the 3 Nusa Islands as is home to the iconic T-Rex shaped cliff and Kelingking Beach.
It's the go-to island for backpackers and many tourists include a day trip to Nusa Penida as part of their Bali itinerary.
Previously – before Nusa Penida became an overnight sensation – there were no proper roads and getting around the island was difficult which just added to that off the beaten track vibe.
But things have since changed and Nusa Penida is now one of the most popular places to visit in Bali.
Ferries are constantly making their way back and forth between Bali and Nusa Penida, bringing scores of tourists with them. It's also a lot easier to travel around the island as the roads have been improved. As a result, there's traffic and congestion at all of the tourist sites.
If you do choose to visit Nusa Penida, ensure you spend a few nights here as it's a hot spot for day tours from Bali and gets super crowded from 10 am-4 pm. Thereafter you can enjoy the island pretty much crowd-free!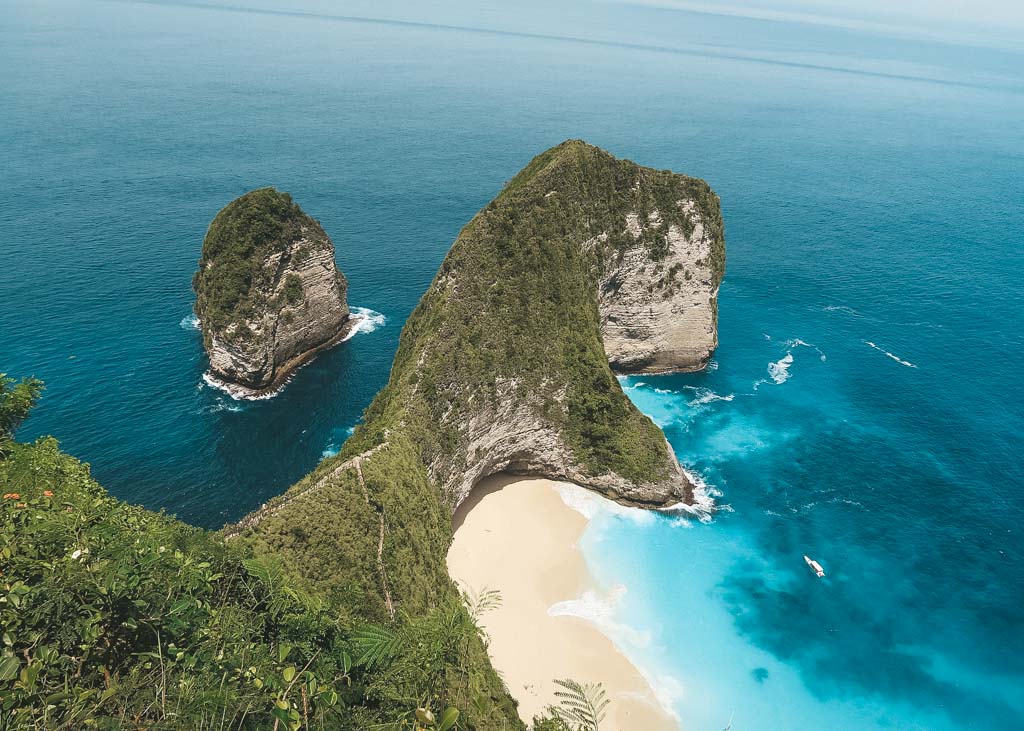 More hidden gems in Indonesia
Bali is the crown jewel of Indonesia and despite the number of travelers visiting the island, it is possible to avoid the crowds if you go off the beaten track.
If these hidden gems in Bali aren't quite as remote as you were hoping for, then I suggest that you look a bit further off the coastline and book a quick (and cheap) flight to one of these nearby islands. Here, you'll set your sights on some of the most iconic landmarks of Indonesia.
Lombok
Kuta in Lombok (not Kuta in Bali) is one of my favorite places to explore. The beaches are incredible, there's not much development going on and it's pretty remote.
The rugged and raw coastline makes Lombok an adventurer's dream destination without being too rural and there are several awesome beach bars and cafes that are well worth a visit.
Flores Island
If you're looking for a true adventure, head to Flores Island but make sure you go further than just Labuan Bajo and the Komodo Islands.
Flores has so much to offer from the incredible volcano hiking up Mount Inerie (with no one else in sight) to snorkeling at 17 Islands Marine Park in Riung.
You'll be discovering hidden gems with very few other tourists leaving you with a newfound appreciation for Indonesia.
READ MORE: THE PERFECT 3 WEEK INDONESIA ITINERARY
Sumba Island
A trip to Sumba is only recommended for the adventurous souls looking to truly go off the beaten track.
I'm talking no wi-fi, no electricity, and no running water – this is the way I experienced Sumba Island and I loved every minute of it!
Lakey Peak in Sumbawa
Long known as a surfer hotspot, Lakey Peak is one of those destinations where you can switch off completely. No resorts, no fancy restaurants, and no crowds.
Whilst the beach isn't quite as picturesque as those in Bali or Lombok, the vast landscapes and remote atmosphere make it an awesome place to visit. I'm no surfer, but I absolutely loved this hidden gem on the east coast of Sumbawa.
Red Island in Java
Java Island is yet another crowd favorite in Indonesia. With cascading waterfalls and majestic volcanoes, what's not to love.
On the east of the Java lies a hidden gem, Red Island, or Pulau Merah.
Getting here is a journey in itself. In my search to go off the beaten track in Bali, I drove overland to Java and headed to Red Island where I spent a few days exploring the coastline and lazing on the beautiful beach, sipping on coconuts (and Bintangs, of course!)
How to go off the beaten track in Bali
The best way to explore is to rent a scooter in Bali and go on a mission to find these hidden gems, and you're bound to find a few more while you're at it!
But this isn't always possible if you're traveling in a big group or with your family. If this is the case, get a driver and car for the day
. This will allow you to come and go as you please, and not be restricted to your guest house.
If you go off the beaten track in Bali, you'll notice that online ride apps such as Grab and GoJek aren't common in non-touristy areas and if you rely on this to get around, you could be waiting a long time to get to your destination.
Whilst there are regular taxis around, they're not as common and you may struggle to find one, especially in the more remote areas.
Click here for reliable transport in Bali.
Thoughts on discovering hidden places in Bali
I hope I've convinced you that it's possible to go off the beaten track in Bali to explore parts of the island that are far off the standard tourist path.
Whilst it's not quite undiscovered territory, there are parts of Bali that still resemble how the island once was, before the crowds.
---
Psst… Planning your trip to Indonesia? Check out my other posts!
---
Pin this