If you're heading to Indonesia and looking for an authentic, laid-back atmosphere surrounded by like-minded people, head straight to Balian Beach, Bali.
My visit here was a bit of a spur-of-the-moment decision, with not much planning involved. But Balian Beach is now of those places I look back on with such fond memories and happy vibes.
Here's my guide to exploring Balian Beach in Bali, what you need to know, and more!
About Balian Beach, Bali
Bali is on every traveler's bucket list. And rightly so. The island is surrounded by stunning beaches with great waves.
Unfortunately (or rather, fortunately), Balian Beach is overshadowed by the more popular destinations on the Island.
Balian Beach doesn't have the beach clubs like Seminyak. It doesn't have the shopping like Kuta. And it's not a diving mecca like the Gili Islands.
But, this small, charming village has a few things that those other areas don't.
Why you should visit Balian Beach
It's not crowded, there's no traffic, and there's no loud music around every corner.
If you've been to Bali, you'll understand the desperation of those seasoned travelers who want to escape the hustle and bustle of the tourist hotspots south of the island.
And I'm one of those people who enjoy a quiet, mellow vibe. If you are too, I suggest you pop over to Balian Beach for at least 2 days before heading back to the chaos of it all!
Where is Balian Beach
Balian Beach is a hidden gem in southwest Tabanan, Bali. It's about 60km west of Kuta and Ubud.
The 1.5-hour drive can take over 2.5 hours thanks to the notorious traffic on the island.
You can either get a taxi or ride a scooter to Balian Beach. I did the latter, but be careful as the road is extremely busy, and is dominated by trucks going back and forth between Java and Bali.
Why I love Balian Beach and the best things to do
1) Balian Beach isn't crowded
Arriving at Balian Beach I was surprised to find only a handful of people on the beach.
There were a few kids building sandcastles, a couple having a photoshoot, and me, in the water with one or two other surfers.
After visiting the best beaches in Uluwatu – all of which are pretty popular – I didn't think that this kind of remoteness existed at any beach in Bali!
2) Balian Beach Surfing
Balian Beach, like most of Bali's coastline, has great waves for all levels of surfers.
There are both left and right breaks and you can go for a lesson or rent a board from one of the few surf camps nearby.
3) Find your inner zen
What would Bali be without yoga?
Balian Beach is the perfect place to relax and find your inner zen! The best spot to do yoga is with Nicky at Nicky Yoga Shala.
4) You won't get haggled by vendors
I love Bali, but there are lots of places that I don't enjoy on the island. Like Kuta. and Seminyak.
There are vendors left, right, and center, all haggling you to buy memorabilia, or whatever it is they're selling.
Whilst I'm all for supporting the locals, which I do, I hate being nagged. And after the 10th person comes to sell something to me after I've said "no" a thousand times, I do get slightly irritated!
But this didn't happen in Balian Beach and it's truly a hidden gem in Bali if you're looking for some time out with no disruptions.
We lay on the beach for hours without being disturbed, and when we wanted to inquire about renting boards or buying local crafts, the vendors were so friendly which made me want to purchase something even more!
5) Go for a long walk along Balian Beach
After crossing the river mouth, you can take a long walk along the black sand beach.
There are no restaurants or beach bars lining the shore and it's a great chance to reflect on what an incredible place Indonesia is.
READ MORE: The Ultimate 3 Week Bali Itinerary
6) The sunset at Balian Beach
The sunsets here are some of the best I've seen. And the reason being that there are not hundreds of people all vying for a photo.
You can sit on the beach, with unspoiled views of the horizon ahead whilst sipping on an ice-cold Bintang!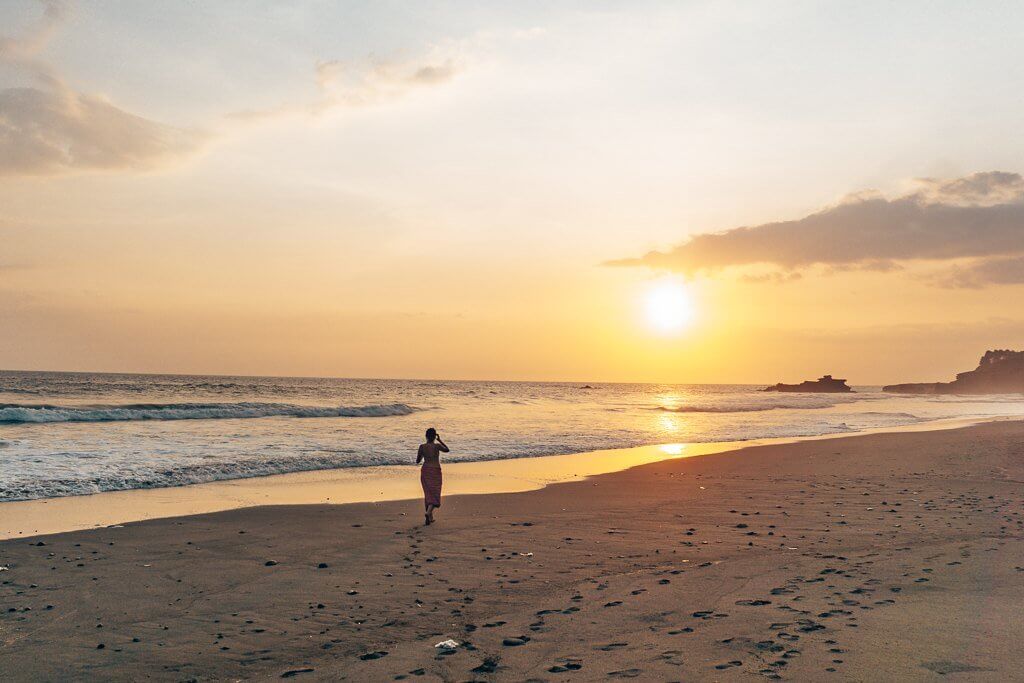 Balian Beach Restaurants
Balian Beach doesn't have the wide variety of food options as other parts of the island but you're still able to feast on both Western and Indonesian food.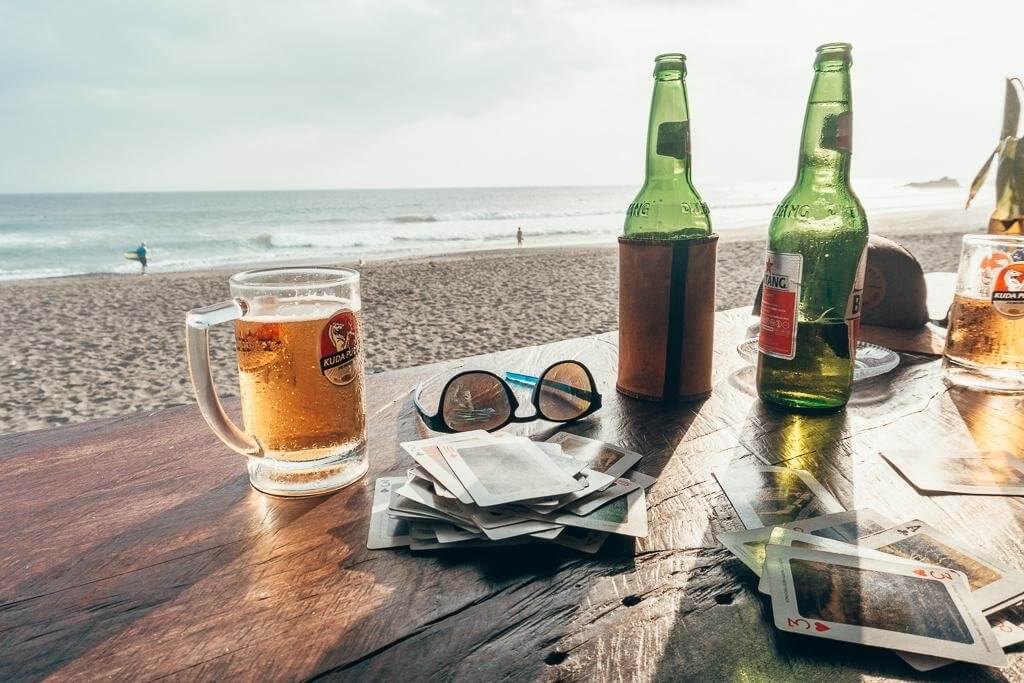 Balian Beach Accommodation
I stayed at Surya Homestay in Balian Beach and I cannot speak more highly of this place. It's close to the beach and the hosts are incredibly friendly. For only $18 per night for a double room, you'll also receive an amazing breakfast and it also includes Wi-Fi.
Here are a few other options that may better suit your budget:
READ MORE: WHERE TO STAY IN ULUWATU: THE ULTIMATE GUIDE
How Long to Stay in Balian Beach Bali
You don't go to Balian Beach to party – you go here to rest, to surf, and to escape the crowds.
I'd recommend spending 2 nights at Balian Beach (3 days). This is enough time to disconnect and take it easy before heading back to the more chaotic parts of Bali.
Balian or Medewi Beach?
Balian Beach is situated near the village of Medewi which attracts a similar crowd looking for seclusion and isolation (and great waves).
Both are beautiful beaches lined with black sandy shores. But from what I've heard, Balian has a better beach to relax on as Medewi Beach is rockier.
However, Medewi is the more popular destination of the two thanks to its long left break that attracts scores of surfers.
I didn't have any expectations before arriving at Balian Beach – it was either going to be a hit or a miss. And luckily it was a hit!
If both Balian and Medewi Beach are too chilled for your liking, and you're looking for a beach with a livelier crowd, check out Echo Beach in Canggu. It has a vibrant atmosphere, great surf and you're guaranteed to meet lots of other travelers at one of the many beach bars in the area.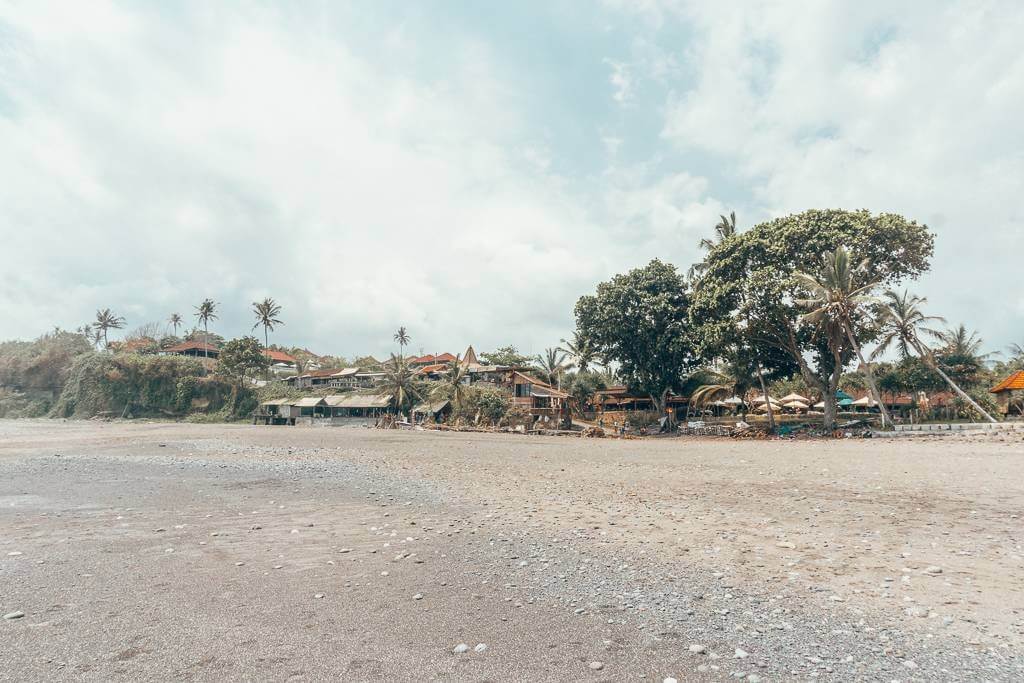 Balian Beach – The final destination of my Bali road trip
I spent 2 months in Indonesia. My first stop was Sumba Island, then Flores, and I made my way overland back to Bali.
After a few days in Bali, I got tired of the craziness. So, I hopped on my scooter, drove north to Munduk, crossed over to Java, and spent a few days in Red Island before checking out Balian Beach.
If you have time, I highly recommend you do the same. Bali has so much more to offer beyond the beach clubs of the south.
Practical Information About Balian Beach
---
Looking for more Indonesia travel information? Check out my other posts!
---
Pin this!